Looking for a delicious dip recipe to bring to your next party? Pick any one of these tasty cream cheese dips and you will be the hit of the gathering!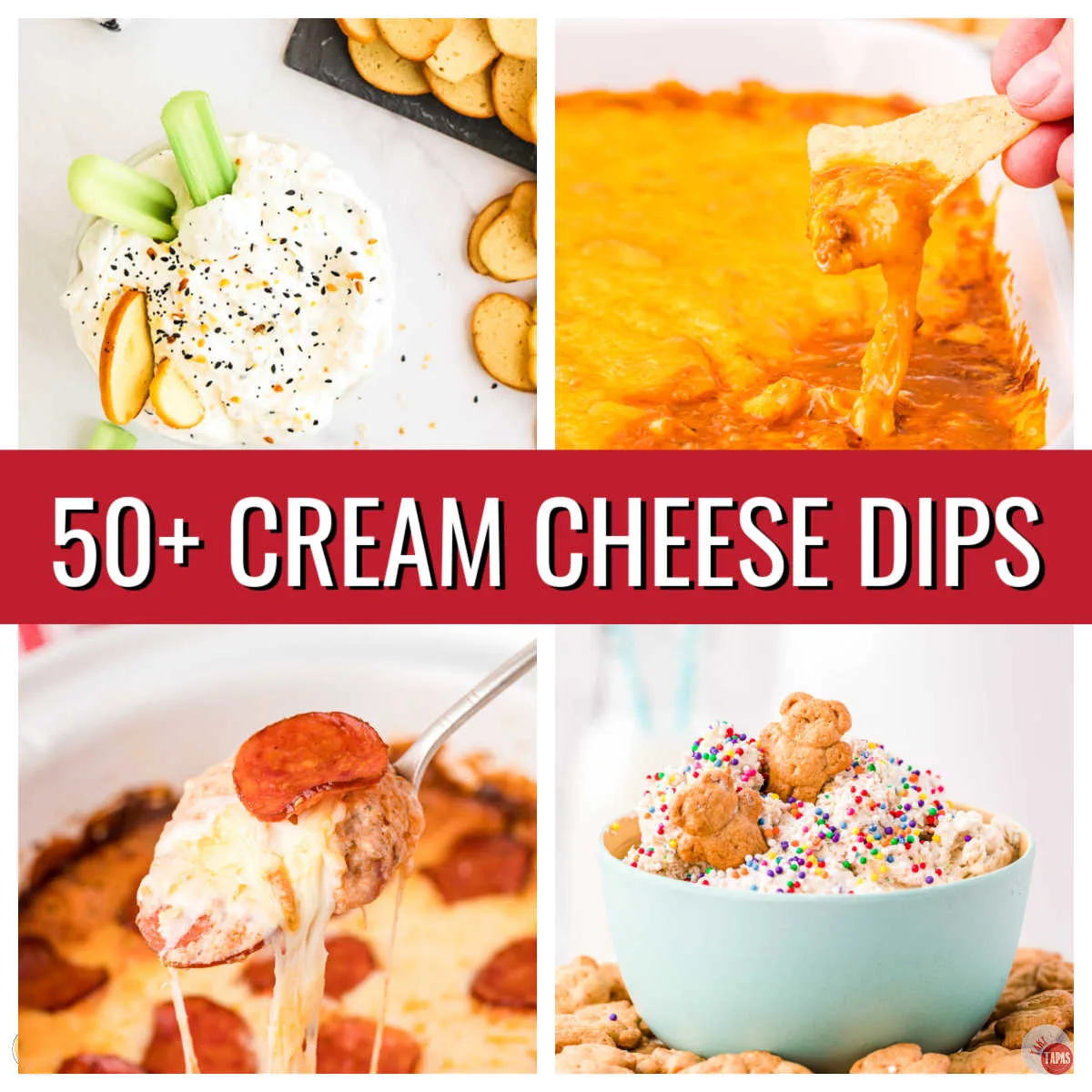 Cream Cheese Dips
All the best dips start with a block of cream cheese as the base. It is the star ingredient in so many easy appetizer recipes!
Other basic ingredients in making a simple appetizer recipe, is to mix the tangy cream cheese with sour cream, mayo, or Greek yogurt.
Garnishes to top them off with: green onions, bacon bits, cheddar cheese, fresh parsley, are all great choices.
Best seasonings to add for more flavor: garlic powder, taco seasoning, onion powder.
Perfect to serve for: tailgating, game day, super bowl party, showers, holidays.
Best Dippers for Cream Cheese Dips
Potato Chips, tortilla chips, pita chips, crackers,, pretzels, bagel chips, graham crackers, sliced bell pepper, veggie sticks, fresh fruit, fresh cut veggies.
Tips for the best cream cheese dip
Soften the cream cheese to room temperature for best mixing.
Combine ingredients in a large bowl with a hand mixer or stand mixer for best results.
Give them a little kick with a dash of hot sauce or sprinkle of cayenne pepper.
Brighten any creamy dip with a dash of lemon juice.
If making a sweet dip recipe, add a little vanilla extract.
How long do they last?
Store any leftover dip in an airtight container in the refrigerator for up to 3 days. I do not recommend freezing the dips. They can lose texture.
This post may contain affiliate links. As an Amazon Associate, I earn from qualifying purchases. Read my disclosure policy here.
Skillet Dips
I love making a dip right in the serving dish! Makes for easy prep and clean up too! Check out these crowd favorite skillet dips that are perfect for your next gathering!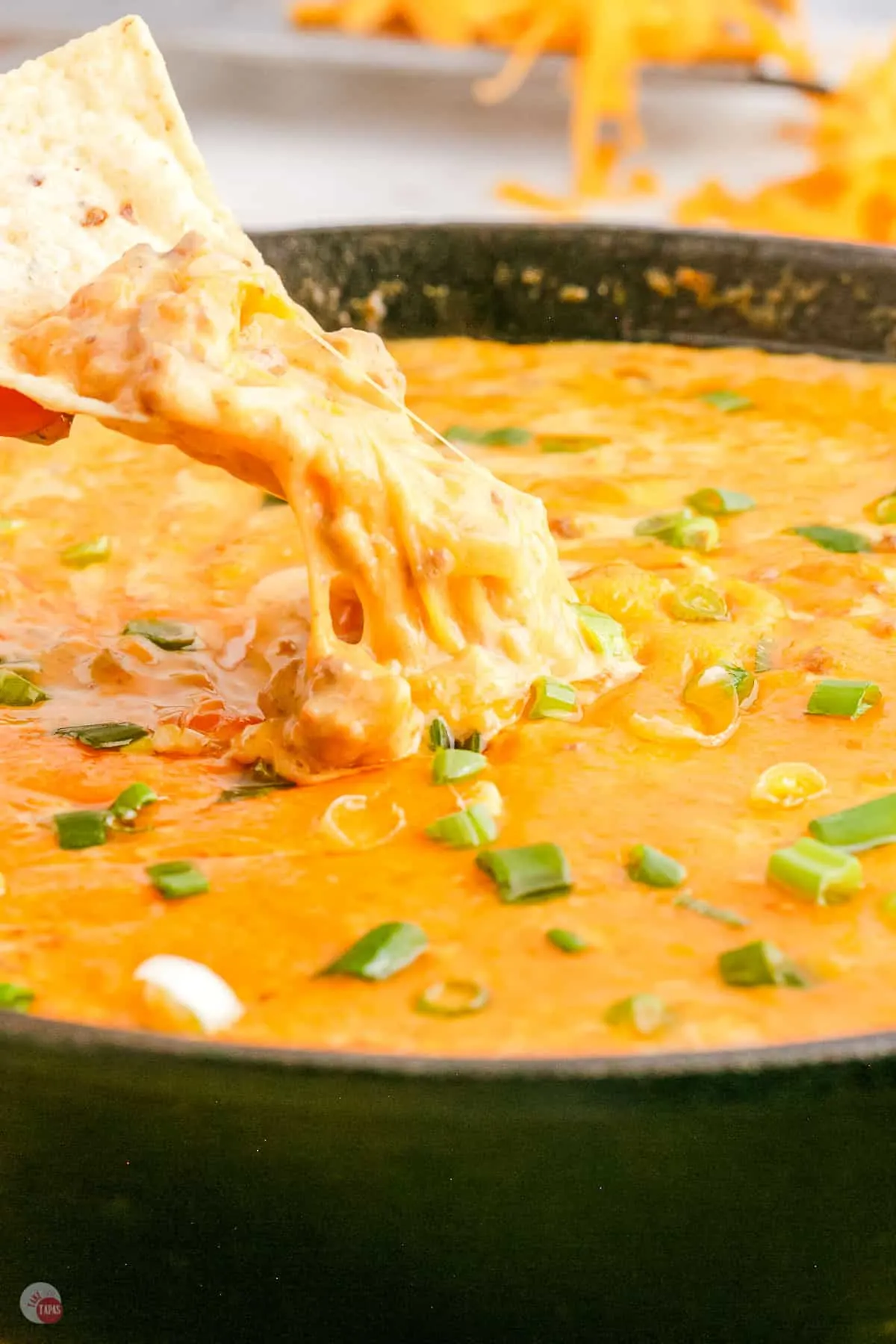 Made with simple ingredients, this cheese dip is packed with hearty ground beef and reminds you of your favorite food: Cheeseburgers!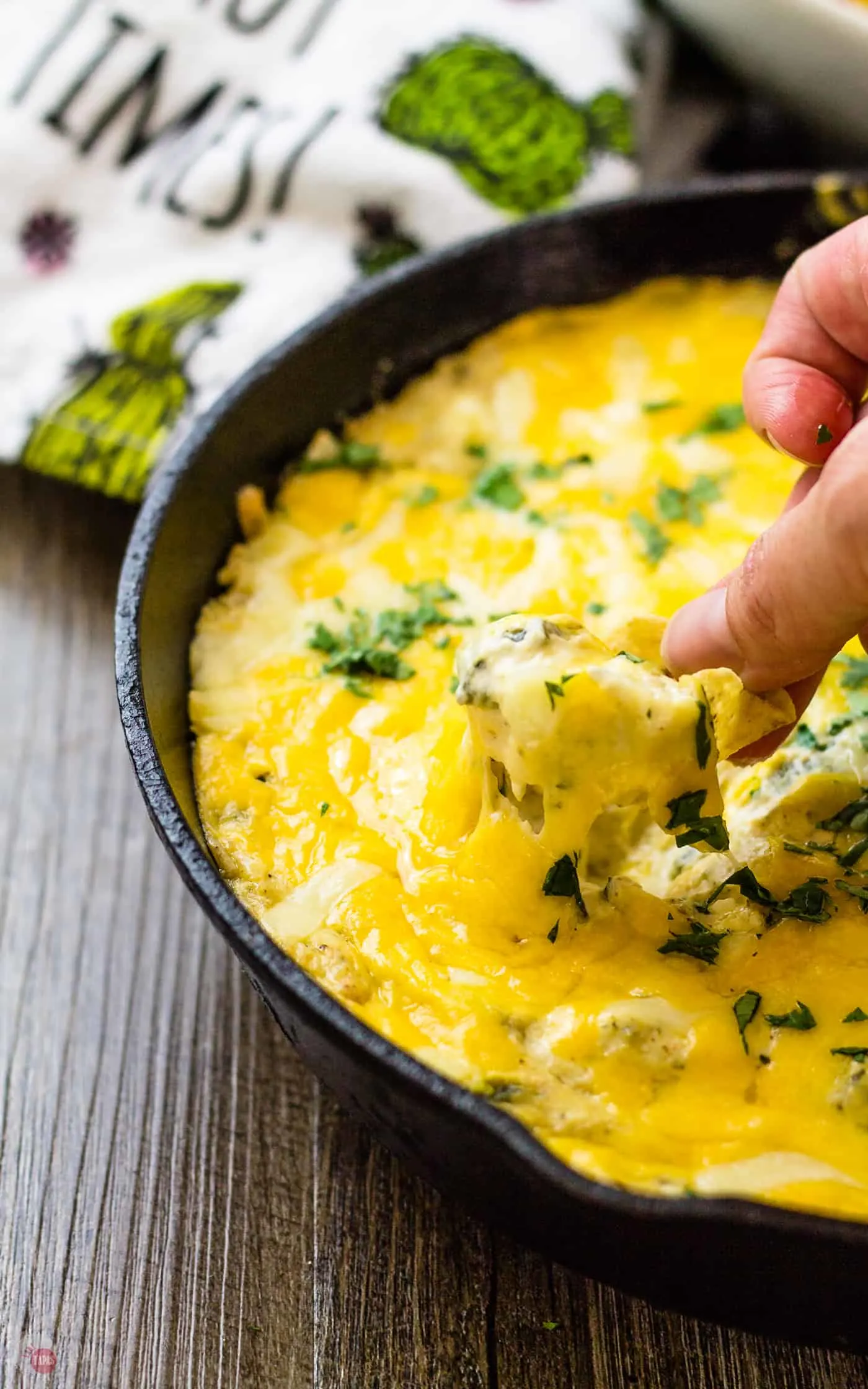 One of my favorite recipes from the local Mexican restaurant, I love chile rellenos. I couldn't resist turning it into a delicious dip. Full of poblano peppers and Mexican cheese, you are going to love this!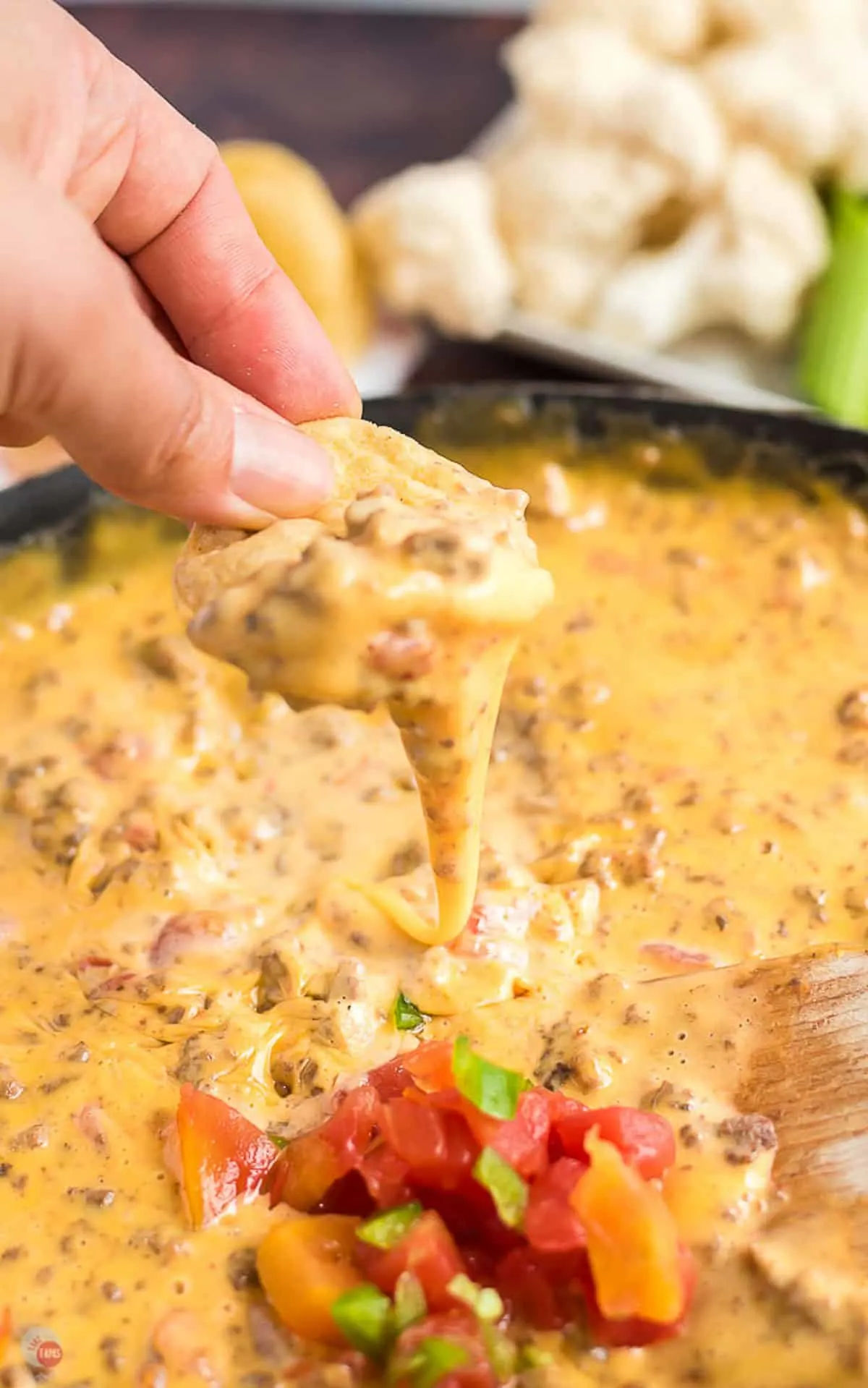 This super easy appetizer has 3 simple ingredients: Rotel tomatoes, sausage, and cheese. Serve this tasty dip at your next party and watch it disappear!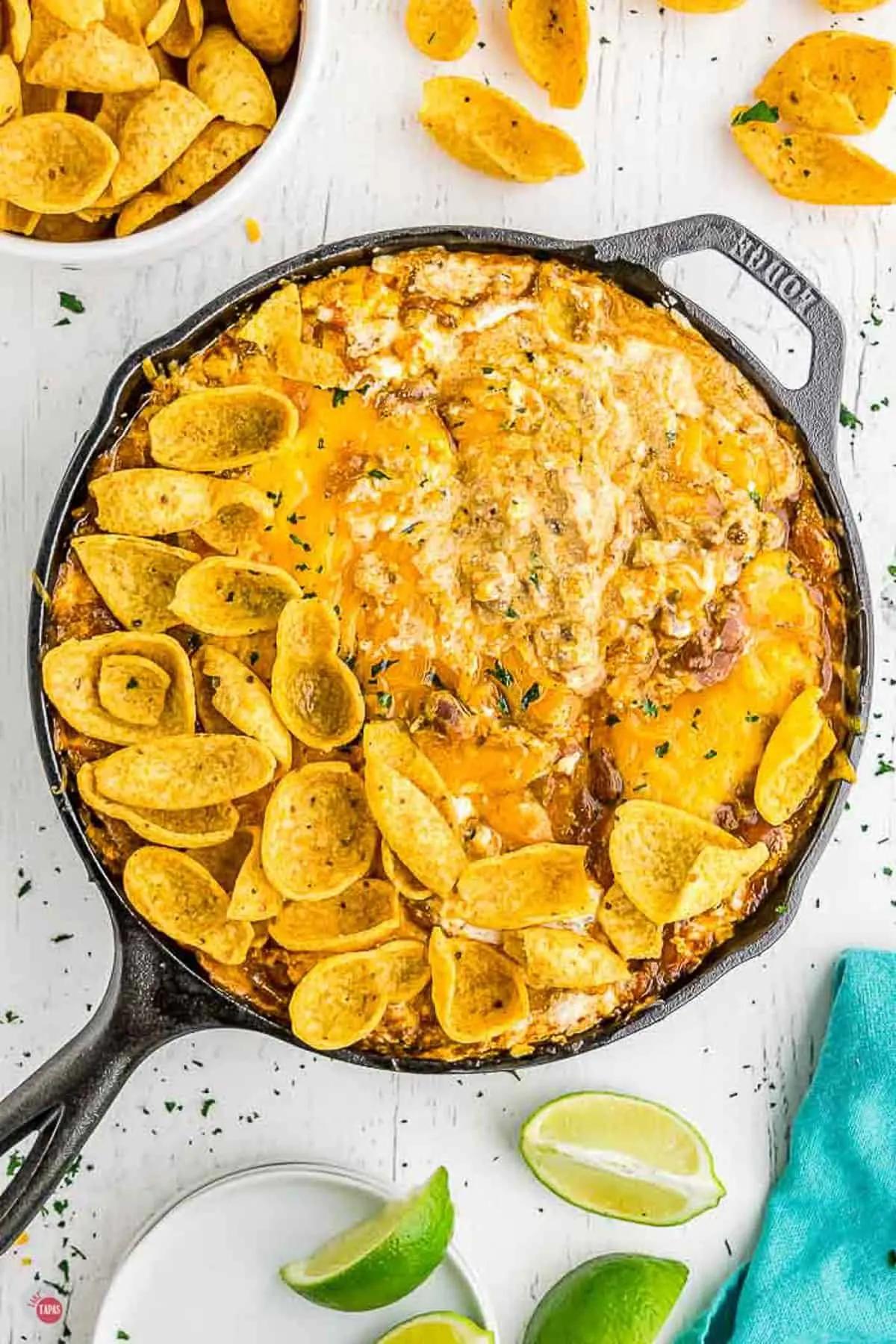 The classic Midwestern dish turned into a delicious and flavorful dip! Serve with Fritos or corn chips for the full effect!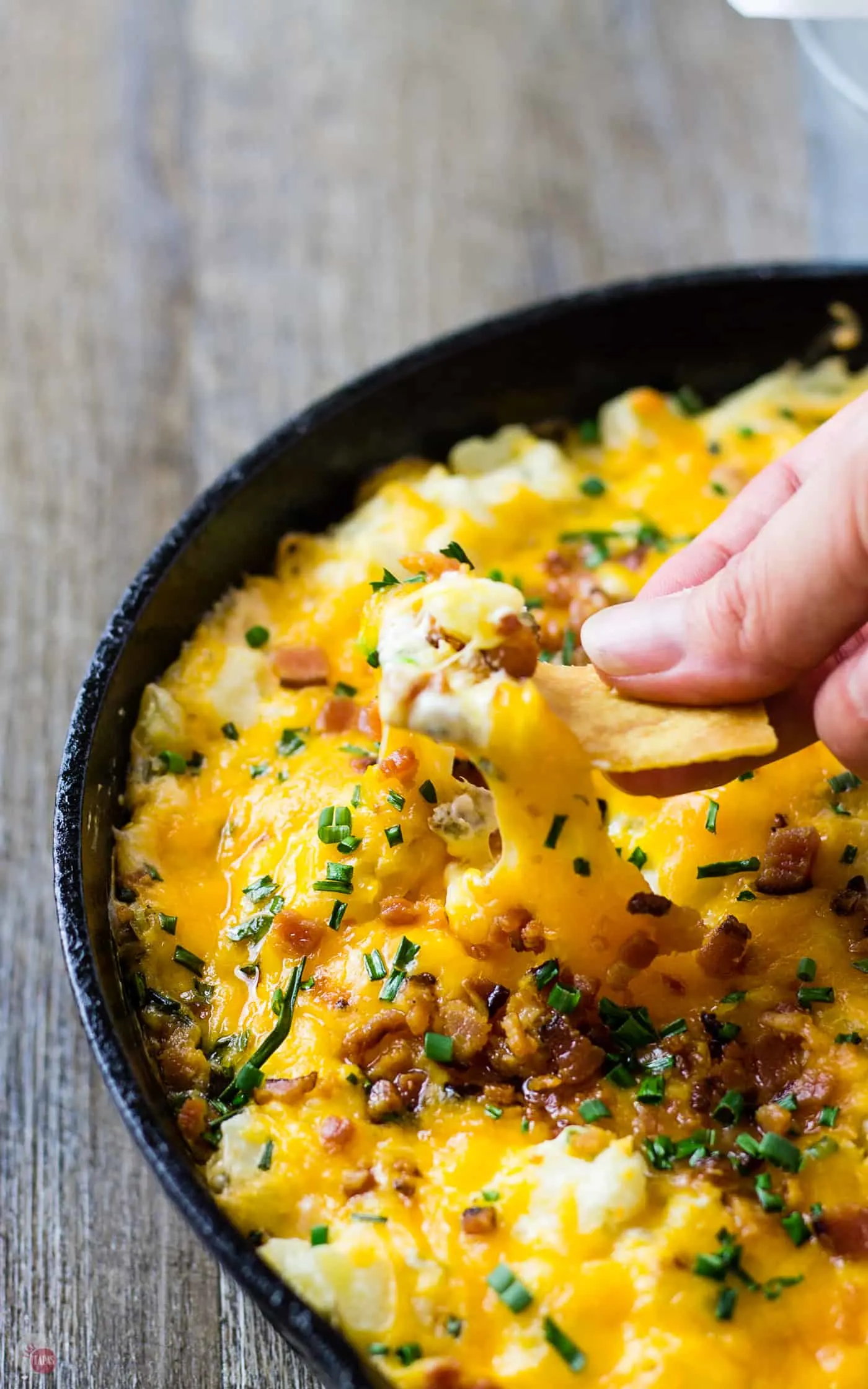 All the flavors of your favorite restaurant appetizer in an easy dip recipe! Lots of bacon and sour cream turns this into a party favorite.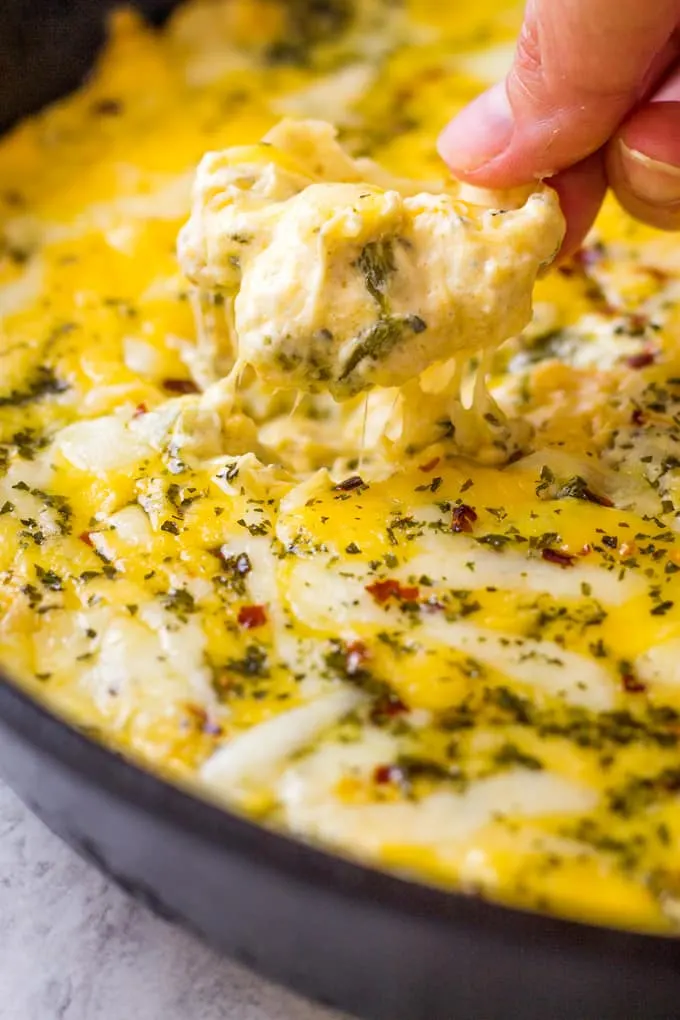 Skip the traditional popper dip with jalapeno peppers and use a smoky poblano instead. This is an easy cream cheese dip to whip up and will wow anyone who tastes it!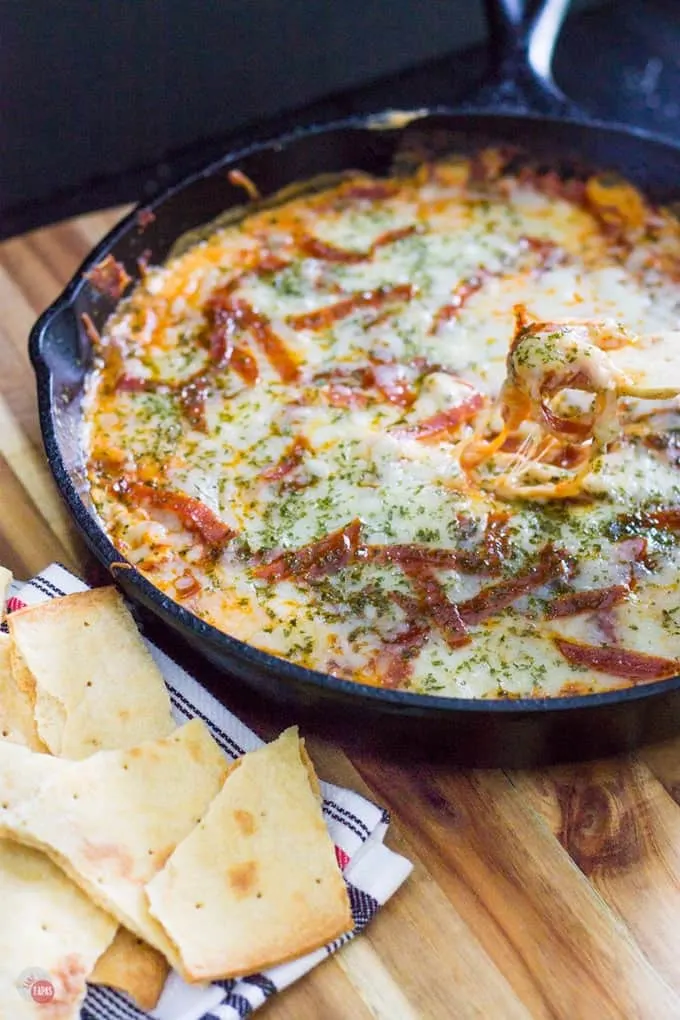 All the flavors of a classic pepperoni pizza in an extra cheesy dip. In my opinion, this is the best way to enjoy a pizza outside of thin crust slice! Sprinkle with parmesan cheese for more flavor and texture.
What better to serve at your Kentucky Derby party than a take on the traditional Hot Brown Sandwich. This simple recipe has all the original ingredients and so much more!
Hot Dip Recipes
Make any hot cream cheese dip recipe listed here and you will be the host with the most. Combine the ingredients in a mixing bowl, spread in the baking dish, top with shredded cheese, and you are ready to go.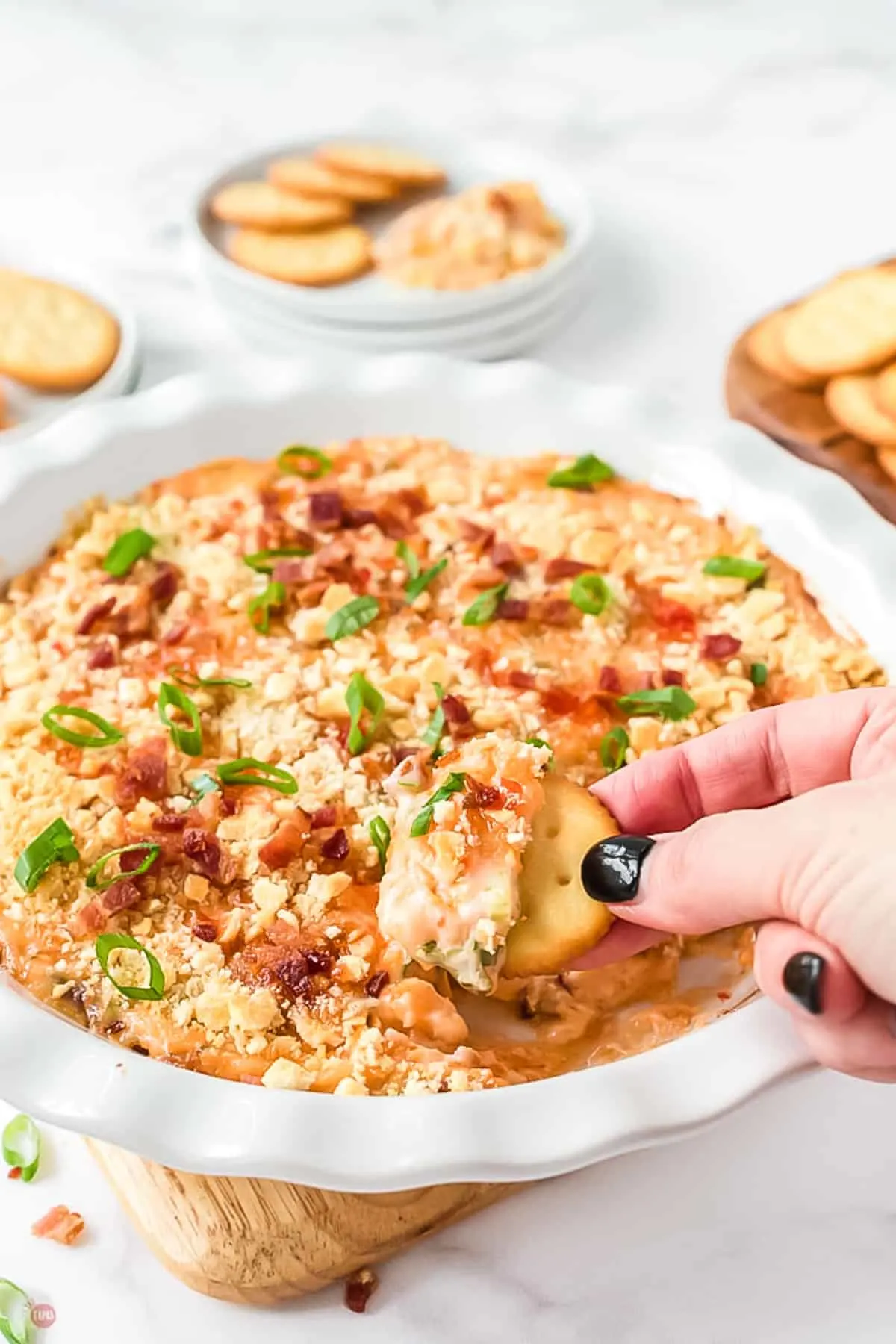 This delicious cream cheese dip starts with the basics and then goes crazy from there. The sweet and spicy glaze adds so much flavor. Top with crispy bacon for more texture.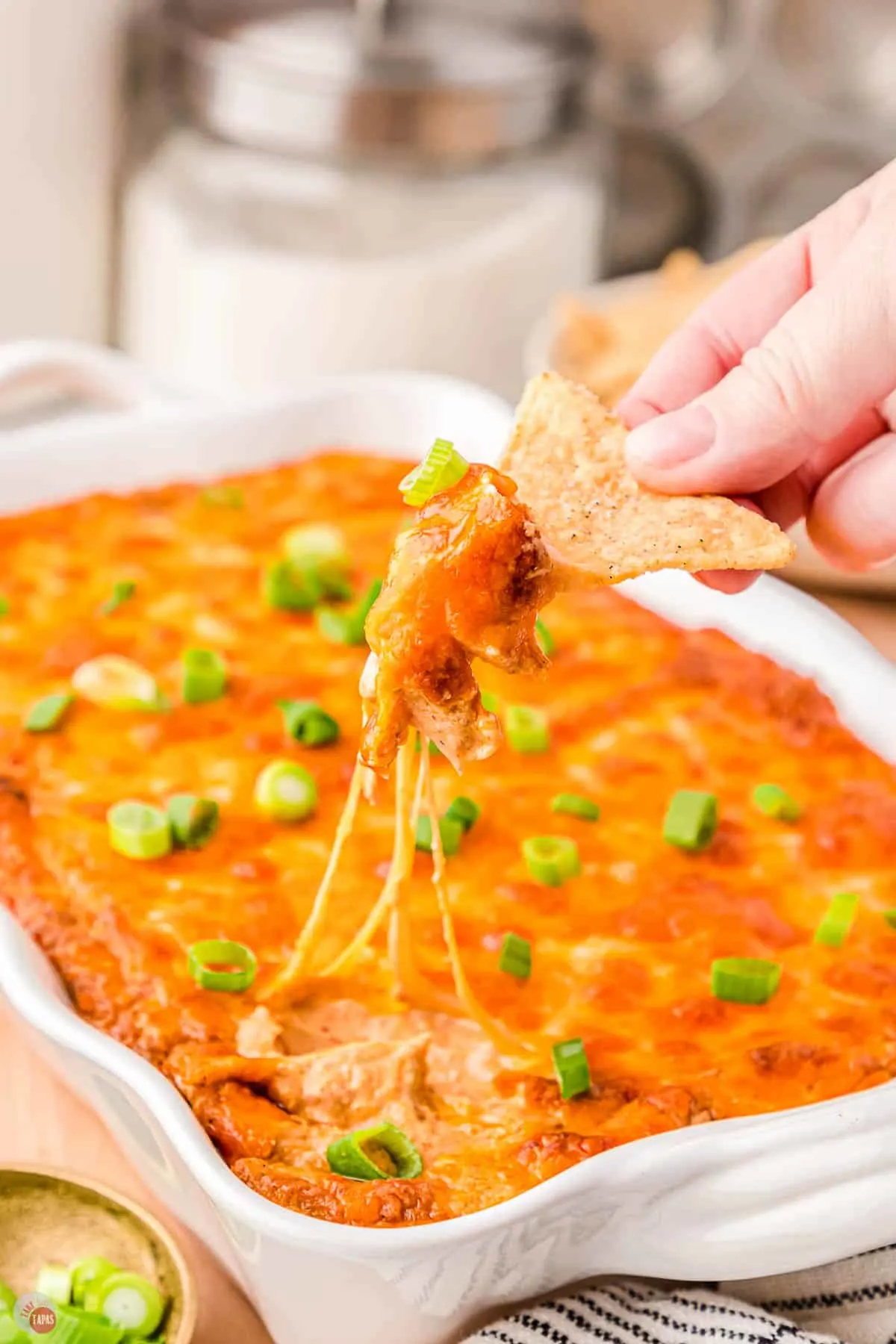 This easy recipe is my favorite thing to make when I am serving a crowd. It's budget friendly and very tasty!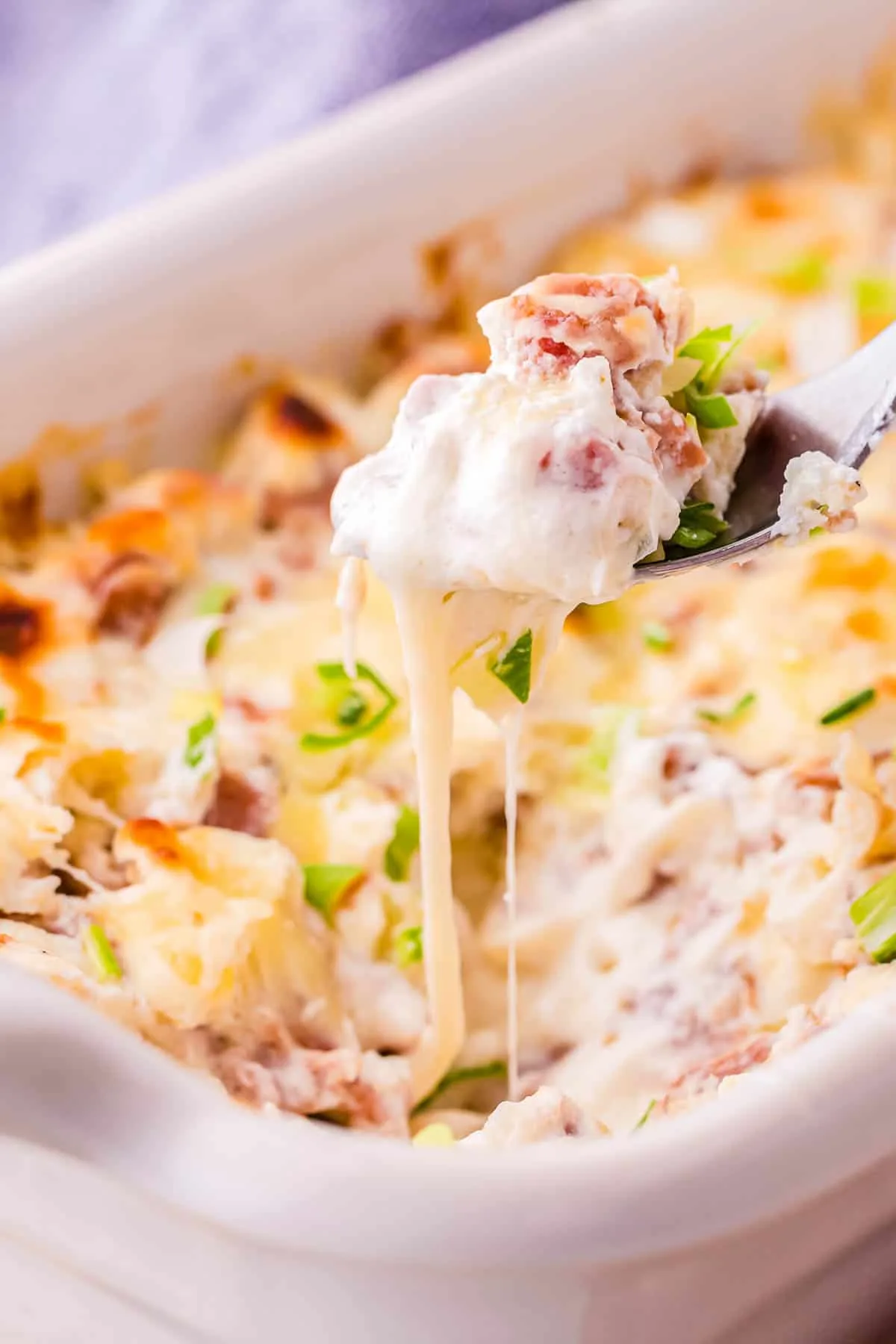 Looking for a fun Mardi Gras appetizer? sausage cream cheese dip is full of Louisiana Boudin sausage and lots of cheese!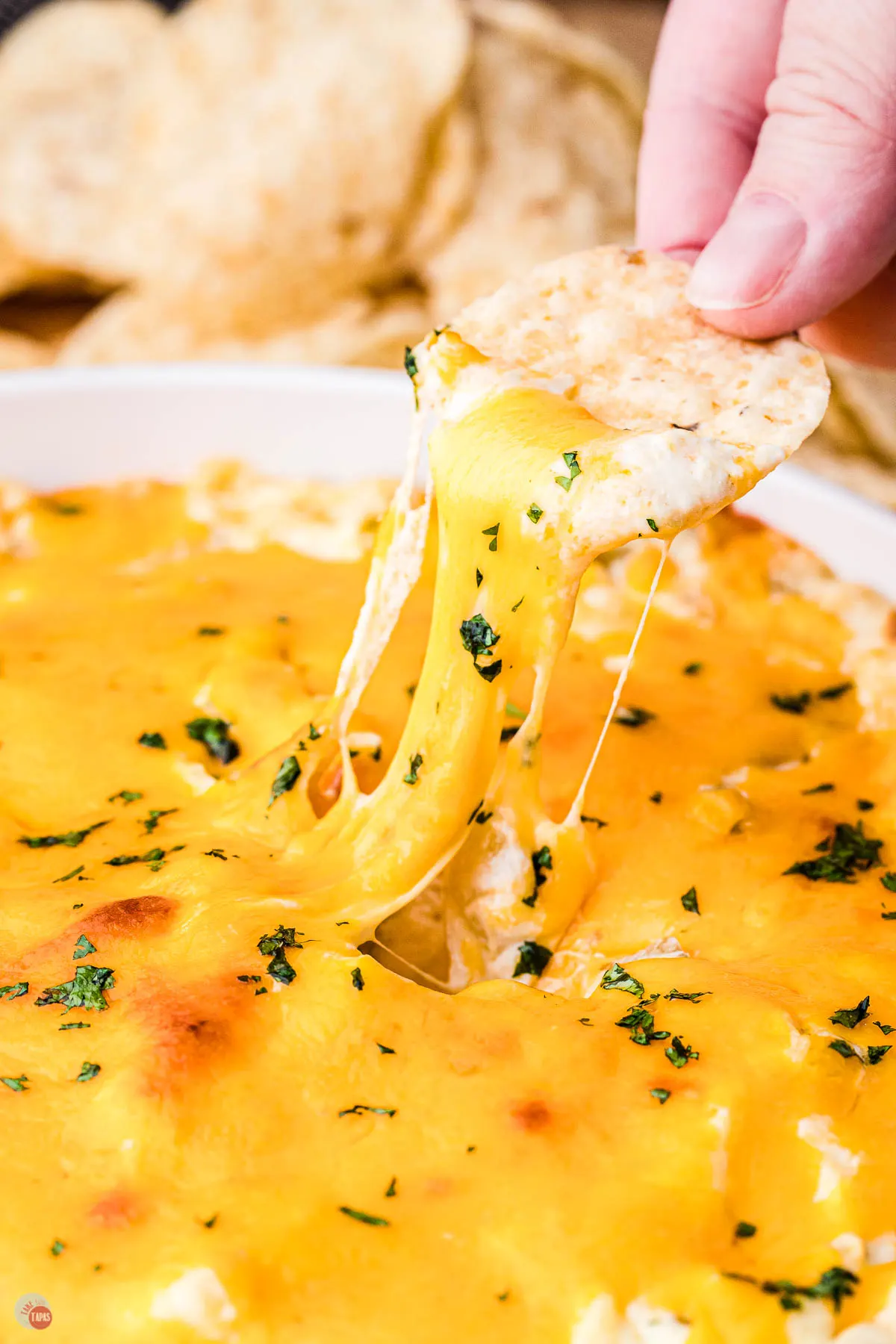 Cheesy, creamy, and full of roasted green chilies, you will need to make a double batch for your tailgate party!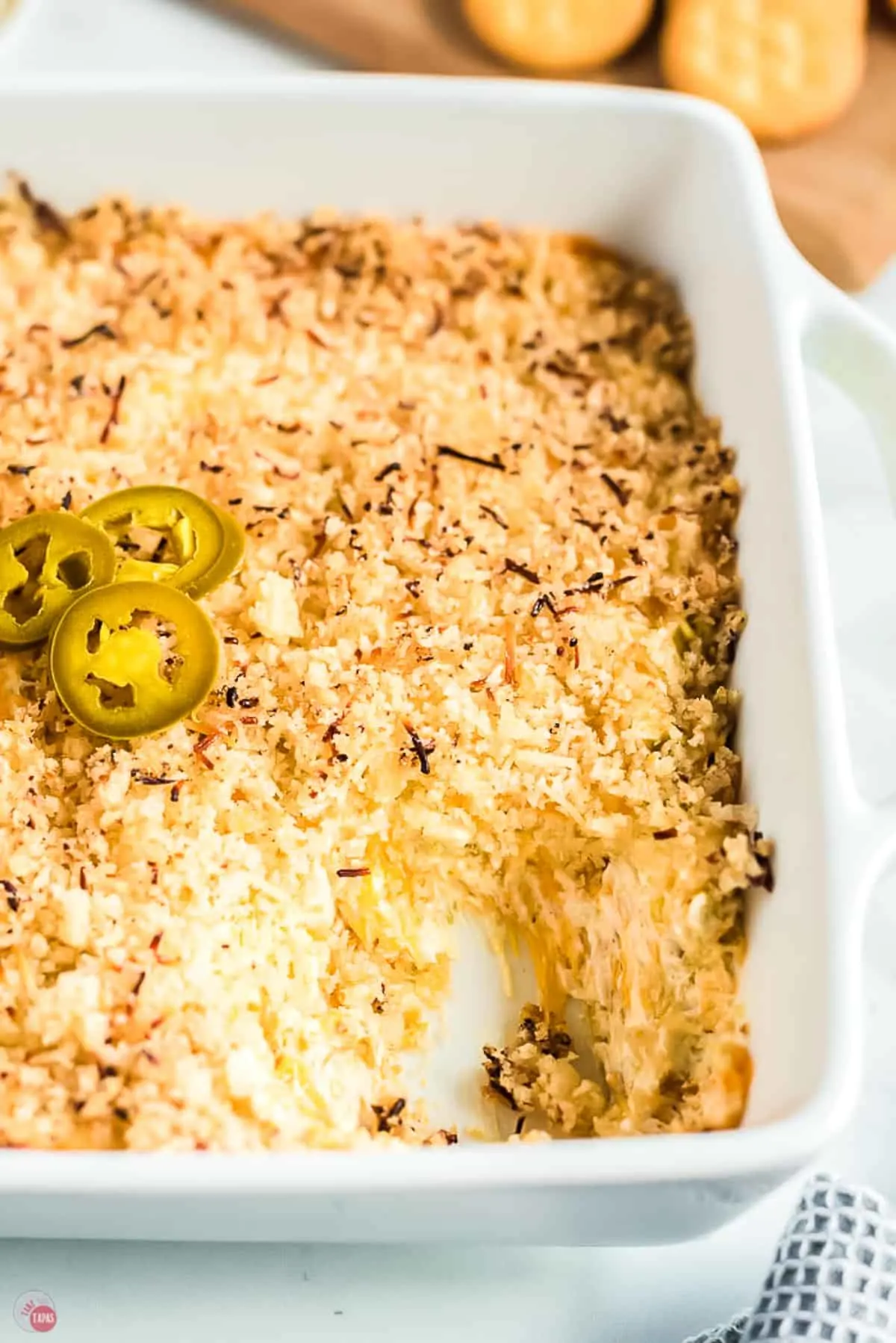 Jalapeño Popper Dip is a scoop-able version of jalapeño poppers that is easy to make and everyone's favorite appetizer! Creamy & spicy with a crunchy & buttery topping.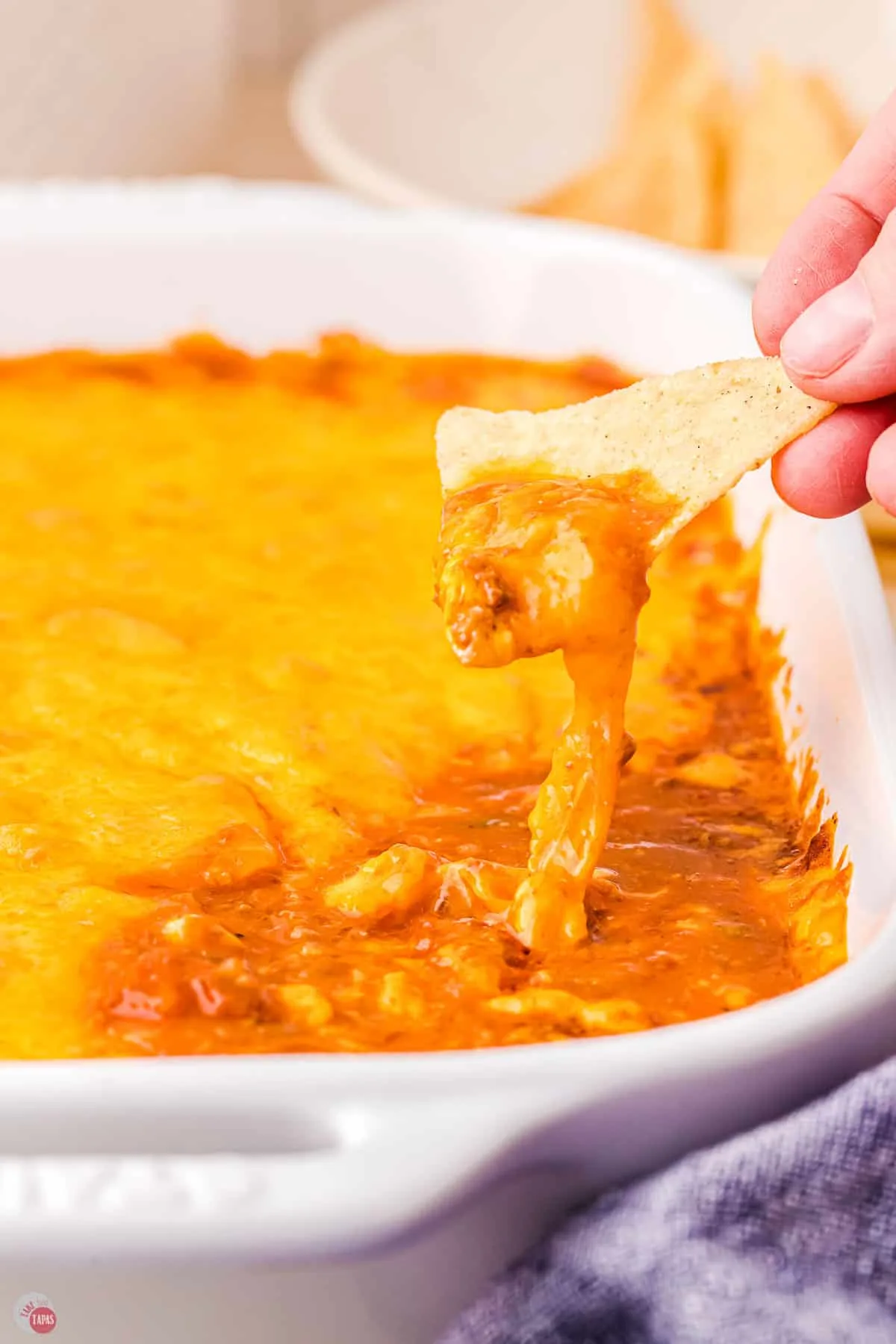 This has been the most delicious cream cheese dip I've made in a while. Featuring bean chili and melty cheese, they are combined into a cream cheese bean dip.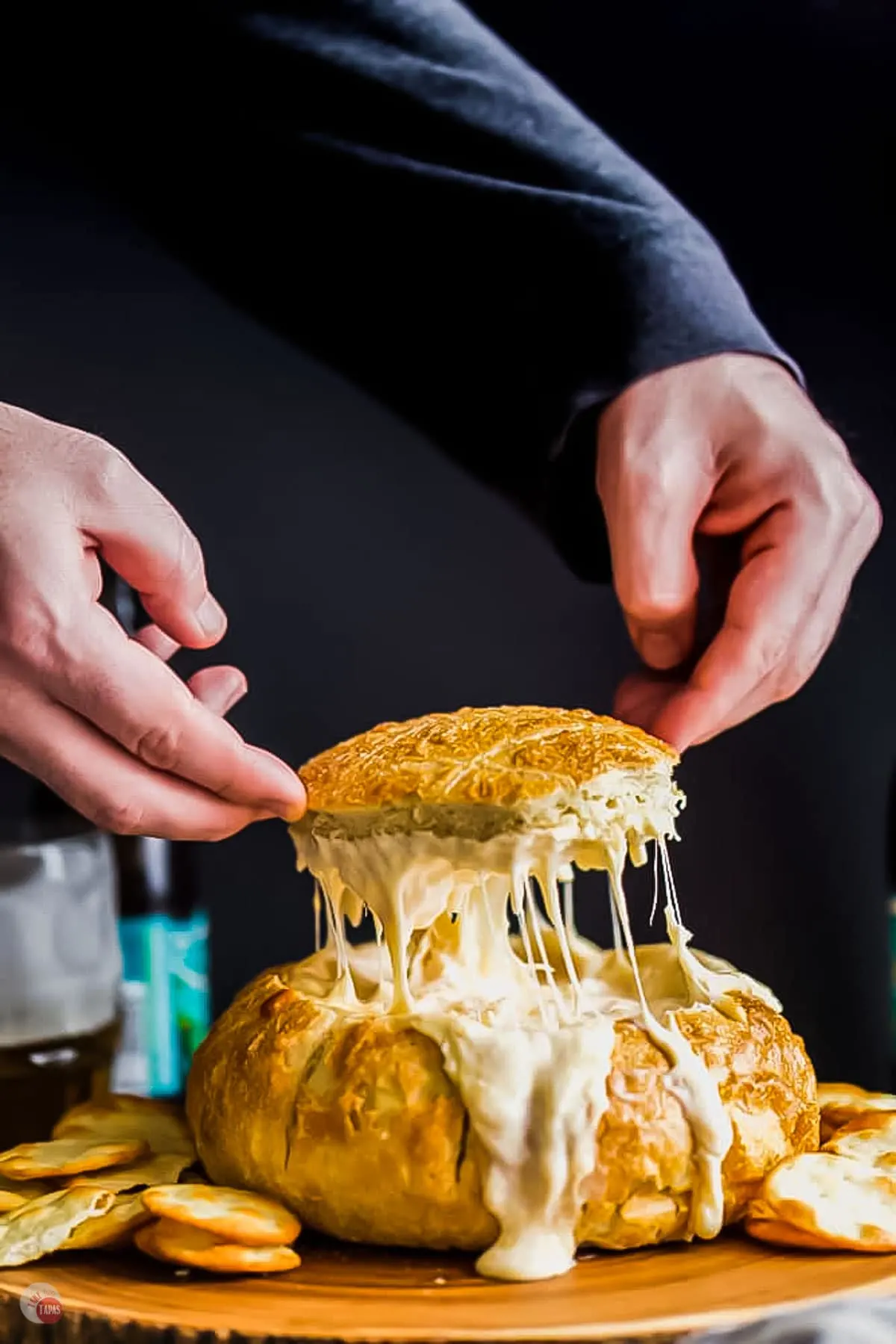 If you are looking for one of the best cream cheese dips around, this is it! The cheese melts and sticks to the bread bowl for tear away deliciousness.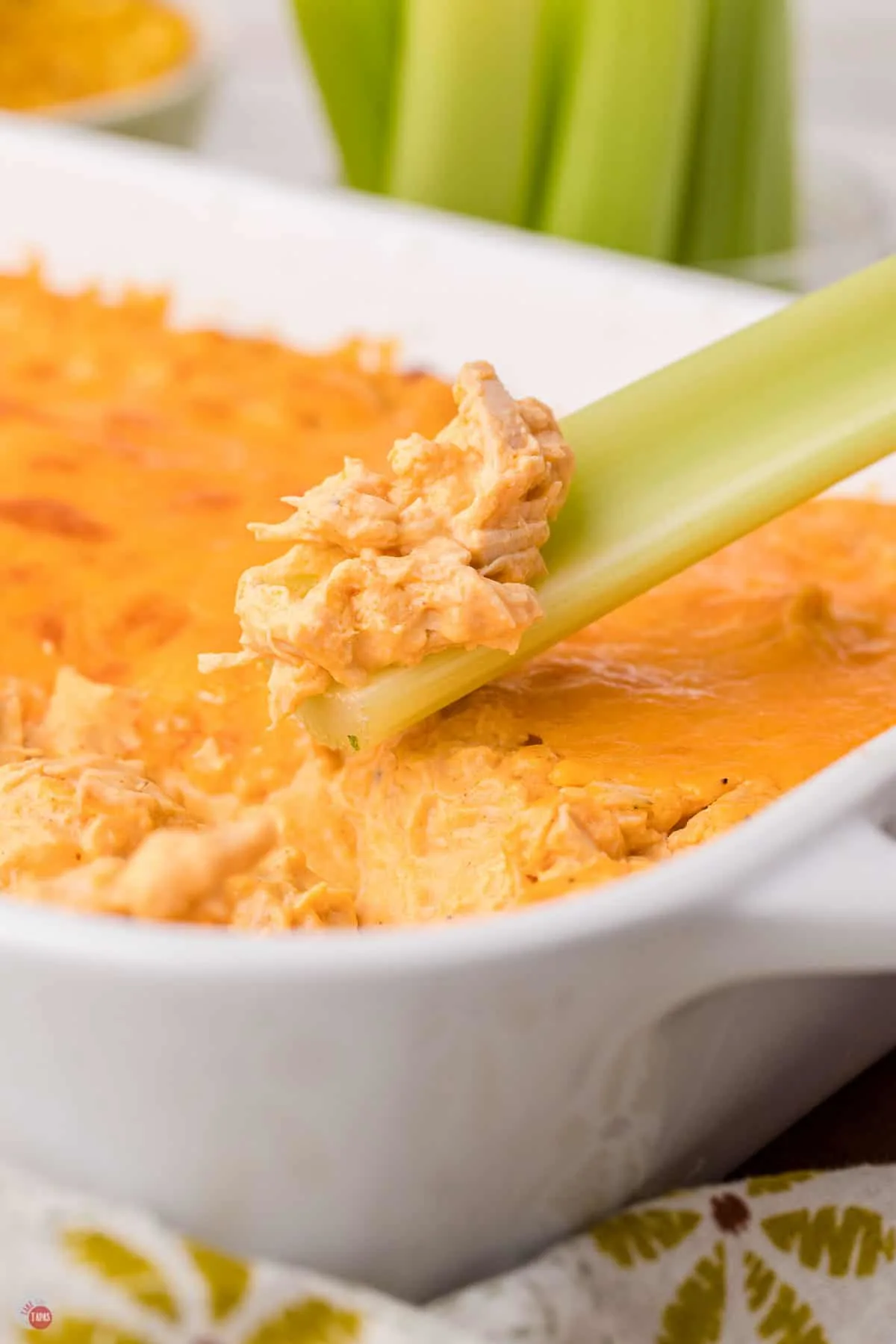 This delicious copycat recipe is full of shredded chicken, blue cheese, and buffalo sauce. Perfect for dipping with celery sticks!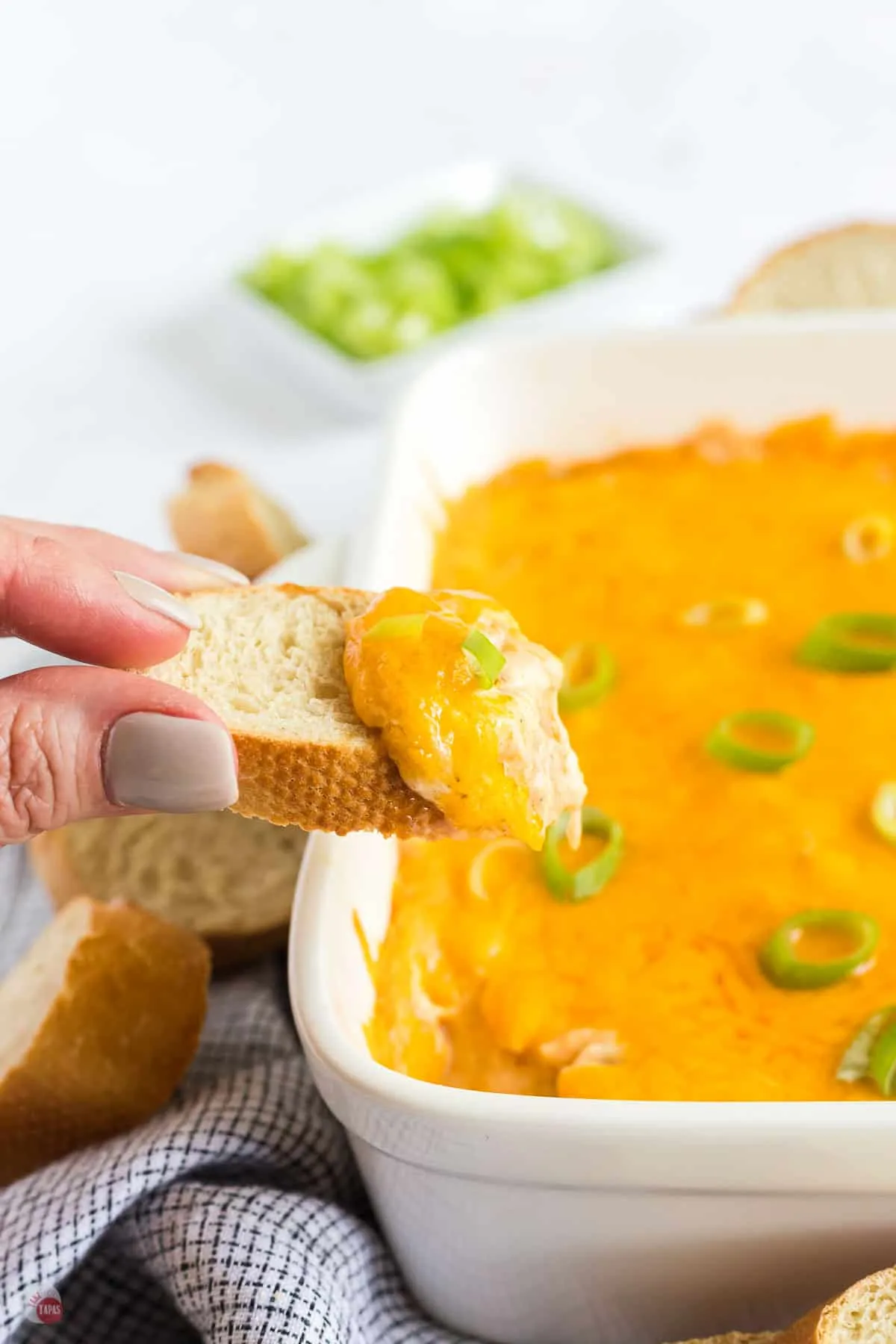 This rich and cheesy Crab Dip is the perfect party food! Creamy and absolutely full of lump crab meat, it is delicious served hot or cold with your favorite crackers or crostini.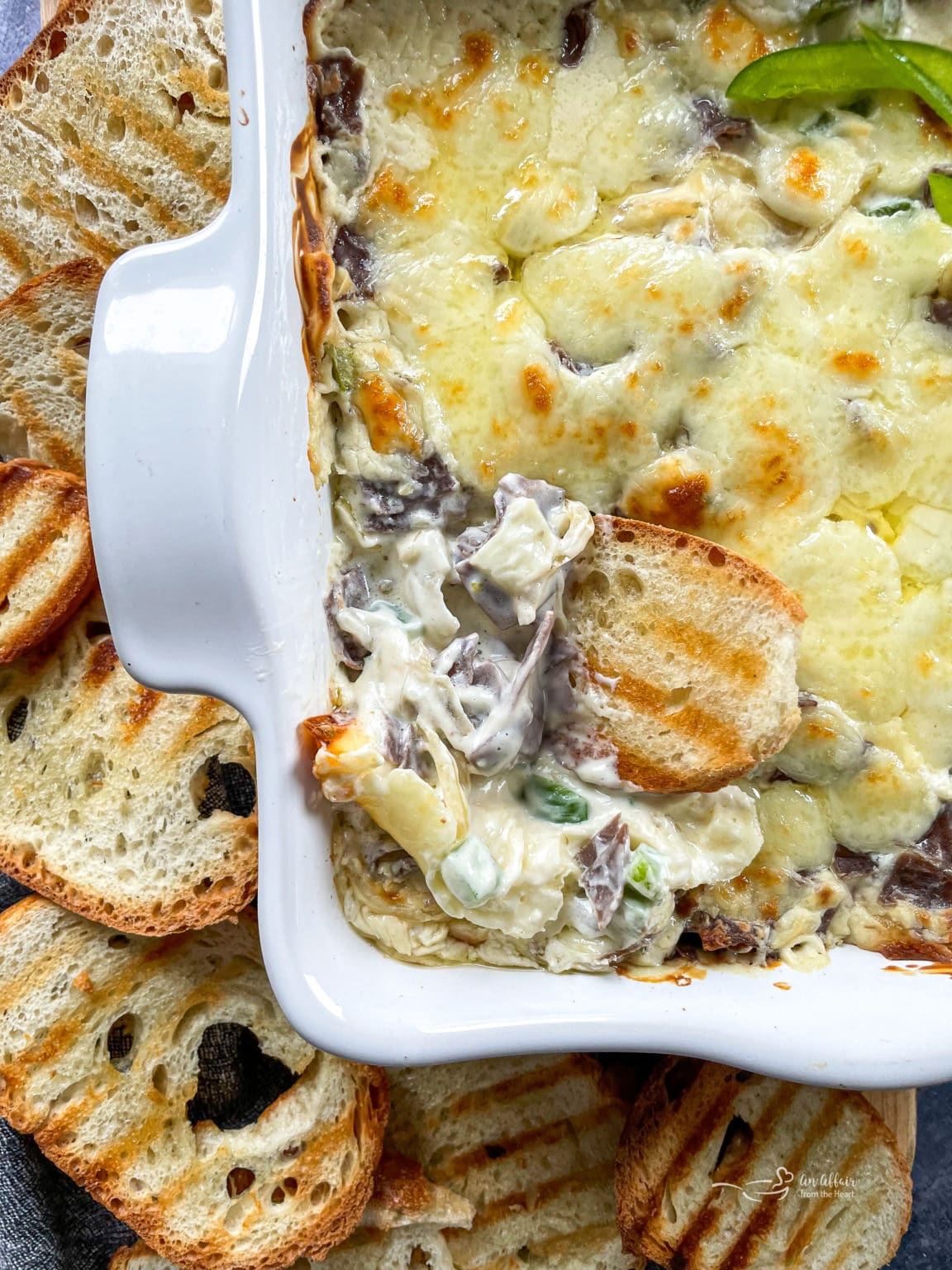 Hot and cheesy Philly Cheese Steak Dip is baked in the oven until bubbly, perfect, and will make you fall head over heels with it.
This easy cheesesteak dip recipe is made with tender roast beef, green bell peppers, fresh onions, creamy cream cheese, and provolone cheese for the best comforting flavors that taste just like those classic Philly sandwiches.
Cold Dips
When hosting a party you need a nice selection of hot and cold items. These tasty cream cheese dips are best served chilled.
The best thing about them, you can make them ahead of time for stress free entertaining.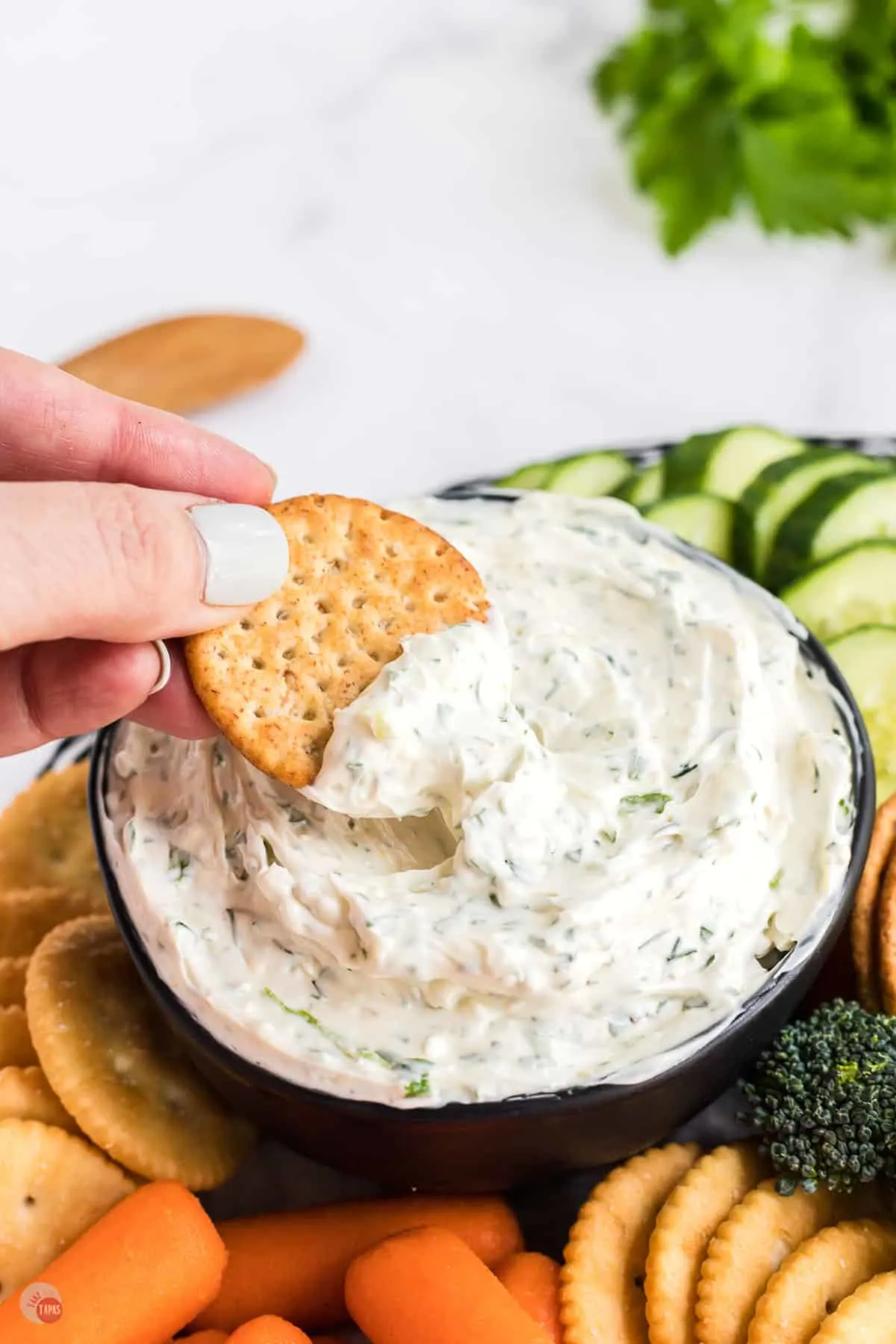 Fresh Herb Cream Cheese Dip is the perfect dip to pair with just about anything! Quick and easy to make and full of fresh herbs, try it with your favorite chips, crackers, or raw veggies.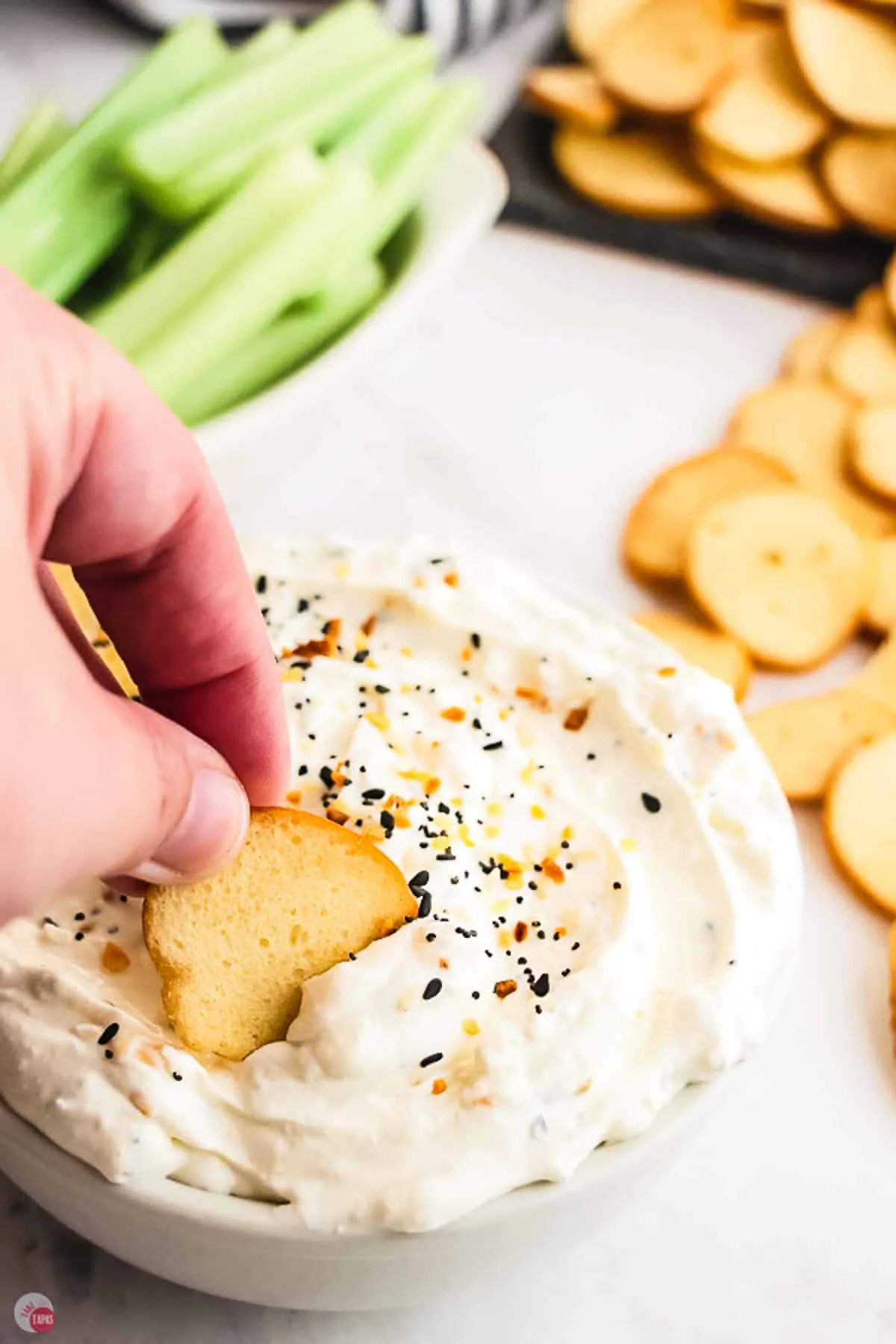 Everything Bagel Dip is light, creamy, and only needs 3 ingredients! Homemade Everything Bagel Seasoning is the star of the show. A very good dip to serve with veggies or bagel chips.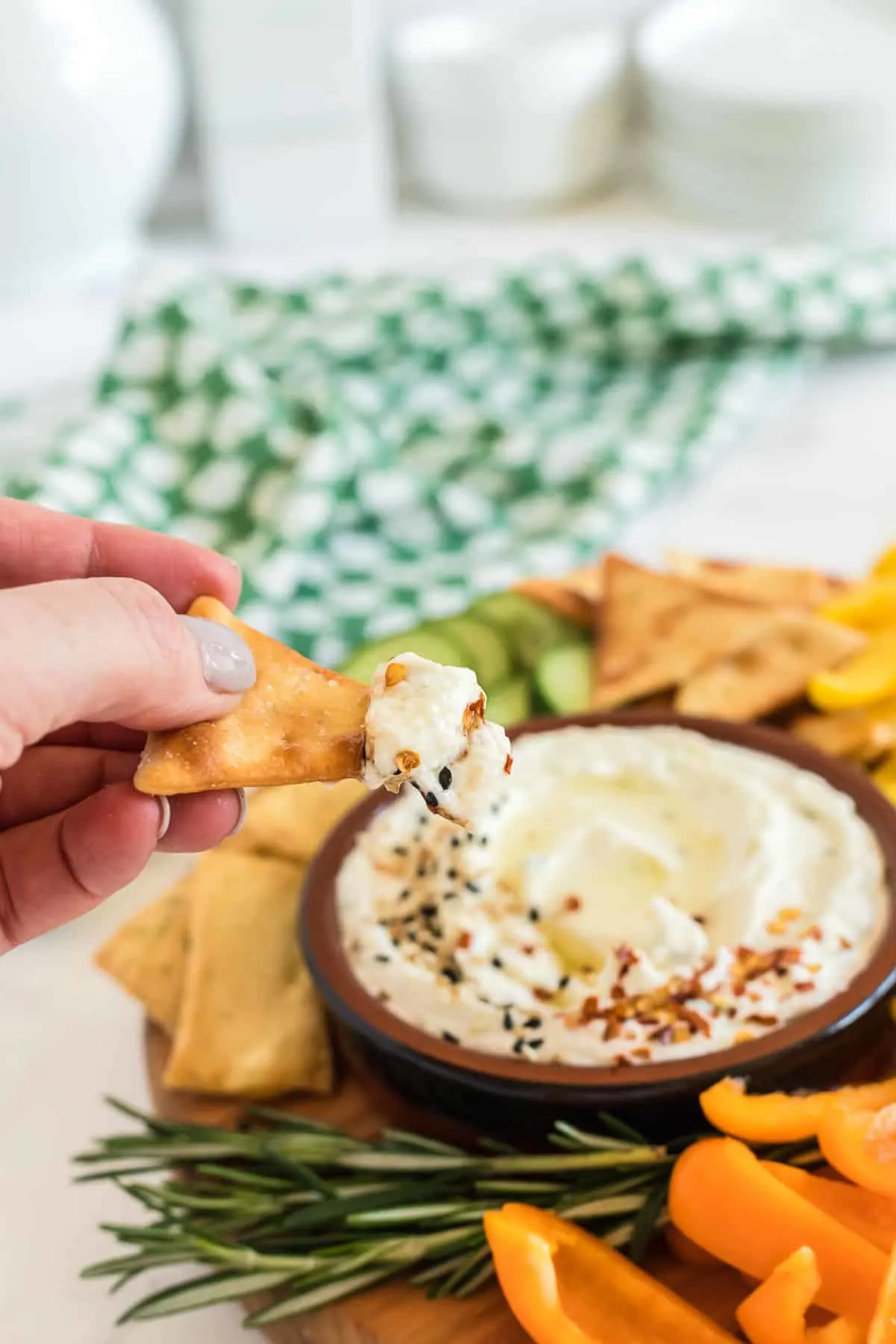 Creamy feta cheese is the star ingredient in this creamy dip! Full of Mediterranean flavors, it's best served with soft or crispy pita.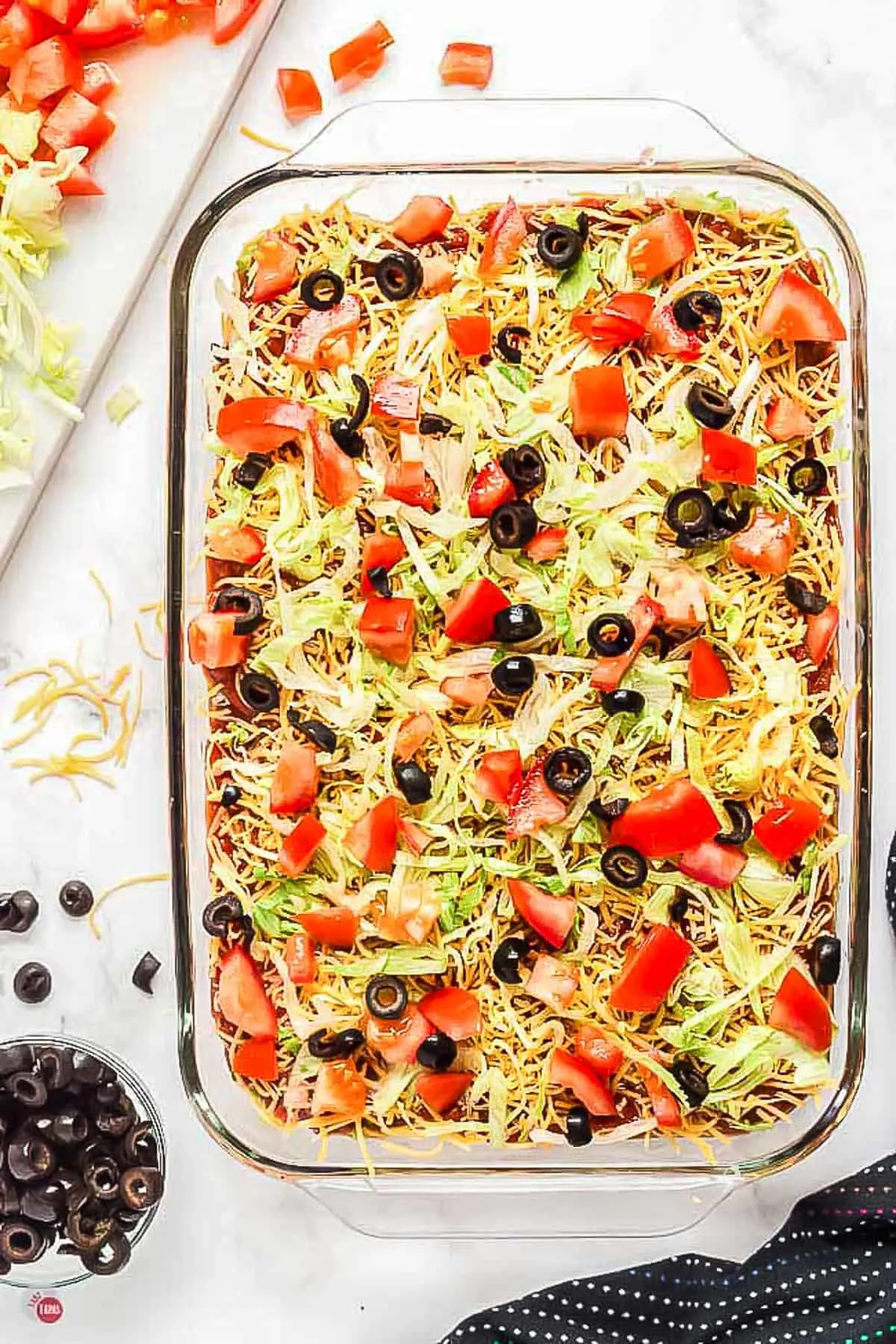 This layered taco dip is about to be your go-to dish when a potluck is in question. Make it traditionally with ground beef or go vegetarian with refried beans.
Black beans are a great addition to these tasty layers!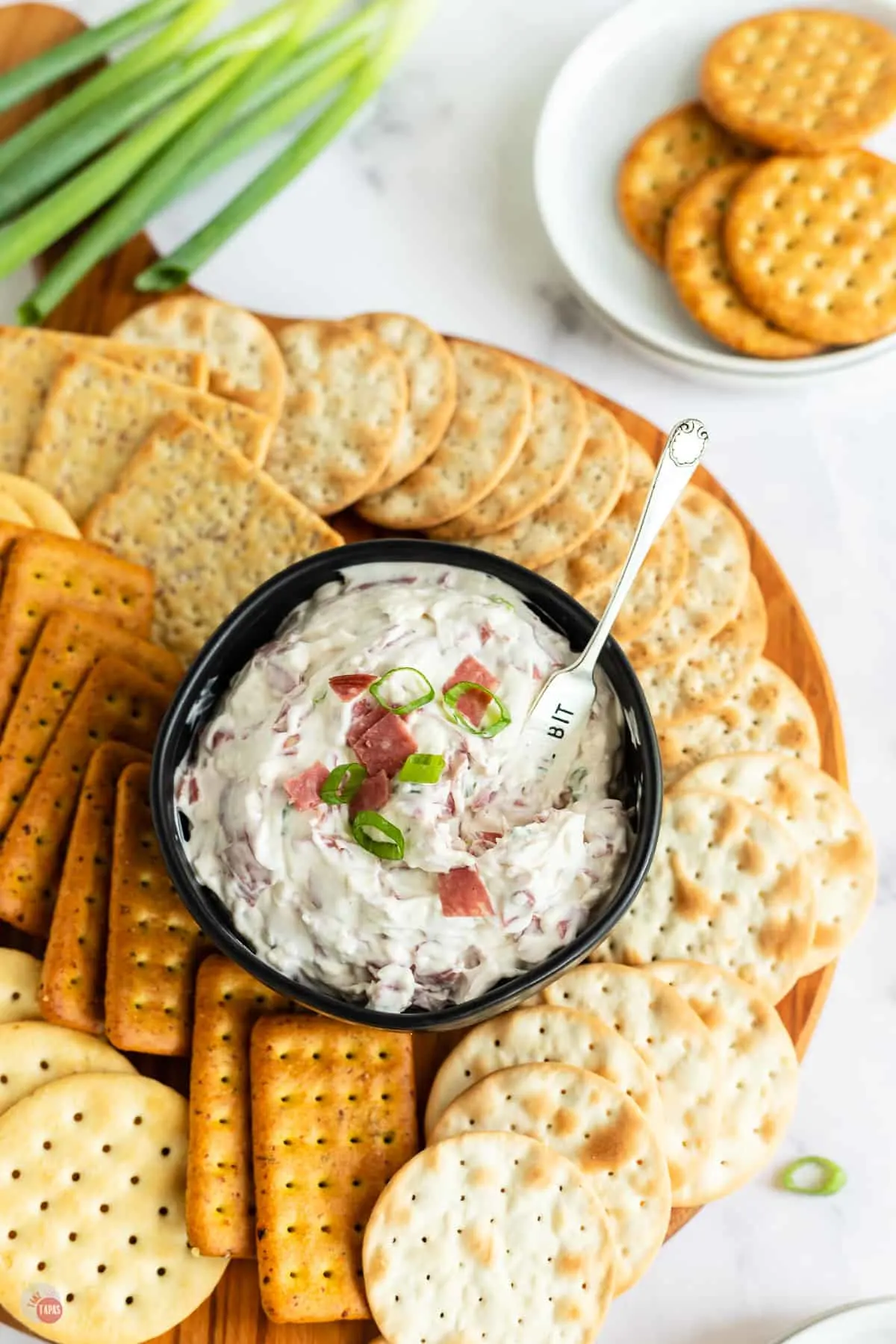 Chipped Beef Dip is a fun twist on the classic get-together appetizer; the Chipped Beef Cheese Ball! This easy-to-make dip can be served hot or cold and with buttery crackers or crisp fresh-cut veggies.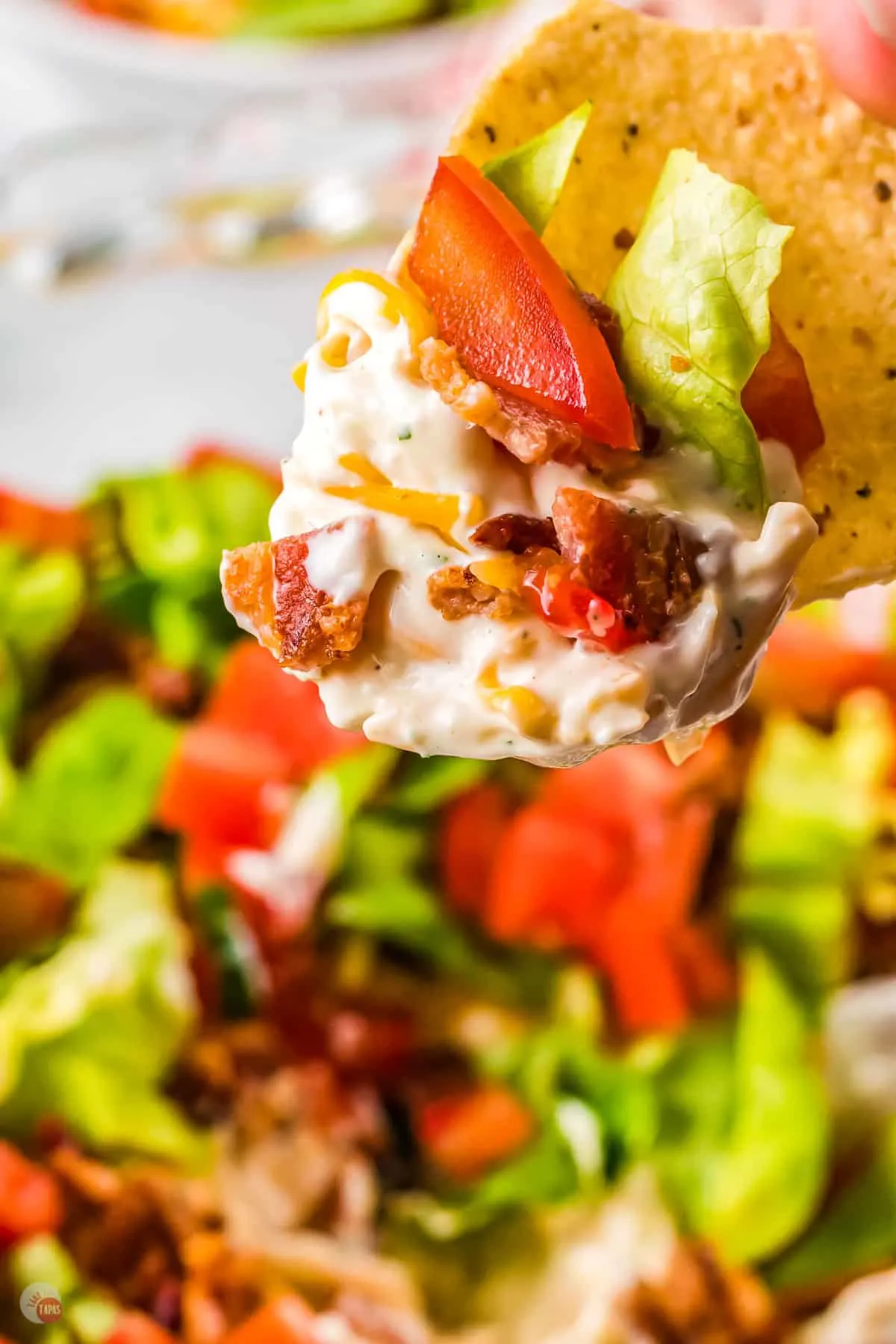 This BLT Dip has all the amazingly fresh and smoky flavors of a beloved BLT but in dip form, so grab your chips and dive in!
Perfect for sharing, this dip works well on its own as a snack or as part of a party spread.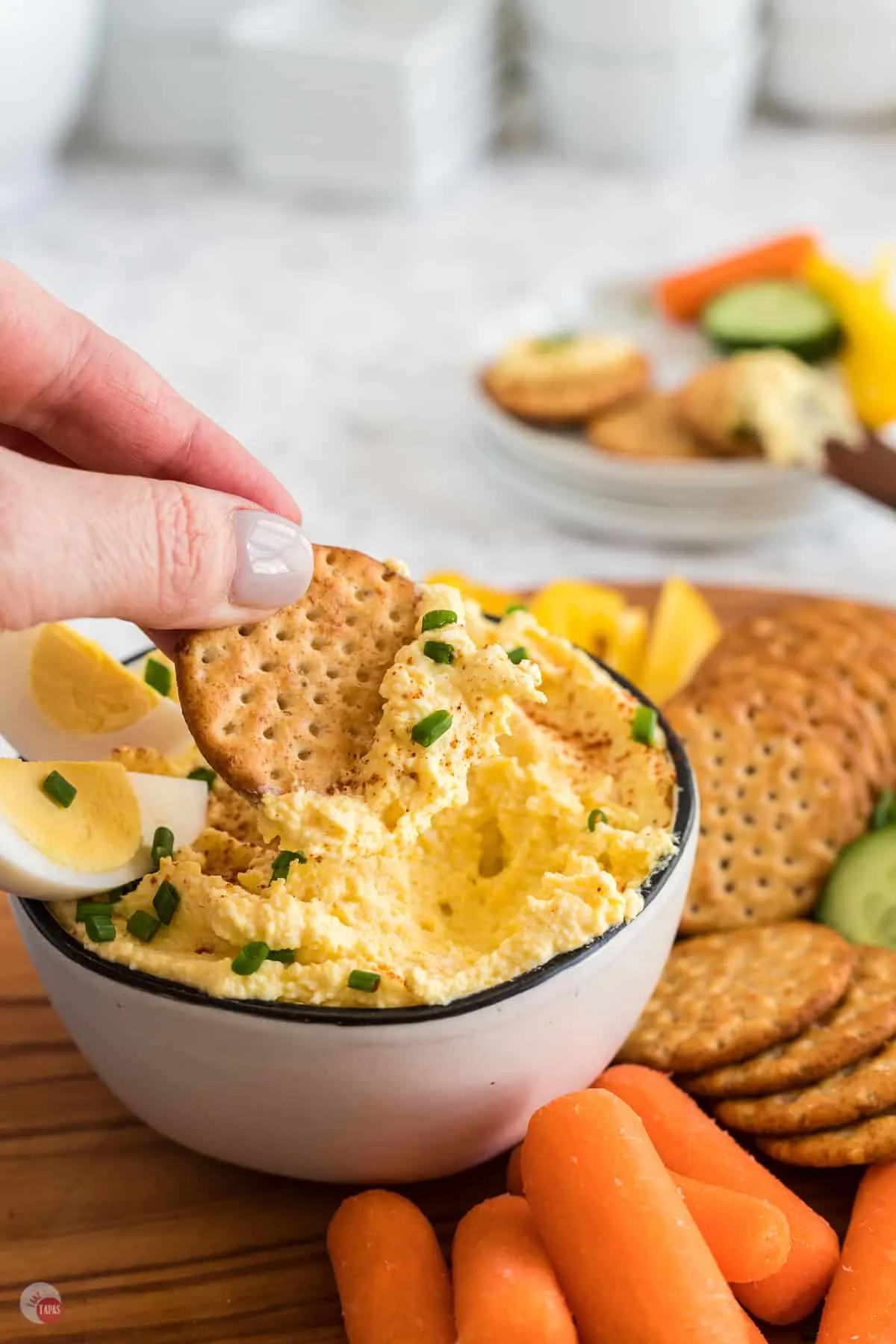 Deviled Egg Dip is a super creamy appetizer with all the yummy flavors of classic deviled eggs but without all the fuss.
With just a few pantry staple ingredients, it comes together in a matter of minutes and will disappear just as fast.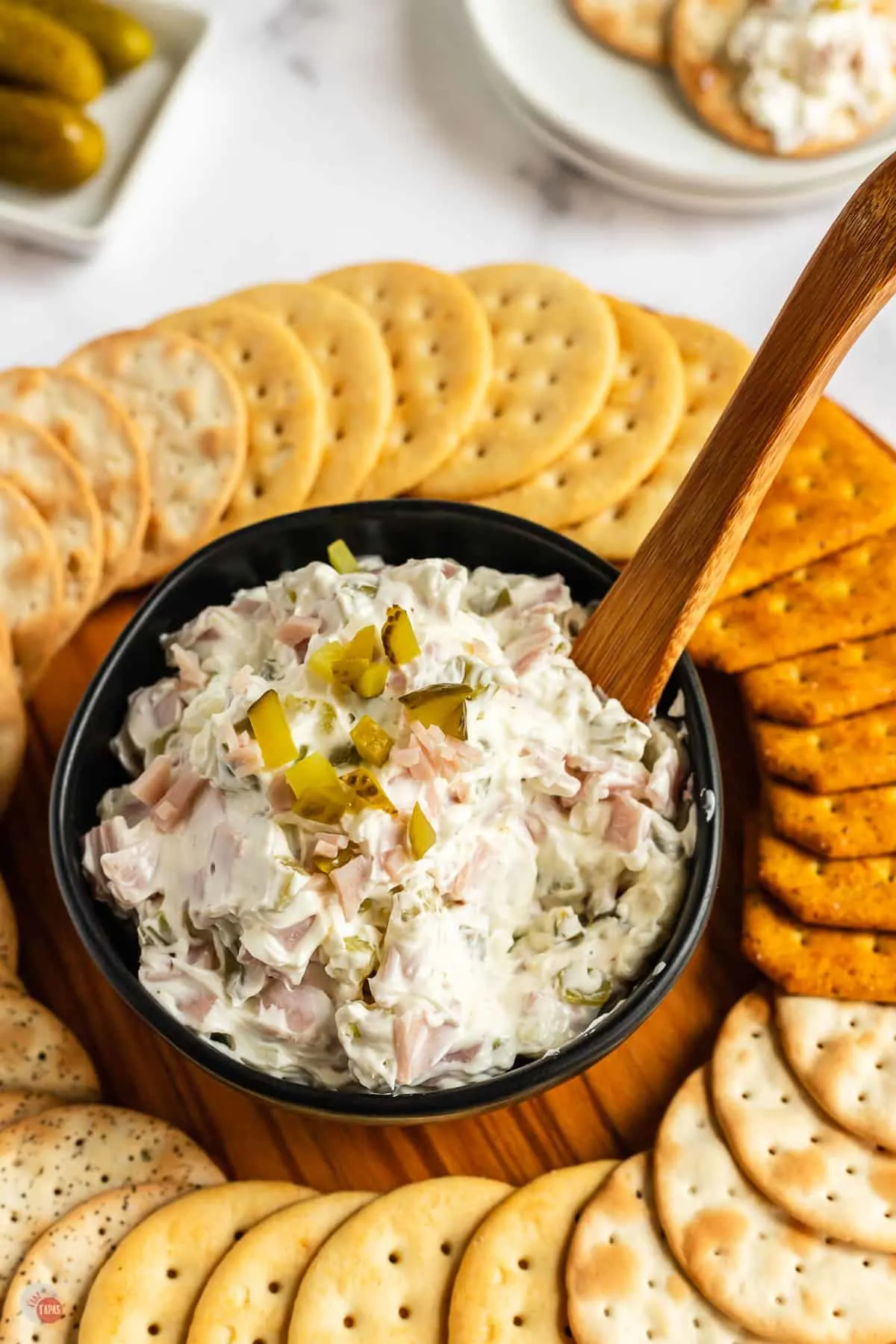 Pickle Wrap Dip is a fun twist on the popular Midwestern get-together appetizer; the Pickle Wrap!
This easy-to-make dip requires only 4 ingredients and can be served with buttery crackers or crisp veggies.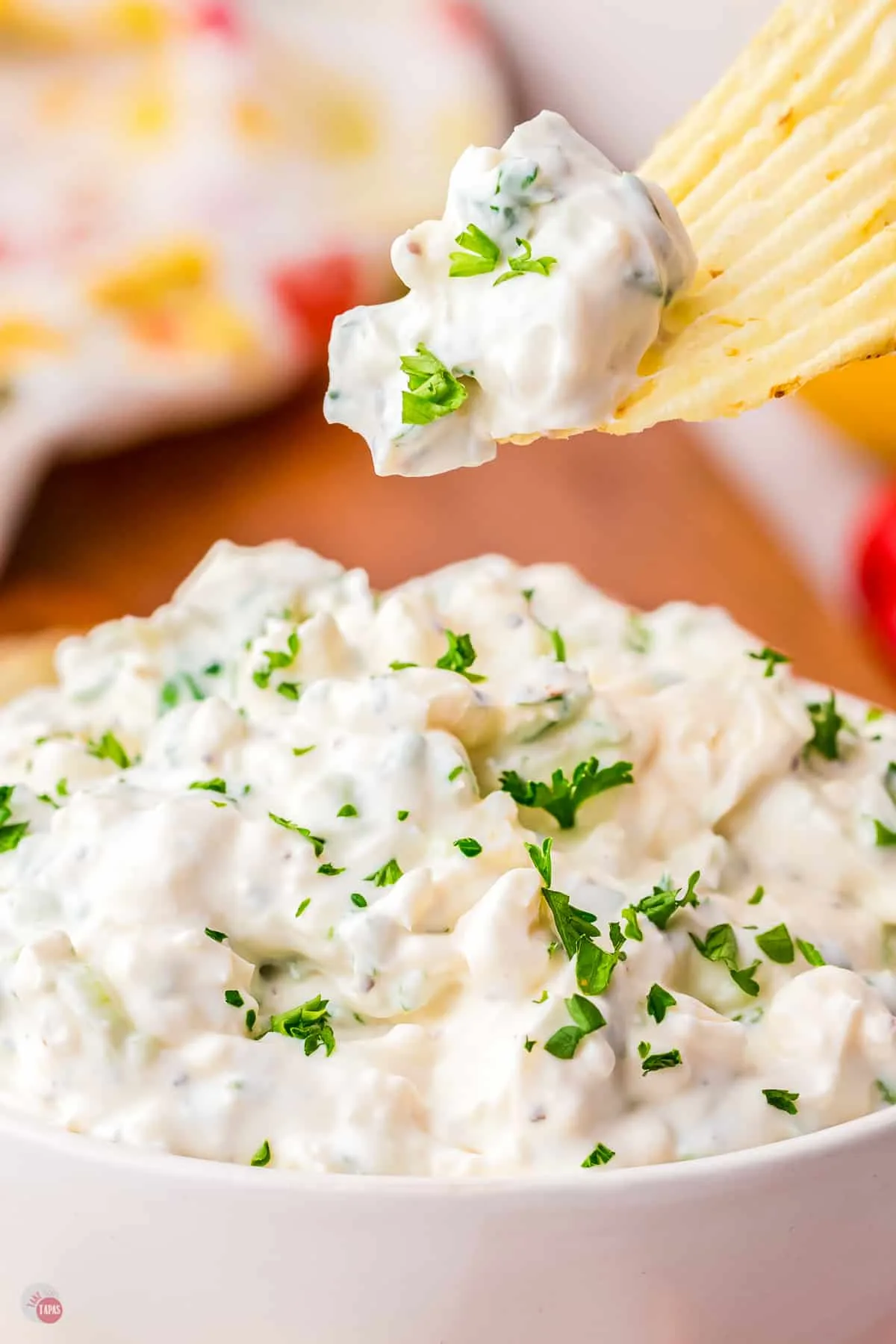 Green Onion Dip is deliciously fresh and creamy, made with both cream cheese and sour cream with green onions, lemon juice and parsley.
It's an amazing dip that goes with just about anything, but we love it with our favorite chips, crackers, and raw vegetables.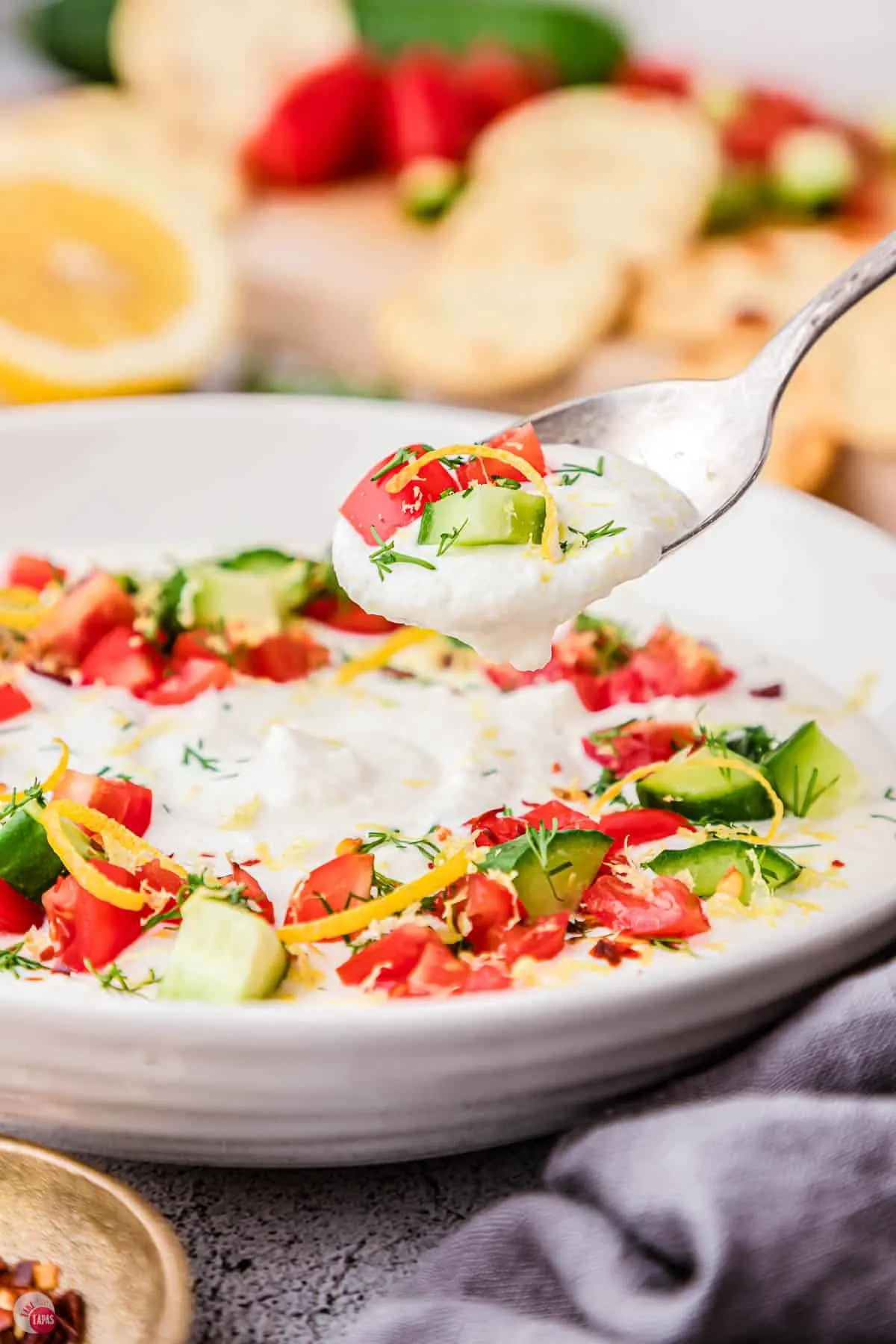 This Creamy Greek Feta Dip is the best if you want to make a mezze platter, and is one of the most flavorful, amazing recipes that I've found for pairing with raw veggies or pita chips.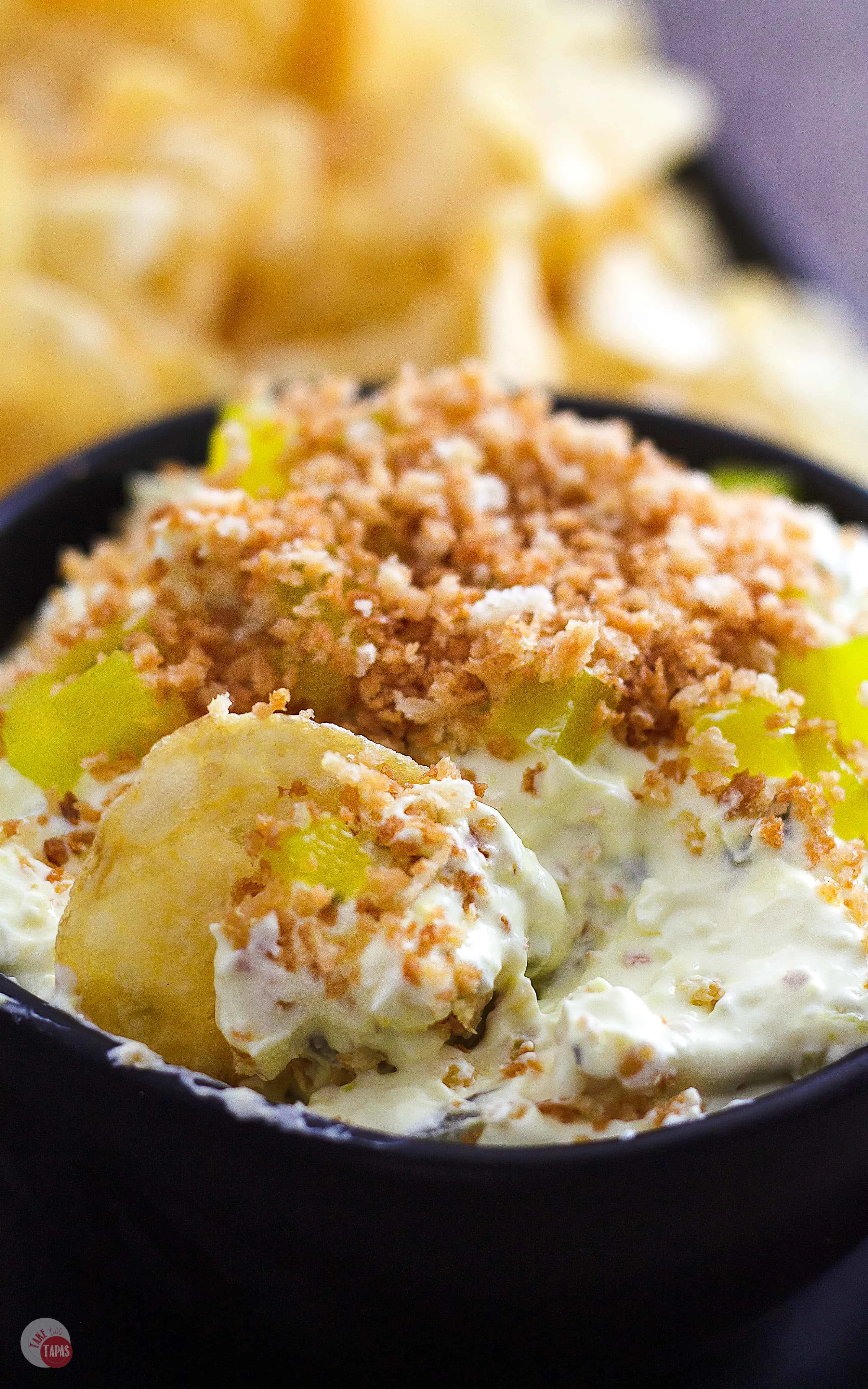 Love fried dill pickles? My Fried Pickle Dip gives you tart dill pickles, creamy sour cream to mellow them out, and toasted buttery panko breadcrumbs to mimic the crispy fried coating!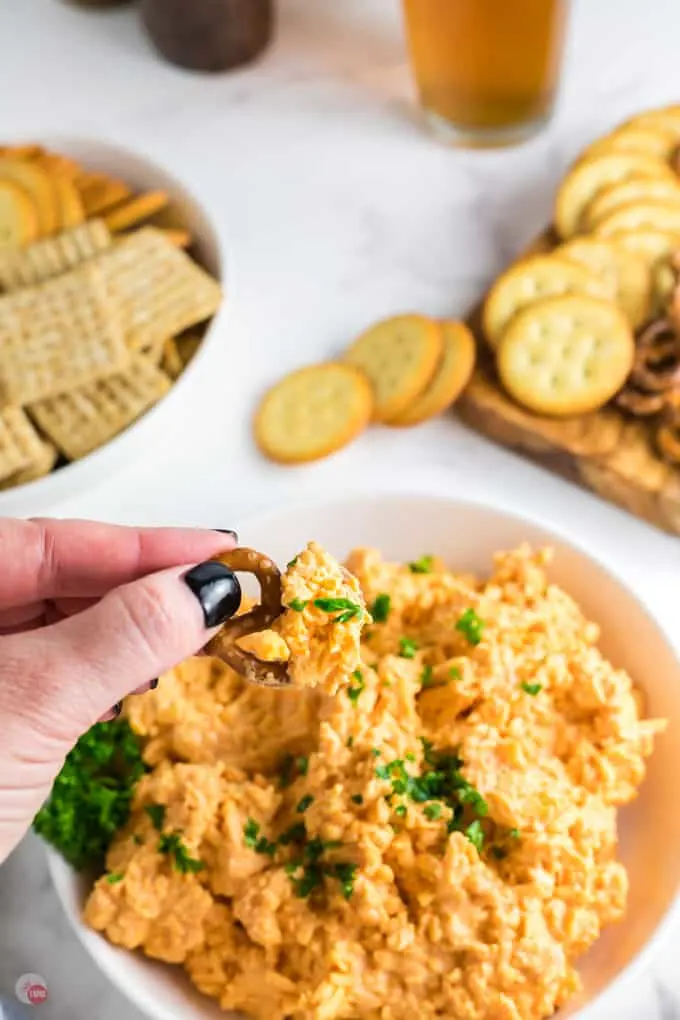 Pub Cheese Spread is a creamy, hoppy, and flavorful spread best enjoyed with buttery crackers and salty pretzel. Skip the pub and make your own at home!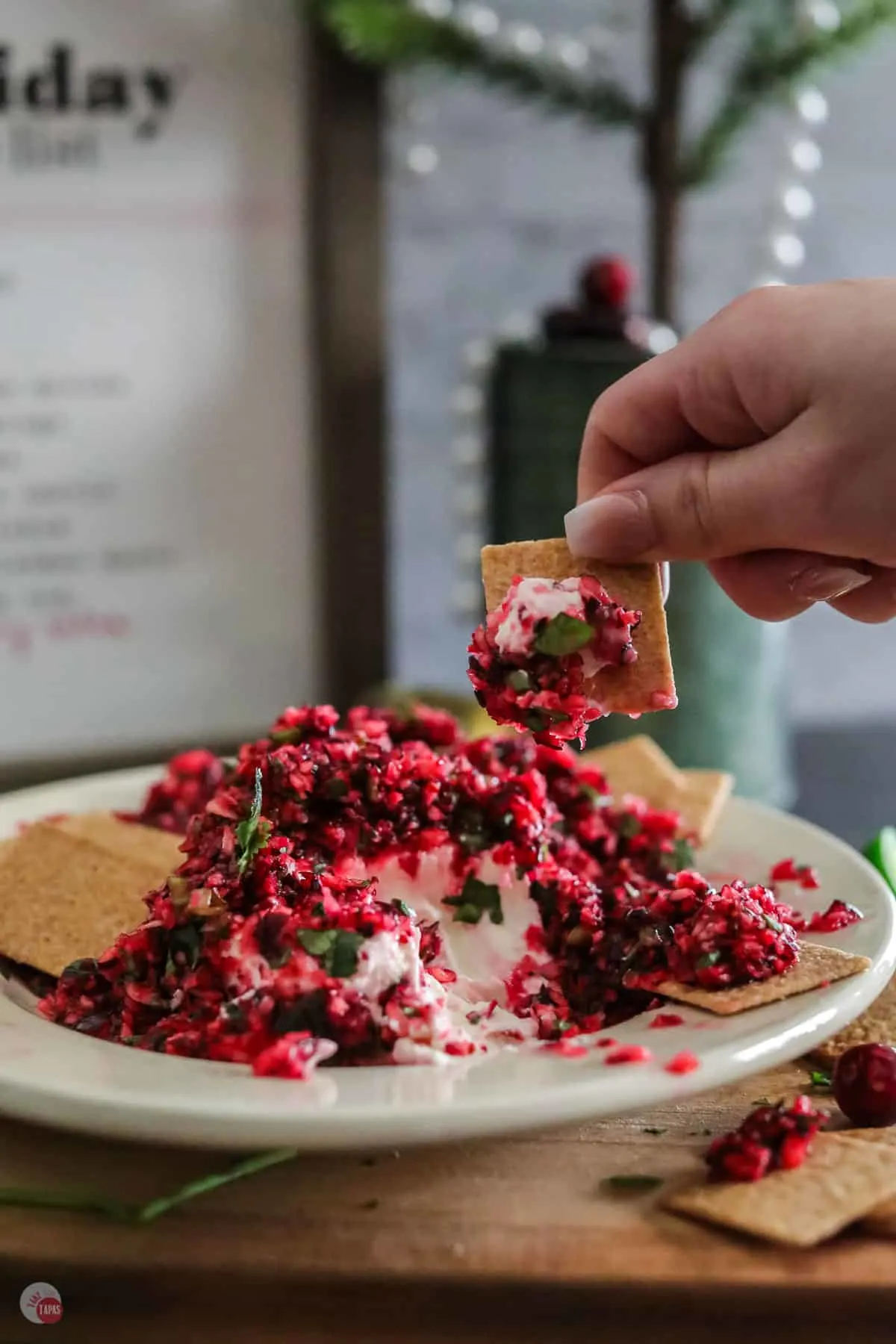 Easy Cranberry Cream Cheese Dip is the perfect festive holiday appetizer. Full of sweet and tart flavors with a hint of heat, served over rich cream cheese. Perfect for spreading on your favorite cracker!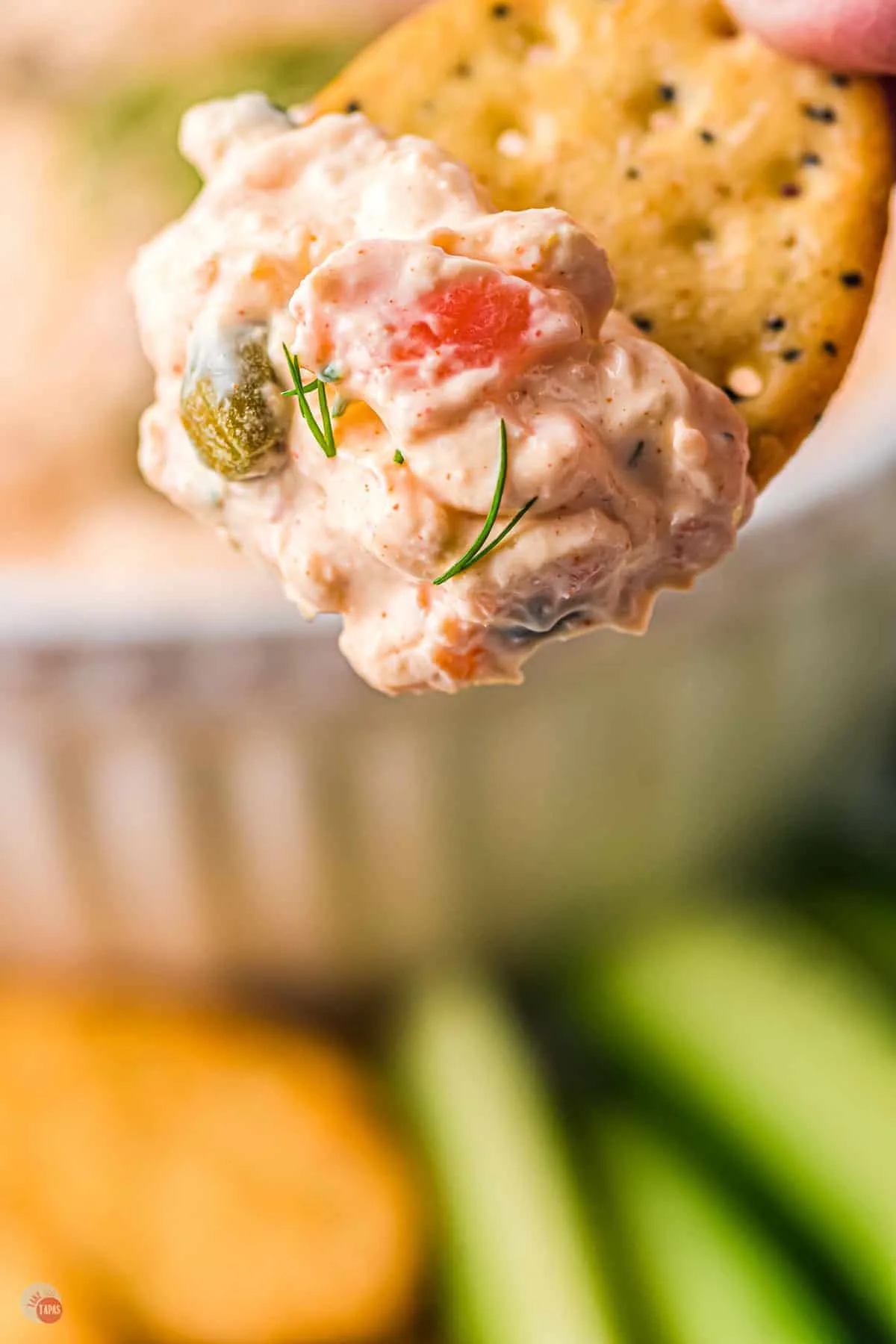 Easy Cranberry Cream Cheese Dip is the perfect festive holiday appetizer. Full of sweet and tart flavors with a hint of heat, served over rich cream cheese.
Perfect for spreading on your favorite cracker!
This cream cheese spread is topped with wasabi spread and a dash of Ponzu. Sprinkled with sesame seeds, this is the perfect appetizer for your Asian tapas spread.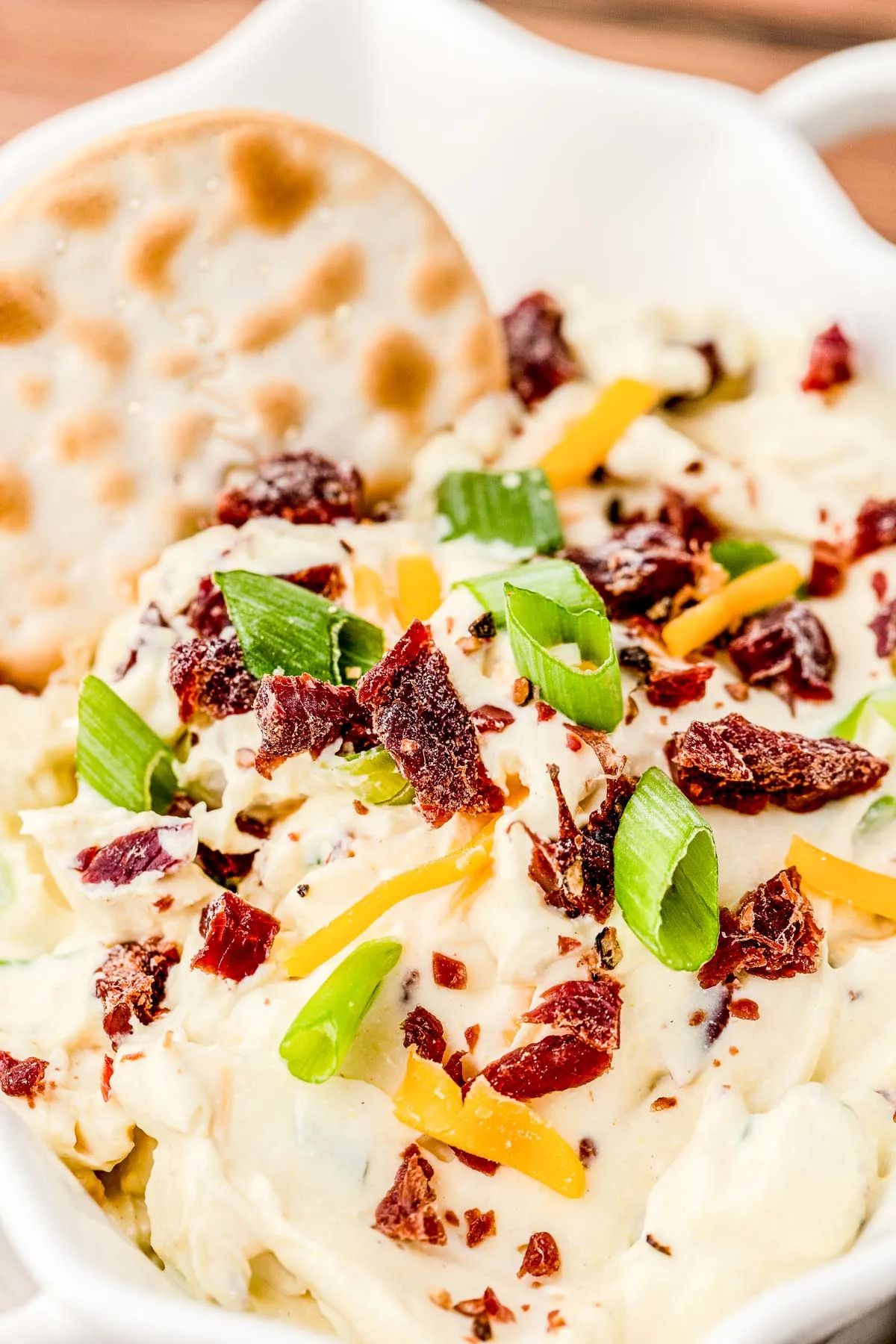 If you want a simple dip you can make the night before, this Beef Jerky Dip is sure to be the one for you! It's savory, smoky, and feels like you spent hours working on it.
Crock Pot Dips
These savory dips are great because they are creamy, cheesy, and easy. Made in a slow cooker, these dips are easy to prep ahead. Use a crockpot liner for easier clean up!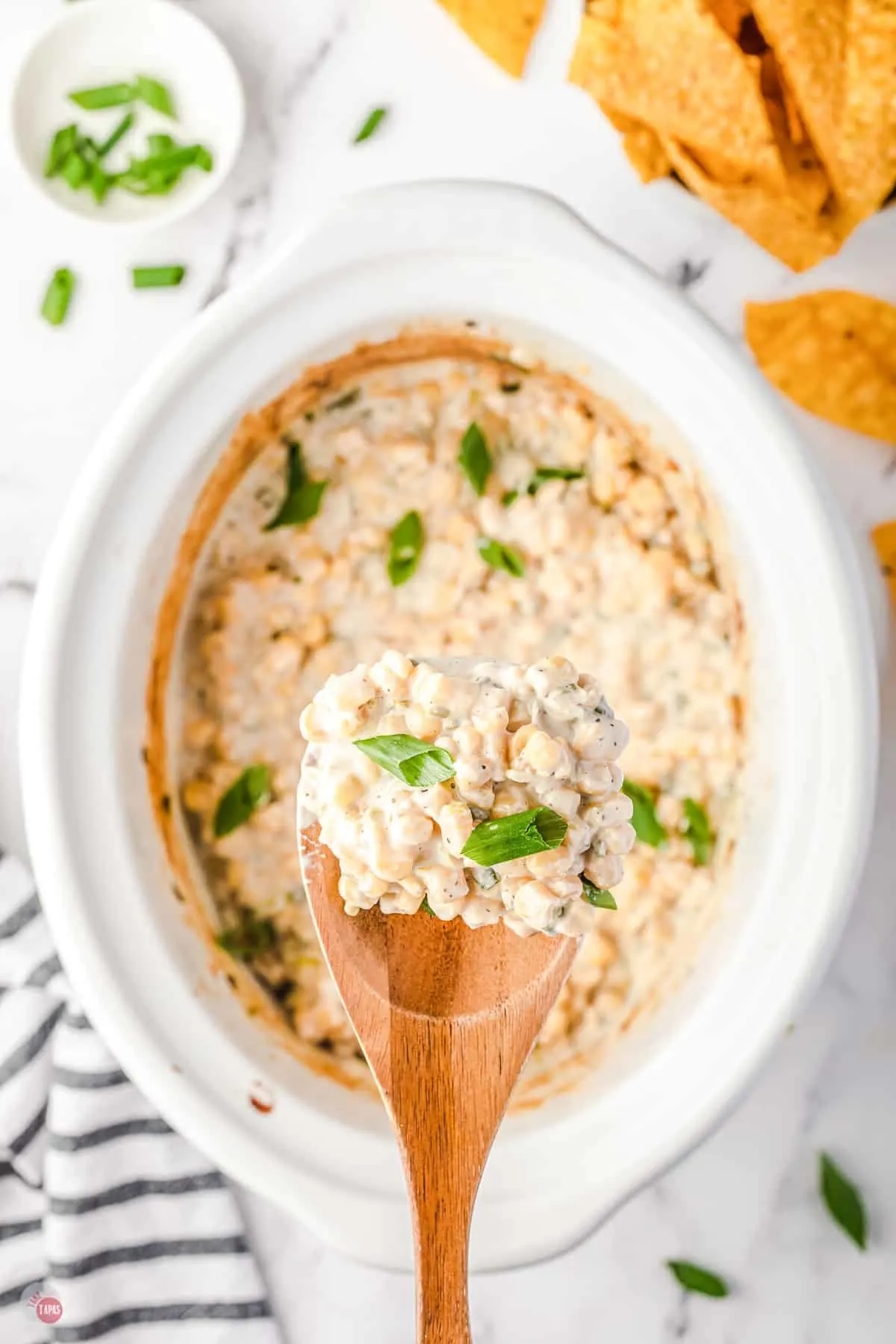 This dip smells so good while it's cooking that you are tempted to walk by and grab a spoonful. Do not do that as it is HOT!
Trust me, I did it and my tongue is numb, but I did go back for another taste before putting the lid back on.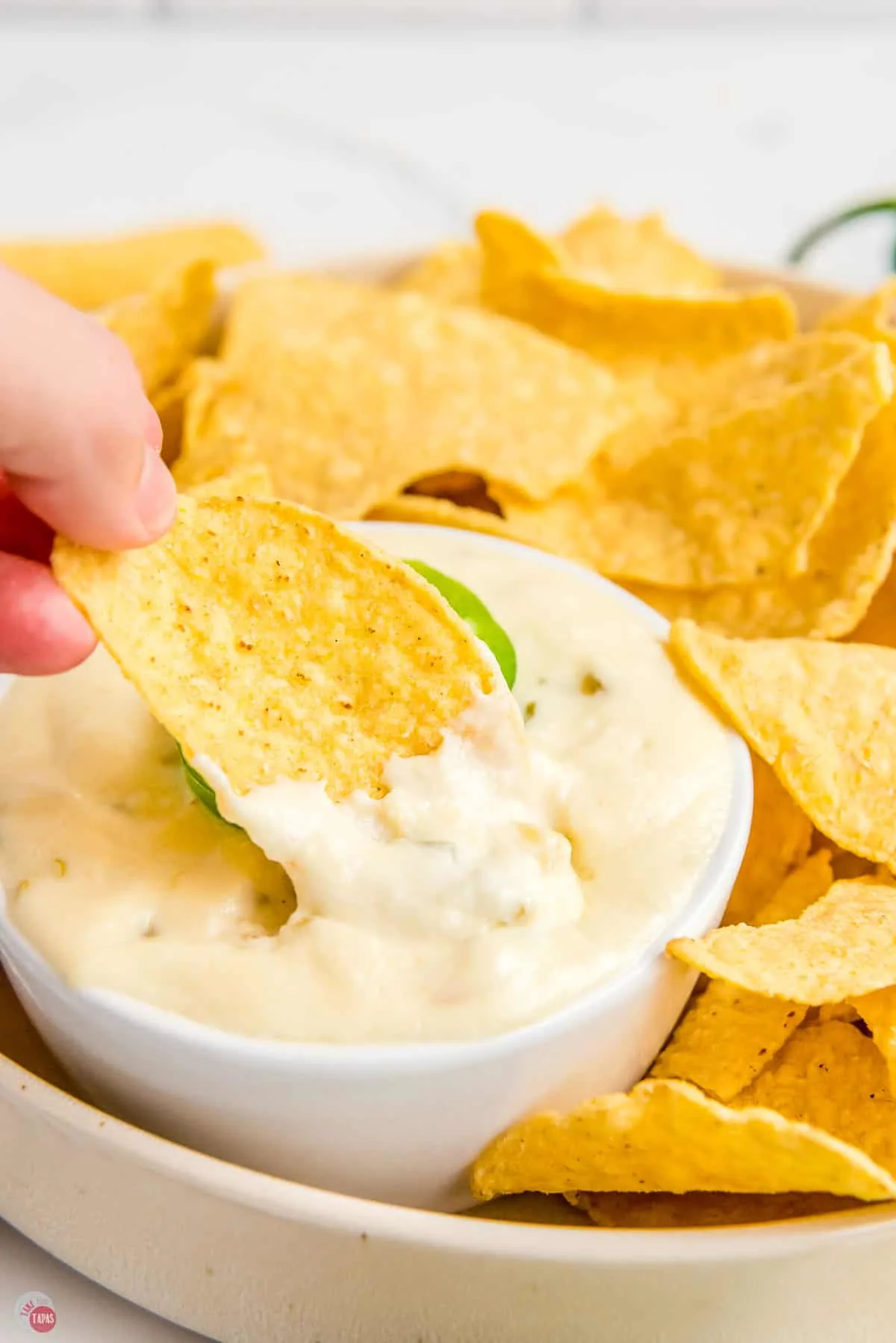 This is an amazingly cheesy dip that's packed with flavor but without too much heat, so everyone can enjoy it.
Serve it with a bag of your favorite chips.
It is October but also time to break out your Crock Pot! This Chicken Bacon Ranch Dip is creamy, cheesy, and full of bacon. Perfect for game day!
Spice up your school snack ideas or big game day party with this easy Crockpot Pizza Dip. Pepperoni, Italian seasoning, cream cheese, and your favorite pizza toppings in one cheesy dip!
Sweet Dips
Dips just aren't for appetizers, they make great desserts too. Starting with same cream cheese base, add marshmallow fluff or powdered sugar and any other flavor you like.
Here are a few of my favorite dessert dips that are perfect for brunch, showers, or afternoon snacking.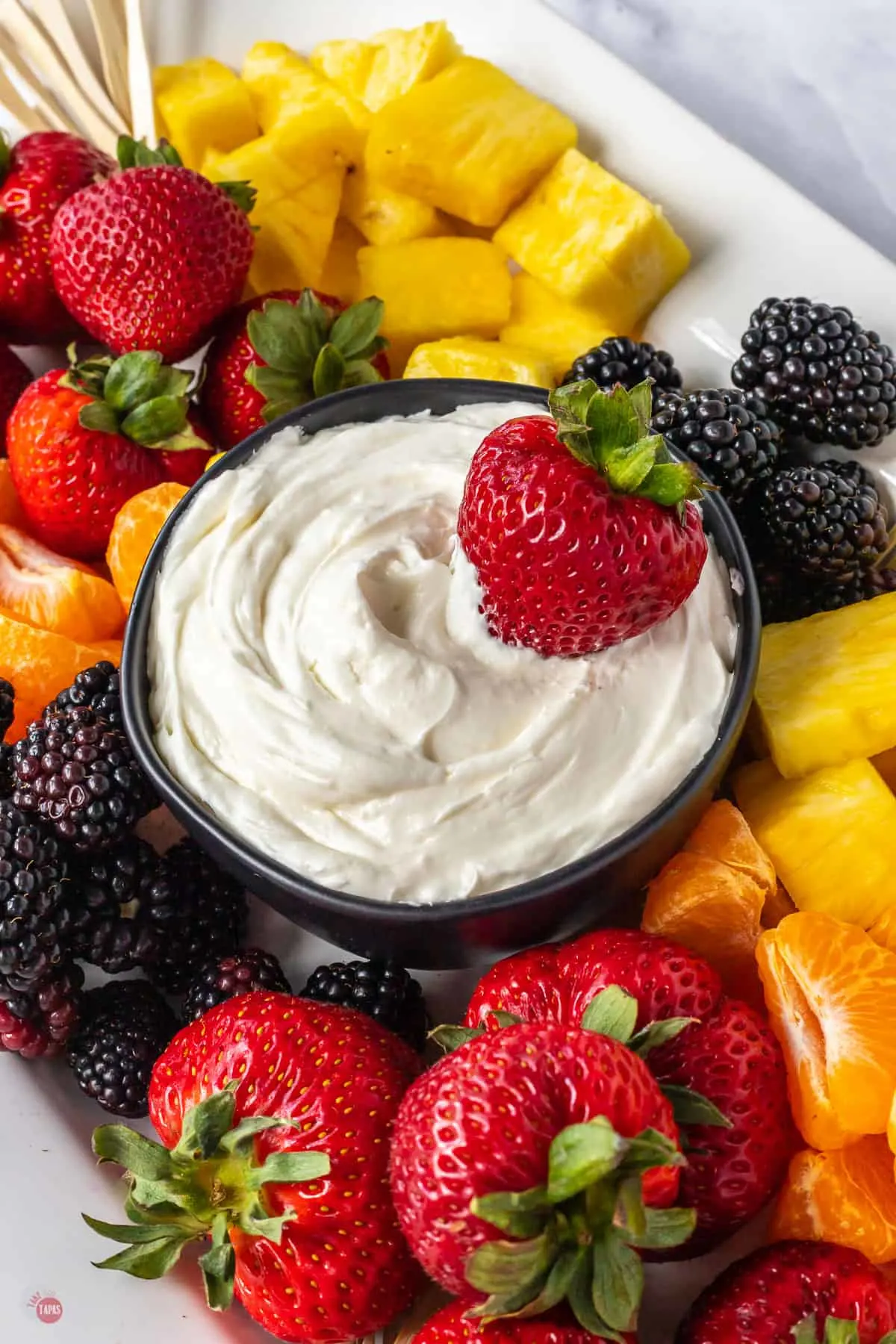 This cream cheese fruit dip has a perfect dipping consistency with just the right amount of fluffy marshmallow sweetness.
I make a bowl for any summer party I am hosting or helping with, who can resist a sweet dip for tart fruit?
Oatmeal Cream Pie Dip is a modern twist on a lunchbox cookie favorite. Take a walk down memory lane with this creamy dip!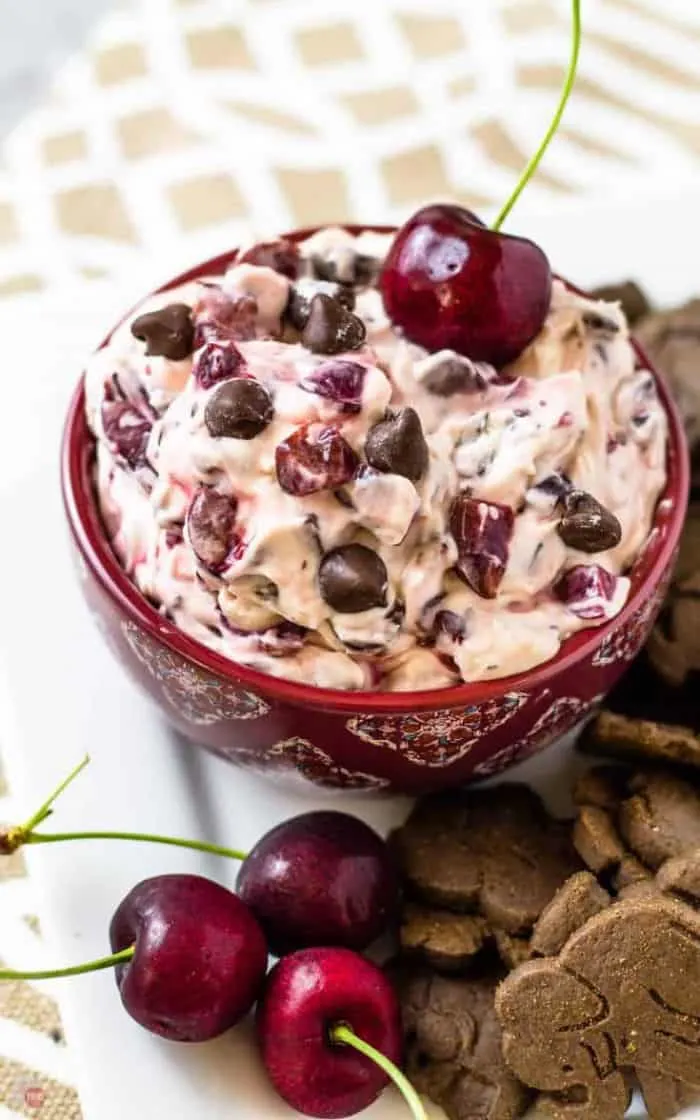 Cherry Garcia Dip will have you enjoying your favorite ice cream flavor full of tart cherries, dark chocolate chips, and a hint of amaretto!
All combined in a creamy vanilla cream cheese base and served with chocolate cookies for the perfect dessert or party food.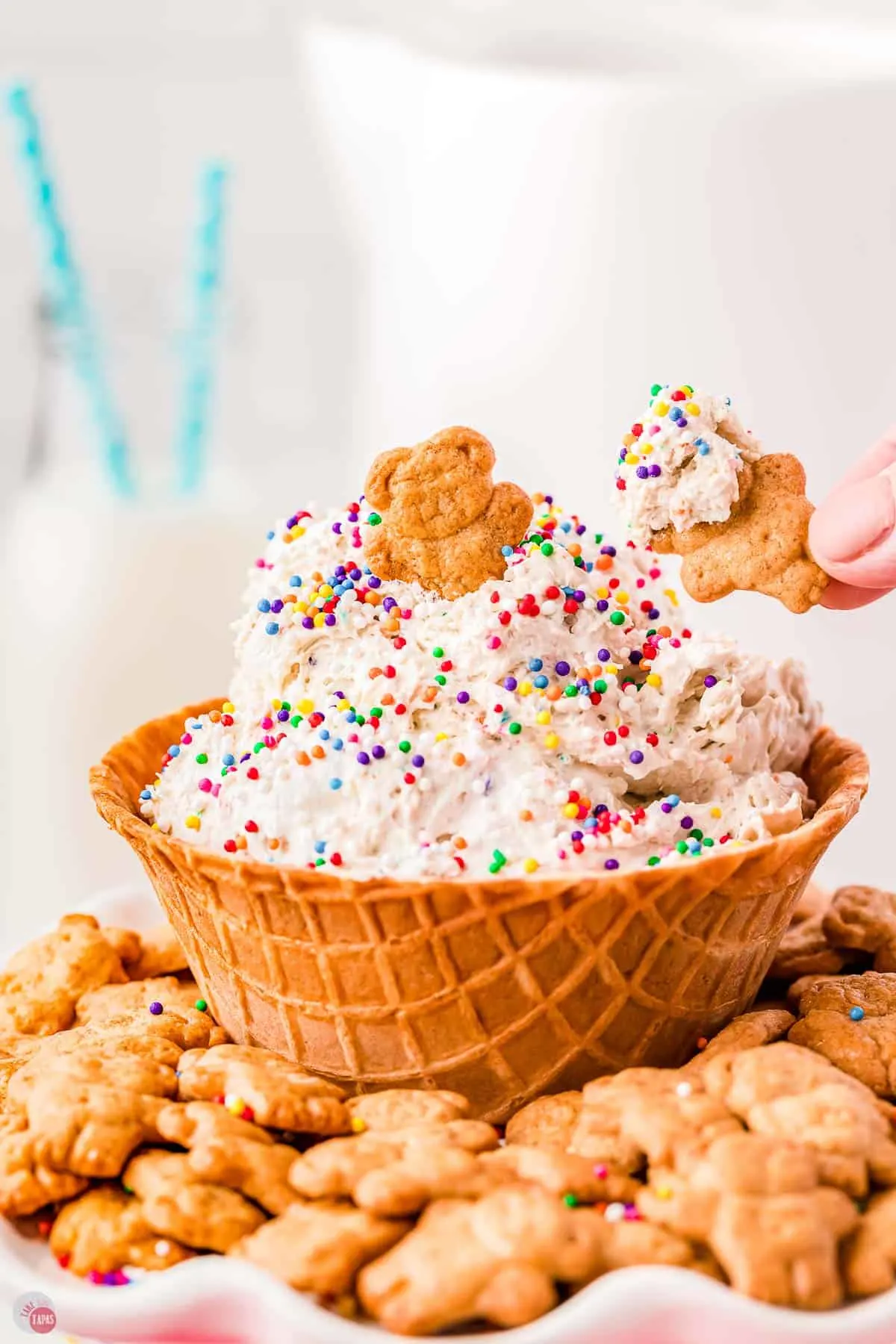 Birthday parties aren't complete without this sweet, delicious Dunkaroo Dip to grab and go!
This popular snack is a home run for all get togethers; say hello to your favorite plus-one to any baby shower, brunch, or kiddie play dates.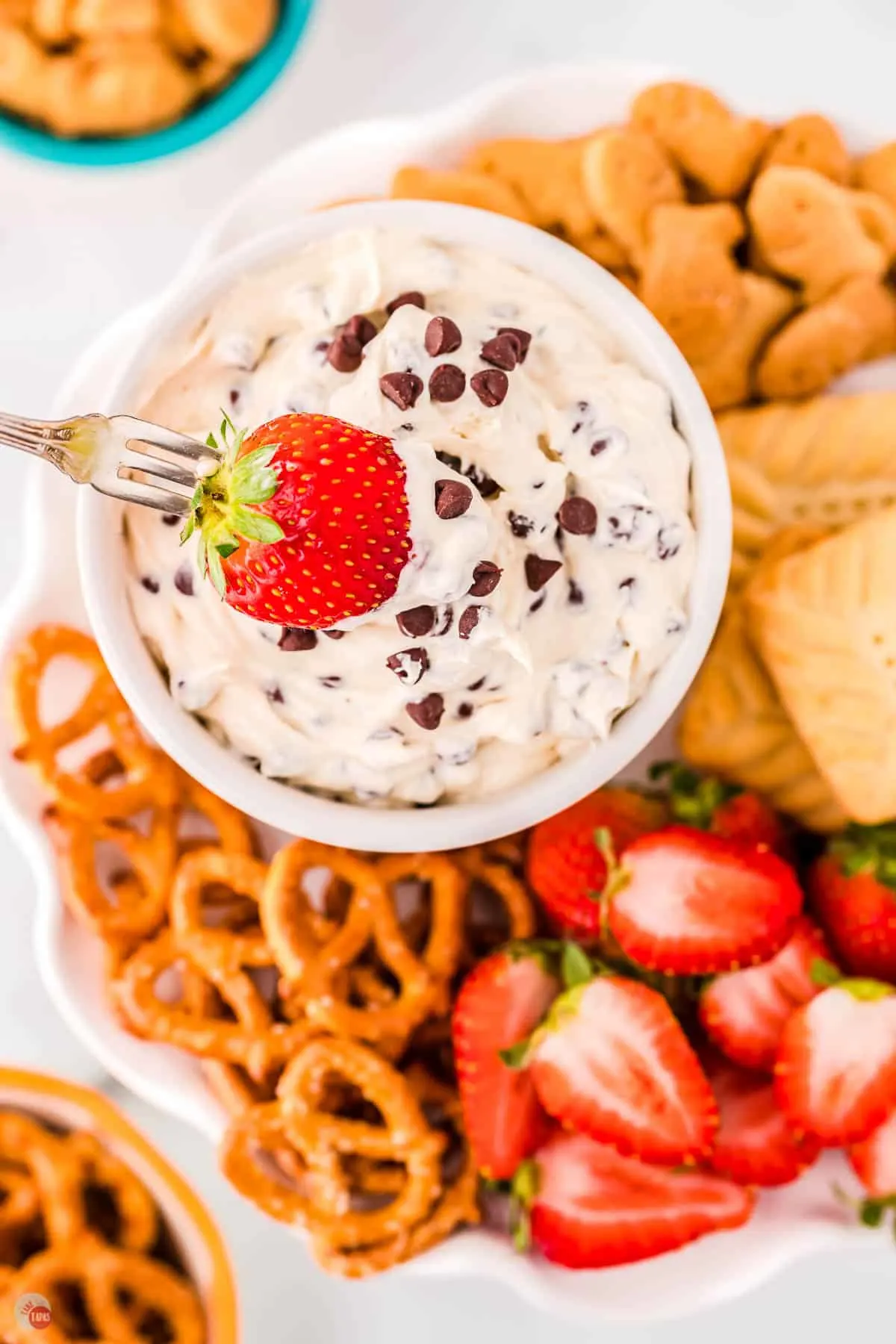 If you're in the mood for an insanely delicious snack, this creamy dip is for you! Booty Dip is a fast and easy no bake dessert to throw together for your next gathering, or maybe just for you.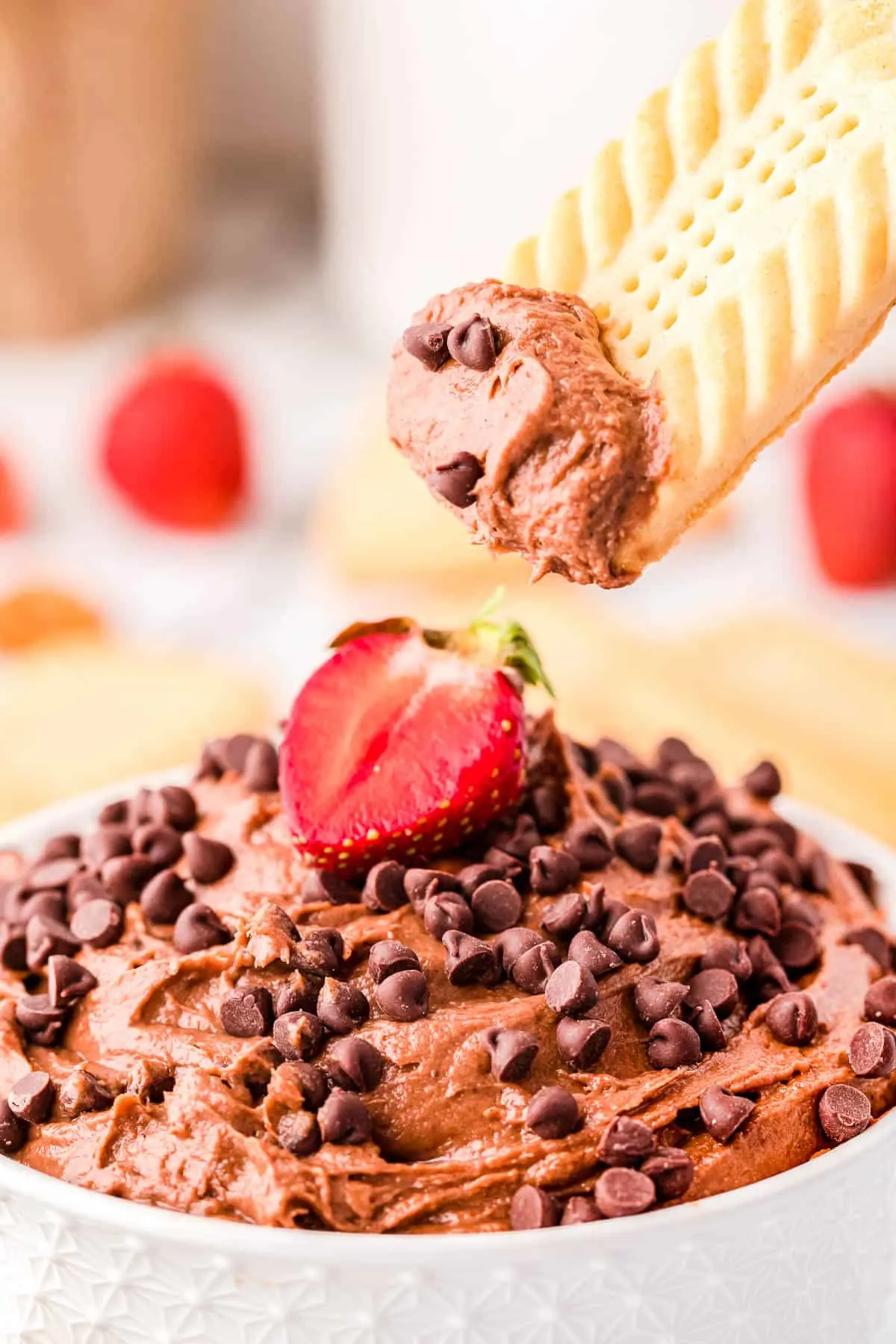 If you're in charge of bringing the sweets to the next party you attend, look no further – this Brownie Batter Dip Recipe will have everyone scraping the bottom of the bowl.
It's an easy recipe to make when you're looking for a quick sweet fix!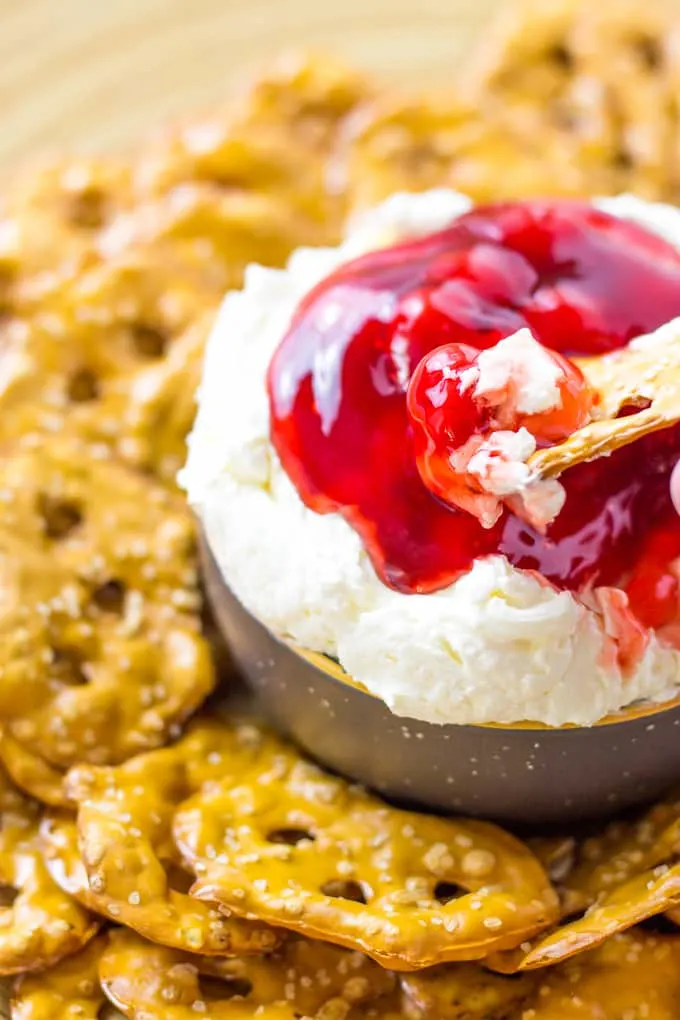 I make Cherry Pretzel Salad Dip when I am craving something cherry and a little less time-consuming than a traditional Strawberry Pretzel Salad. It is totally Dippable and Inhalable!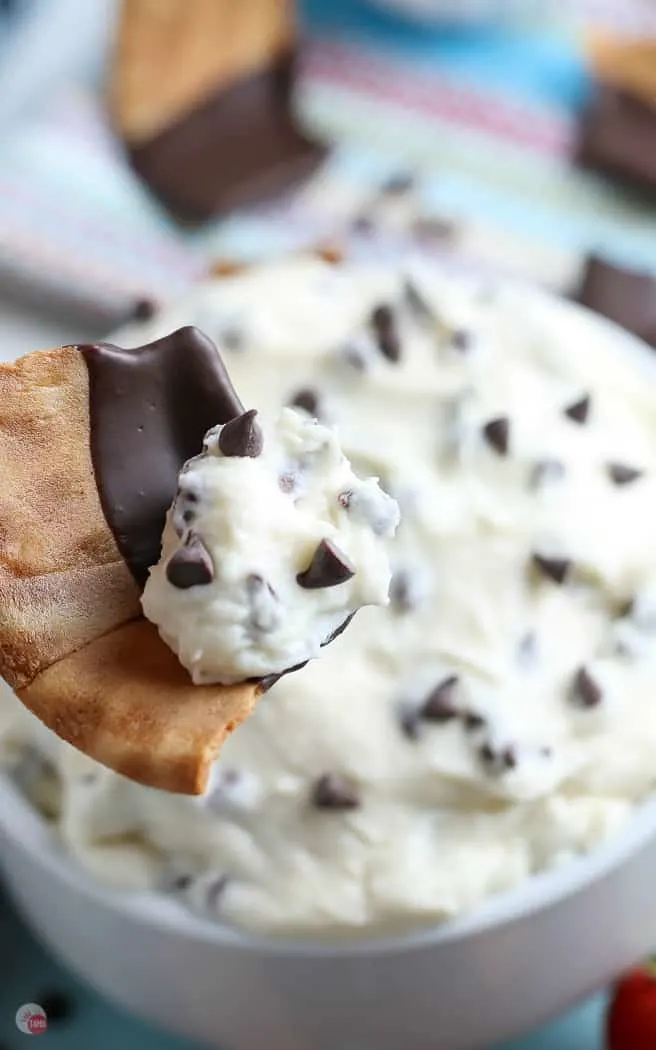 Made with cream cheese, ricotta and a few sweet additions, the best cannoli dip is made in just 10 minutes.
Served with waffle cones, fresh fruit, or top on Belgian waffles for the ultimate in brunch foods.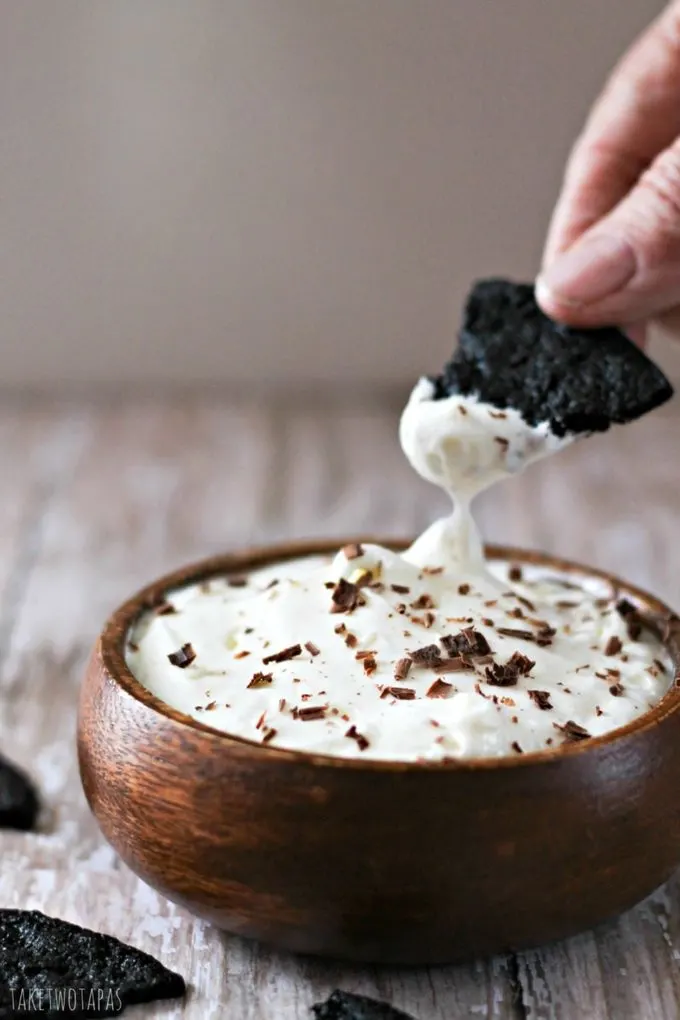 The great flavors of the Oreo cookie are combined with cream cheese to make an Oreo cheesecake dip that will remind you of Oreo cookies and milk.
Make your own homemade chocolate wafers to dip!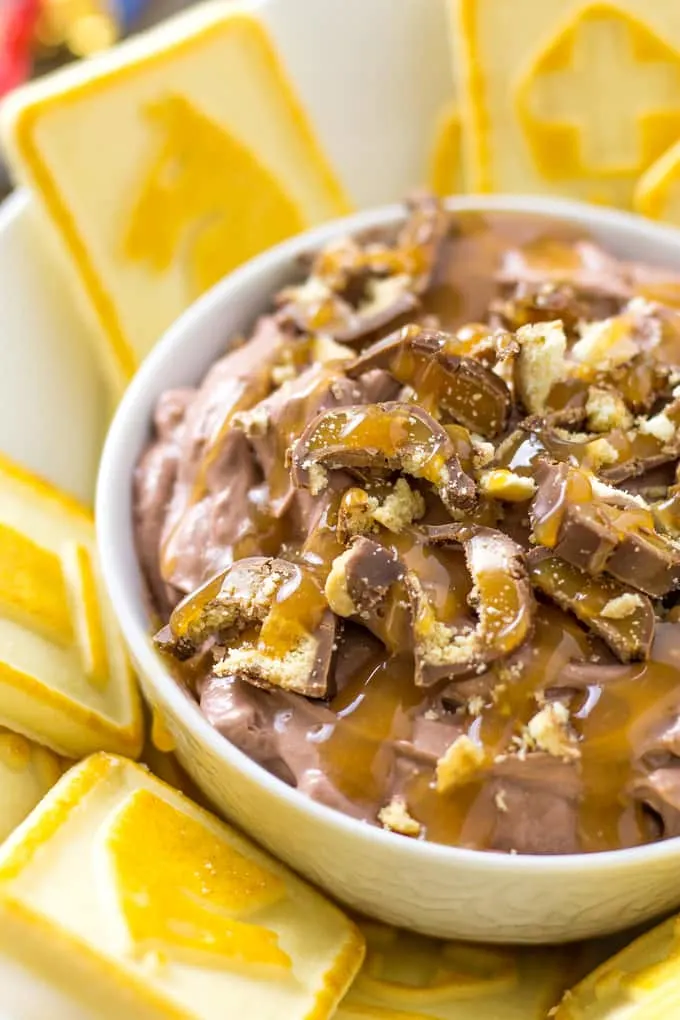 A rich and decadent chocolate fudge dip swirled with caramel and crushed Twix bars makes for a truly amazing dip or dessert!
Get ready to make a few batches of this Twix Dip because everyone is going to inhale this!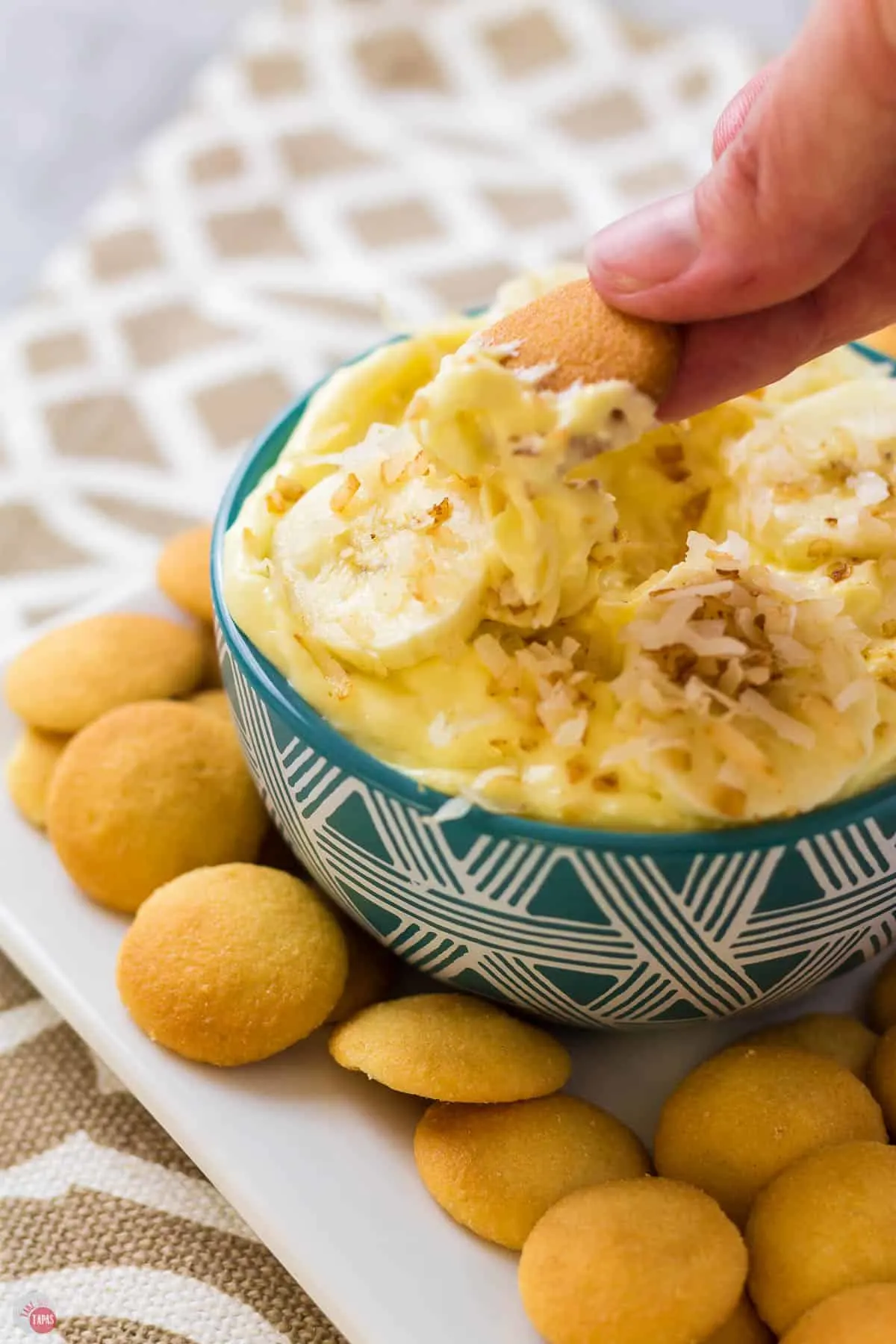 This Banana Cream Pie Dip is exactly the dessert dip you are looking for! Creamy, full of banana flavor, and topped with crunchy toasted coconut.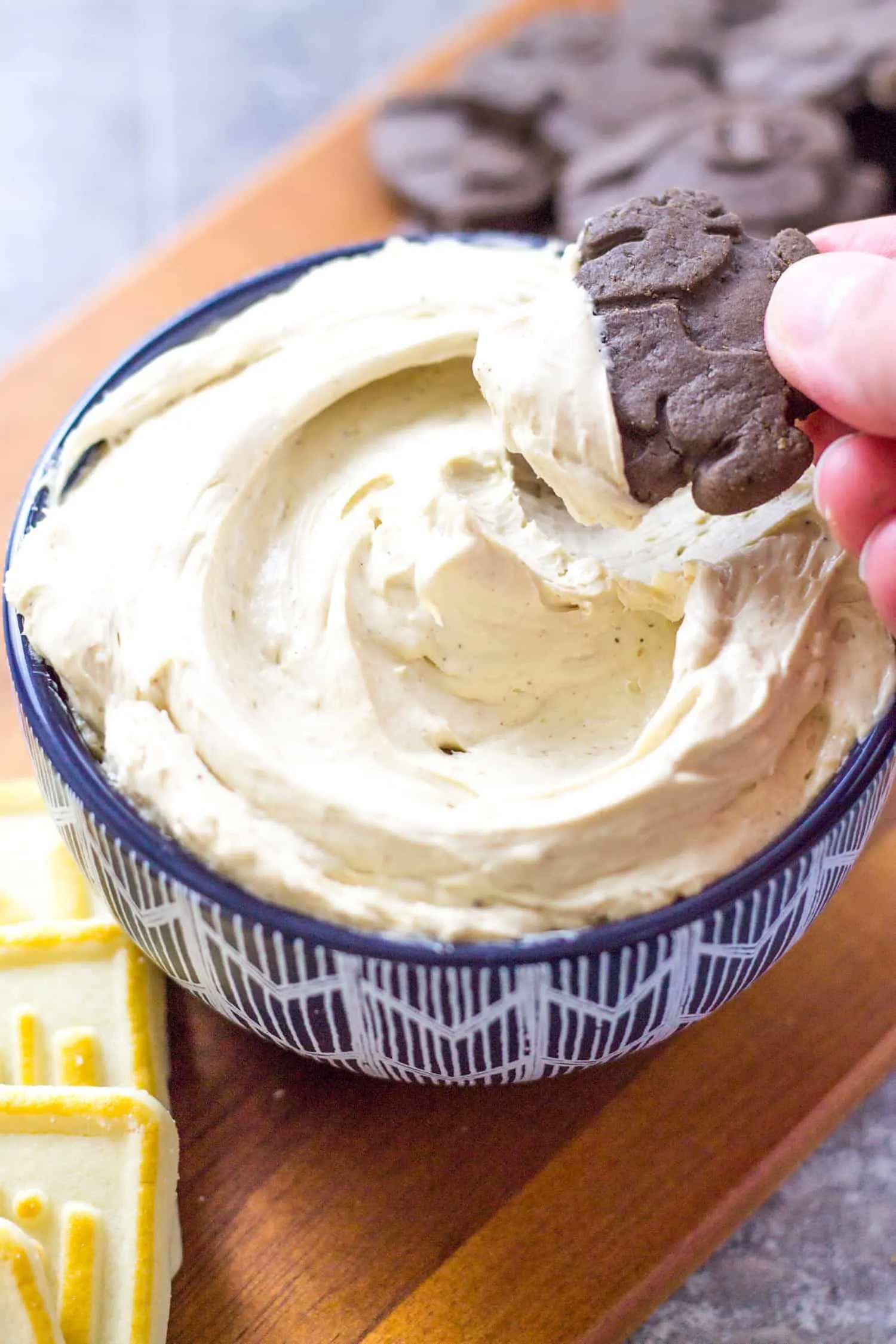 Enjoy a morning cup of Joe but in a fun dessert! This Chai Latte Dip is creamy, spicy, with a hint of coffee and will make your afternoons and evenings just as nice as your mornings!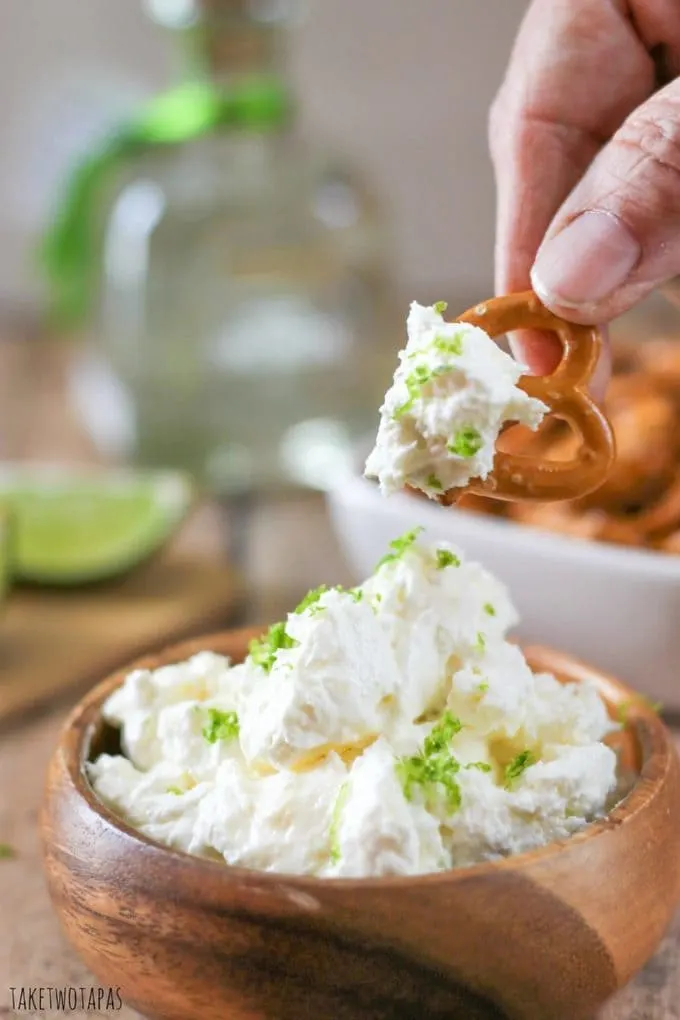 This bright and creamy margarita dip is full of the flavors of lime and tequila and the perfect amount of salt when served on top of a salted pretzel!
If you love this recipe as much as I do, please write a five-star review in the comment section below (or on Pinterest with the "tried it" button – you can now add pictures into reviews, too!), and be sure to help me share on facebook!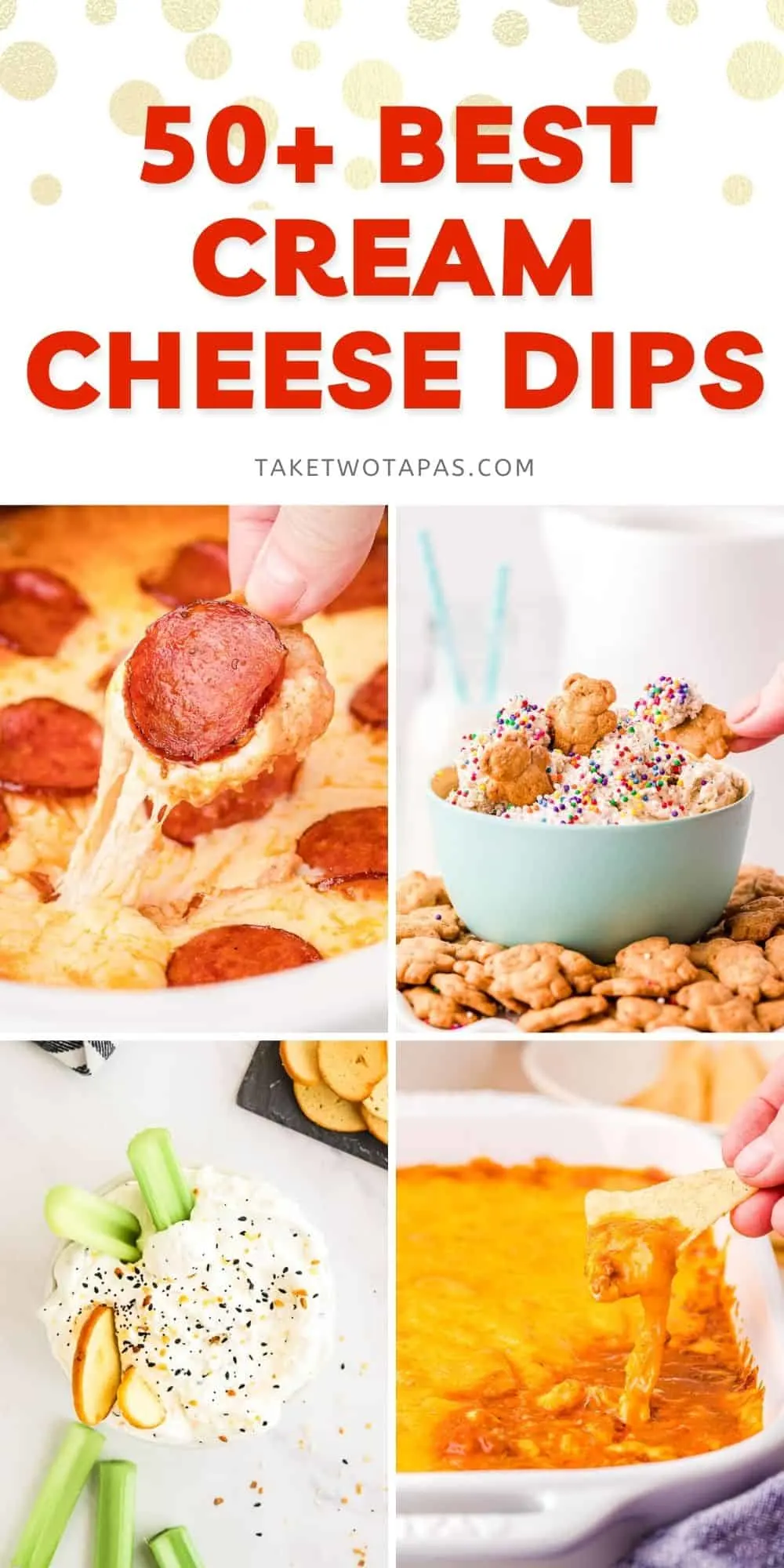 I hope you have enjoyed this list of my favorite cream cheese dip recipes! Pick a few of your favorite ones and add them to the rotation for holiday parties, get togethers, and tailgating gatherings.
After that, try all my Sour Cream Dips too!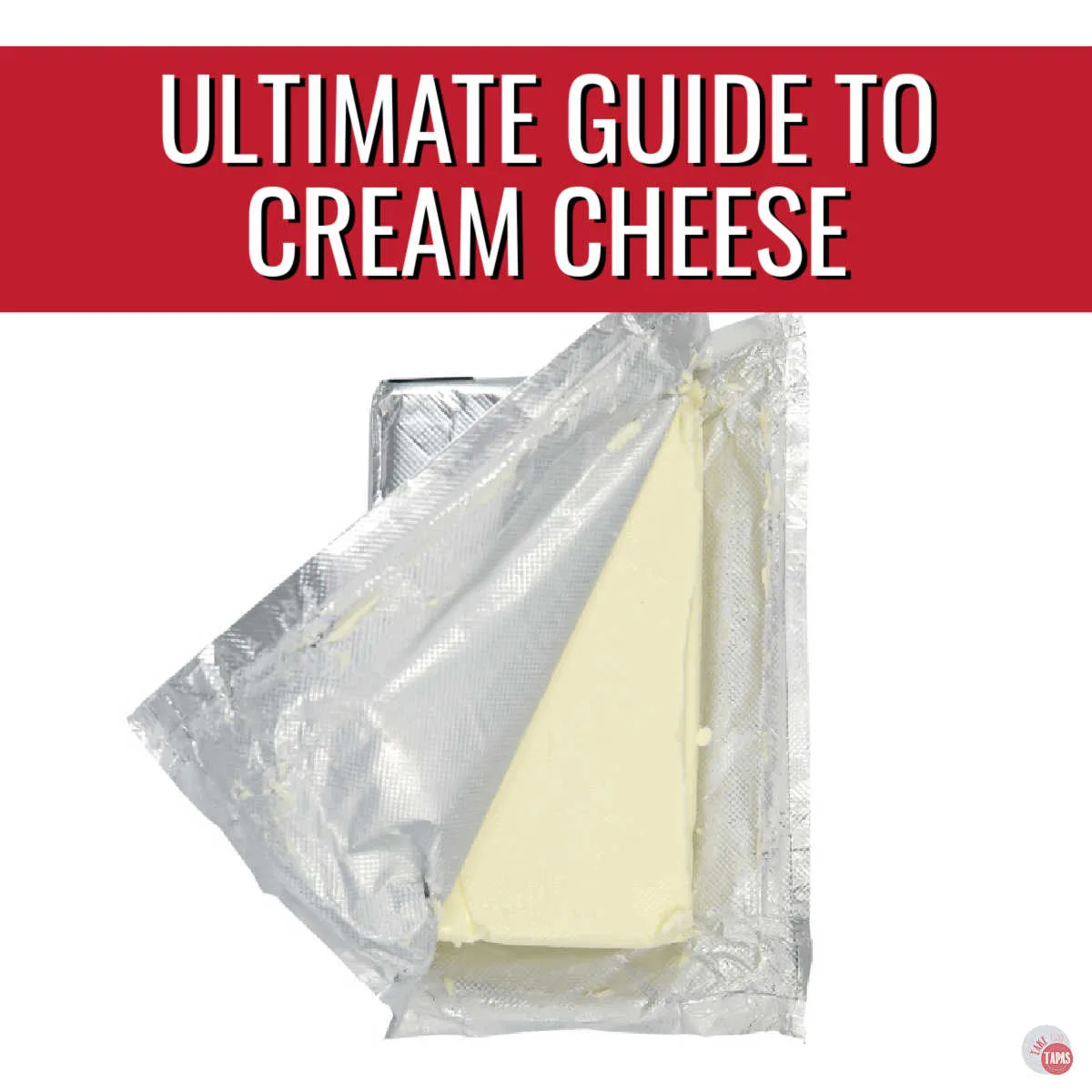 Want more information on cream cheese? Check out my Complete Guide to Cream Cheese! It answers all your questions, including:
Favorite Party Foods
TakeTwoTapas.com. Content and photographs are copyright protected. Sharing of this recipe is both encouraged and appreciated. Copying and/or pasting full recipes to any social media is strictly prohibited.