Love fried dill pickles? My Fried Pickle Dip gives you tart dill pickles, creamy sour cream to mellow them out, and toasted buttery panko breadcrumbs to mimic the crispy fried coating!
Fried Pickle Dip
One of the best appetizers out there are fried pickles! Tart, juicy pickles with crispy, buttery coating. What more could you ask for? I can't think of a better appetizer, but what if I don't have time to make the pickles, coat them, fry or bake them, make a dipping sauce, AND clean up the mess that making fried pickles causes?
Check out my Fried Pickle Dip which is everything you love about fried pickles, their dipping sauce, and all without the mess? How about if I told you that you can make it a few days ahead of time?
Would this sell you on it?
This post may contain affiliate links. As an Amazon Associate, I earn from qualifying purchases. Read my disclosure policy here.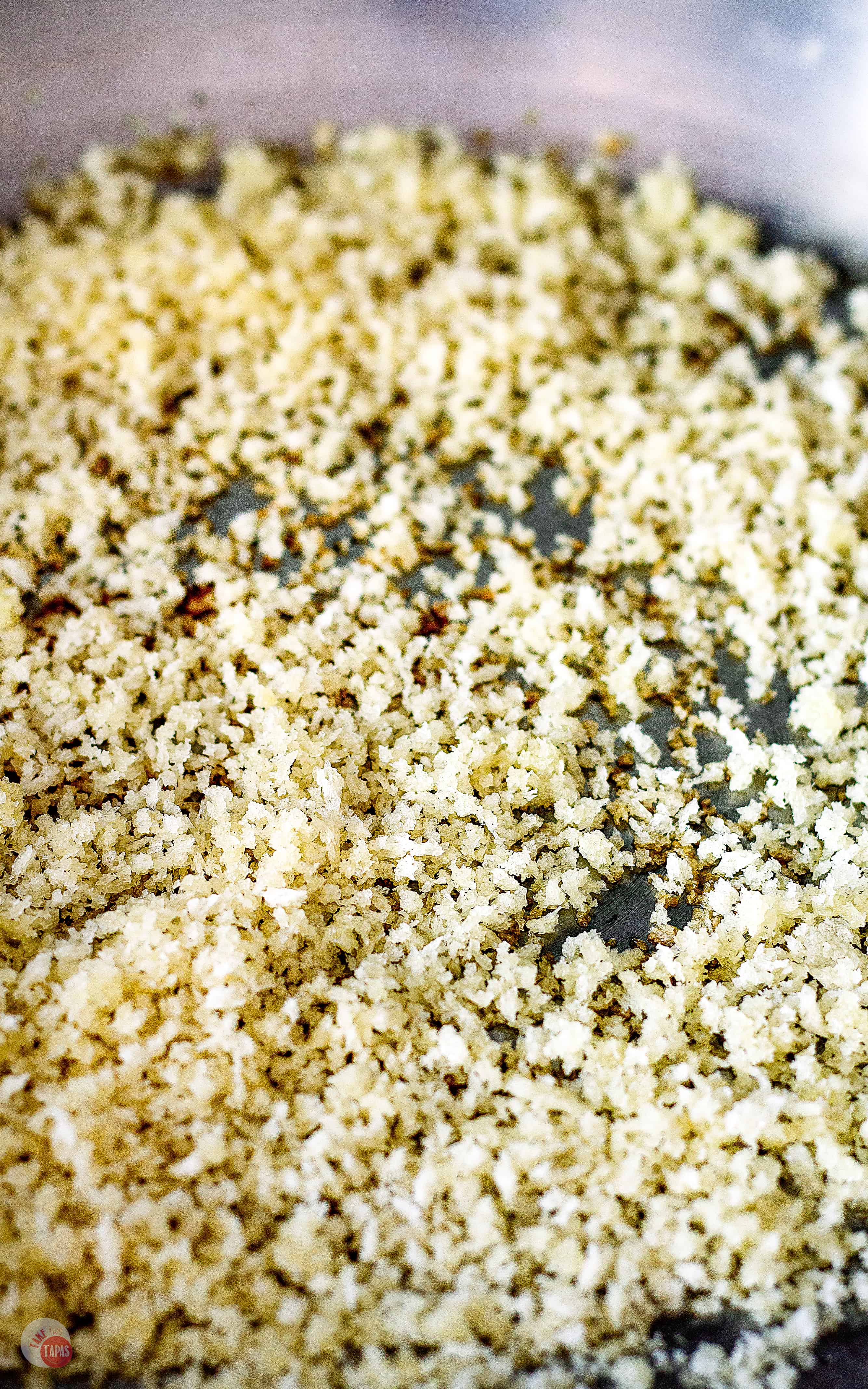 If you'd rather skip my (very helpful, I think) tips and tricks, essential cooking info, and similar recipe ideas – and get straight to this delicious recipe – simply scroll to the bottom of the page where you can find the printable recipe card.
Fried Pickles with Cornmeal
When I think about fried pickles, which is pretty often I might admit, I think of two things.
the sour and tart dill pickle, and hope they are thick and not some sliver that disintegrates when it gets fried.
the buttery, crispy coating holding all that tart juice inside!
If the fried pickle is any good, the coating will be super crispy, not at all greasy, and the pickle inside will be firm and not floppy and soggy. I have tried to make fried pickles at home, all while making a ginormous mess, and one incident where I slipped on the floor from all the splattered grease.
I have tried, deep frying, pan frying, and even baking them in the oven. The one thing I found that made the crispiest coating is Panko breadcrumbs. Lot's of recipes make fried pickles with cornmeal, but I have found that the small size of the crumb means the fried pickles get soggy much quicker. Trust me when I say, stick to the PANKO!

Deep Fried Pickle Recipe
When I order my fried pickles, I immediately think of what dipping sauce they are coming with. Ranch is the standard but if you bring me a spicy jalapeño ranch, that is even better! I could give you a recipe for a kick-ass Fried Pickle Dipping Sauce but why have a separate sauce when you can get it all together?
My Fried Pickle Dip is just that. A fried pickle AND a dipping sauce all in one bowl! The cool creamy taste of a dipping sauce, the tartness of the pickle, and the crunch of the coating are all in this one recipe.
For more insider tips & tricks, and a candid behind the scenes look follow me on social media! Check use out on Pinterest, Facebook, Instagram, & Twitter (yes, people still use Twitter, LOL!)
FAQ about Fried Pickle Dip:
Q: Can you I use bread and butter pickles?
A: Yes, you can use any pickles that you like!
Q: Can I use regular breadcrumbs instead of Panko bread crumbs?
A: Yes you can, but I find that they don't get as crispy due to their smaller size and just end up getting sticky and gummy on the dip.
Q: Can I use Greek Yogurt Cream Cheese instead of regular cream cheese?
A: Yes, you can, but it will make the dip even tangier.
Q: Can I serve it with something other than chips?
A: The Fried Pickle Dip tastes great with pretzels and kettle chips, but I haven't tried it with anything else. If you do, let me know how it turns out!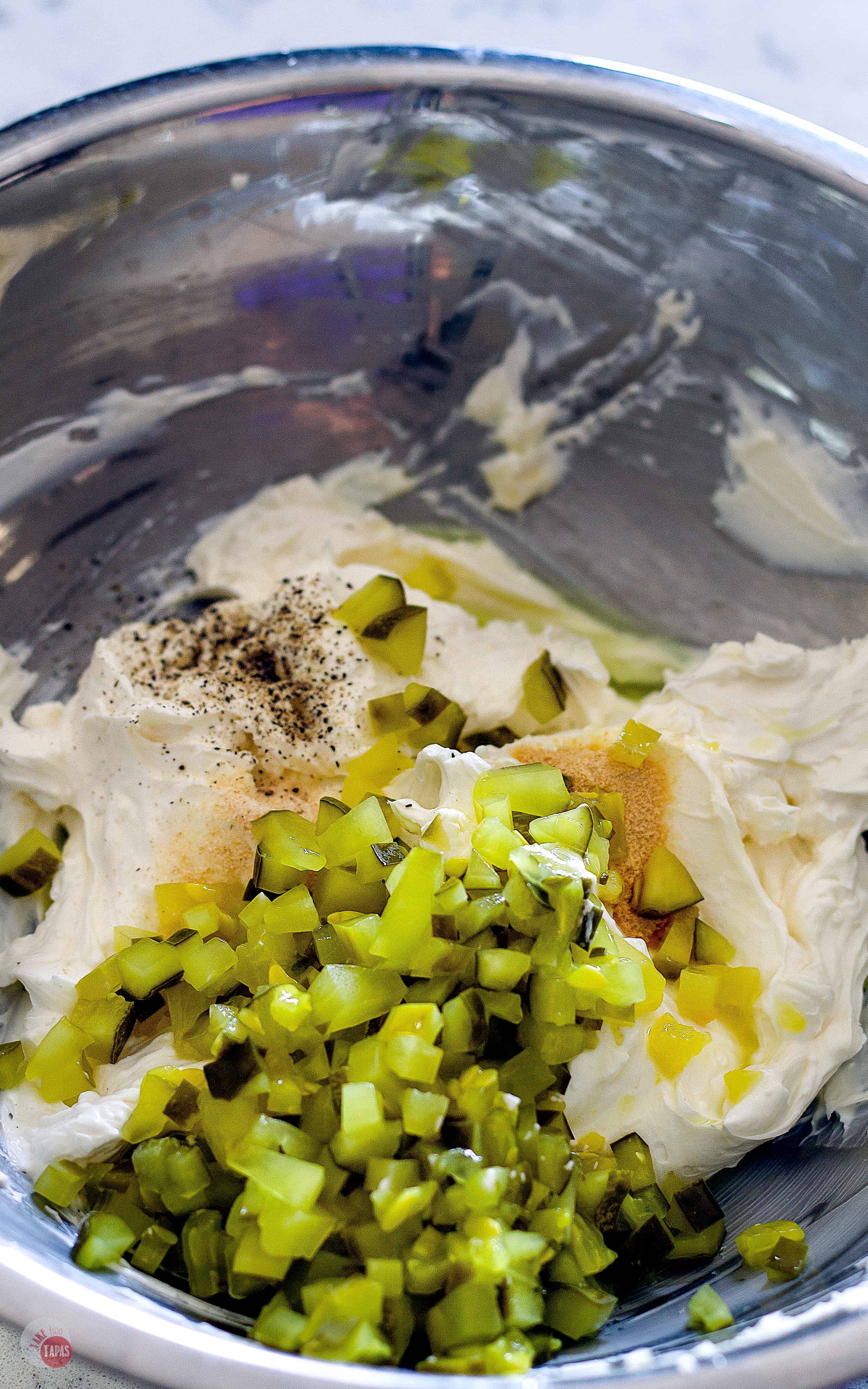 My Fried Pickle Dip recipe is pretty mild as is, but if you prefer to have it kicked up a notch, add some diced jalapeño, a dash of hot sauce, or a little fresh minced garlic.
Sign up to early access to recipes, tips & tricks, and behind the scenes info in our newsletter! It's FREE and we promise not to SPAM you. Click here to join us!
Other great Fried Pickle Dip recipes to try!
If you love this recipe as much as I do, please write a five-star review in the comment section below (or on Pinterest with the "tried it" button – you can now add pictures into reviews, too!), and be sure to help me share on facebook!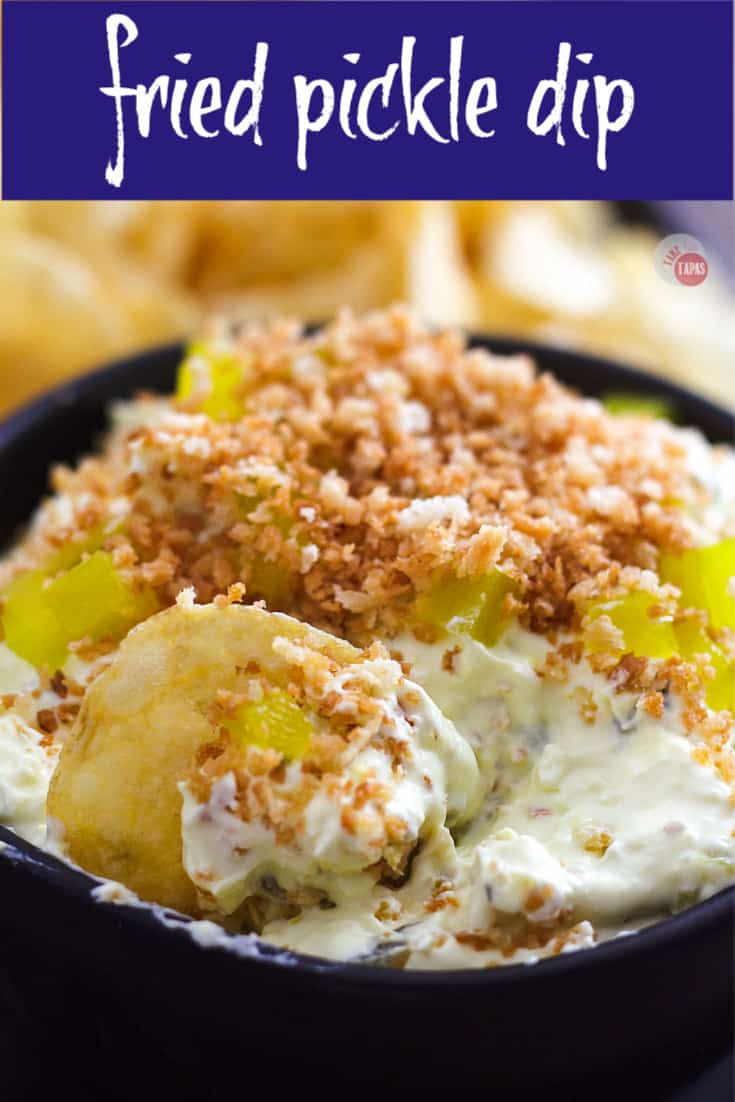 Easy Fried Pickle Dip Recipe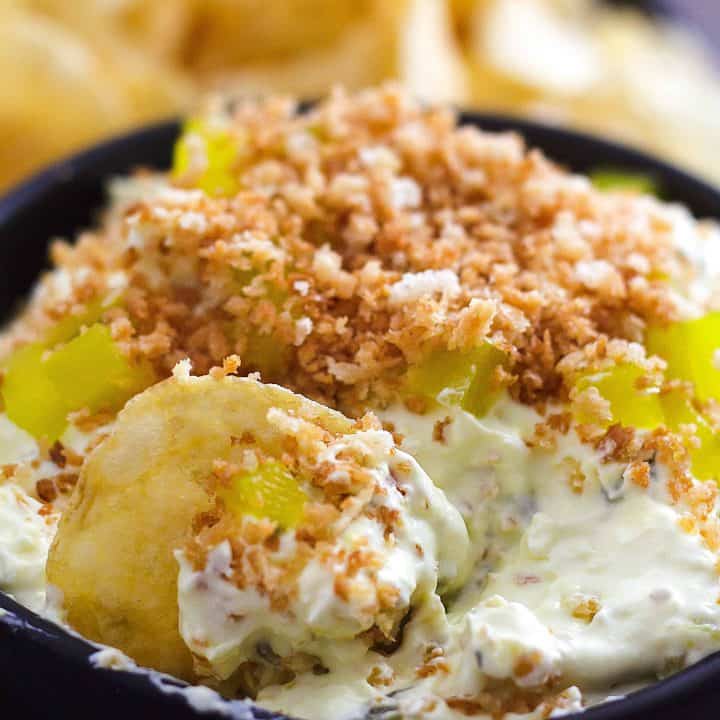 Fried Pickle Dip
Yield: 2 cups

Prep Time: 10 minutes

Cook Time: 5 minutes

Total Time: 15 minutes

My Fried Pickle Dip gives you tart dill pickles, creamy sour cream to mellow them out, and toasted buttery panko breadcrumbs to mimic the crispy fried coating!
Ingredients
Panko Topping
1/2 cup Panko crumbs
1 tablespoon Butter
Fried Pickle Dip
8 ounces cream cheese (softened)
1 cup sour cream
1/4 teaspoon garlic powder
1/4 teaspoon onion powder
pinch salt and pepper
2 teaspoon pickle juice
1 cup dill pickles (chopped fine)
Instructions
Toast you Panko topping
In a dry pan, add the butter and the Panko.
Over medium heat, stir the butter and Panko until all the butter is absorbed and the Panko is a toasty light brown color.
Remove from the heat and place the Panko on a paper towel to cool.
Once cooled completely, store in an air-tight container until ready to use.
This can be made a few days in ahead of time.
Prepare the dip base
In a medium-sized bowl, combine the sour cream and cream cheese.
Add the onion powder, garlic powder, and pickle juice.
Stir to combine completely.
Taste and season with salt and pepper to your liking.
Fold in the diced pickles.
If you are serving immediately, top with toasted Panko and serve with thick potato chips or pretzels.
If you are serving later, store in an air-tight container up for up to 3 days and then top with Panko when ready.
Enjoy!
Notes
*If you like this recipe, please leave me a comment and rate it with some stars. Thank you!
Nutrition Information:
Yield: 2 Serving Size: 1
Amount Per Serving: Calories: 798Total Fat: 69gSaturated Fat: 39gTrans Fat: 1gUnsaturated Fat: 21gCholesterol: 198mgSodium: 1421mgCarbohydrates: 34gFiber: 2gSugar: 12gProtein: 14g

This nutrition information was generated via a third party, Nutritionix, and can not be held liable for any discrepancies in the information provided.
©TakeTwoTapas.com. Content and photographs are copyright protected. Sharing of this recipe is both encouraged and appreciated. Copying and/or pasting full recipes to any social media is strictly prohibited.