These Bacon Wrapped Jalapeno Poppers are spicy, loaded with melty cheese, and are perfect wrapped in smoky crispy bacon. Whether you are just having a small gathering or gearing up for the big game, they are the perfect party food.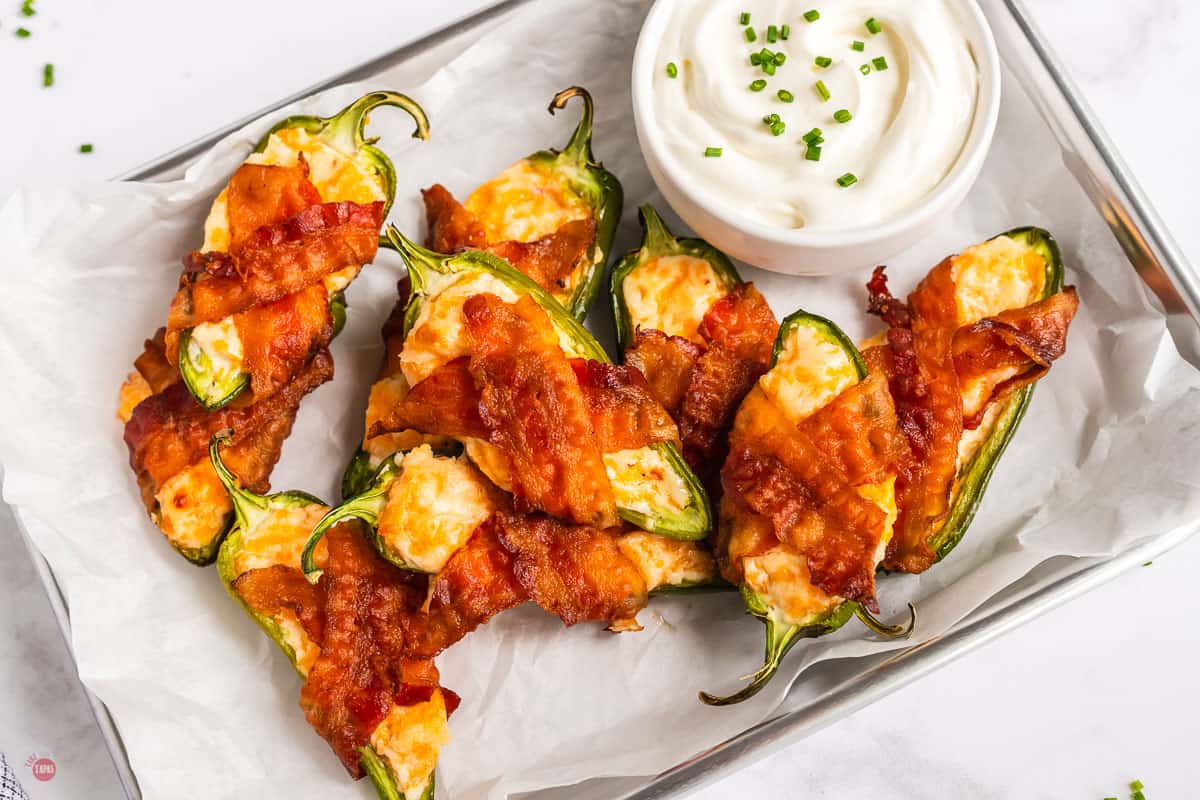 If you'd rather skip my essential cooking tips and tricks and get straight to this delicious recipe – simply scroll to the bottom of the page where you can find the printable recipe card.
Can you think of anything better than traditional jalapeno poppers wrapped in bacon? I mean, it's BACON!
I always order jalapeno poppers when we eat out at a restaurant but now I make them at home just as often as I can.
These bacon wrapped jalapeno poppers are baked instead of fried, which means less mess! And I don't know anyone who wants a mess, especially during a party.
Not only are they tender, creamy, filled with melty cheese, but they are wrapped in crispy bacon.
Even better is that you can prep these ahead of time and just pop them in the oven when ready to enjoy. These are the king of party appetizers if you ask me!
This post may contain affiliate links. As an Amazon Associate, I earn from qualifying purchases. Read my disclosure policy here.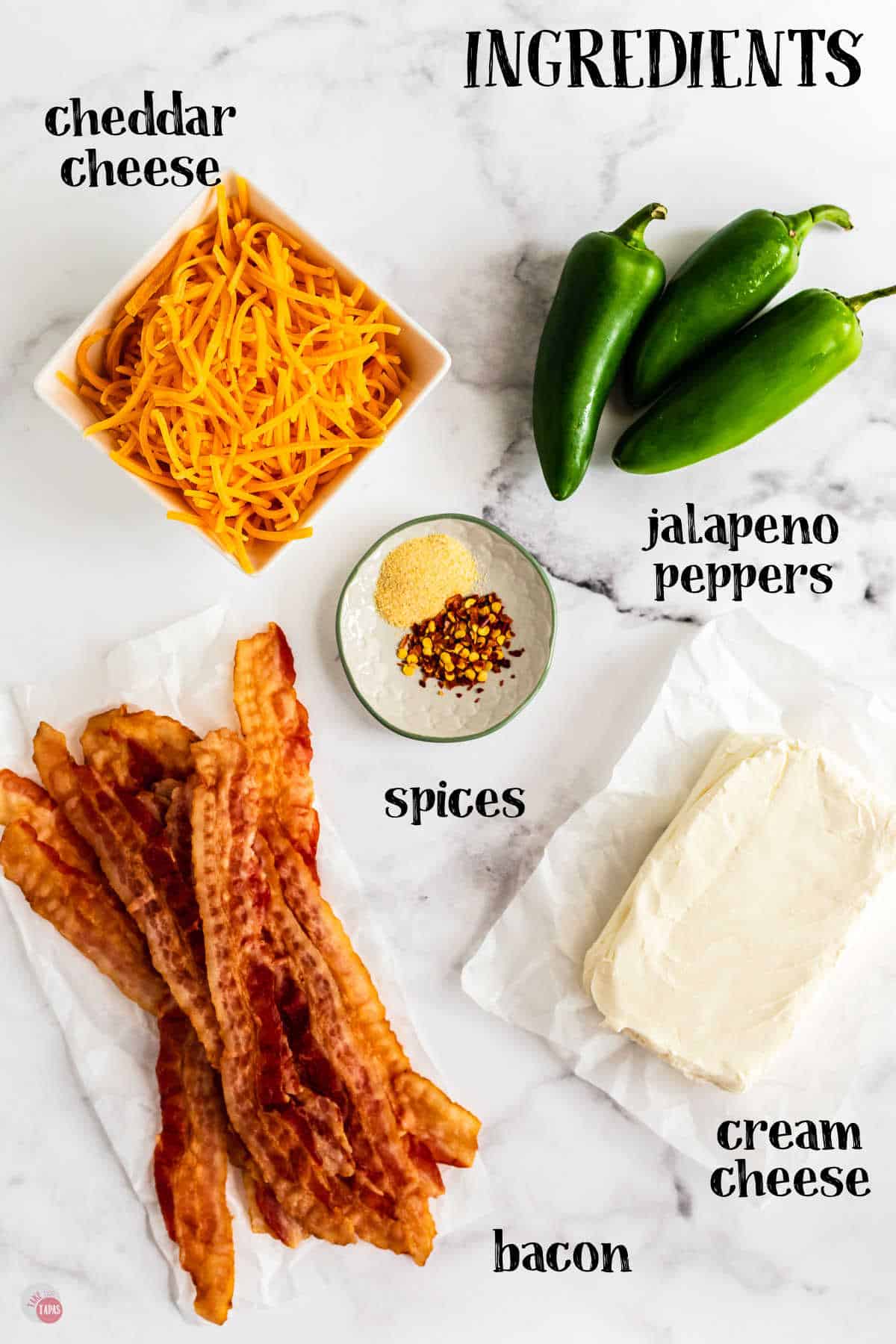 INGREDIENTS FOR JALAPENO POPPERS BACON WRAPPED
cream cheese
cheddar cheese
fresh jalapeno peppers
pre-cooked bacon
spices
Cream cheese – Be sure to left it soften close to room temperature to make it easier to mix and spread.
Cheddar cheese – It's best to grate your own cheese from a block as it melts better. The pre-shredded cheese has a powder coating on it that keeps it from melting as nicely.
Jalapeno peppers – Pick firm peppers that are similar in size. This will allow them to bake evenly. Be sure to wear gloves when handling them.
Bacon – Do not use thick cut as it won't get as crispy. I like to use pre-cooked or par-cooked bacon so it gets extra crispy when baking and the peppers don't get over cooked.
Spices – This is a simple recipe with just garlic powder and some red pepper flakes. Feel free to season with salt and pepper if desired.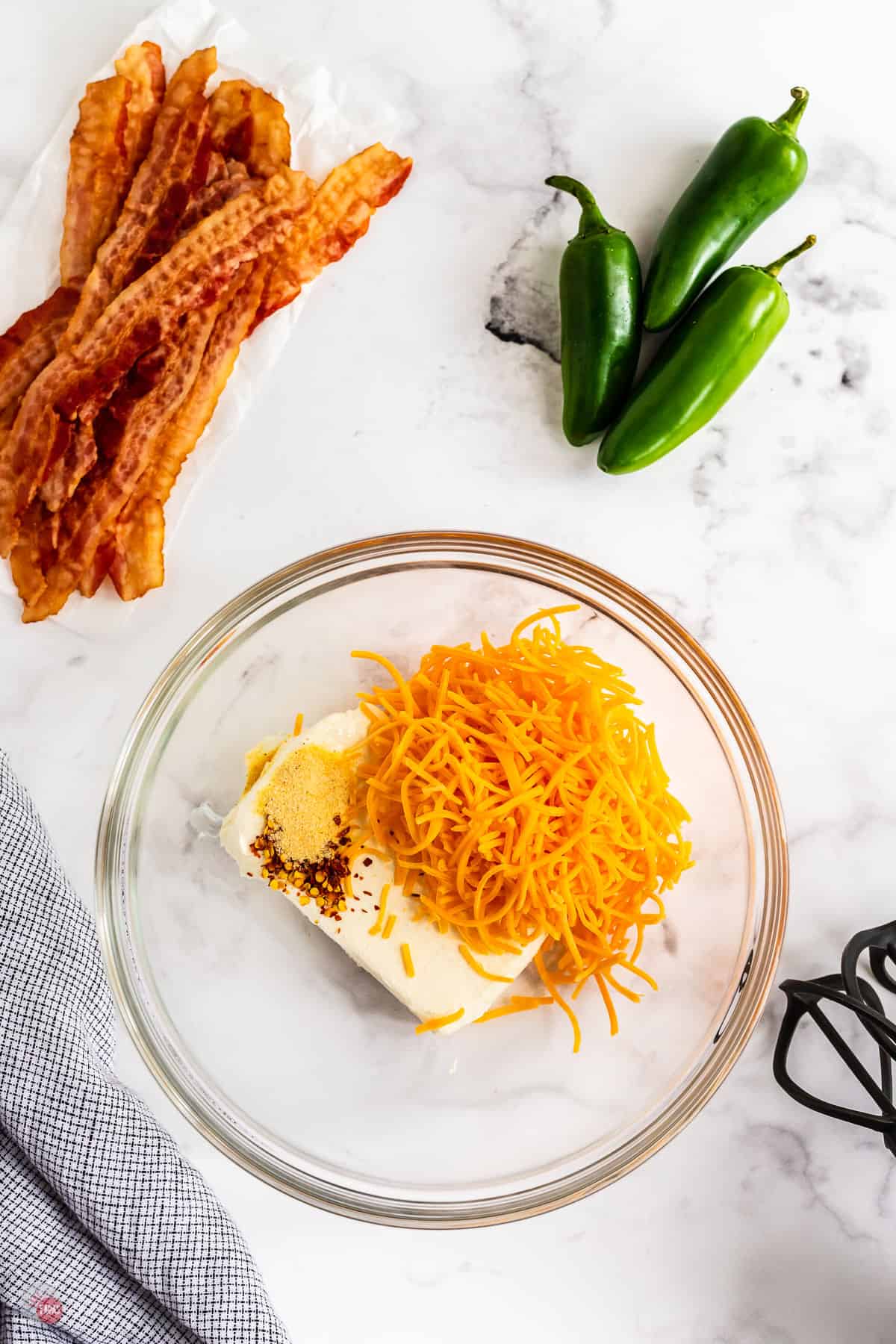 HOW TO MAKE BACON WRAPPED JALAPENO POPPERS
ONE: Preheat oven to 375F. Prepare a baking sheet with parchment paper or aluminum foil and cooking spray.
TWO: Prepare the filling by combining the cream cheese, cheddar cheese, and spices. Mix until thoroughly combined.
THREE: Slice the peppers in half and remove the ribs and seeds. Using a spoon or knife, fill each pepper half with the cheese mixture. Be careful not to overstuff or it will run out when it bakes.
I recommend wearing gloves when handling the peppers.
FOUR: Wrap each stuffed pepper in a half or full slice of bacon, depending on the size. Secure with a toothpick if needed. Bake for 20-25 minutes or until cheese is melting and the bacon is crisp. Remove and let cool slightly. Serve with a dipping sauce if desired. Enjoy! Don't forget to remove any toothpicks before serving!
For the full recipe and detailed instructions, please refer to the recipe card at the bottom of the post.
For more insider tips & tricks, and a candid behind the scenes look follow me on social media! Check use out on Pinterest, Facebook, Instagram, & Twitter (yes, people still use Twitter, LOL!)
WHAT SHOULD I DIP MY POPPERS IN?
Because of the heat I like to dip mine in a cooling sauce like a ranch dressing or straight up sour cream like potato skins.
HOW LONG DO COOKED JALAPENO POPPERS LAST IN THE FRIDGE?
If you happen to have any leftovers, which I rarely do, you can store them in an air tight container in the fridge for up to 4 days. You can reheat any leftovers in the microwave or in the oven.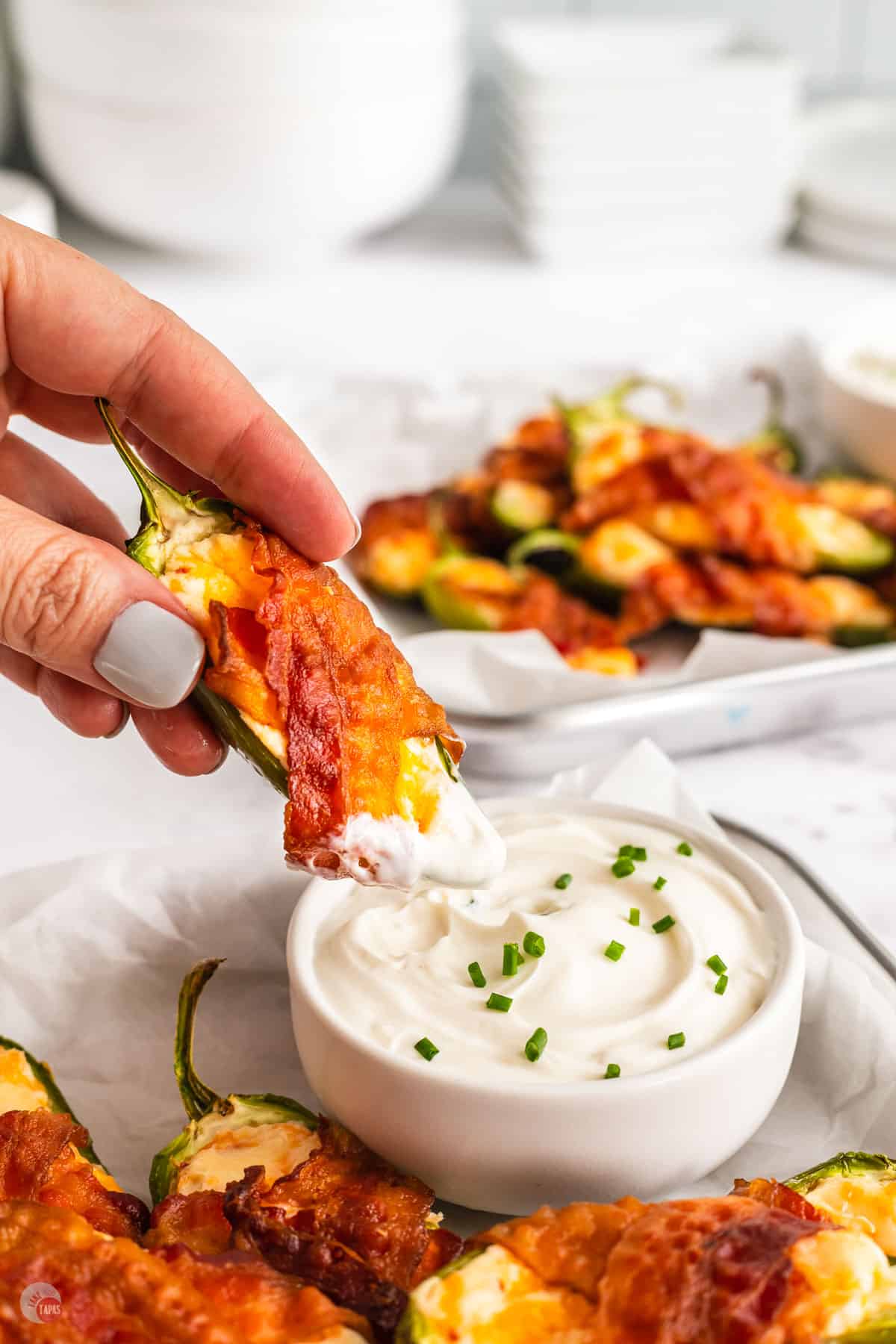 CAN YOU FREEZE JALAPENO POPPERS?
For best results, freeze the stuffed and bacon wrapped poppers before they are baked. Just place on a baking sheet and freeze until solid. Then transfer to a bag for storage. You can freeze them for up to 2 months.
When ready to bake, place frozen jalapeno poppers on a prepared baking sheet and bake as usual. Just add 10-15 minutes extra cooking time.
CAN YOU MAKE THESE AHEAD OF TIME?
You can assemble these up to 2 days in advance, which is helpful when party planning. Just store bacon wrapped poppers on a baking sheet, tightly wrapped in plastic wrap in the refrigerator until ready to bake.
HOW TO COOK BACON WRAPPED POPPERS
OVEN: Bake at 375 for 20-25 minutes.
GRILL: Grill directly on the grate or on a grill mat. Cook 10- 15 minutes or until done.
AIR FRYER: Air fry at 325F for 10-12 mins.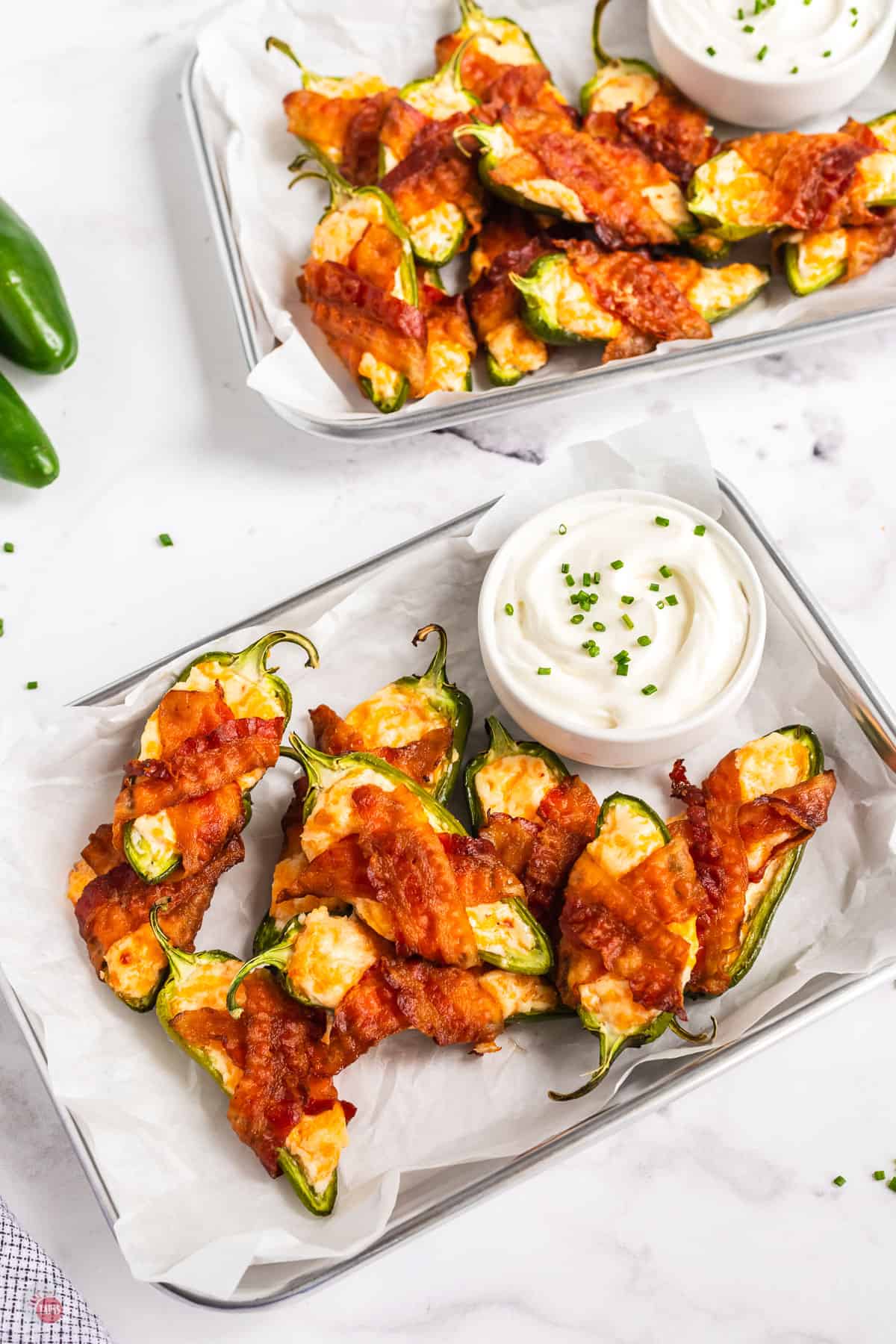 TAPAS TIPS & TRICKS
Pick jalapeno peppers that are all close in size that way they cook evenly.
Make sure and wear gloves when handling the peppers. You don't want to have hot hands for later.
When slicing the peppers in half, try to slice through the stem so there is a part on each half. This will give everyone something to hold on to when eating them.
Take out the seeds and membranes of the peppers, that's where the heat is. If you like them spicy, feel free to leave the membranes in.
Soften the cream cheese for easier spreading.
Grate your own cheese from a block as it melts better.
Don't overfill the jalapeno halves as it will run out when baking.
Don't use thick cut bacon, it doesn't wrap well. I like to use pre-cooked bacon (either store bought or cooked myself) as it crisps up nicely. If the piece of bacon is too long, just trim it before baking.
If you like your poppers with extra bacon, just wrap the entire piece around the pepper. I mean, who doesn't want more bacon? And this might be necessary if the peppers are particularly large.
Secure it with a toothpick if it doesn't stay put.

FREAKY FRIDAY
What is Freaky Friday? It's a recipe exchange put on by Michaela over at An Affair from the Heart. There are about a dozen people each time that get assigned a fellow foodie website to make a recipe from to share with our readers.
It's a win-win because we get to make a tried and true recipe from a friend and share it with our readers and you get to hear about another great food website you might not have found!
This time around I got Sue from SueBeeHomemaker. Sue started her blog when she was ready to start a new phase in life. Her friends and family told her that she was such a great cook that she should start a blog or a bakery.
This is very similar to how I got my start so I feel we are kindred spirits. She grew up learning to cook from her mom and making everything from scratch. Plus, she's a boy mom like me. You get lots of practice feeding boys!
Sue loves to cook seasonally and use as much fresh produce as possible. When trying to choose a recipe to make, I spent hours just drooling on my keyboard and making a long list of all the recipes i loved.
I have a soft spot for cheese so I can't wait to make her Fried Goat Cheese. That goes on a salad, right?
An easy recipe for entertaining is crostini. Sue has a delicious variety of ways to top a slice of bread!
And my husband is obsessed with her Sausage and Mushroom flatbread. He never wants to order pizza out again.
Check out Sue and all her delicious recipes. And, did I mention she has an ice cream of the month?!?!?!
If you love this recipe as much as I do, please write a five-star review in the comment section below (or on Pinterest with the "tried it" button – you can now add pictures into reviews, too!), and be sure to help me share on facebook!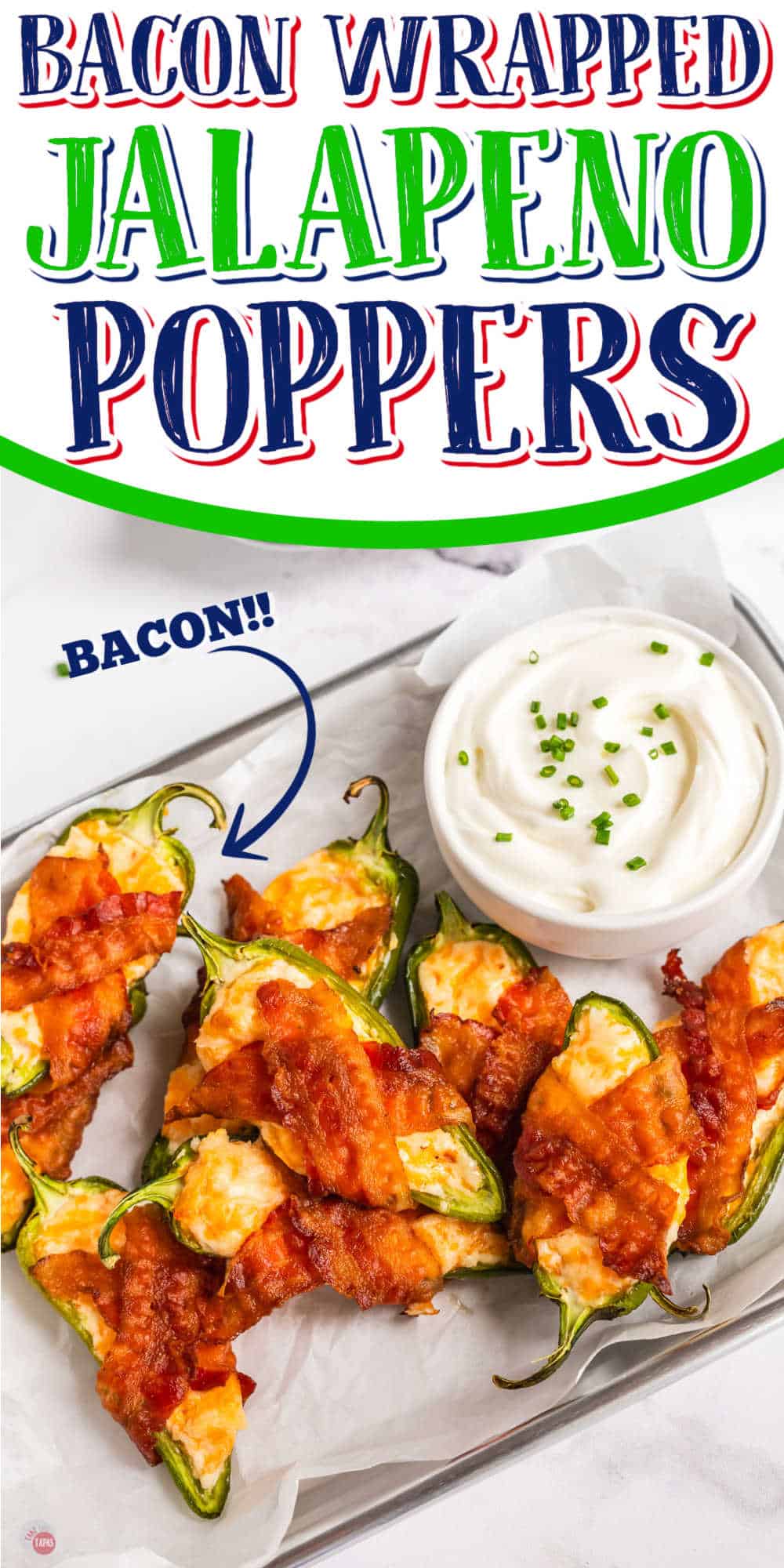 I love this recipe for any gathering, game day celebration, party, or just a fun snack for a busy weeknight. Let me know what you think in the comments!
MORE EASY APPETIZERS TO MAKE
Take a look at all of our 2021 Freaky Friday Summer Edition Recipes:
BACON WRAPPED JALAPENO POPPERS RECIPE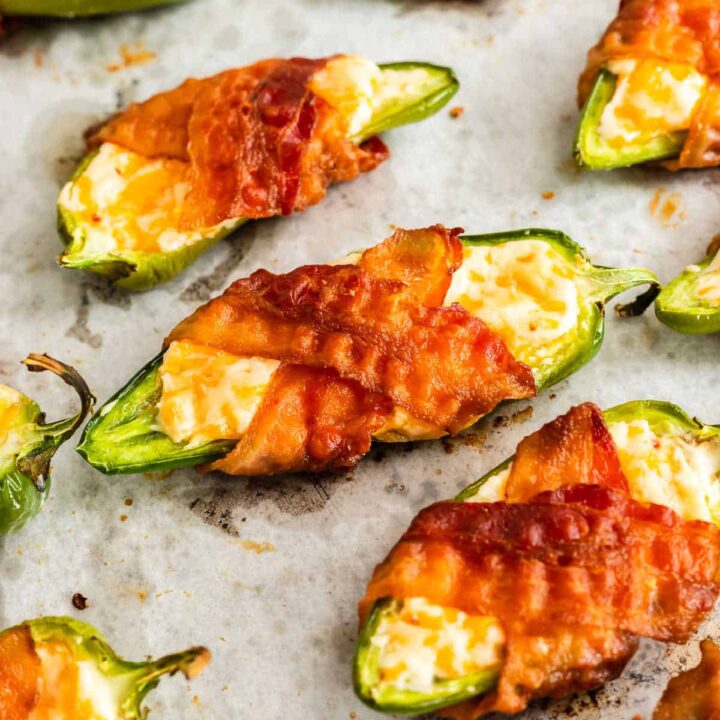 Bacon Wrapped Jalapeno Poppers
These Bacon Wrapped Jalapeno Poppers are spicy, loaded with melty cheese, and are perfect wrapped in smoky crispy bacon. Whether you are just having a small gathering or gearing up for the big game, they are the perfect party food.
Ingredients
10 jalapeno peppers (halved, ribbed, seeded)
8 ounces cream cheese (softened)
8 ounces cheddar cheese (shredded)
1/2 teaspoon garlic powder
1/4 teaspoon red pepper flakes
10 pieces pre-cooked bacon (cut in half, do not use thick cut)
1/2 cup sour cream for dipping (optional)
Instructions
Preheat oven to 375F. Prepare baking pan with parchment paper or aluminum foil. Set aside.
Prepare jalapeno peppers by slicing in half lengthwise (through the stem).
Wearing gloves and using a small spoon, remove ribs (white part) and the seeds.
Place empty pepper halves on a baking sheet, cut side up. Continue until all peppers are prepared.
In a medium sized bowl, combine the cream cheese, cheddar cheese, garlic powder, and red pepper flakes.
By hand or using a hand mixer, mix until thoroughly combined.
Using a small spoon or butter knife, fill each pepper half with roughly 1 tablespoon of the cheese mixture. I like to place a spoonful at the stem end of the pepper, smash it in to fill the pepper and then smear the cheese with the back of the spoon toward the end of the pepper.
Wrap each pepper with a half piece of bacon and secure with a toothpick if needed. Place back on baking sheet. Depending on the size of the pepper you might need a whole piece of bacon.
Once all the peppers are wrapped in bacon, bake in the oven at 375F for 20-25 minutes or until the bacon is crispy and the cheese is melty.
Remove from the oven and let cool slightly.
Serve with sour cream if desired. Enjoy!
Notes
*I recommend wearing gloves when handling the jalapeno peppers to avoid burning your hands or parts later.
*You might need more than 10 pieces of bacon, depending on the size of your jalapeno peppers.
You can pre-cook your own bacon, just enough so that the bacon can be wrapped around the pepper without breaking.
*If you love this recipe as much as I do, please leave me a comment and rate it 5 stars. Thank you!
Recommended Products
Nutrition Information:
Yield:

10
Serving Size:

1
Amount Per Serving:
Calories:

252
Total Fat:

22g
Saturated Fat:

11g
Trans Fat:

0g
Unsaturated Fat:

8g
Cholesterol:

64mg
Sodium:

417mg
Carbohydrates:

4g
Fiber:

0g
Sugar:

2g
Protein:

11g
This nutrition information was generated via a third party. I can not be held liable for any discrepancies in the information provided.
TakeTwoTapas.com. Content and photographs are copyright protected. Sharing of this recipe is both encouraged and appreciated. Copying and/or pasting full recipes to any social media is strictly prohibited.