With just a few basic ingredients, there are many delicious deviled egg recipes to serve at your next party. But how many deviled eggs per person do you need to make?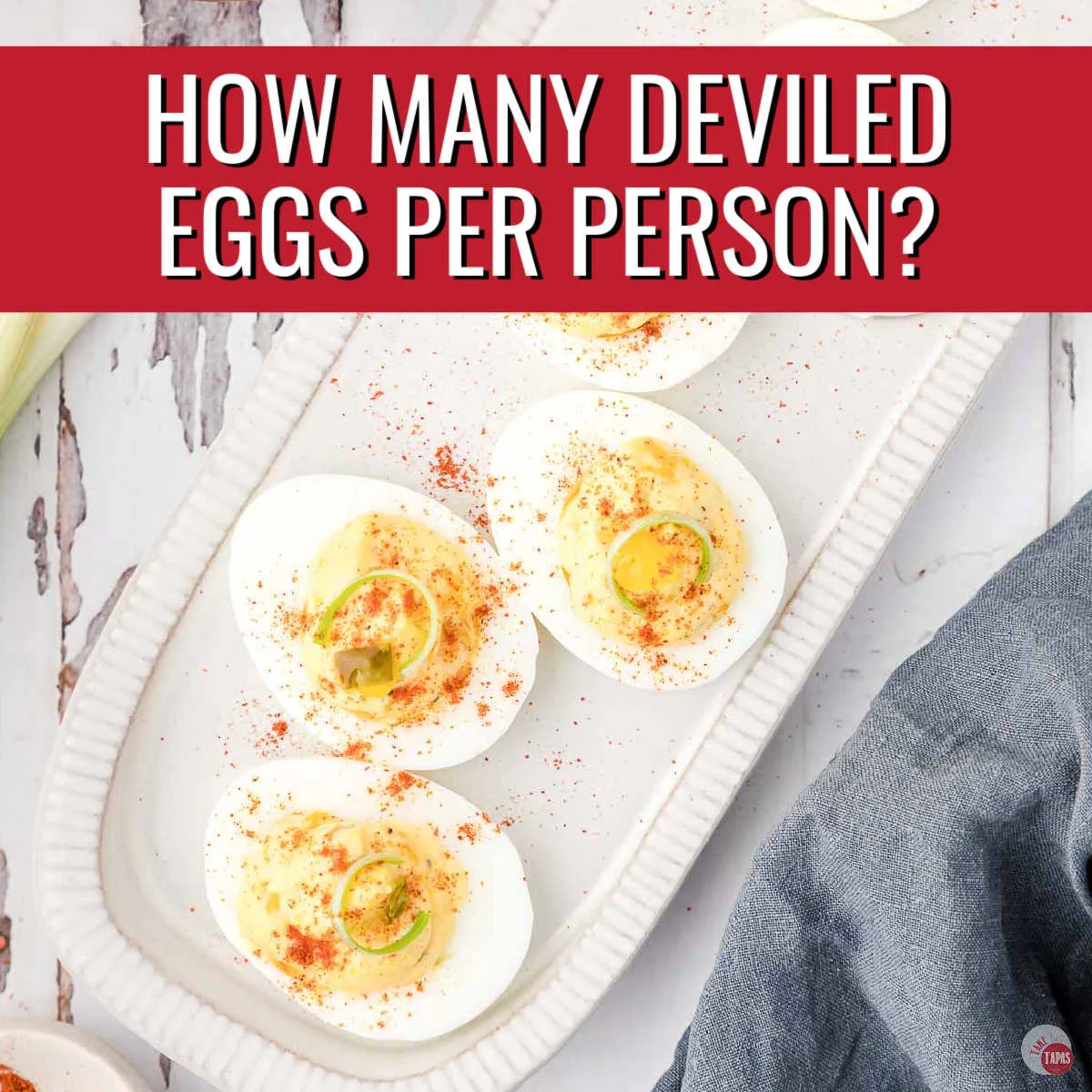 These are my favorite type of appetizer! That's because they're a classic recipe I know to be a hit every single time that I make them.
Not only are they low carb, there are easy ways to make the perfect deviled egg on the go. But how many should you be making?
How Many Deviled Eggs Should I Make Per Person?
This simple recipe has been a staple in the United States for a long time. But it can be hard to know how many southern bites that you need for that game day party.
For maximum freshness, the traditional recipe tastes its best when it's just been made.
This means you'll get the best results by making the right amount of perfect hard-boiled eggs for the number of people you're having over.
My favorite new recipe for them is my Deviled Eggs with Bacon. Of course, you can always make Deviled Egg Dip!
This post may contain affiliate links. As an Amazon Associate, I earn from qualifying purchases. Read my disclosure policy here.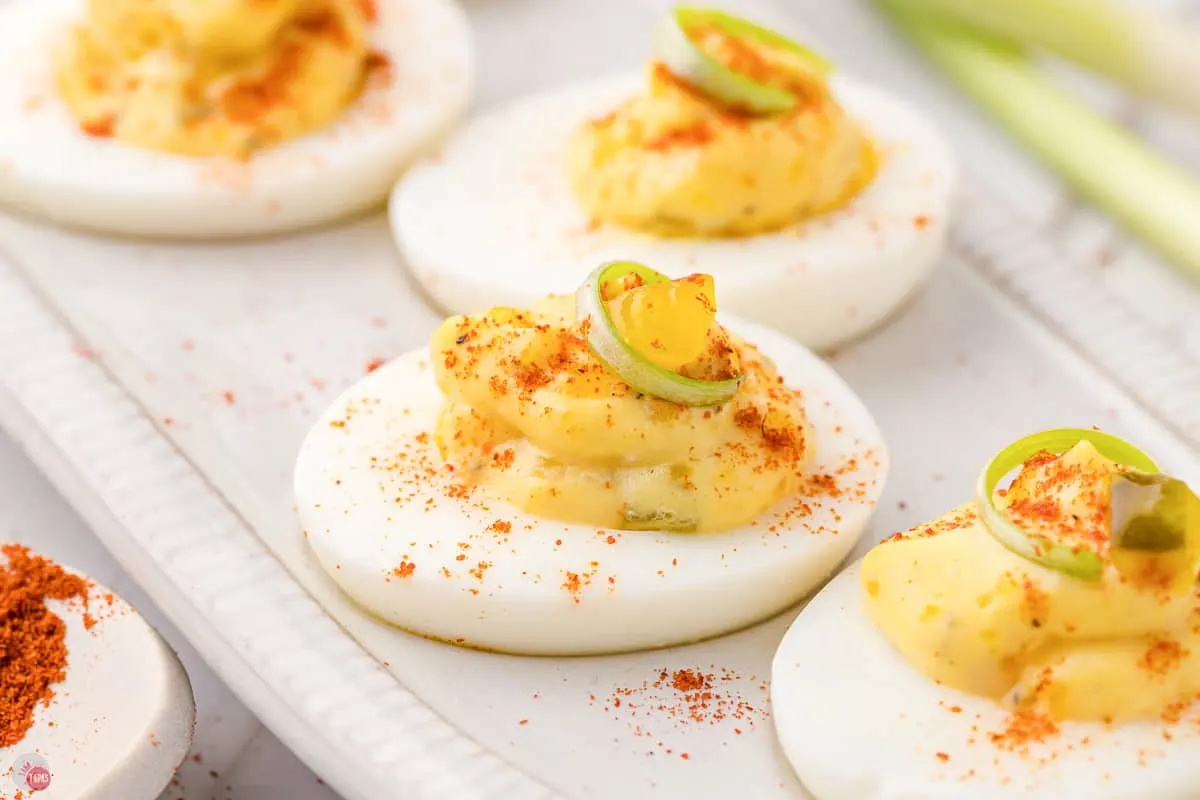 How many deviled eggs is a serving size?
Ideally, the typical serving size for easy deviled egg recipes should be between 2 and 3 deviled eggs per person.
Pro Tip: If you have more people coming and having fewer appetizers, double or triple the amount of hard boiled eggs.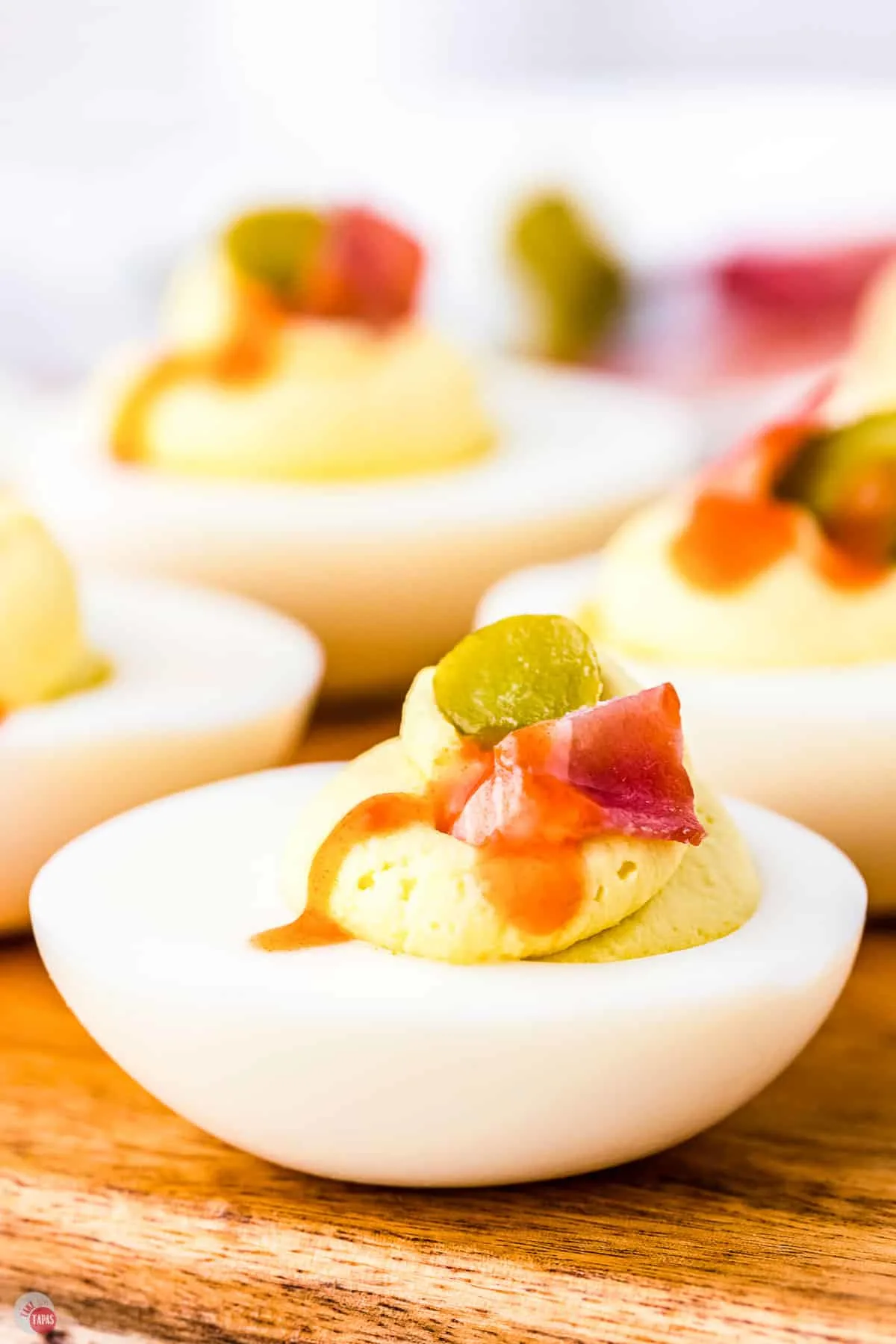 How long before serving should you make deviled eggs?
A common question is how far ahead of time you can start prepping your appetizers, including any deviled eggs recipe.
The short answer is that you can make your deviled eggs up to 2 days ahead of time. Store in an airtight container or ziplock bag until you're ready to serve.
In this situation, I recommend waiting to add any toppings to your hard-cooked eggs that you might have, like bacon bits or fresh herbs. These can be added the day of, right before serving.
Can you make deviled eggs the night before a party?
Yes, you can make your deviled eggs the night before. As mentioned above, just leave any toppings off of each egg half until it's time to serve.
There are ways to freeze deviled eggs, but it's tricky.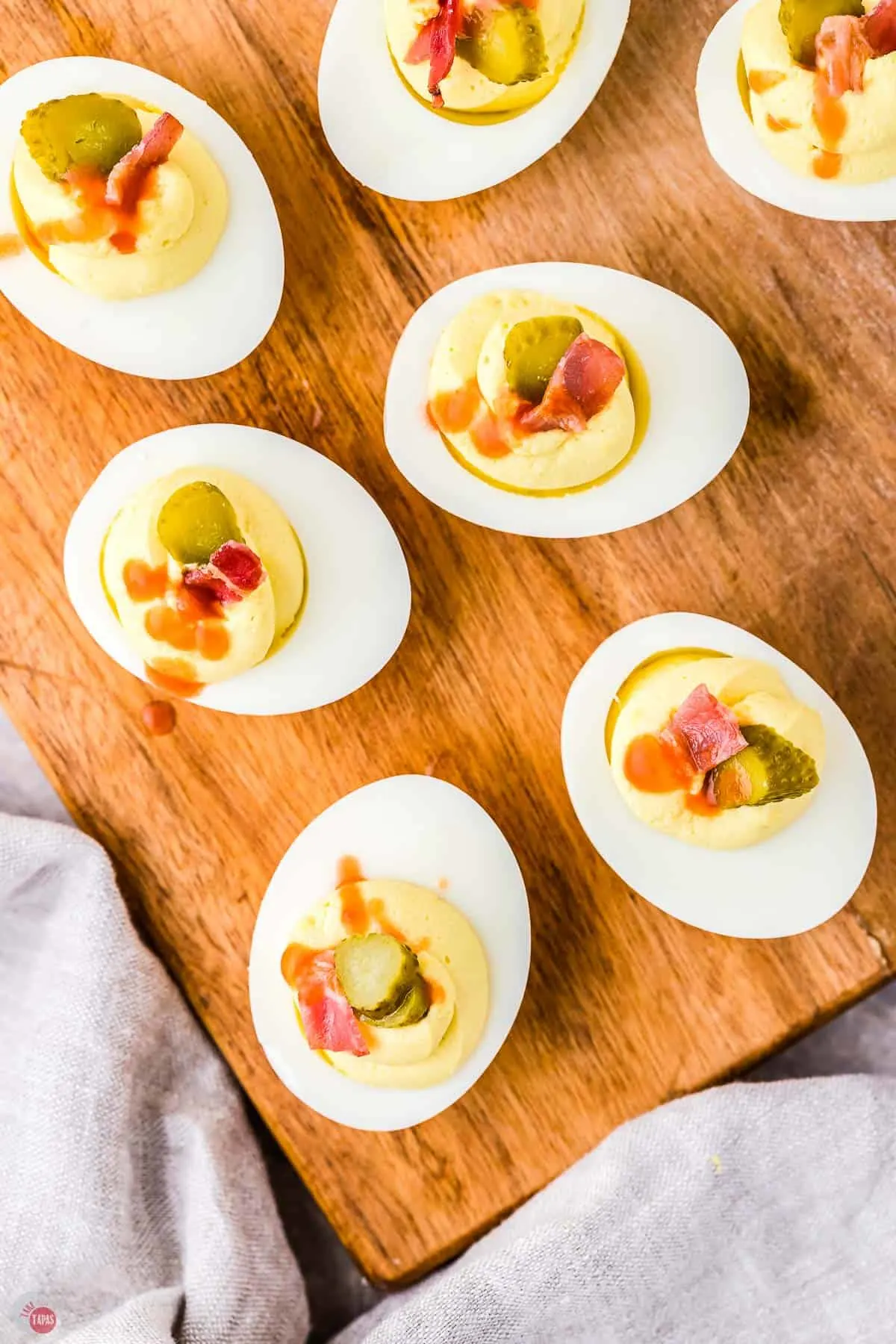 How do you serve a large amount of deviled eggs?
If you plan on serving a large party and want to bring a ton of deviled eggs, the best way to transport and serve them is by placing them on serving platters and covering them with plastic wrap.
This will take the least amount of time. And allow you to quickly uncover them when you get where you're going.
If you chose large eggs and don't have enough space for a single layer, stack your deviled eggs in a spiral before placing on your plastic wrap.
I recommend bringing any garnishes or remaining ingredients for topping them on the side. These include items like dijon mustard, sweet pickle relish, or pimento cheese.
Once you get them to where they're going, you can either sprinkle the toppings on yourself or leave them in a small bowl off to the side, for guests to help themselves.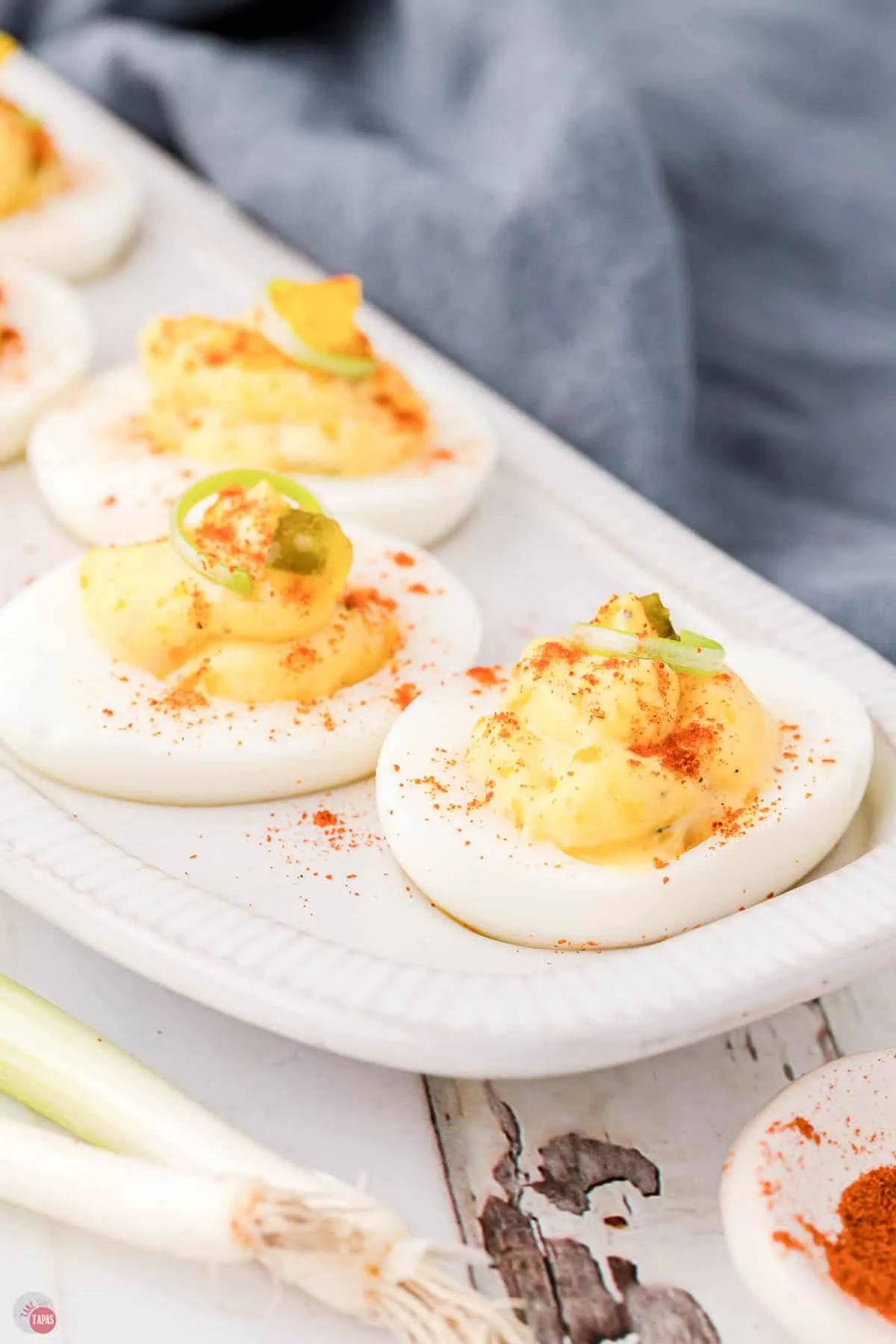 How To Make Delicious Deviled Eggs
I've become somewhat of an expert at making deviled eggs over the years, so I wanted to share my classic deviled egg recipe with you.
To start, bring a pot of cold water to a rolling boil. Place each whole egg into the boiling water, and leave for 10 minutes.
While your eggs are boiling, create an ice bath in a large bowl using ice cubes and enough water to cover the eggs.
Once the cooking time is complete, remove eggs from hot water with a slotted spoon and transfer into your ice water.
Leave for 5 minutes, before removing and peeling. You can also use an instant pot for this step if you have it.
Make the deviled egg filling
Next, cut your egg whites in half lengthwise. Remove egg yolks and place in a mixing bowl. Combine with your choice of spices, such as cayenne pepper, dill weed, garlic powder, or the classic salt and pepper.
You can also incorporate pickle juice, lemon juice, or white wine vinegar if you like a little acidity. Mix with a fork or potato masher until you reach a smooth consistency.
Pipe the filling
Fill a piping bag with your egg mixture. Close bag and push the contents into the corner of the bag so you can begin piping.
I recommend using a star tip, which will give your filing a beautiful presentation. Pipe a little bit of your mixture back into the hole of each of your egg halves.
Lastly, top your eggs with any combination that you like, including sweet relish, hot sauce, or parmesan cheese and sweet paprika. Place on a serving tray and enjoy!
There's nothing quite like the delicious mixture of a good hard-boiled egg and creamy deviled egg filling.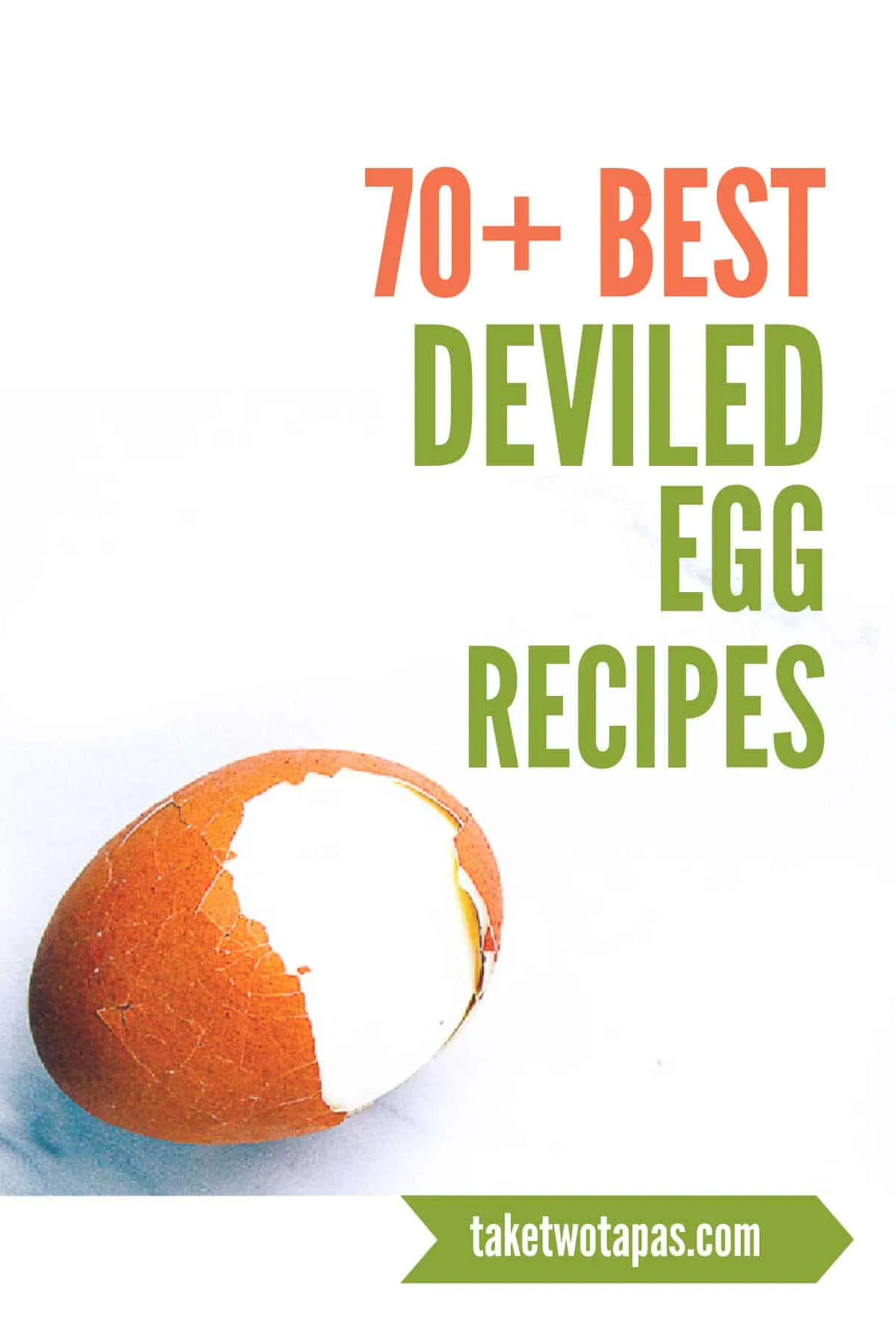 Want all the best deviled egg recipes? Check out this delicious list and let me know which one is your favorite!
Some of mine include: Deviled eggs with relish, Million dollar deviled eggs, and Buffalo chicken deviled eggs.
Tapas Tips & Tricks
Place the egg whites on lettuce or salt on the serving platter to keep them from sliding around.
Place the filling in a pastry bag to pipe it into the egg halves.
Use any leftover deviled eggs to make a delicious egg salad.
If you love this recipe as much as I do, please write a five-star review in the comment section below (or on Pinterest with the "tried it" button – you can now add pictures into reviews, too!), and be sure to help me share on facebook!
This is my favorite dish to make for parties, because the recipe is super simple and can easily be doubled if needed. I always recommend serving the best deviled eggs at any gathering.