A rich and decadent chocolate fudge dip swirled with caramel and crushed Twix bars makes for a truly amazing dip or dessert!  Get ready to make a few batches of this Twix Dip because everyone is going to inhale this!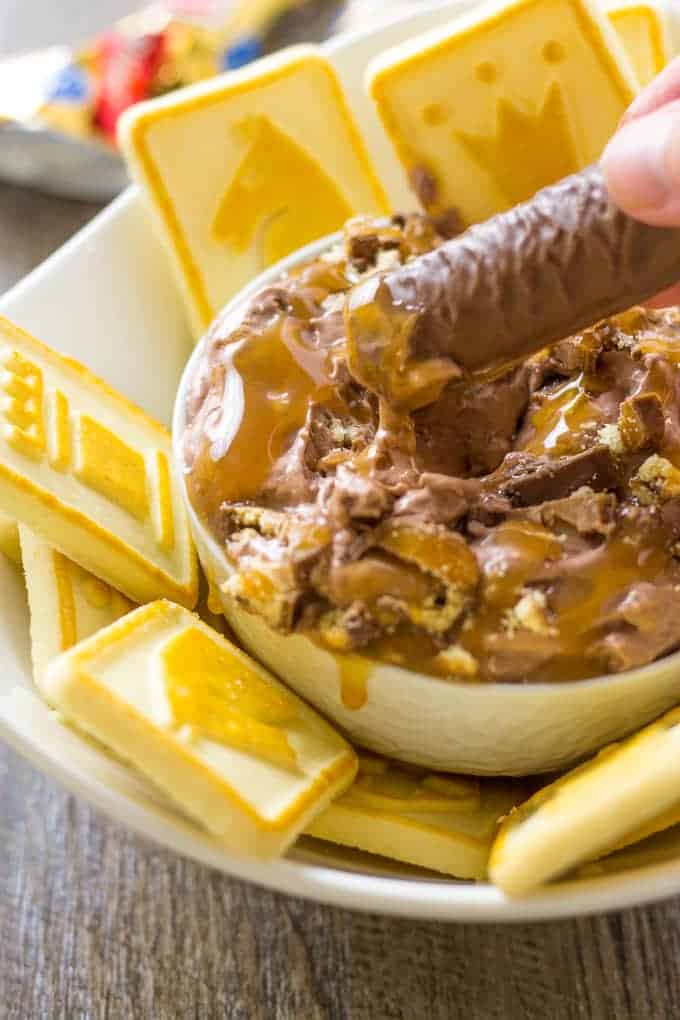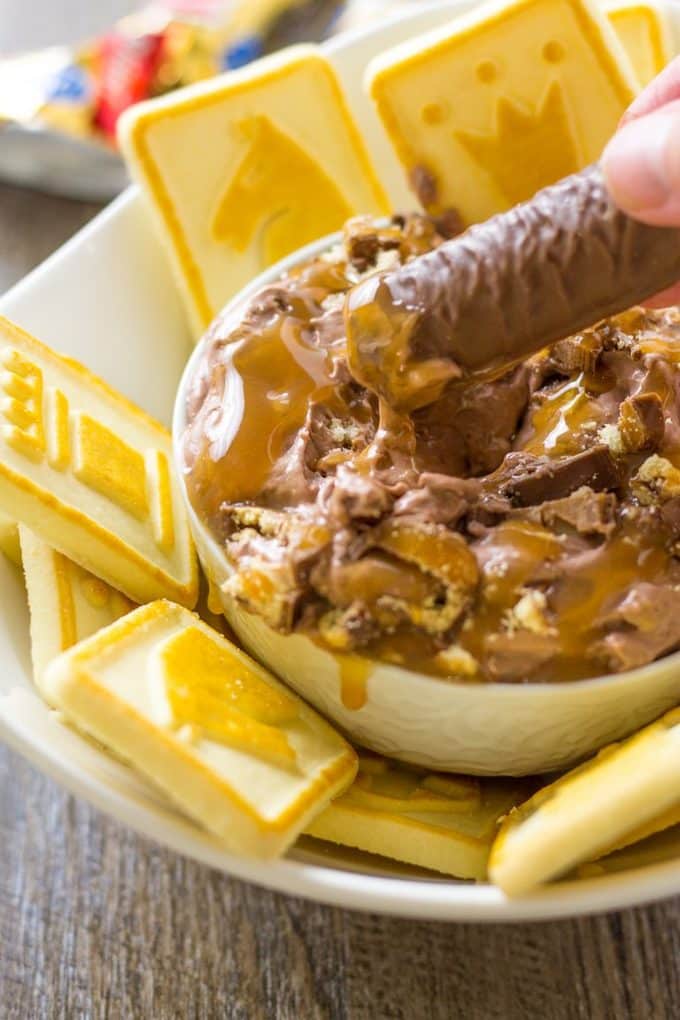 There is nothing better looking to me than the combination of chocolate, caramel, and buttery shortbread.  Well, my family is better looking but I can't eat them so this is second best.  So naturally, I crave Twix candy bars.  Just like potato chips, I can't eat just one so I am always so grateful that there are two bars in that package.
It's not cool to bring your own stash of candy bars when you come to a party, much less serve a bowl of unwrapped bars at your party.  Unless it is a Halloween Party and then that's all you serve:)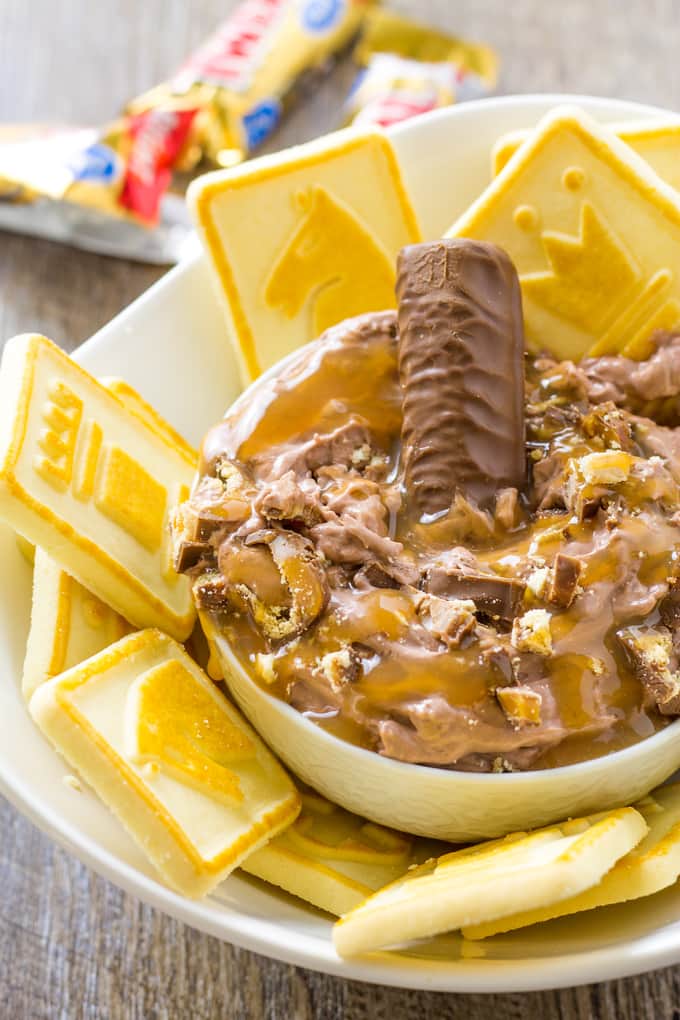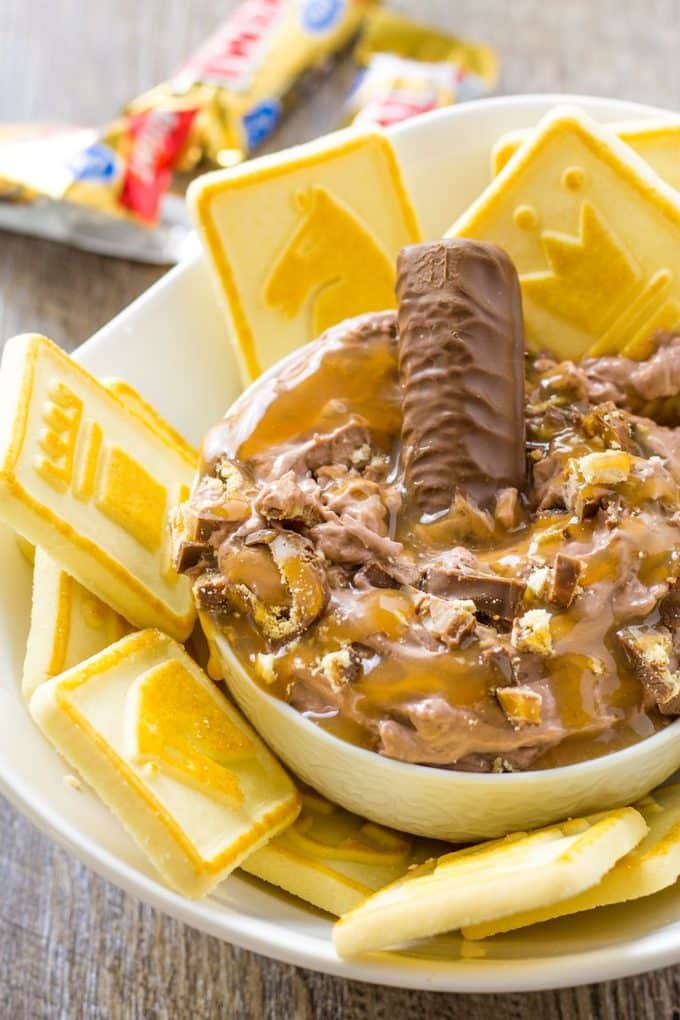 So what's a Twix made of?
To love a Twix you have to love all the components.  All three of them!  Three simple ingredients that come together in perfect harmony.
Creamy milk chocolate
Buttery caramel
Crispy shortbread cookie
If you prefer to call the shortbread cookie a biscuit like the British do, that's ok as well.  I don't care if you call it "ridiculous crunchy layer" as long as I can eat it!!
Because I am a dark chocolate fan, I was very happy when they came out with a dark chocolate version of my beloved candy bar.  Do you prefer milk or dark chocolate?
This post may contain affiliate links.
 

I may earn a small commission for my endorsement, recommendation, testimonial, and/or link to any products or services from this website. Your purchase helps support this blog at no additional cost to you and allows me to continue to bring you delicious recipes.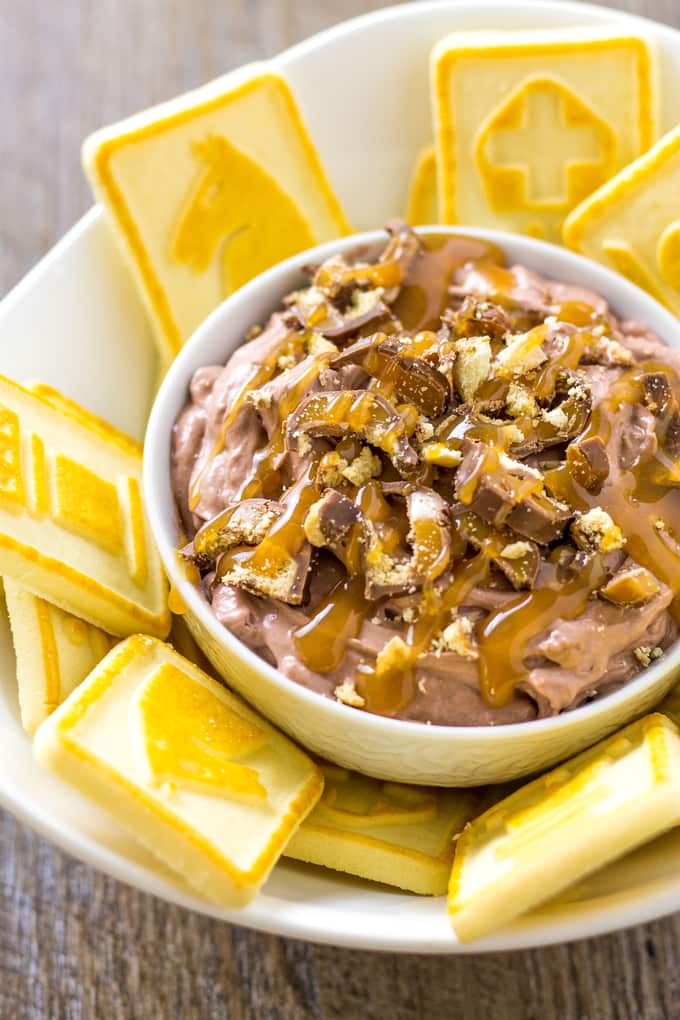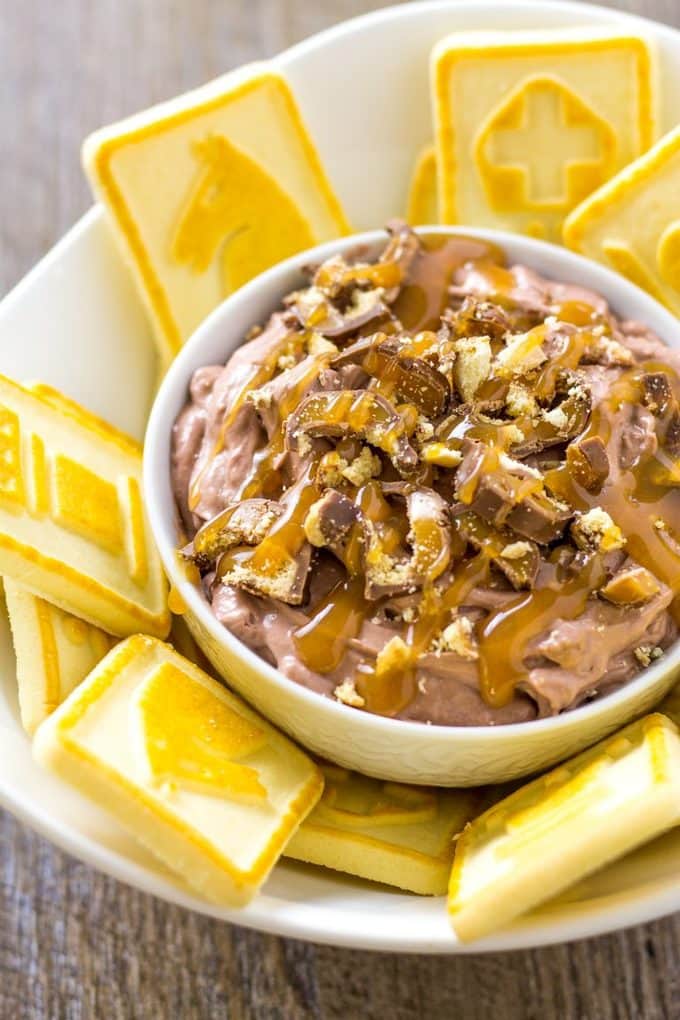 Thinking about Twix all day gets me in the mood to eat more than a few bars!  It also got me thinking that I might want to make a dip to a party that mimics the Twix bar so I don't' have to sneak my mini bars in my pocket and sneak-eat them in the garage while pretending to get more sodas.
A Twix only has three ingredients so a dip is pretty easy to throw together!  I'm going to start with my typical dessert dip base of cream cheese and powdered sugar.  I have used this base in my other dips like my Drunken Cherry Garcia Dip, my Boozy Banana Cream Pie Dip, and my Oatmeal Cream Pie Dip!  If you are partial to candy bar dips, check out this Snickers Dip from my girl Michaela!
So now that we have the base, next stop, chocolate!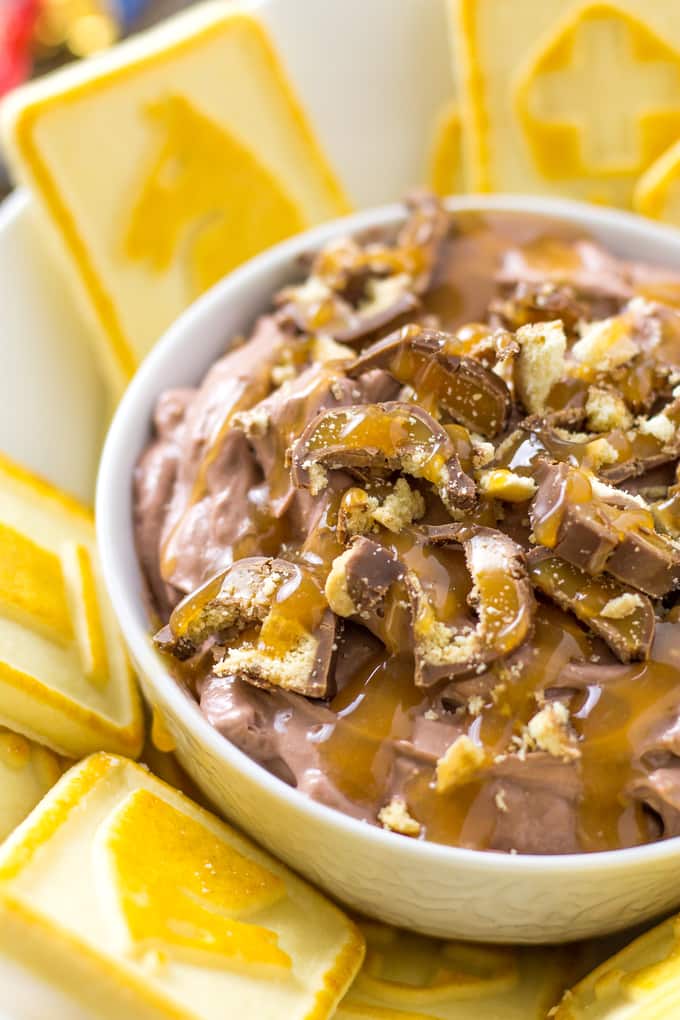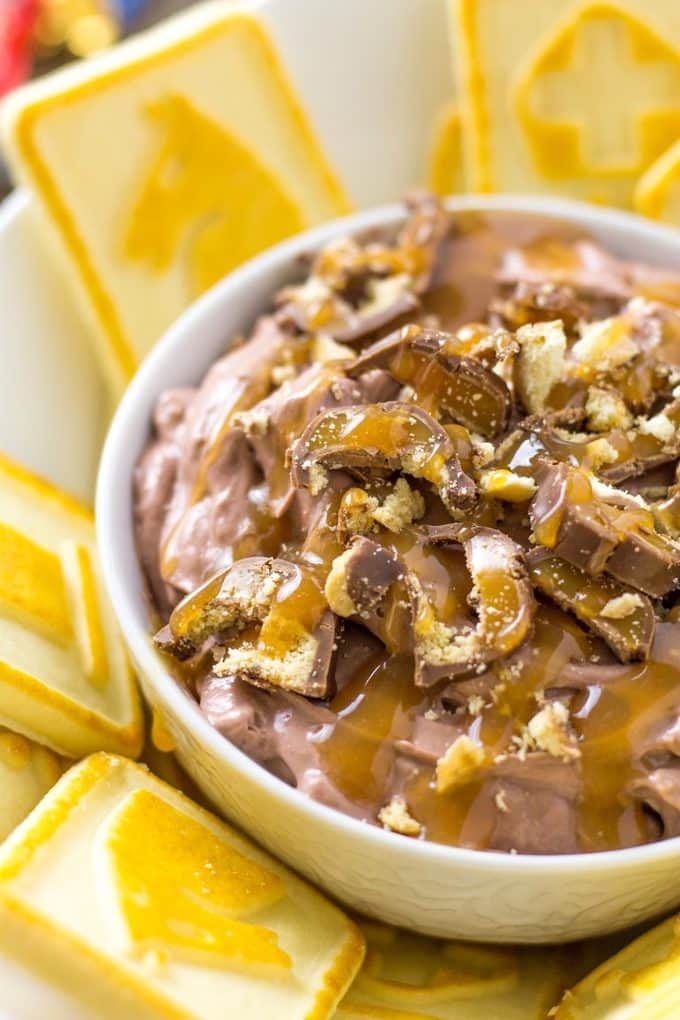 What's the best way to add chocolate to your dip?
You can add in straight cocoa powder, or stir in melted chocolate if you want.  The only problem with the latter is a cold dip base.  Cold cream cheese will cause the melted chocolate to solidify and any residual water in the dip will also cause it to seize up so this is not a good idea!
I like to go with another option, which adds creaminess to the dip, which is chocolate pudding.  Chocolate FUDGE pudding to be exact.  I haven't found a box of dark chocolate pudding so I usually go with the fudge flavor.
If you are the type to snub your nose up at boxed instant pudding, feel free to make your own from scratch, but I really do love a good shortcut so I'm cool with the instant pudding.  Just make sure you use less milk than the package instructions so the dip doesn't get too loose.  It's a dip and not a Twix soup.  Although a Twix soup does sound interesting to me…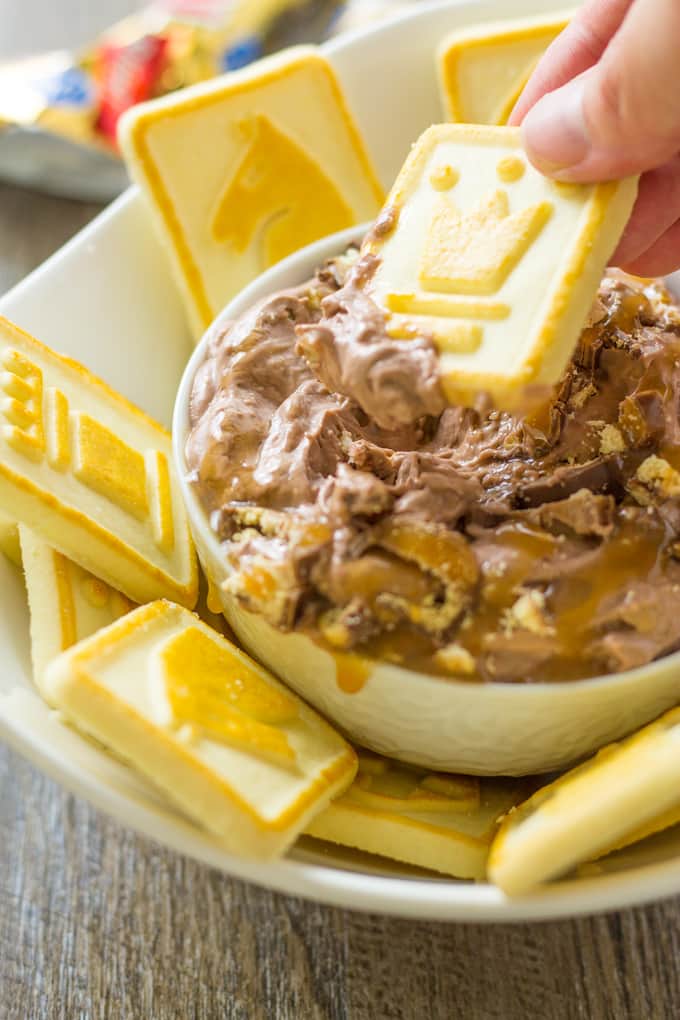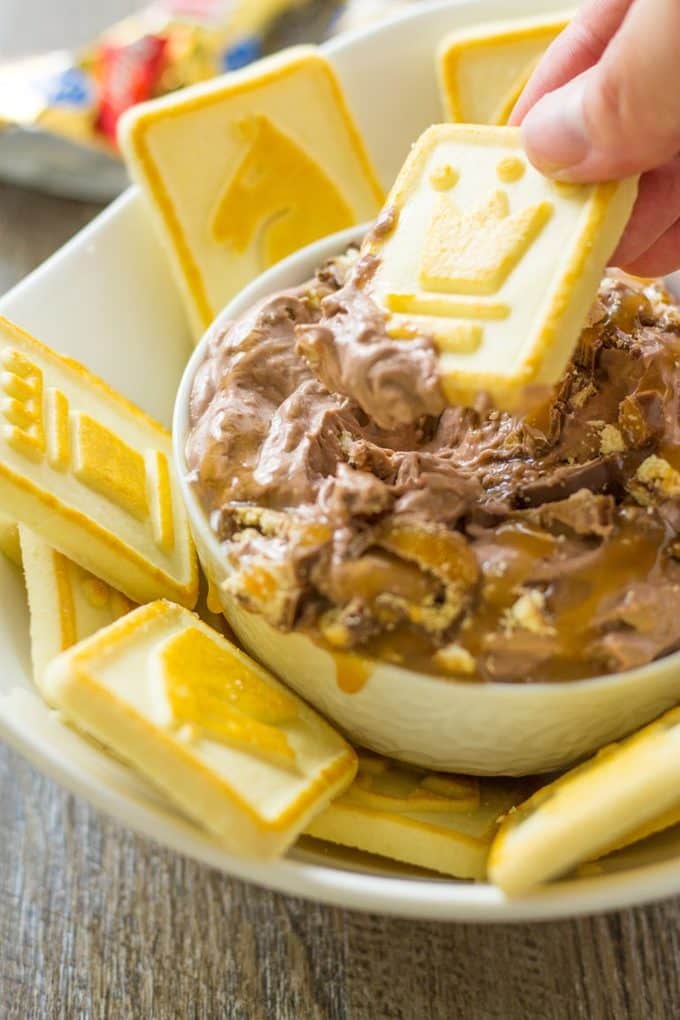 The rest of the Twix dip comes together pretty easily.  With the chocolate fudge pudding, cream cheese, and powdered sugar already in the bowl, add some chopped up Twix bars and a drizzle of caramel sauce and we are done!  Again with the caramel sauce, feel free to make your own like I did in my Pumpkin Apple Punch or you can do another shortcut and buy some already made🙂
You might be thinking that those few pieces of Twix bars in the dip are not enough shortbread to get the true texture of a Twix in the dip so I use shortbread cookies to inhale, I mean scoop, the Twix dip in my mouth.  These cookies complete the whole picture!!
Get your Twix on in a classy way with a bowl of this Twix dip!  Decadent chocolate, creamy caramel, and crispy shortbread cookies all wrapped up in one beautiful bowl!
Print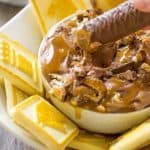 Chocolate Fudge Caramel Twix Dip
---
Author:

Prep Time:

5 mins

Cook Time:

5 mins

Total Time:

15 mins

Yield:

12 servings

Category:

Dessert, Dips
Description
A rich and decadent chocolate fudge dip swirled with caramel and crushed Twix bars makes for a truly amazing dip or dessert!  Get ready to make a few batches of this Twix Dip because everyone is going to inhale this!
---
Ingredients
Twix Dip
8 ounces cream cheese (softened)
1/4 cup prepared caramel sauce
1/2 cup powdered sugar
1.5 cups prepared chocolate fudge pudding
Garnishes
4 fun size Twix bars
shortbread cookies for serving
---
Instructions
Prepare the chocolate fudge pudding
Prepare the pudding using 1.5 cups of milk instead of 2.
Let set up in the fridge for 5 minutes.
Make the Twix dip
In a medium-sized bowl, combine cream cheese and powdered sugar.
Beat until fluffy and completely combined.
Add the pudding.
Mix slowly until fully incorporated.
Chop the Twix bars into small pieces.
Add the chopped Twix bars and stir by hand.
Add the caramel sauce by drizzling it over the dip and stirring by hand.
Chill for at least 10 minutes or until ready to serve.
Serve with shortbread cookies for a crunchy dipping experience!
Notes
*If you like this recipe, please leave me a comment and rate it with some stars.  Thank you!