These Kentucky Derby Party Recipes will make your gathering perfect. These menu and derby party ideas include appetizers, main dishes, sweets, and cocktails to make your celebration complete!
If you like throwing parties, check out these Fall appetizers, Fall cocktails, and Fall desserts to get some menu ideas!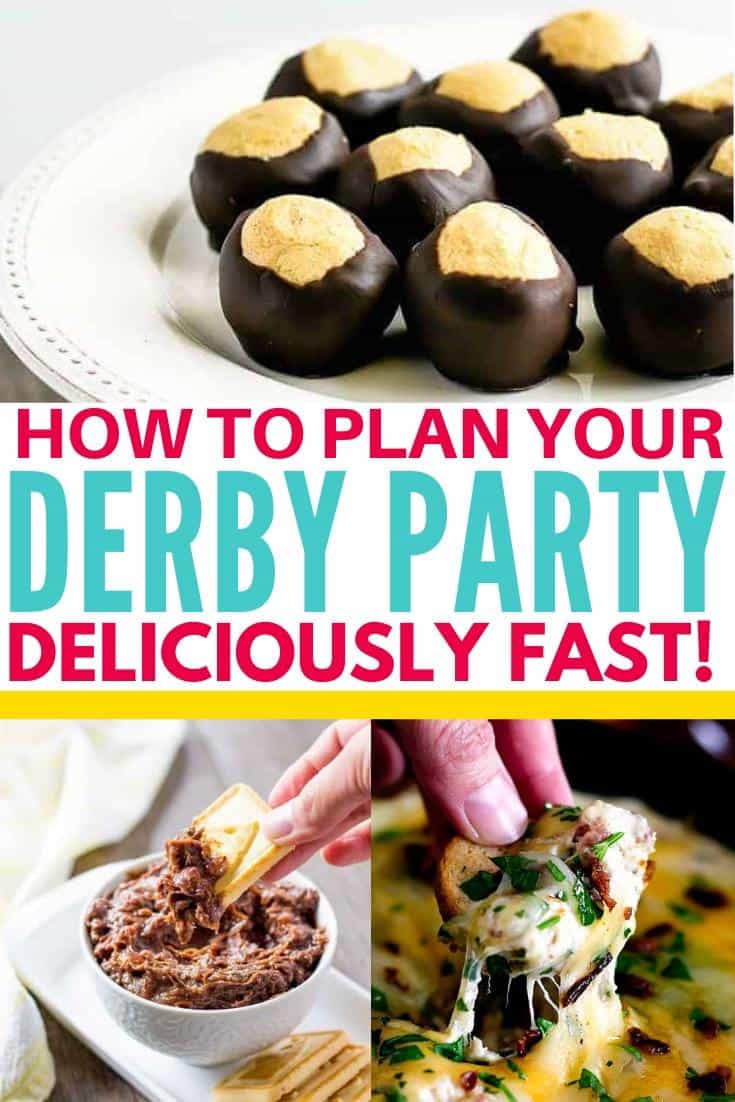 Put on your crazy hat and cheer for your favorite horse during the Run for the Roses. Celebrate the Kentucky Derby with family, friends, and these delicious foods that are perfect for your Derby Party Menu!
Derby Day Sweets and Treats
These sweet treats are perfect for drinking with your Mint Julep at your Derby Party. Let's start with some brownies!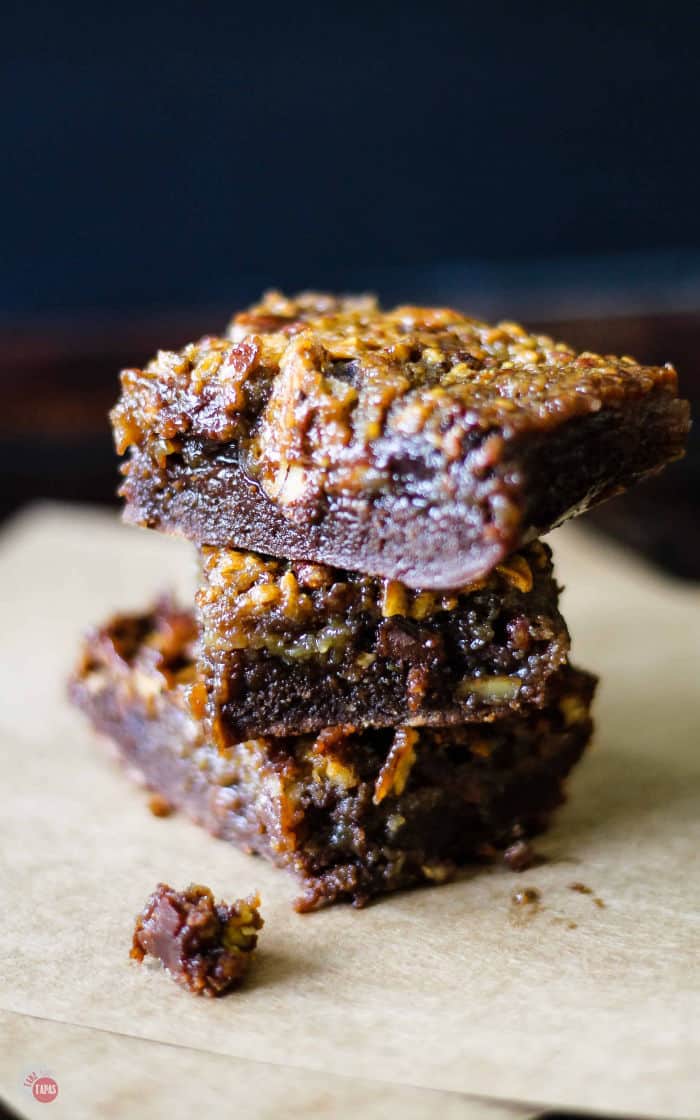 The best way to celebrate the Kentucky Derby is with Derby Pie Brownies. Chocolate Brownies covered in bourbon, toasted pecans, and chocolate chips!
Just like the traditional Kentucky Derby Pie but in a gooey and fudgy brownie! Are you drooling yet?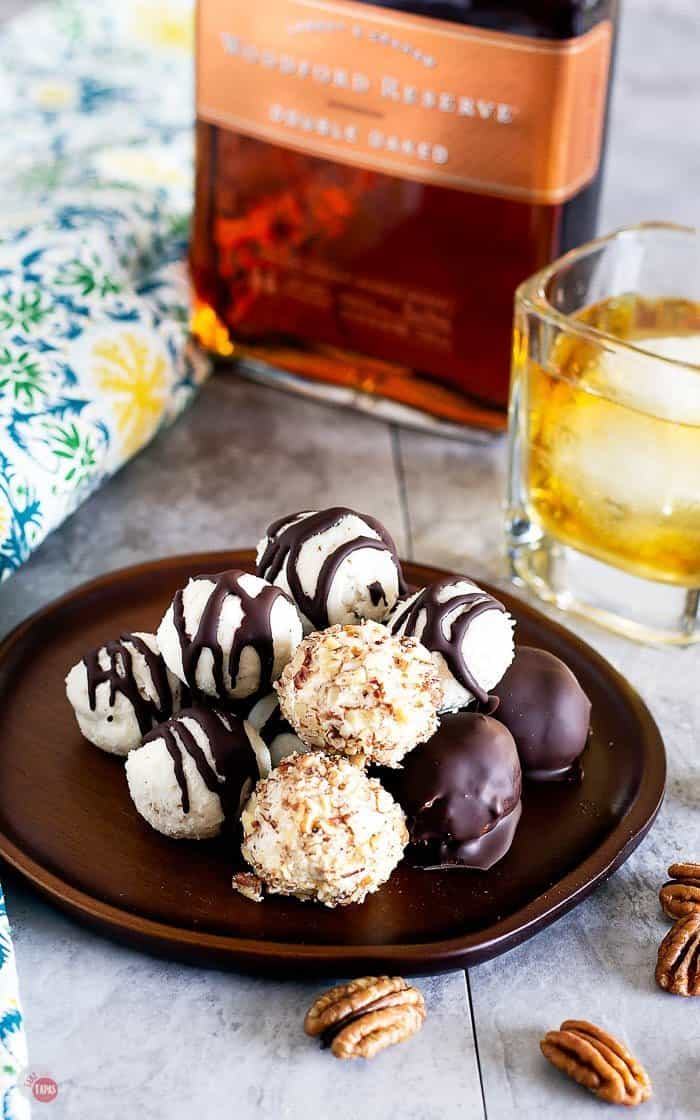 These boozy Bourbon Balls are made with 4 ingredients and are great for your Derby party or your holiday cookie exchange too!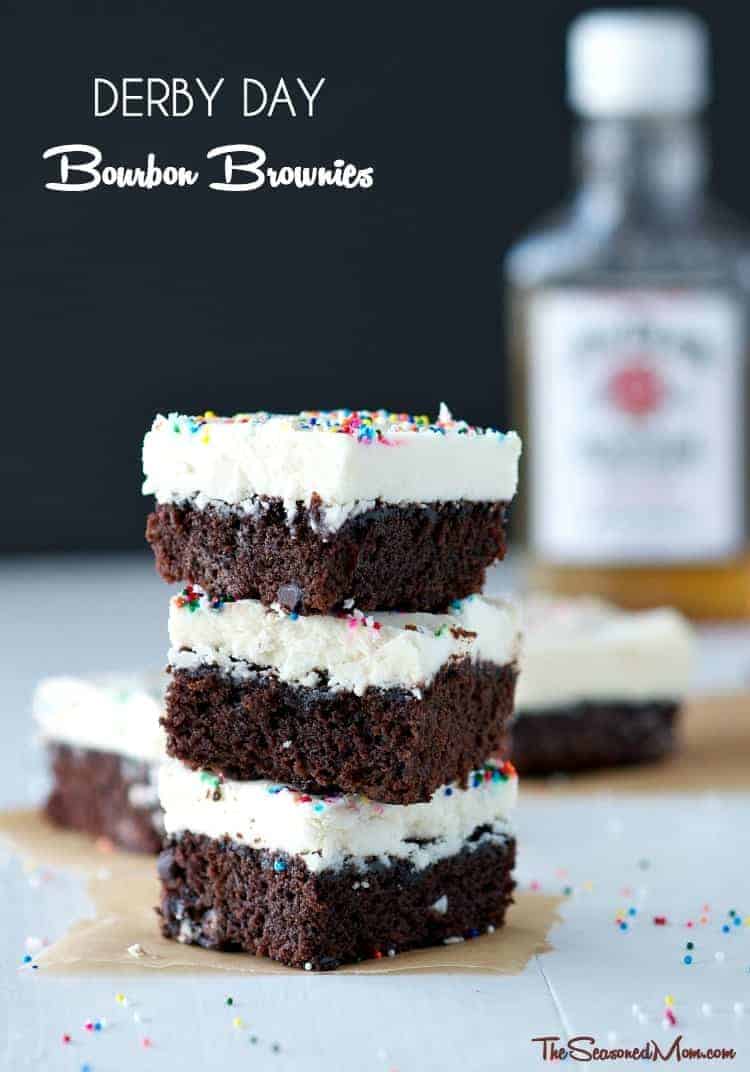 A few simple additions to a boxed brownie mix create the most decadent, festive, and EASY Derby Day Bourbon Brownies! The moist, rich brownies are spiked with Kentucky bourbon whiskey and then topped with a creamy layer of bourbon frosting for a perfectly boozy party dessert!
The moist, rich brownies are spiked with Kentucky bourbon whiskey and then topped with a creamy layer of bourbon frosting for a perfectly boozy party dessert!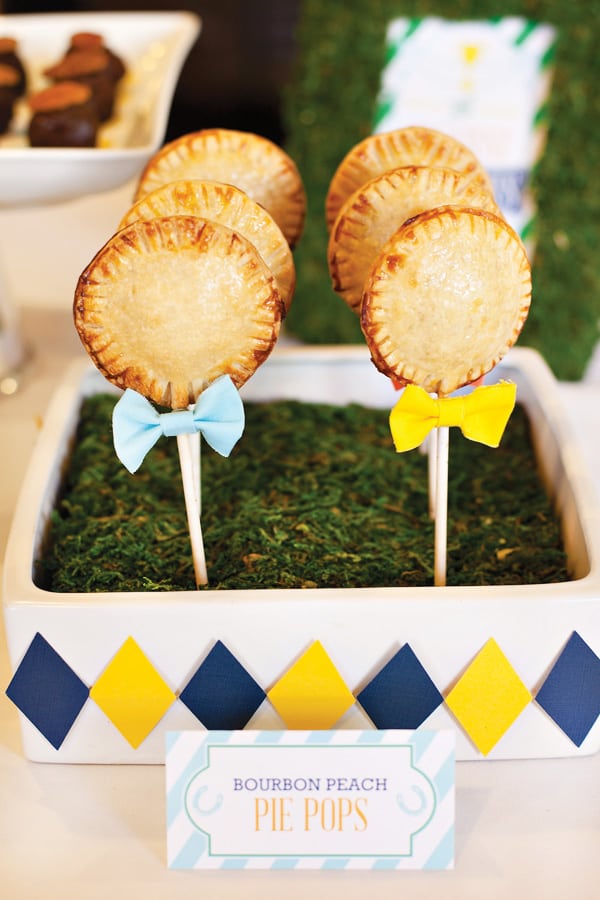 These pie pops are perfect bite-sized treats, and most importantly… super easy! These will surely impress your party guests with their Southern flavor and stylish little bow ties.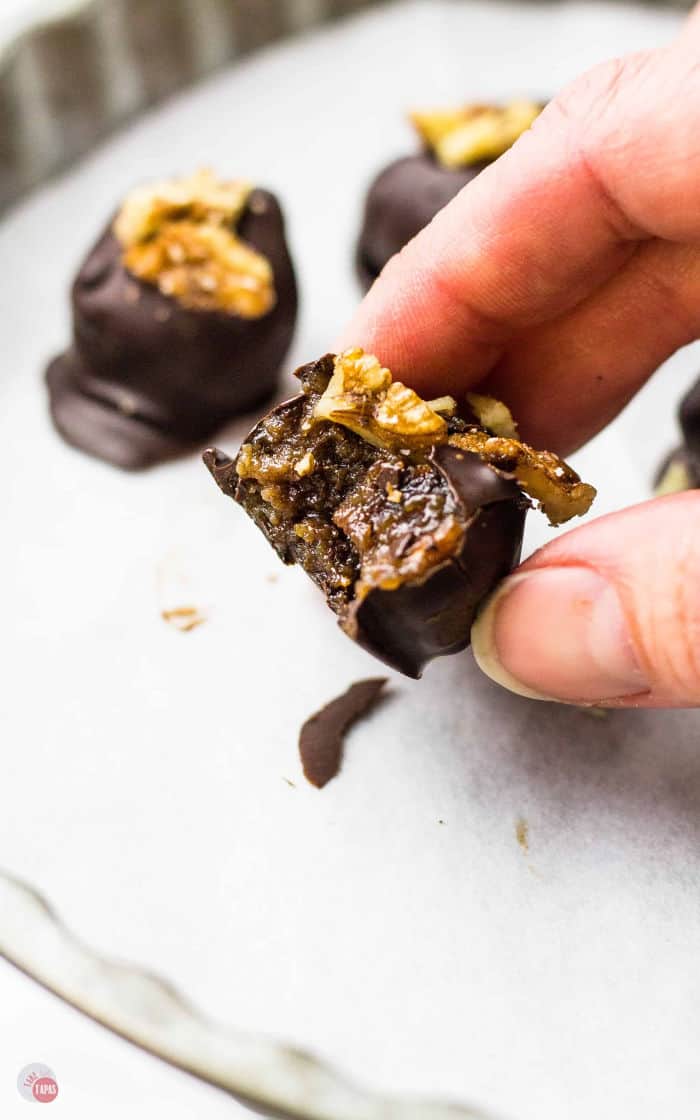 Pop a few of these Kentucky Derby Pie Bites on Derby Day or any other day! Chocolate, Bourbon, and Pecans baked like Derby Pie and then dipped in a coating of dark chocolate.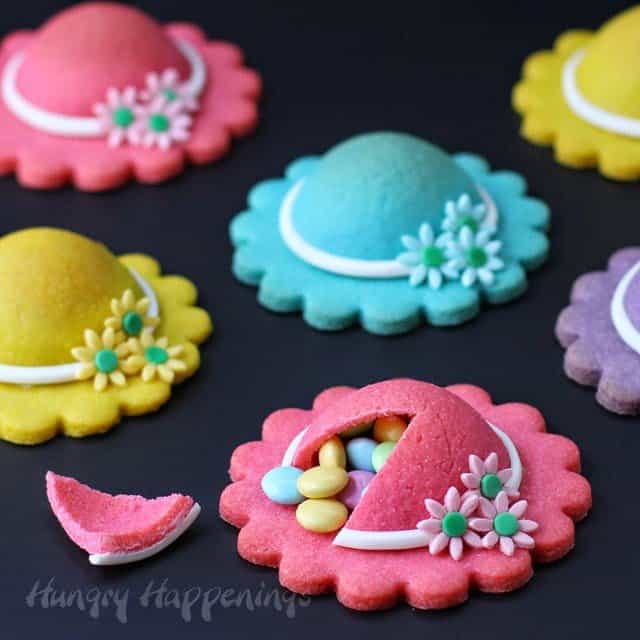 I love going to the Derby and checking out all the amazing hats. I even made my own when I went. It might be fun to wear them on a daily basis but I know the hat head is not fun.
Wearing ladies hats may have gone out of fashion in everyday life, but these festively decorated Ladies' Hat Piñata Cookies will still be fun treats to serve on Mother's Day, Easter, or for a Kentucky Derby Party.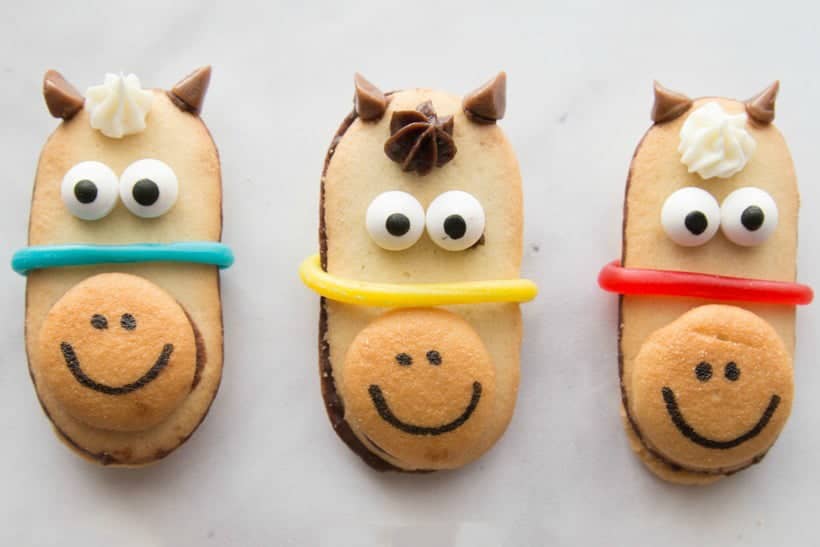 While my mind tends to think of the Triple Crown Races: The Kentucky Derby, Preakness Stakes and Belmont Stakes, these adorable no bake horse cookies are perfect for any horse themed party.
A Derby Party Menu would not be complete without a pie that has bourbon in it! Also fun for a friendly game of horseshoes in the back yard.
This vegan-friendly Salted Bourbon Chocolate Pie is made with chocolate, cream (or coconut cream), bourbon, and sea salt, is simple to put together, and is perfect for parties!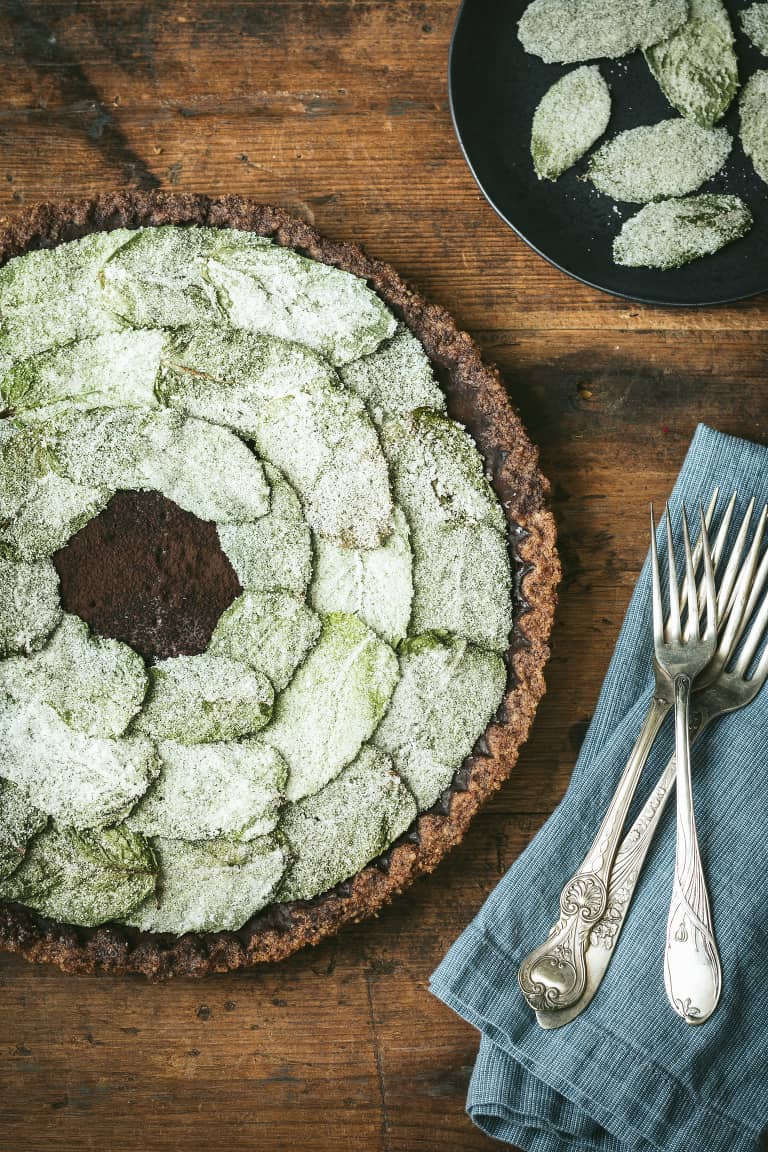 Perfect for the Kentucky Derby with its rich chocolate-y goodness while you watched the ponies trot around the race track.
What is a party without cake and cupcakes?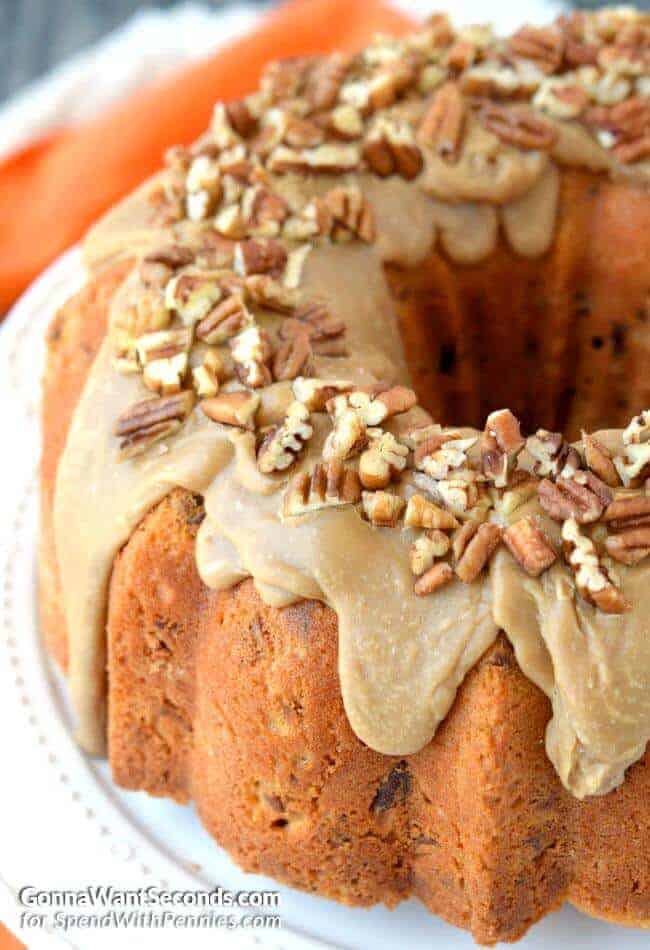 This cake is a delicious combination flavor. The Bourbon is accented perfectly with a generous amount of nutmeg. They're really amazing together. Then this cake has chopped pecans and lots of good quality butter, all topped off with a thick caramel glaze.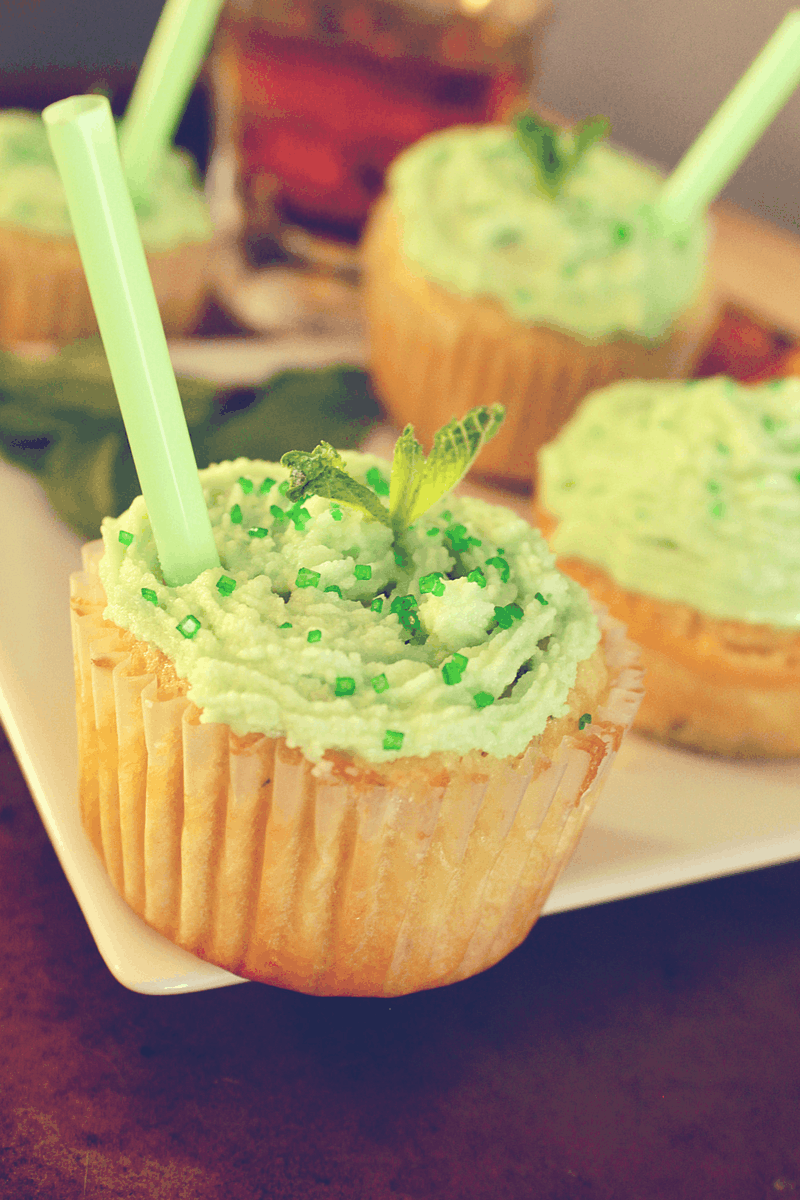 If you're having friends over to watch the Derby, these cupcakes are the perfect dessert to set out on your buffet table.
Derby Party Appetizers, Starters, and Main Dishes
You can't go wrong with iconic regional dishes like the Kentucky Hot Brown. Check out these spins on it!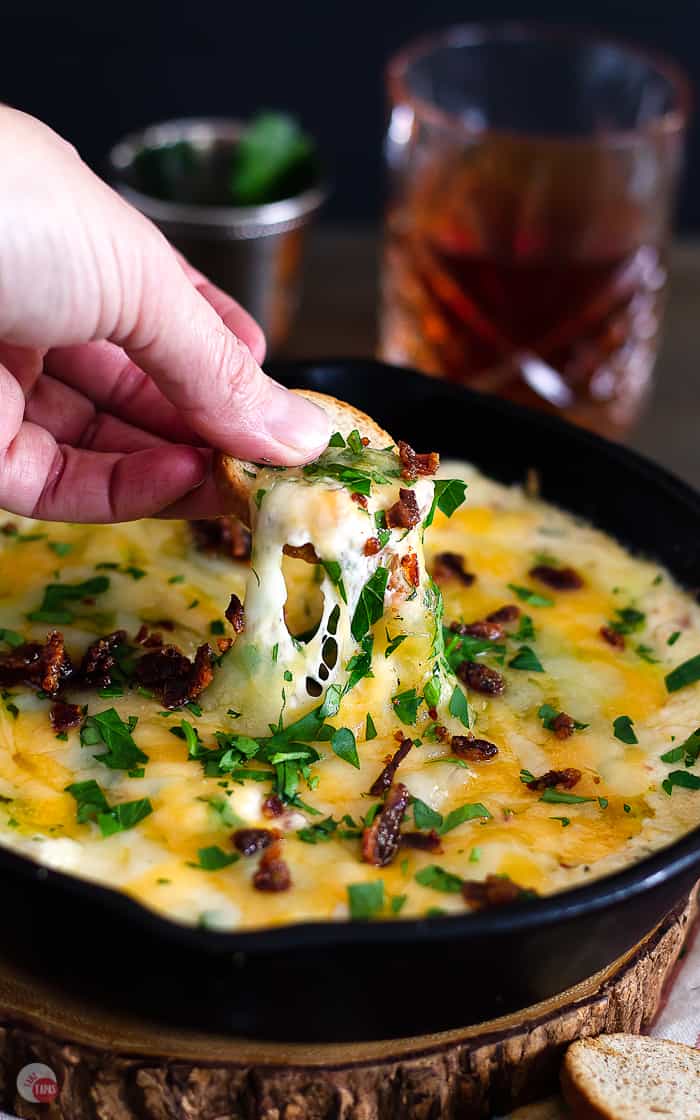 The classic Louisville Kentucky Hot Brown Sandwich gets a makeover. All the best parts of the open face turkey sandwich transformed into a bubbly, cheesy, Hot Brown skillet dip that is perfect for watching the most exciting 2 minutes in sports on Derby Day!
Sub country ham if you can't find turkey. It pairs well with the cheese sauce too!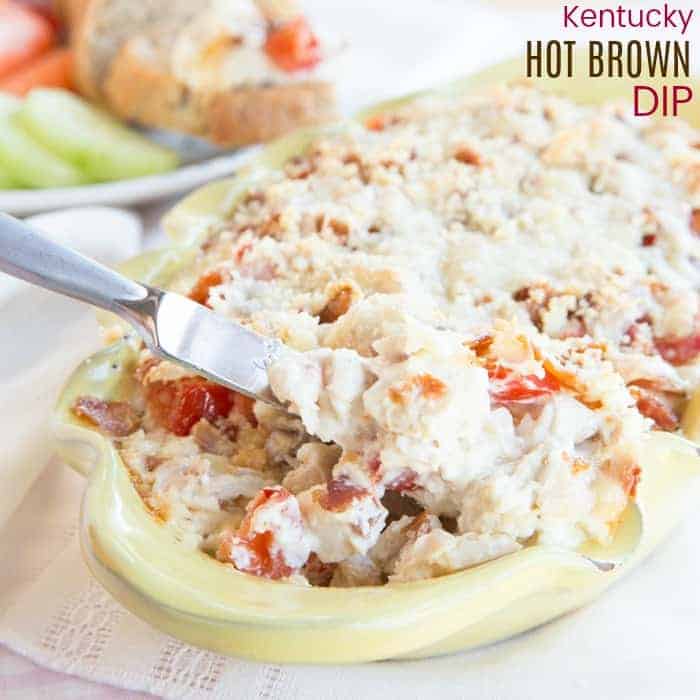 Kentucky Hot Brown Dip is one of the best hot dip recipes you need and the ultimate Kentucky Derby food. Everything you love from the classic Southern sandwich gets baked into a hot cheese dip recipe loaded with turkey, bacon, and tomatoes.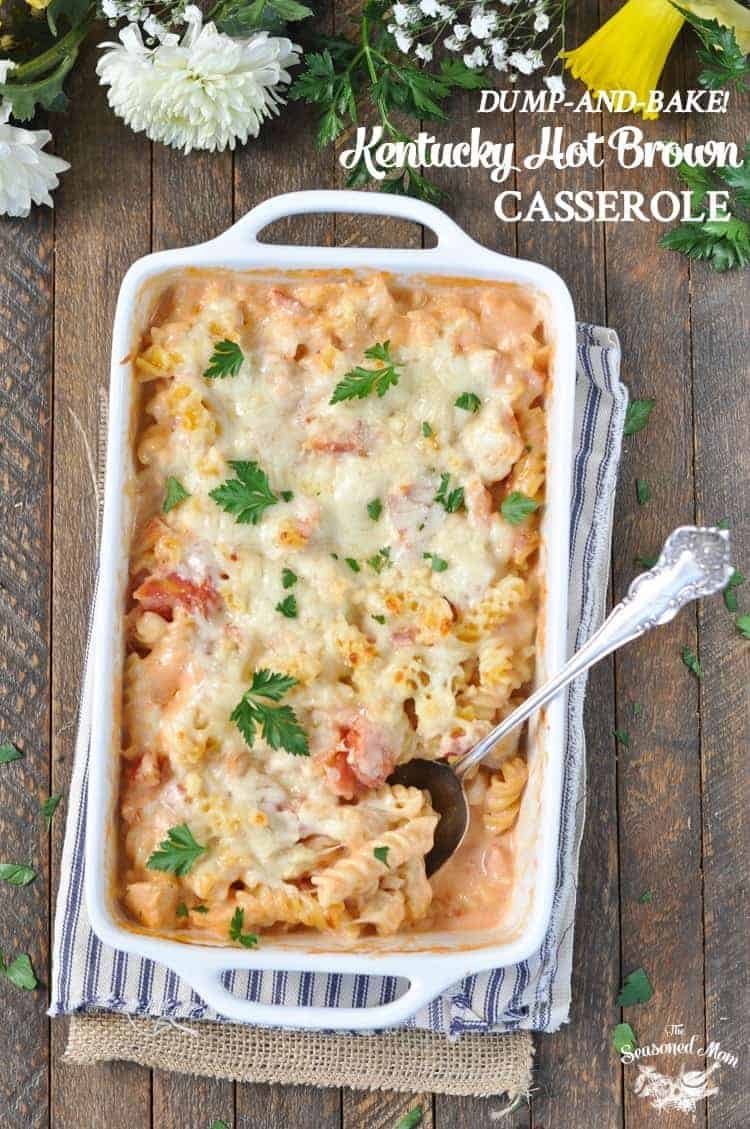 There's no need to boil the pasta! Just dump-and-bake these simple ingredients for an easy Kentucky Hot Brown Casserole that's loaded with turkey (or chicken), bacon, tomatoes, and a creamy sauce. It's the perfect dish for weeknight dinners and Derby Day celebrations!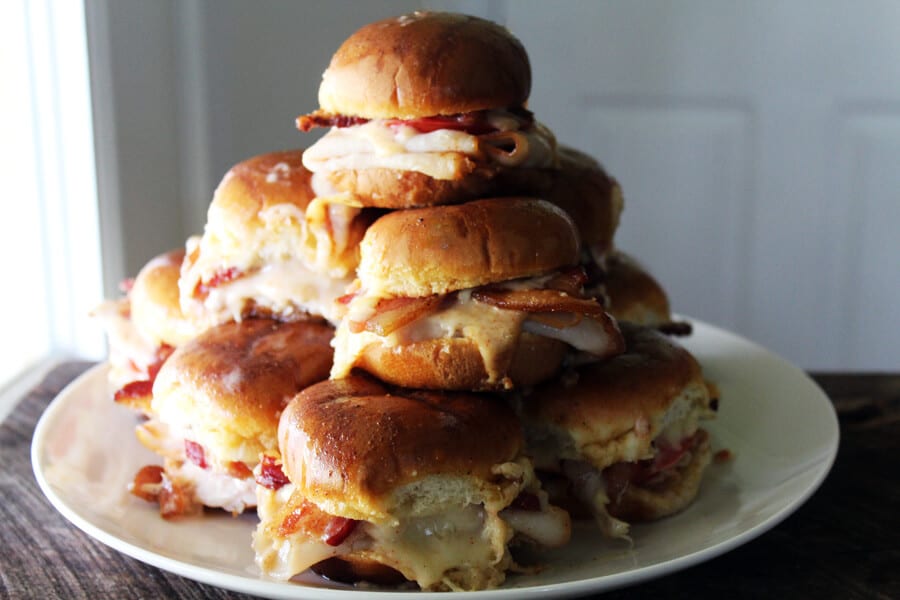 These Kentucky Hot Brown Sliders are so good. Yummy turkey, buttered buns, fresh ripe tomato, cheese gravy (yes, I said CHEESE GRAVY), and bacon.
No Kentucky Derby party theme is complete without some true Southern specialties like deviled eggs, fried green tomatoes, and grits!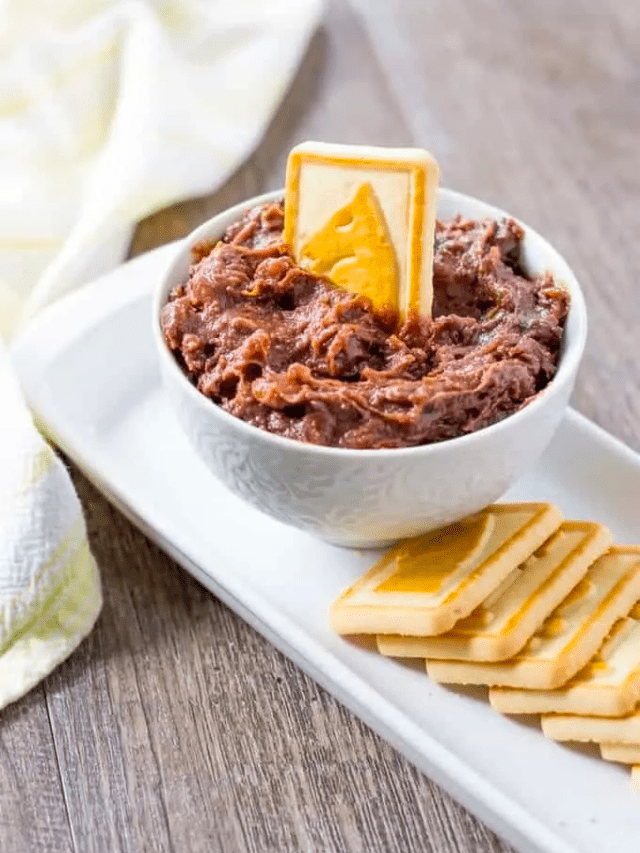 The world-famous Kentucky Derby Pie made with pecans, chocolate, and bourbon is now Derby Pie Dip. Serve with shortbread cookies and it will be just like pie only easier to eat!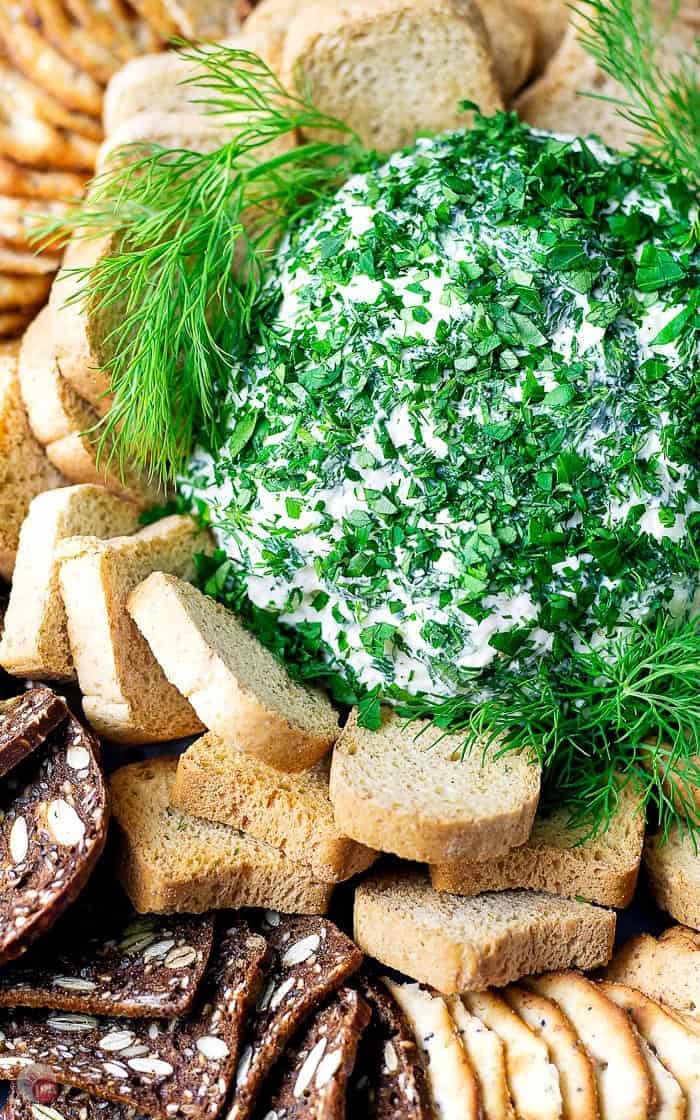 This Benedictine Cheese Ball is a riff on the traditional cucumber dill spread that is eaten all over Kentucky, especially at the Derby!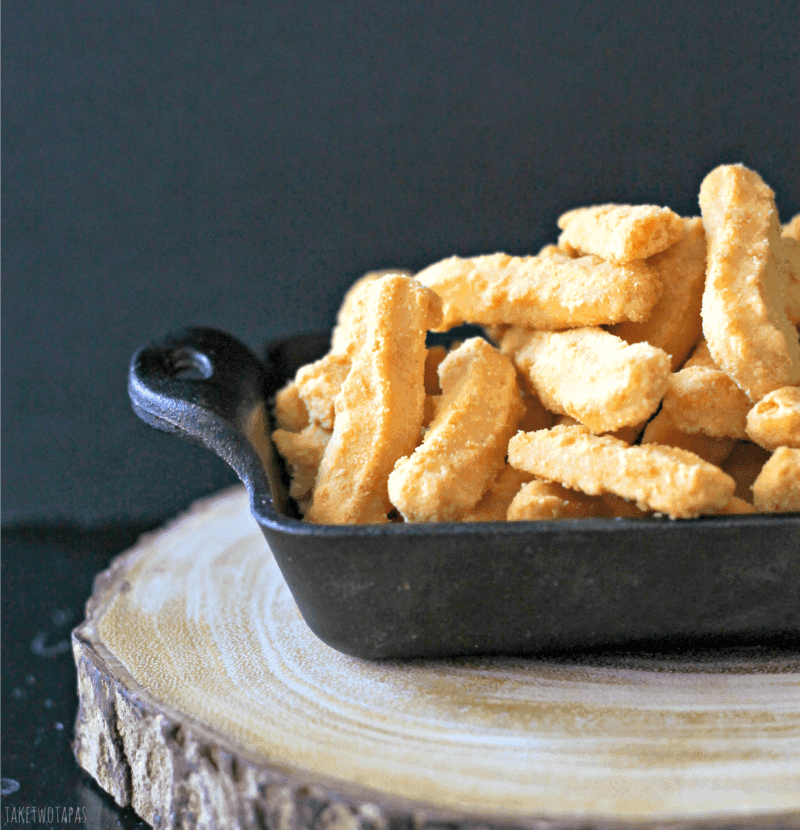 These Pimento Cheese Straws are crispy, spicy, flaky, and cheesy. The perfect combination for these delicious snacks you won't be able to stop eating!
Deviled Eggs are a classic party food and the Run for the Roses wouldn't be the same without them. Skip the classic version and serve the elevated with a southern favorite like pimento cheese.
Creamy zesty Pimento Cheese Deviled Eggs, perfect for the Kentucky Derby!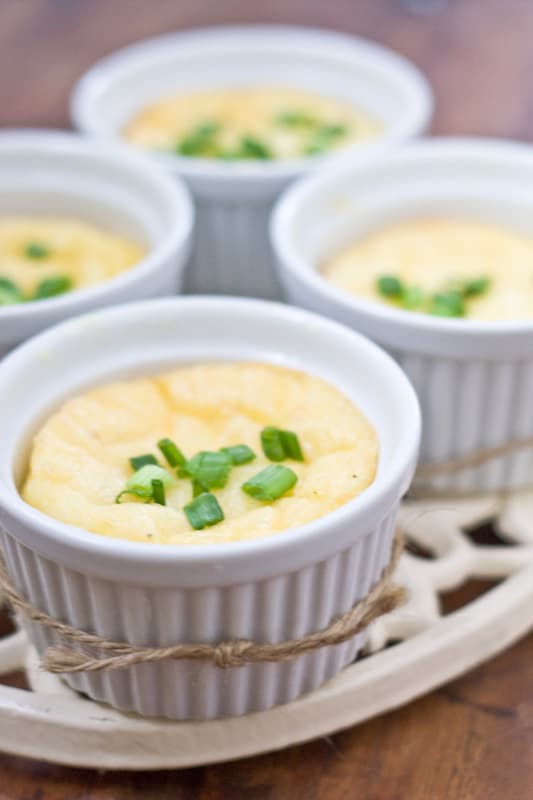 These Cheese Grits are to be enjoyed as a side dish, but could also be a delicious breakfast with a fried egg on top or some asparagus.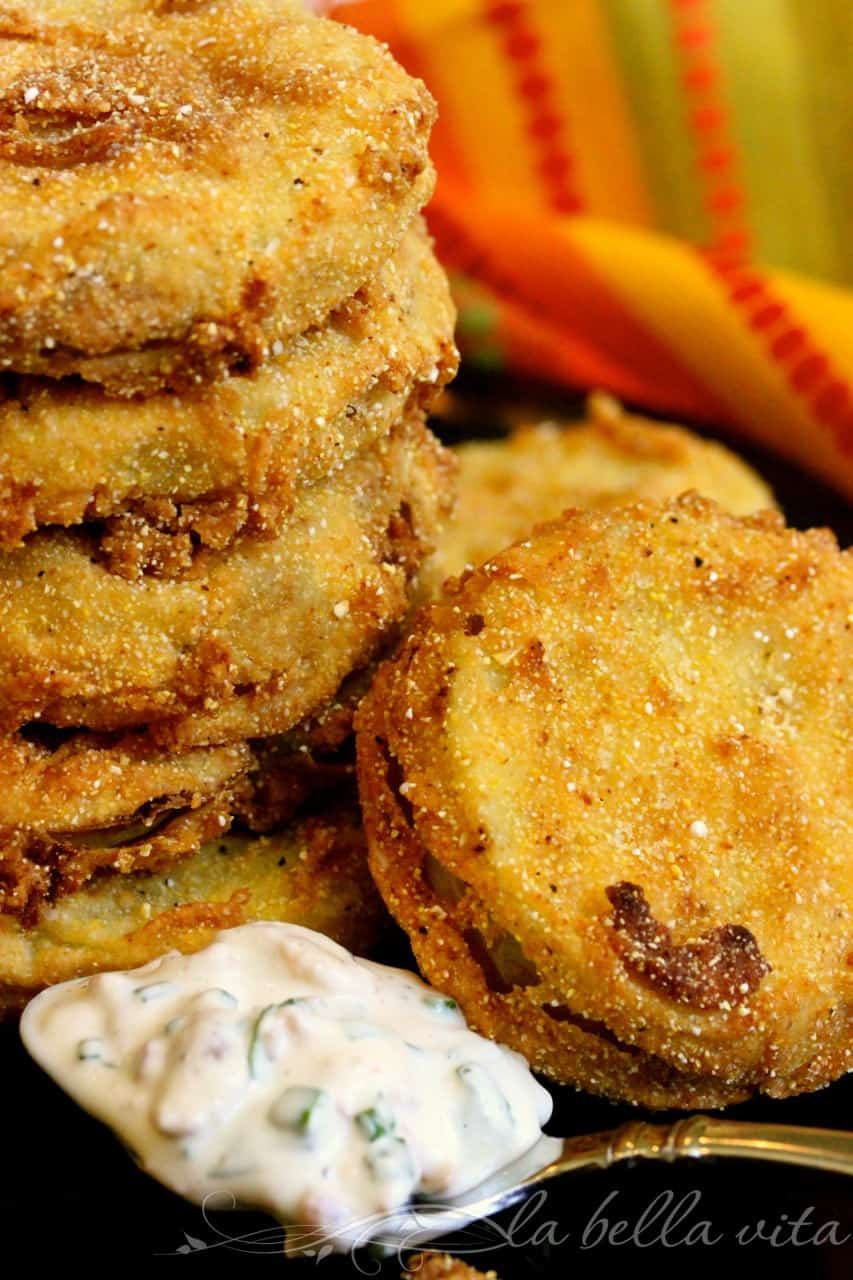 Hot, crispy, and tangy fried green tomatoes encrusted in a perfect fried batter are the perfect treat for your Kentucky Derby Party!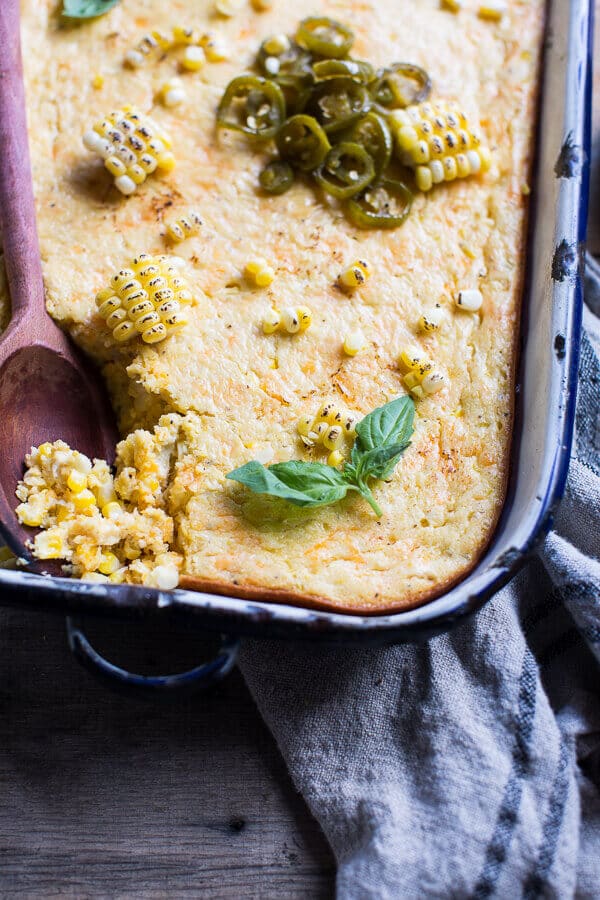 The south is full of savory casseroles and puddings and the best ingredient to use in them is corn. You can't go wrong with one of these at your Derby get together. Best to bring one like this.
Classic corn pudding with Kentucky bourbon and candied jalapeños.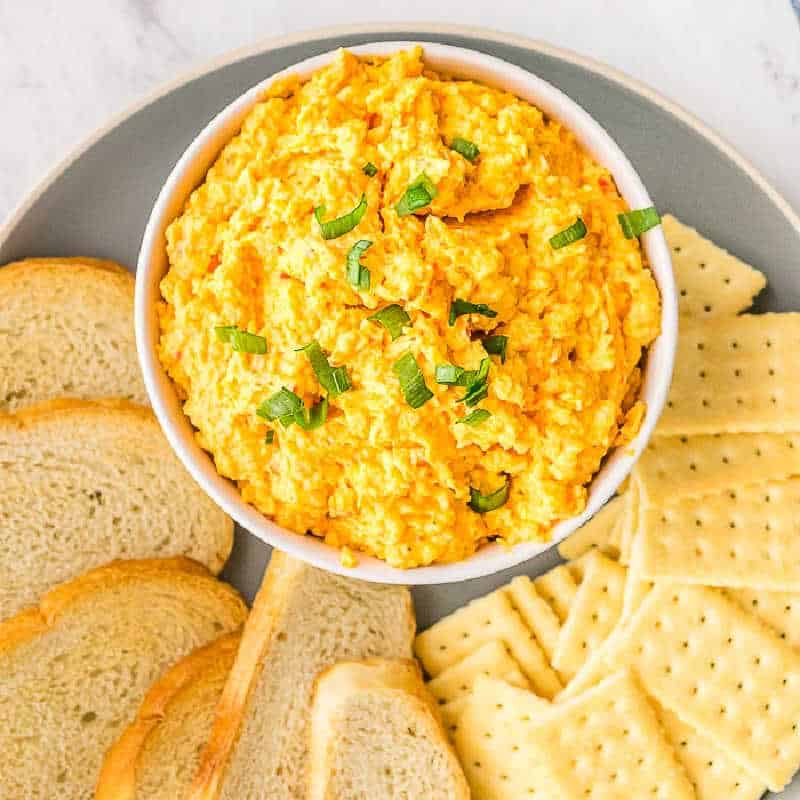 Creamy, cheesy Pimento Cheese Spread is a great party spread! You can make it ahead of time, it keeps for a few days – if it lasts that long, and you can serve it in a bowl or roll it into a cheese ball and sprinkle with toasted pecans!
Serve with crackers or on a burger for a new twist!
Now for some more Kentucky Specialties! Benedictine Spread is a regional spread from Louisville and Burgoo is a typical fundraising meal for Kentucky and Indiana sort of like a chili cook-off!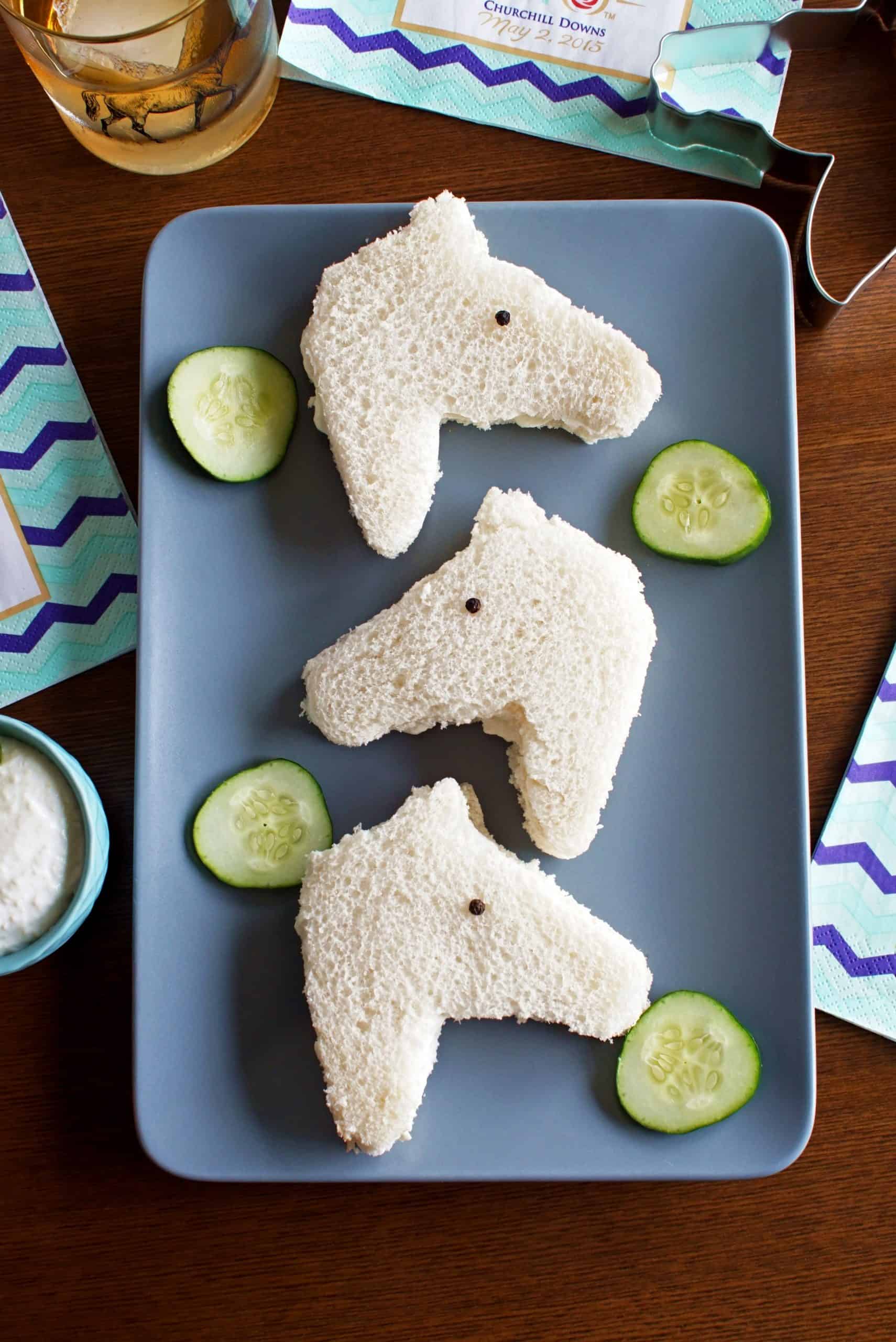 Derby is all about tradition, so I feel that it's only right to start with some Derby/Louisville/Kentucky food staples for the blog's first time covering good eats for this spectacular time of year.
You can't watch any horse race without these tasty tea sandwiches.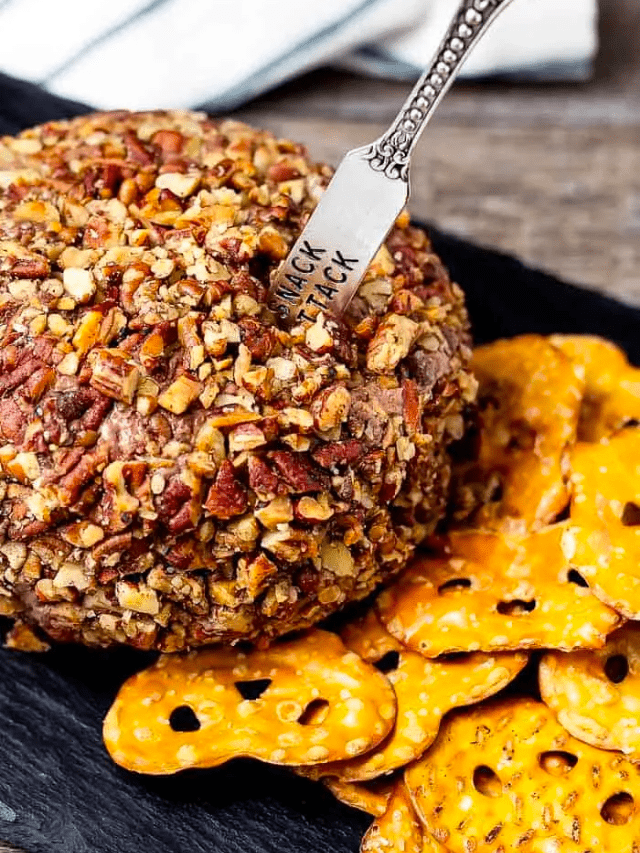 A Derby Pie Cheese Balls is all the delicious gooey parts of a classic Derby Pie with chocolate, caramel, pecans, and bourbon. Then they are stuffed inside this sweet chocolate cheese ball made with cream cheese and rolled in toasted pecans.
Perfect for watching the Kentucky Derby!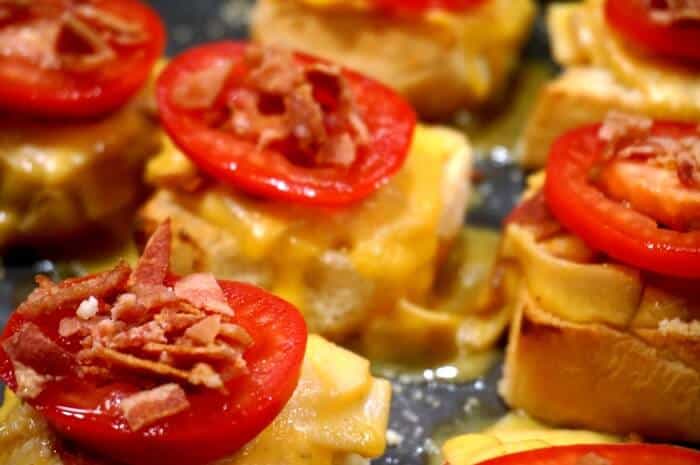 You can't go wrong with any size portion of this iconic Kentucky sandwich. An appetizer version of the famous Brown Hotel's Hot Brown Sandwich.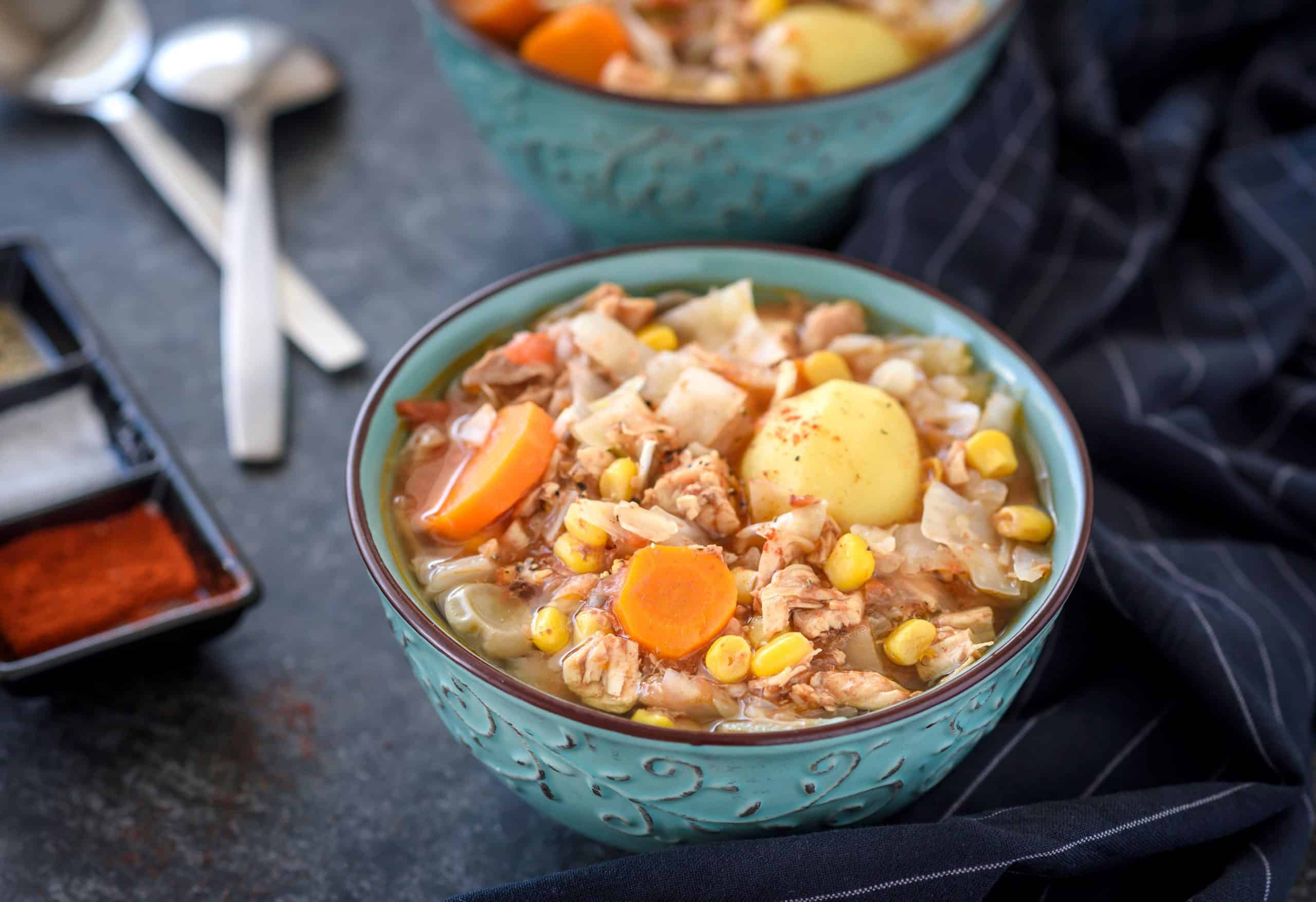 This Kentucky burgoo is a typical version, a chicken and beef stew with cabbage, potatoes, okra, and lima beans. If you haven't had this dish before, go get some right now.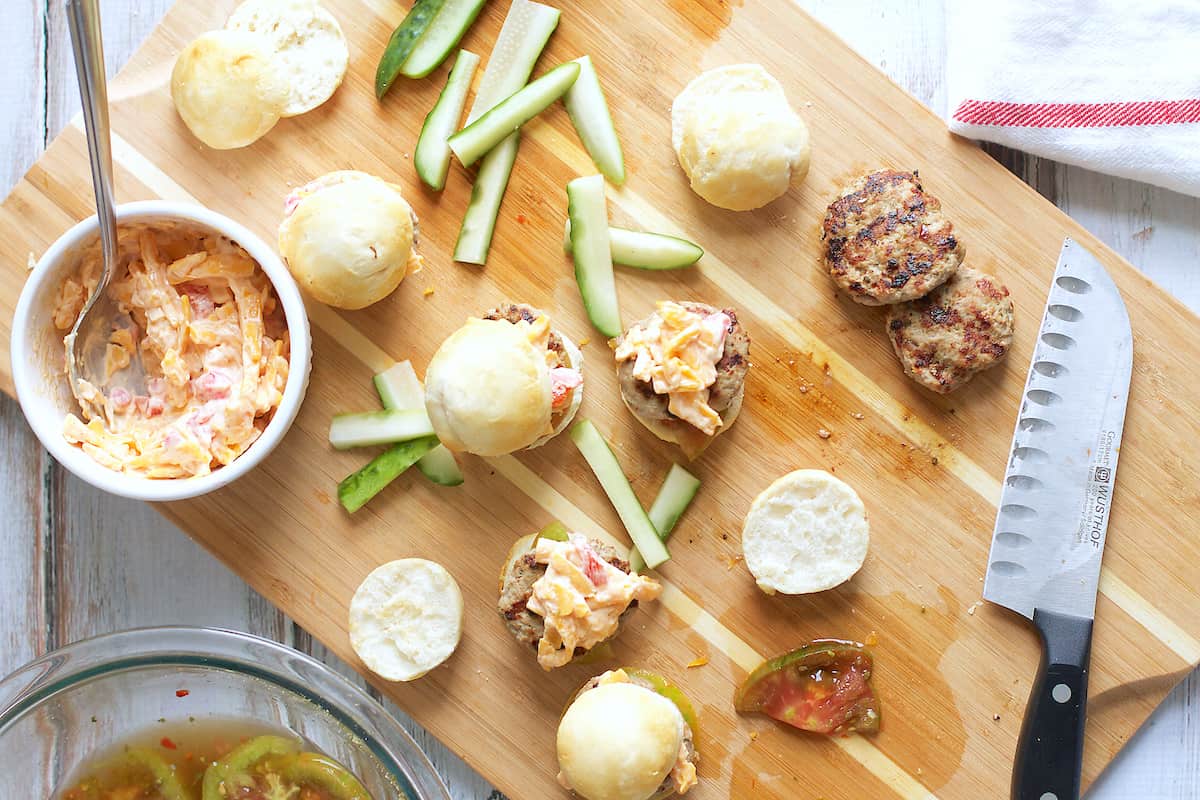 A fluffy, buttery biscuit topped with zesty quick-pickled green tomatoes and a well-seasoned turkey burger piled high with creamy pimento cheese.
More appetizers to round out your Kentucky Derby Party
These may not be served on a regular basis at the Derby but they will brighten up any celebration.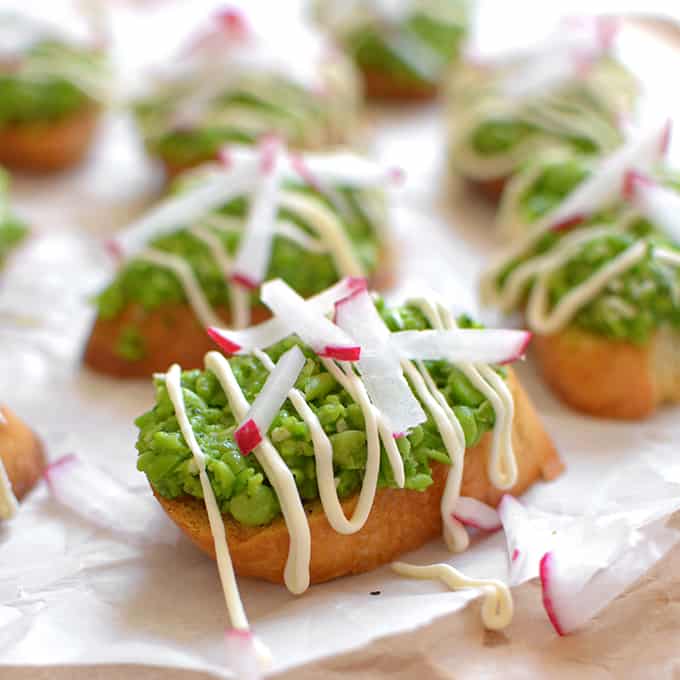 Sweet Pea Crostini – This light and fresh spring appetizer is the perfect way to whet your Derby appetite (without spoiling your dinner).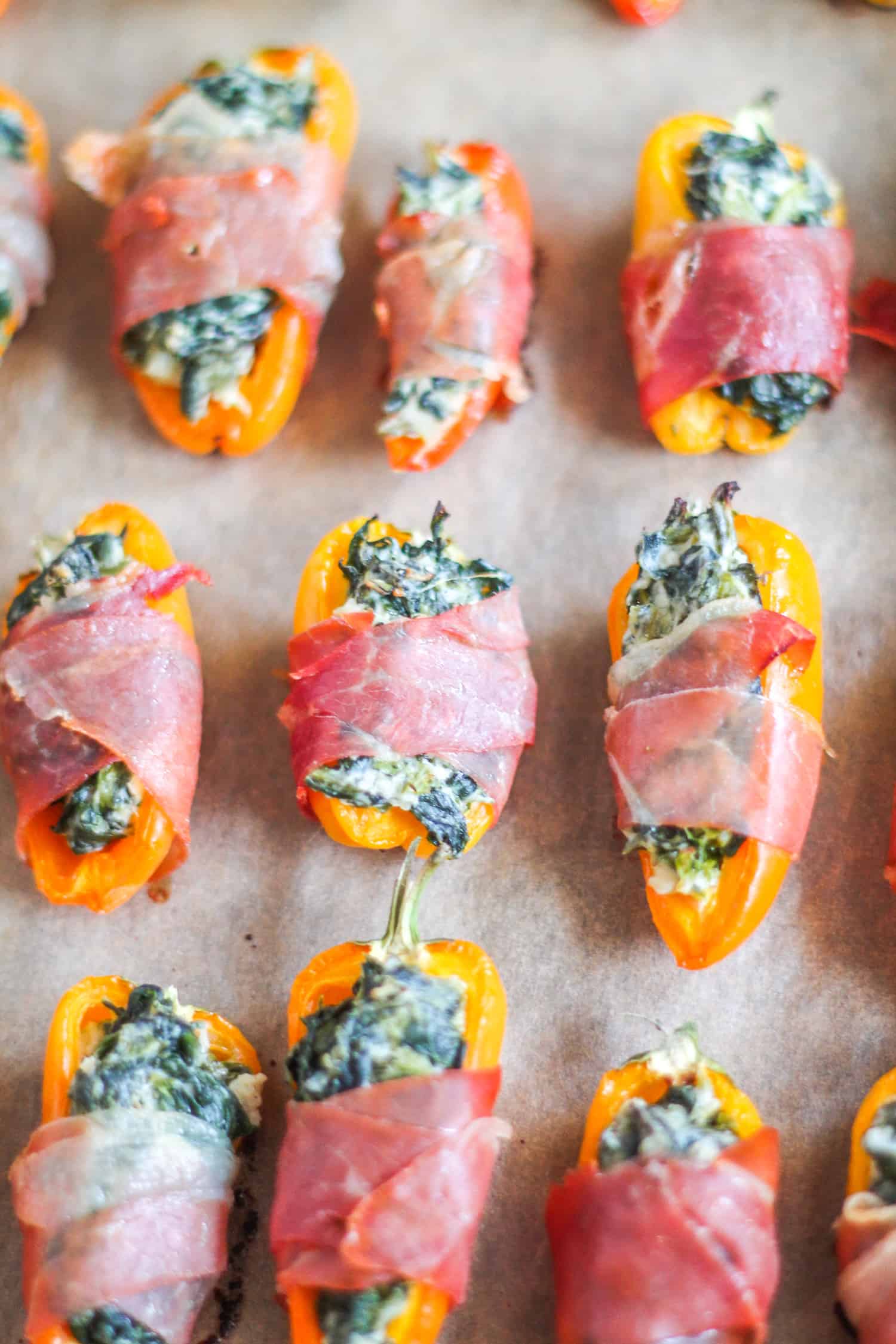 Sweet Peppers Stuffed with Cheesy Spinach Dip are the perfect appetizer to serve at a party. Mini peppers are filled with a simple cheesy spinach dip, wrapped with prosciutto, and baked.
This is an easy recipe that your friends will love!
Derby Party Cocktails and Drinks
Since the run for the horses wouldn't be complete without a Mint Julep or a Kentucky Oaks Lily, let's talk Derby Day Cocktails. Don't forget the vase of red roses for the bar!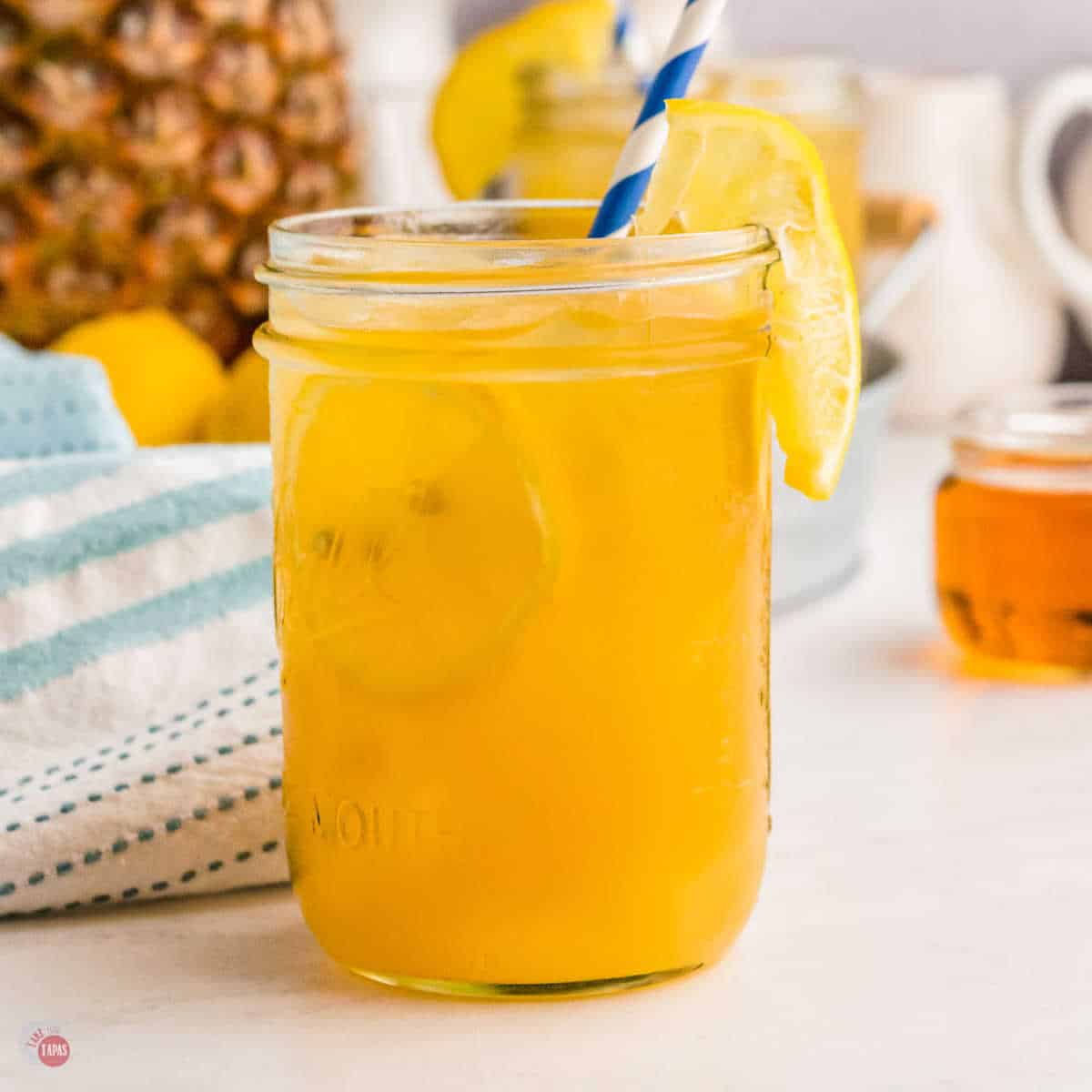 Bright and tropical pineapple meets its tart cousin the lemon and works together to tame the richness of bourbon in my Pineapple Bourbon Lemonade!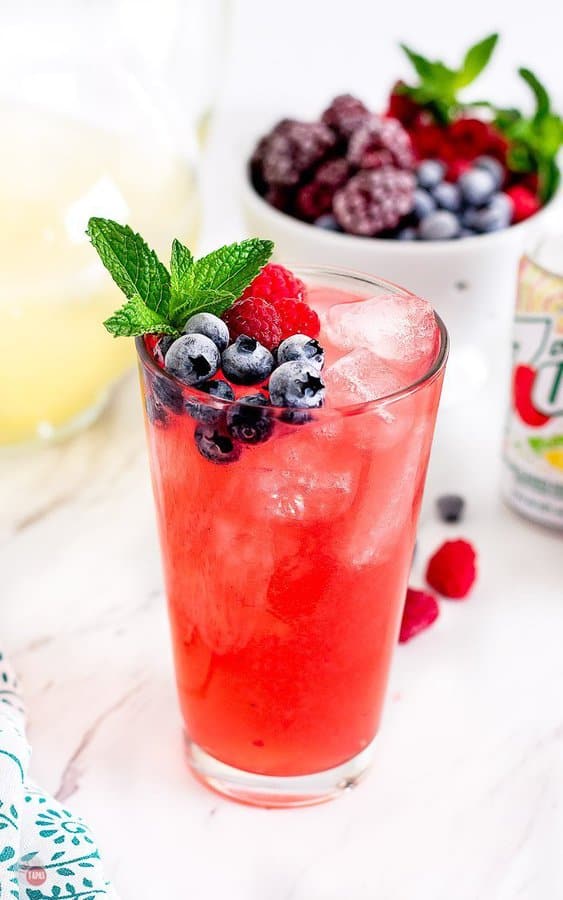 My Sparkling Mixed Berry Lemonade is full of frozen berries and made with fresh squeezed lemons and sweetened with honey for a healthy and fun drink!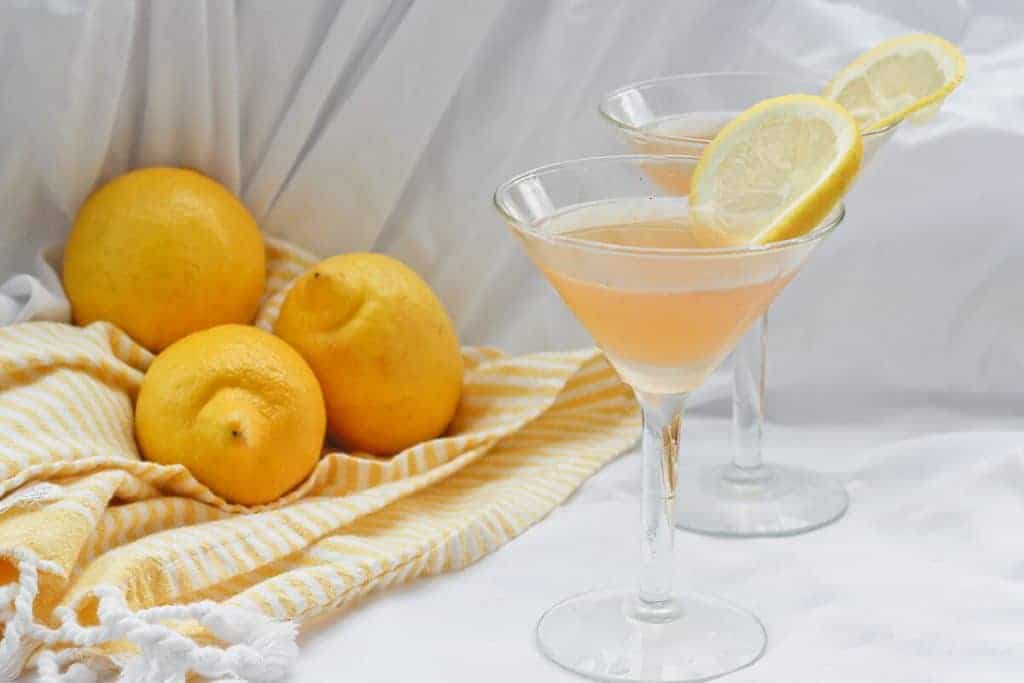 This Bourbon Sour with Lavender is a sweet spring cocktail! Mix one up in no time with lavender simple syrup, lemon juice (or Meyer lemon juice), and bourbon.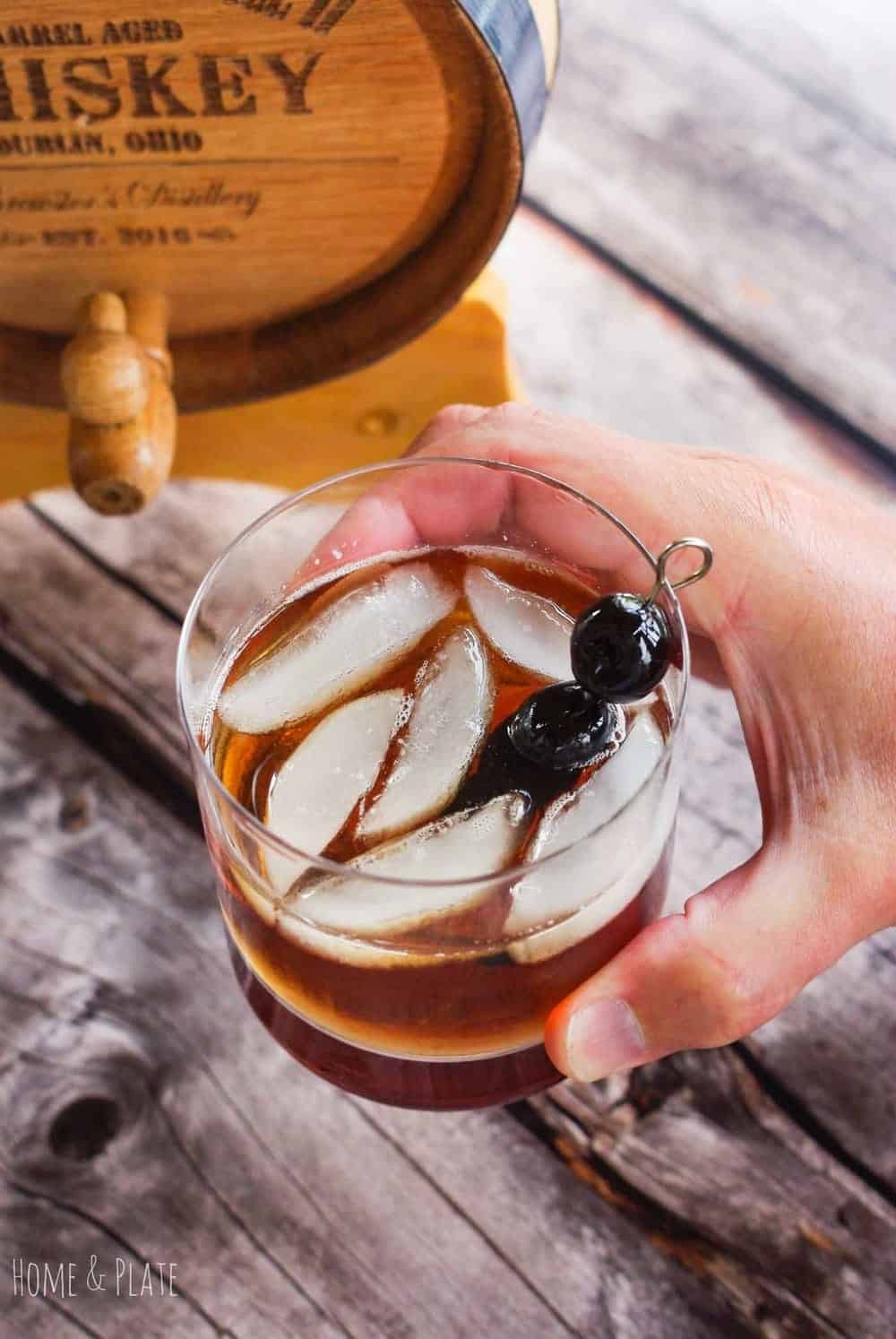 This Barrel-Aged Bourbon Manhattan cocktail is a twist on a classic. Featuring aged quality bourbon, maraschino liqueur and dark cherries, this drink will become your all time favorite!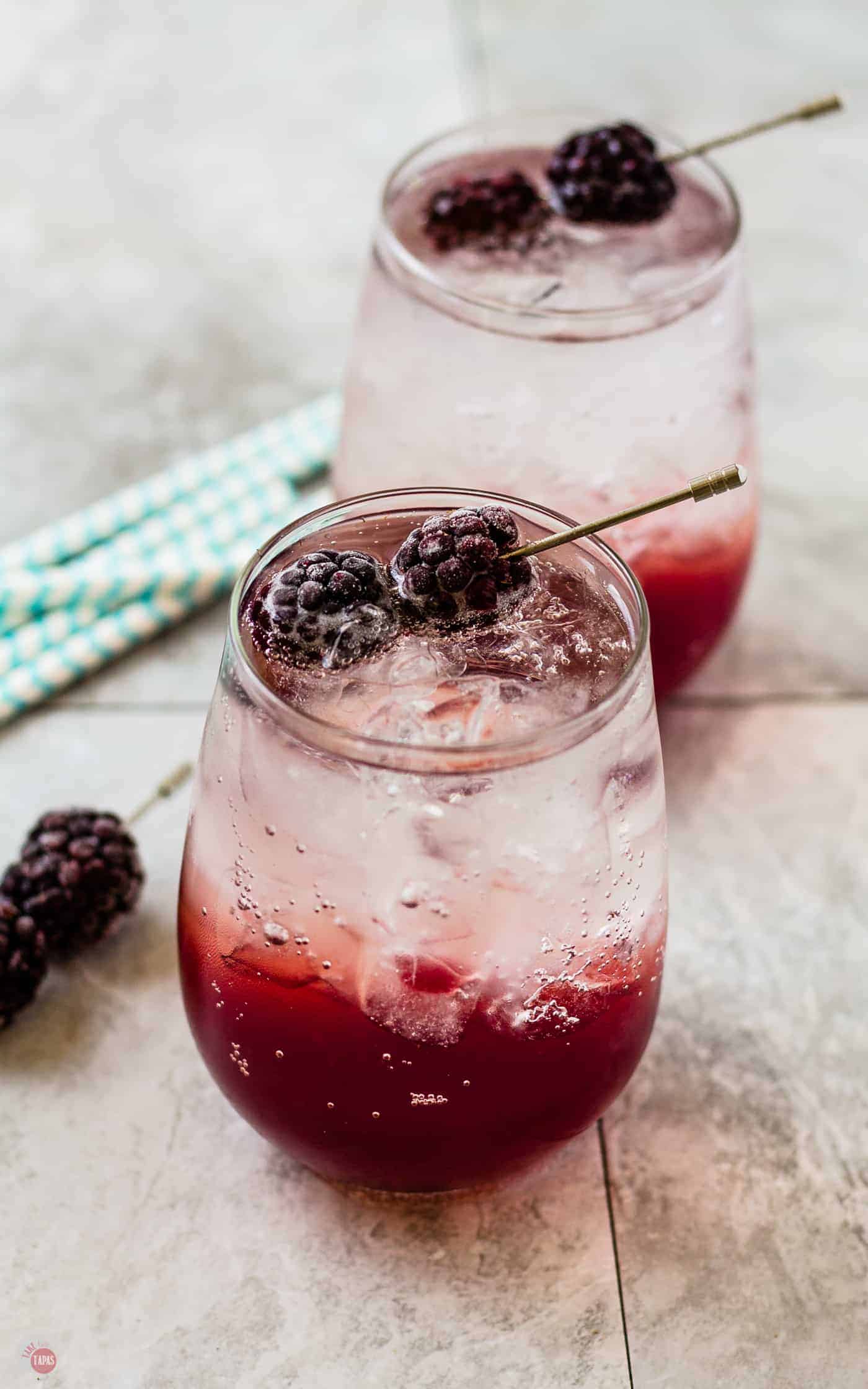 32. Blackberry Coconut Splash
It's officially Fall and there is a crispness to the air now. Let's celebrate with a crisp light cocktail made with fresh blackberry syrup and sparkling water, my Blackberry Coconut Splash!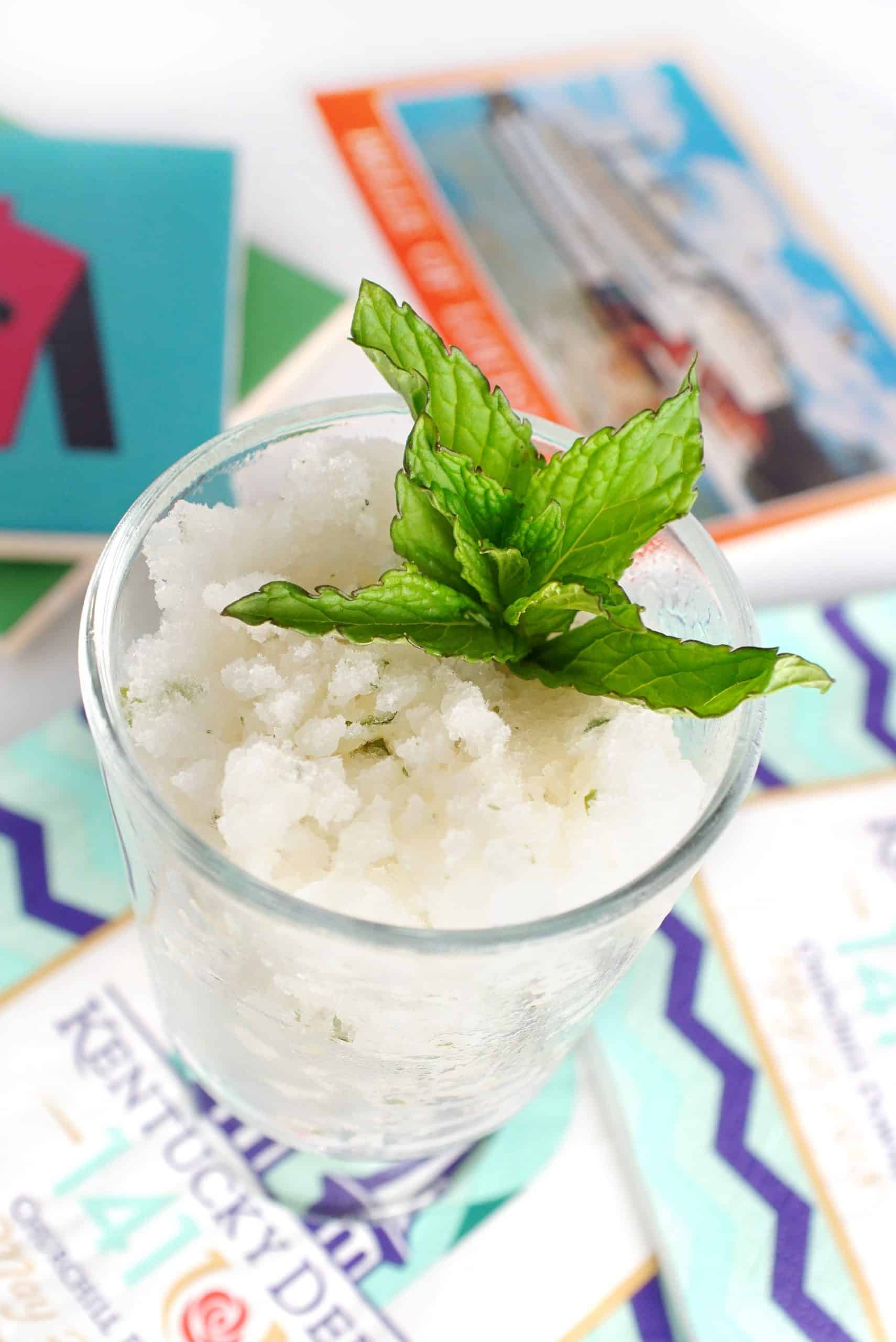 A lazy version of a Mint Julep, the official drink of the Kentucky Derby. Make it with shaved or crushed ice for an extra sunny day!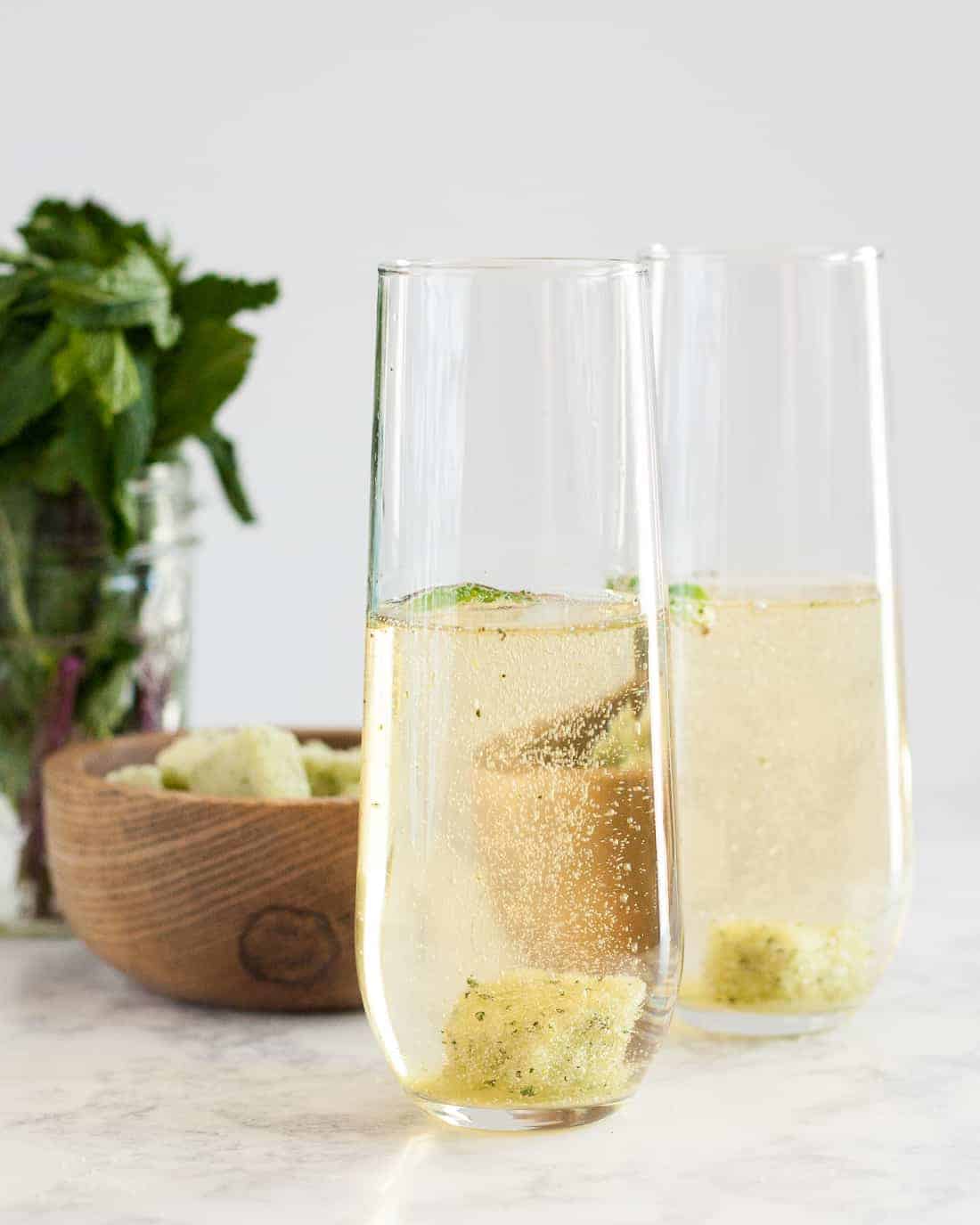 Whether you make it as a cocktail or a mocktail, this sparkling mint julep is a lovely drink for a celebration! Large hats optional.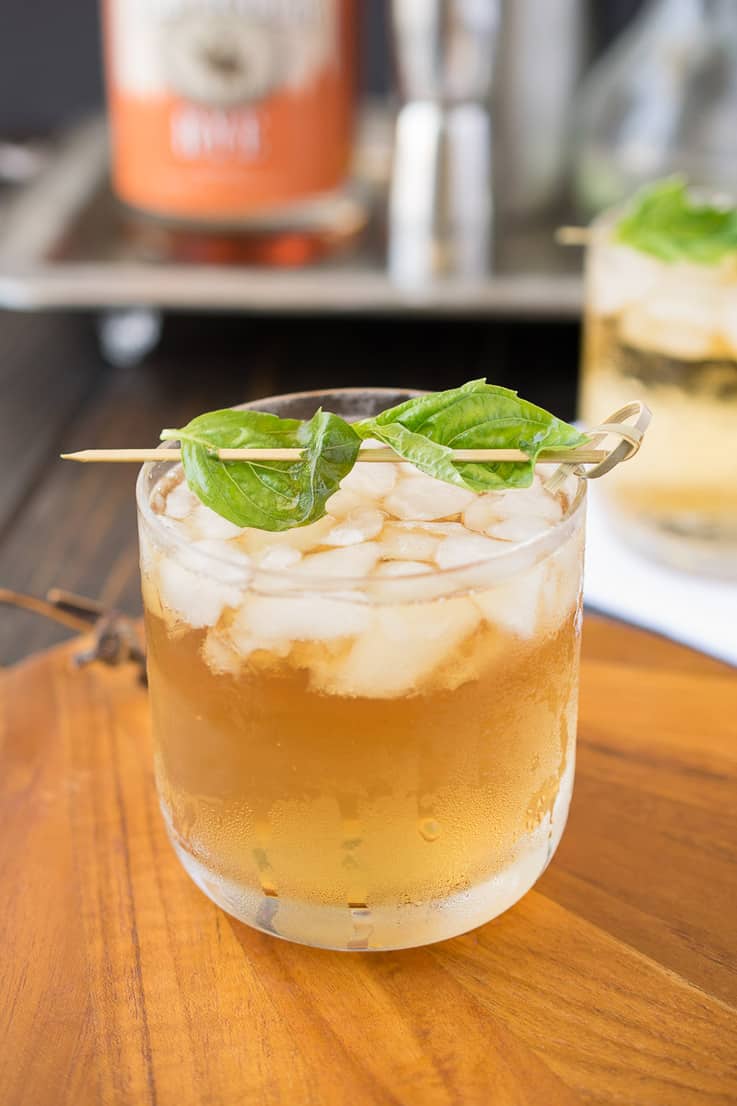 Based on a classic mint julep, this recipe for a basil julep is very refreshing and perfect for sipping as the sun goes down. Fresh basil leaves and rye Whiskey served chilled over ice is the perfect warm weather cooling drink.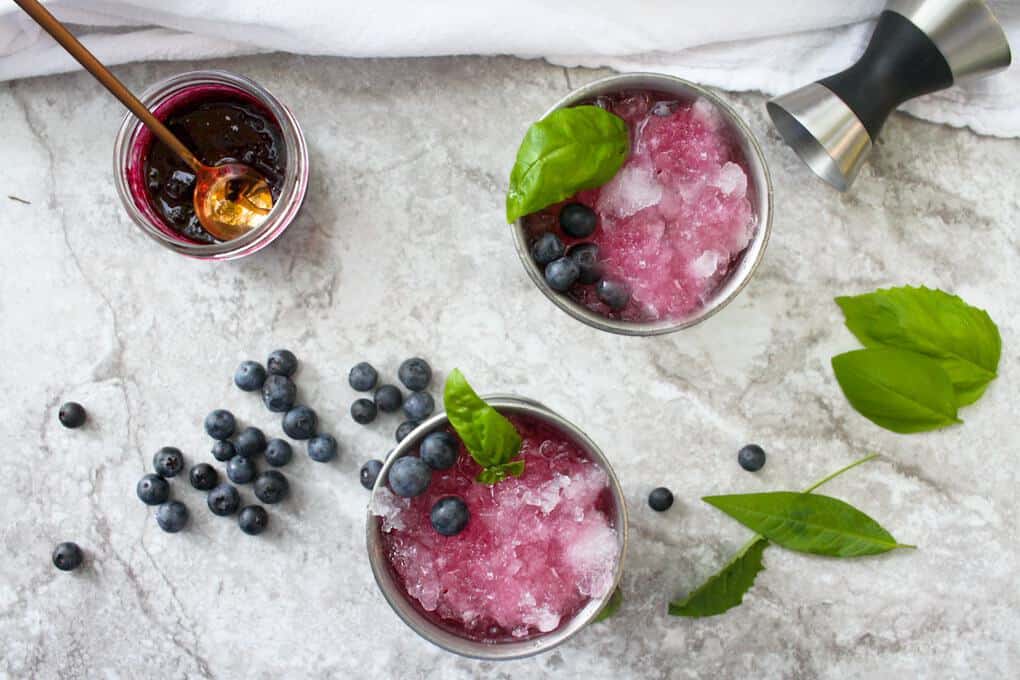 This Blueberry Bourbon Smash is made with a quick and easy blueberry syrup and fresh basil leaves. It's a blueberry cocktail that's perfect for Derby days!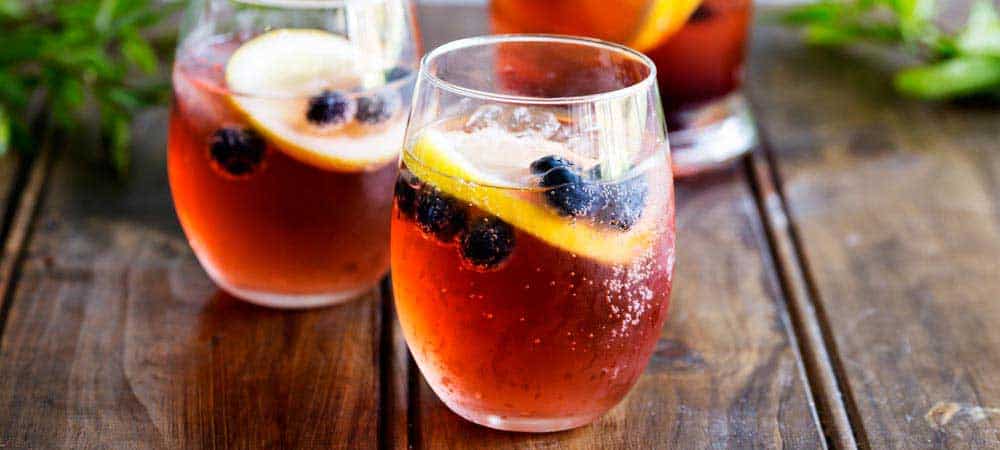 This Lemon and Blueberry Punch, is fruity and refreshing, but it packs a punch. It is perfect for relaxing with friends, or for serving at a larger party!
If you are looking for decorations and party games to play, I have a few ideas below.
If you love these recipes and party favors as much as I do, please write a five-star review in the comment section below (or on Pinterest with the "tried it" button – you can now add pictures into reviews, too!), and be sure to help me share on facebook!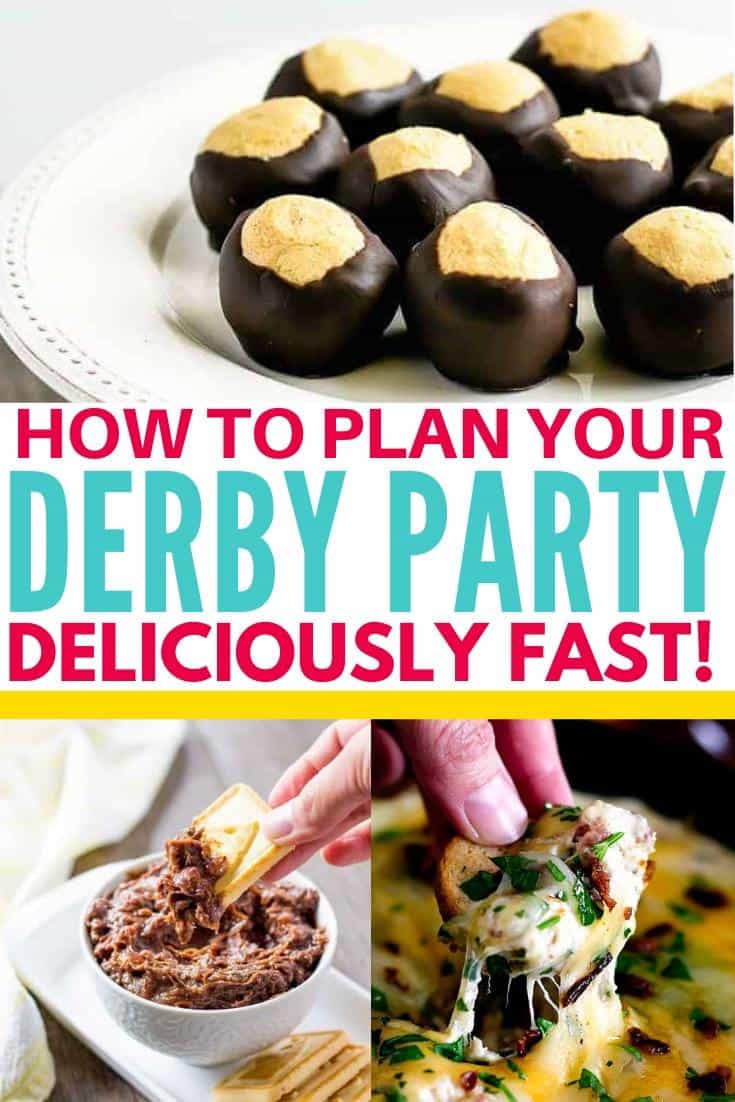 Kentucky Derby Party Foods
TakeTwoTapas.com. Content and photographs are copyright protected. Sharing of this recipe is both encouraged and appreciated. Copying and/or pasting full recipes to any social media is strictly prohibited.