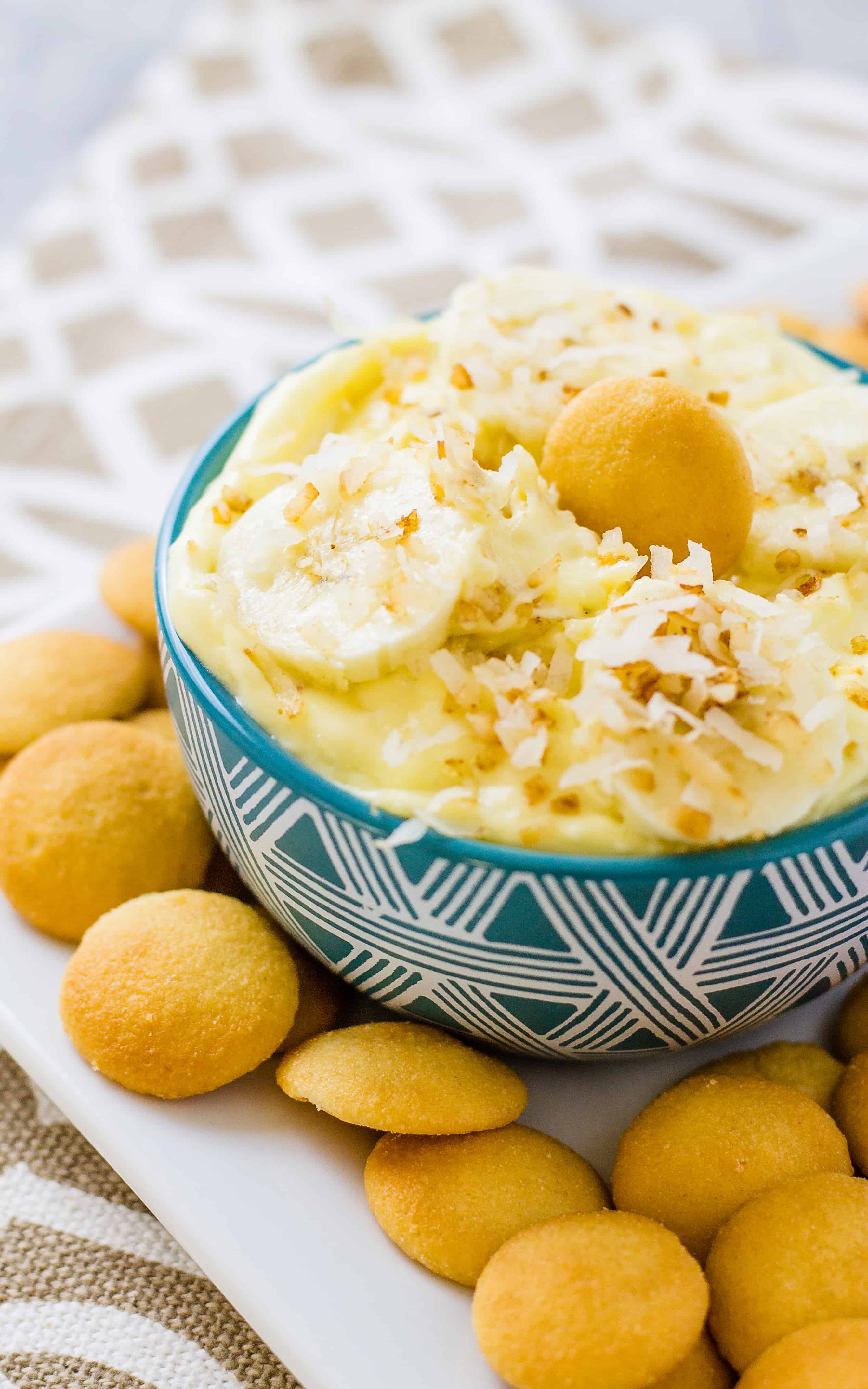 This boozy banana cream pie dip is exactly the dessert you are looking for! Just like your favorite pie with bananas but easier!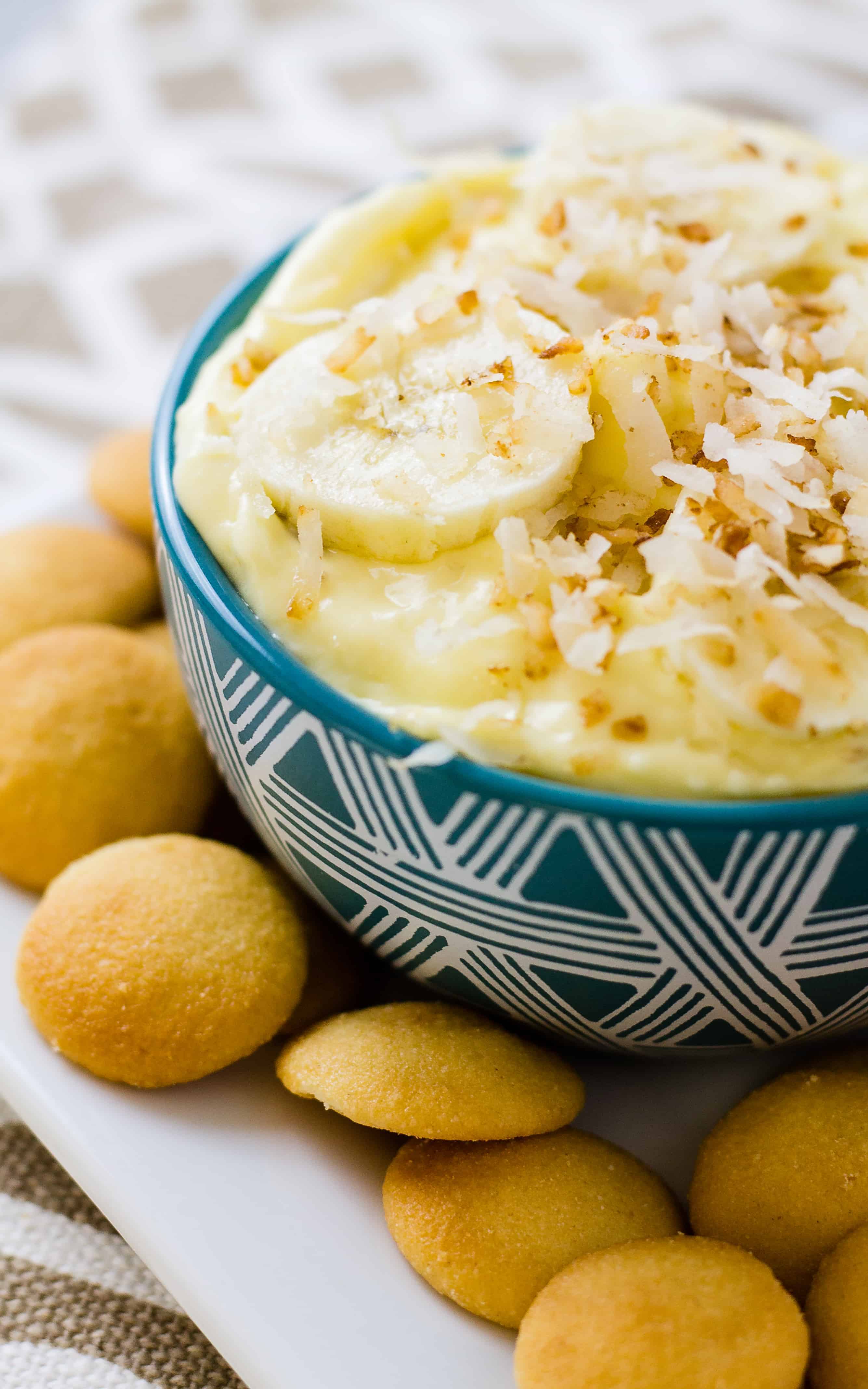 Banana Cream Pie is one of the most amazing desserts around! I mean, who can resist a creamy pudding dessert full of bananas and studded with toasted coconut? All the best banana cream pies have a flaky pie crust too!
How do you make Banana Cream Pie Dip?
To make a banana cream pie you need to cook the custard, making sure to temper the eggs just right so they don't curdle, then you need to chill down the custard before layering it with bananas in the pie shell.
Lots of work, not that it is totally worth it, but who wants the same kind of dessert with a little less fuss?
This post may contain affiliate links. As an Amazon Associate, I earn from qualifying purchases. Read my disclosure policy here.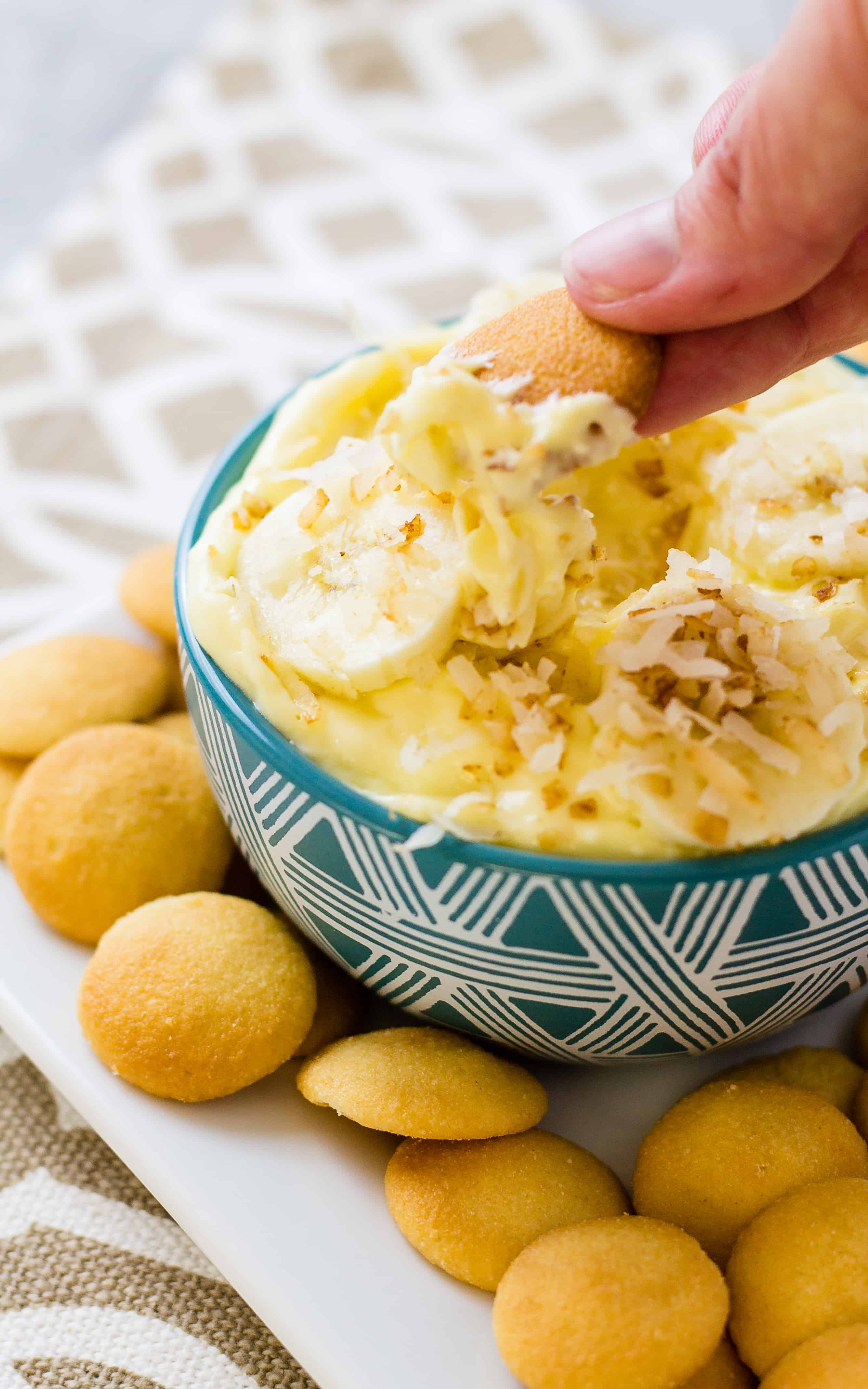 If you'd rather skip my (very helpful, I think) tips and tricks, essential cooking info, and similar recipe ideas – and get straight to this delicious recipe – simply scroll to the bottom of the page where you can find the printable recipe card.
One of the other amazing desserts around is banana pudding. That same creamy pudding consistency, bananas, and vanilla wafers too! Are you on team vanilla wafers "in" the banana pudding or "on the side?"
Some love the softening of the wafers and how they all mesh together. I prefer to keep my vanilla wafers on the side and use them to scoop up my banana pudding. Have you checked out my mind-blowing version of banana pudding?
Back to easy banana pudding desserts! This Boozy Banana Cream Pie Dip is super easy, can be served as a dessert or an appetizer, and has a hint of rum in it.
You might be wondering why I added coconut to the dip? I love a coconut cream pie, so does my father in law Larry, so when thinking about adding a little nip to the dip I went with Malibu Rum.
Coconut in banana cream pie dip?
The coconut rum adds another layer of flavor to the banana pudding and allows me to sprinkle some toasted coconut on top of the dip for texture. Just like spiking the eggnog with rum, my banana cream pie dip shines with a bit of rum.
If kids are coming to the party, you can make another batch and leave the rum out or just add it to half the recipe after you make it and serve in a "21 and over" serving bowl! Fun for all ages!
For more insider tips & tricks, and a candid behind the scenes look follow me on social media! Check use out on Pinterest, Facebook, Instagram, & Twitter (yes, people still use Twitter, LOL!)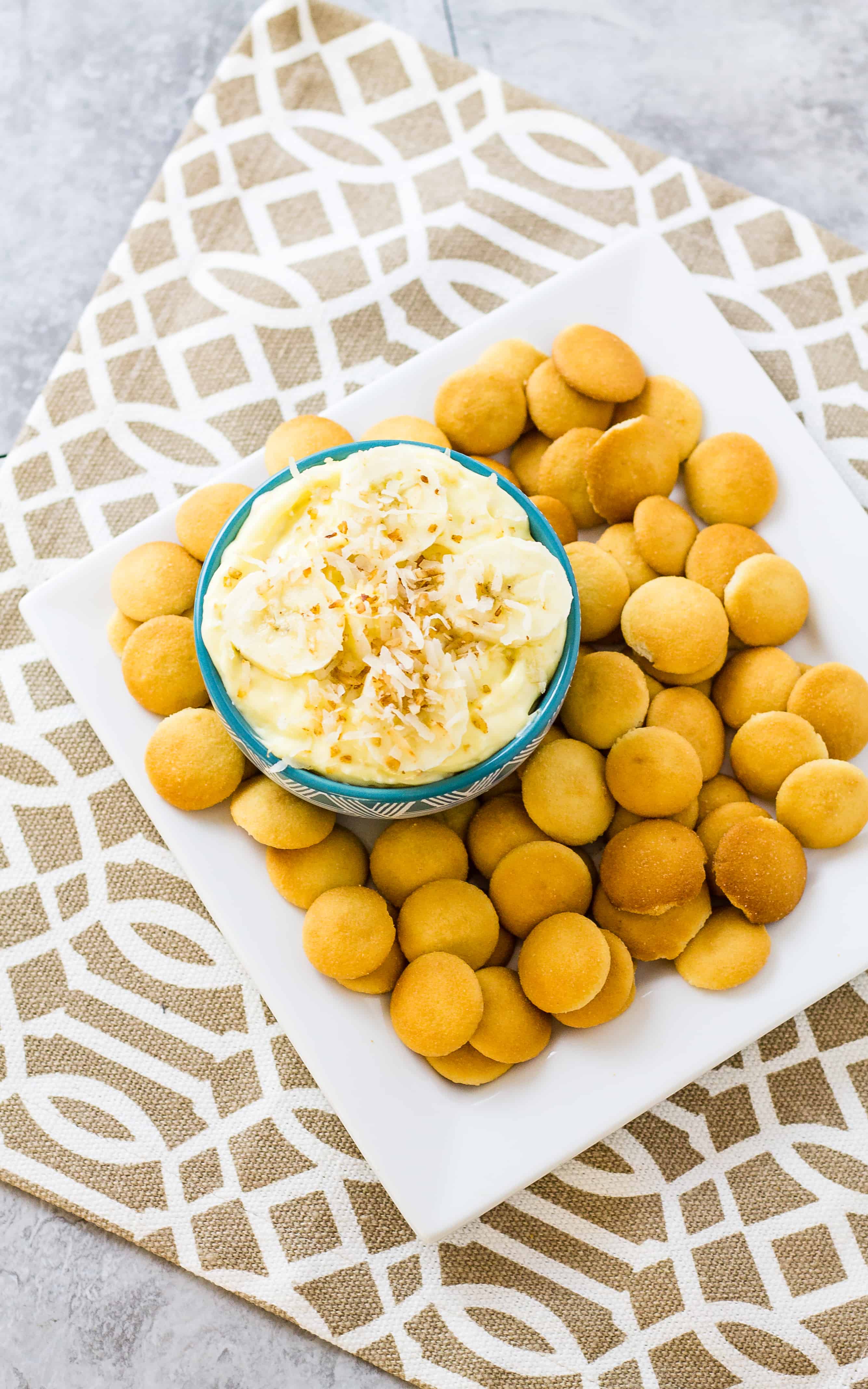 My boozy banana cream pie dip is easy to throw together thanks to the instant pudding. Just mix the prepared pudding, whipped topping, cream cheese, bananas, and the other few ingredients and you are ready to go! Just in time to start dipping those vanilla wafers in it!
Sign up to early access to recipes, tips & tricks, and behind the scenes info in our newsletter! It's FREE and we promise not to SPAM you. Click here to join us!
Sweet Dip Recipes
If you are looking for some sweet dips instead of the cheesy and spicy dips that I'm usually making check out these:
If you love bananas you will go bananas for this Boozy Banana Cream Pie Dip! No fuss with a pie crust and easier to make!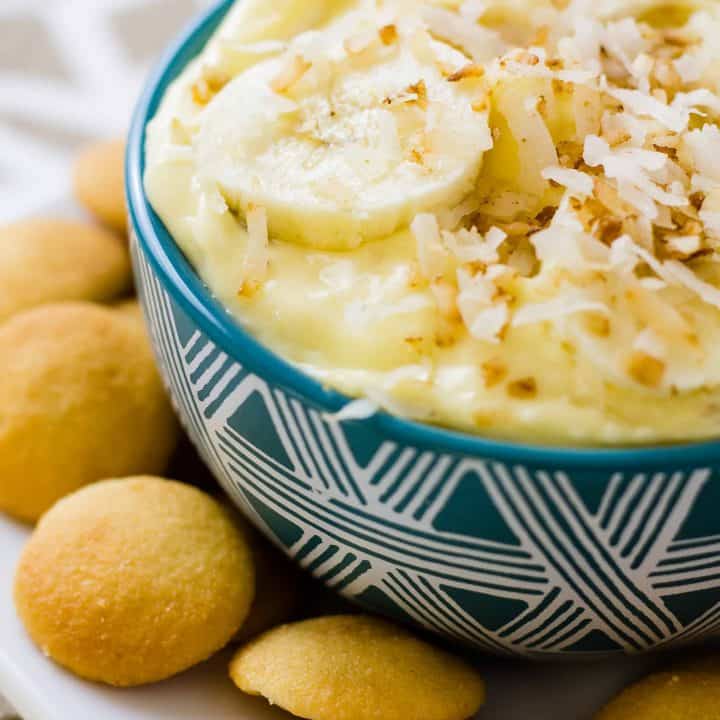 Boozy Banana Cream Pie Dip
This boozy banana cream pie dip is exactly the dessert you are looking for! Just like your favorite cream pie but easier!
Ingredients
For the Banana Pudding
1 box instant banana pudding (just the mix)
1 cup milk
1/4 cup whipped topping (thawed if frozen)
For the Banana Cream Pie Dip
8 ounces cream cheese (softened)
1 cup powdered sugar
1/2 cup coconut (toasted)
1/4 cup rum
1 teaspoon vanilla
1 banana (sliced, divided in half)
Mini vanilla wafers for serving
Instructions
Start by making the banana pudding.
Mix the pudding mix with 1 cup of milk.
Refrigerate for 5 minutes.
Stir in the whipped topping until combined.
Make the Banana Cream Pie Dip
In a separate bowl mix the cream cheese, rum, vanilla, and powdered sugar.
Combine the cream cheese mixture and the pudding mixture.
Mix in half the banana.
Place the dip in a serving bowl.
Garnish the dip with toasted coconut and the remaining banana.
Serve with mini vanilla wafers.
Notes
*If you like this recipe, please leave me a comment and rate it with some stars. Thank you!
Nutrition Information:
Amount Per Serving:
Calories:

0
Total Fat:

0g
Saturated Fat:

0g
Trans Fat:

0g
Cholesterol:

0mg
Sodium:

0mg
Carbohydrates:

0g
Fiber:

0g
Sugar:

0g
Protein:

0g
What are some of your favorite banana desserts?
Some of mine include these Banana Pudding Pops from A Kitchen Hoors Adventures, this Banana Fosters Banana Bread from Seduction in the Kitchen, and this amazing Banana Cream Jelly Roll from An Affair From The Heart because it also has toasted coconut!