I love Sour Cream Dips! Starting with simple ingredients and just a few minutes, you can make something absolutely mouth-watering. Check out these delicious dip recipes!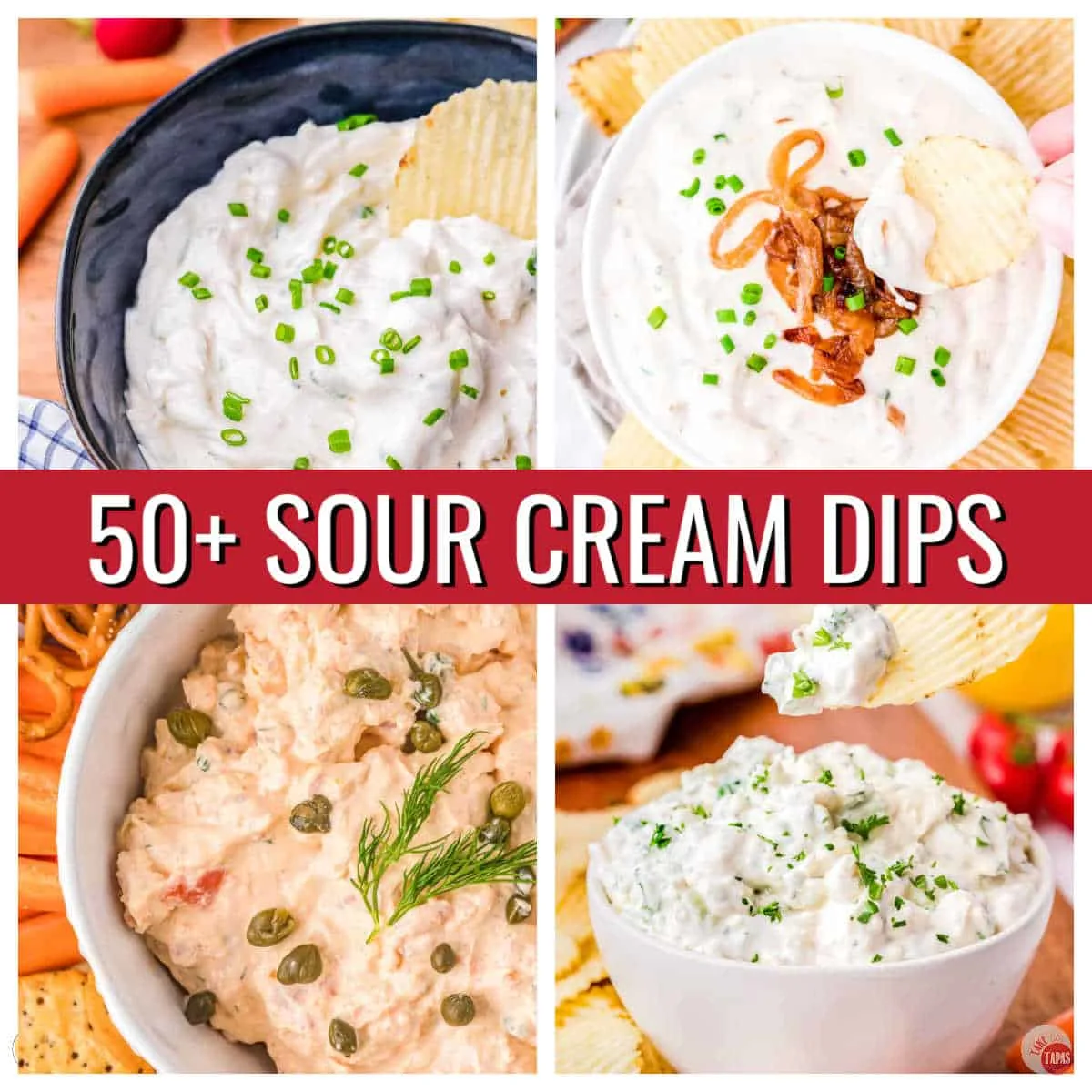 Sour cream has a nice tangy flavor to start with and, quite frankly, I love to eat it plain on chili and burgers, so it's a great base for a homemade dip.
What can I make out of sour cream?
Make a snack dip! With minimal effort, you can have a delicious appetizers in a matter of minutes.
Not only is it the base for some many easy dip recipes, the best part is that it goes with so many dippers!
What can you mix sour cream with?
They are a great way to use up any extra seasonings you have laying around. With minimal effort, you can have delicious appetizers in a matter of minutes.
This post may contain affiliate links. As an Amazon Associate, I earn from qualifying purchases. Read my disclosure policy here.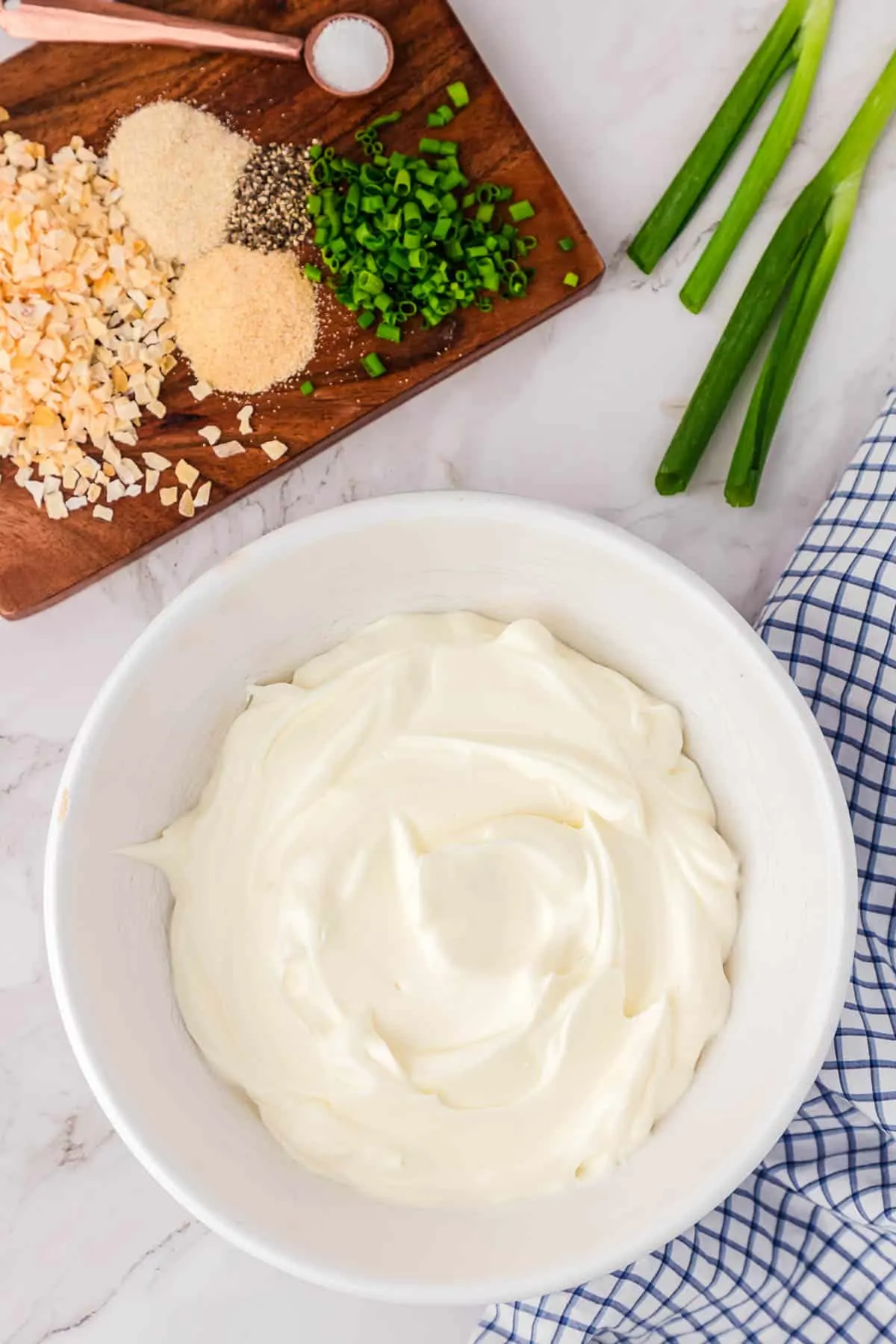 Basic Ingredients Needed
Sour cream – I like to buy a full 16-ounce container of sour cream. This way I can make two dips or make one and have some leftover for taco and quesadilla toppings.
Spices – The basic spices I tend to use the most are sea salt, black pepper, garlic powder, onion powder, ranch seasoning, cayenne pepper, taco seasoning, or a dip mix packet.
Herbs – Fresh herbs like fresh dill weed, fresh chives, or parsley.
Veggies – A little chopped veggies like minced onions, peppers, celery, etc make a great addition to the dip for texture.
Additional Mix-ins – Worcestershire sauce, hot sauce, soy sauce, or even Ranch dressing.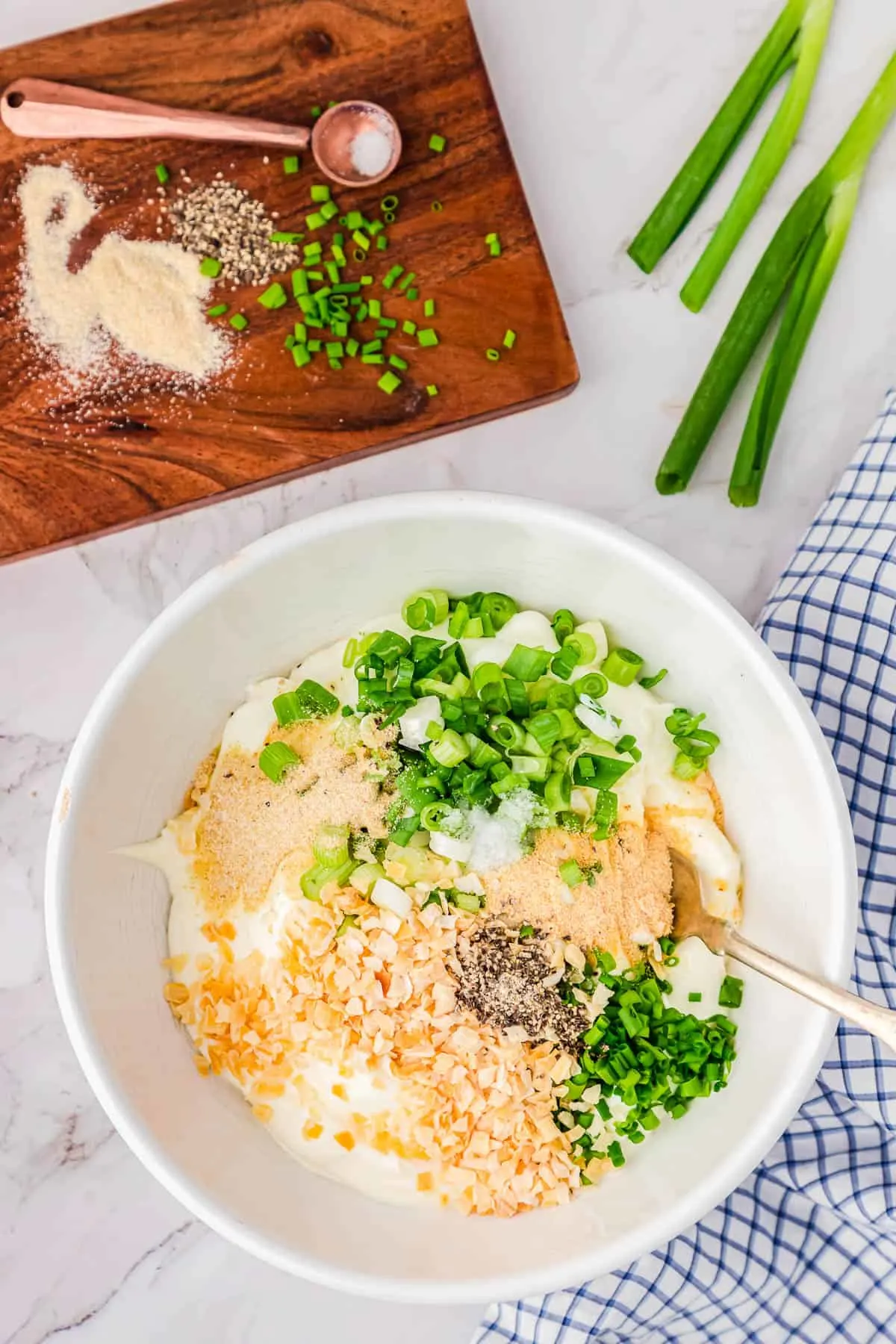 How to Make Sour Cream Dips
First: Stat by adding your sour cream to a bowl. Stir to combine if it separated while being stored.
Second: Stir in your spices, veggies, herbs, and remaining ingredients. Mix to combine thoroughly.
Third: Store in the fridge to allow the flavors to develop. Transfer to a serving bowl and enjoy!
My favorite dippers
tortilla chips
carrot sticks
celery sticks
sliced bell pepper
cucumbers
broccoli florets
cauliflower florets
cherry tomatoes
crispy potato chips (kettle chips are my favorite)
fresh veggies like radishes and snow peas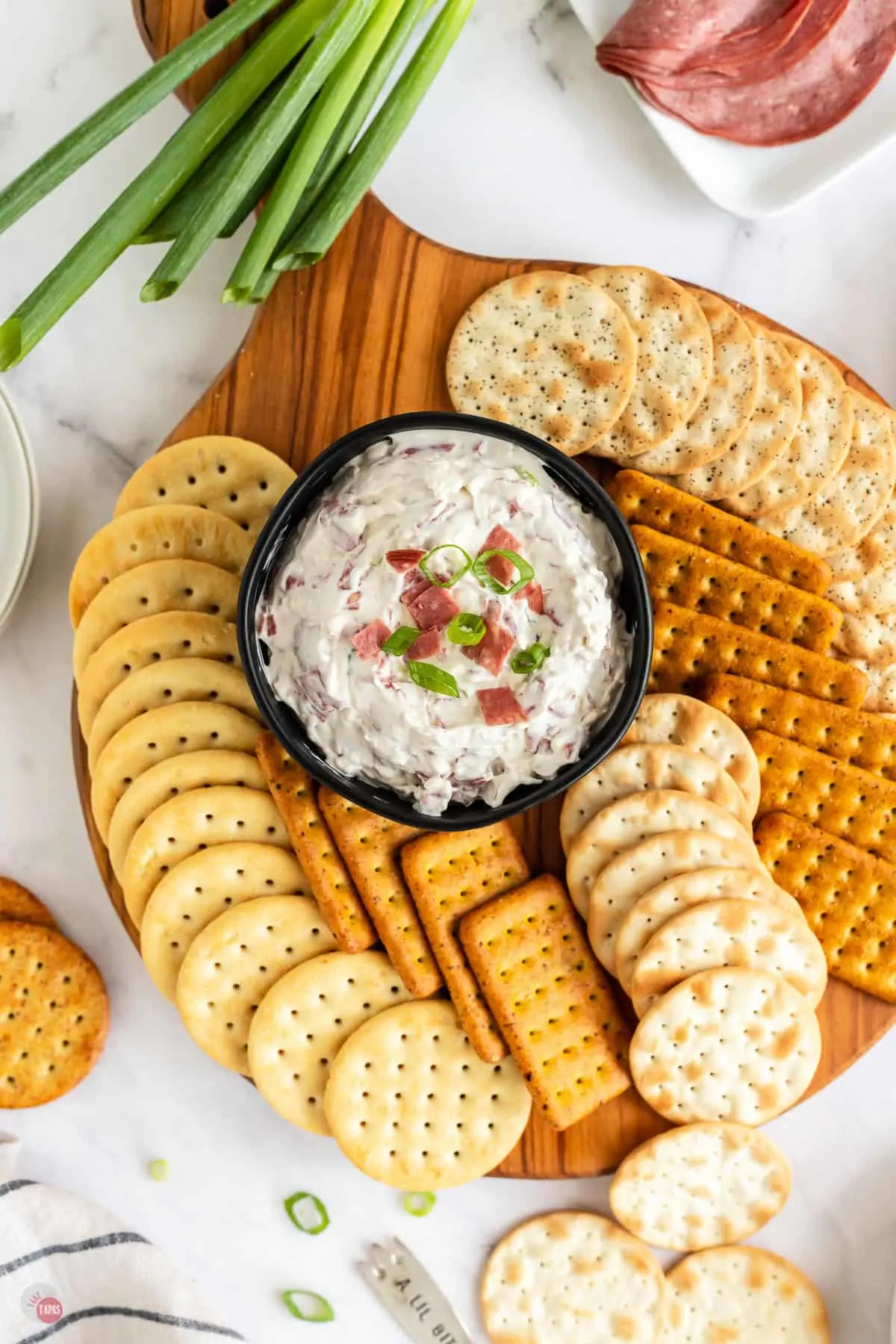 How long can they sit out?
As with most dairy products, you don't want to leave them out at room temperature for more than 2 hours.
If you need to have them available for dipping for longer than that, or if the weather is warm, try using a cooling tray or a serving bowl surrounded by ice.
How to Store Sour Cream Dips
Store any leftover sour cream dips in the refrigerator in an airtight container for up to 3 days. Give them a quick stir before serving again.
Can you freeze sour cream dips?
Yes, you can freeze them. But there are some tips and tricks to doing it correctly. Check out my post on freezing sour cream dips to learn more.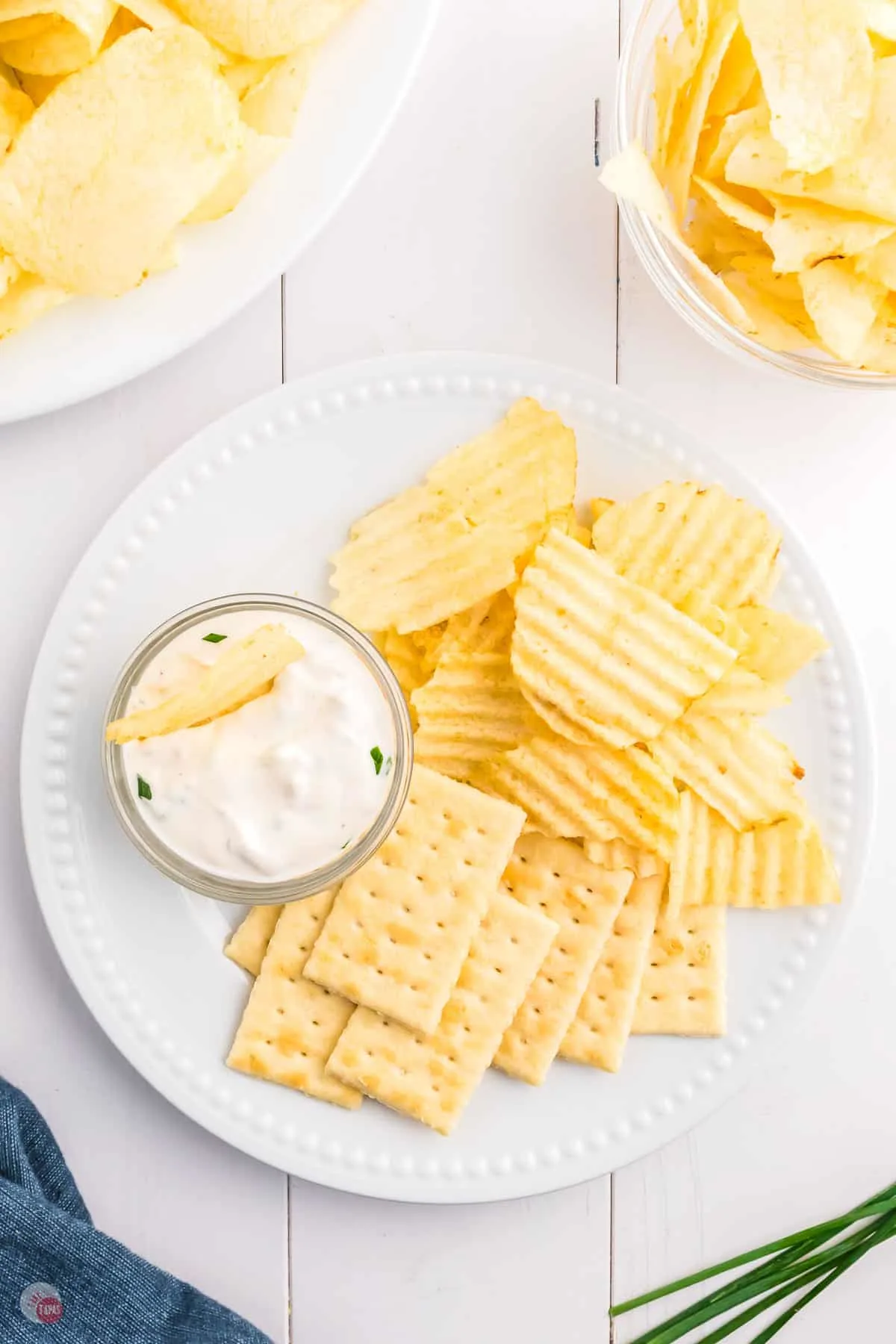 Tapas Tips & Tricks
Full-fat sour cream has the best flavor but use your favorite.
Substitute plain Greek yogurt in a pinch.
Cover with plastic wrap and chill for at least 30 minutes to allow flavors to mingle.
They are great the next day. Just give a quick stir.
Store the prepared dip back in the sour cream container for less waste.
Still too rich? Stir in some lemon or lime juice to cut through it.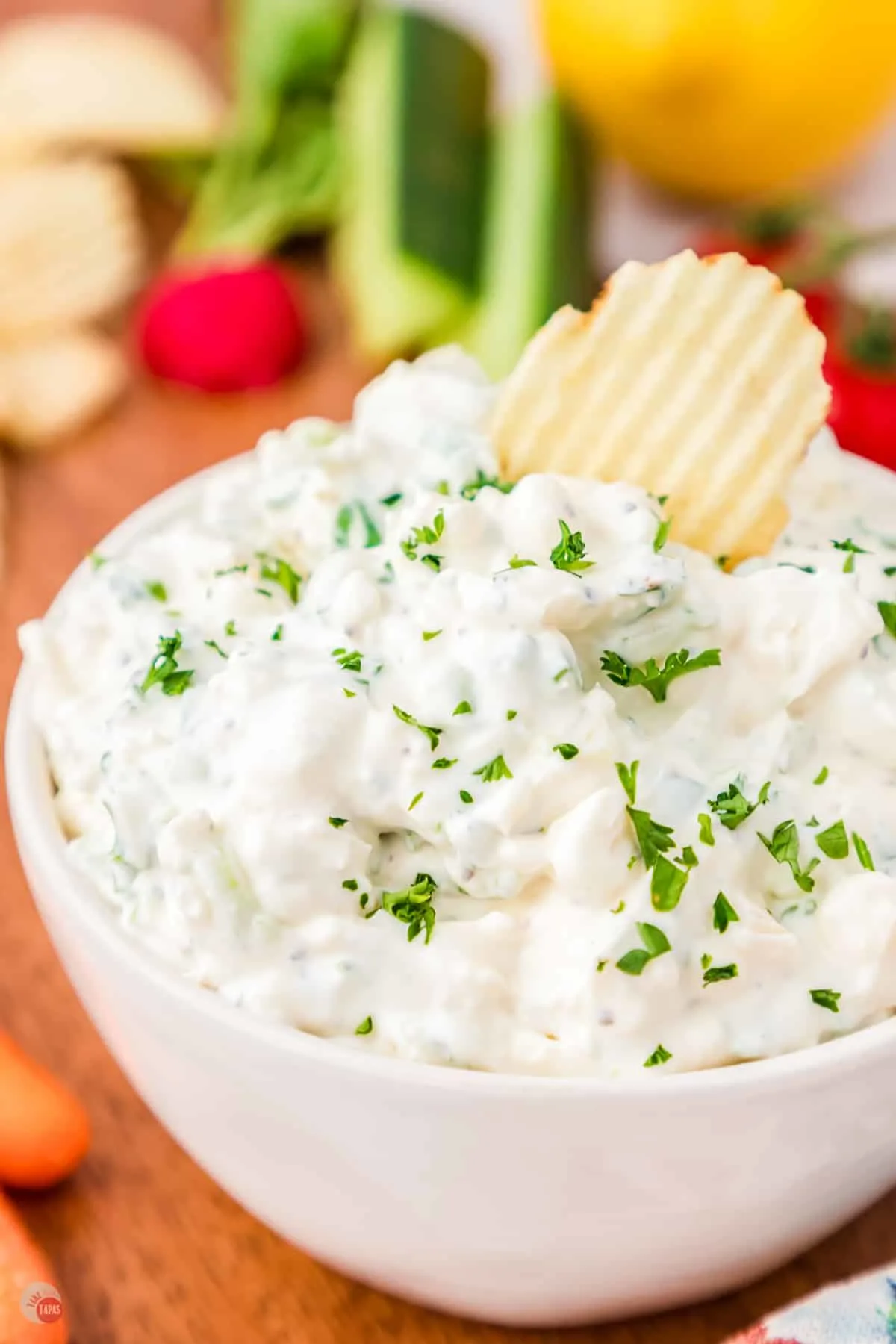 Sour Cream Dip Recipes
Check out all these delicious dip recipes to make in a jiffy when you have guests. Tell me which one is your favorite!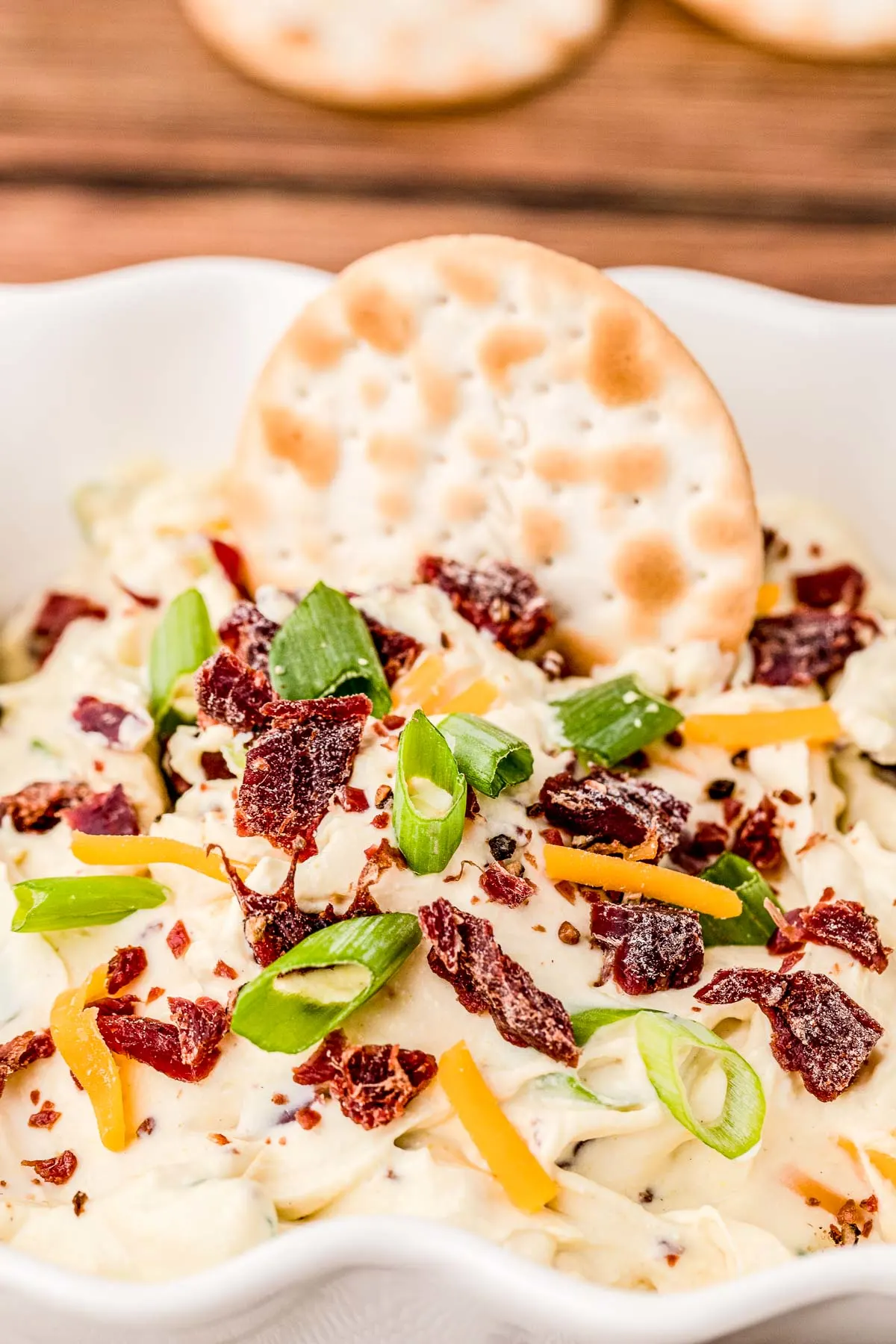 If you want a simple dip you can make the night before, this Beef Jerky Dip is sure to be the one for you! It's savory, smoky, and incorporates one of my favorite snacks.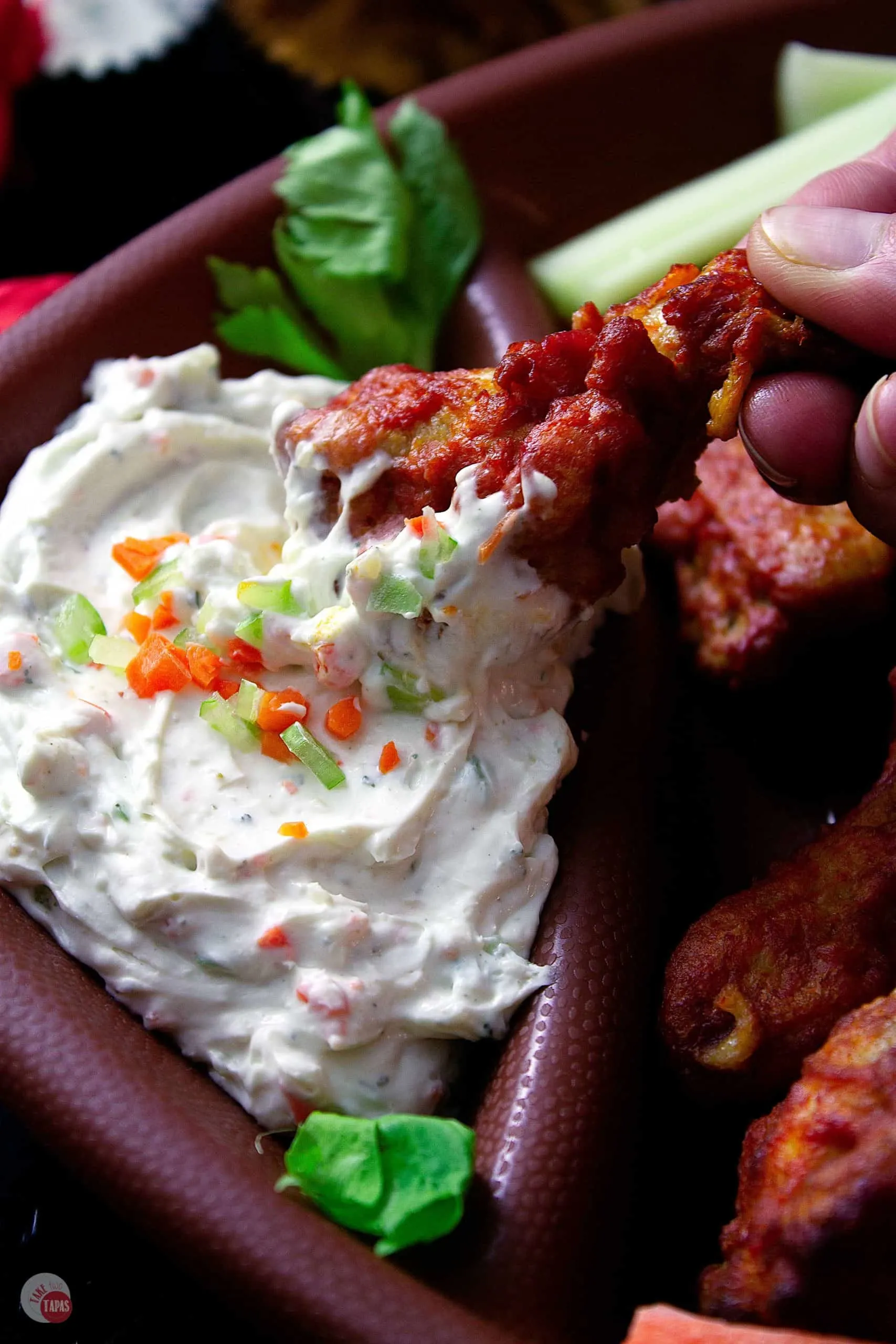 The perfect combination of ranch dip and blue cheese so you never have to choose which one to dip your chicken wings in!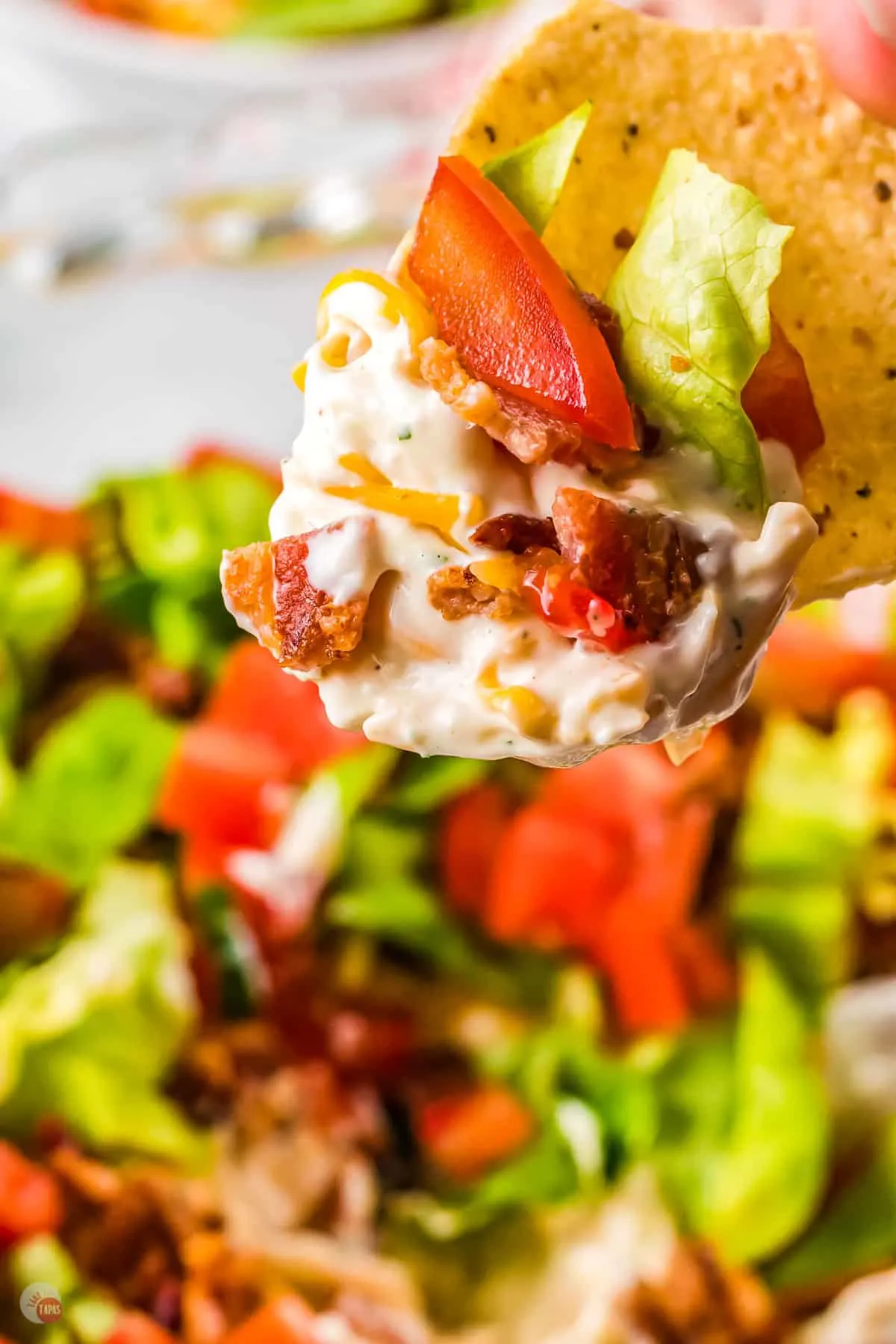 This BLT Dip has all the amazingly fresh and smoky flavors of a beloved BLT but in dip form, so grab your chips and dive in! This great recipe works well on its own as a snack or as part of a spread at your next party.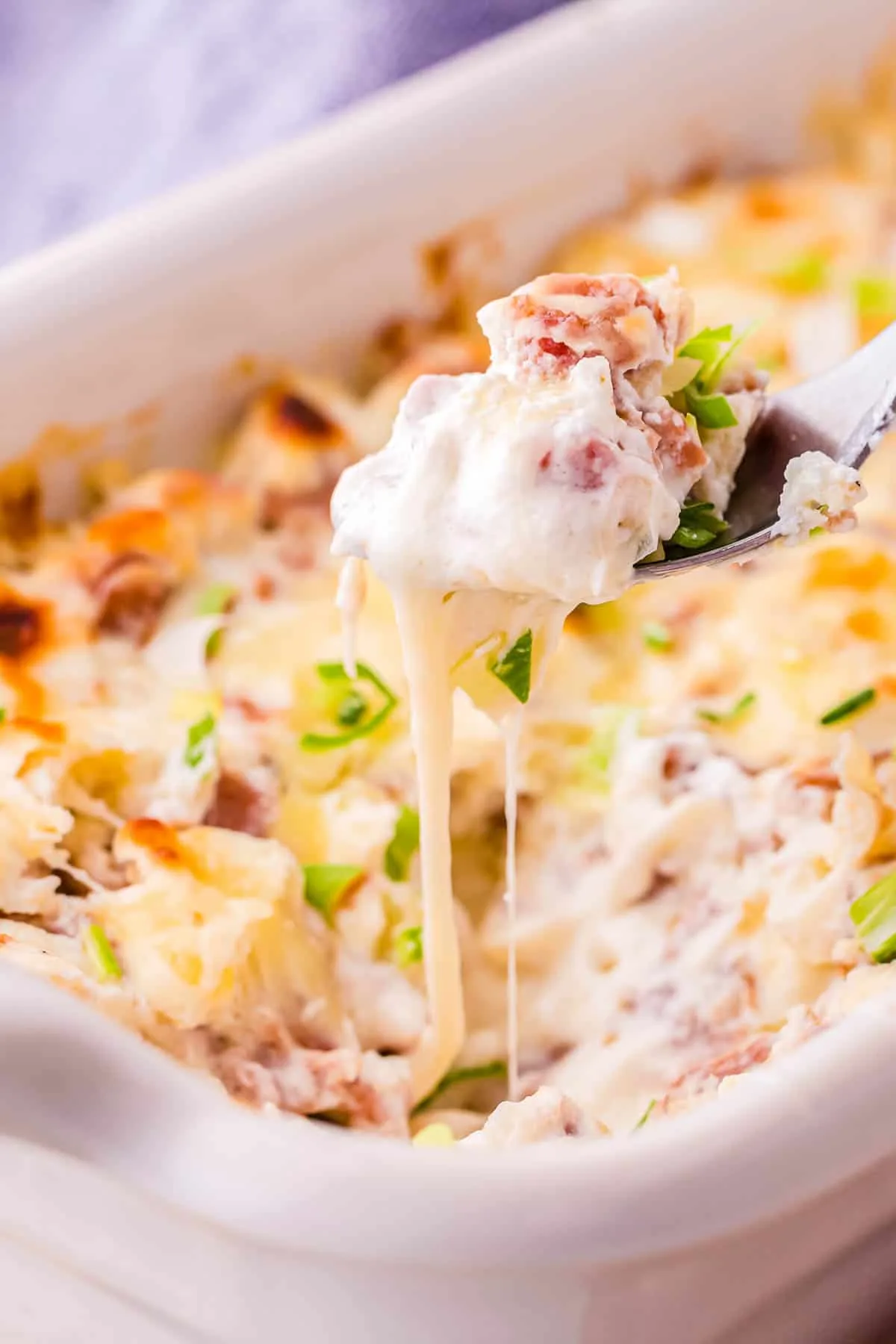 A well-flavored Boudin Dip could be a game-changer at your next party. After all, who can resist trying some Boudin dip with a plate of nachos or toast?
The tantalizing aromas of Cajun sausage, Cajun seasonings, and a blend of cheeses and sour cream are enough to make anyone drool.
Chipped Beef Dip is a fun twist on the classic get-together appetizer; the Chipped Beef Cheese Ball! This easy-to-make dip can be served hot or cold and with buttery crackers or crisp veggies.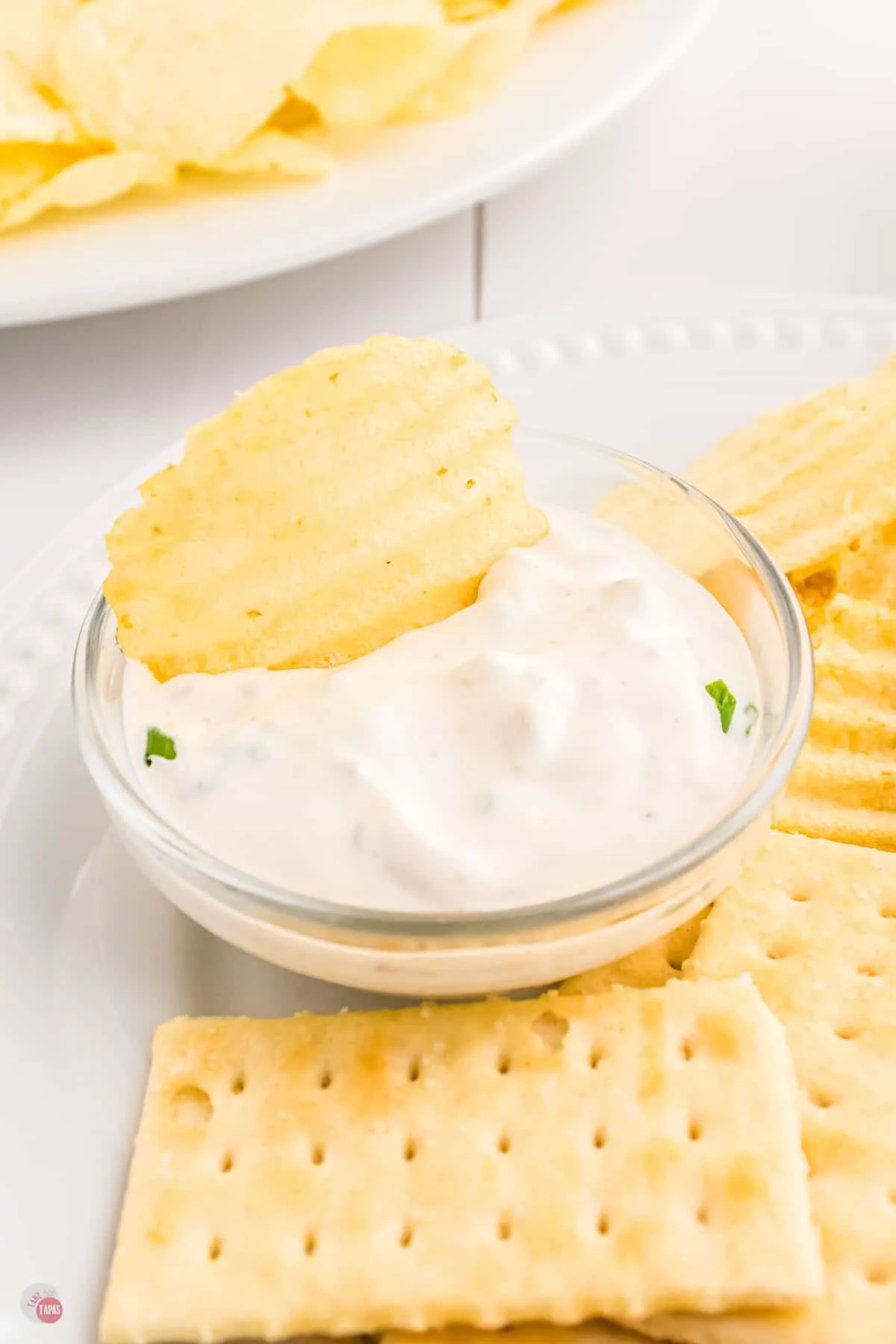 This creamy clam dip is a classic summertime dip. This easy-to-make dip requires only 10-minutes of prep and tastes best when served with plain ol' potato chips!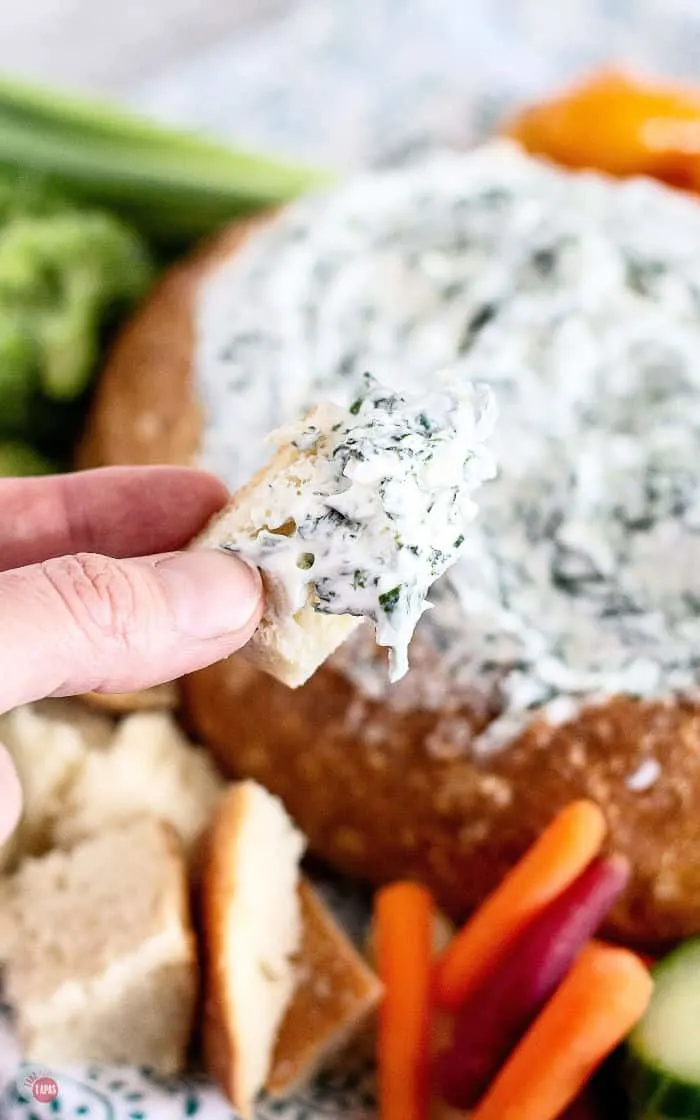 Easy, creamy, and delicious spinach dip bread bowl is the perfect appetizer for any occasion.
5 minutes and 5 ingredients are all you need to make this crowd-pleasing dip leaving more time with friends and family!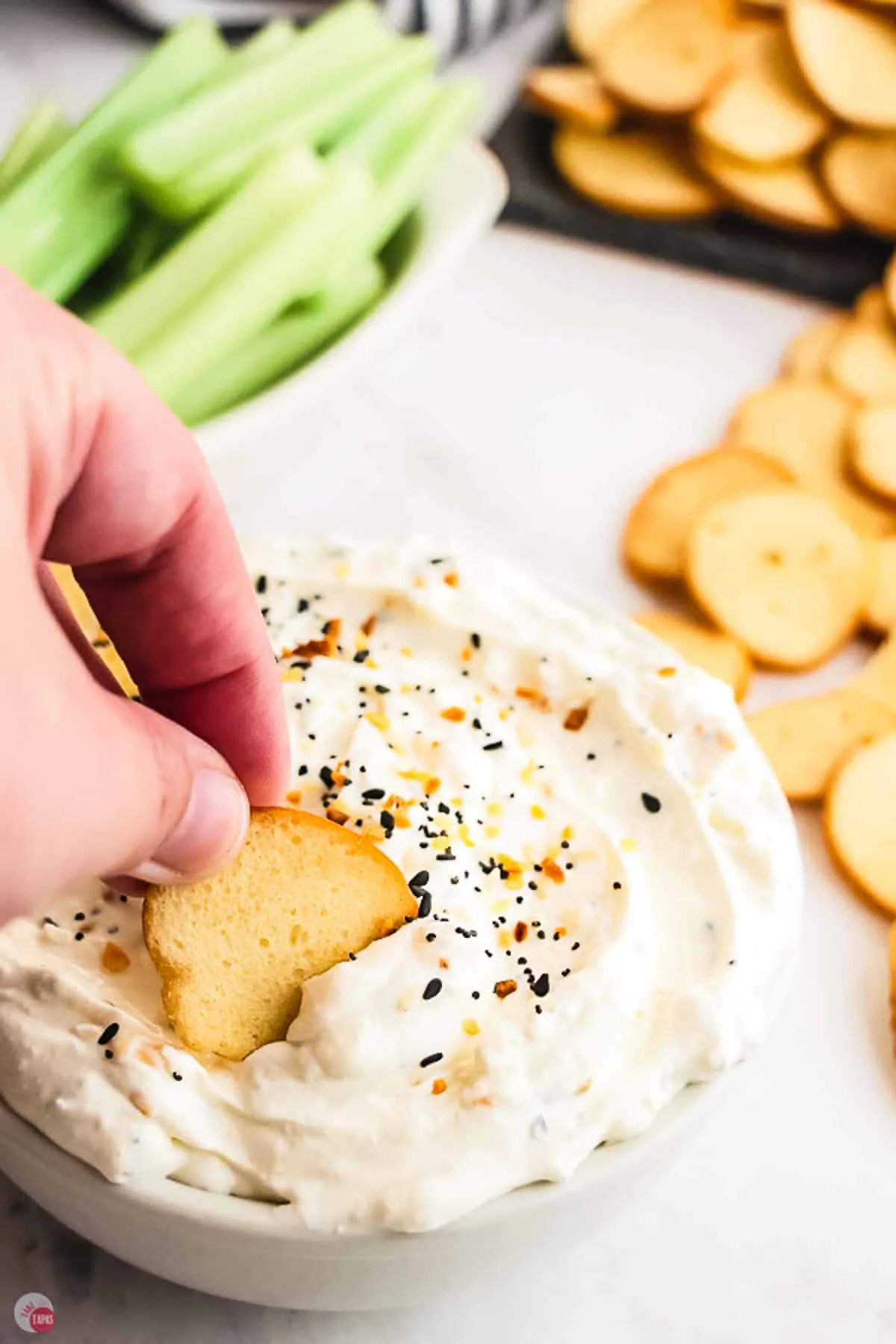 Everything Bagel Dip is the perfect brunch snack! Partnered with fresh vegetables, fruits, and bagel chips this dip offers everything a brunch party needs and more.
Made with just three ingredients, one being bagel seasoning, this creamy dip is sure to be devoured as quickly as it was made.
The irresistible tangy and creamy notes are well accompanied with hints of sweet caramelized onions.
From potato chips to crunchy veggies, there are no limits to enjoying this classic homemade chip dip recipe.
Love fried dill pickles? My Fried Pickle Dip gives you tart dill pickles, creamy sour cream to mellow them out, and toasted buttery panko breadcrumbs to mimic the crispy fried coating!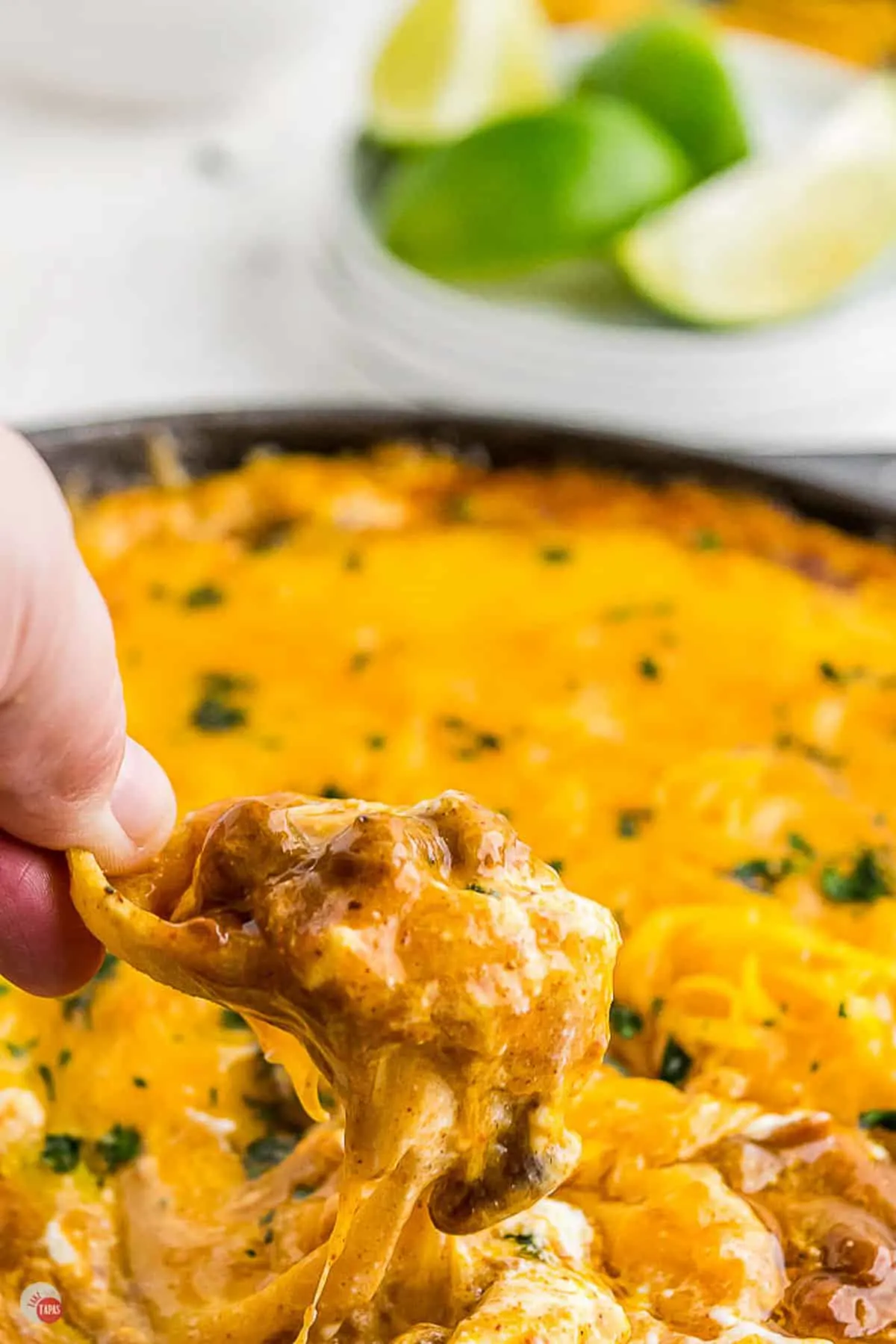 Frito Pie Dip is a version of the classic Frito Pie recipe containing corn chips, hearty chili, and melty cheese but transformed into a dip you can scoop with Fritos!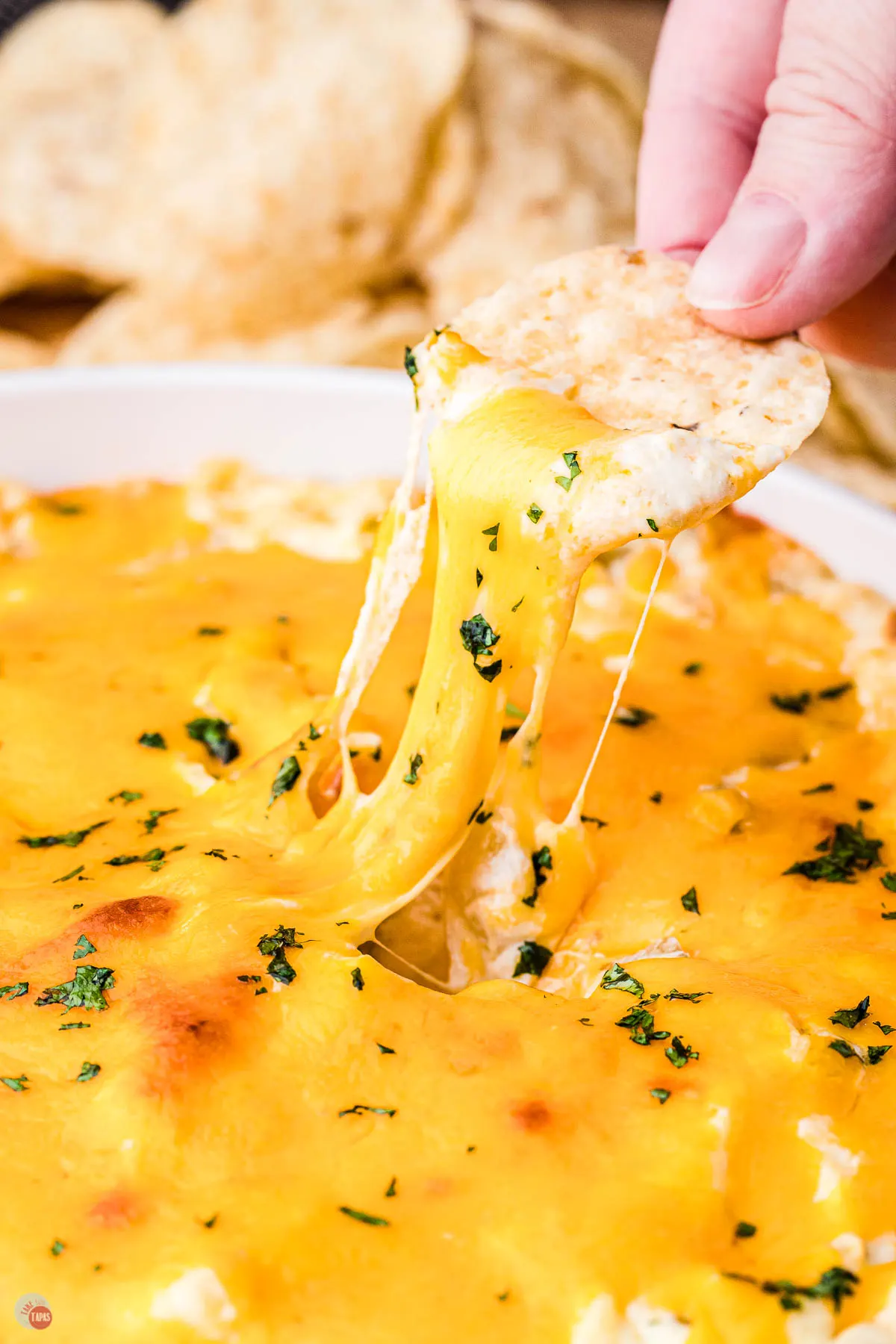 If you're looking for an easy and quick recipe that will impress, this Game Day Green Chile Dip is for you.
Cheesy, creamy, and full of roasted green chiles, you will need to make a double batch for your tailgate party.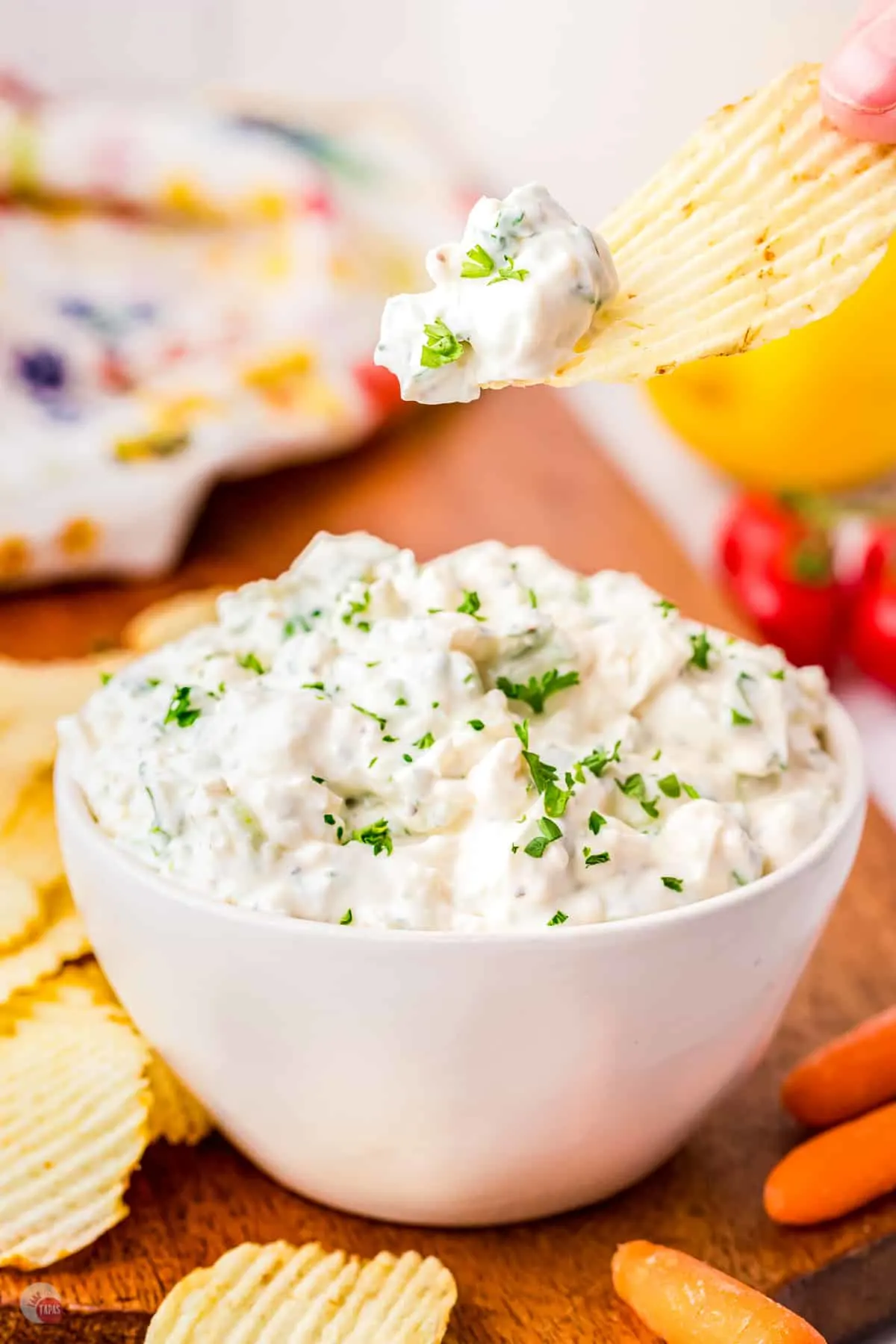 Green Onion Dip is deliciously fresh and creamy, made with both cream cheese and sour cream with green onions, lemon juice and parsley.
It's an amazing dip that goes with just about anything, but we love it with our favorite chips, crackers, and raw vegetables.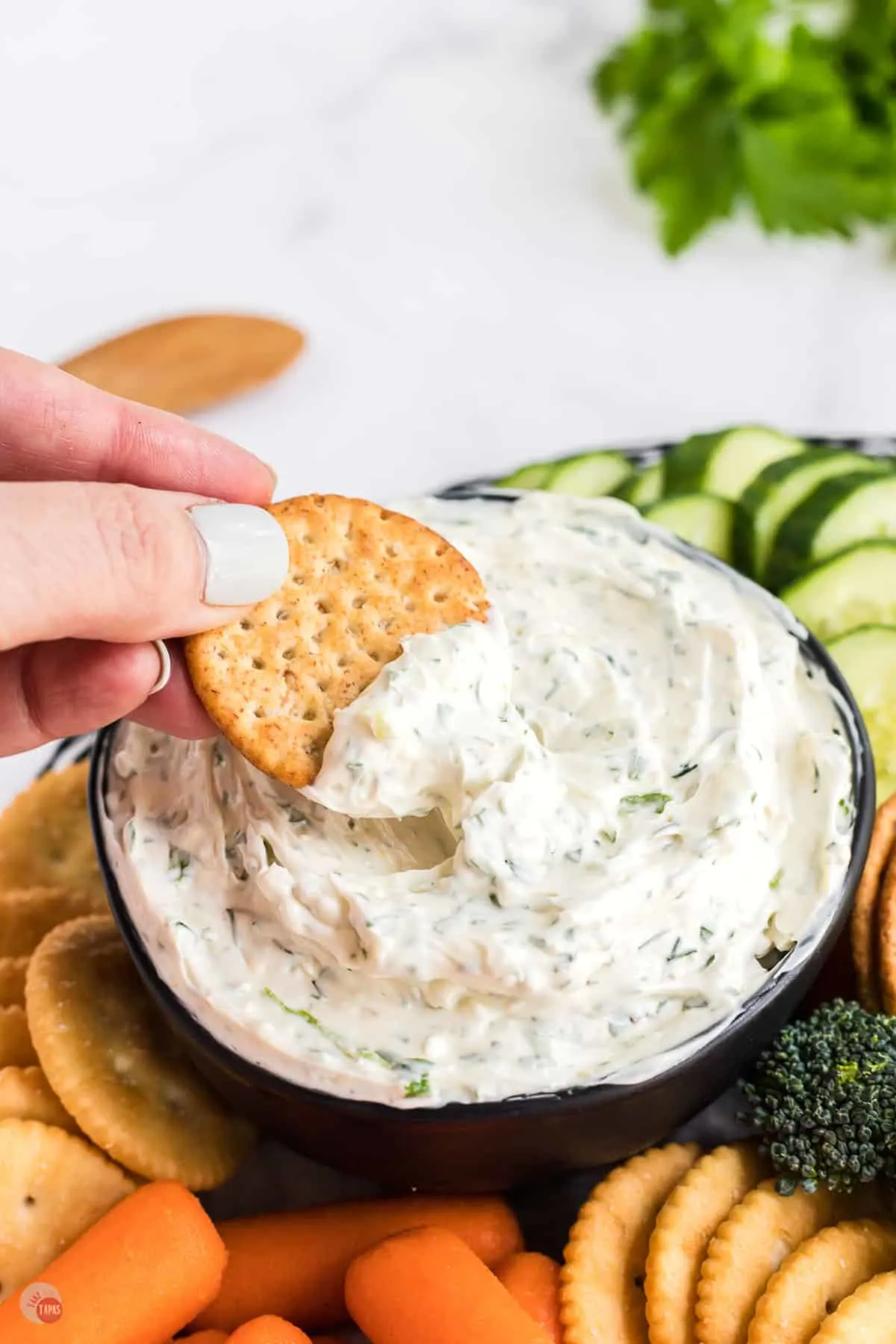 Fresh Herb Cream Cheese Dip is the perfect dip to pair with just about anything! Quick and easy to make and full of fresh herbs, try it with your favorite chips, crackers, or raw veggies.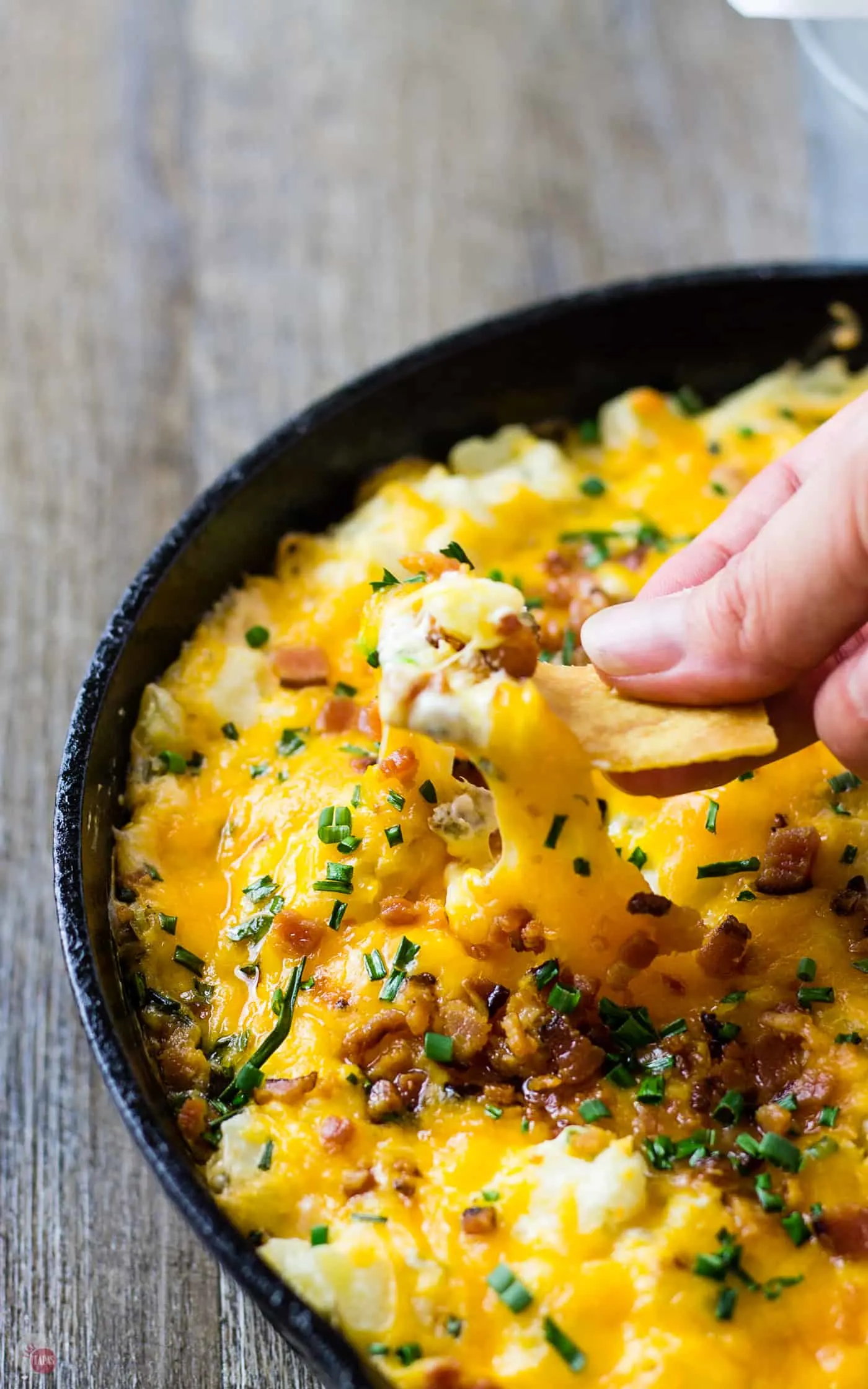 For all those potato skin lovers out there, you are going to love this loaded potato skin dip!
Nothing beats a skillet full of fluffy potatoes, bacon, chives, sour cream, and lots of gooey cheddar cheese!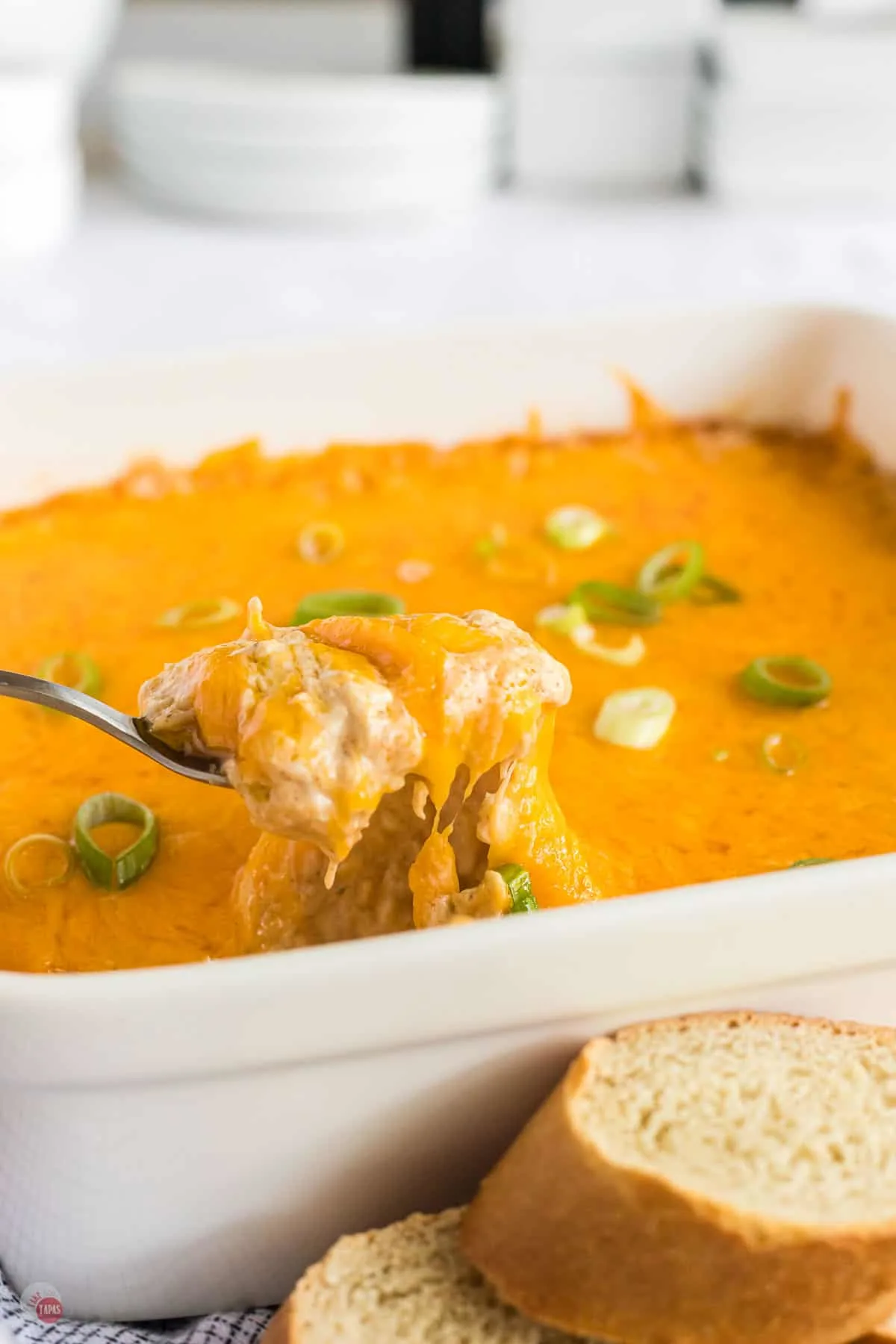 This rich and cheesy Crab Dip is the perfect party food! Creamy and absolutely full of lump crab meat, it is delicious served hot or cold with your favorite crackers or crostini.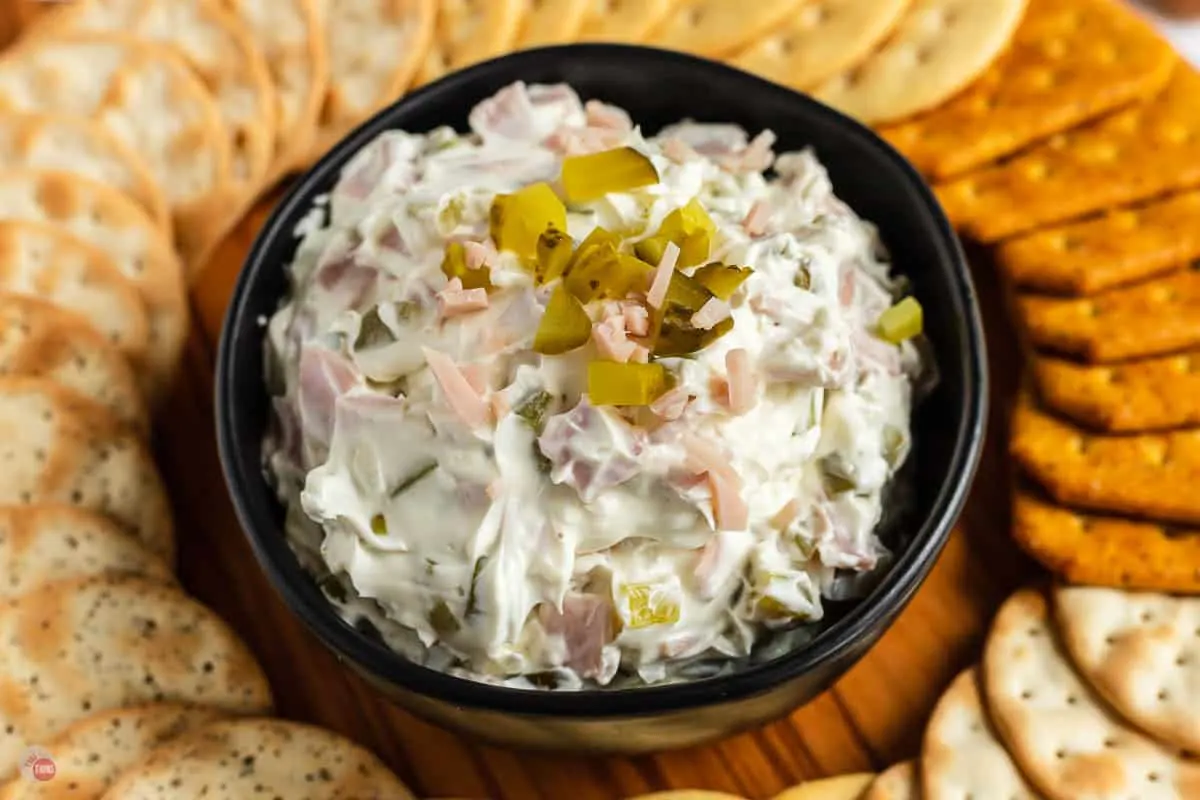 Pickle Wrap Dip is a fun twist on the popular Midwestern get-together appetizer; the Pickle Wrap!
This easy-to-make dip requires only 4 ingredients and can be served with buttery crackers or crisp veggies.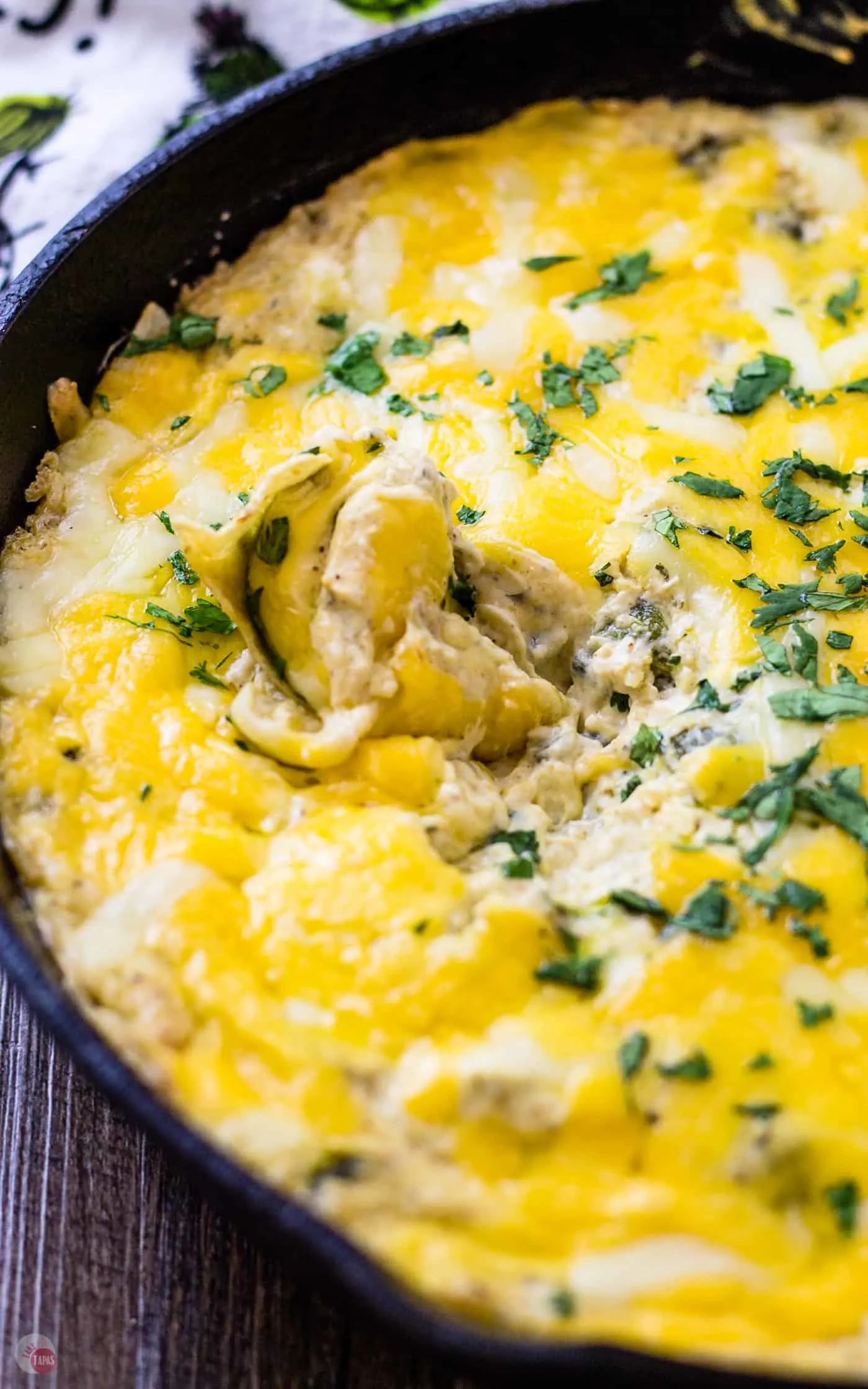 The poblano peppers, roasted on the grill, add a smoky quality to the dip. The large pieces of roughly chopped poblano peppers add so much texture in the melted cheese!
It will be your new favorite dip for tailgating season. You can prep this dip and when you get to the stadium just place the skillet on your grill, right next to your brats and burgers, and cook it that way too!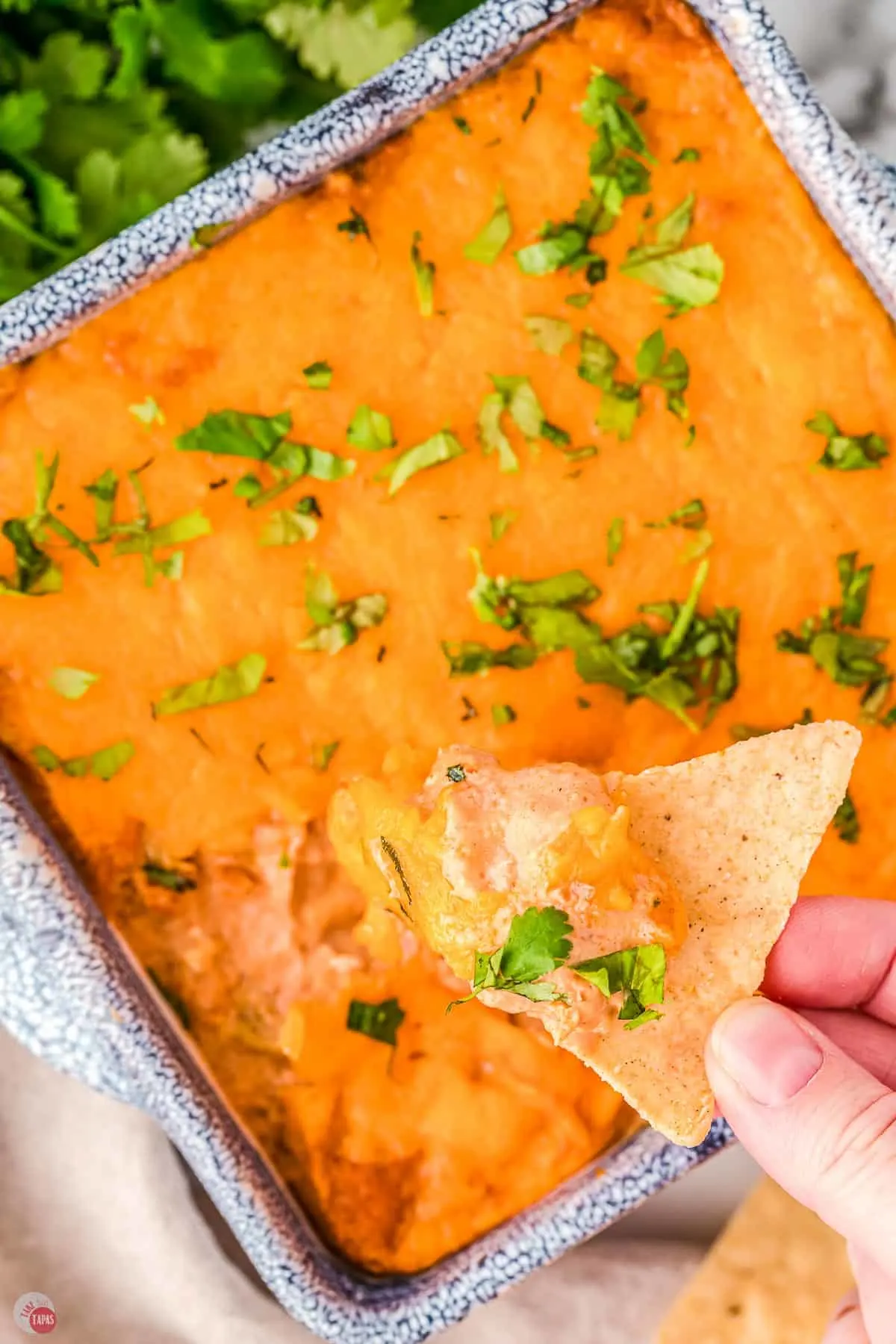 This easy Refried Bean Dip is filled with creamy refried beans, gooey cheese, and perfect for dipping tortilla chips in! Always a big hit at our family gathering.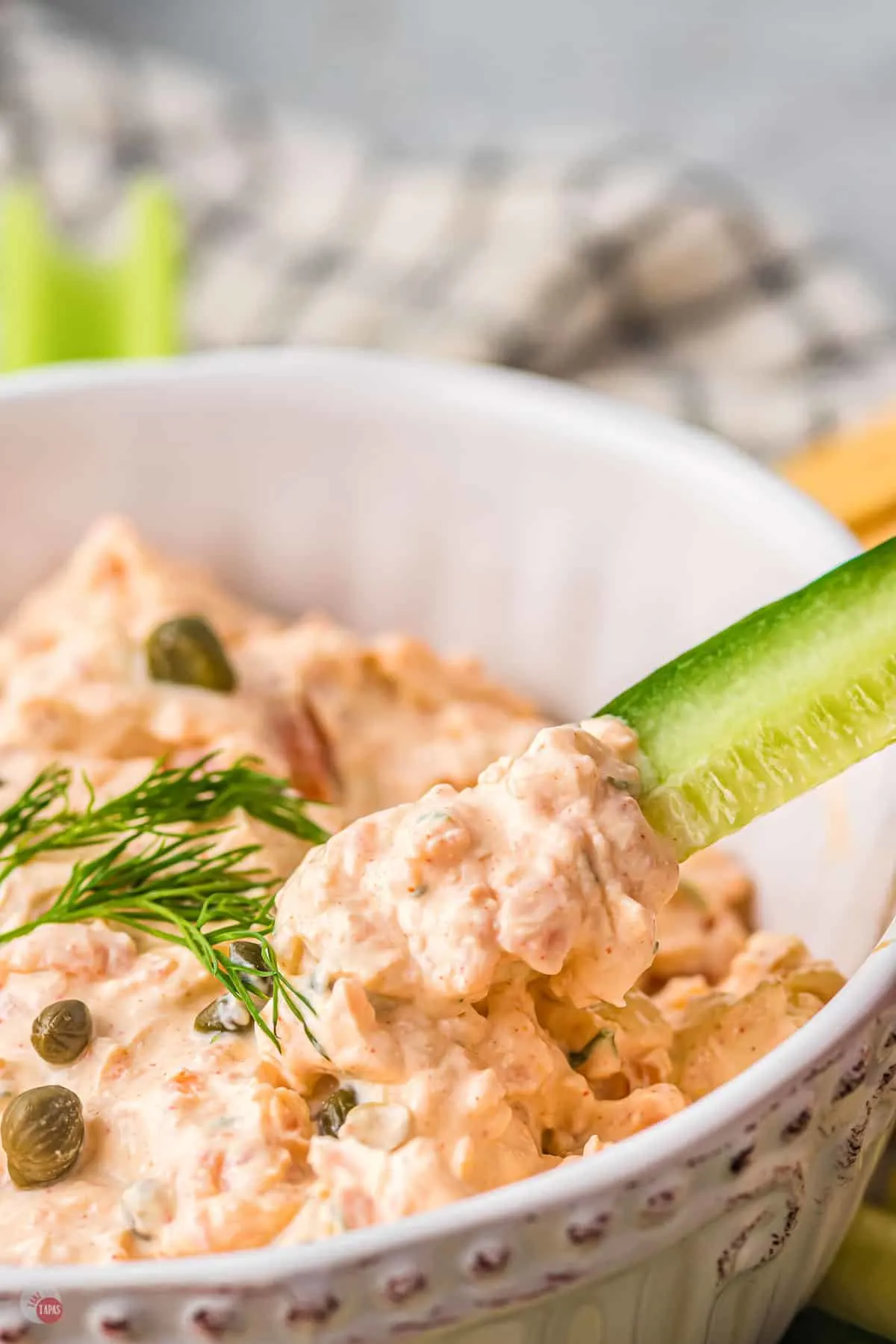 Smoked Salmon Dip is a rich and creamy gluten-free seafood dip that can be whipped up in just 10 minutes.
This easy-to-make dip is a blend of chopped smoked salmon, spicy wasabi, and salty capers and can be served with fresh crisp veggies and buttery crackers.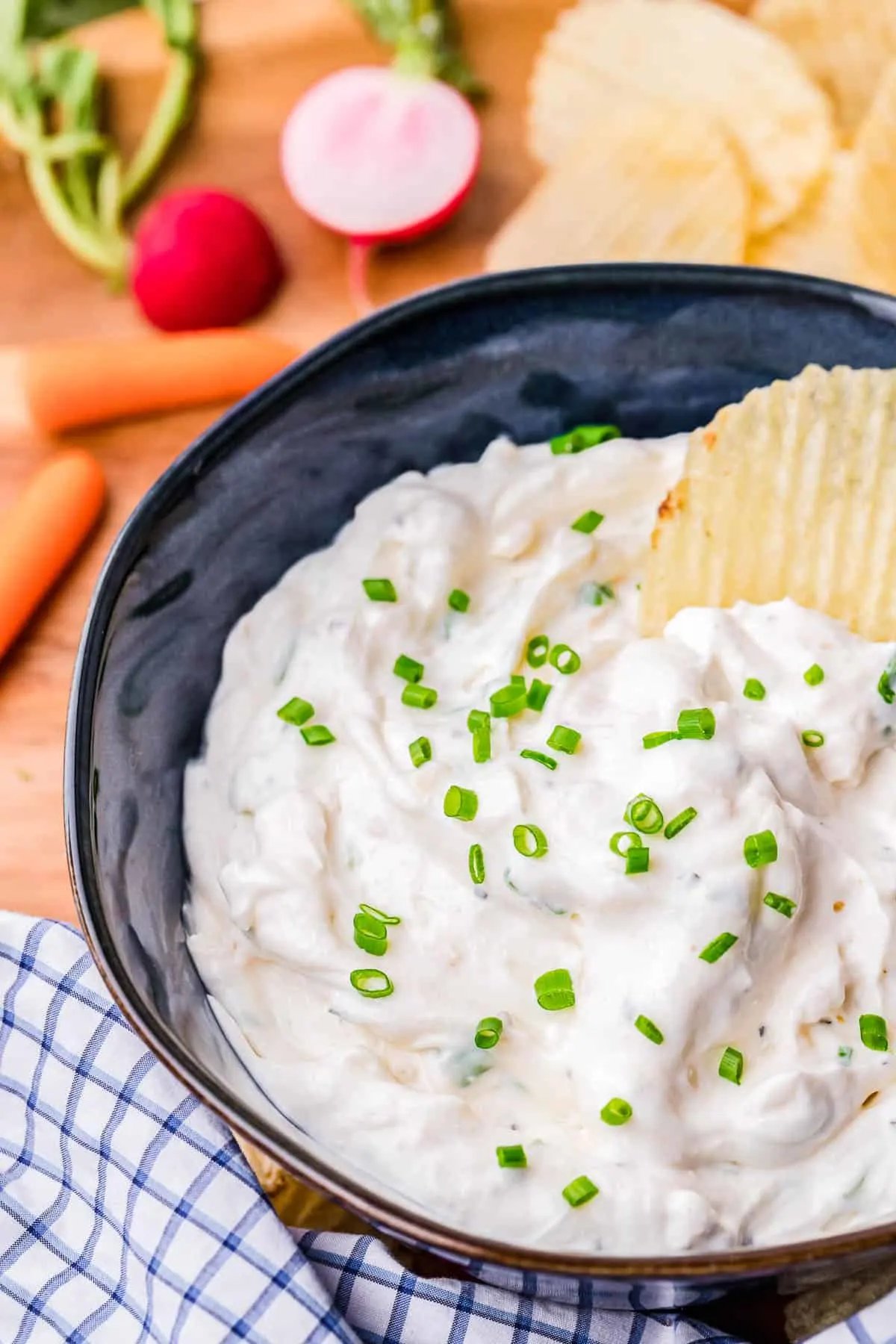 This ultimate sour cream chip dip is the perfect party appetizer to pass around at your next gathering!
Use this dip with potato chips, to top off a baked potato, or even as a soup topping.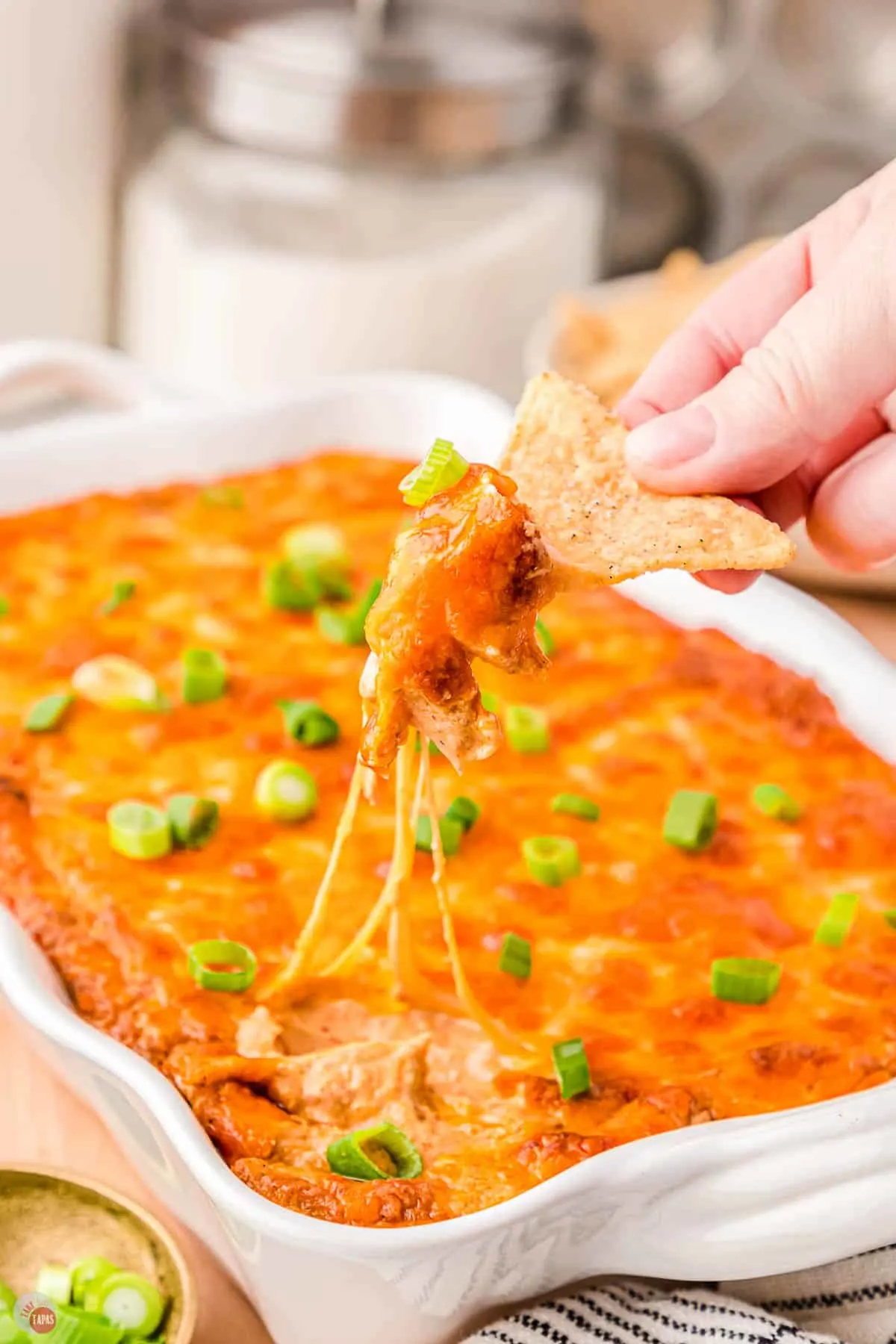 Get ready for that big game day with this Texas Trash Dip. This crowd pleaser has a mix of flavors and simple ingredients, like Mexican cheese, making it a quick appetizer to bring with you to a party.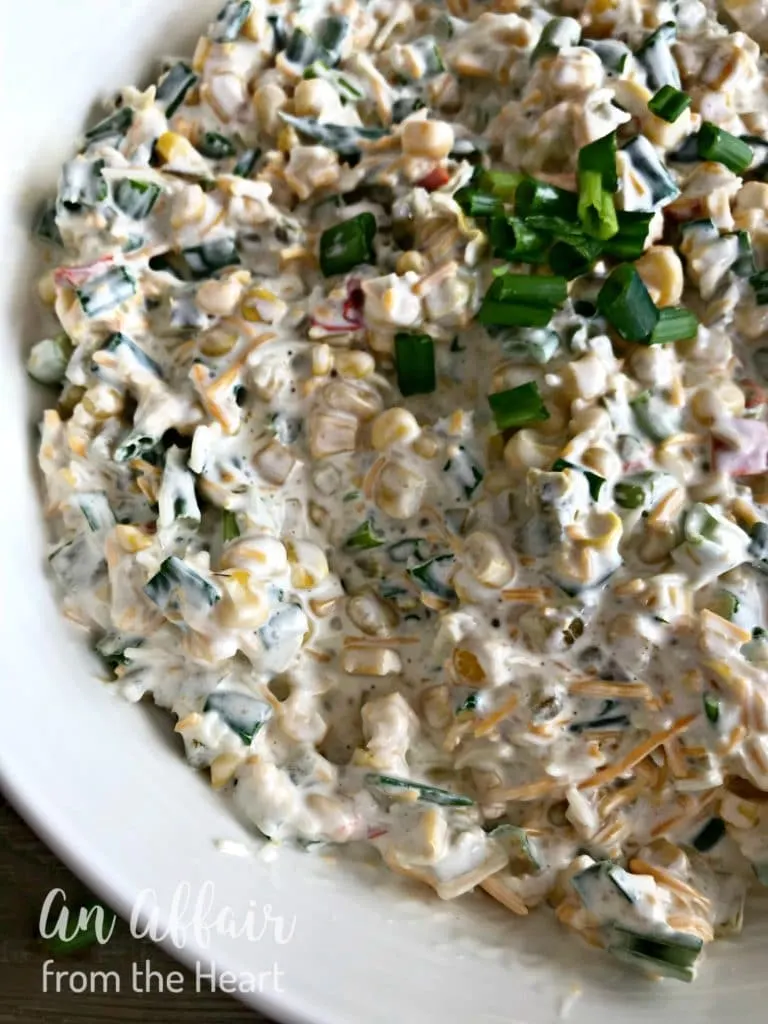 This dip is deliciously addictive! Creamy dip with a little bit of heat from the jalapeños, bursting with flavor from the MexiCorn and the green onions.
If you love this recipe as much as I do, please write a five-star review in the comment section below (or on Pinterest with the "tried it" button – you can now add pictures into reviews, too!), and be sure to help me share on facebook!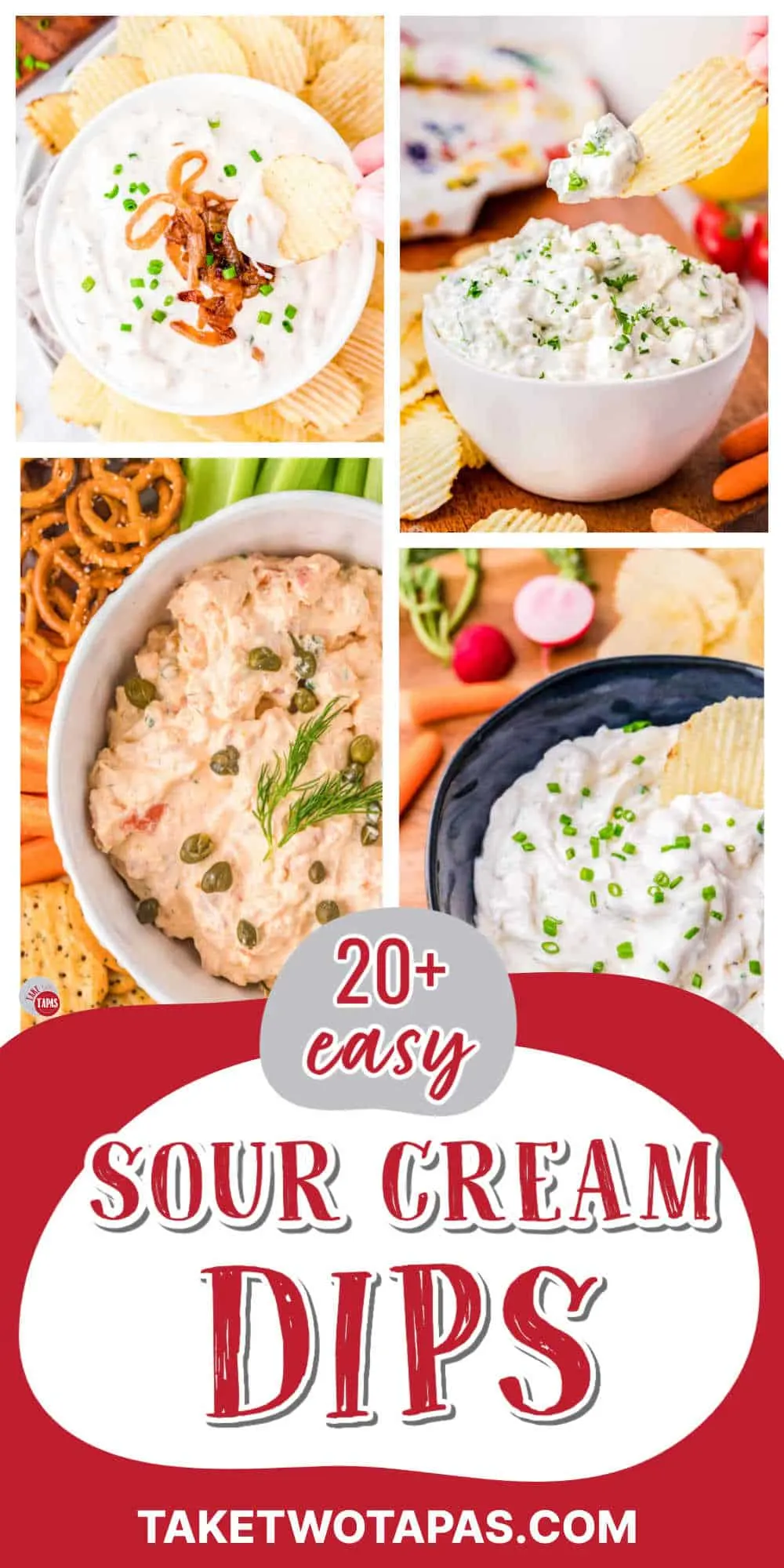 Sour cream is the perfect base ingredient for the best dip recipes for any party or special occasion. The only problem might be running out!
More Easy Appetizers
TakeTwoTapas.com. Content and photographs are copyright protected. Sharing of this recipe is both encouraged and appreciated. Copying and/or pasting full recipes to any social media is strictly prohibited.