For all those potato skin lovers out there, check out my loaded potato skin dip. A skillet full of potatoes, bacon, chives, sour cream, and lots of gooey cheese!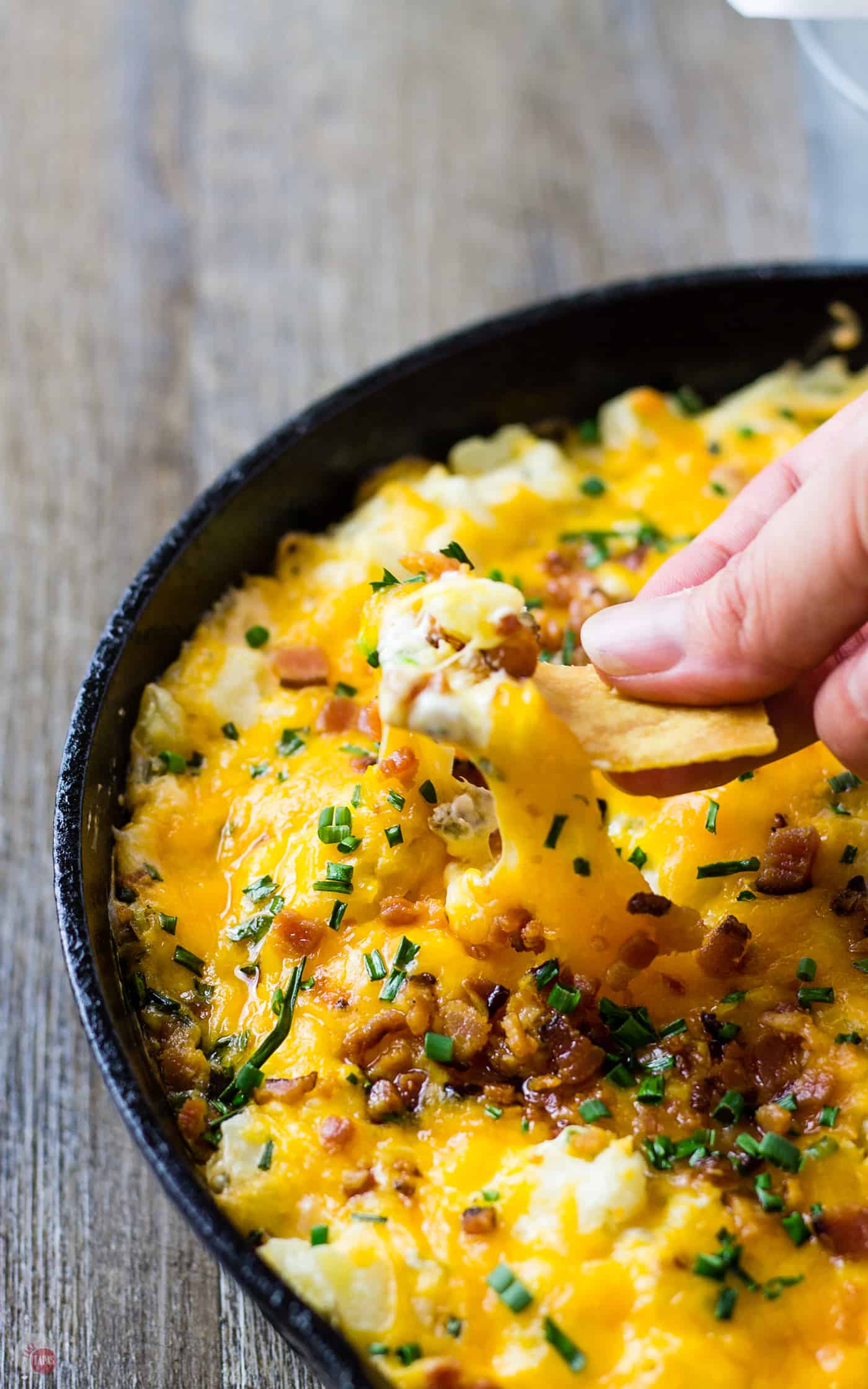 Loaded Potato Skins are amazing!
The weekend is rapidly approaching and people will start gathering at their local watering hole having cocktails and appetizers. My favorite pastime if you will.
One of those classic appetizers is loaded potato skins. How about all the cheesy goodness of them loaded into a skillet for dipping? I give you my Loaded Potato Skin Dip!
No one can resist cheese, can they? Well, maybe if you are lactose-intolerant but I have no willpower when it comes to cheesy appetizers. And the most powerful of those appetizers is the loaded potato skin. Much like my Frito Pie Dip, I want to inhale it!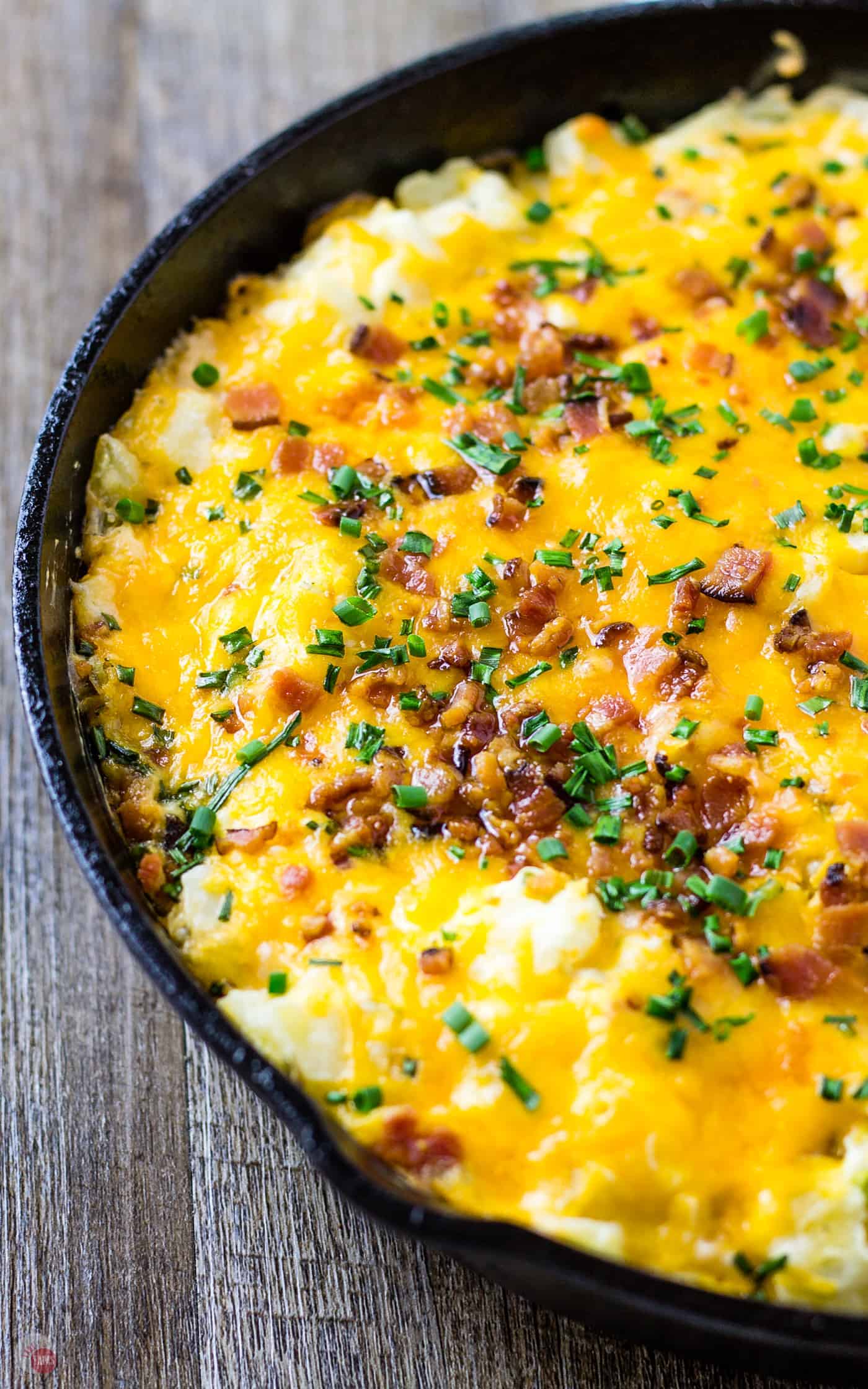 If you'd rather skip my essential cooking tips and tricks and get straight to this delicious recipe – simply scroll to the bottom of the page where you can find the printable recipe card.
Let's talk about potatoes with cheese and bacon!
In this Loaded Potato Skin Dip, I gathered all the best parts of the loaded potato skins and mixed them all together for maximum scooping opportunities, only easier to put together.
For loaded potato skins we are talking multiple steps and then large portions to try to take a bite of. Don't get me wrong I can inhale quite a few of those potato halves filled with cheese, sour cream, and onions but my belly will feel better if I only indulge in a little bit. But my flesh is weak…
My loaded potato skin dip helps to keep my portions low while still enjoying all the delicious aspects of it. You may ask how does that work if I am sitting in front of a 10-inch bubbling skillet? Sharing!
When making a Loaded Potato Skin Dip, sharing is implied. Notice I didn't say mandatory, just implied. And I am also ENCOURAGED to share with others due to the sheer size of all that dip.
This post may contain affiliate links. As an Amazon Associate, I earn from qualifying purchases. Read my disclosure policy here.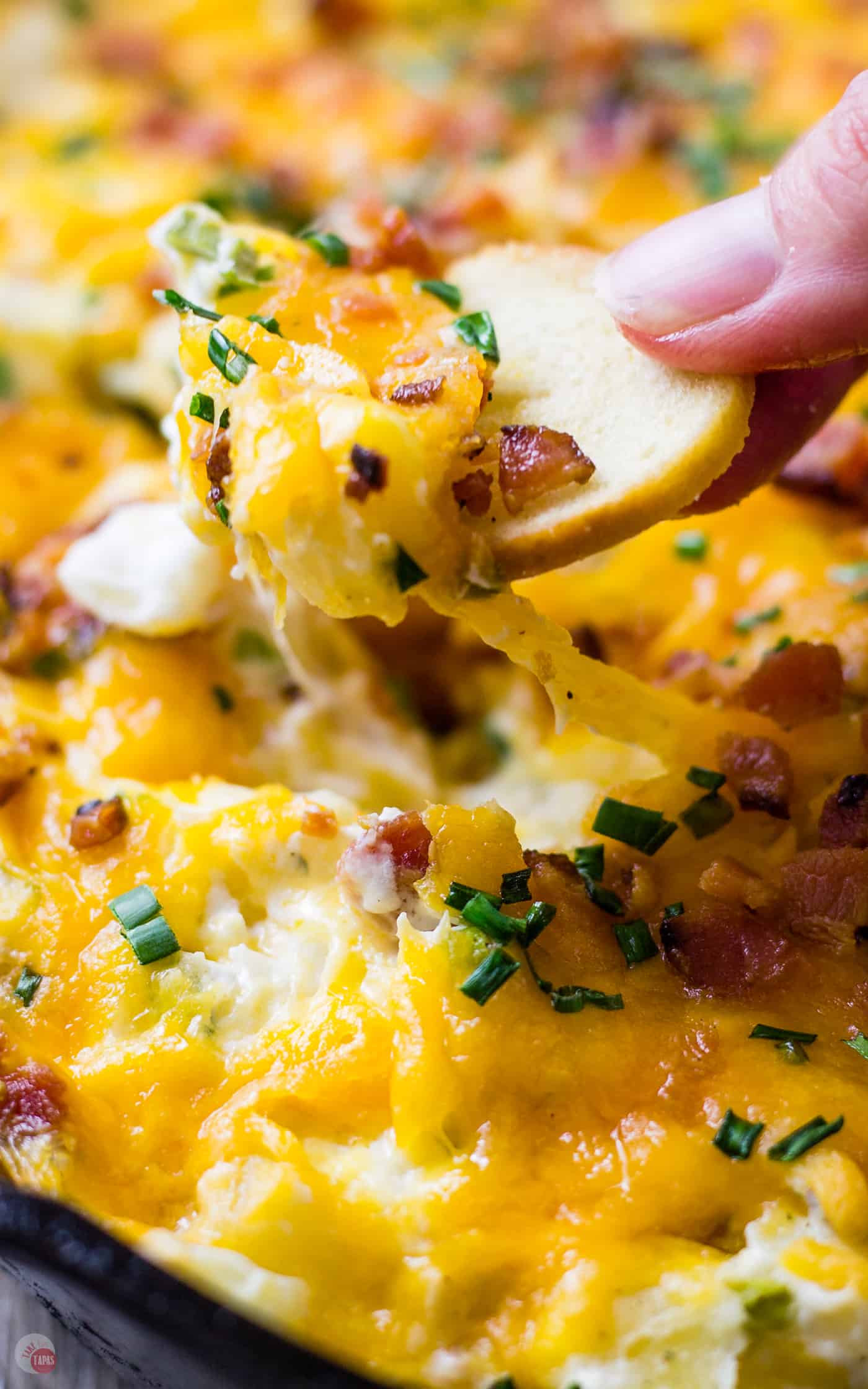 Quick and Easy Loaded Potato Skins
The best part of this Loaded Pot Skin Dip, besides eating it, is how easy it is to throw together. Want to know what makes it so easy? Frozen potatoes!
When you make loaded skins you have to boil the potatoes, cut in half, scoop out the center, add the ingredients, bake them, and then you get to eat them. Using frozen ones, that are already cooked and diced, takes out all the hard work and has you eating this dip faster than regular loaded skins can!
Try out this skillet too! I need to get a few more so I can make more than one dip at a time. I hate when I run out of skillets because I have them full of other dips like my Poblano Popper Dip.
For more insider tips & tricks, and a candid behind the scenes look follow me on social media! Check use out on Pinterest, Facebook, Instagram, & Twitter (yes, people still use Twitter, LOL!)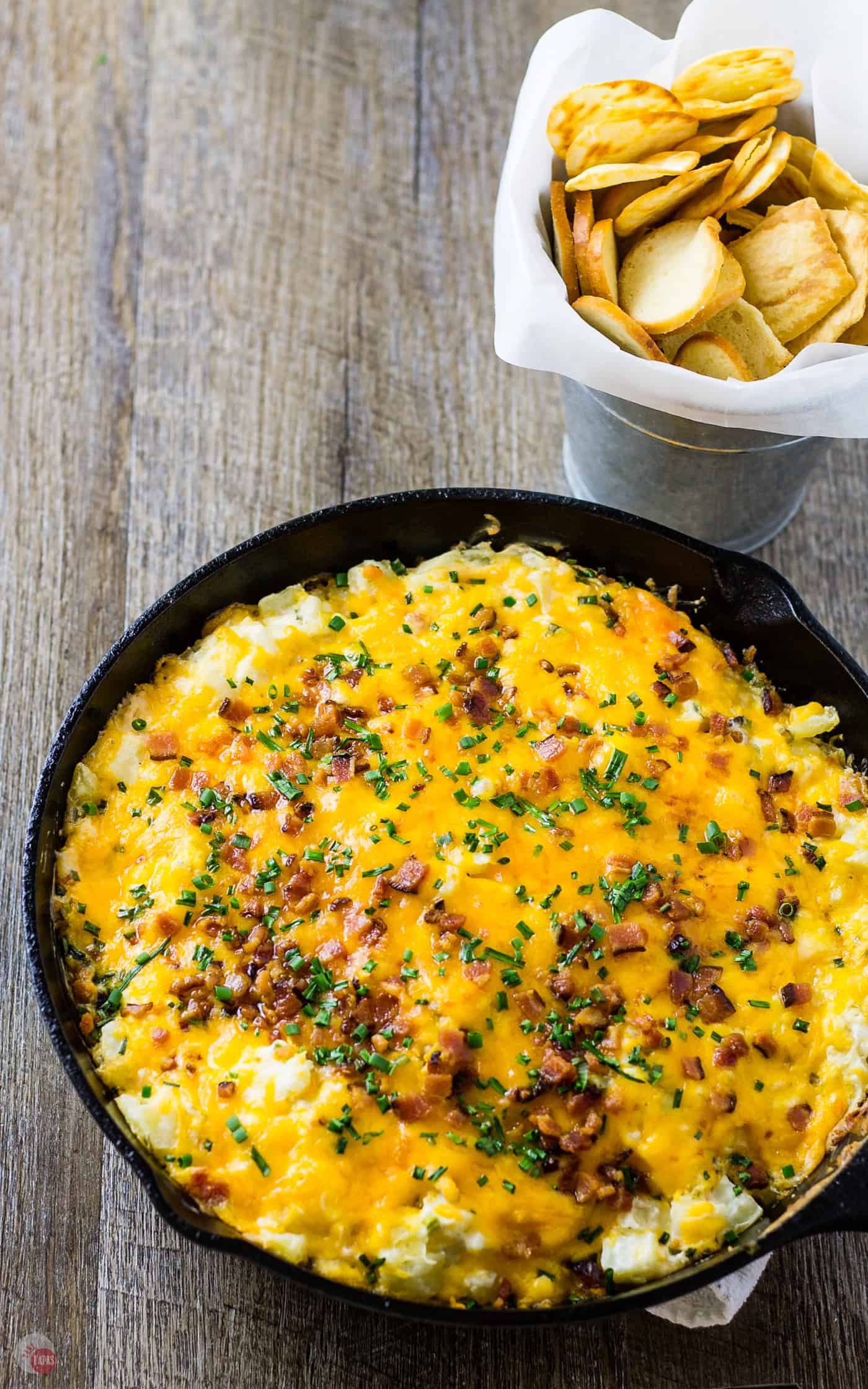 Sitting on my couch while home-gating, I probably wouldn't make this but heading to a party where there are more than 2 people I will definitely bring this and some chips.
I might have to keep it on the other side of the room but at least others will be eating it too:)
Forget all the work it takes to make pot skins and throw together this Loaded Potato Skin Dip that you can bake now or later. Perfect for tailgating!
MORE EASY PARTY FOODS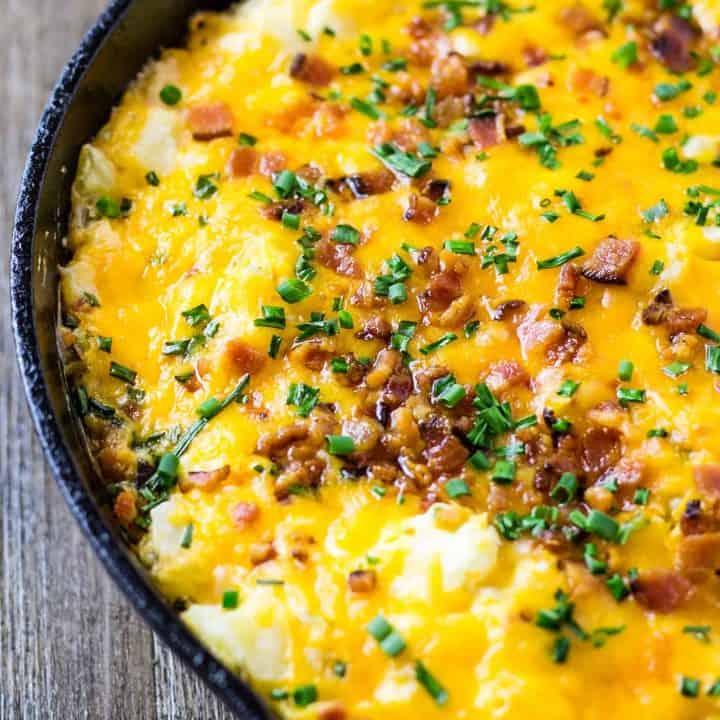 Loaded Potato Skin Dip Skillet
For all those potato skin lovers out there, check out my loaded potato skin dip. A skillet full of potatoes, bacon, chives, sour cream, and lots of cheese
Ingredients
8 ounces Cream cheese (softened)
8 ounces Sour cream
2 cups Sharp Cheddar cheese
1 bunch Green onion (Sliced thin)
1 Shallot
1/2 cup Bacon (cooked and chopped)
1 cup Mild Cheddar cheese
4 cups Potatoes (frozen, chopped)
1/2 cup Chives (chopped fine)
Bagel Chips or Pita Chips (for serving)
Instructions
Preheat oven to 350F.
Cream together the cream cheese and sour cream.
Add to the mixture 2 cups cheddar cheese, the green onion, bacon, shallot, and potatoes.
Stir to combine.
Scoop the mixture into a 10-inch skillet and spread out evenly.
Top with 1 cup Sharp cheddar cheese.
Bake at 350F for 20-25 minutes or until the sides are bubbly and the cheese is melted and starting to turn a golden brown.
Remove from the oven.
Garnish with chopped chives.
Serve with your favorite chips but make sure they can hold up to this thick dip. I use bagel chips or pita chips for this reason.
Notes
*If you like this recipe, please leave me a comment and rate it with some stars. Thank you!
Nutrition Information:
Yield:

10
Serving Size:

1
Amount Per Serving:
Calories:

505
Total Fat:

37g
Saturated Fat:

20g
Trans Fat:

1g
Unsaturated Fat:

12g
Cholesterol:

105mg
Sodium:

680mg
Carbohydrates:

23g
Fiber:

2g
Sugar:

3g
Protein:

22g
This nutrition information was generated via a third party, Nutritionix, and can not be held liable for any discrepancies in the information provided.