This Crudités Platter highlights all the vegetables that you love, along with some new ones, in a simple and beautiful display. The traditional veggie tray just got a little more exciting!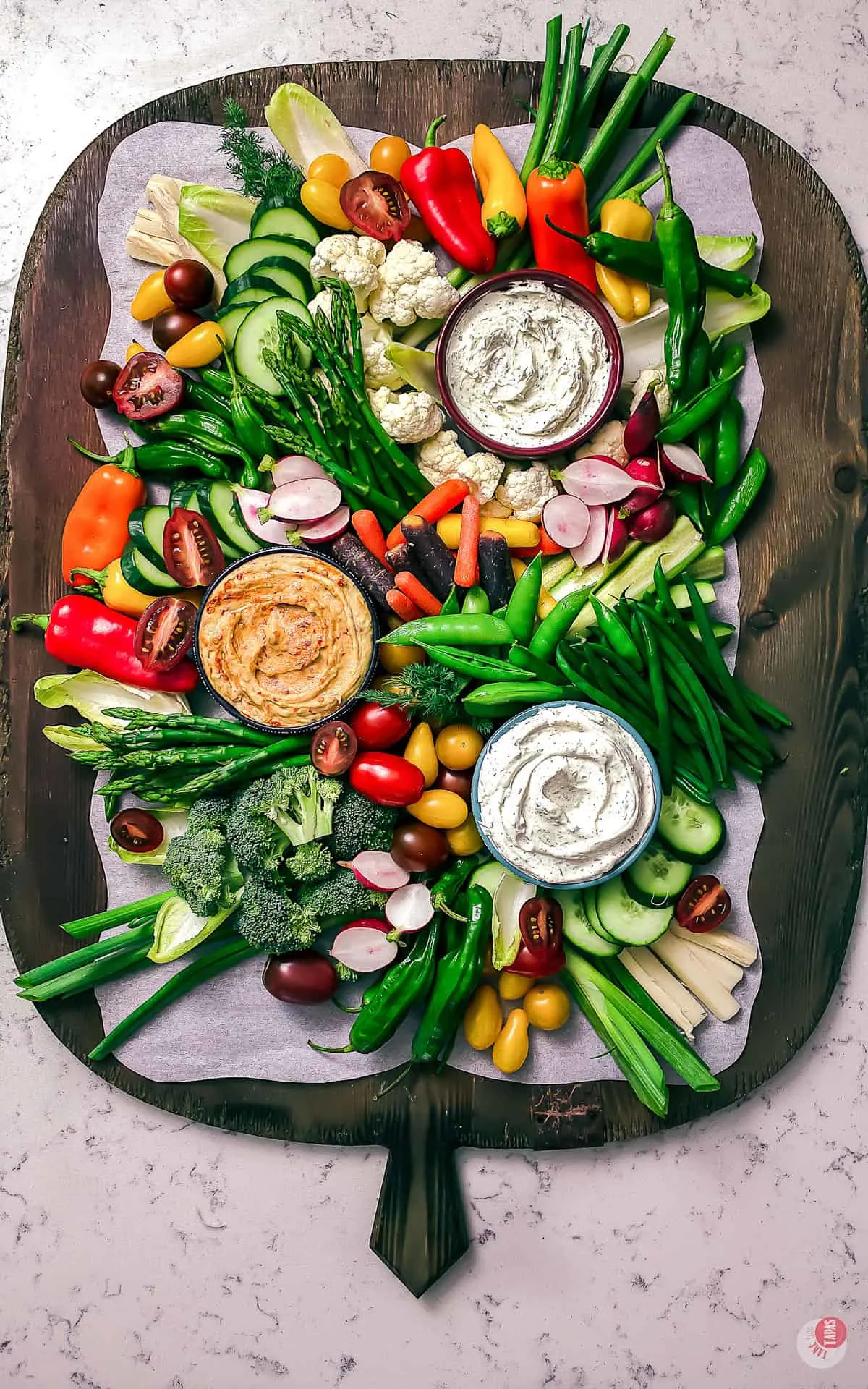 Crudite Platter
First things first, what does the word crudité mean and how do you pronounce it?
Classically defined as pieces of raw vegetables that are served with a dip as an appetizer, crudité or crudités are what you find on a traditional veggie tray.
Crudité is pronounced like "Crew-Dee-Tay" and is much easier to eat than say or spell.
The word crudité is French, so if you want you can just call them raw veggies. And it's an easy appetizer that you can make/prep ahead. Your personal trainer is going to be so proud!
How do you make a good Vegetable Platter?
The best part of a Crudite Tray is that all the chopped raw vegetables are great by themselves or you can use them as a vehicle for a dip or hummus that is usually served with them. Not to be confused with a Relish Tray, a Charcuterie Tray, or a Cheese Board.
A Relish Tray contains vegetables that are processed either by cooking, fermenting, or pickling to preserve them. Likewise, a Cheese Board usually contains meats, cheeses, nuts, olives, and crackers to eat them with.
A Charcuterie Board highlights various forms of prepared meats, such as cured and hard salami, confit, sausage, and even paté, and is accompanied by mustards, jellies, and crackers to eat alongside the meats.
In my experience, a proper Crudite Tray will only contain raw vegetables but some prefer their green vegetables blanched to remove the fibrous nature of them or to soften them if they are particularly hard.
Most Crudite Trays you might see will have a combination of raw and processed vegetables. Whichever board/tray/platter you decide to serve at your party, all of them are great finger foods for a crowd!
This post may contain affiliate links. As an Amazon Associate, I earn from qualifying purchases. Read my disclosure policy here.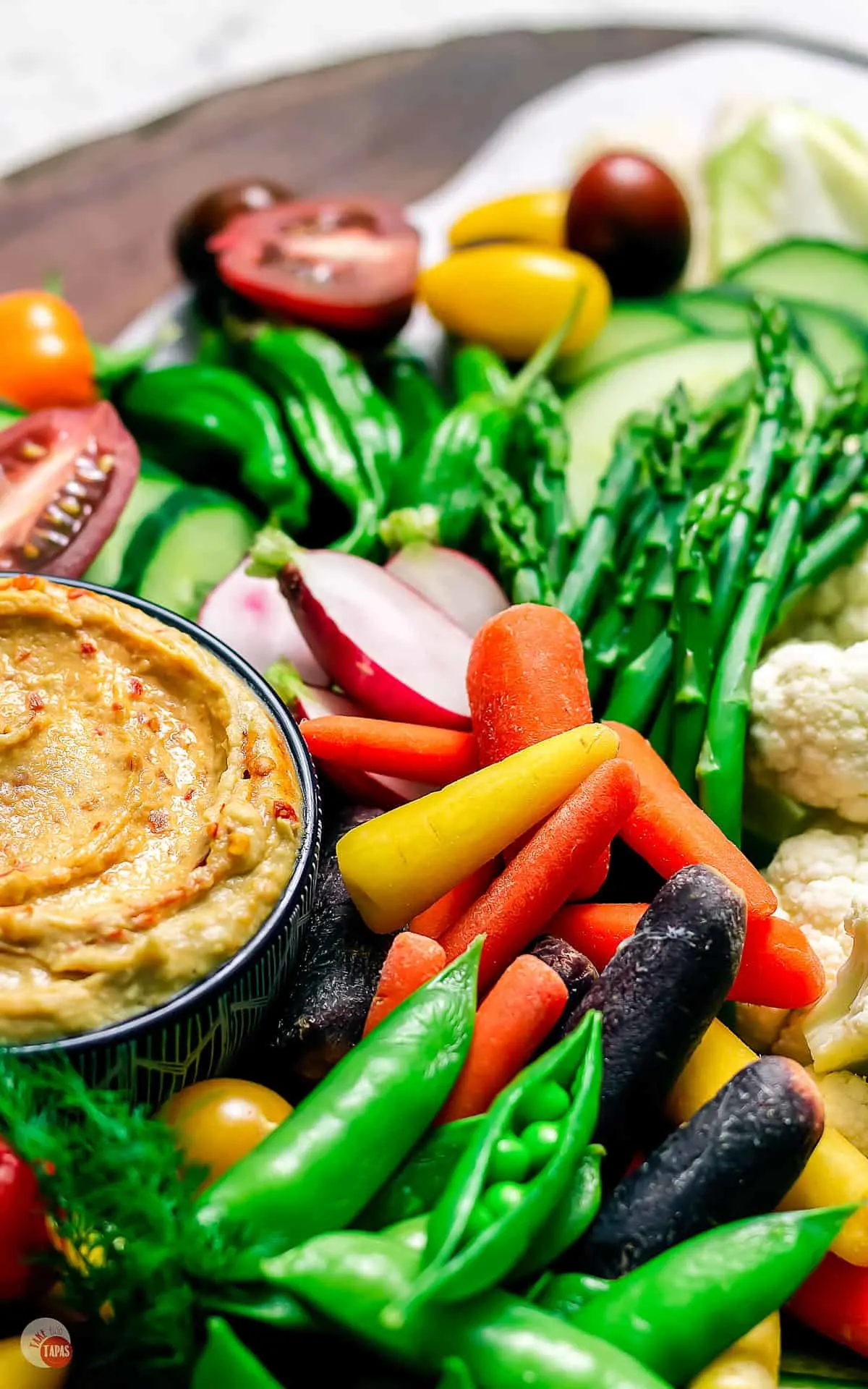 Is a Crudites Tray just a Veggie Platter?
Technically yes, but it is so much more than vegetable sticks like carrot and celery! A Crudités Platter can include vegetables like:
Broccoli
Cauliflower
Cucumber
Radishes
Mini Bell Peppers (yellow and red peppers are my fave)
Celery
Baby Carrots
Green Onions
Shishito Peppers
Endive
Cherry Tomatoes
Asparagus
Green Beans
Snap Peas
Zucchini
Yellow/Baby Squash
Take a walk through your local farmers market or grocery store to check out what's in season and local. I love finding as many vegetables as I can that aren't just green. Bright and colorful means pretty and nutritious!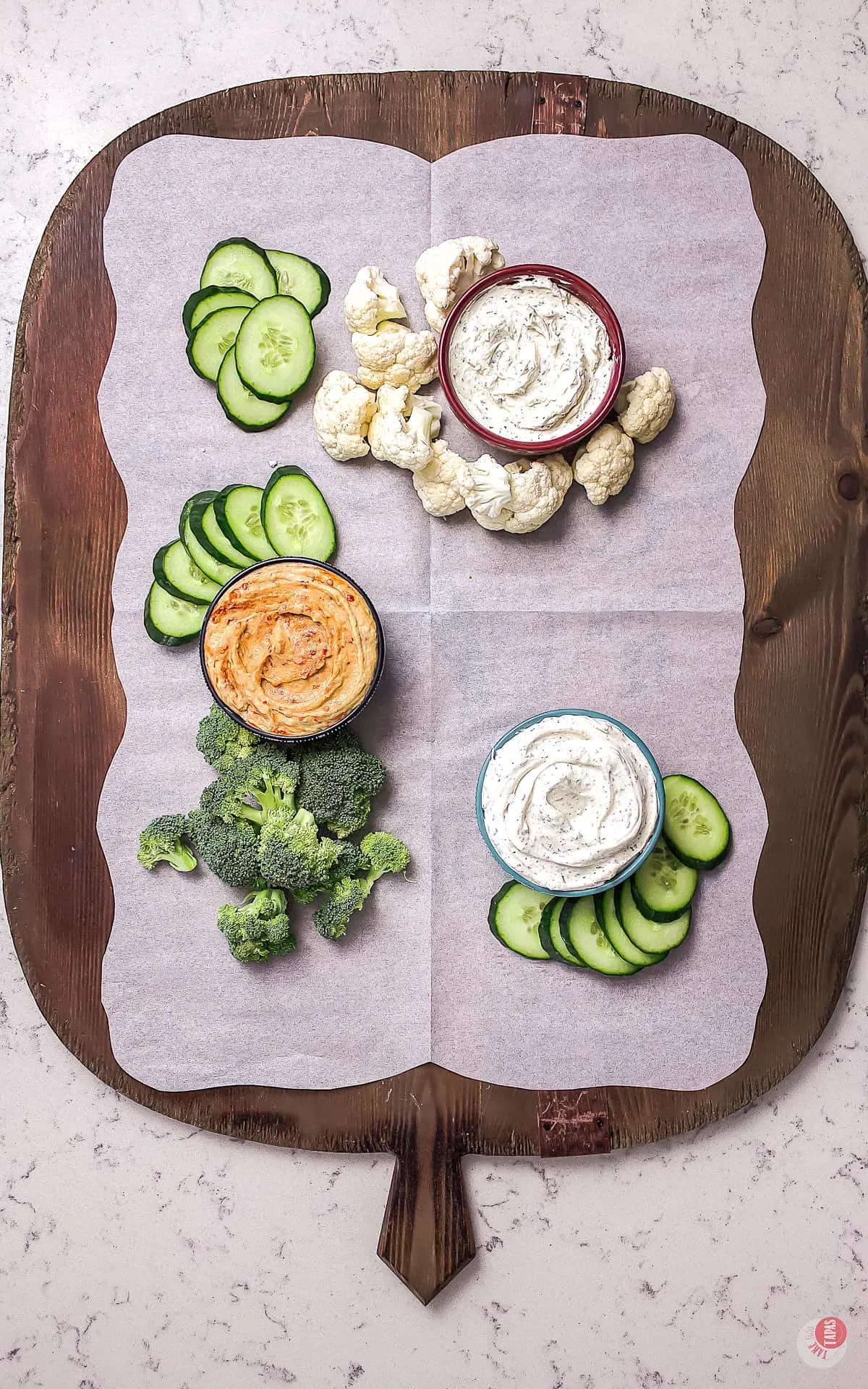 What are Crudites usually served with?
Because the nature of a Crudités Platter is to serve the vegetables raw, it is customary to serve a creamy dip or dressing alongside them.
With so many different vegetables, flavors, and textures, I like to serve at least 2-3 different dips for a crudité platter depending on how many different veggies you have and how many people you are serving.
Not only can you have different texture dips, but you can have various flavors and spice levels. My number one pick is a spicy hummus! Made from chickpeas, we can count it too as a vegetable, right?
My next crudité dip is always a sour cream based dip. Not only does the tang create a nice contrast to the veggies, but you can mix in various seasonings like French Onion Soup Mix or Ranch Seasoning.
My last choice for a veggie dip is a salty and garlicky cheese spread. A thicker dip by nature, the flavors are bold but universally liked by most. My favorite cheese spread is always in my fridge because I love to eat it with crackers and cheese too!
Be sure to include your favorite so you will remember to eat while you are hosting. Mine include Blooming Onion Dipping Sauce and an Herb Cream Cheese Dip. I know I tend to fret over everyone else eating and forget to eat myself!
Don't be scared to add some crackers like pita chips and even fresh fruits, to serve alongside all those fresh veggies.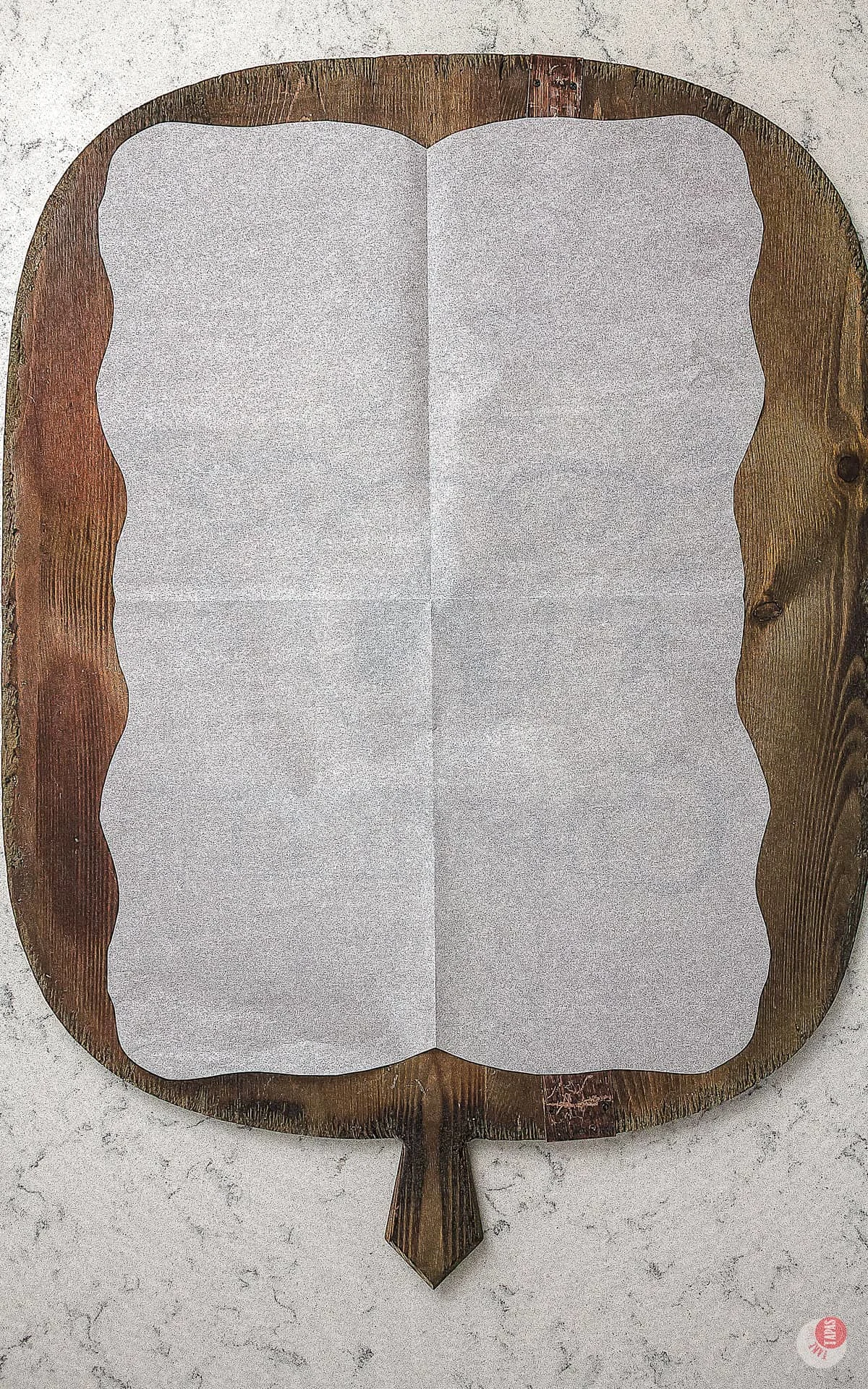 How to make a Crudite Platter
First: Cover the board or tray with parchment paper to protect it and make for easy cleanup.
Second: Place the bowls of dips on the board, leaving room between them to add all those crisp veggies.
Third: Place the vegetables around the board, being sure to mix up the colors and textures. You don't have to group them all in one place. It's cool to put carrots and cucumbers in multiple places so your guests can reach everything from all sides of the board.
For the full recipe and detailed instructions, please refer to the recipe card at the bottom of the post.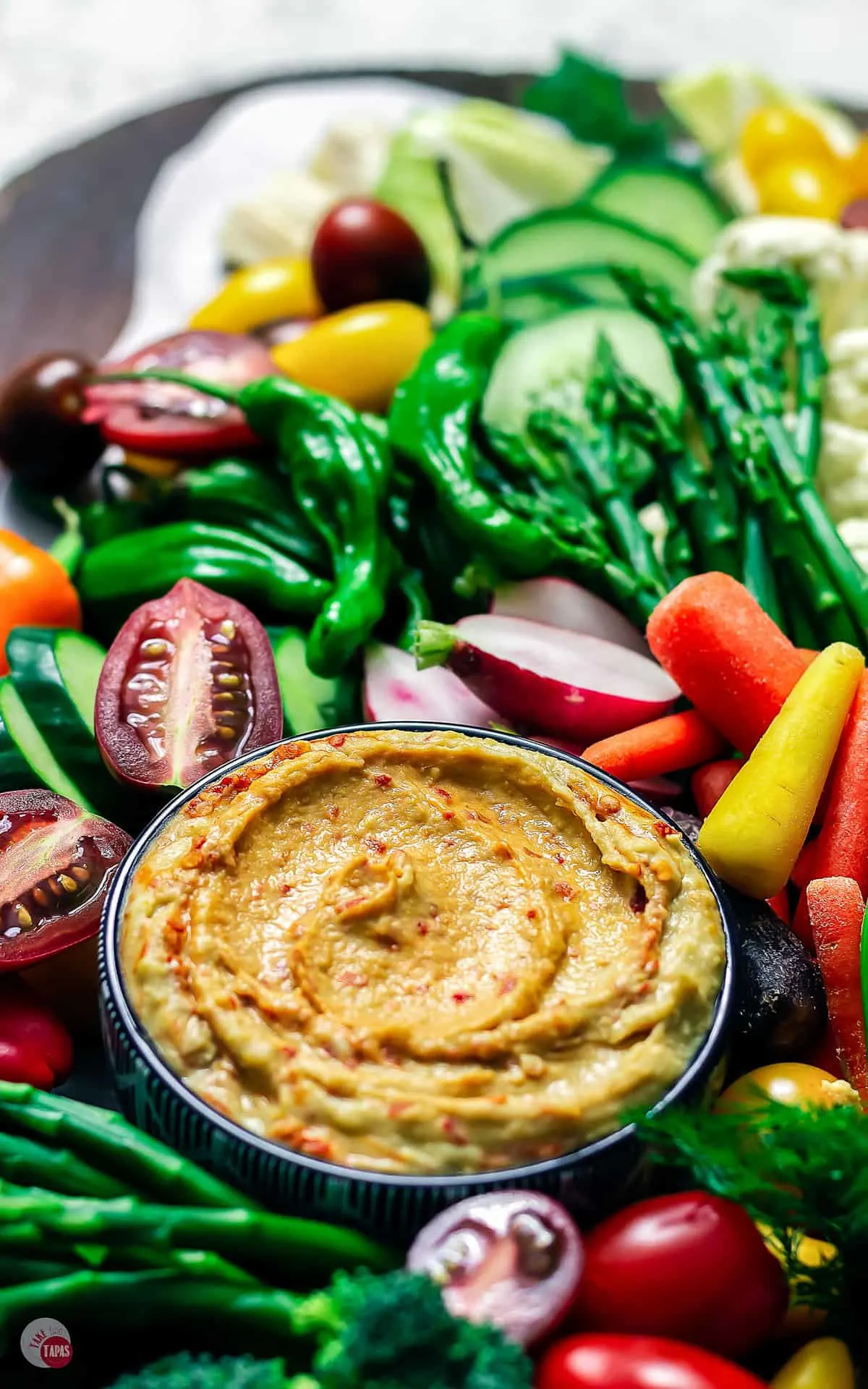 What Vegetables to Use for Crudites
You can use any vegetables that you like! Throw in one or two that you haven't tried to shake things up!
How do you keep Crudites fresh?
I like to store my prepped vegetables in ice water or wrapped in a damp towel and stored in a plastic bag in the refrigerator.
For more insider tips & tricks, and a candid behind the scenes look follow me on social media! Check use out on Pinterest, Facebook, Instagram, & Twitter (yes, people still use Twitter, LOL!)
Do I need to cook the vegetables first?
Most of the vegetables are perfectly tasty raw, but I prefer to have my green beans, peas, and asparagus slightly cooked to take out the fibrous nature of them. A quick 1-minute blanch in boiling water will do the trick!
Do cut vegetables lose nutrients?
The nutrient that is the first to go is Vitamin C because it is carried by water but it is minimal. The key to keeping the most nutrients is to submerge them in water, keep them moist and away from air, and keep them very cool.
How long do cucumbers last after being cut?
If sliced and submerged in ice water, they can last for up to a week!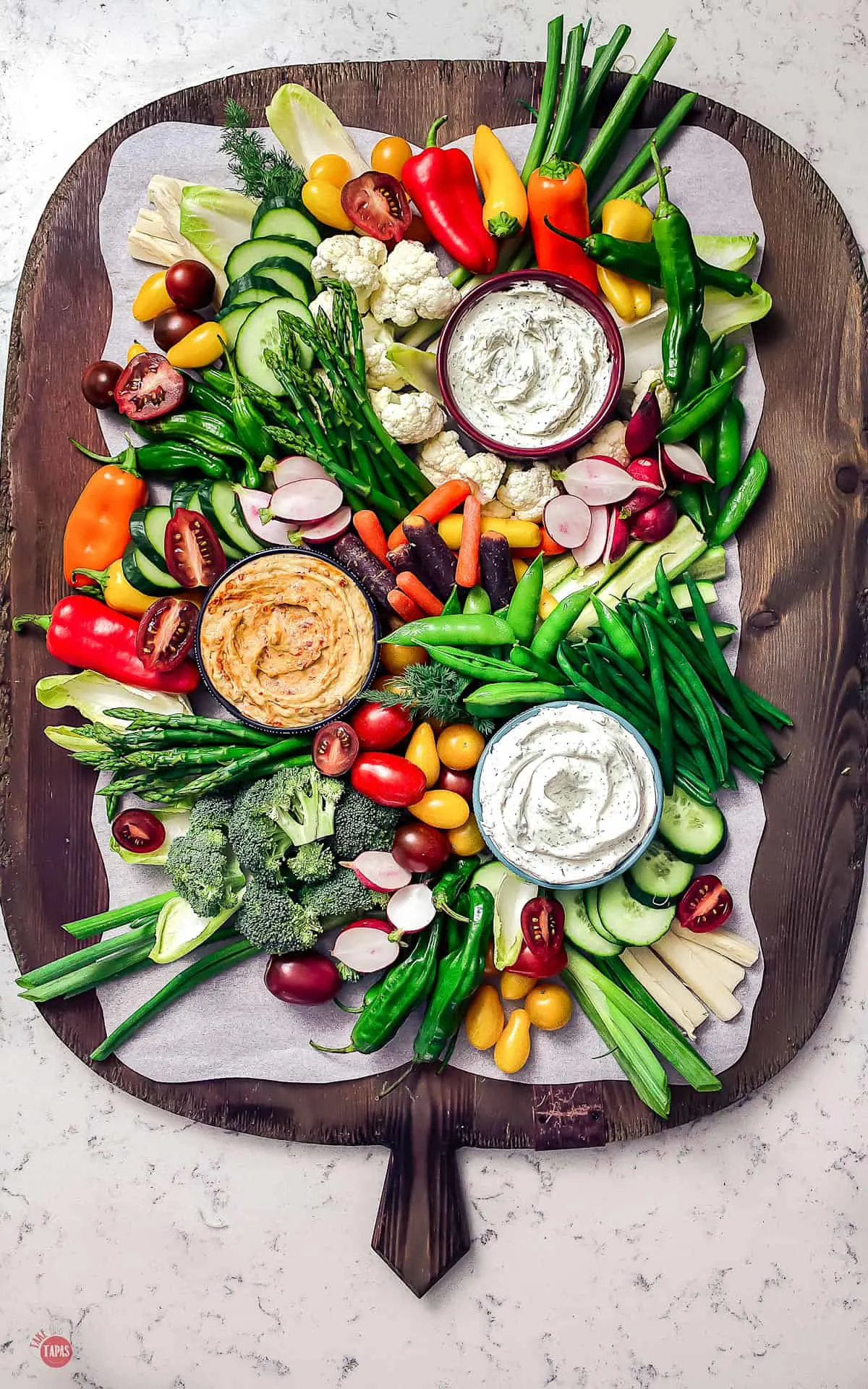 If you are serving some vegetables that might need a little tenderizing, try a quick blanching. Not only will it lightly cook them, but it will help them maintain their vibrant green colors on the serving platter!
How do you blanch vegetables for Crudites?
Prepare a large pot of boiling salted water, and fill a large bowl with ice water.
Remove the tough bottoms of the asparagus stalks and the strings from the green beans and snap peas.
Starting with one vegetable at a time, lower the trimmed vegetable into the boiling water.
Stir and let cook for 1 minute.
Remove from the boiling water and immediately plunge in the ice bath to stop the cooking process and maintain the vibrant green color.
Continue with the additional vegetables that you want to cook.
Once you blanche the vegetables, store in the correct containers until you are ready to assemble your platter.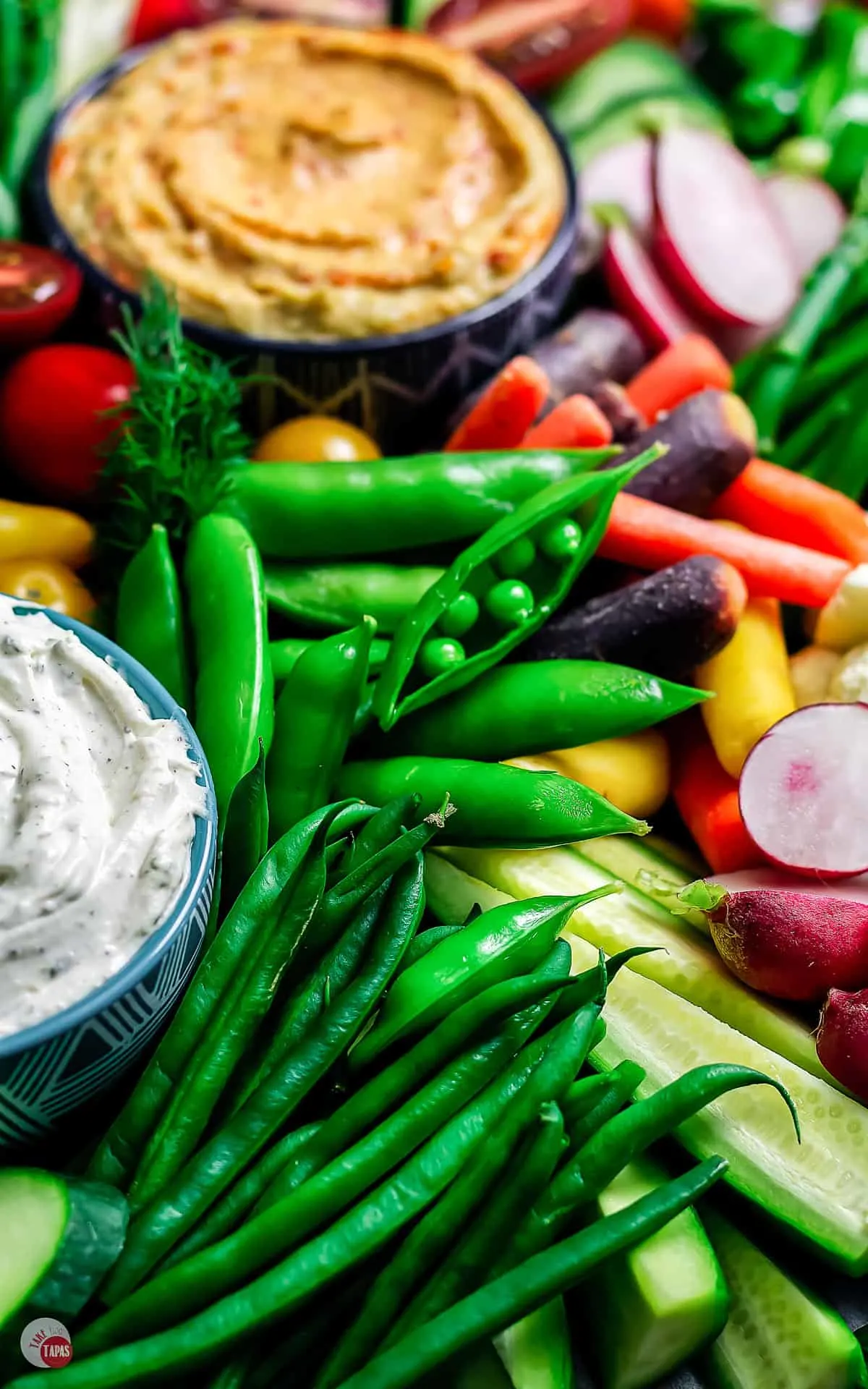 Looking for pictures of Vegetable Tray Ideas to take to a party you've been invited to? Check out my Pinterest Board dedicated to all things Vegetable Platters!
Complete your Easy Vegetable Tray with these
If you love this recipe as much as I do, please write a five-star review in the comment section below (or on Pinterest with the "tried it" button – you can now add pictures into reviews, too!), and be sure to help me share on facebook!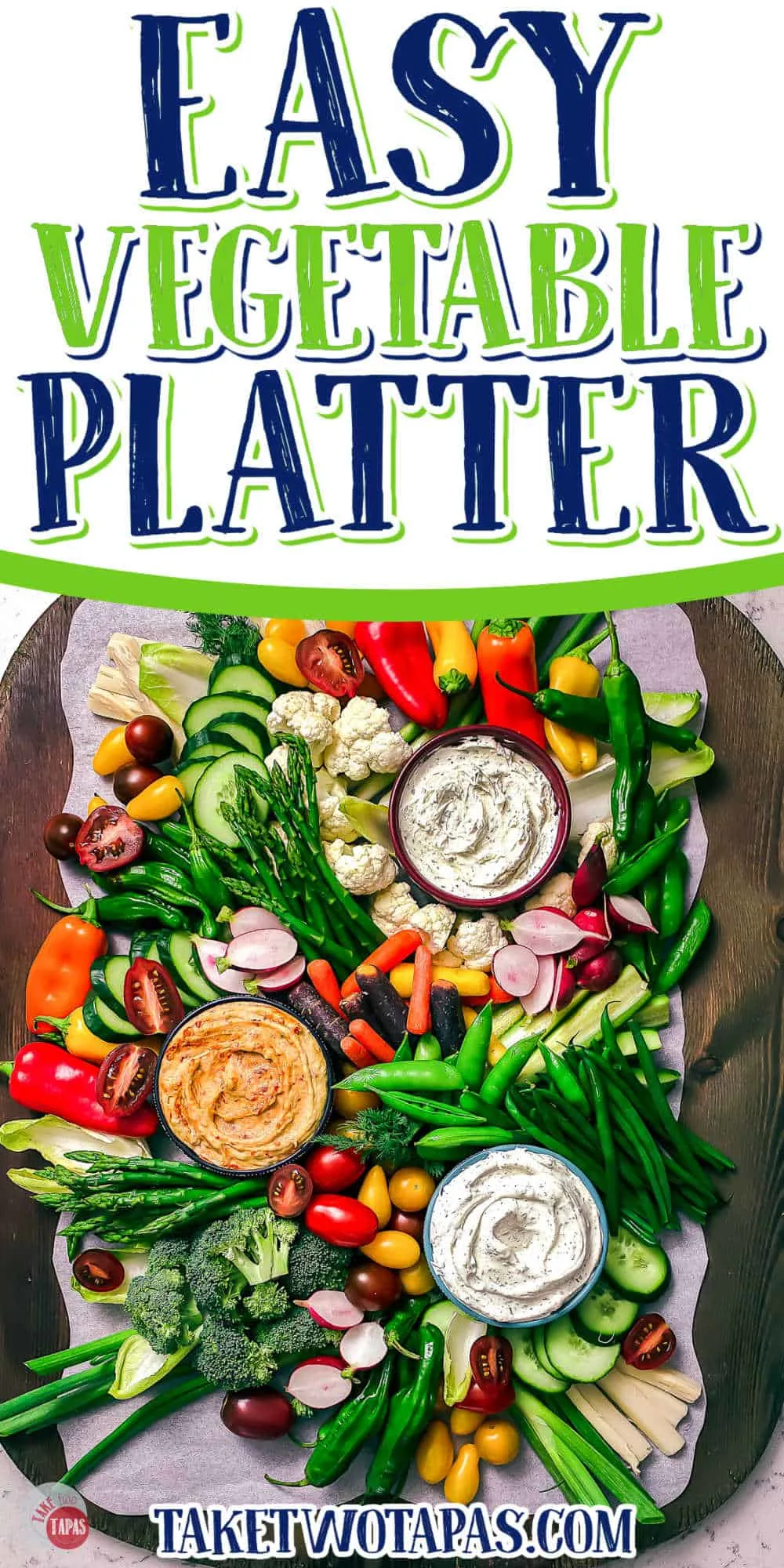 More Party Platters
Printable Instructions for How to Make a Good Crudité Platter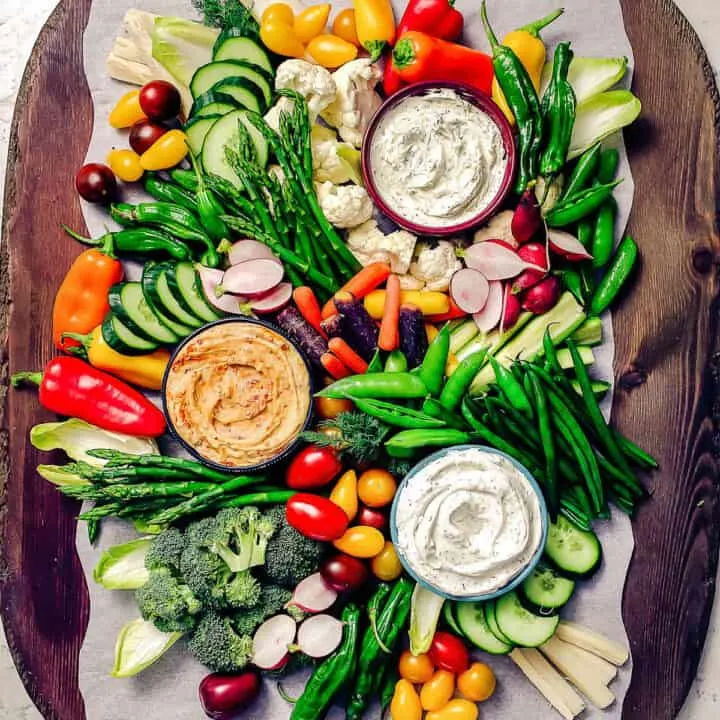 Easiest Crudités Platter Ever!
Additional Time:
5 minutes
The traditional veggie tray just got a little more exciting. This Crudités Platter highlights all the veggies that you love in a simple, beautiful display!
Ingredients
RAW CRUDITÉS
1 cup Broccoli
1 cup Cauliflower
1 cup Cucumber
1 cup Radishes
1 cup Mini Bell Peppers
1 cup Celery
1 cup Carrots
1 cup Green Onions
1 cup Shishito Peppers
1 cup Endive
1 cup Cherry Tomatoes
BLANCHED CRUDITÉS
1 cup Asparagus
1 cup Green Beans
1 cup Snap Peas
DIPS FOR CRUDITÉS
Hummus (I prefer a spicy one)
Greek/Ranch Dip (or any sour cream based dip)
Garlic Cheese Spread (I prefer Boursin)
Fresh Dill and Parsley for garnishes
Instructions
Arrange all your crudites or vegetables on your board and serve!
Enjoy with friends!
Notes
*If you like this recipe, please leave me a comment and rate it with some stars. Thank you!
Nutrition Information:
Yield:

20
Serving Size:

1
Amount Per Serving:
Calories:

42
Total Fat:

2g
Saturated Fat:

0g
Trans Fat:

0g
Unsaturated Fat:

1g
Cholesterol:

2mg
Sodium:

76mg
Carbohydrates:

6g
Fiber:

2g
Sugar:

2g
Protein:

2g
This nutrition information was generated via a third party, Nutritionix, and can bot be held liable for any discrepancies in the information provided.
TakeTwoTapas.com. Content and photographs are copyright protected. Sharing of this recipe is both encouraged and appreciated. Copying and/or pasting full recipes to any social media is strictly prohibited.