This Everything Bagel Seasoning is perfect for you if you love a GOOD BAGEL covered in poppy seeds, sesame seeds, onion, garlic, and salt! Quit buying it at the store and make it at home with 5 simple ingredients and in less than a NEW YORK MINUTE!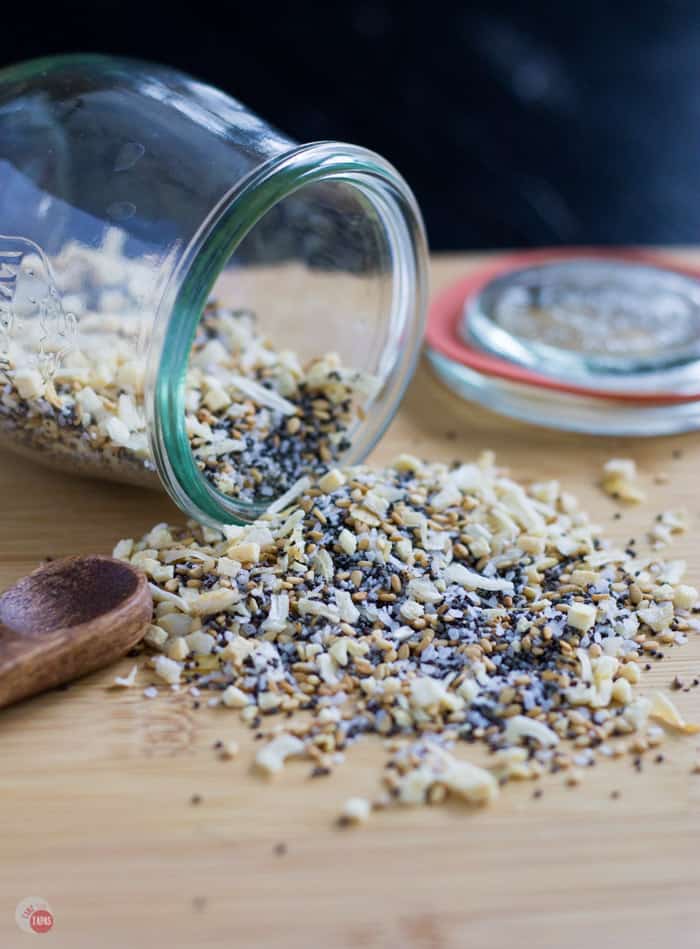 If you'd rather skip my essential cooking tips and tricks and get straight to this delicious recipe – simply scroll to the bottom of the page where you can find the printable recipe card.
WHY ARE BAGELS CALLED "EVERYTHING?"
My favorite bagel flavor is the "Everything" bagel. If you have never heard of an everything bagel, stop right now and go get one, then come back and keep reading.
It is also well-known that I love salt. I am a salt fiend! My husband thinks I need a salt lick tied around my neck because I like it so much.
He grew up not eating a lot of salt so I can see why he thinks I need professional help. Want to know the best way to cure a salt craving?
An everything bagel.
A bagel with this seasoning always has the most salt (aside from the salt bagel, yes there is one) and is WAYYYYY better than those sweet flavored ones that might as well be called "mature doughnuts."
Sesame bagels are my second favorite due to my friend Scott who got me hooked on them while I lived in Orlando.
A bagel shop down from my office sold the best ones, so when I needed to suck up for a favor, I would bring some home. It works every time.
Just like my apple pie.
This post may contain affiliate links. As an Amazon Associate, I earn from qualifying purchases. Read my disclosure policy here.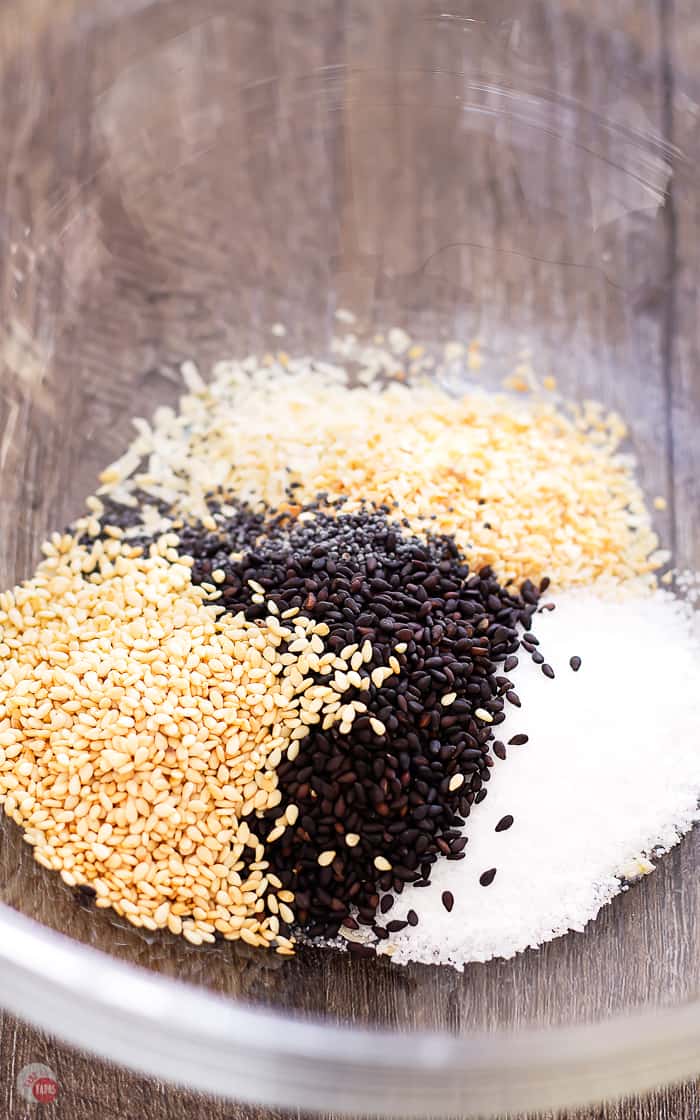 WHAT IS IN EVERYTHING BUT THE BAGEL SEASONING?
I love a flavorful spice mix and this one certainly fits the bill. It's amazing how much flavor you can get from just a few simple ingredients.
I bet you already have them in your pantry.
minced onion
minced garlic
kosher salt
poppy seeds
sesame seeds
The minced garlic and minced onion are sometimes called "dried" or "dehydrated." Just be sure to the ones that are actual pieces and not the powder version.
The texture of the mix is just as important as the flavors!
With regards to sesame seeds, you can buy them already toasted but they can be expensive. I buy mine in bulk and store them in the freezer until I am ready to use them and then just do a quick "dry toasting" in a pan before I add them.
A tip for getting sesame seeds cheaper, is to hit up the bakery section of your grocery store. I know a few people that work at Publix and the bakery will bag me up a few scoops for way less than the cost of a tiny spice jar. Some grocery stores will sell spices, flours, and nut in bulk. Check out these sections too!
You might not be able to find black sesame seeds at your local grocer but I have found them at Indian and Asian markets or of course online.
Black sesame seeds are not required, I just like the color contrast!
I would not recommend using table salt in this recipe. You want a larger flake or crystal-sized salt for the texture.
My "go-to" is Kosher salt but feel free to use flaked sea salt or pretzel salt.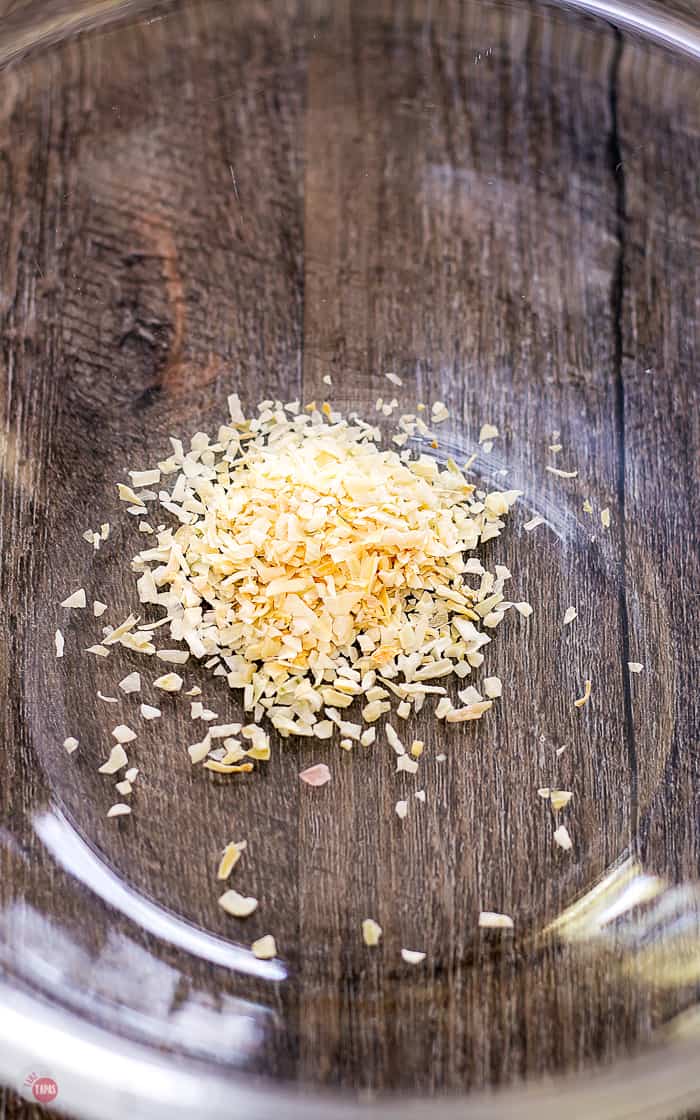 WHAT IS IN TRADER JOE'S EVERYTHING SEASONING?
I'm sure you have heard of Trader Joe's and their beloved Everything Bagel Seasoning before and I keep seeing fights break out over the last bottle of it when I am at the store.
Seriously?
Why go to all that trouble when you can just make your own and for a lot less money? What is in Trader Joe's everything bagel seasoning that has everyone going crazy?
Once their brand became famous the craziness started catching on. You can now buy bagel seasoning blend at Walmart, Publix, Kroger, and even Amazon.
This Bagel Seasoning recipe has all the same ingredients yet mine doesn't "fluctuate" as it mentions on their label. Even if there is a zombie apocalypse, my recipe will not vary.
I need that kind of stability in my life, don't you?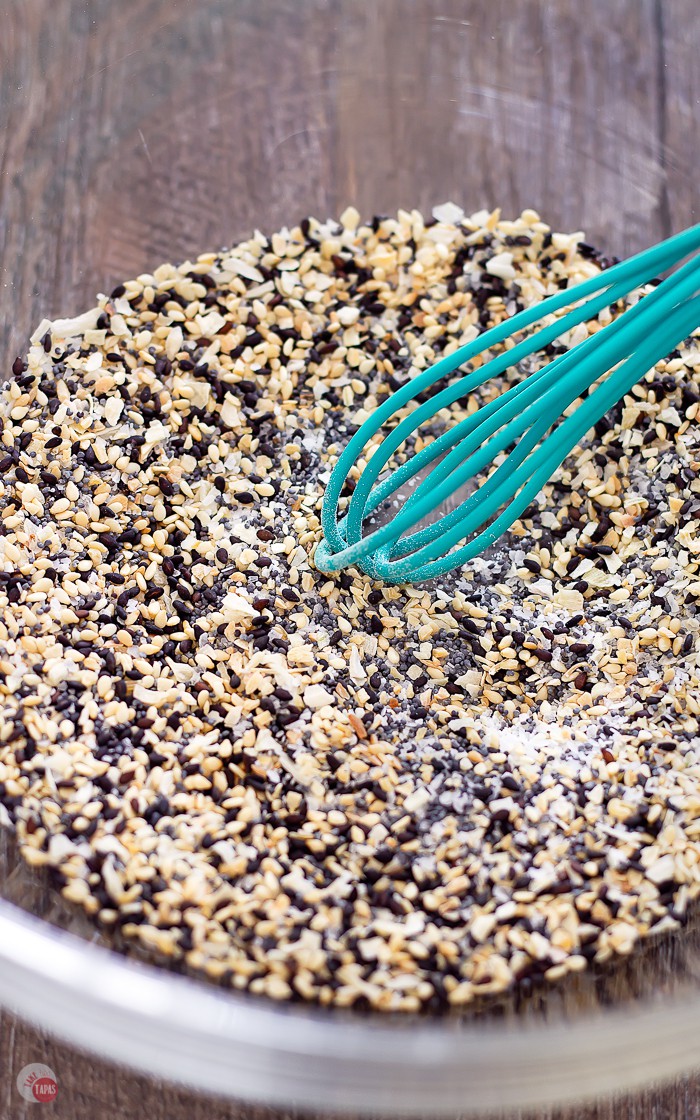 WHAT DO YOU DO WITH EVERYTHING BAGEL SEASONING?
Try this Bagel Seasoning not only on bagels but these too!
avocado toast
scrambled eggs
boiled eggs
celery stalks with cream cheese
cucumber slices with cream cheese
popcorn
tomato slices
a BLT (my new fave way to eat it!)
hummus
guacamole
chicken, steak, pork, shrimp, and vegetables too
maybe add a little savory flavor to ice cream?!?
IS EVERYTHING BAGEL HEALTHY?
Not only is it healthy, but is it also gluten-free, dairy-free, and nut-free but also Keto, Paleo, and Whole 30 Compliant!
Not a salt free recipe by any means but by making your own spice blend you can control your level of salt. So feel free to back off the sodium quantities if you prefer.
I also add a little black pepper in mine but it is not a requirement. I just really like pepper too.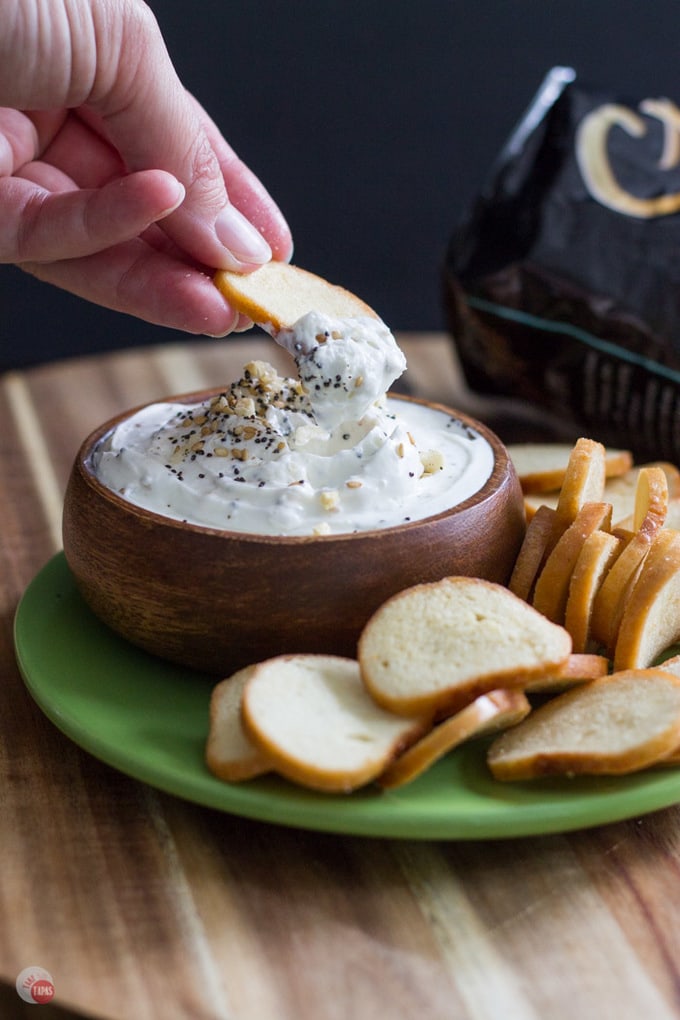 For more insider tips & tricks, and a candid behind the scenes look follow me on social media! Check use out on Pinterest, Facebook, Instagram, & Twitter (yes, people still use Twitter, LOL!)
HOW LONG DOES EVERYTHING SEASONING LAST?
If you store it in an air-tight container in a cool, dark place it will last for 4 months.
But I usually use all of mine before then!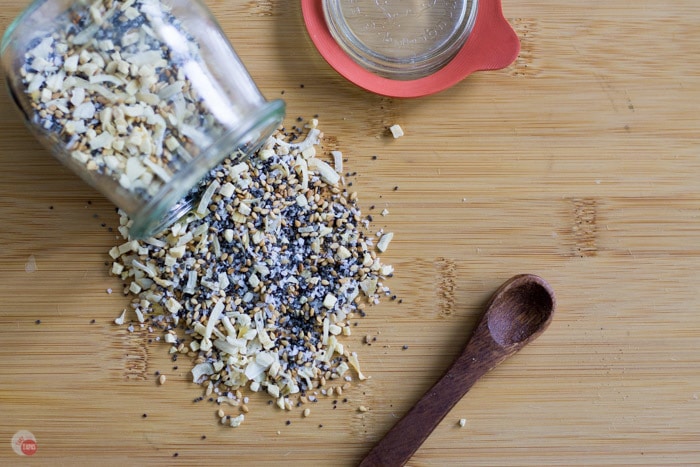 OTHER "EVERYTHING" DISHES
If you love this recipe as much as I do, please write a five-star review in the comment section below (or on Pinterest with the "tried it" button – you can now add pictures into reviews, too!), and be sure to help me share on facebook!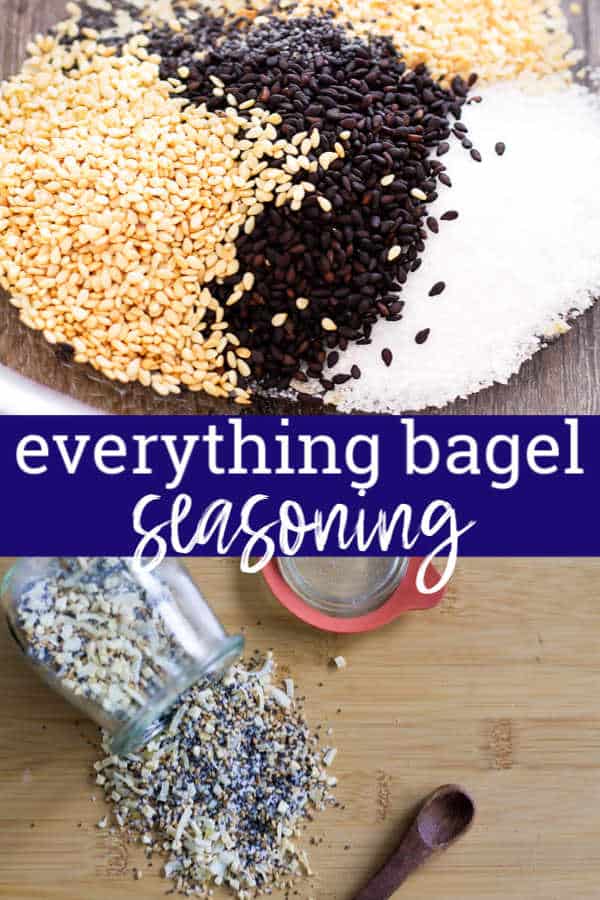 MORE EASY APPETIZERS
EASY EVERYTHING BAGEL SEASONING RECIPE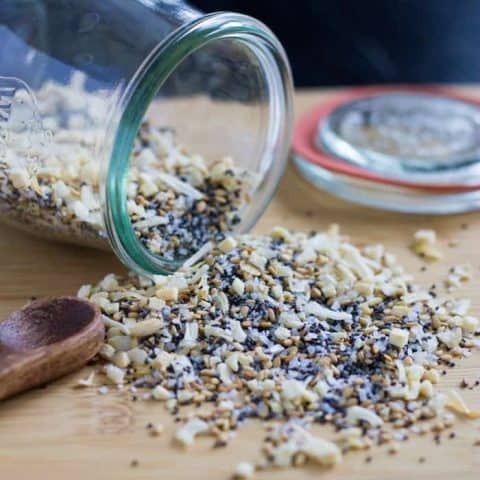 Everything Bagel Seasoning Mix
Your favorite bagel topping of poppy seeds, sesame seeds, onion, garlic, and kosher salt is within your grasp. Make your own Everything Bagel Seasoning Mix at home with your own pantry spices!
Ingredients
1/2 tablespoon dried minced onion
1 tablespoon poppy seeds
1 tablespoon kosher salt
1 tablespoon dried minced garlic
2 tablespoons black and white sesame seeds (toasted)
1 teaspoon crushed black pepper
Instructions
Mix everything together and store in an airtight container until ready to use.
Use as needed.
Notes
*If you like this recipe, please leave me a comment and rate it with some stars. Thank you!
Nutrition Information:
Yield:

6
Serving Size:

1 tablespoon
Amount Per Serving:
Calories:

19
Total Fat:

1g
Saturated Fat:

0g
Trans Fat:

0g
Unsaturated Fat:

1g
Cholesterol:

0mg
Sodium:

1058mg
Carbohydrates:

2g
Fiber:

1g
Sugar:

0g
Protein:

1g
This nutrition information was generated via a third party, Nutritionix, and can not be held liable for any discrepancies in the information provided.
If you like this everything bagel seasoning, you should check out my eBook of dip mixes that you can make from your spice cabinet. Most are not even on the blog!
@TakeTwoTapas.com. Content and photographs are copyright protected. Sharing of this recipe is both encouraged and appreciated. Copying and/or pasting full recipes to any social media is strictly prohibited.