Your favorite bagel topping of poppy seeds, sesame seeds, onion, garlic, and kosher salt is within your grasp.  Make your own Everything Bagel Seasoning Mix at home with your own pantry spices!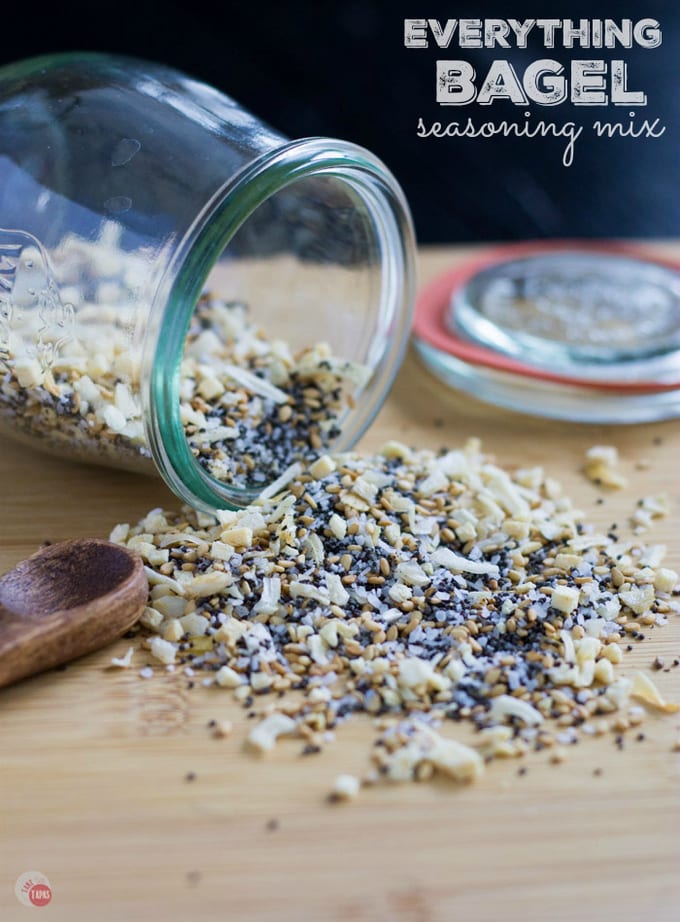 My favorite bagel flavor is the "Everything" bagel.  If you have never heard of an everything bagel, stop right now and go get one, then come back and keep reading.  It is also well-known that I love salt.  I am a salt fiend.  The hubs thinks I need a salt lick tied around my neck because I like it so much. He grew up not eating a lot of salt so I can see why he thinks I need professional help.  Want to know the best way to cure a salt craving?  An everything bagel.  This flavor always had the most salt (aside from the salt bagel, yes there is one) and is WAYYYYY better than those sweet flavored ones that might as well be called "mature doughnuts."
Sesame bagels are my second favorite due to my friend Scott who got me hooked on them while I lived in Orlando.  A bagel shop down from my office sold the best ones, so when I needed to suck up for a favor, I would bring some home.  It worked every time.  Just like my apple pie.
Who eats the most bagels?
Bagels are a part of my life.  As a member of a blended family, part Jewish, we had bagels at just about every food function.  Of course, when you are in a Jewish family, every function is a food function.  You can see for yourself in in this post about our Thanksgiving antics.  There are quite a few ways to top a bagel, the most common is nova/lox/salmon and cream cheese.  Maybe a few capers thrown on there too.  Not a big fan of the salmon, but I love the cream cheese!!!!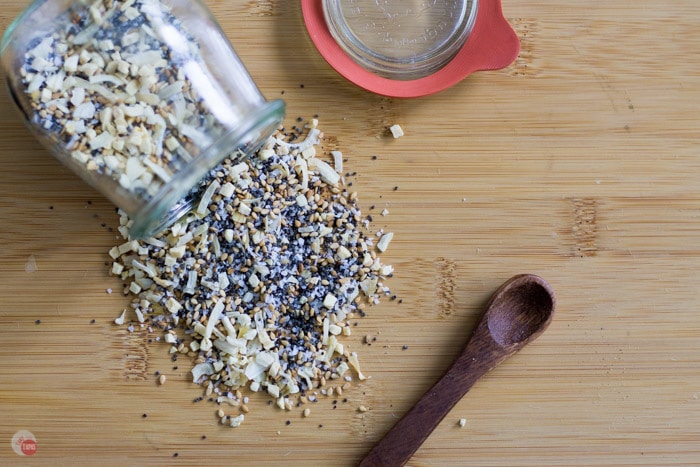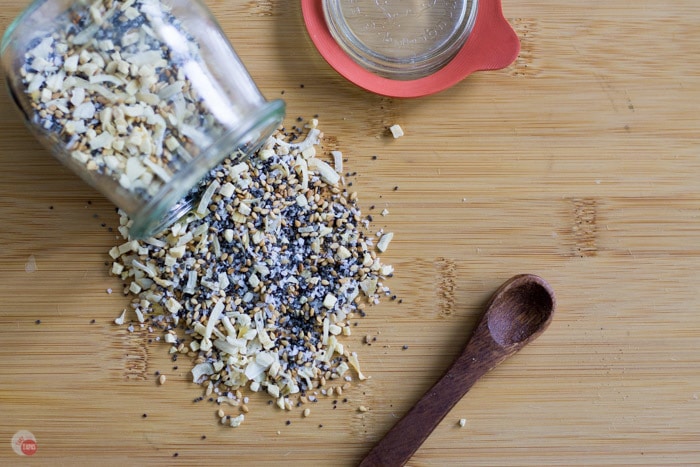 What is a shmear?
If you are going simple with just the bagel and shmear, I applaud you.  Simple is best.  Not familiar with the term?  The "shmear" is something that you slather or smear on your bagel, usually cream cheese but can also be peanut butter, butter, or Nutella.  My favorite flavored cream cheese, or "shmear," is the one with the chives in it.  Or green onion and garlic.  You know, the ones that make your breath smell interesting.  After eating an everything bagel and the amounts of garlic that is present on it, I am not sure that even the hubs would want to kiss me, but who cares because I am eating bagels with my favorite "shmear" and seasonings!
What do I do with this Everything Bagel mix?
You can, of course, put it on your bagels.  Or you can use it as a rub for your chicken, pork, or steak.  I wouldn't recommend using it on fish unless it is a very hearty fish as this mix can be quite strong.  I use it mostly in my Everything Bagel Dip!  I advise you to do the same. 😜
I did put dried garlic and dried onion flakes in mine, but you can opt out of these or get finer chopped versions.  I just really like a lot of garlic and onions.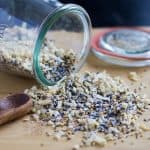 Everything Bagel Seasoning Mix
Ingredients
1/2

tablespoon

dried minced onion

1

tablespoon

poppy seeds

1

tablespoon

kosher salt

1

tablespoon

dried minced garlic

2

tablespoons

toasted sesame seeds

1

teaspoon

crushed black pepper
What is your favorite type of bagel?
My son Braxton likes the sweet blueberry ones but I have always been a savory bagel girl.  Since you will be armed with this tasty seasoning mix, I will show you in my next post what I am doing with mine!
If you like these, you should check out my eBook of dip mixes that you can make from your spice cabinet!  Click on the picture to get recipes not published on the blog!