Dessert dips aren't just for dessert, they make a tasty snack for any occasion. Easy to whip up and fun to customize, they are perfect for hosting your next party, spending a night in, or just craving something sweet.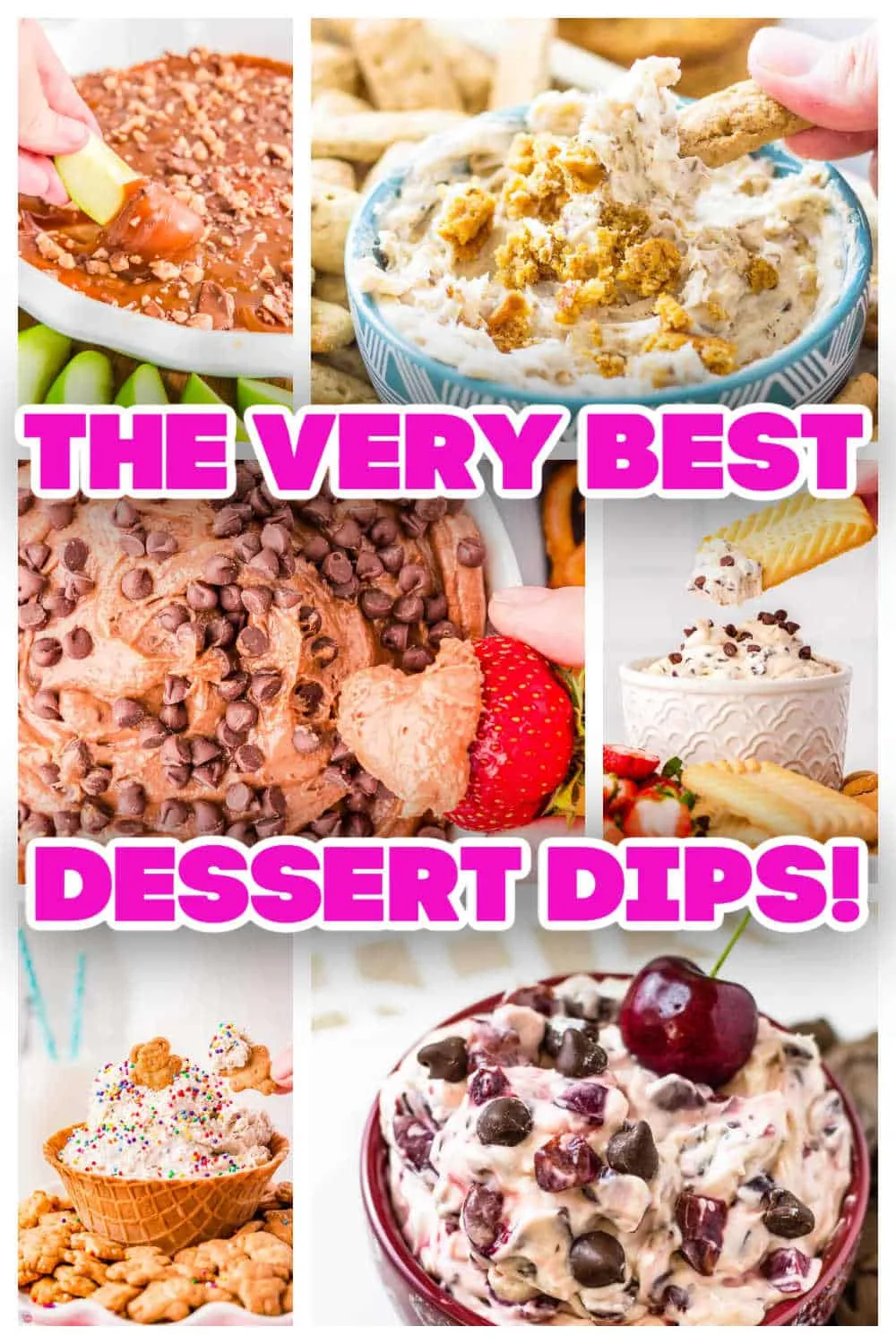 Sweet Dips
Different than the traditional cheesy and hearty dips I like to serve, I have a monster sweet tooth that has me craving dessert all the time.
I know I am not alone, so I am going to share some of my favorite easy dessert dips. This way you can control that sweet tooth if you have one too.
One of the best things about them is that they are most often a quick no bake dessert recipe!
What is a dessert dip?
A dessert dip is a sweet, creamy mixture, often with a base of cream cheese, marshmallow fluff, whipped cream, cool whip, or yogurt.
They can be flavored and colored and garnished with all sorts of fun things like sprinkles, chocolate chips, and chopped peanut butter cups.
Once they are ready, serve them with dippable snacks like cookies, fruits, or pretzels.
This post may contain affiliate links. As an Amazon Associate, I earn from qualifying purchases. Read my disclosure policy here.
What are popular flavors for dessert dips?
Popular flavors include chocolate chip, peanut butter, cookie dough, cheesecake, and fruit-based dips like lemon, strawberry, or key lime.
What can you dip into dessert dips?
I like to use just about anything, including a spoon or my finger, but here are my favorite dippers:
Fresh fruit
Cookies (Chocolate Chip cookies, or other cookies)
Pretzels
Graham crackers
Brownies
Animal crackers
Vanilla wafers
Marshmallows
You can dip fresh fruits (like strawberries or apple slices), cookies, pretzels, graham crackers, marshmallows, or even brownie bites.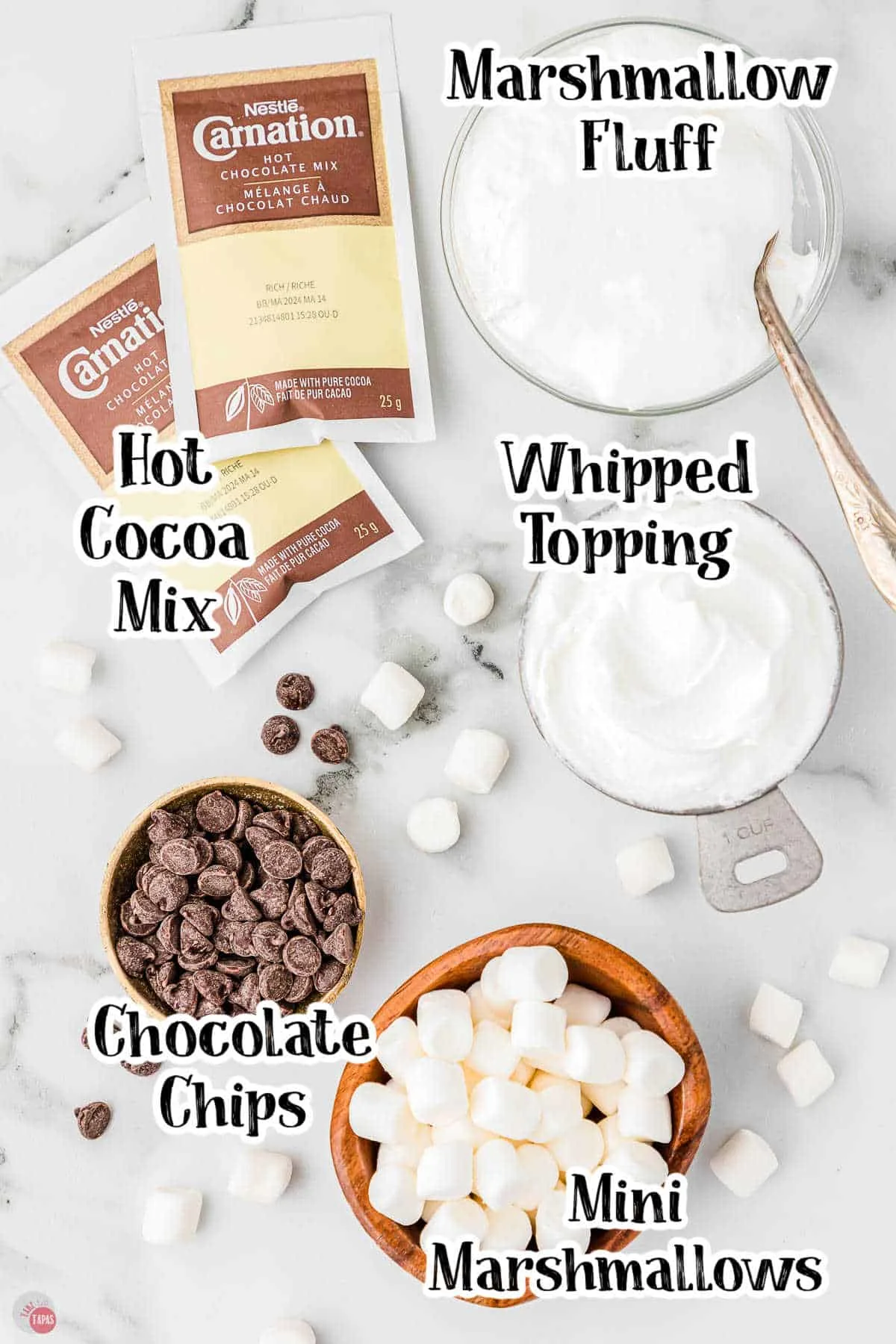 How long can they sit out?
Since most of the recipes have a dairy base like cream cheese or whipped cream, I don't recommend leaving them at room temperature for more than an hour. If you need to have them out longer, I recommend placing the serving bowl on ice or another chilled serving platter.
How long do they last?
Most dessert dips can be stored in an airtight container in the refrigerator for 3-5 days.
Can you make them ahead of time?
Absolutely! Many dessert dips can be made a day or two in advance, making them perfect for gatherings or events.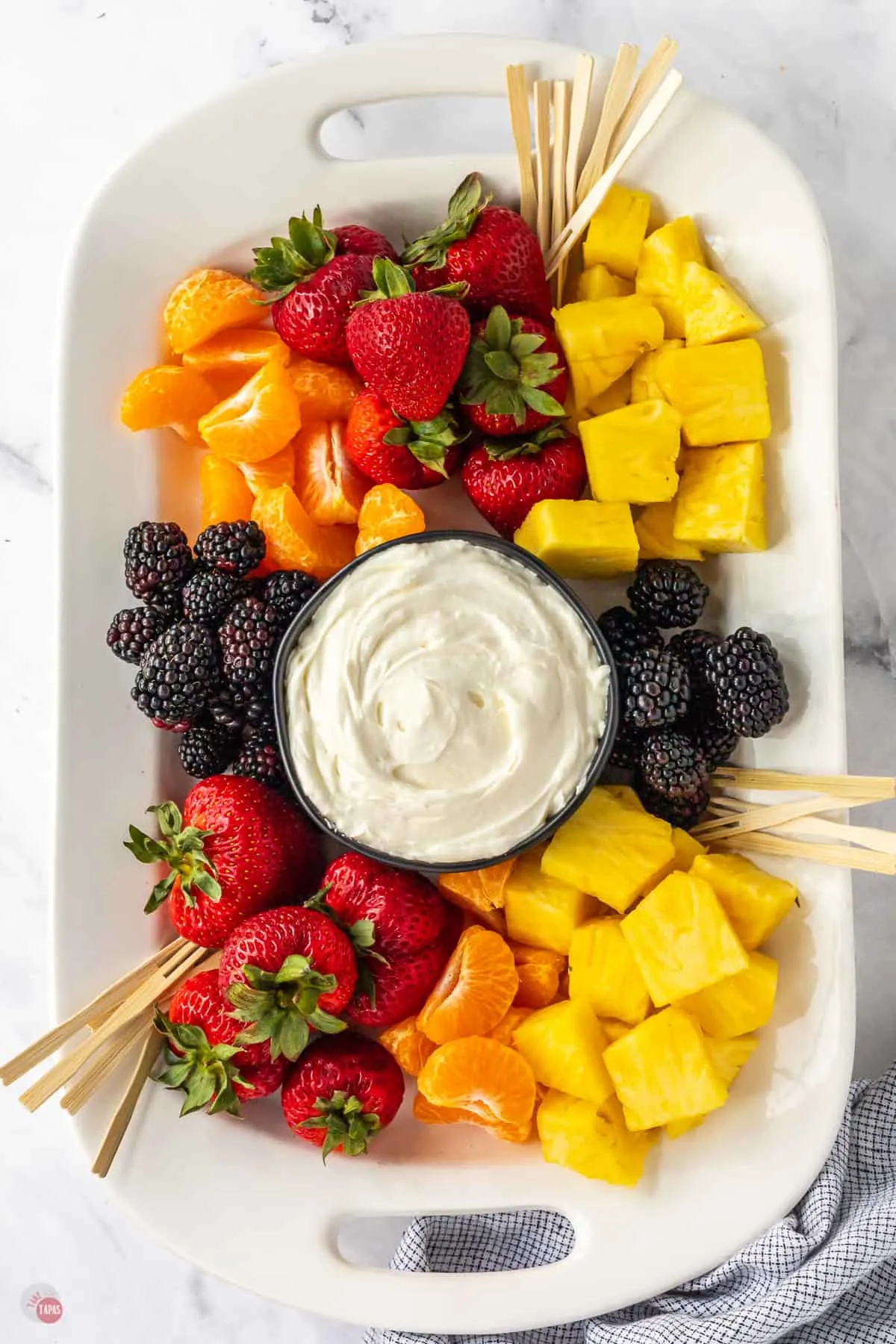 Can I make dessert dips healthier?
Yes, many dessert dips can be made using Greek yogurt or low-fat cream cheese as a base. You can also incorporate fresh fruits and natural sweeteners to cut down on sugar.
Serve them with fresh fruit instead of cookies and other sweet crackers.
Where to Serve Sweet Dip Recipes
baby showers
hot summer days
bridal showers
after school snacks
game day
holiday parties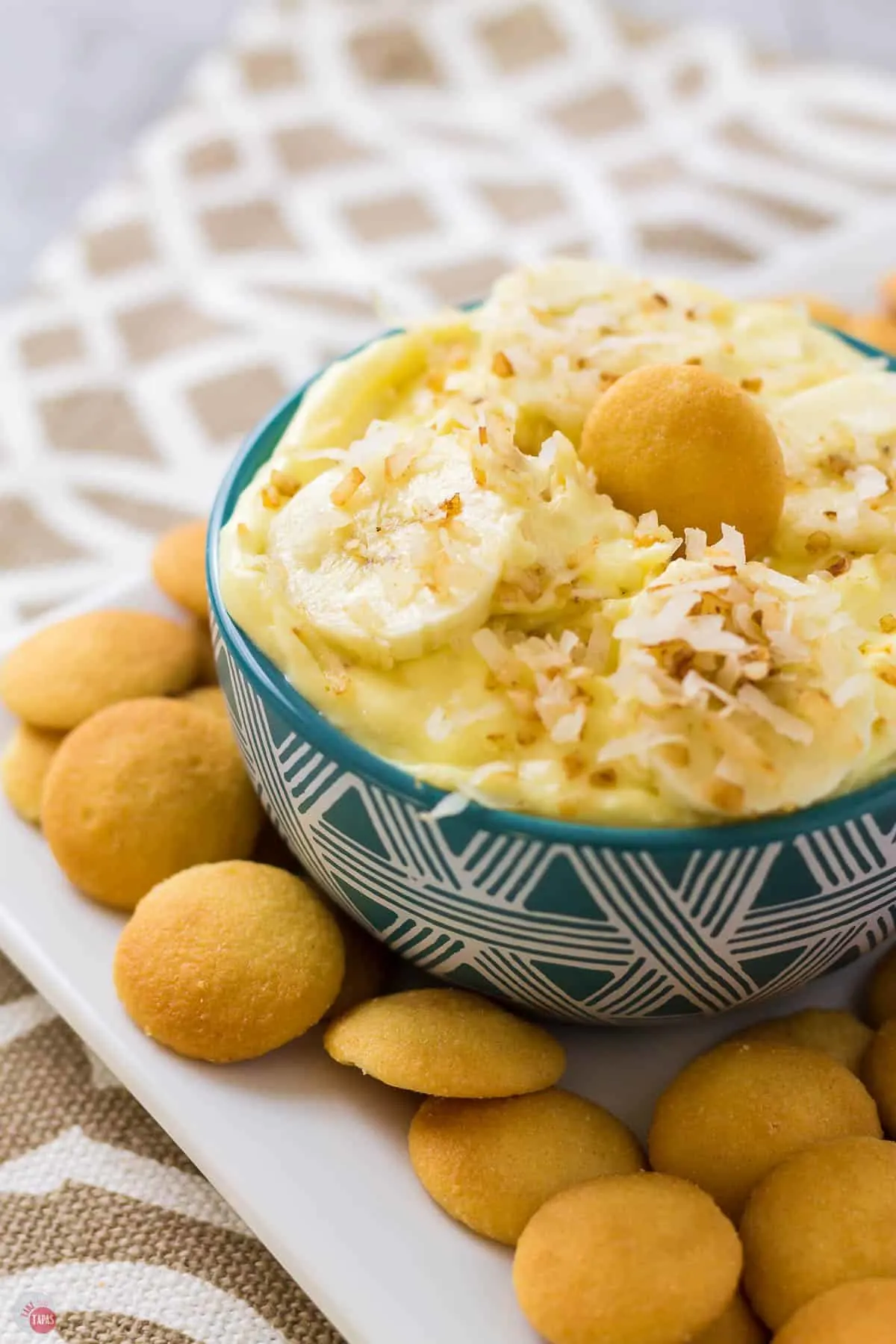 Easy Dessert Dip Recipes
This Banana Cream Pie Dip is exactly the dessert dip you are looking for! Creamy, full of banana flavor, and topped with crunchy toasted coconut.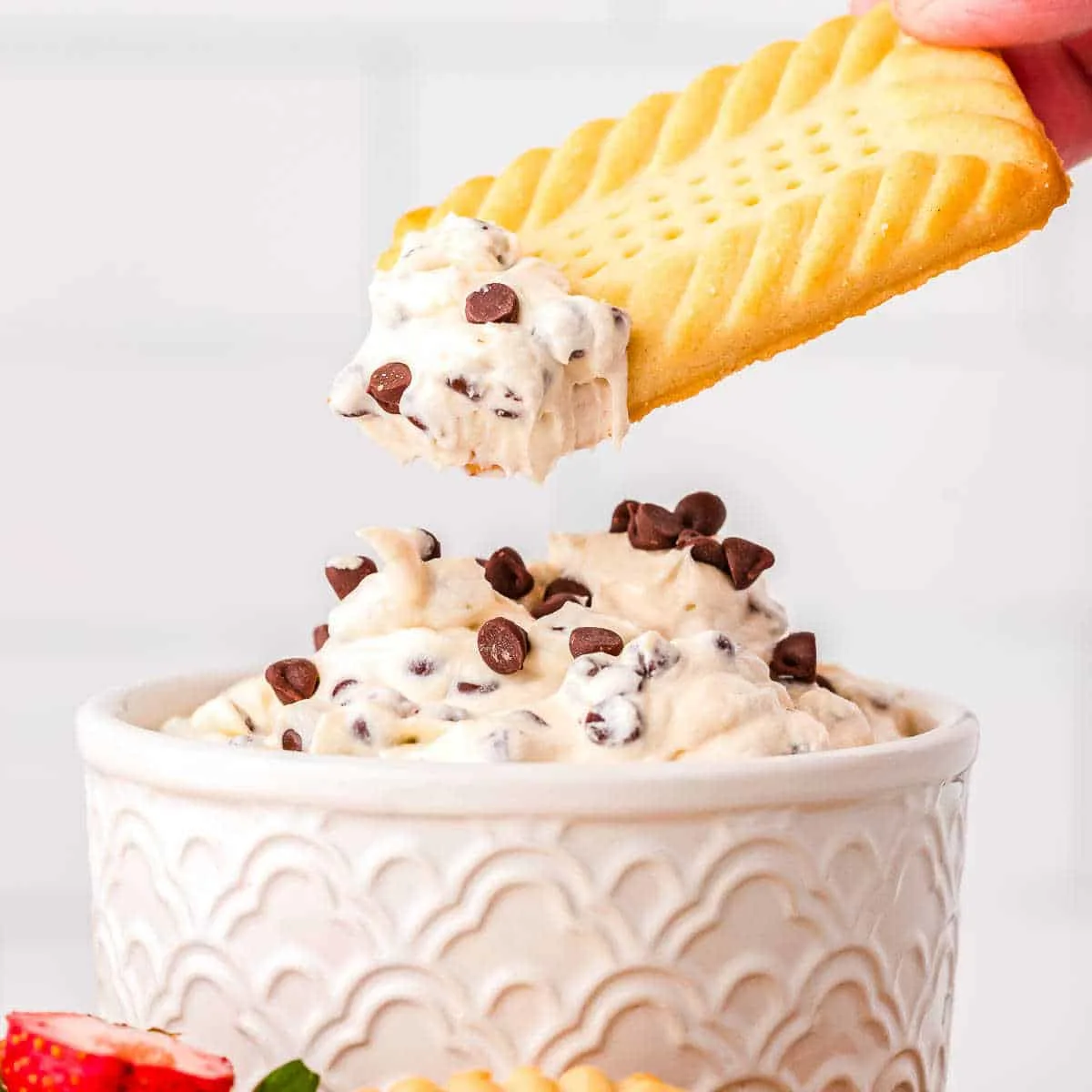 If you're in the mood for an insanely delicious snack, this creamy dip is for you! Booty Dip is a fast and easy no bake dessert to throw together for your next gathering, or maybe just for you.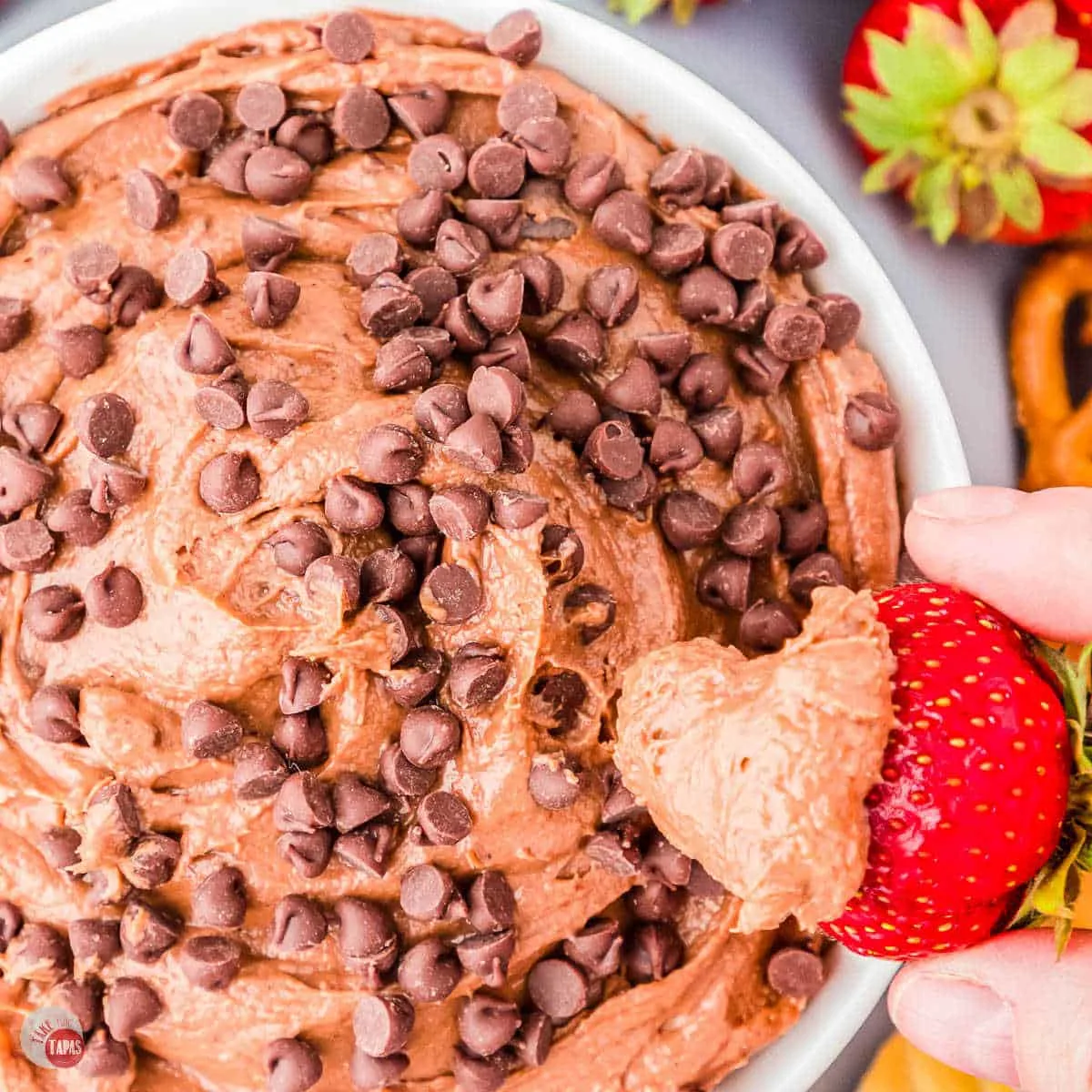 If you're in charge of bringing the sweets to the next party you attend, look no further – this Brownie Batter Dip Recipe will have everyone scraping the bottom of the bowl.
It's an easy recipe to make when you're looking for a quick sweet fix!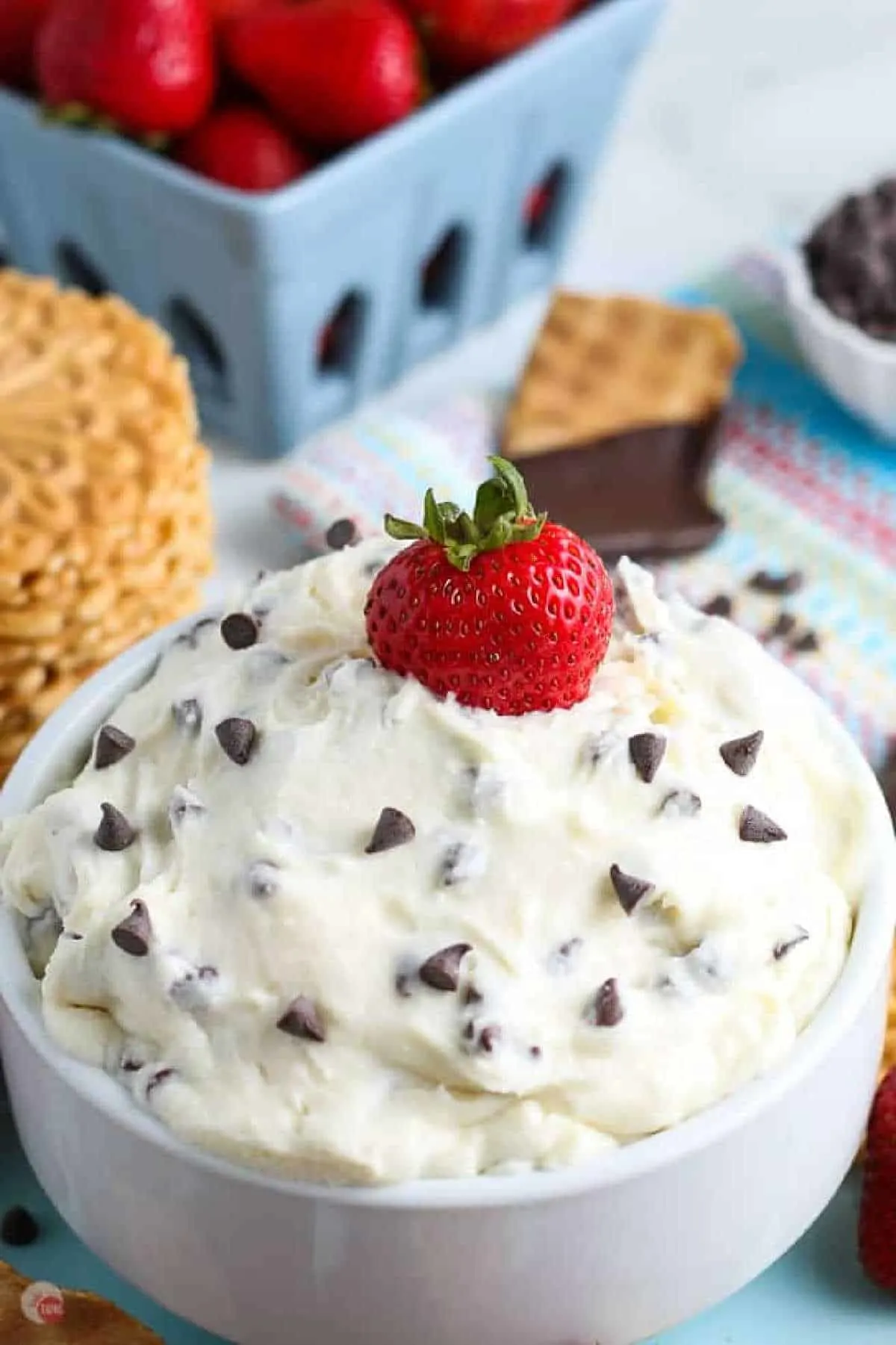 Holy Cannoli THIS IS GOOD! Made with cream cheese, ricotta and a few sweet additions, the best cannoli dip is made in just 10 minutes.
Served with waffle cones, fresh fruit, or top on Belgian waffles for the ultimate in brunch foods.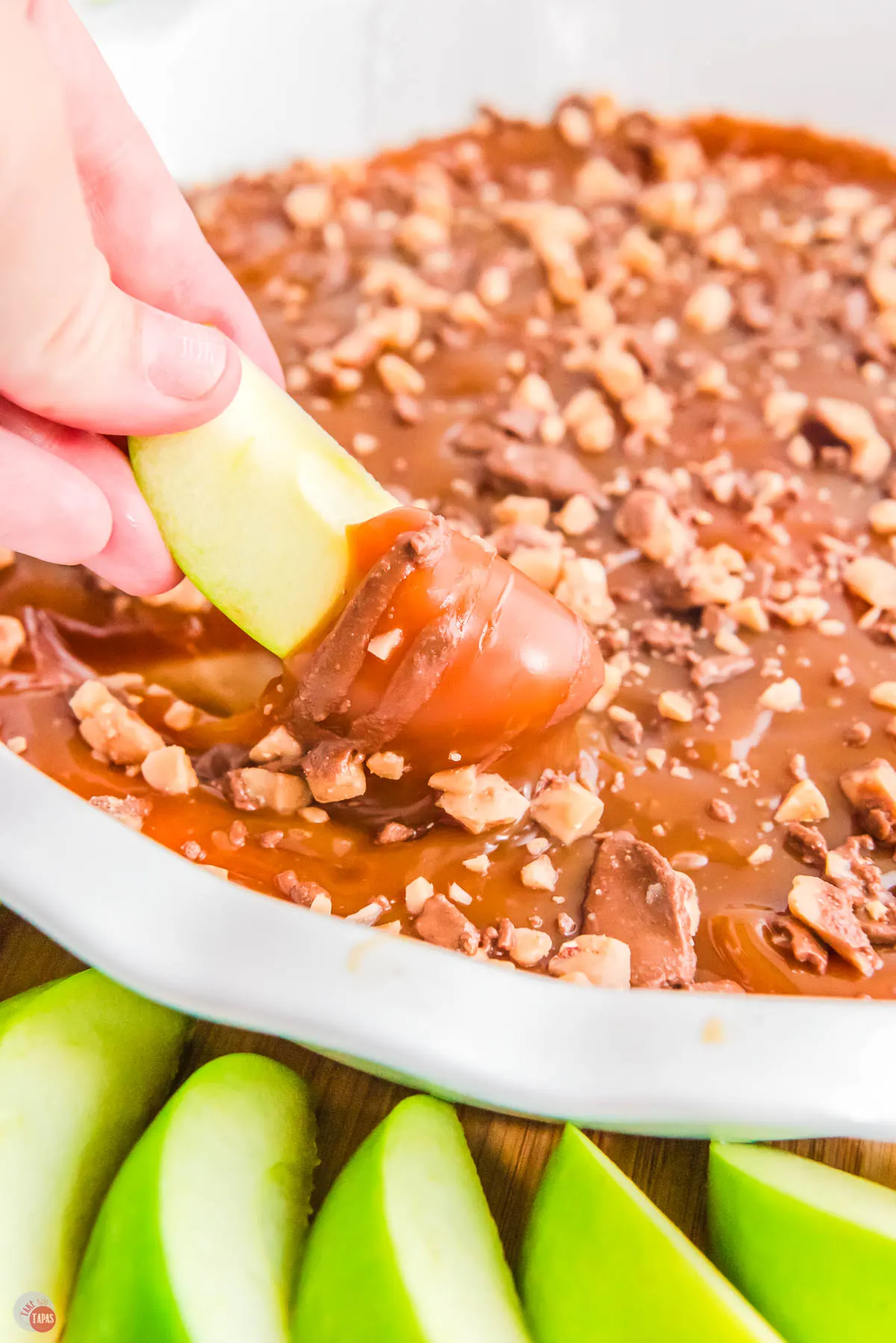 This easy caramel apple dip recipe is the best way to get the delicious flavor of caramel apples we all love but without all the mess. It's definitely easier to eat too!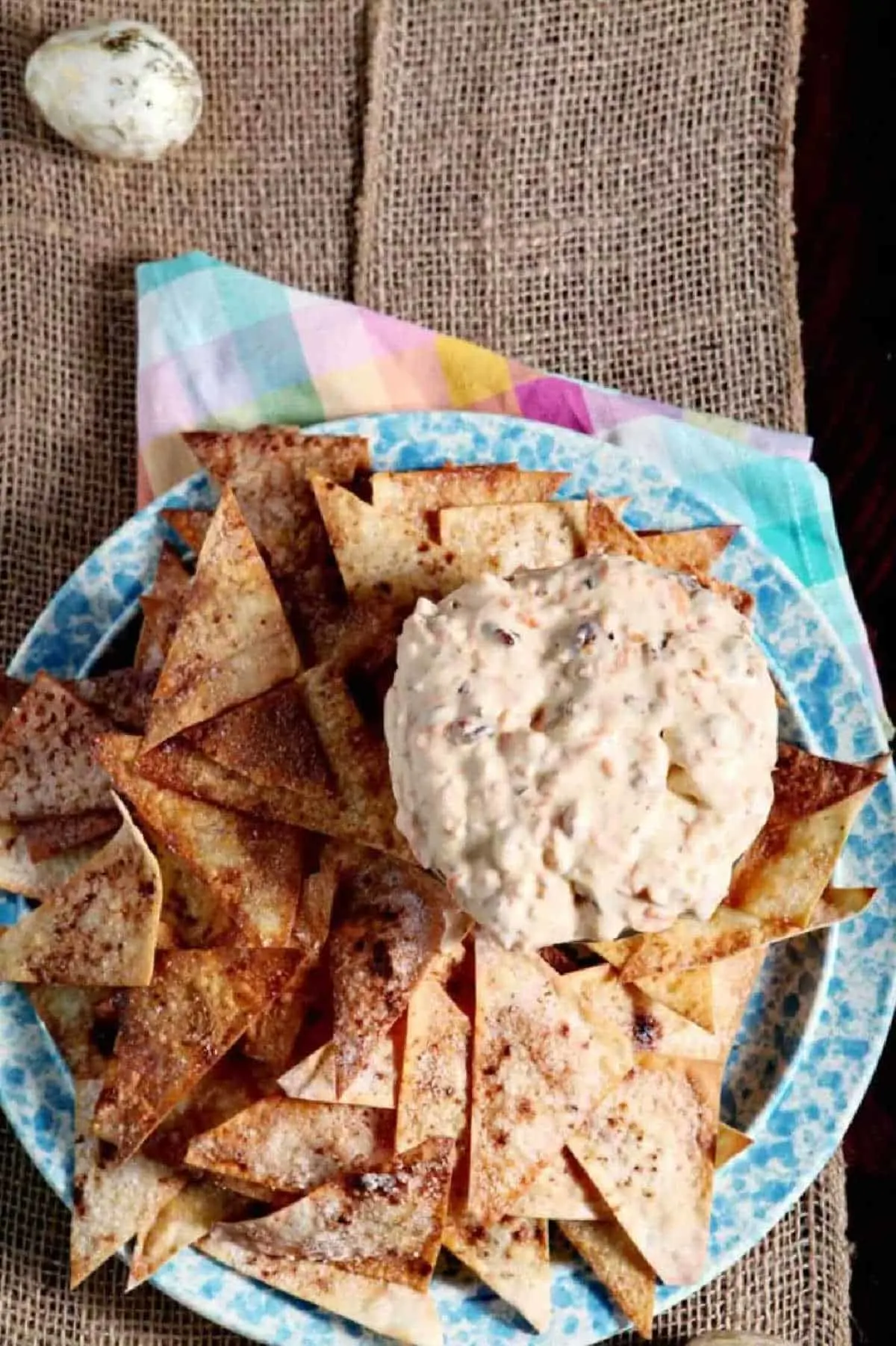 This Carrot Cake Dip for the ultimate springtime sweet treat that's perfect an Easter get-together!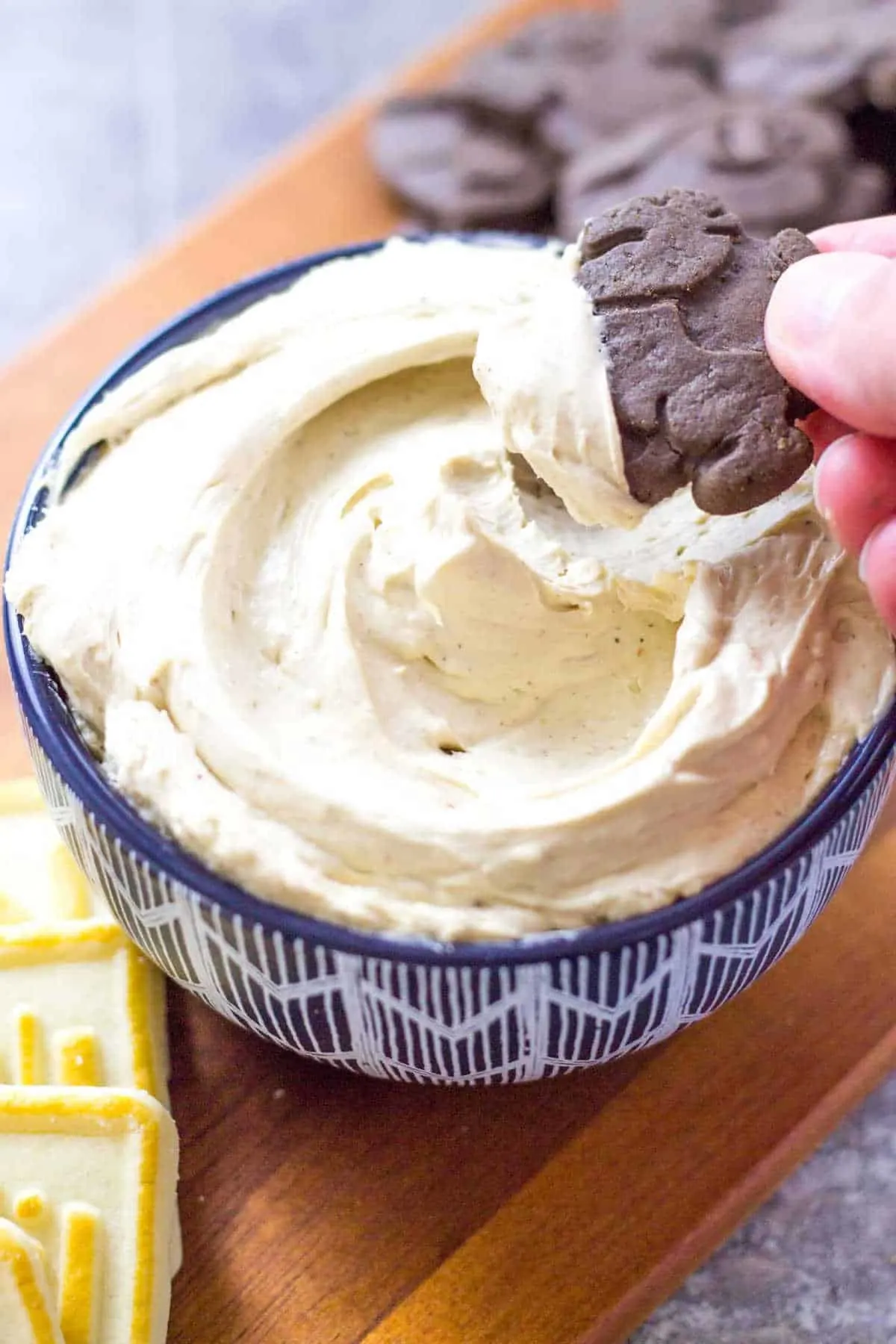 Enjoy a morning cup of Joe but in a fun dessert. This Chai Latte Dip is creamy, spicy, with a hint of coffee and will make your afternoons and evenings just as nice as your mornings!
Cheesecake Dip tastes exactly like cheesecake… without the need to bake a single thing. Creamy, tart and balanced, this dessert dip calls for just FOUR ingredients.
Pair it with your favorite dippers—Graham crackers, fruit, pretzels and more—to serve. It's ready in less than 10 minutes, too, so it's great for easy entertaining for both kids and adults.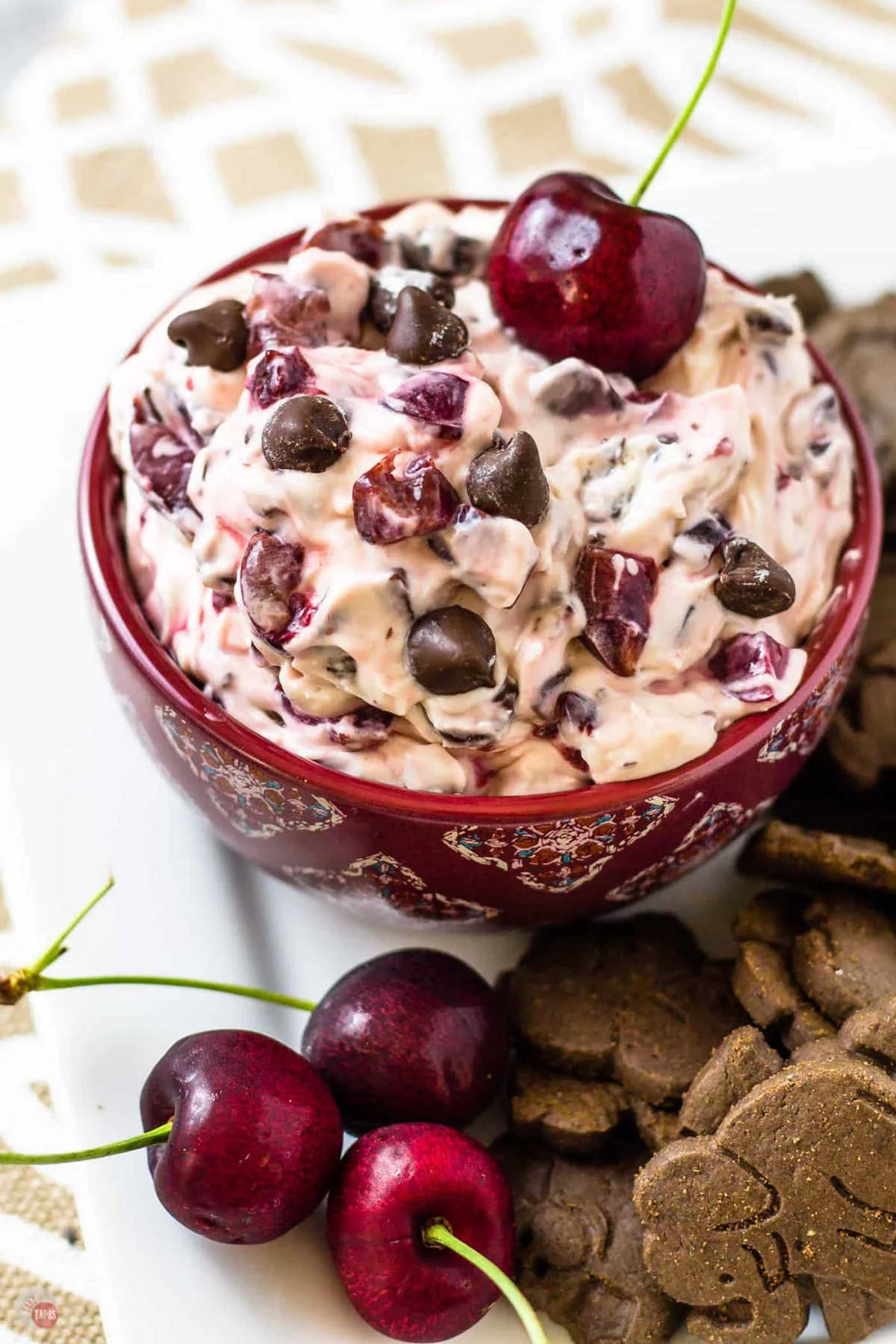 Cherry Garcia Dip will have you enjoying your favorite ice cream flavor full of tart cherries, dark chocolate chips, and a hint of amaretto!
All combined in a creamy vanilla cream cheese base and served with chocolate cookies for the perfect dessert or party food.
I make Cherry Pretzel Salad Dip when I am craving something cherry and a little less time-consuming than a traditional Strawberry Pretzel Salad. It is totally Dippable and Inhalable!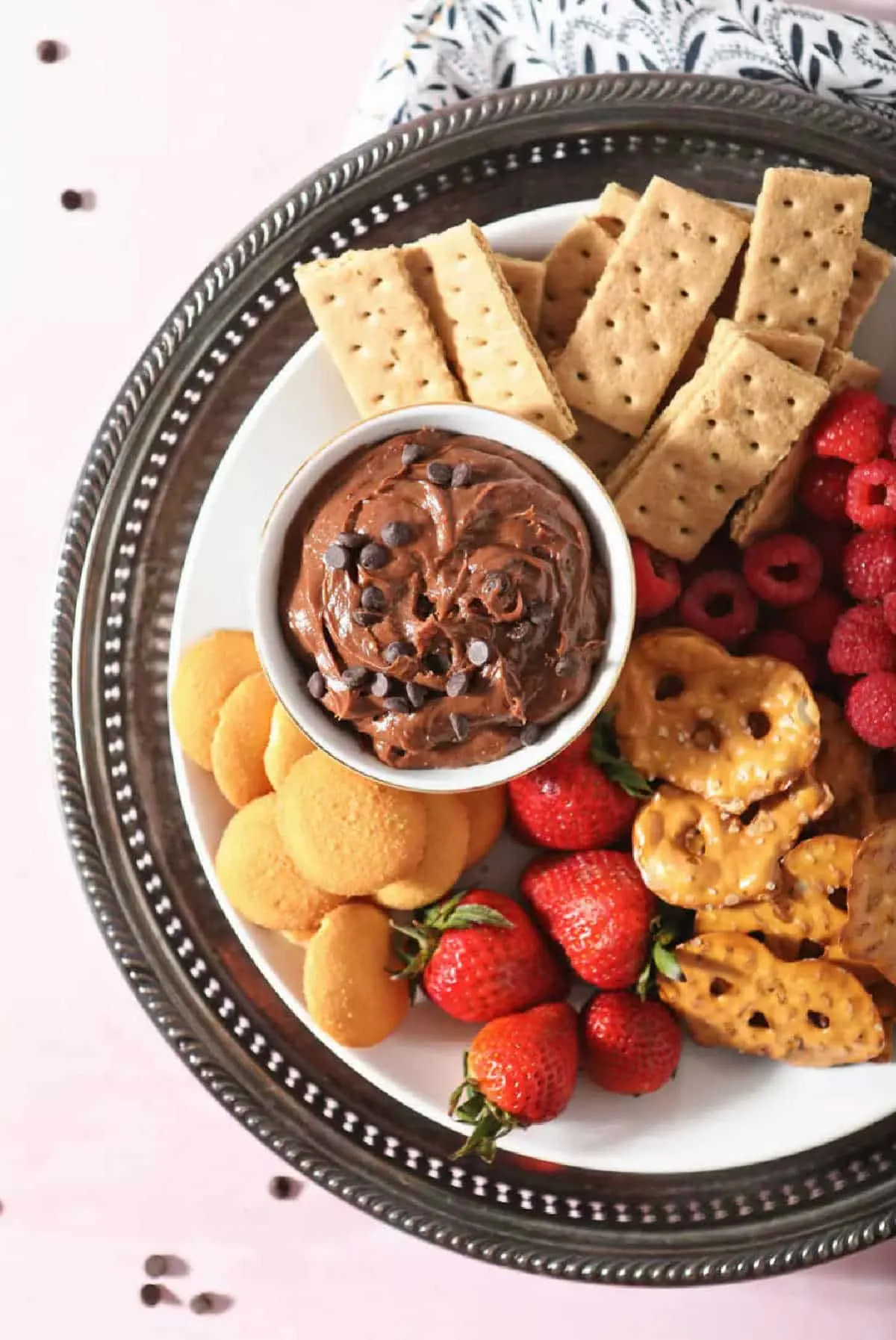 Chocolate Cheesecake Dip is a tart and creamy chocolate dip. Blend just four ingredients together and serve with your favorite dippers to make the ultimate chocolate fruit dip.
If you want an easy no bake dessert for a gathering, this is it! Makes 6-8 servings, but can easily be doubled.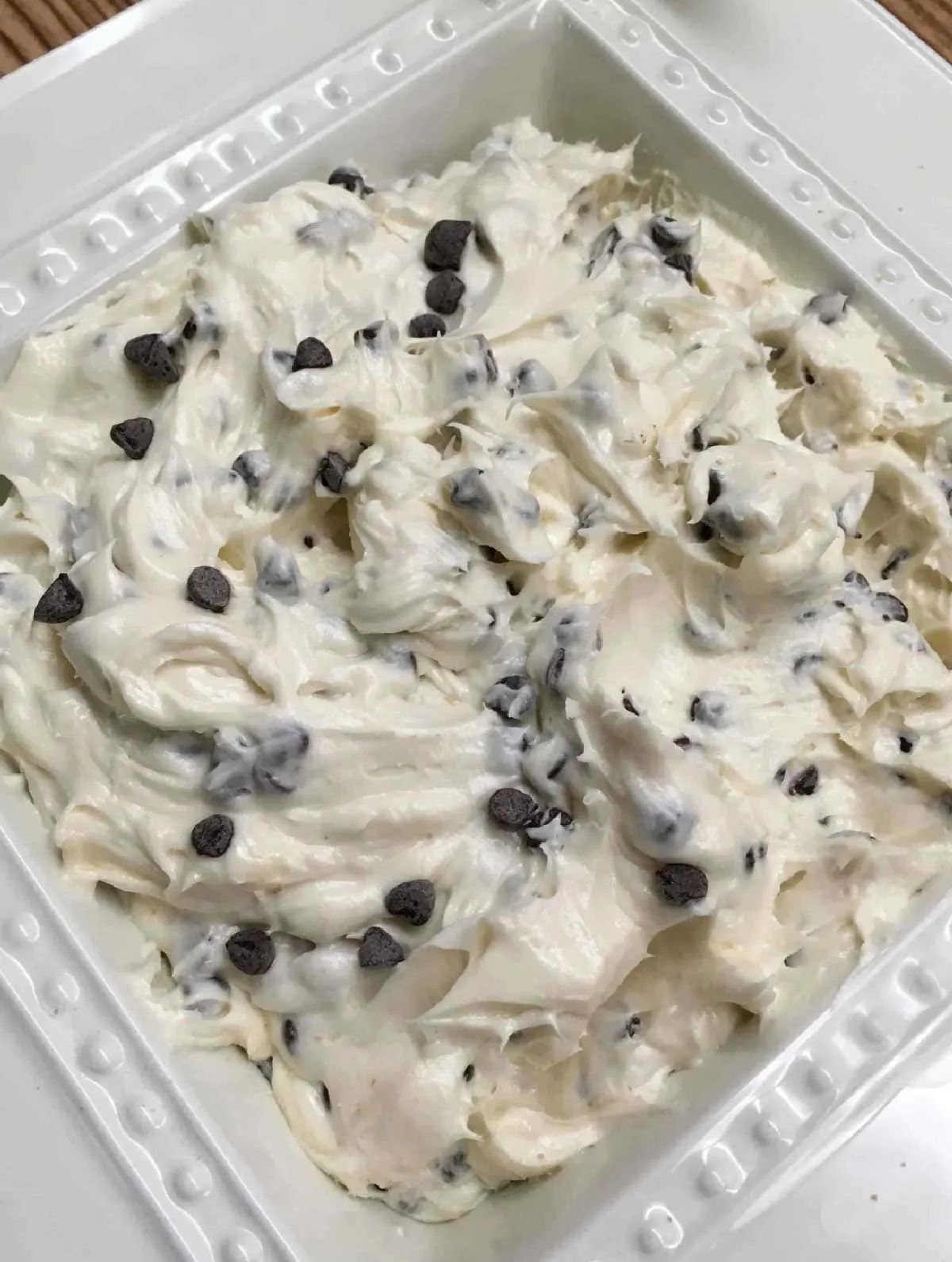 Easy and creamy chocolate chip dip is made with creamy and rich ingredients for a delicious treat that everyone at your party will love and remember.
This easy, homemade Chocolate Dunkaroo Dip only uses 3 ingredients and it's just as tasty as what you remember from childhood!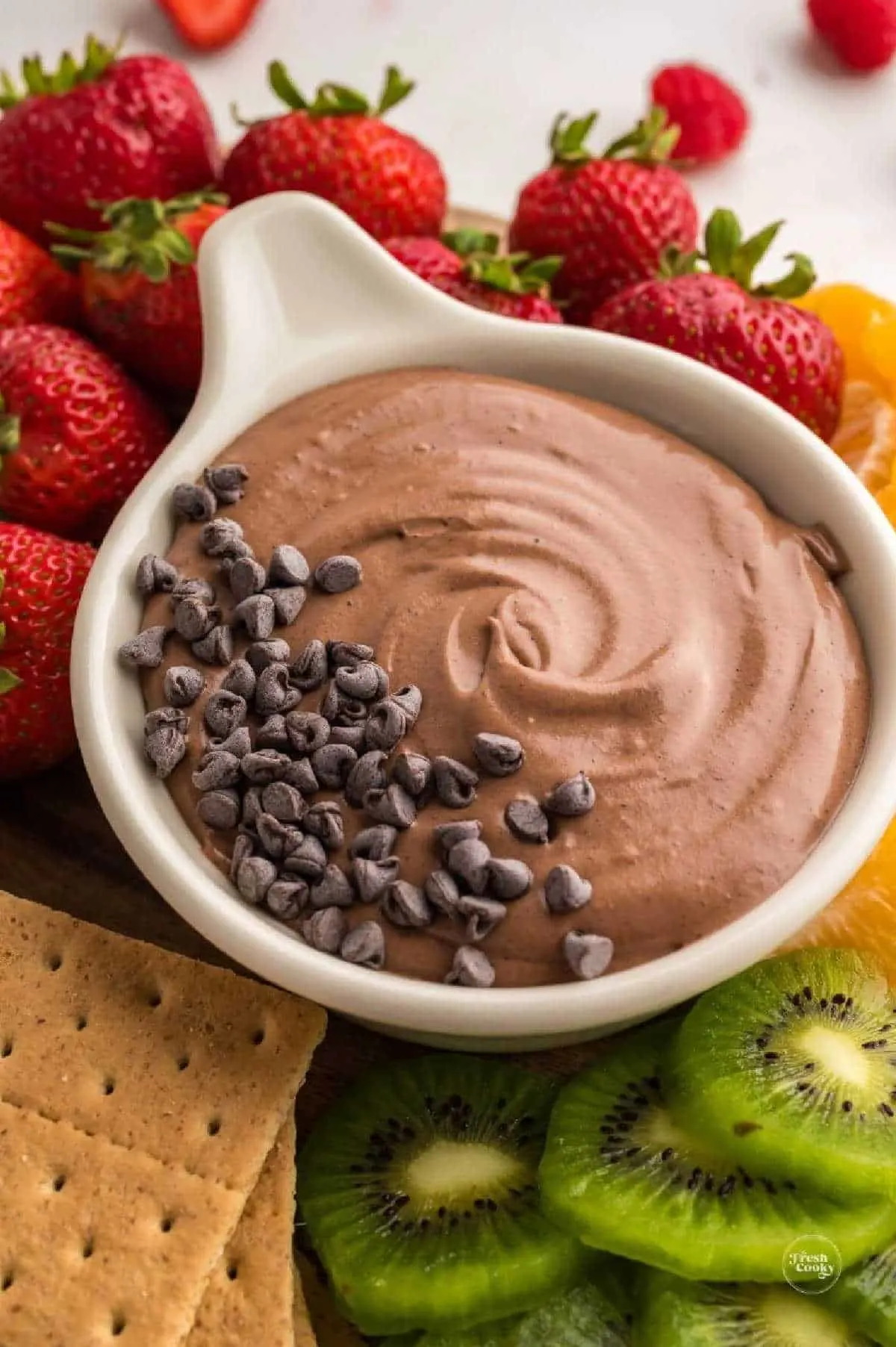 This easy 4-ingredient chocolate fruit dip recipe is made without Cool Whip or marshmallow fluff, is lower in sugar and doesn't compromise on flavor.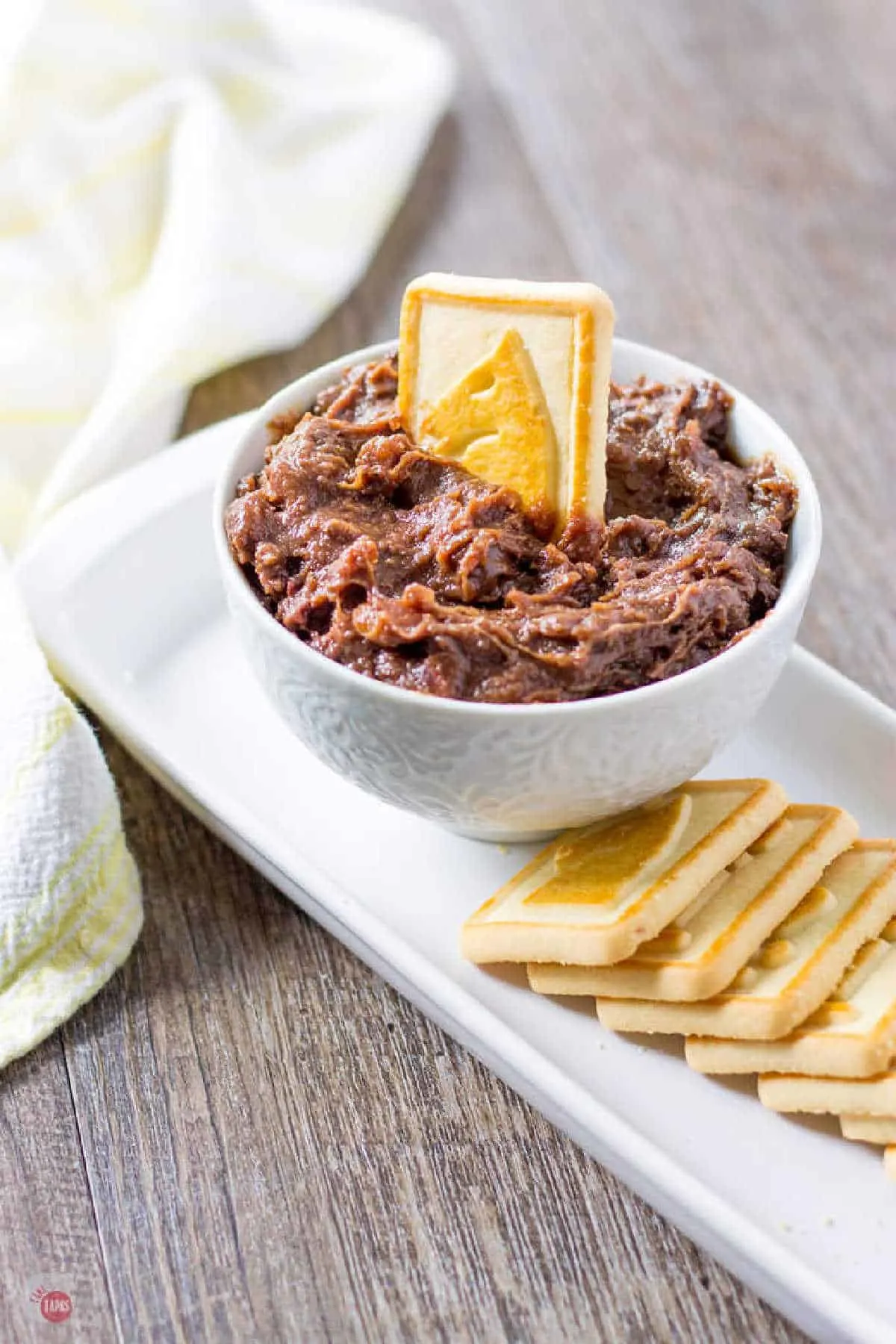 The world-famous Kentucky Derby Pie made with pecans, chocolate, and bourbon is now Derby Pie Dip. Serve with shortbread cookies and it will be just like pie only easier to eat!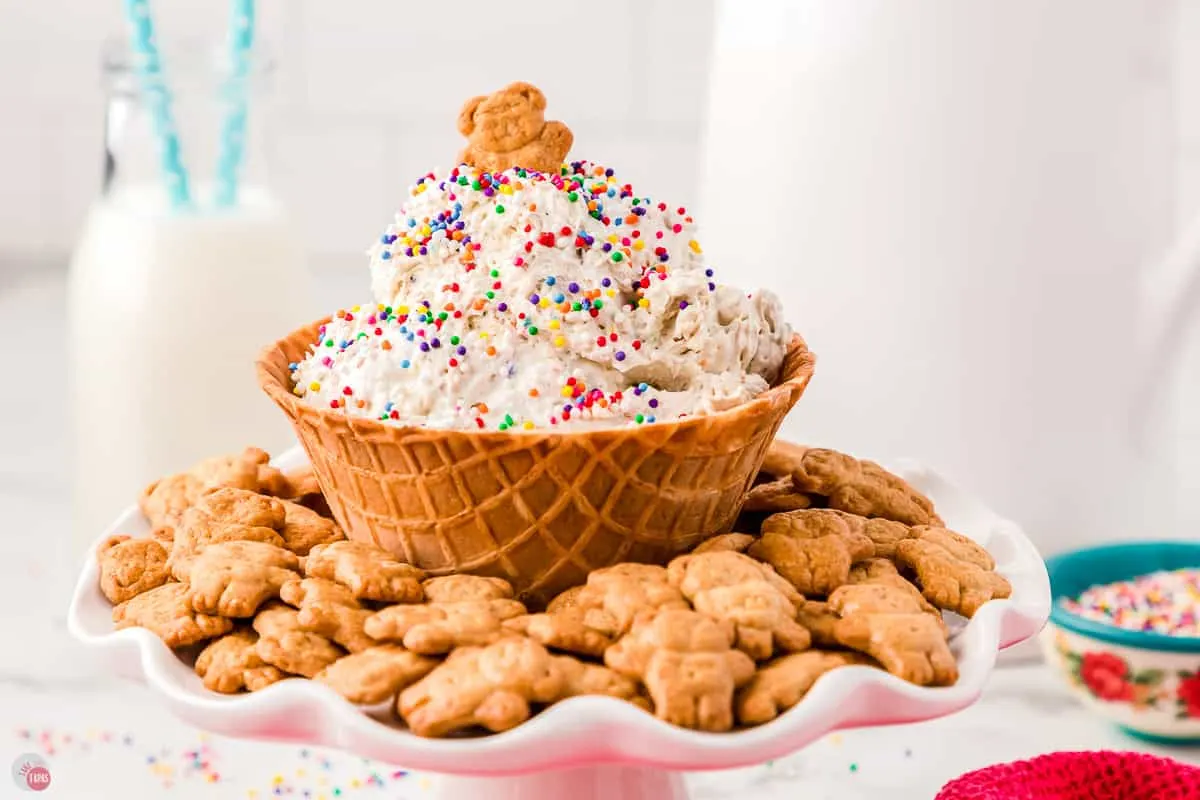 Birthday parties aren't complete without this sweet, delicious Dunkaroo Dip to grab and go! This popular snack is a home run for all get togethers; say hello to your favorite plus-one to any baby shower, brunch, or kiddie play dates.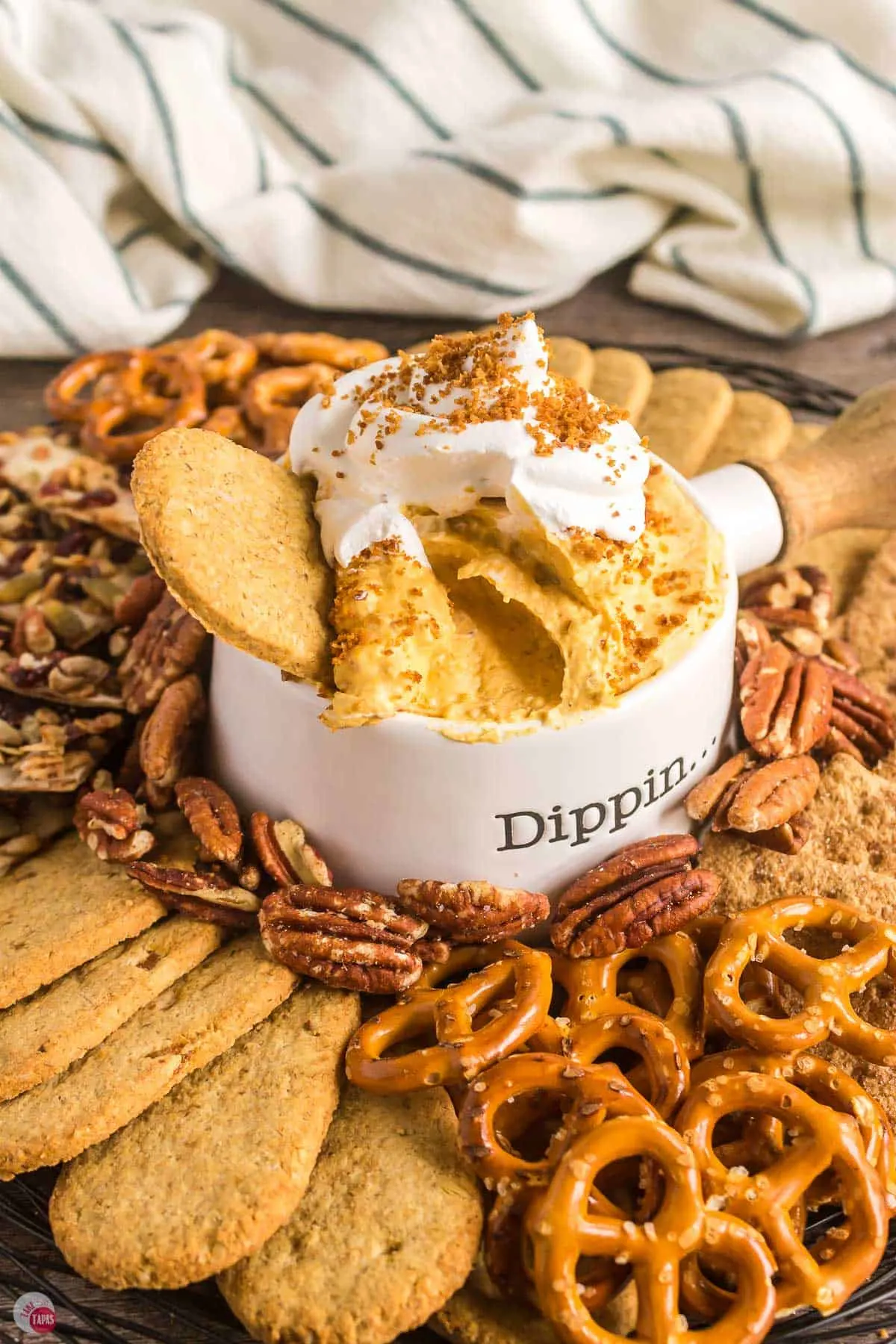 Pumpkin Fluff Dip is the perfect Fall party appetizer! Sweet and Creamy, it tastes like a pumpkin pie. Mixed with gooey marshmallow cream, fluffy cool whip, and topped with nutty & toasty graham cookies!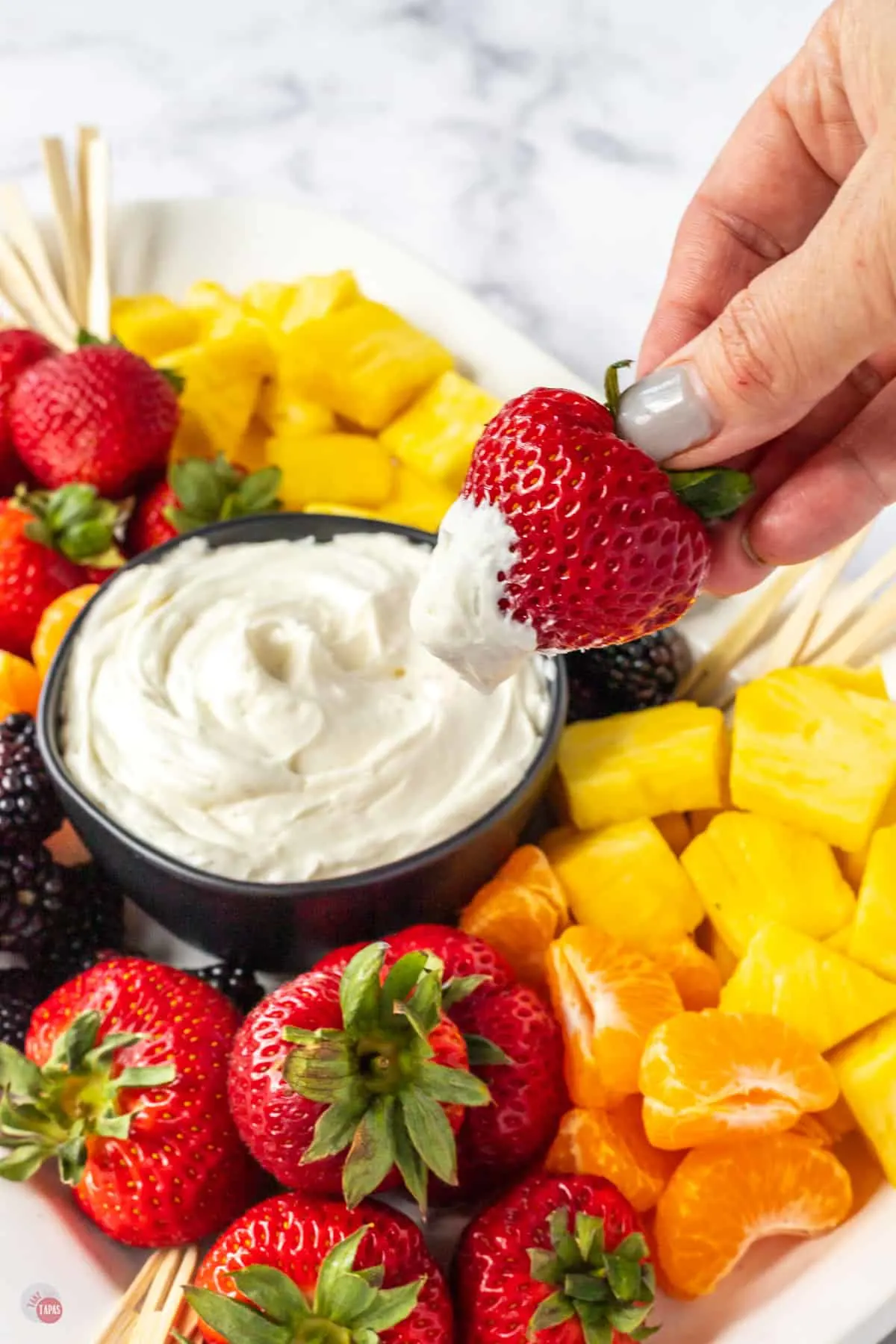 The perfect complement to fresh fruit is The Best Fruit Dip Ever. It's light, fluffy, sweet, and creamy; perfect for a party!
This Funfetti Dip is an amazing 4 ingredient dip that is perfect for a party! This dip has the great taste of cake batter and is perfect with pretzels, cookies, or fruit.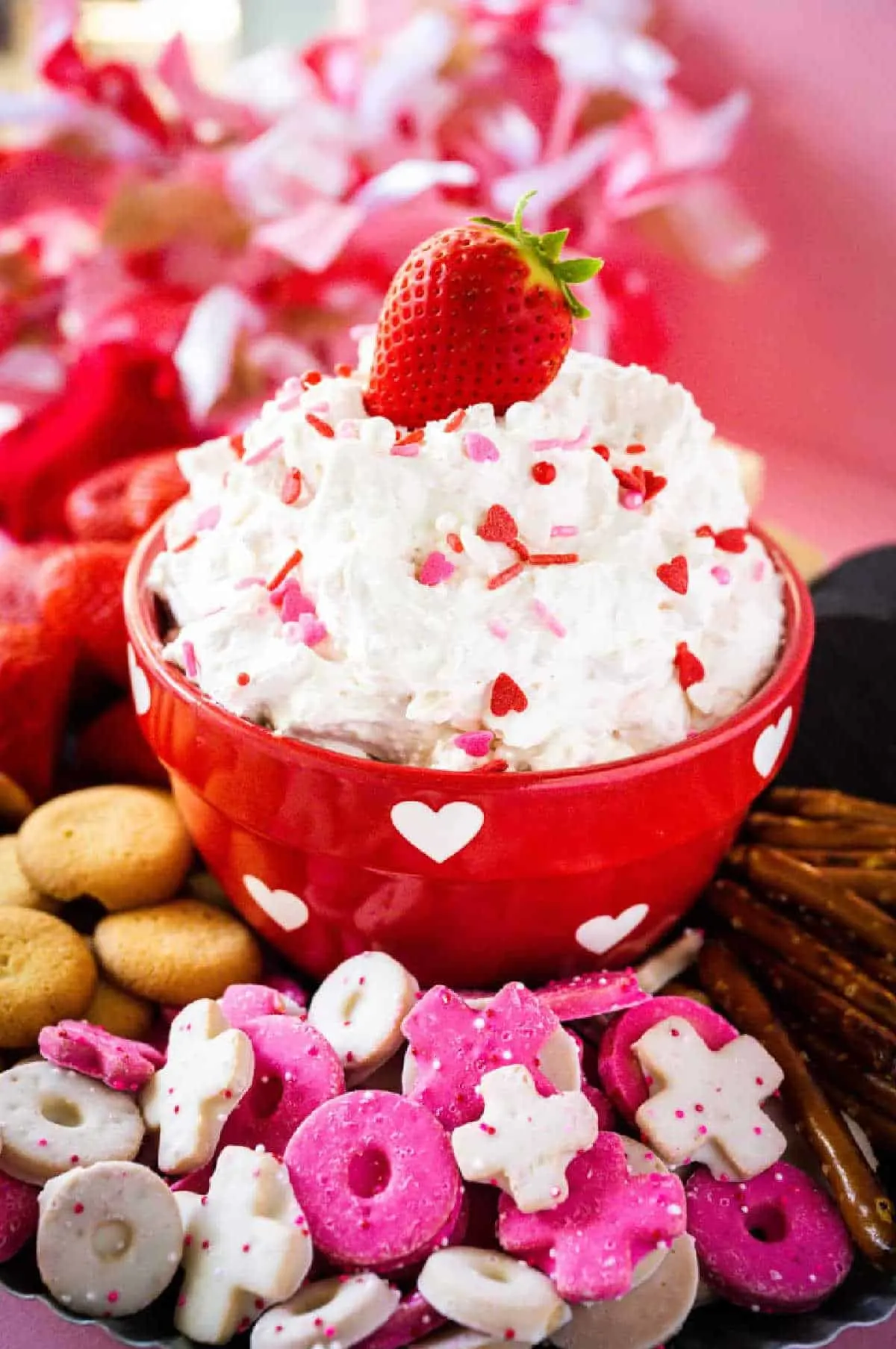 This Heart Snack Cake Valentine's Day Dip is an irresistible dessert dip made in less than 10 minutes and with 5 simple ingredients.
This delicious dip has all the flavors of a Valentine's Little Debbie snack cake combined with fluffy cheesecake for a combo you can't resist.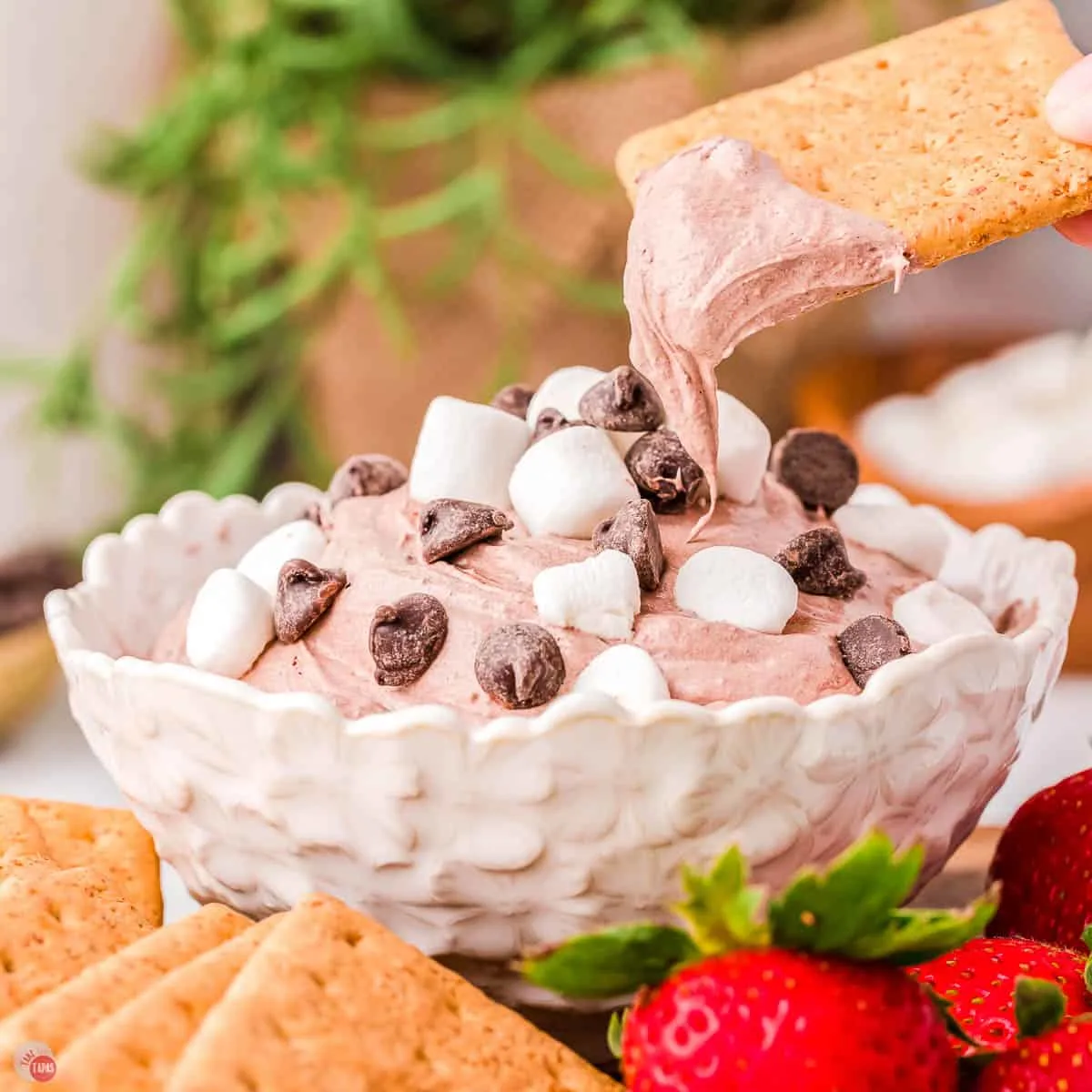 With 3 simple ingredients, you can put this easy hot cocoa dip recipe together in no time flat. This festive dessert dip is perfect for holiday parties or a winter afternoon.
What a fun way to eat your hot cocoa and topped with mini marshmallows!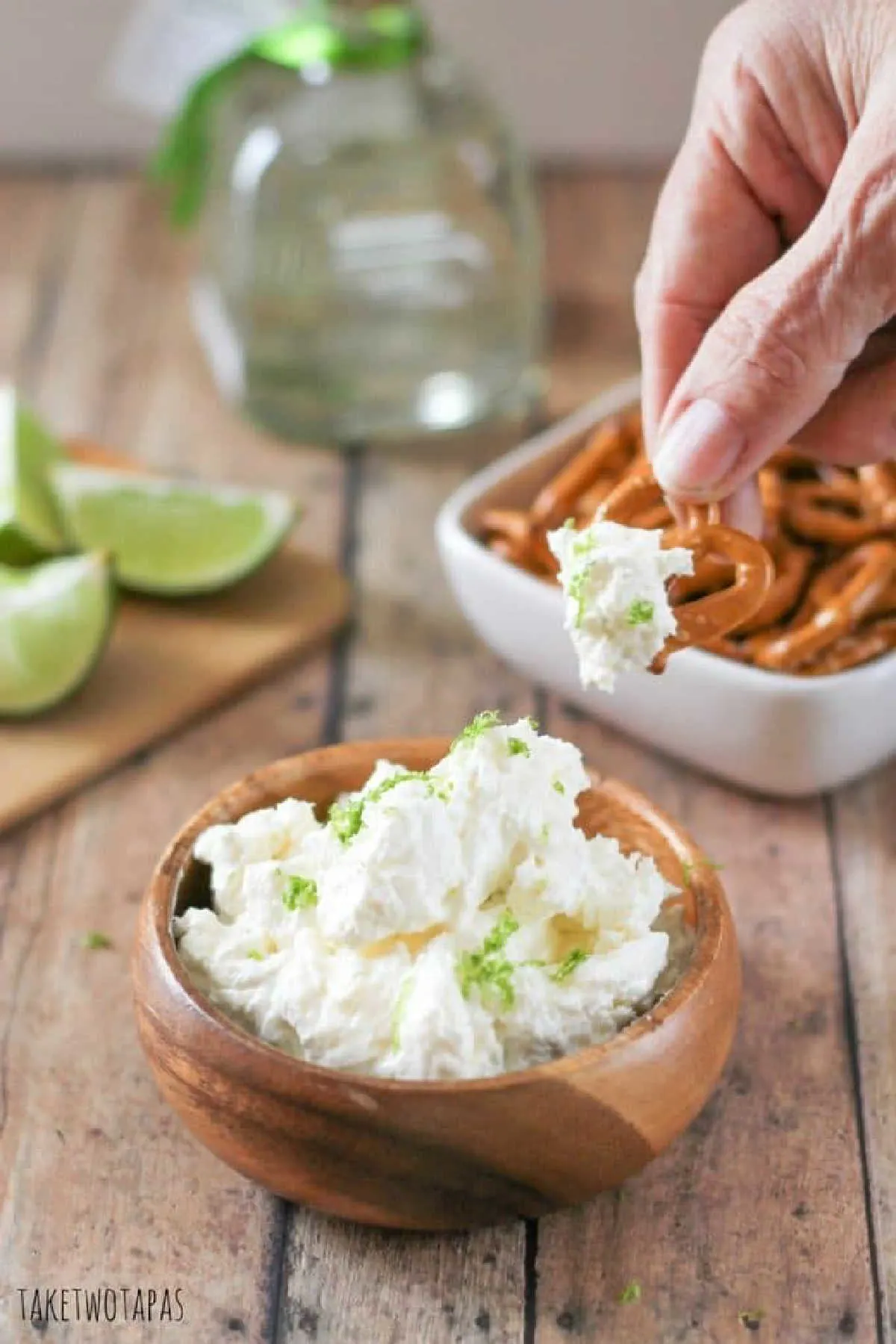 Who doesn't love margaritas?!? What if you could have one of your favorite cocktails in a dip? Now you can!
This bright and creamy margarita dip is full of the flavors of lime and tequila and the perfect amount of salt when served on top of a salted pretzel!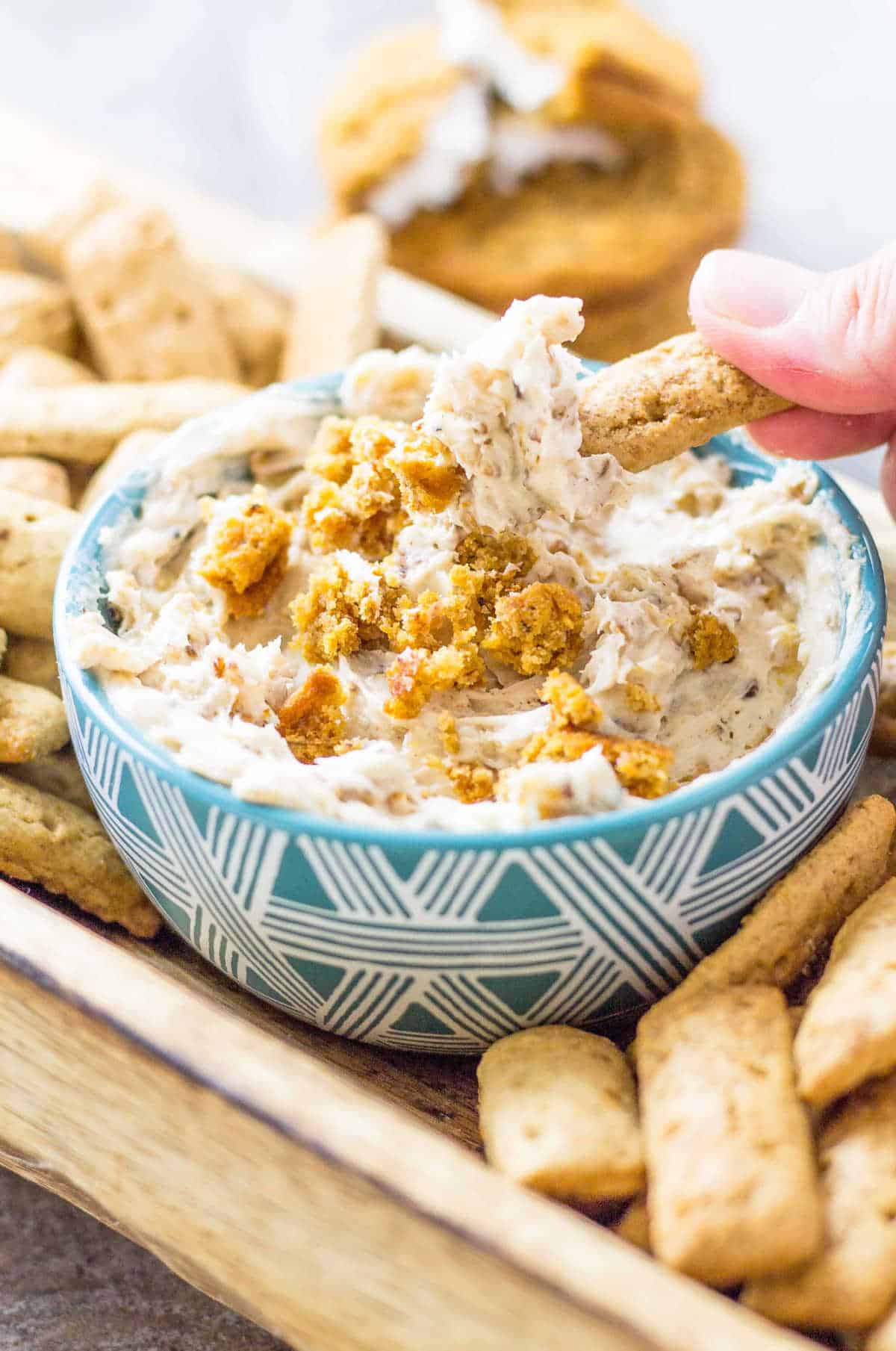 Oatmeal Cream Pie Dip is a modern twist on a lunchbox cookie favorite. Take a walk down memory lane with this creamy dip!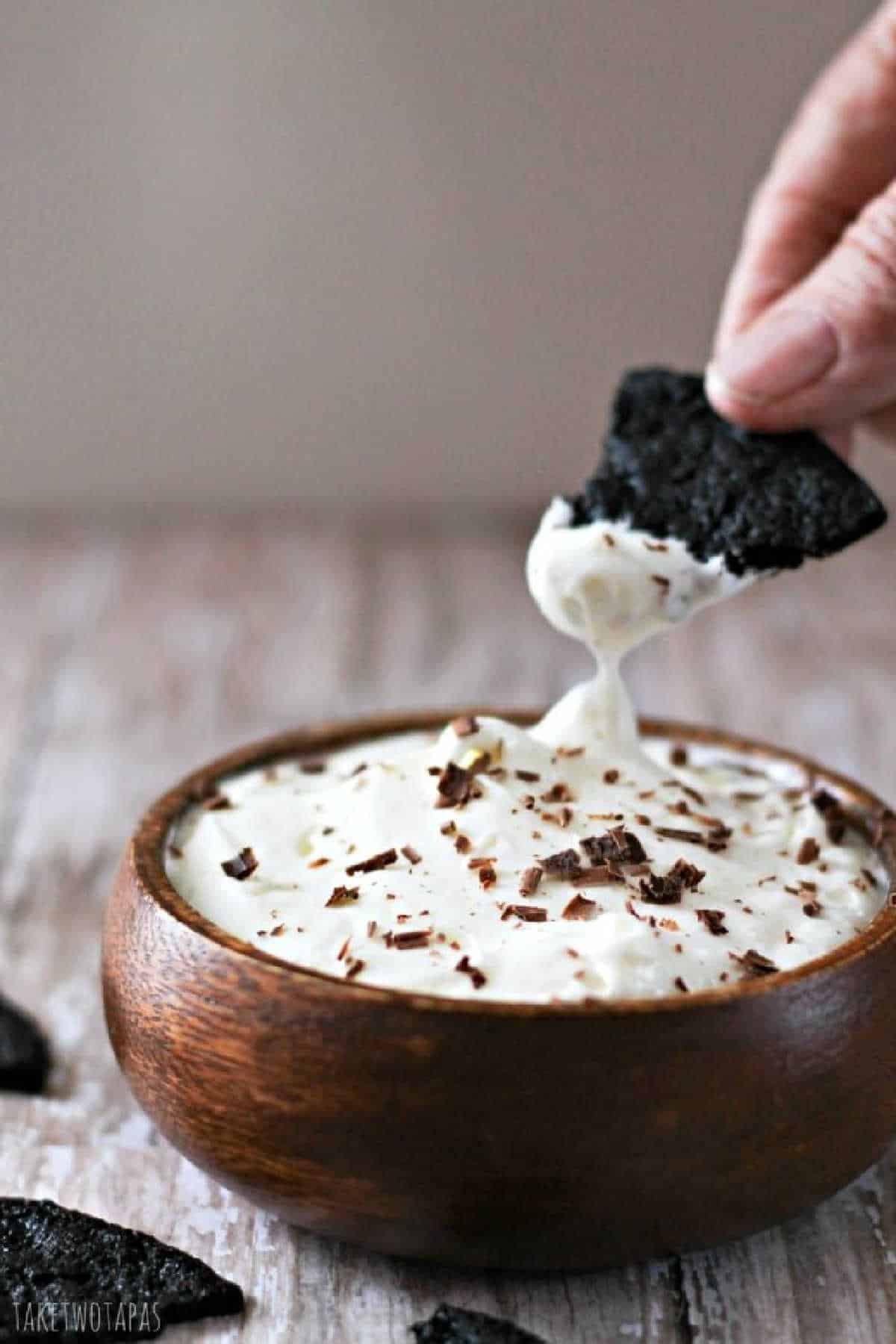 Oreo Cookies are the perfect combination of chocolate cookies and minty cream filling! Now the great flavors of the Oreo cookie are combined with cream cheese to make a delicious dip that will remind you of Oreo cookies and milk.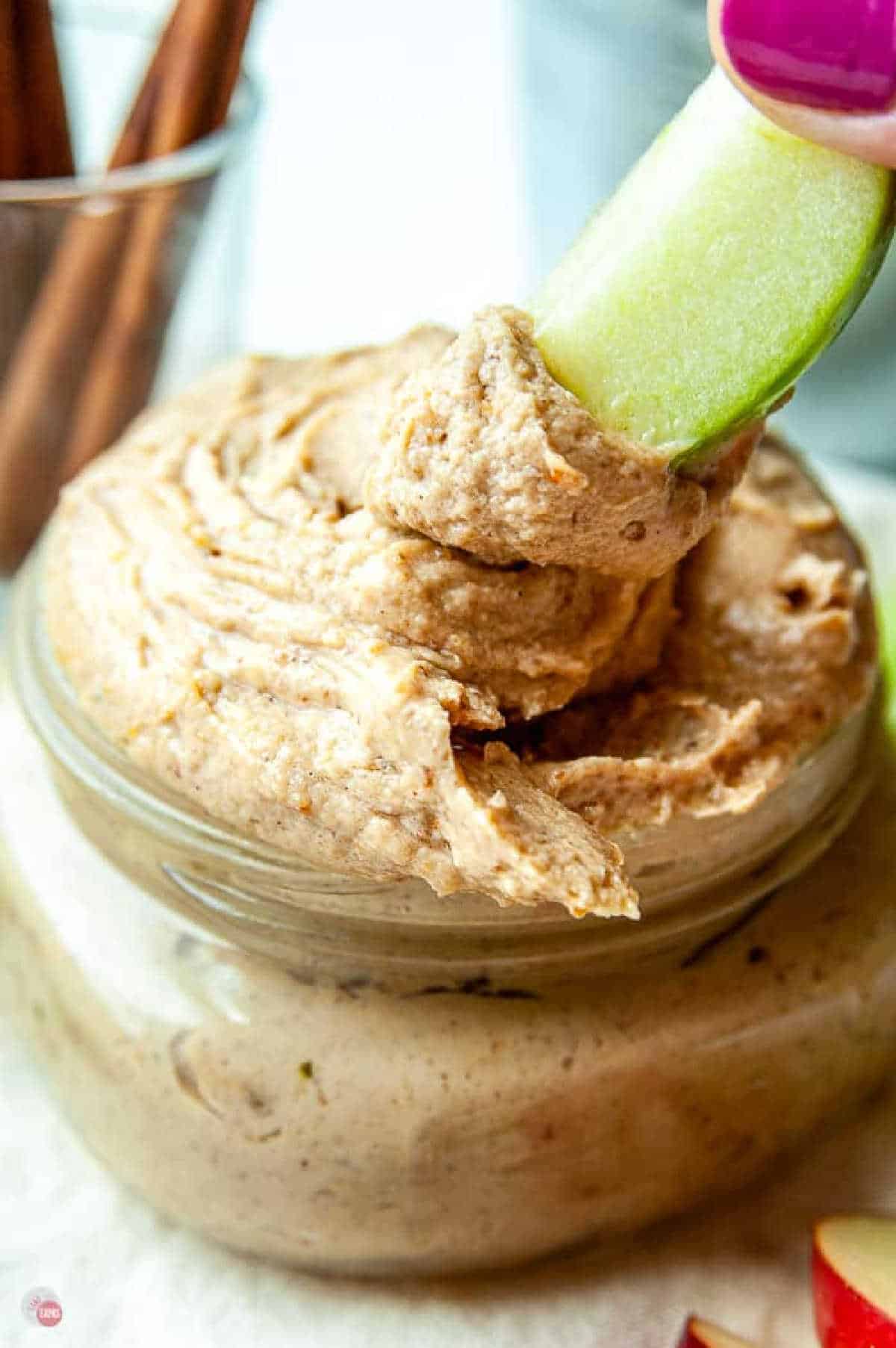 Peanut Butter Dip is the perfect dip for apple slices, cookies, crackers, or even spread on pancakes and waffles.
Sweet, nutty, and a hint of salt, this fruit dip will be your new favorite snack and made in less than 5 minutes.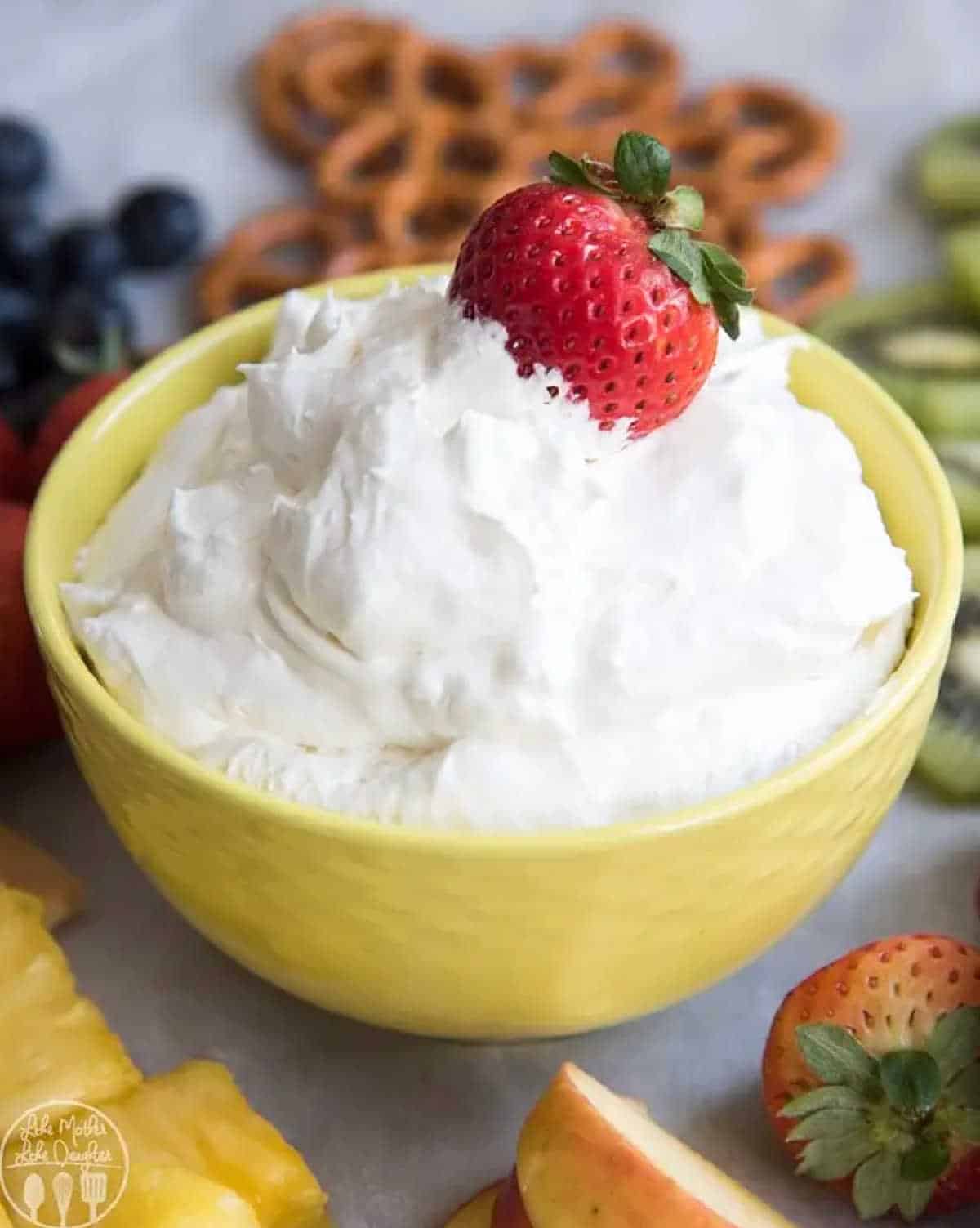 This piña colada fruit dip combines the great piña colada flavors of coconut and pineapple, along with cream cheese and cool whip for a sweet fruit dip, perfect for a snack or serving at a party.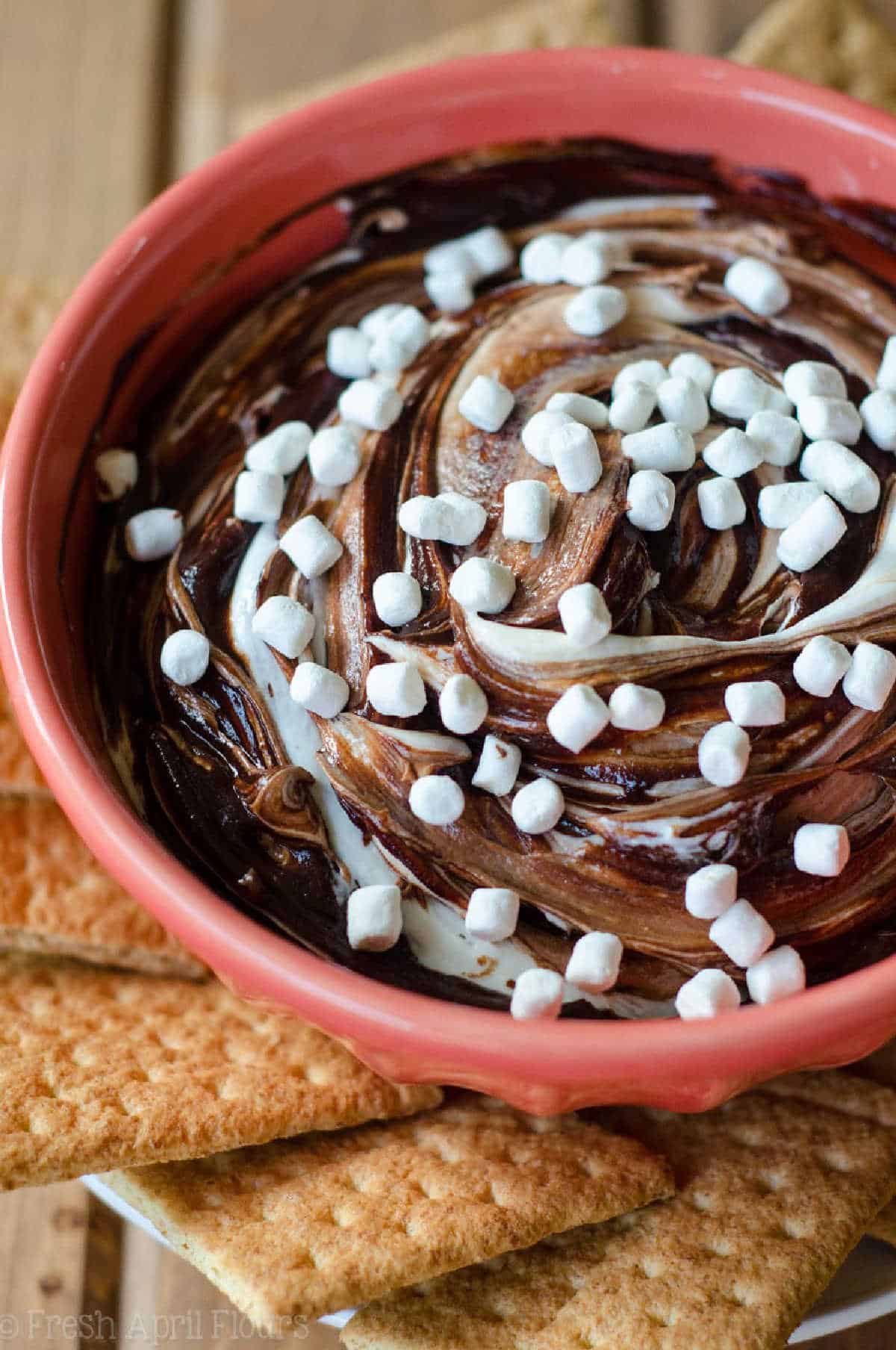 An easy gluten free dip made with marshmallow buttercream swirled with chocolate ganache. Serve with graham crackers or your favorite crunchy dipper and have the taste of summer all year long!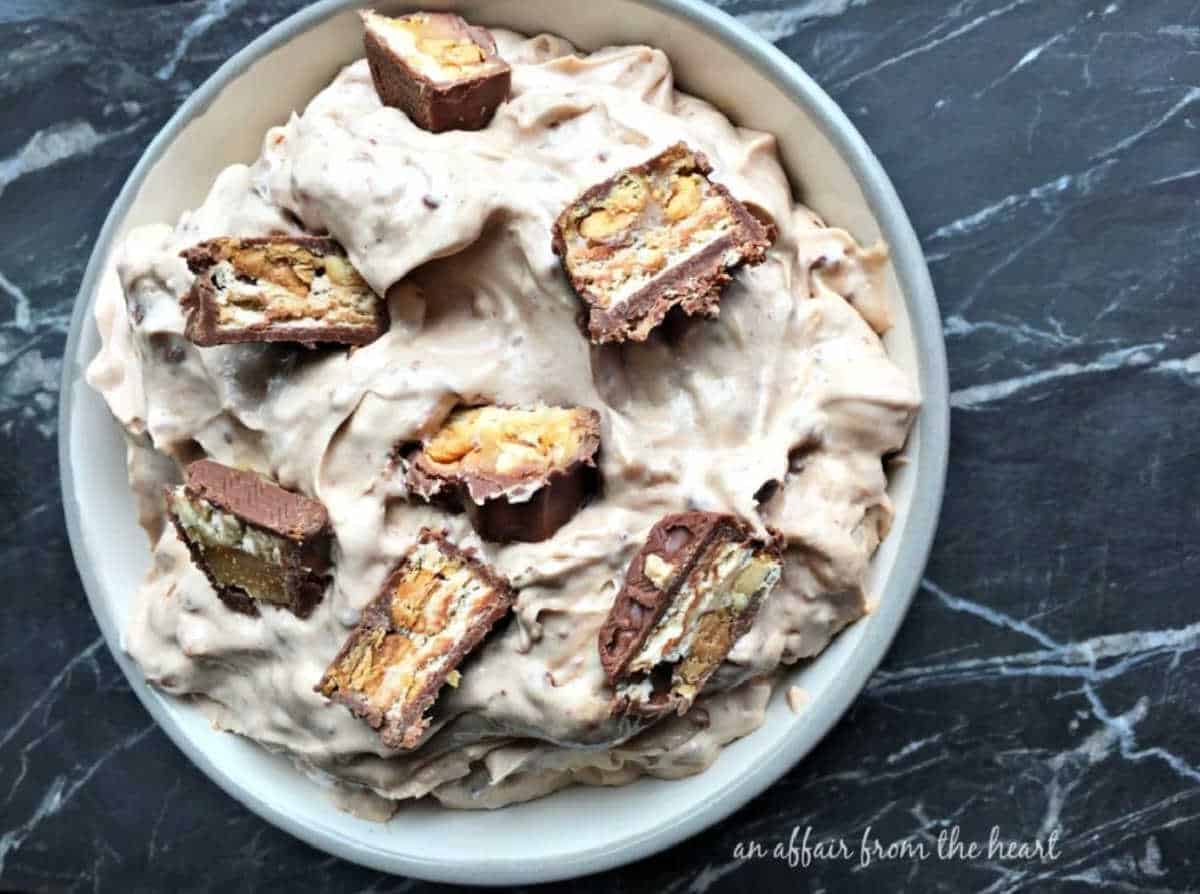 This Snickers candy bar dip is so fluffy and delicious, and perfect for any get together. Serve it with apples, or graham crackers, and kids of all ages will go crazy!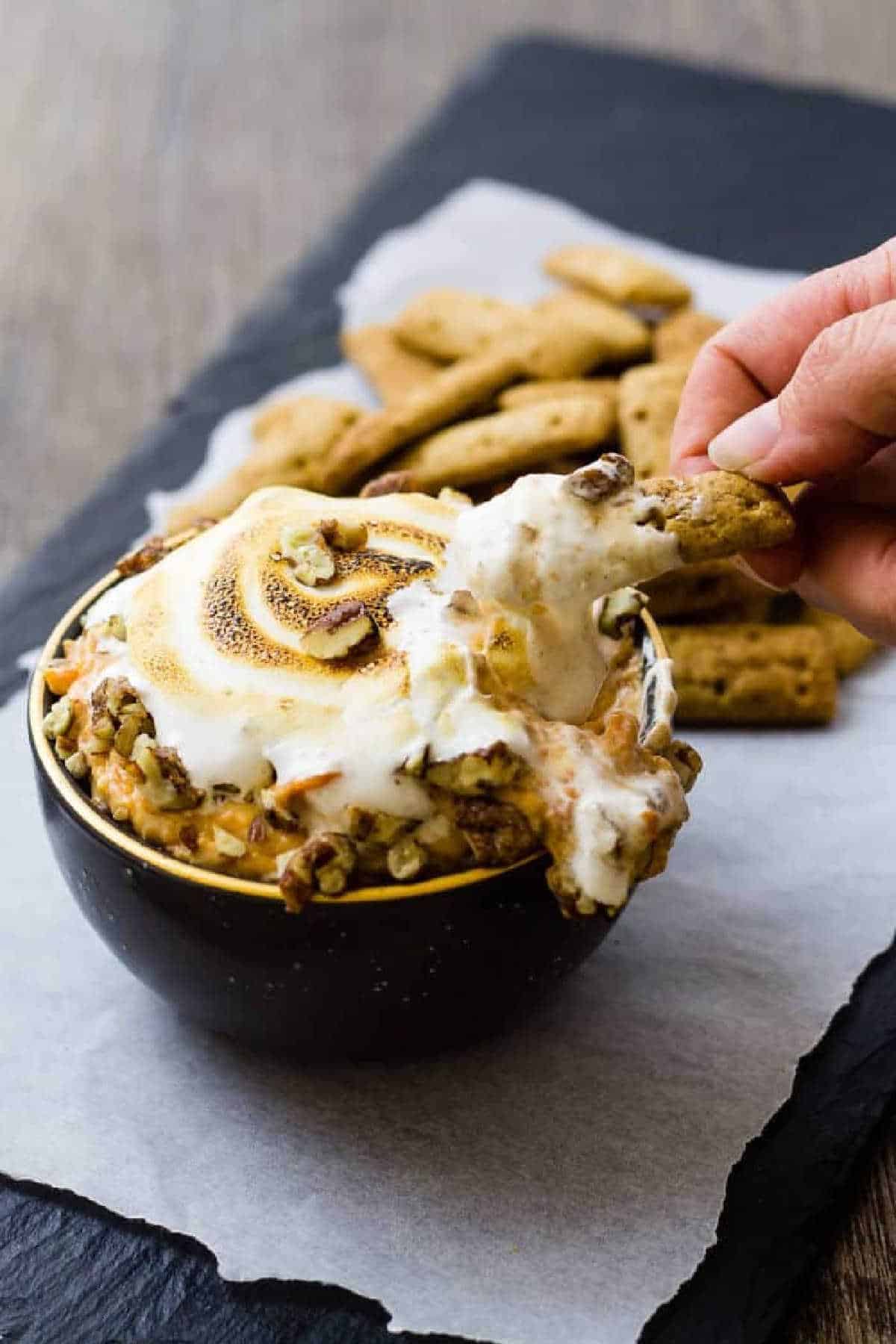 Sweet Potato Soufflé Dip with toasted marshmallow is your favorite fall side dish transformed into a sweet potato appetizer. Dip in some cinnamon graham cracker sticks for an even sweeter treat!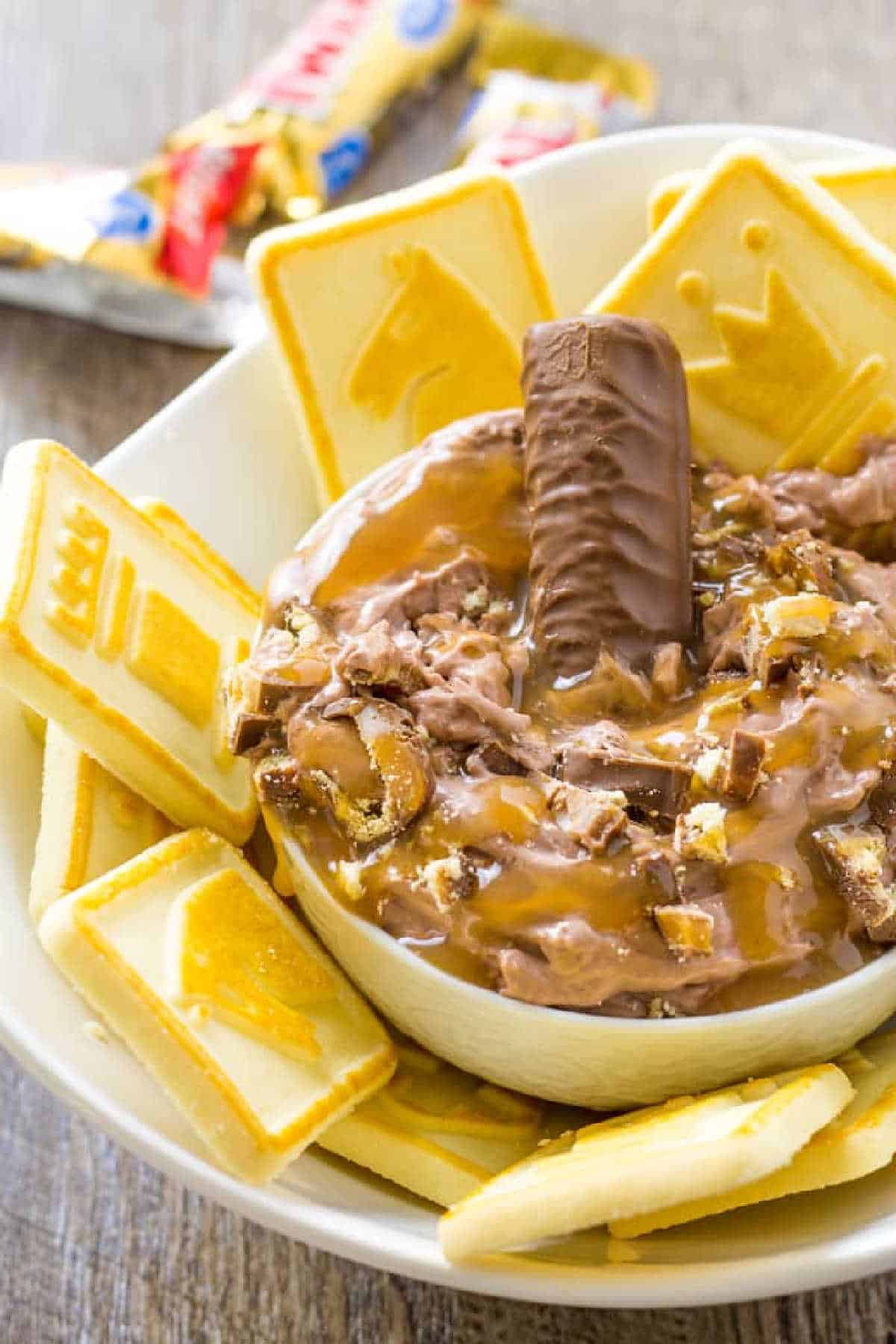 A rich and decadent chocolate fudge dip swirled with caramel and crushed Twix bars makes for a truly amazing dip or dessert.
Get ready to make a few batches of this Twix Dip because everyone is going to inhale this!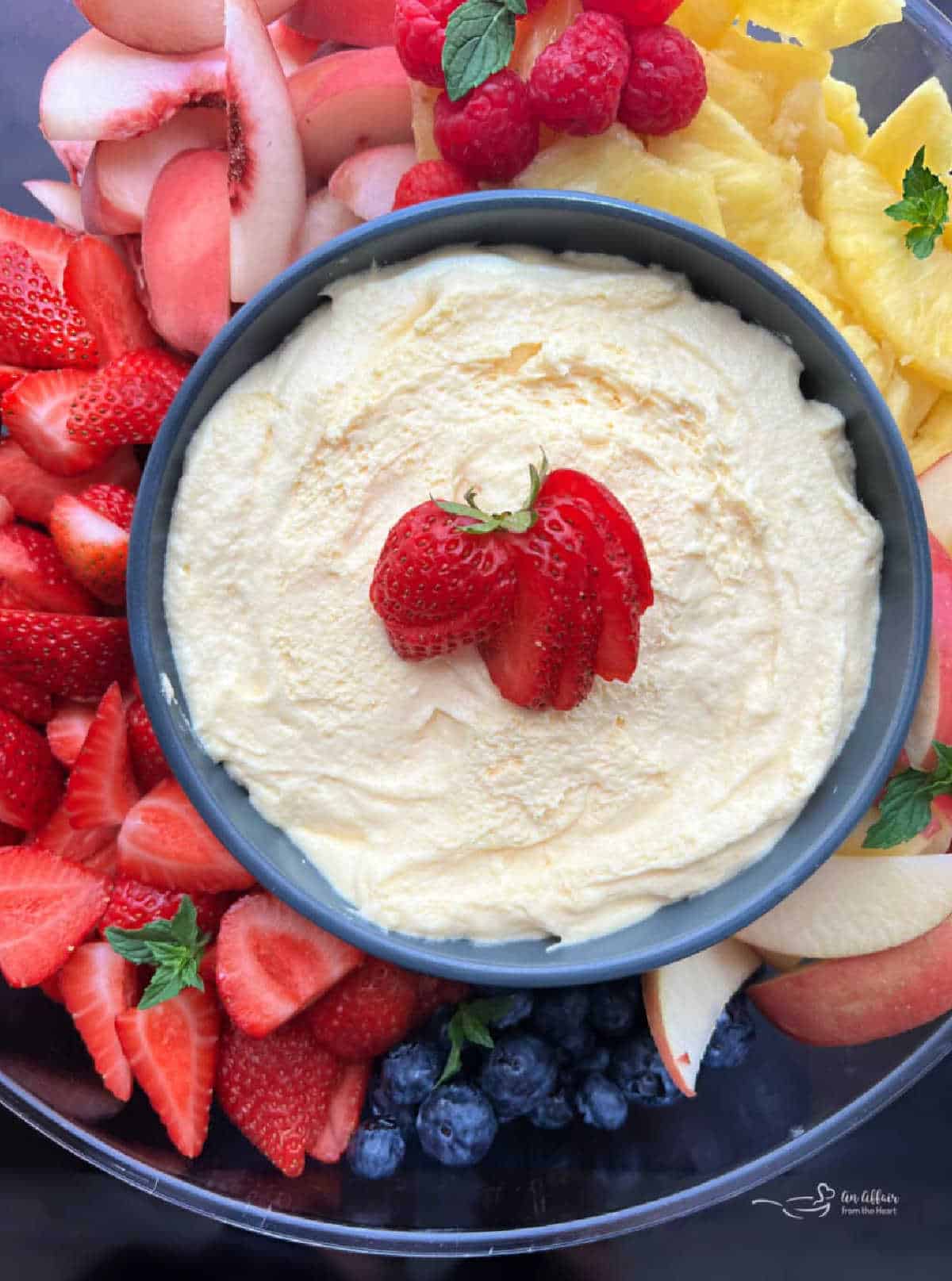 Creamy Vanilla Almond Fruit Dip is made with 4 simple ingredients; Cool Whip, vanilla pudding, milk, and almond extract. This easy fruit dip recipe comes together in minutes and will be the perfect addition to your fruit platter.
No marshmallow creme and no cream cheese are needed for this one. In fact, this one is low in calories making it almost guilt free!
If you love this recipe as much as I do, please write a five-star review in the comment section below (or on Pinterest with the "tried it" button – you can now add pictures into reviews, too!), and be sure to help me share on facebook!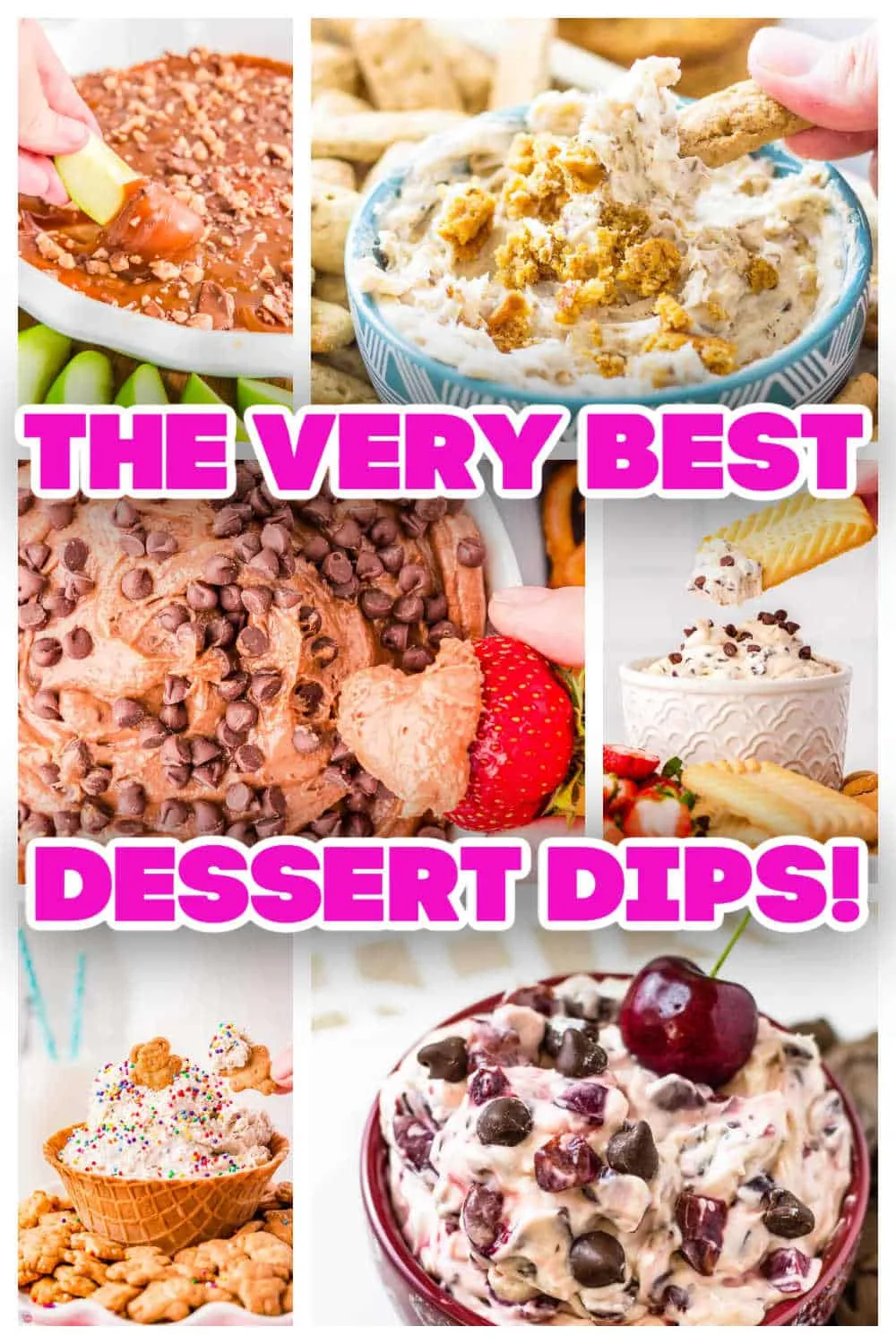 These Best Dessert dips are easy recipes to throw together for just about any occasion! Get creative with different flavors, toppings, colors, and let me know which one is your favorite!
TakeTwoTapas.com. Content and photographs are copyright protected. Sharing of this recipe is both encouraged and appreciated. Copying and/or pasting full recipes to any social media is strictly prohibited.