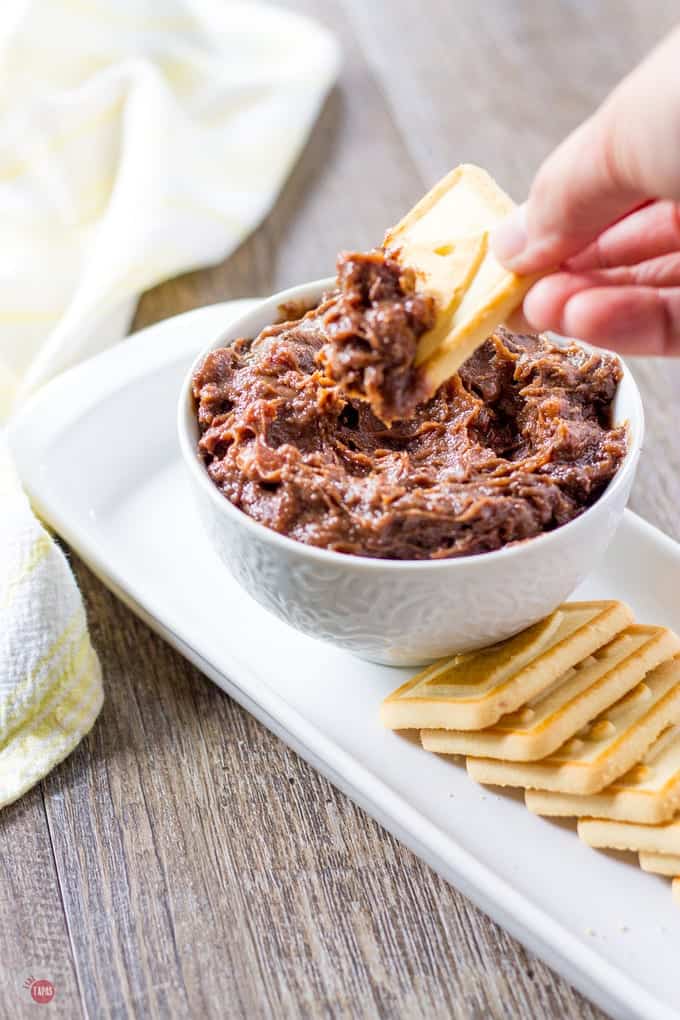 The world-famous Kentucky Derby Pie made with pecans, chocolate, and bourbon is now Derby Pie Dip. Serve with shortbread cookies and it will be just like pie only easier to eat!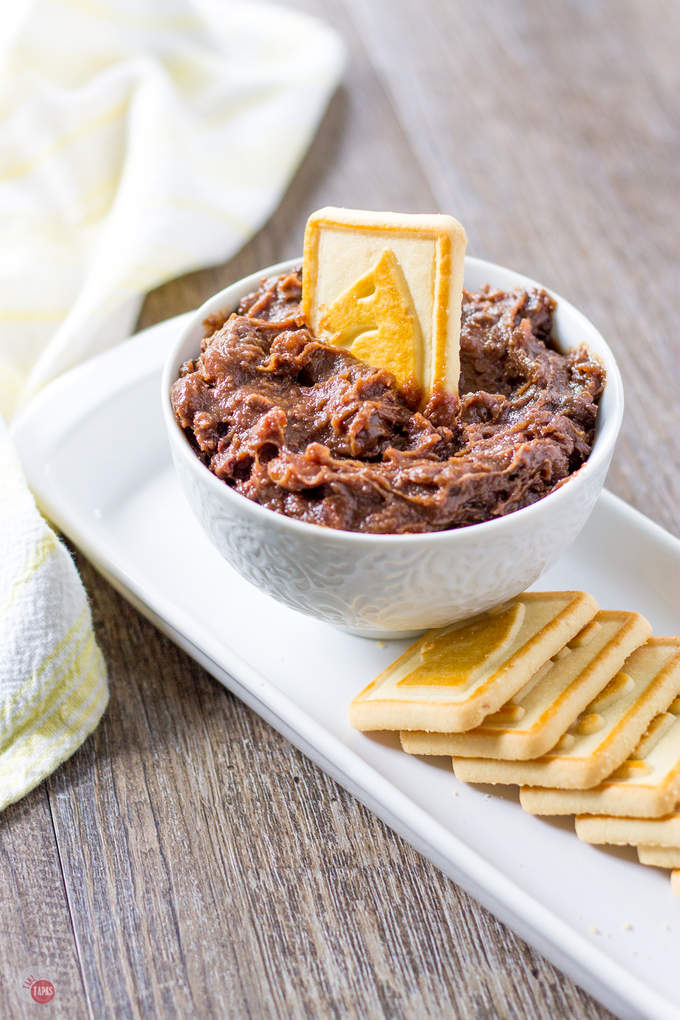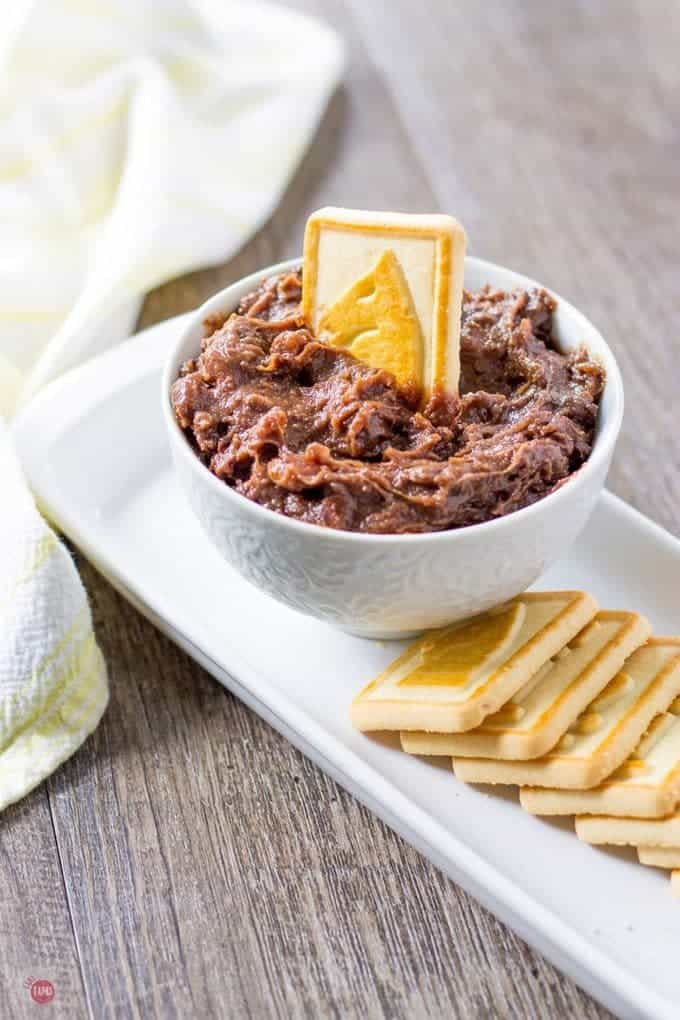 My hubby is from Kentucky so believe me when I say that he loves Kentucky Derby Pie. The traditional Derby Pie is like a pecan pie with chocolate too.
So sort of like a chocolate chip cookie pecan pie combination. The addition of bourbon makes it the perfect storm of deliciousness and Derby perfection. How about taking this traditional pie and making it into Derby Pie Dip?
Who doesn't love a sweet dessert dip? Forget about making a flaky pie crust from scratch and just diving into the gooey, sweet, delicious pie center!
Some store-bought, or homemade if you are willing, shortbread cookies are the perfect vehicle to get this dip in your mouth!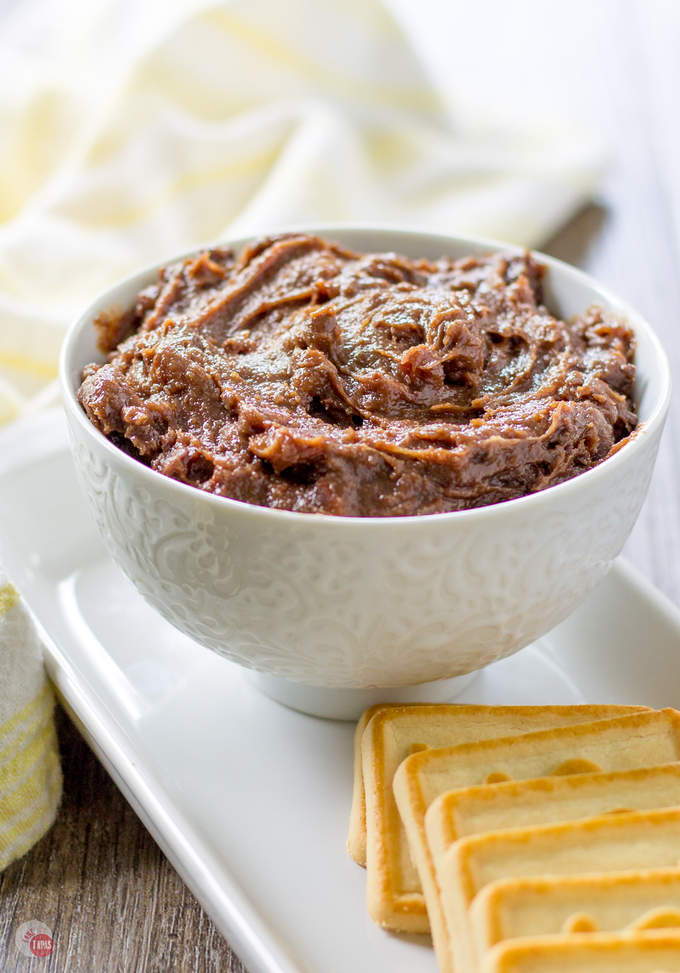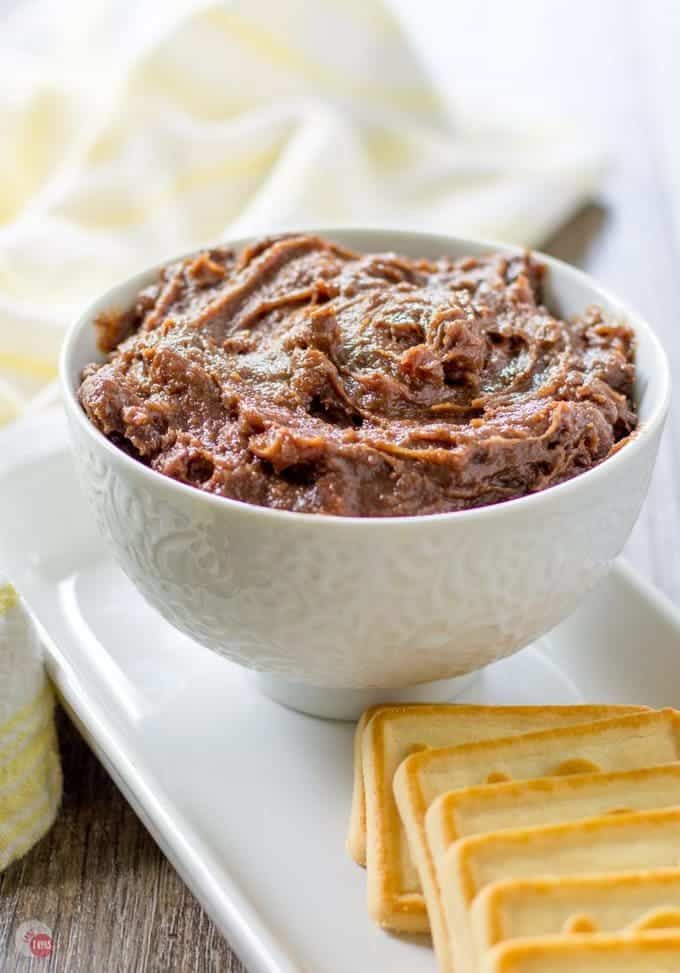 If you'd rather skip my (very helpful, I think) tips and tricks, essential cooking info, and similar recipe ideas – and get straight to this delicious recipe – simply scroll to the bottom of the page where you can find the printable recipe card.
This derby pie dip takes about 10 minutes on the stove-top and some quiet time in the fridge and she is ready to go. Make it ahead of time to your Kentucky Derby Party is a breeze to throw together.
If you are throwing a Derby Party check out my Bourbon Balls. Traditional Buckeyes with bourbon work great as do my Derby Pie Brownies. You don't even need a Derby party as a reason to make derby pie dip, a lazy Sunday afternoon will work too. Maybe even dessert after dinner on Tuesday night.
I love an all-occasion dip, don't you?
The inspiration for Derby Pie Dip came from my love of German Chocolate Cake. The coconut-pecan topping that you cook on the stove and spread on the cake is my favorite part of the cake and the basis for this dip.
In making the dip I started with my favorite frosting recipe from Averie Cooks. She makes fabulous German Chocolate Brownies so I started with her topping recipe.
This post may contain affiliate links. As an Amazon Associate, I earn from qualifying purchases. Read my disclosure policy here.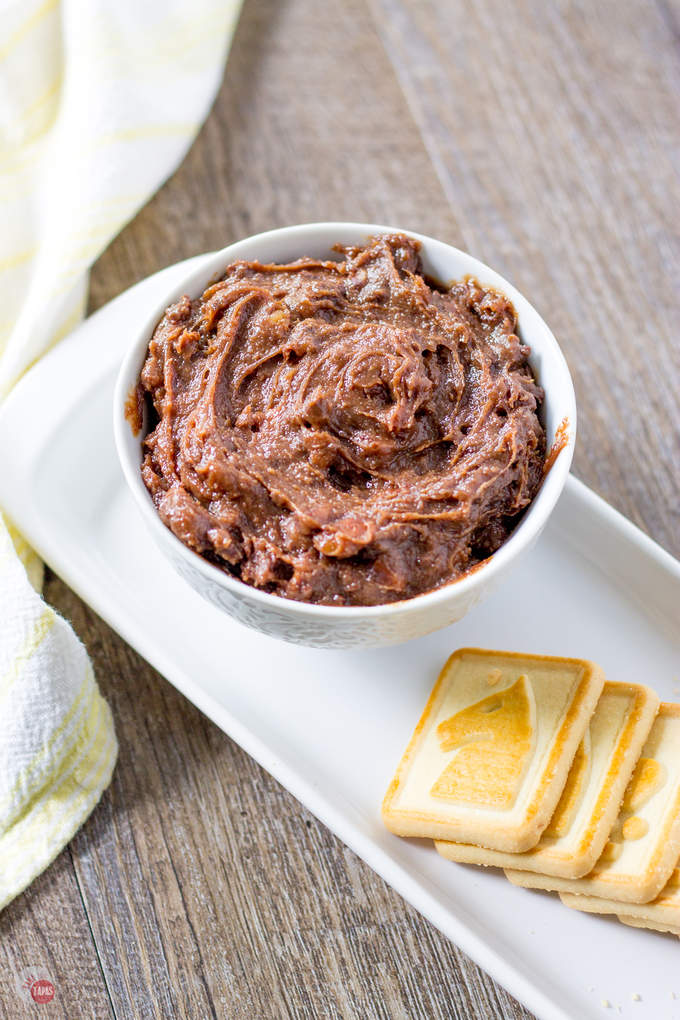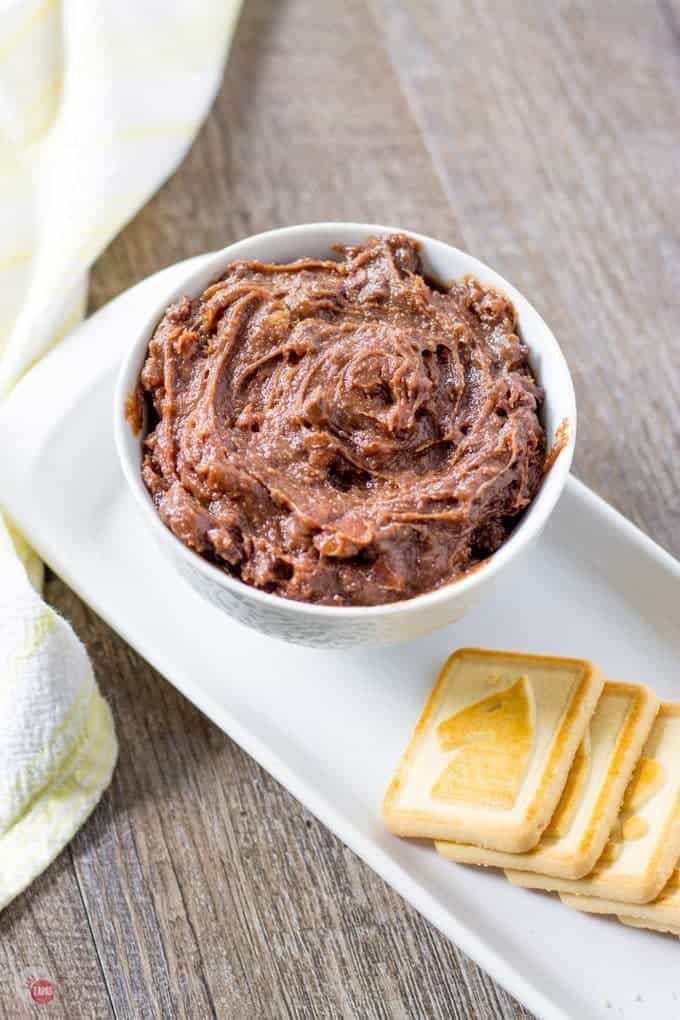 For more insider tips & tricks, and a candid behind the scenes look follow me on social media! Check use out on Pinterest, Facebook, Instagram, & Twitter (yes, people still use Twitter, LOL!)
Cooking the evaporated milk, butter, and brown sugar in a medium saucepan over medium-low heat is how you get started. Stir it constantly so the yolks don't scramble and let it come to a gentle boil.
Mine takes between 7-10 minutes to come to a gentle boil and get thick. The thickness will be similar to making a custard or loose pudding.
Once the mixture thickens and has boiled for at least 1 minute, remove the pan from the heat and add the bourbon. I didn't include the vanilla from the original recipe because Kentucky is famous for bourbon and the alcohol content is roughly the same.
Just remove the pan from the heat as the bourbon is flammable and you will not want to get burned.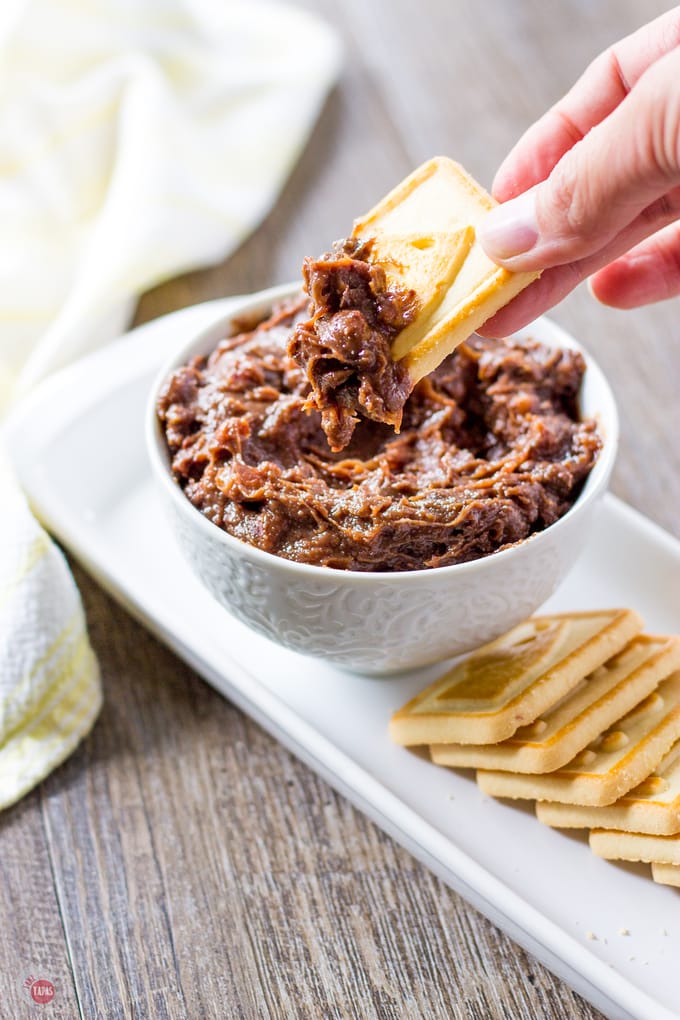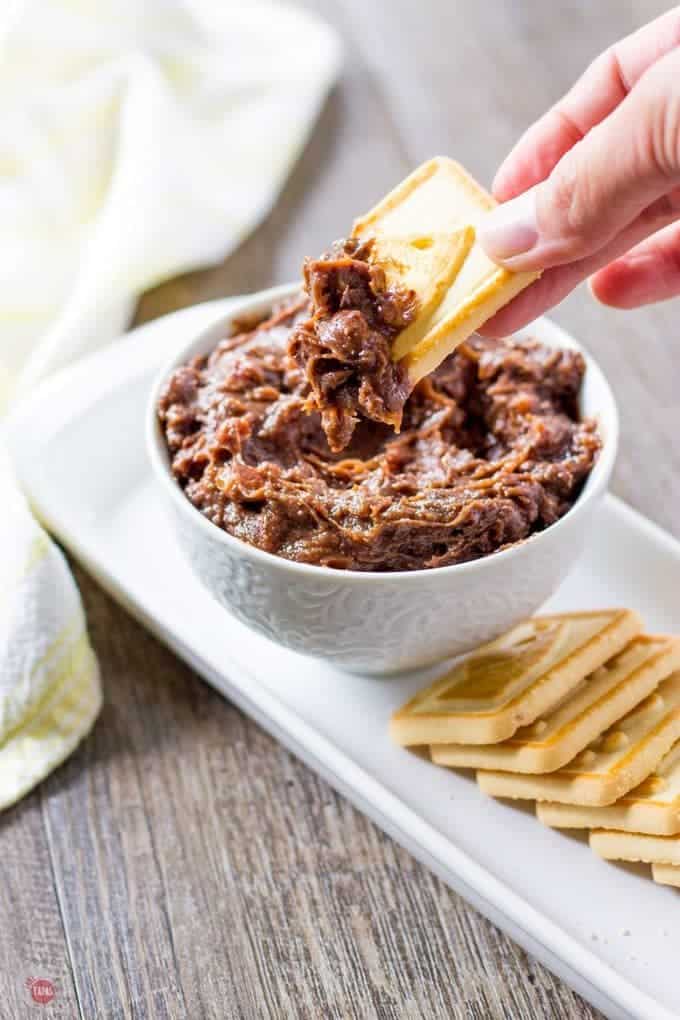 As soon as the bourbon is mixed in, add the chocolate chips. Chocolate is a component of Derby Pie which is where the chocolate chip cookie flavor comes from. Kentucky Derby Pie contains pecans too so I added a cup of my Buttery Toasted Pecans. I keep a bag in my fridge all the time for snacking and pie emergencies. And since they are salted I don't add any additional salt to the derby pie dip.

Sign up to early access to recipes, tips & tricks, and behind the scenes info in our newsletter! It's FREE and we promise not to SPAM you. Click here to join us!
Can I really call it a derby pie dip without a crust of some sort? The crust is my favorite part of the pie itself unless it is cherry then the filling is. Since this derby pie dip doesn't have a crust we are using shortbread cookies to serve the dip. The buttery, flaky goodness of the cookies are the perfect compliment to the derby pie dip.
I use Pepperidge Farm's Chessman Cookies. The horses on the cookies fit in perfectly with the Kentucky Derby theme!
When you make this Derby Pie Dip and throw the most awesome Derby party on the planet, make sure you take some pictures and tag me on social media using #TakeTwoTapas and #DerbyPieDip so I can see all the fun you are having!
Until next time, dip on!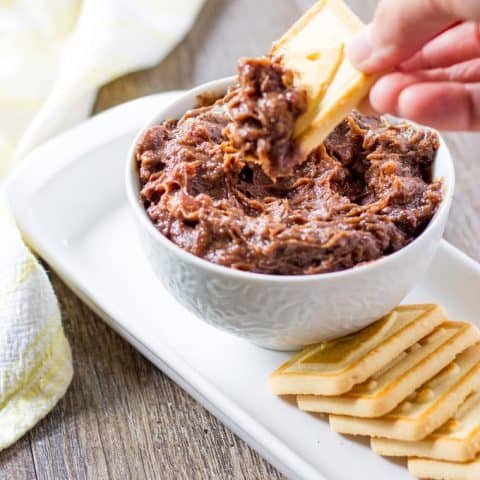 Derby Pie Dip
The world-famous Kentucky Derby Pie made with pecans, chocolate, and bourbon is now Derby Pie Dip. Serve with shortbread cookies and it will be just like pie!
Ingredients
1/2 cup evaporated milk (not low fat or fat-free)
1/4 cup butter
2 egg yolks
1/2 cup light brown sugar
1/2 teaspoon salt
1 tablespoon bourbon
1 cup chopped Buttered Toasted Pecans
1 cup semisweet chocolate chips
Shortbread Cookies for dipping
Instructions
Add the milk, sugar, yolks, butter, and salt in a heavy-bottomed saucepan.
Bring to a gentle boil over low to medium heat.
Whisk slowly and often.
Cook until the mixture thickens (7-10 minutes).
Remove from heat.
Add bourbon.
Stir to combine.
Add chocolate chips and pecans.
Stir to combine.
The chocolate chips will melt so don't fret.
Once all combined, place in an air-tight container until chilled completely.
When ready to serve, put in a pretty container and serve with shortbread cookies.
I like the Chessman Cookies because they have horses on them!
Notes
*If you like this recipe, please leave me a comment and rate it with some stars. Thank you!
Nutrition Information:
Serving Size:

3 tablespoons
Amount Per Serving:
Calories:

293
Total Fat:

20.5g
Saturated Fat:

8.1g
Trans Fat:

0g
Cholesterol:

49.4mg
Sodium:

145.9mg
Carbohydrates:

25g
Fiber:

2.6g
Sugar:

21.2g
Protein:

4.8g