Pinwheel Sandwiches have been around for a few years, making regular sandwiches fancy and fun. Not only are they pretty to look at, but incredibly versatile. Whether you're hosting a brunch, planning a picnic, or simply need a quick snack, pinwheel sandwiches have got you covered.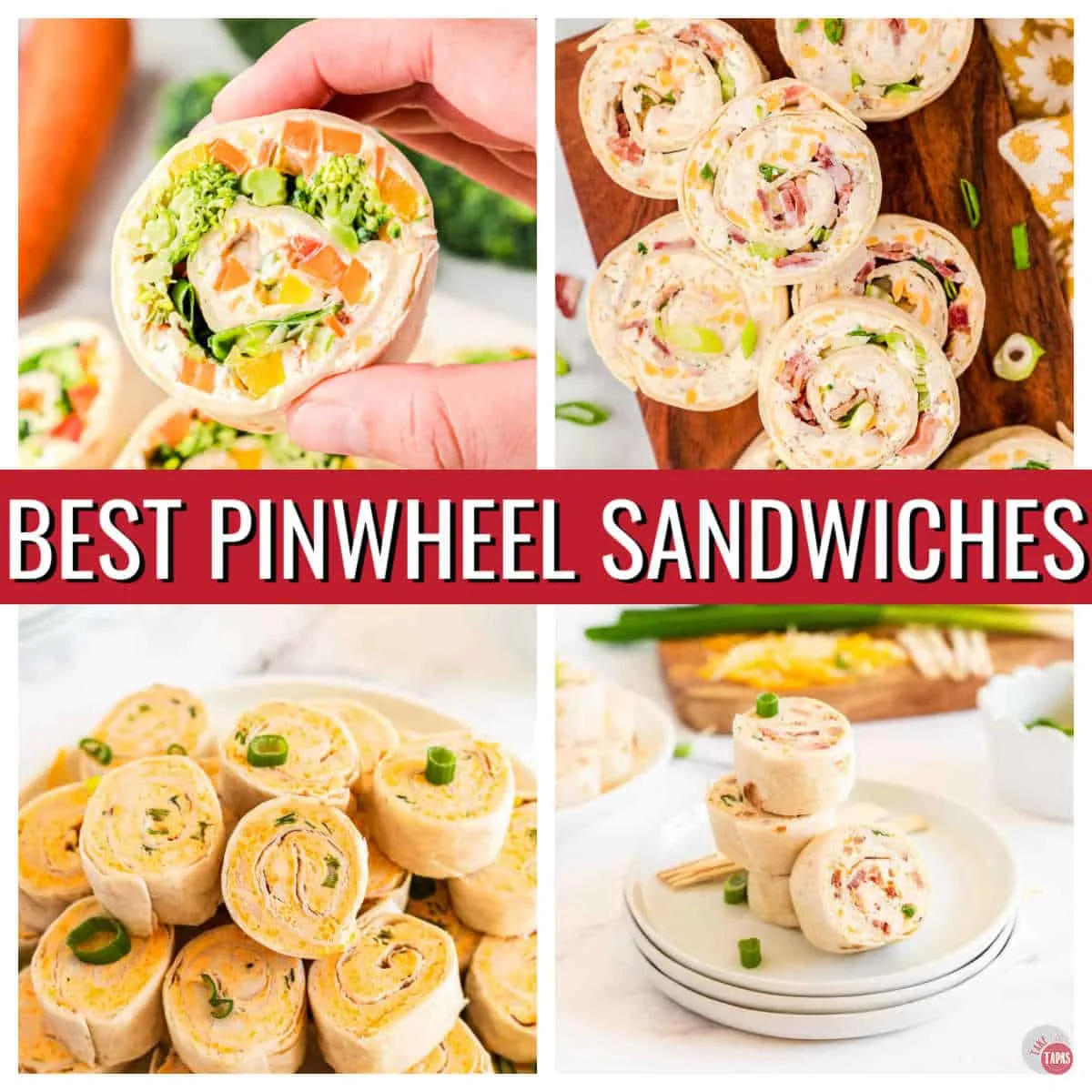 Pinwheel Sandwiches
You've heard of pinwheels right? Not the yard decoration, but the bite sized sandwiches with the swirl.
If so, you know that they are an easy appetizer to make for parties, game day, or a fun afternoon snack.
Not only that, they are not complicated! You can make them with a few simple ingredients. Of course, you can go all out and use fancy items too.
The basic idea behind a pinwheel sandwich is to flatten a slice of bread or use a tortilla, layer it with fillings, roll it up, and then slice it into sections, revealing a spiral pinwheel look.
The fillings can be as simple as ham and cheese to fancy rings of flavorful cream cheese and unique add ins.
I sometimes make these for a healthy snack before my tennis match but use a layer of peanut butter and slices of banana.
Read on to find some tips and tricks for making easy pinwheel sandwiches and some delicious recipes.
This post may contain affiliate links. As an Amazon Associate, I earn from qualifying purchases. Read my disclosure policy here.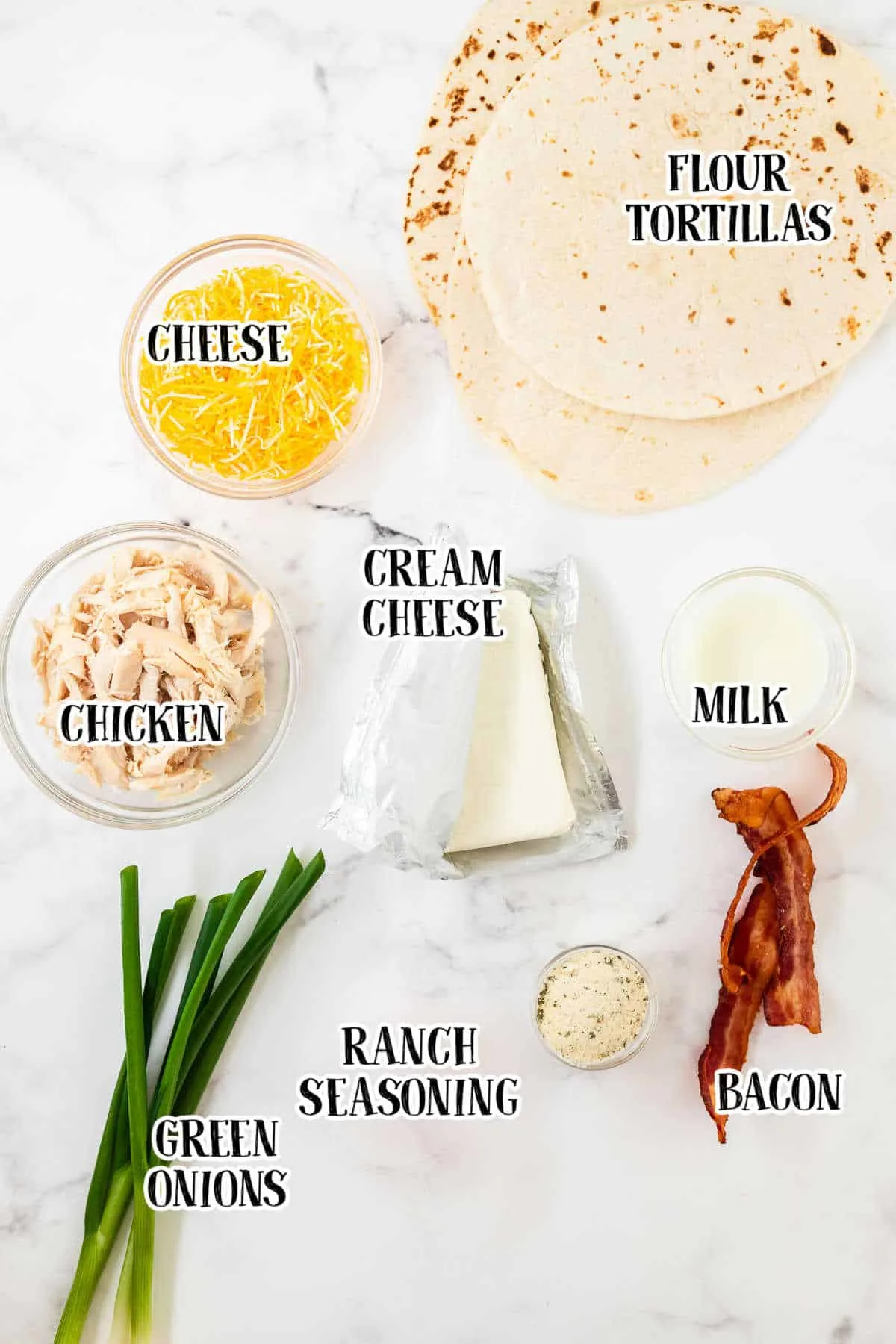 What are pinwheel sandwiches made of?
Flour tortillas, whole wheat tortillas, sandwich bread, or white bread without the crust.
Spread like softened cream cheese or other condiment
Sliced deli meat or finely diced meat
Cheese, sliced or shredded
Toppings like lettuce, tomatoes, and olives.
What do I serve with pinwheel sandwiches?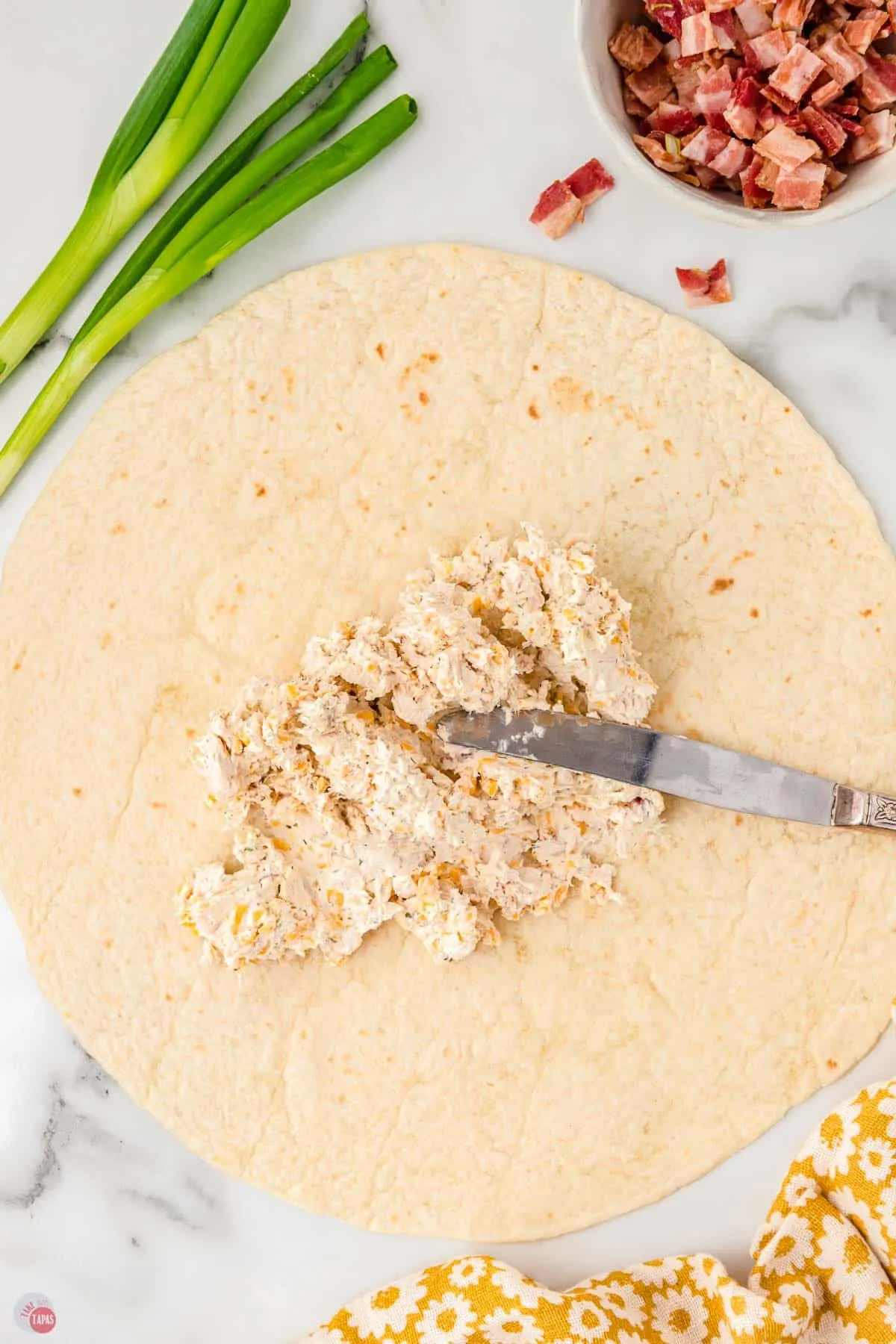 How to Make Pinwheel Sandwiches
First: Lay out the flour tortillas. Spread with cream cheese mixture or other condiment.
Second: Layer with meats, cheeses, and other toppings.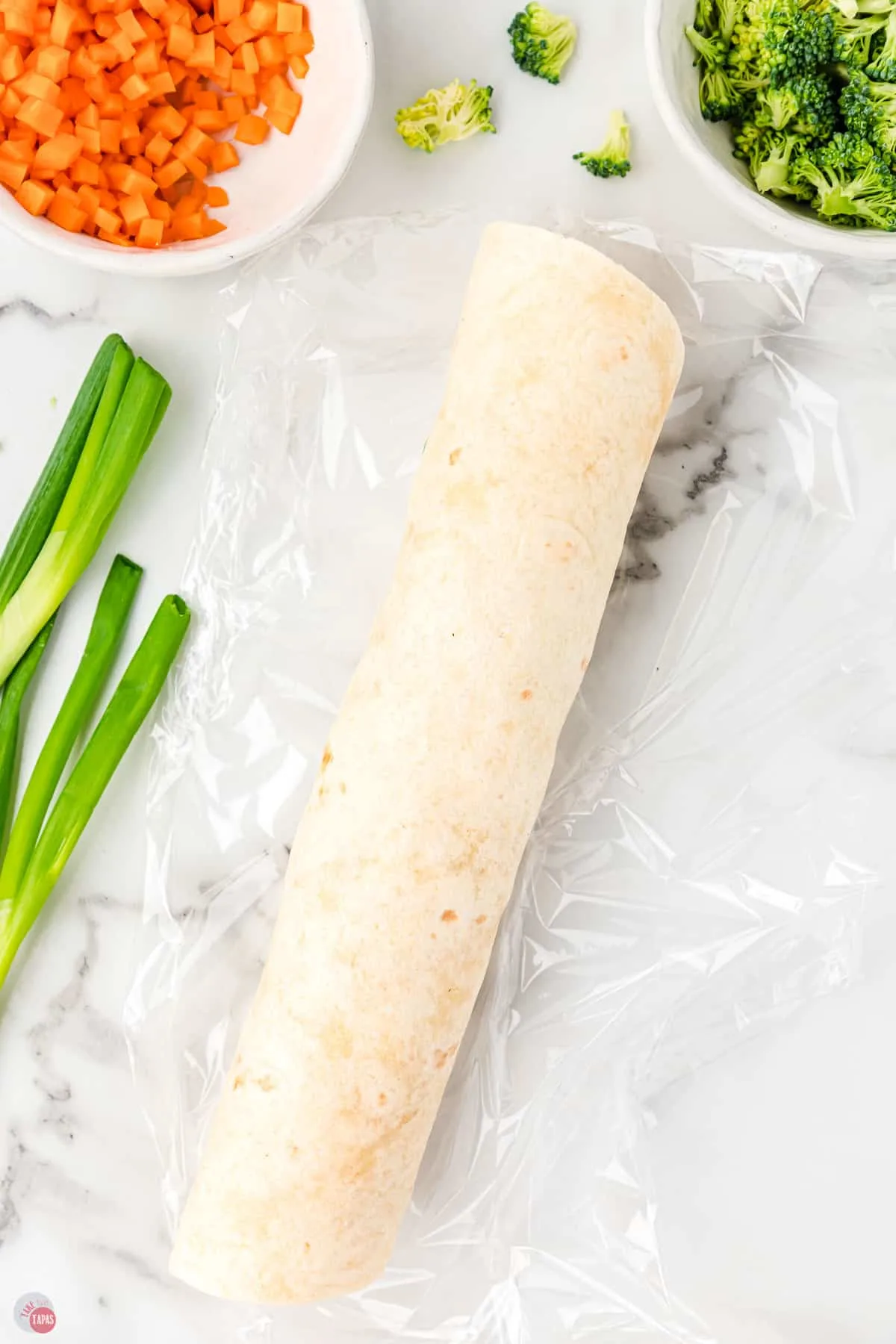 Third: Wrap tightly in plastic wrap, chill int he fridge.
Fourth: Slice with a serrated knife and serve.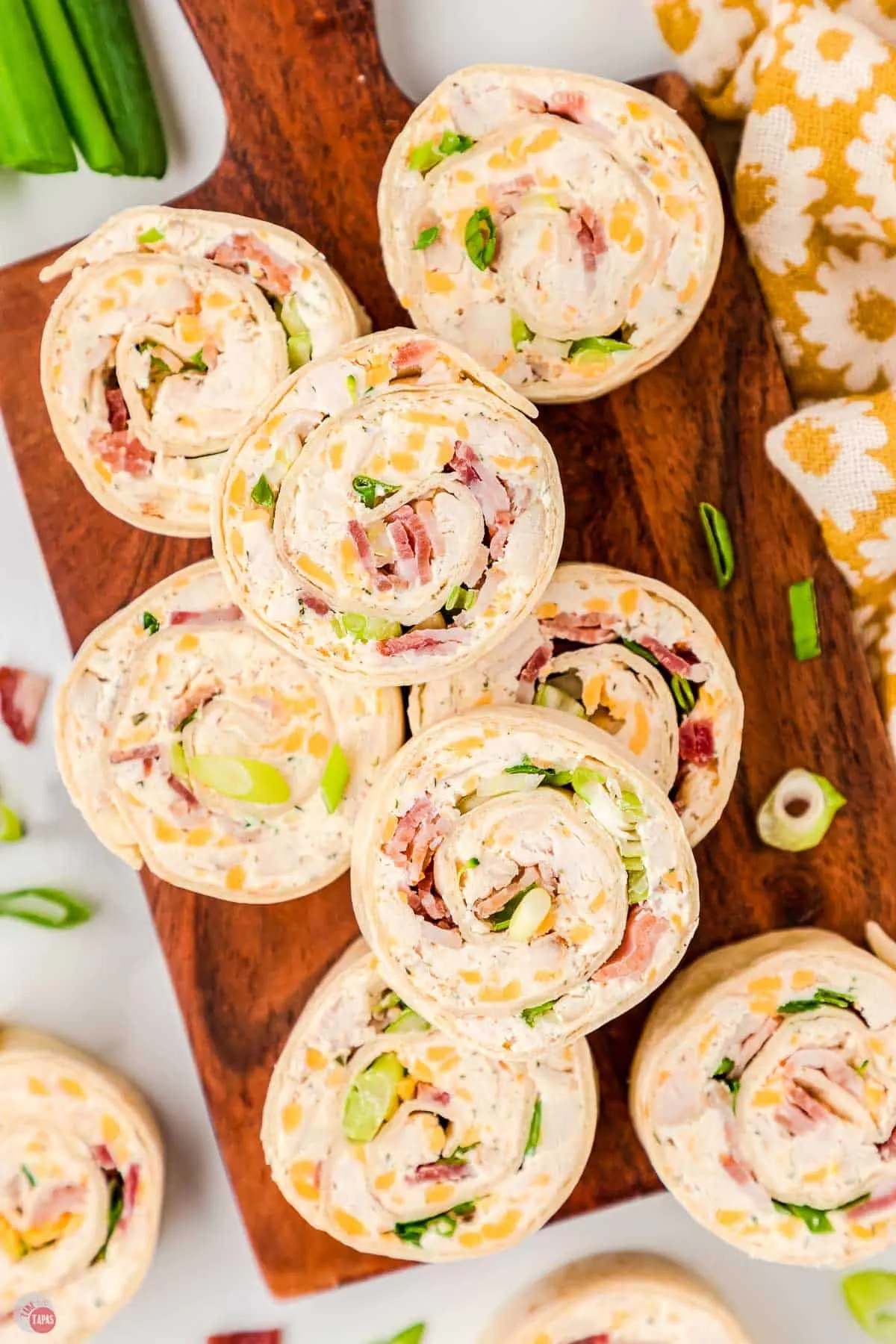 Favorite Ingredients
Meats: Deli ham, slices of turkey, roast beef, chicken.
Cheese: Cheddar cheese, provolone cheese, mozzarella cheese.
Spreads: Cream cheese, sour cream, mayonnaise.
Veggies: Red bell peppers, lettuce leaves, broccoli, fresh baby spinach leaves.
Toppings: Green onion, sun-dried tomatoes, black olives, jalapenos.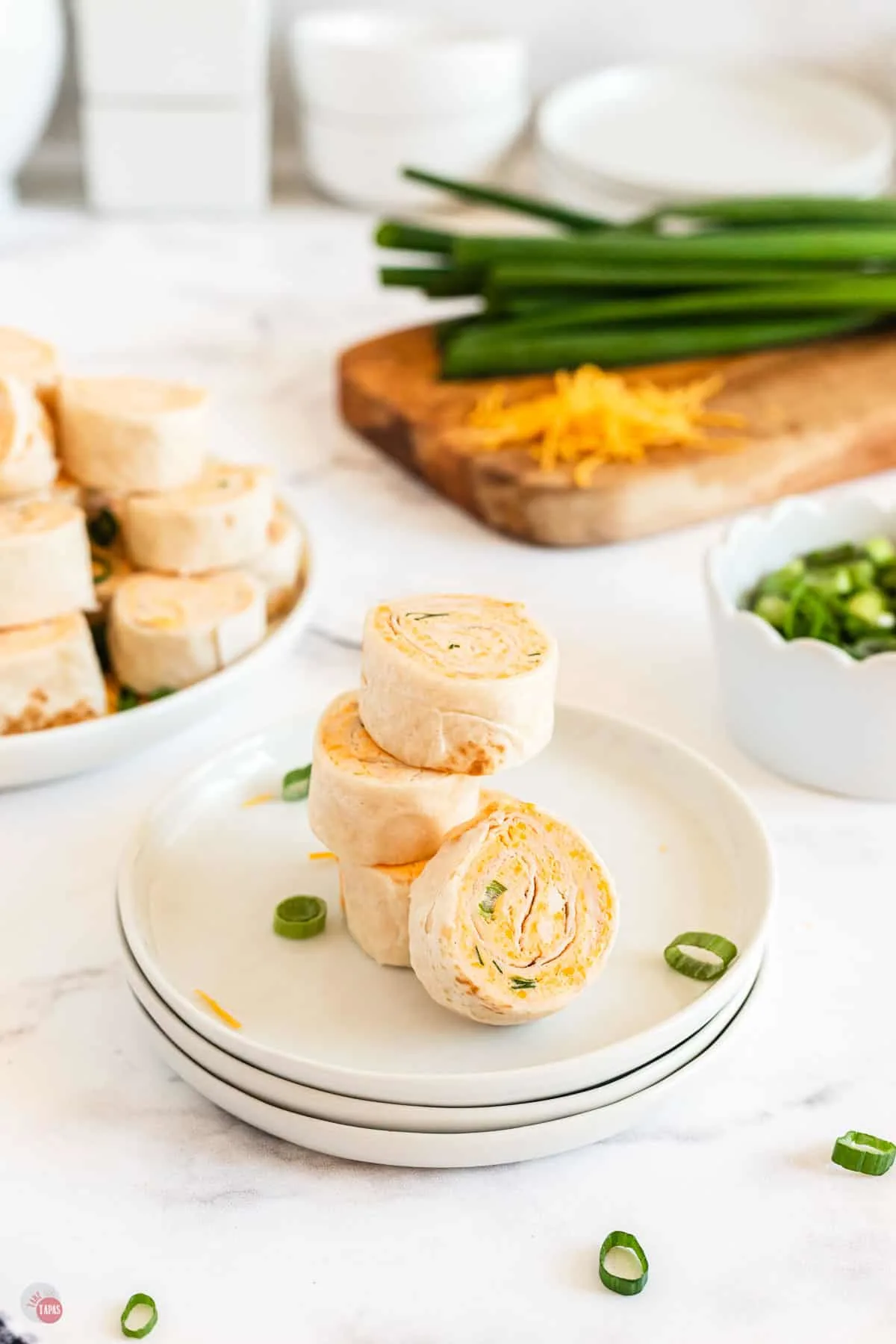 Can you prep them the night before?
Depending on the ingredients, you can certainly prep pinwheel sandwiches ahead of time. They need time to chill before slicing anyway.
Store them in the refrigerator wrapped in plastic wrap to keep them from drying out and keeping the wrap tightly closed.
I like to store my wrapped rolls in an airtight container to keep them fresh!
How do I keep my pinwheels from getting soggy?
There are a few ways to keep them from getting soggy.
Don't use ingredients that contain a lot of water or moisture. They can release water the longer they sit.
Pat wet ingredients dry before using.
Use cream cheese spreads or other condiments to make a moisture barrier between the ingredients and the tortilla.
Slice right before serving to keep ingredients more "whole" so they don't start to leak.
Store any cut pinwheel sandwiches with a paper towel or napkins to soak up any excess moisture.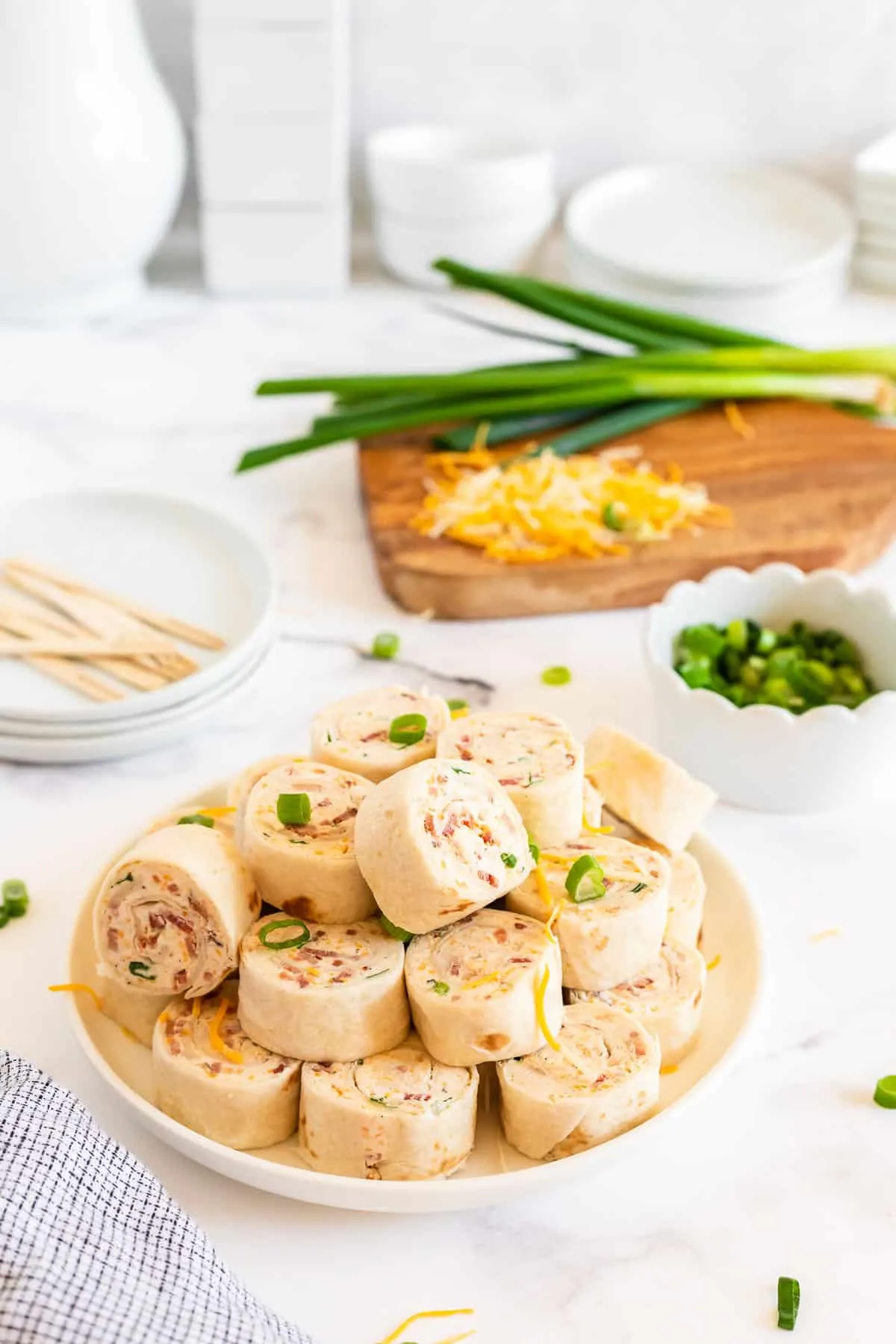 Can pinwheel sandwiches be frozen?
Technically you can, but they are better fresh in my opinion. If you must freeze them, pick ingredients that freeze well like sliced meats and cheeses. And leave out any fresh produce.
Do you refrigerate them before cutting?
​Wrapping tightly and chilling is the best way to cut the pinwheels. You want that spiral look and this helps to firm up the fillings and help retain that pretty look when slicing.
This also allows them to be out at room temperature longer before getting warm.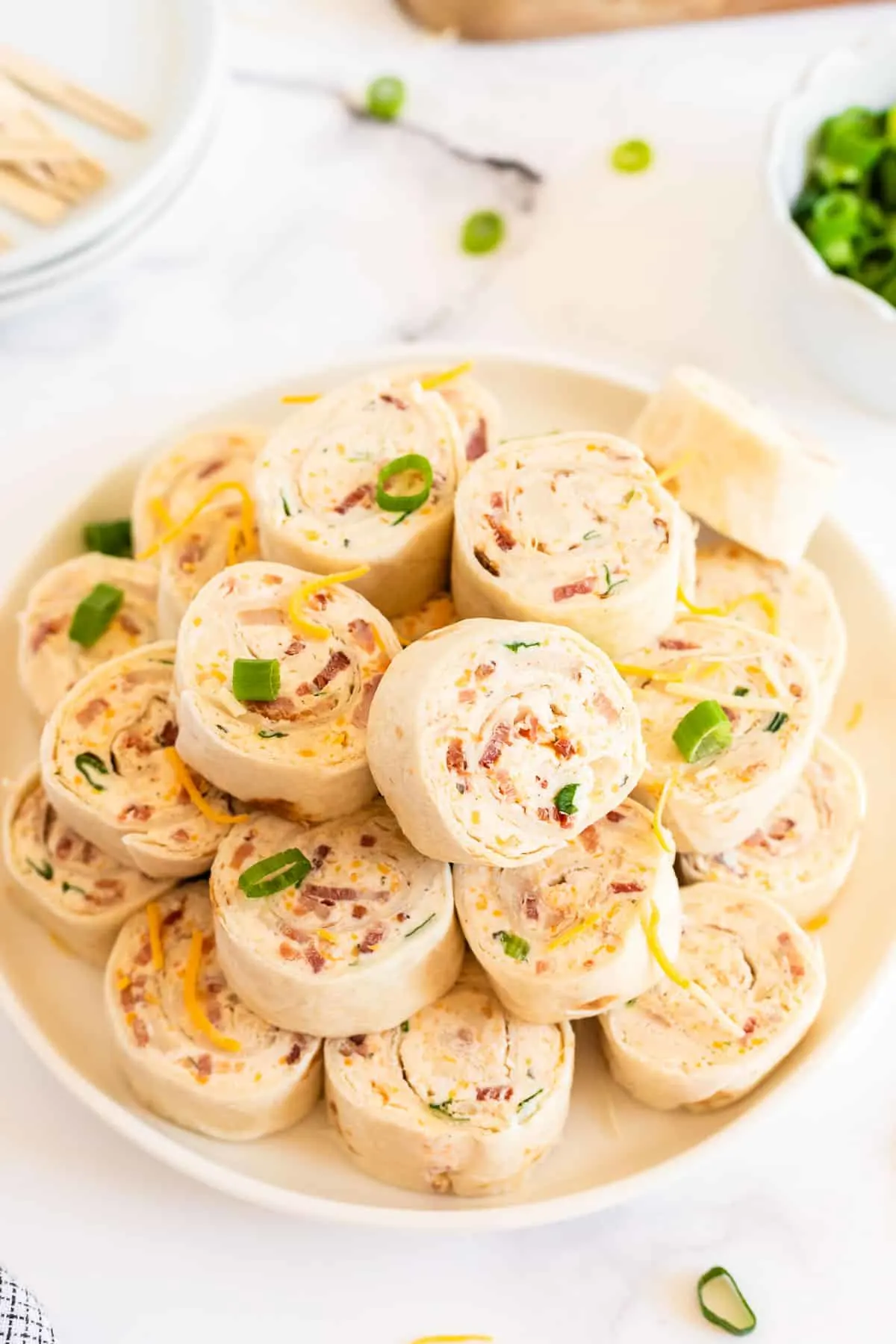 Tapas Tips & Tricks
Use a spread or condiment on the flour tortilla or bread to keep them fillings from making it soggy.
If you don't use a spread, place large pieces of green leaf lettuce to act as a barrier.
Wrap tightly to help them seal onto itself
Chill to firm up the fillings so they don't smash.
Use a serrated knife to slice the tortillas in 1 inch sections. This will help keep them from tearing.
Keep in the refrigerator until ready to serve.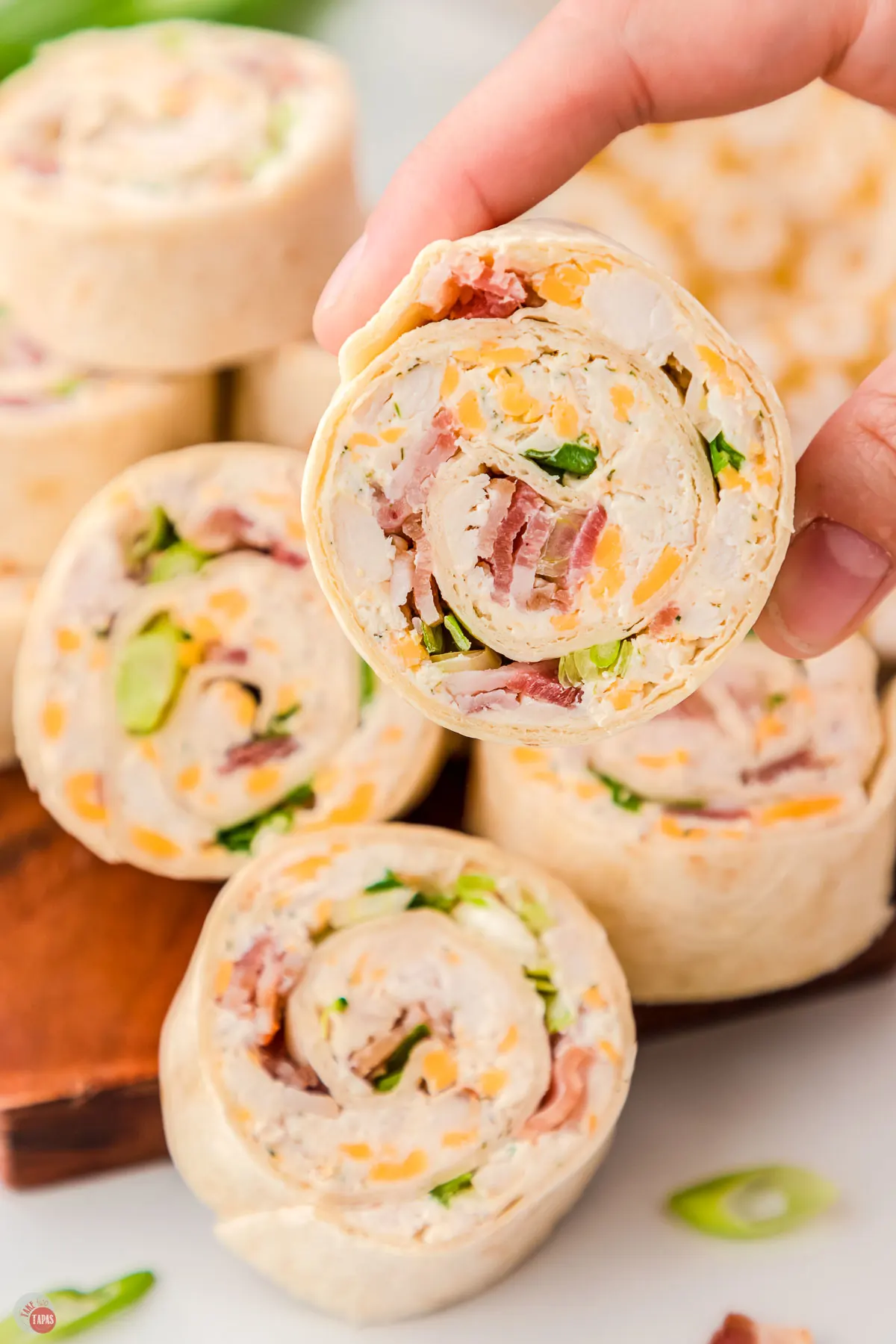 Easy Pinwheel Sandwich Recipes
Italian pinwheels
Mexican pinwheels
Turkey pinwheels
If you love this recipe as much as I do, please write a five-star review in the comment section below (or on Pinterest with the "tried it" button – you can now add pictures into reviews, too!), and be sure to help me share on facebook!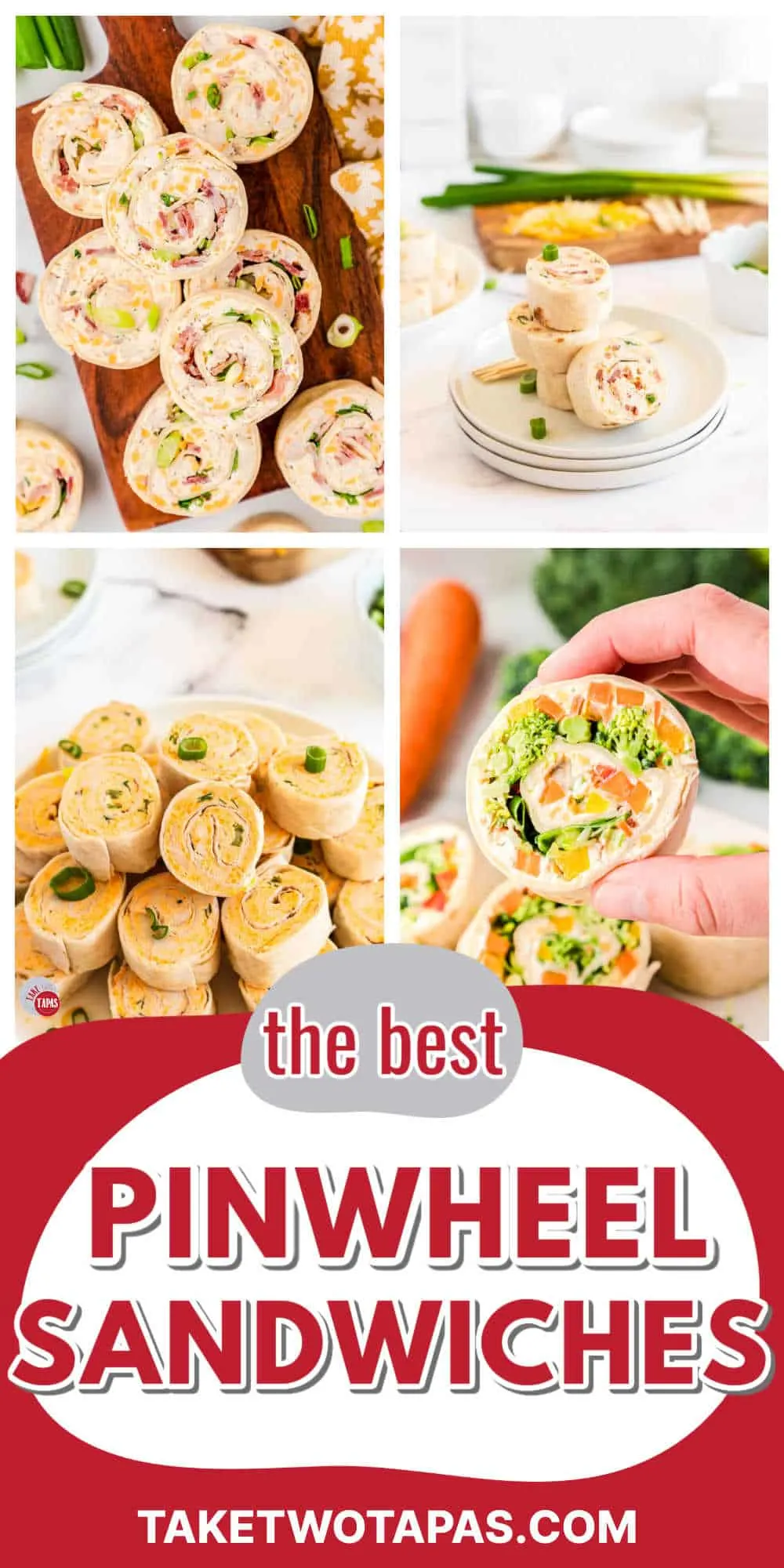 Tortilla pinwheel sandwiches are more than a great appetizer. Use them to make your kids lunch box more fun. They are the perfect finger food for kids of all ages!
TakeTwoTapas.com. Content and photographs are copyright protected. Sharing of this recipe is both encouraged and appreciated. Copying and/or pasting full recipes to any social media is strictly prohibited.