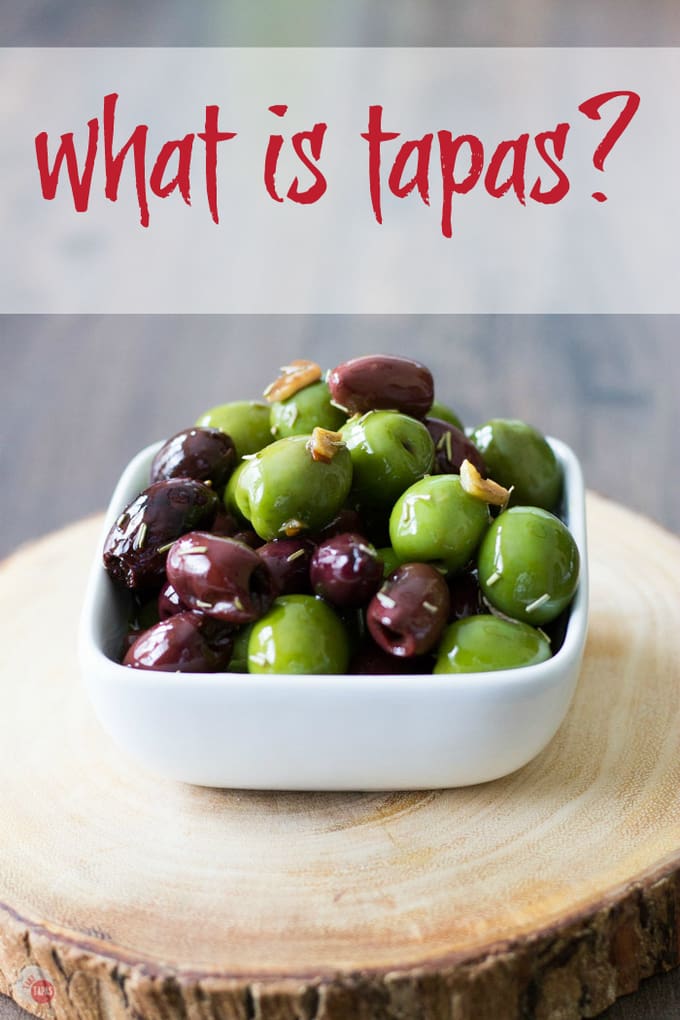 Tapas is taking over the world! Maybe not the world, but the word seems to be popping up everywhere. What is tapas and how do I eat it? Read on to learn about tapas!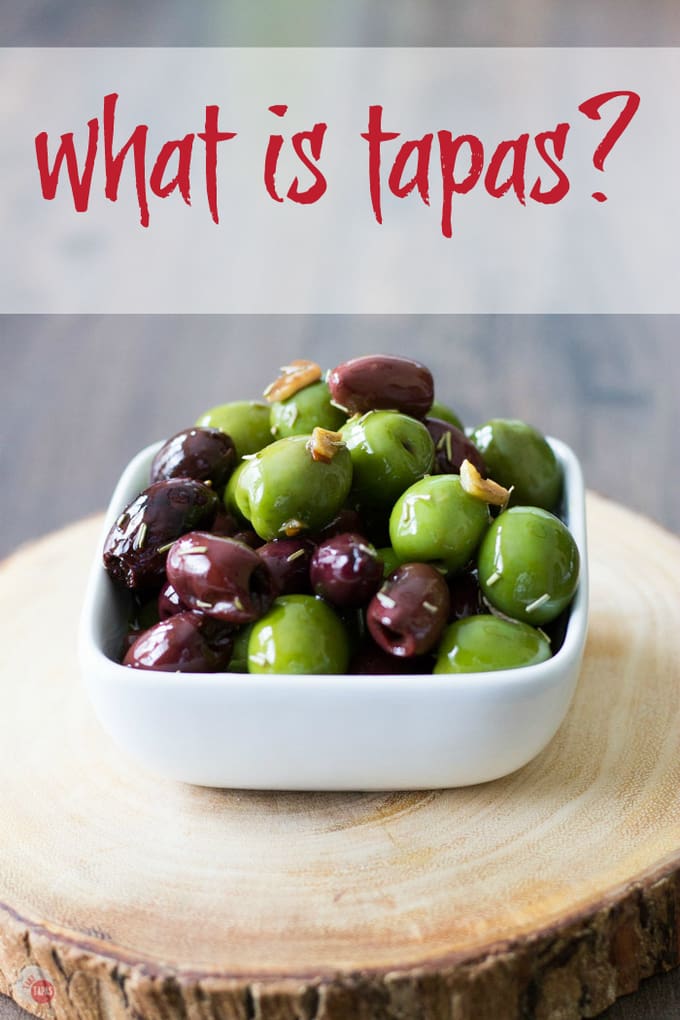 The blog is called Take Two Tapas, but do we know what tapas is? Am I talking about it in the correct way? As I worked on the menu for my summer tapas series, I thought about whether or not the terms would be confusing or even disingenuous.
As I briefly talked about it in my summer tapas menu post, I am using the word tapas loosely. And for good reason!
What is Tapas?
What does tapas, or tapa, mean when we are talking about food? Tapas, or tapa if we are talking about 1 dish, is the Spanish term for an appetizer or a snack.
Here in the US, you might have heard the term Hors d'oeuvre from someone older than 50 years of age. They are essentially the same thing but let's talk about the origin of the word.
Tapa translates in Spanish to "top" and that speaks to how tapas style food originated.
A Spanish legend tells of a King who had an illness that made it where he could only eat a small amount of food with wine at one time. Eating small portions may seem strange as kings eat feasts, but tapas serves a purpose.
Another origin story of tapas reveals that when people drink Sherry, which is sweet and fruity fortified wine in Spain, they often cover their wine glasses with a slice of bread or meat to keep the flies from doing a nose-dive into the wine.
Because these "wine coverings and toppings" are usually salty, bartenders serve these tapas with the wine to make the drinkers even more thirsty.
Whichever origin story you believe, tapas is here to stay.
What are some classic Spanish tapas dishes?
It may have started a long time ago, but Tapas food has certainly evolved throughout the ages. From a slice of ham covering a wine glass to small plates of food for people to graze on.
Dinner in Spain is typically late so tapas are eaten in the late afternoon to keep hunger at bay until dinner time. But these tapas dishes are also very regional. Close to the coast, you might find more seafood dishes where other regions may serve more root vegetables.
Classic Spanish Tapas Dishes
Gambas al Ajillo which is garlic shrimp
Chopitos which are deep-fried baby squid
Patatas Bravas which is roasted potatoes with rojo sauce
Tortilla Espanola which is a potato and egg dish
Sounds fun right?
Tapas can be as simple as some marinated olives or a few slices of meat and cheese accompanied by a few nuts. Sounds much like a Charcuterie or cheese board. The word Tapas is used to basically describe a smaller portion or snack-size of any dish.
In the Middle East, they have a similar description but they call it Mezze or Meze. Meze typically includes pita bread, hummus, and olives! What ever you want to call it, tapas are basically appetizers or snacks in my opinion and we don't have to be in Spain to enjoy it.
This post may contain affiliate links.
I earn a small commission for my endorsement, recommendation, testimonial, and/or link to any products or services from this website.

Your purchase helps support this blog at no additional cost to you and allows me to continue bringing you delicious recipes and funny stories.

For my entire disclosure policy

click here

.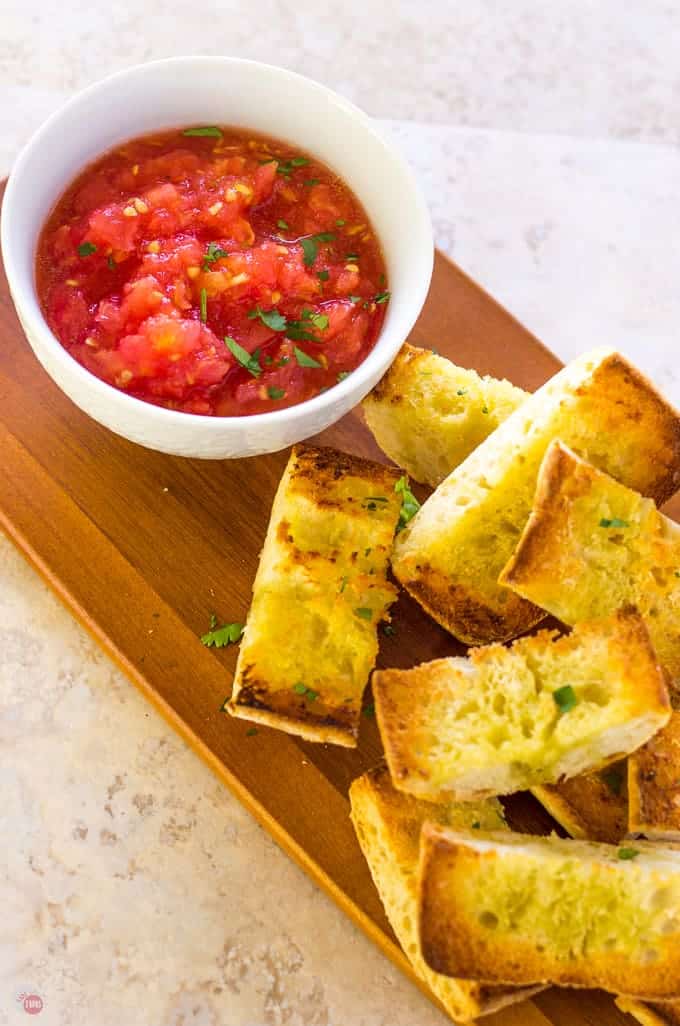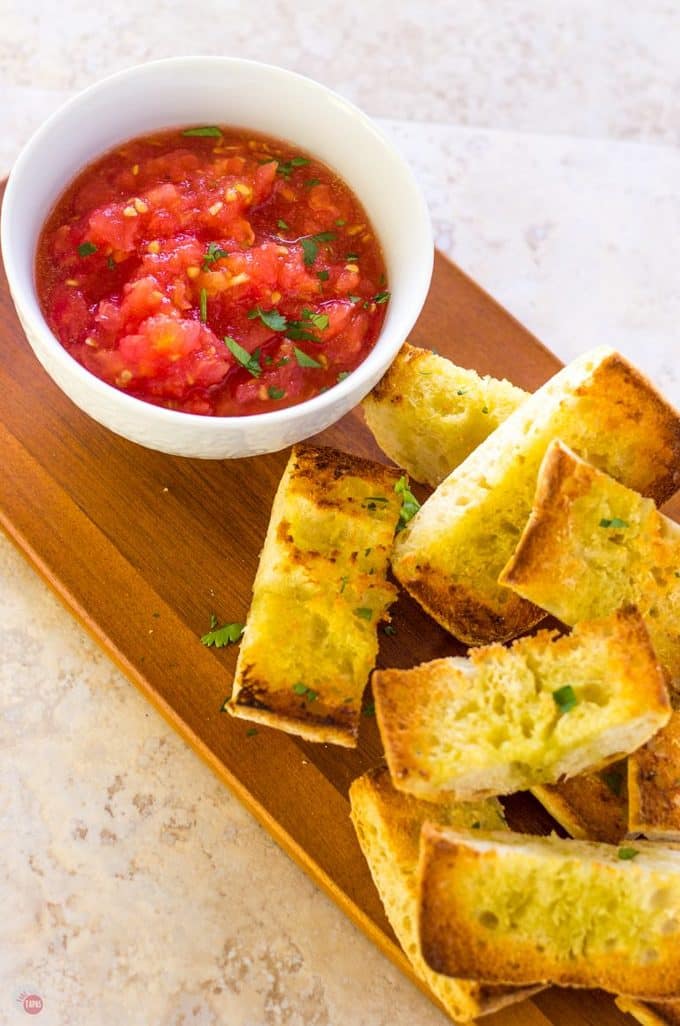 What does American Tapas look like?
Here in the America, we do essentially the same thing as Spain by serving appetizers at restaurants in case you are not super hungry or you need something to hold you over until your main entree arrives.
Lately, I have been ordering just appetizers when I got out to eat, mainly because it is cheaper, but I also don't need to eat the humongous portions that the restaurants are serving. Going and getting a pasta dish that includes a pound of pasta, but also salad and breadsticks are too much for an entire family to eat.
Or those all-you-can-eat buffets!
I like to try different dishes when I dine out and usually regret my order when I see my husband's dish. But how can I try a few different dishes without ordering 15 pounds of food? Appetizers and tapas!
The few Spanish restaurants I have had the pleasure of dining in had fabulous offerings that included roasted beets with feta and walnuts, two or three croquettes, or even a few slices of bread with some toppings.
Much like Italian Bruschetta, the bread can be topped with something as simple as hummus. For the record, I don't consider an entire fried onion a tapas or appetizer unless there are 10 people at the table to help eat it!
What are the benefits of eating tapas?
All of these qualify as tapas and were enough for Brooks and mm to have 1 or two bites of each. Ordering 4-5 plates of smaller dishes and a bottle of wine make for a great dinner in my opinion.
I am not totally stuffing myself, I am eating some hearty food so the wine doesn't go straight to my head, and I get to try 4 or 5 different dishes! Not a bad way to spend the evening.
The other great part about ordering tapas like this is not all the food comes out at once. You order all 5 dishes at one time but if the salad or cold tapas is already prepared they plate it and bring it out right away.
If the dish contains a meat that needs to be seared and sliced, it will come out a little after that. This makes for a casual, grazing atmosphere which allows my body to enjoy each dish and register if I am getting full instead of wolfing down a huge plate of food and not stopping to breathe only to leave myself stuffed and uncomfortable.
Brooks and I enjoy going out for cocktails and ordering two small plates. If we are still hungry we might order one or two more. But we allow ourselves to take our time! In a world where everything is express and we have to hurry every second of the day, a leisurely tapas dinner is fine by me.
I would love to eat like this for every meal and now I am. I have had a different circumstance with my husband traveling quite a bit for the last decade and having two small boys that eat constantly.
My kids rarely have sit-down dinners because they eat 5 bites and then are done for another hour. Most nights I am too tired to cook so I will eat a bowl of cereal, or grab my hummus and a few crackers and call it a night. Currently, in my house, it's all small portions all the time.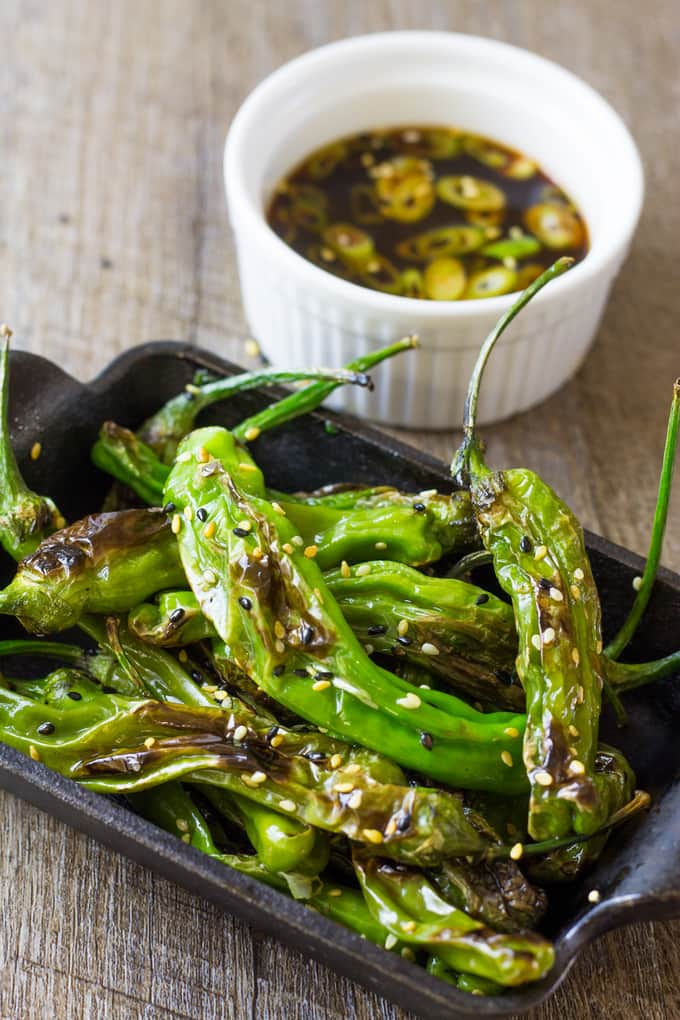 These Pan-Blistered Shishito Peppers are my new favorite way to eat tapas style!
Let's get flexible with the definition of tapas!
With all the talk of Spain, tapas doesn't have to be Spanish in nature. This is how Take Two Tapas was born! I started by reinventing dishes into smaller portions and giving it a second take, but now I want to actually take 2 tapas dishes, at least!
I make smaller portioned dishes, but really I just make appetizers. Taking appetizers out of being pigeon-holed into parties, tailgating, or just as a snack before dinner, I am showing you that you can eat this style for every meal!
Some afternoons I just eat a mezze platter or a small cheese board. Don't forget the olives!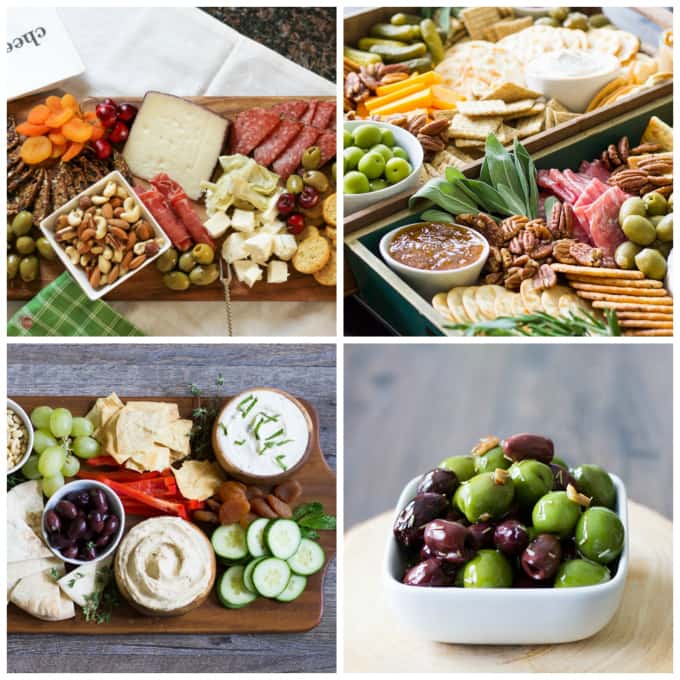 Sometimes I want something hot so I make a few other things like my gyoza, pear and blue cheese purses. These don't require forks and can satisfy your need for a hot meal.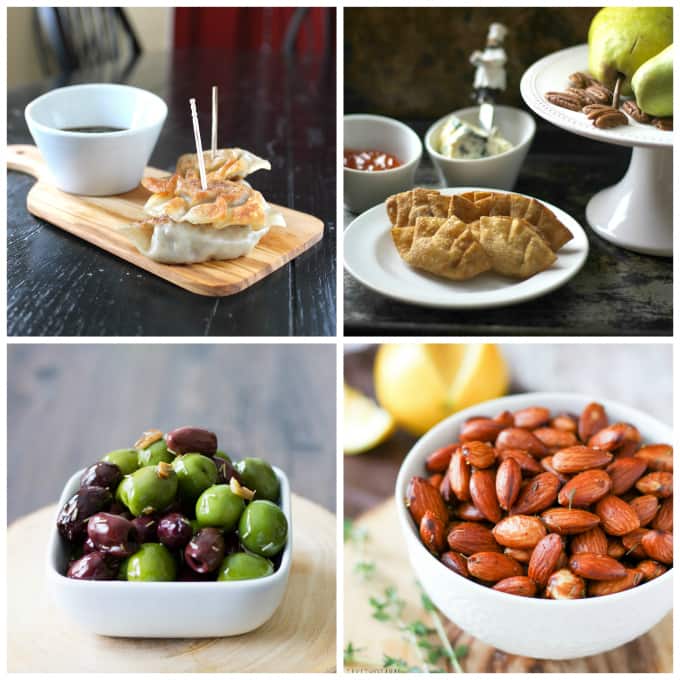 Looking for heartier tapas options?
Try my sweet and spicy pimento cheese bread, my corned beef and swiss sliders, or even my polenta jars. The polenta jars will take you to a more Italian state of mind, but count as tapas all the same!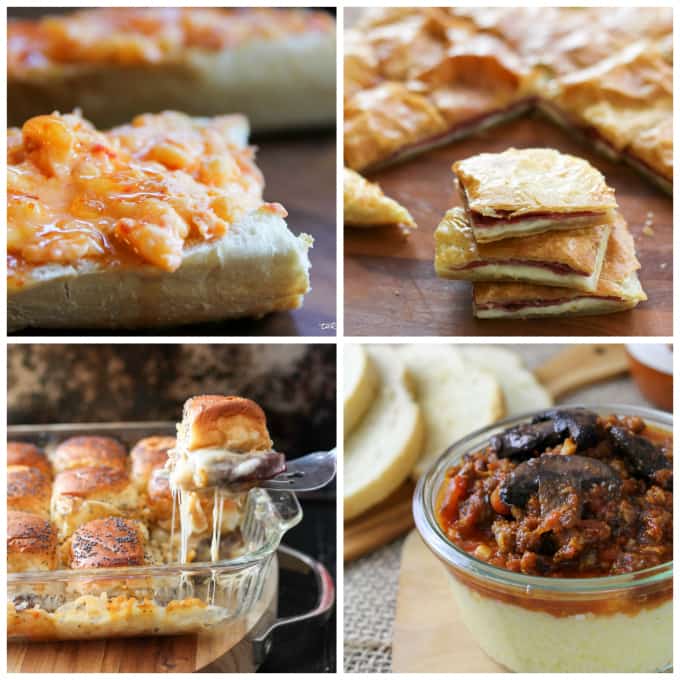 Appetizers can take salad form if you feel you need more vegetables in your life, like my Pickled Beet Napoleons or my Mediterranean Salad Stacks.
My Bourbon Bacon Brussels Sprouts and my Crispy Garlic Radishes are great side dishes to any meal or you can just eat them as your salad tapas!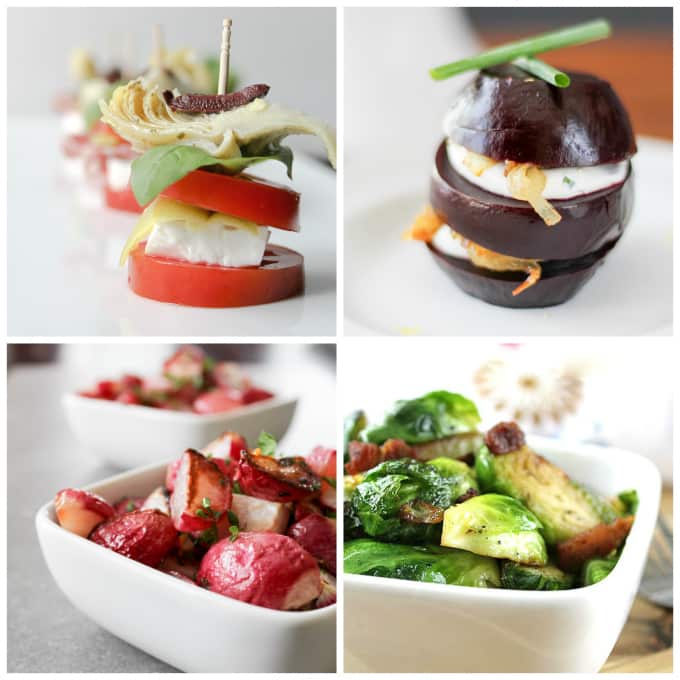 Tapas doesn't just mean savory in my book. Desserts can be small too. Have you seen all those dessert shooters that are popular right now?
I love to end my meal with a bite of something sweet but ordering a piece of cake that is really 1/4 of a 12-layer cake doesn't interest me. One of my favorite restaurants serves a variety of dessert shooters that are 3-4 bites and you can order a few of them to share around the table.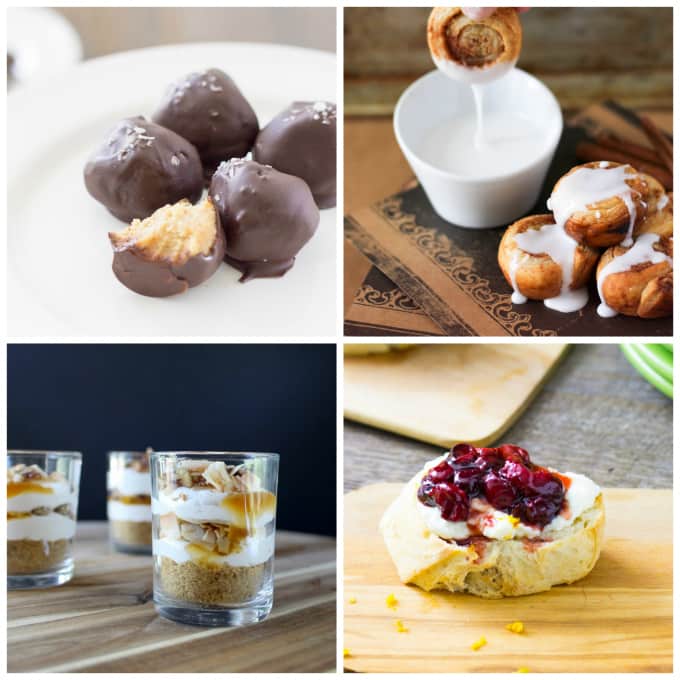 Dessert is a great way to end the meal! Check out my Cracker Truffles with Peanut Butter and Honey, my Roasted Cranberry Crostini, and my Caramel Pie Shooters for a great way to end your meal. Don't forget about breakfast. I make great Mini Cinnamon Roll bites made with Puff Pastry.
However you have viewed appetizers in the past, try seeing them in a new light. Tapas doesn't have to mean Spanish food, although their recipes are a great way to introduce yourself to this style of eating, it can just be smaller amounts of what ever you are making.
I still love pasta, macaroni and cheese, and burgers and fries. But now, I eat burger sliders, macaroni and cheese made in muffin pans, and I eat pasta out of a coffee cup. Not with coffee, just to control my portion size as I have a problem controlling myself around pasta.
Currently, on the blog, I am doing a series of traditional Spanish dishes with an American Southern twist to them. Check out my Pan Con Tomate first and keep an eye out for the other recipes in the next few weeks.
If you like reading my posts and seeing my recipes, connect with me on your favorite social media channel for behind the scenes photos and much, much more:
Sign up to receive a free email in your inbox with each new recipe:
If you love this Tapas Post as much as I do, please write a five-star review in the comment section below (or on Pinterest with the "tried it" button – you can now add pictures into reviews, too!), and be sure to help me share on facebook!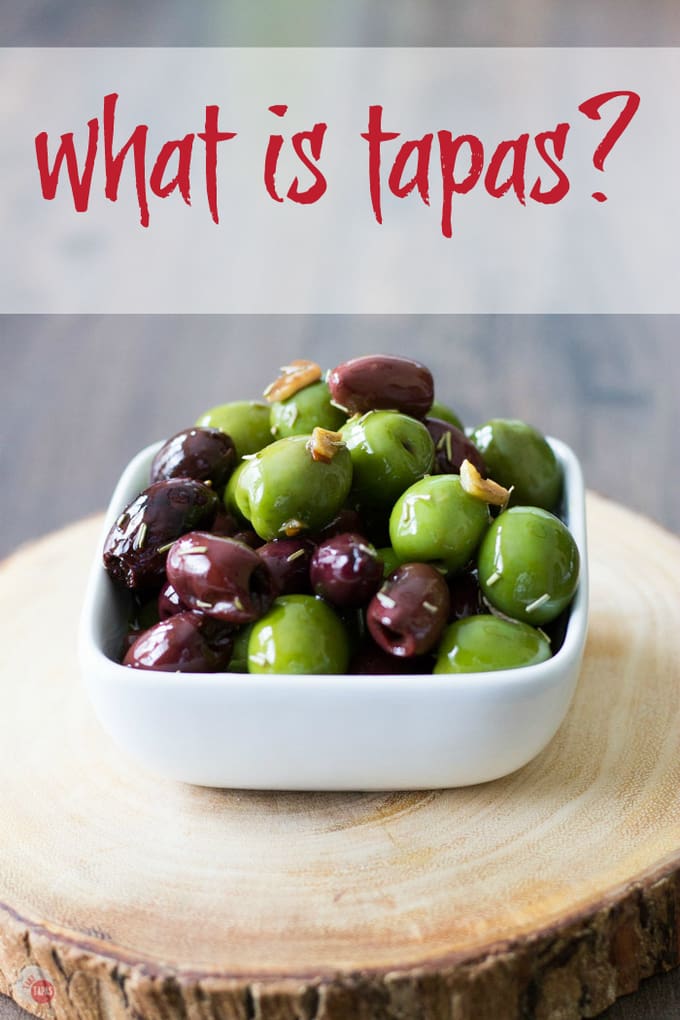 other tapas recipes
@TakeTwoTapas.com. Content and photographs are copyright protected. Sharing of this recipe is both encouraged and appreciated. Copying and/or pasting full recipes to any social media is strictly prohibited.