Ever wanted to learn how to make that delicious pan fried gyoza that you get at the Japanese restaurant? Now you can make gourmet, gyoza (or dumplings), at home and impress your friends!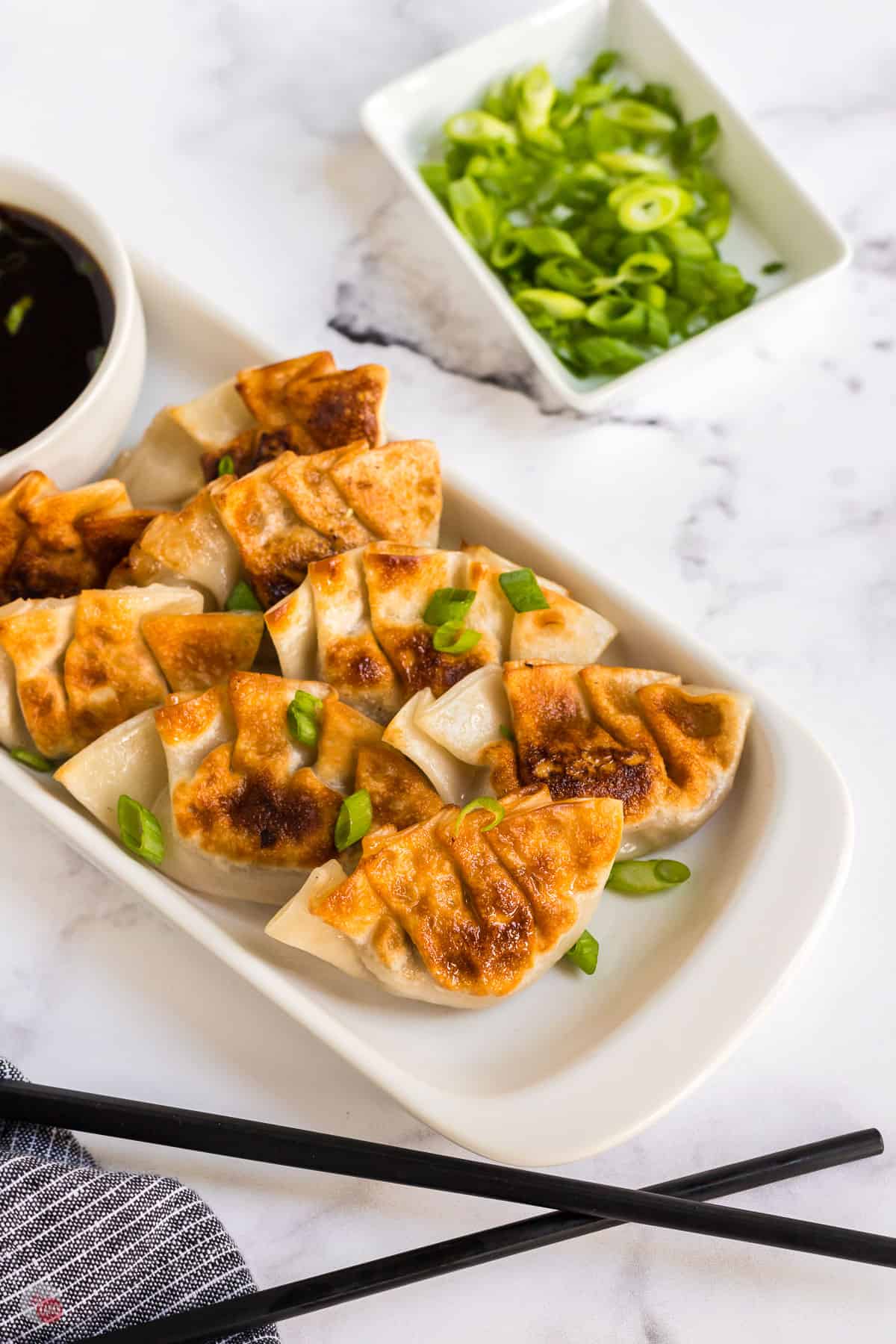 If you'd rather skip my essential cooking tips and tricks and get straight to this delicious recipe – simply scroll to the bottom of the page where you can find the printable recipe card.
Welcome to #SummerGamesWeek 2021 hosted by Amy from
House of Nash Eats!
We are celebrating the start of the Tokyo Games with over 50 recipes representing more than 25 countries competing in the upcoming Summer Games! Come join me and my fellow Summer Games Week bloggers as we bring you recipes from appetizers to drinks to entrées and desserts!
This recipe came to me from the mother-in-law of the best neighbor you could ever ask for.
We only lived next door to the Burnett clan for a very short 14 months, but I still consider them my neighbors. We have moved four times since our stint in Orlando, but when I tell people I am going to visit Scotty-B and the girls, I refer to them as my family.
Not, my friends and their daughters, but my family. Grandma Machie is Scotty B's Japanese mother and she makes the best gyoza, or Japanese Pan Fried Dumplings. Heidi so graciously introduced me to these tiny pockets of joy not long after they moved next door to us.
We sat on the back porch and stuffed and sealed about 200 of them that afternoon. I asked "why so many?" "Because that's what the recipe makes," was the response I got. So I went with it.
This recipe makes 200, restaurant style, Japanese Gyoza! Tender and juicy filling, tucked in a light wrapper, and pan seared to give it that trademark crispy side. Serve them with a simple dipping sauce for a quick weeknight dinner or a delicious appetizer!
This post may contain affiliate links. As an Amazon Associate, I earn from qualifying purchases. Read my disclosure policy here.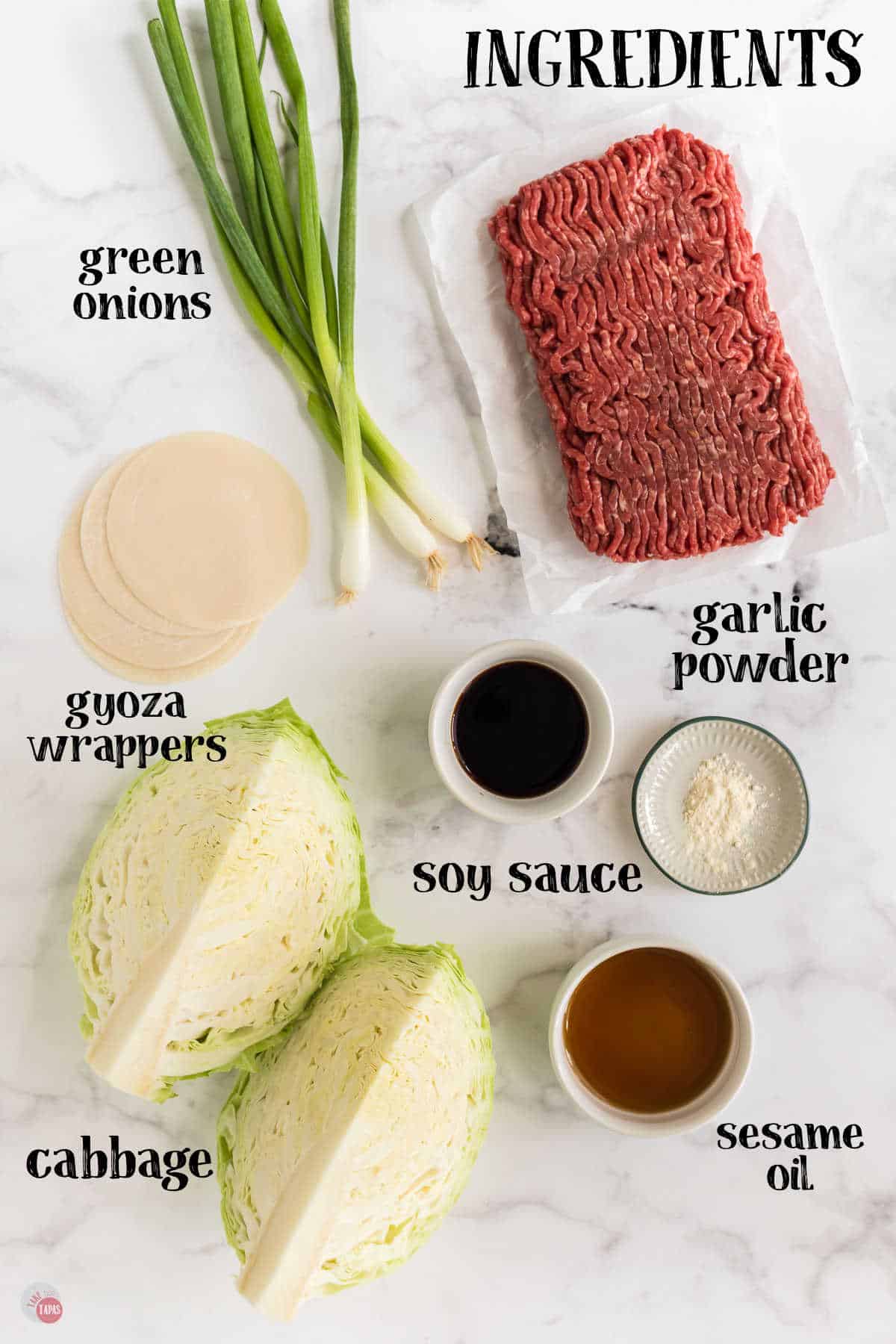 INGREDIENTS FOR JAPANESE DUMPLINGS
cabbage
beef
green onion
garlic powder
soy sauce
sesame oil
gyoza wrappers
Cabbage – Use a medium to large head of green or white cabbage. I like to core it and cube it before putting in the food processor for easier chopping
Beef – Most recipes use pork but I like a lean beef such as 93/7. You will not need to cook it before you put it in the wrapper.
Gyoza wrappers – You can use wonton wrappers that are square and just fold in half but I like the round ones. Most Asian markets will carry them or you can order online. Because of the round shape the pleats come out so pretty.
For more insider tips & tricks, and a candid behind the scenes look follow me on social media! Check use out on Pinterest, Facebook, Instagram, & Twitter (yes, people still use Twitter, LOL!)
HOW TO MAKE PAN FRIED DUMPLINGS
STEP ONE: Mix the filling by adding the cabbage, beef, and green onions to a food processor. Pulse until finely chopped. I like to chop most of my cabbage in batches since my processor is small, and then add the beef and onions to the last batch of cabbage.
STEP TWO: Move the filling to a large bowl. Add the soy sauce, sesame oil, and the garlic powder. Mix to combine thoroughly.
STEP THREE: Wrap the gyoza by adding 1-2 teaspoons filling to the middle of a wrapper. Fold in half, pressing out all the air. The pinch and pleat the edges closed. Repeat until all filling is used.
STEP FOUR: Pan sear the gyoza by heating scant amount of vegetable oil in a nonstick skillet over medium-high heat. Add 5-8 gyoza to the hot oil. Sear for a few minutes until one side is crispy and golden brown.
STEP FIVE: Flip the gyoza, add a few tablespoons water to the pan (this will splatter so be careful). Cover with a lid and steam for a minute or two. Remove the lid and let the water cook off. Remove the gyoza from the pan and place aside. Repeat until all gyoza are cooked.
STEP SIX: Make the dipping sauce by combining the soy sauce and lemon juice. Add the sliced onions. Serve with warm gyoza.
For the full recipe and detailed instructions, please refer to the recipe card at the bottom of the post.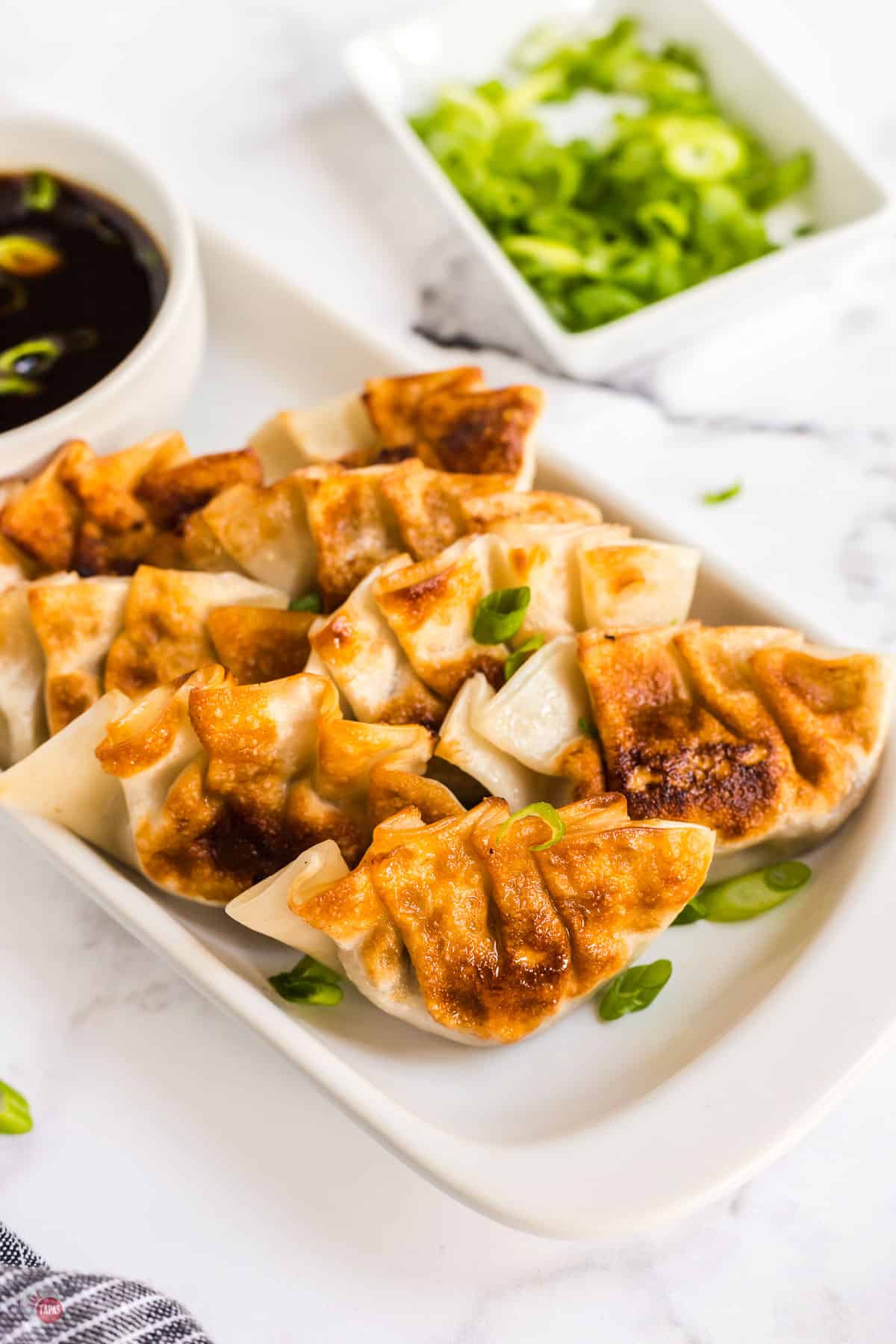 WHAT IS THE DIFFERENCE BETWEEN GYOZA AND DUMPLINGS?
A dumpling or potsticker is made with a wheat wrapper, is usually steamed, boiled, or pan fried.
Gyoza is made with a thinner wrapper and the filling is more finely chopped. Most often these are prepared pan fried with a crispy side to enhance the flavor of the fillings.
IS GYOZA A POTSTICKER?
While they are both considered Asian food, a potsticker is typically found in Chinese cuisine while a gyoza is the Japanese version.
WHAT DOES GYOZA HAVE IN IT?
While many Chinese dumplings are made with a variety of meats, traditional Japanese gyoza are made with ground pork. You can see that I have strayed from that because of the recipe that was passed to me from my neighbor's Grandma Machie.
And you don't question Grandma Machie:)
HOW LONG DOES IT TAKE TO PAN FRY DUMPLINGS?
It only takes a few minutes to cook them. That's the beauty of the thin wrapper and the finely chopped filling. The quick pan sear gives you the crispy texture and the quick steam allows the filling to cook without being tough.
These are also great deep fried!
CAN YOU MAKE GYOZA WITH WONTON WRAPPERS?
Yes, you can. You can leave them square and fold them in half or cut the wonton wrappers into a circle with a biscuit cutter.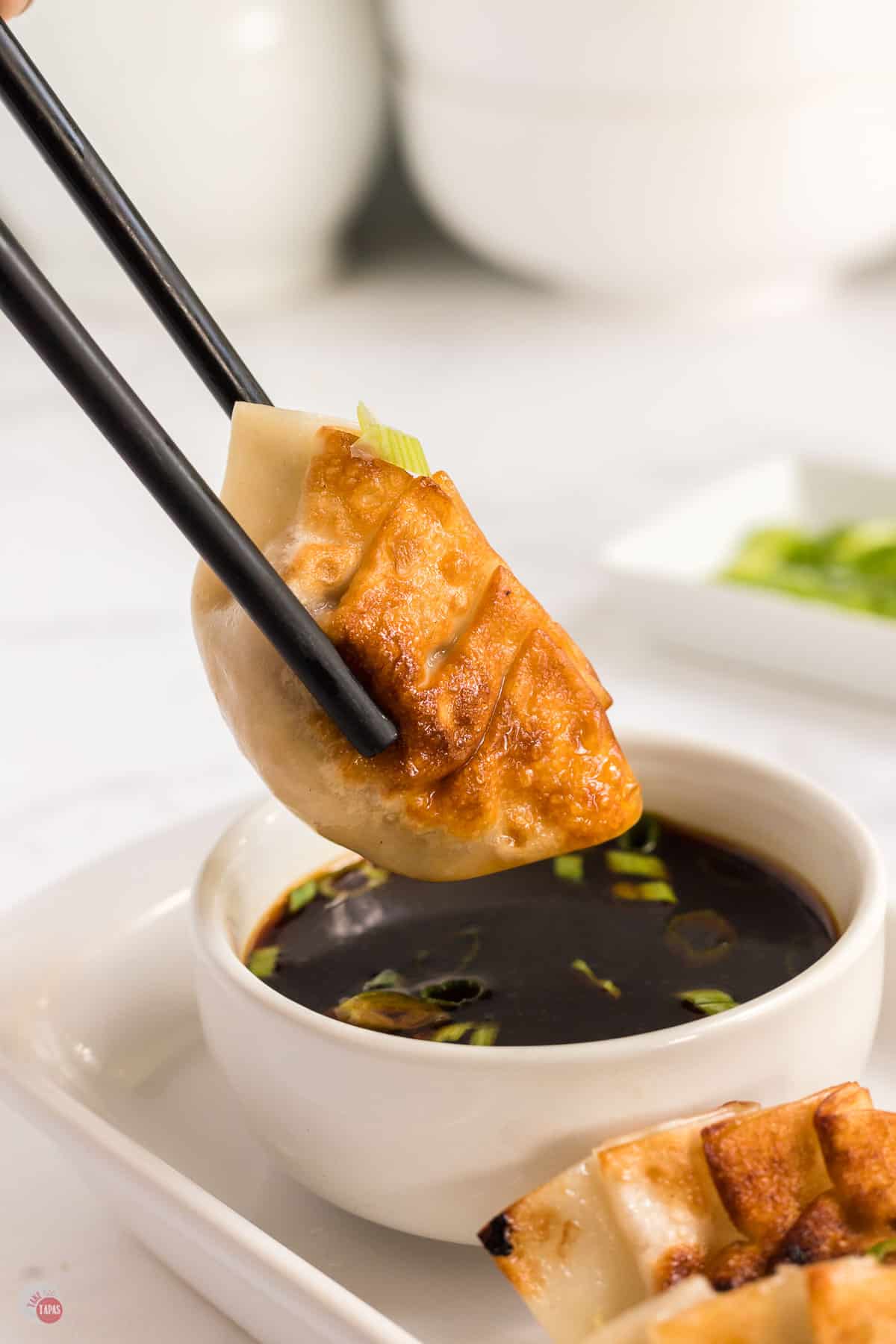 TAPAS TIPS & TRICKS
This recipe makes around 200 dumplings. You can break it into various steps and finish when you are ready.
You can make the filling, portion it and freeze it uncooked.
Make the filling, fill part of the wrappers, and freeze the rest.
You can make all the gyoza and freeze them uncooked. If you want to stop here, lay them out on a parchment paper lined baking sheet, in a single layer, and freeze for a few hours. Then you can consolidate them into a freezer bag for later.
You can make the mixture, stuff the wrappers, cook, and then freeze.
You can also eliminate the meat from the filling and make them completely vegetarian!
COOKING FROZEN GYOZA
You can pan sear frozen, uncooked gyoza in just a few minutes. Let them sit at room temperature for 3-5 minutes. Then cook gyoza per regular instructions.
You can reheat previously cooked and frozen dumplings in the microwave for a minute or two, depending on your microwave, until they are hot.
I like to make mine on a Sunday afternoon, make all 200, freeze 150 of them and cook the rest for dinner! These reheat well during the week for an afternoon snack or a quick side dish for dinner.
If you love this recipe as much as I do, please write a five-star review in the comment section below (or on Pinterest with the "tried it" button – you can now add pictures into reviews, too!), and be sure to help me share on facebook!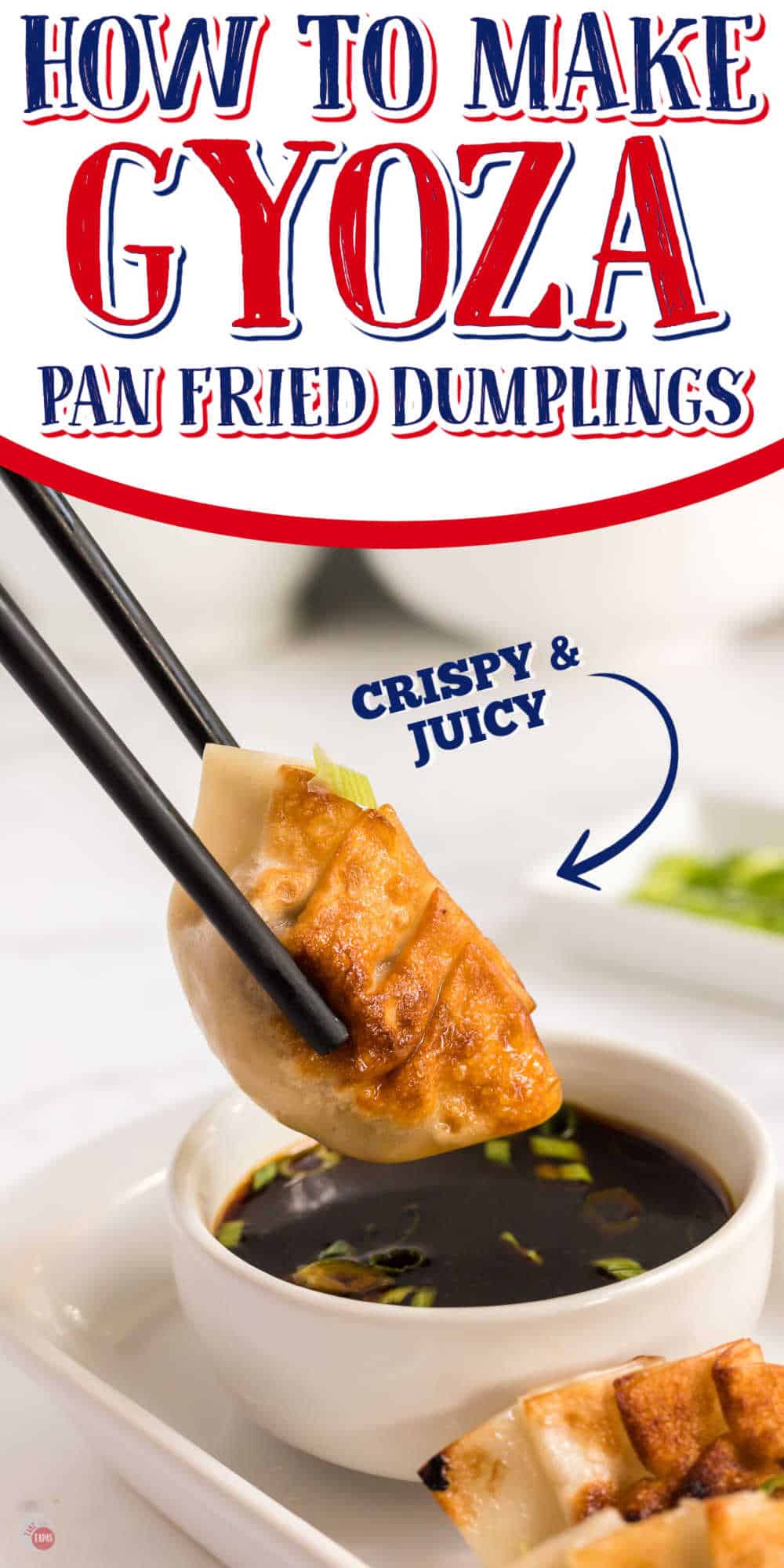 OTHER EASY APPETIZERS TO TRY
Thursday #SummerGamesWeek Recipes
HOMEMADE GYOZA RECIPE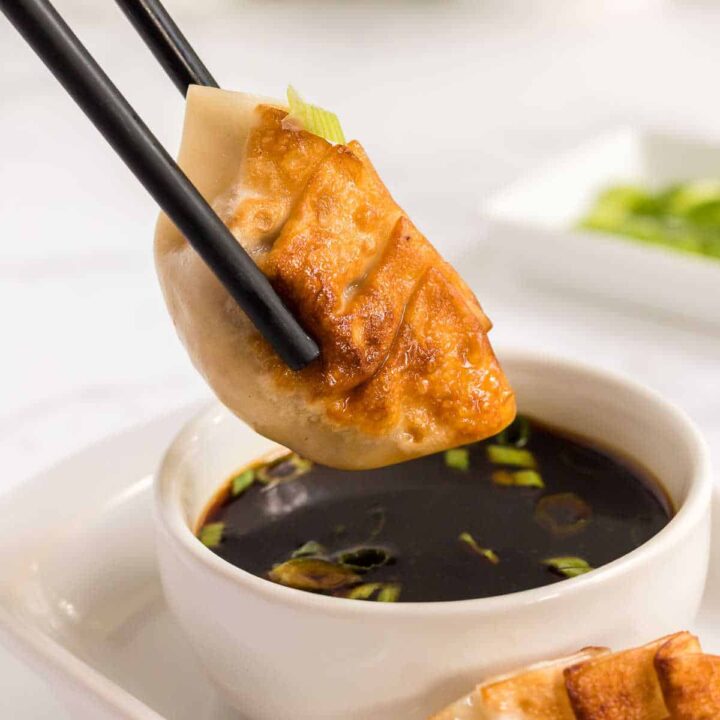 Japanese Pan Fried Dumplings
Ever wanted to learn how to make those delicious dumplings you get at the Japanese restaurant? Check out this easy recipe!
Ingredients
4 (14 ounces) packages dumpling wrappers (I like to use the round ones)
Filling:
1 head green cabbage
1 bunch green onions (ends trimmed)
1 pound ground beef (can substitute turkey, pork, or venison)
2 tablespoons sesame oil
pinch of kosher salt
1 teaspoon garlic powder (you can substitute 2 fresh cloves)
2 tablespoons soy sauce
Dipping Sauce:
1 cup soy sauce
2 tablespoons lemon juice
1 bunch green onions (thinly sliced)
Instructions
Make the filling
In a food processor, combine the cabbage, spices and onions.
Pulse until finely chopped.
Add the beef and pulse a few more times.
Remove to mixing bowl and add the soy sauce and sesame oil.
Mix until completely incorporated.
Prepare the wrapping station
Get a tray together that contains the wrappers, filling, and small bowl of water.
Add a scant amount of filling (about 1 teaspoon) to the middle of the wrapper.
Add some water around the edges.
Fold over and remove all the air.
Pinch and pleat the edges.
Repeat until all the filling is used.
Pan Fry the dumplings
Add 1 teaspoon canola oil to a non-stick pan.
Heat over medium high heat.
Add a few gyozas to the pan and cook until the bottom is brown and crispy.
Flip over and add 1-2 tablespoons water the pan.
Cover and steam for 2-3 minutes.
When all the water has evaporated, remove the gyoza from pan.
Serve warm with dipping sauce.
Make the dipping sauce
Combine the soy sauce and lemon juice. If you want to adjust the lemon juice level to your liking. I like mine tart!
Sprinkle the sliced green onions over the sauce to soak up the juice.
Notes
*If you love this recipe as much as I do, please leave me a comment and rate it 5 stars. Thank you!
Recommended Products
Nutrition Information:
Yield:

50
Serving Size:

4 dumplings
Amount Per Serving:
Calories:

40
Total Fat:

2g
Saturated Fat:

1g
Trans Fat:

0g
Unsaturated Fat:

1g
Cholesterol:

8mg
Sodium:

333mg
Carbohydrates:

2g
Fiber:

1g
Sugar:

1g
Protein:

3g
This nutrition information was generated via a third party. I can not be held liable for any discrepancies in the information provided.
Originally Published 5/26/15 – photos and recipe notes updated to improve reader experience 07/22/21}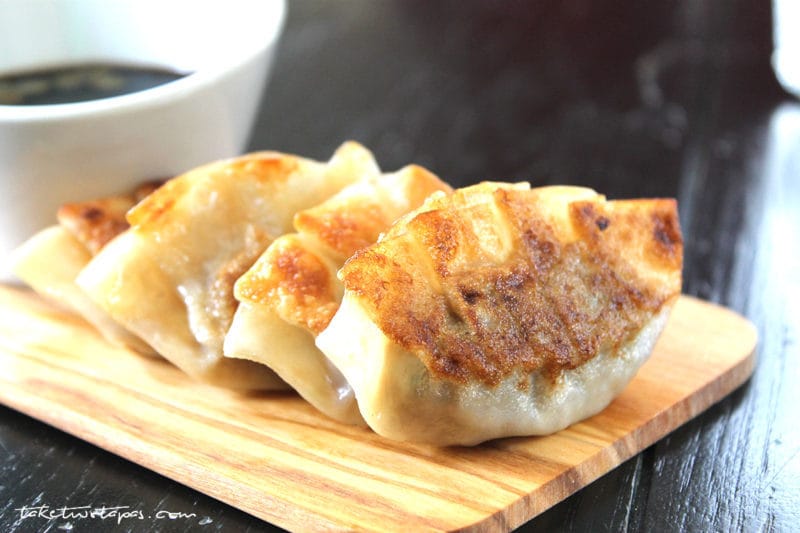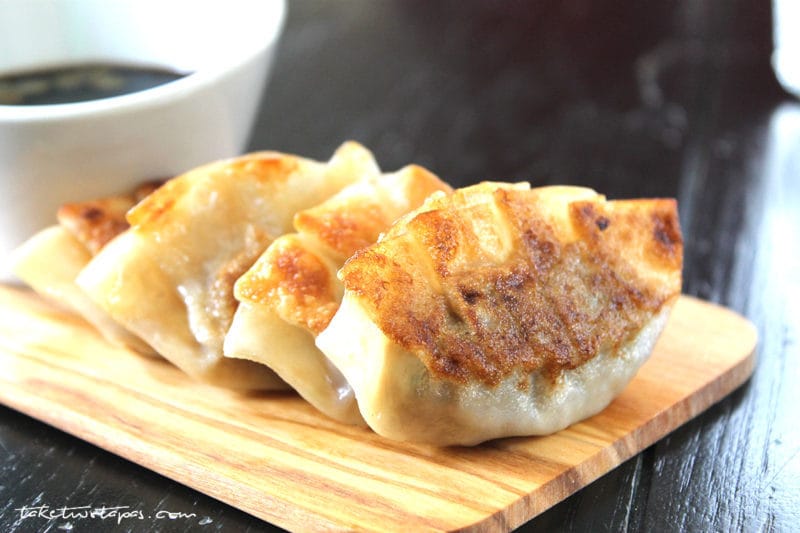 @TakeTwoTapas.com. Content and photographs are copyright protected. Sharing of this recipe is both encouraged and appreciated. Copying and/or pasting full recipes to any social media is strictly prohibited.