Deviled eggs are the perfect appetizer to bring to your next party, picnic or potluck. But, how do you transport them to keep them intact and at optimal freshness? I'm here to solve that dilemma for you.
This post may contain affiliate links. As an Amazon Associate, I earn from qualifying purchases. Read my disclosure policy here.
How do you transport deviled eggs?
The easiest and best way to transport those eggs is with a deviled egg carrier. If you are known for your deviled eggs and are always being asked to bring them, you may want to invest in a deviled egg container.
You can also transport your eggs using a deviled egg platter covered with plastic wrap. This is a good option, but not as secure. However, they will be ready to display when you arrive. A great option is to layer something under them like large lettuce leaves or maybe some rock salt.
If you choose to transport your eggs this way you may want to wait to garnish your eggs when you get to your destination. Serve or display them on beautiful egg platters.
If you prefer to create your own carrier, I have listed some great options below for making one.
You can use mini-muffin trays and place one egg in each muffin cup. Or use full size muffin tins if that is all that you have. Simply cover with saran wrap and go! Make sure to bring a pretty platter to display your deviled eggs when you get there.
Use egg cartons and aluminum foil to create a carrier. Place the bottoms of 2 egg cartons in a 9×13" pan. Cover with a layer of foil and gently press down in each indentation. Place your eggs in the indentations and cover with plastic wrap. Again, don't forget your pretty egg plate!
All of the above are ways to transport your deviled eggs already assembled. But you can also opt to assemble your eggs at your destination. Simply bring the egg halves, filling, and toppings separately.
When you arrive, you can place the eggs on your platter, pipe filling into whites and garnish. This method will definitely ensure perfect eggs and eliminates the possibility of smooshed eggs when you arrive.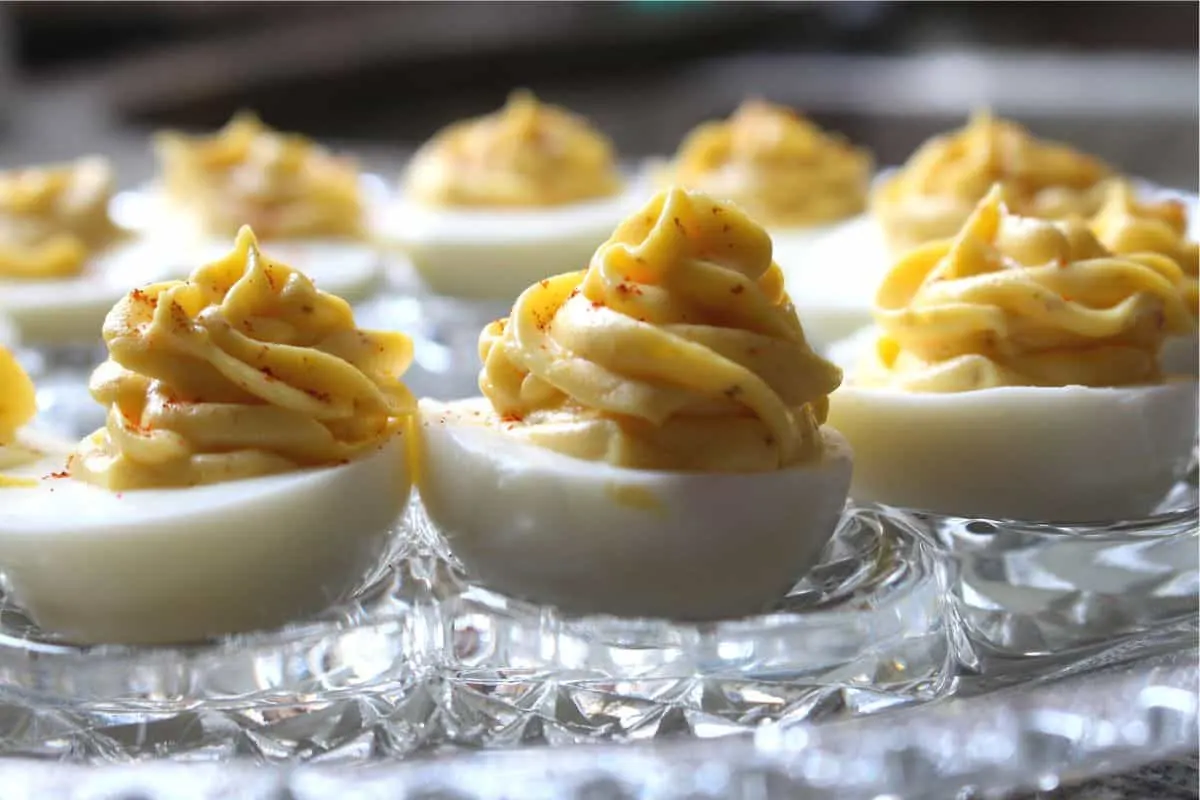 How do you keep deviled eggs from sliding on a plate?
If you are transporting eggs on a regular plate or serving platter you will definitely need to secure them.
Here's a few ways to keep them from sliding around:
Trim a little of the white off the bottom to make it flat.
Pipe a small amount of filling on the serving tray (don't worry you will have a little extra due to adding ingredients) and set the egg white on that dot.
Fill the bottom of the tray with items like rock salt, crushed ice, sesame seeds, etc. and set the eggs on it.
Place your eggs on a platter lined with lettuce and place parsley in between eggs to secure them.
How far in advance can you make deviled eggs for a party?
Most of the prep work can be done ahead of time, even more than a day in advance. There are 4 steps to making deviled eggs:
Boil the eggs. This step can be done up to a week ahead of time. Eliminate this step altogether if you buy eggs already boiled, which can be found in most grocery stores.
Slice the eggs lengthwise and separate the yolks from the whites. You can do up to 2 days ahead of time.
Make the egg yolk filling. This can also be done up to 2 days ahead of time.
Pipe the filling into the egg whites and garnish. The piping can be done 12-24 hours ahead of time. I recommend waiting to garnish your eggs until serving.
Tip: You can freeze deviled egg filling but not the egg white halves.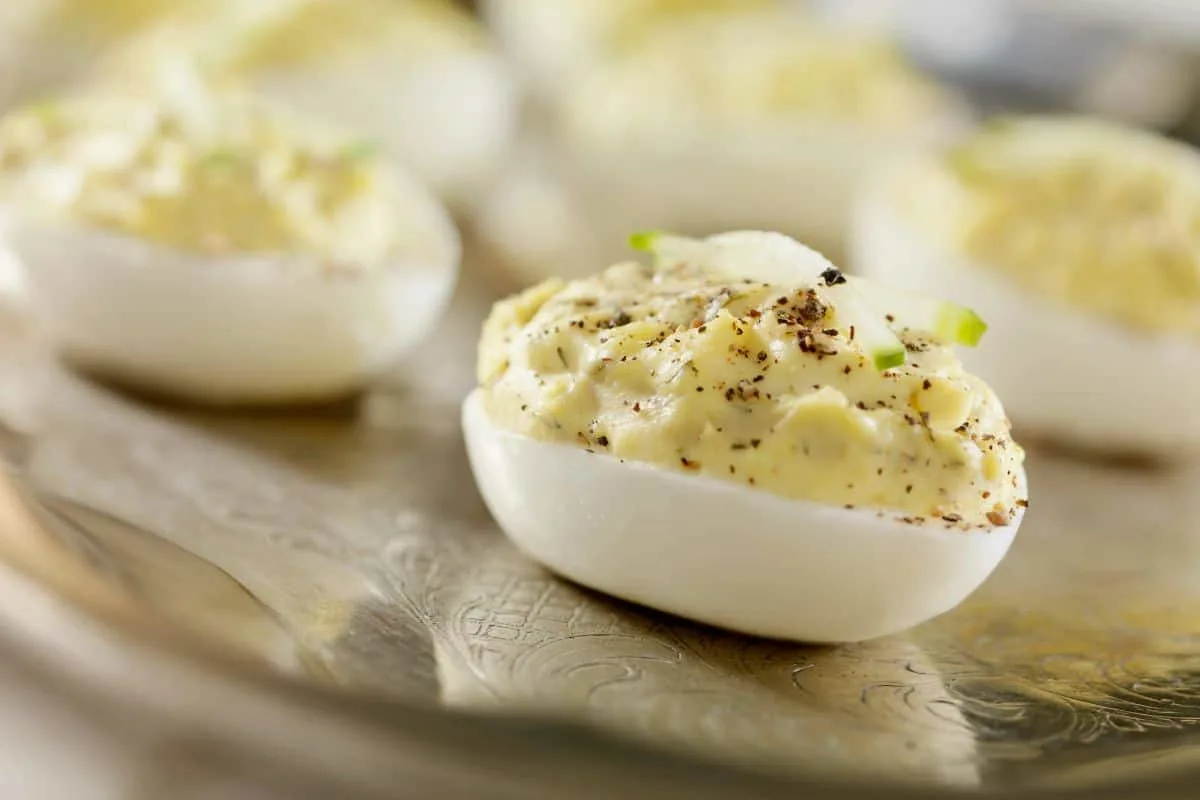 How do you keep deviled eggs cold at a party?
Deviled eggs can spoil after being out at room temperature for more than 2 hours, so it is best to try to keep them chilled.
I personally think that they taste better cold anyway.
For best results, use a tray that has a compartment for ice underneath. Or, there are a couple of ways that you can create a chilled tray.
Place a towel or paper towels on the counter. On top of the towel place a couple of flat ice packs. Make your own flat ice packs using gallon freezer bags filled with water and laid flat in the freezer. Use filled ice cube trays. Place your deviled egg plate on top of the ice packs or trays for a great way to keep those eggs cool.
Find a platter that is larger in diameter and deeper than your egg plate. Fill with ice and place the egg plate on top.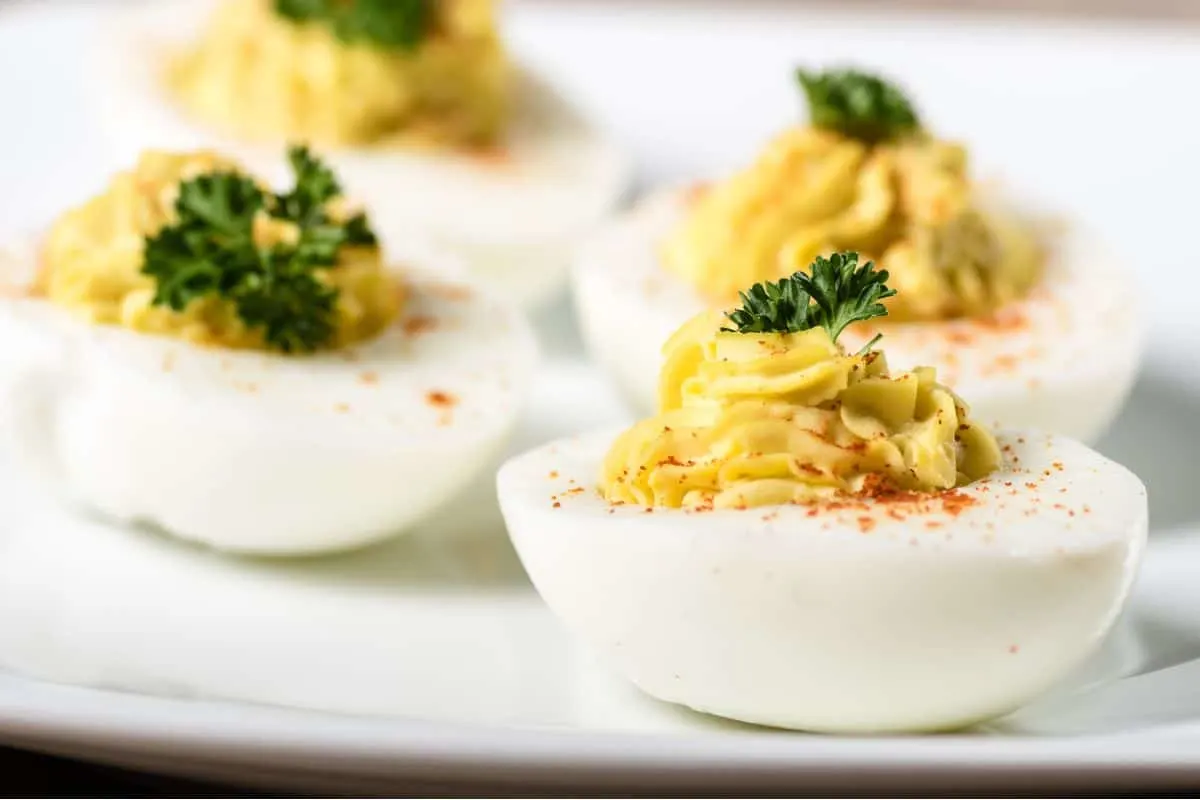 How do I make deviled eggs?
Now that you know how to transport deviled eggs, you may need a recipe to make them.
Here's my favorite recipe for classic deviled eggs with 4 simple ingredients:
Classic Deviled Eggs
Ingredients
6 hard-boiled eggs, peeled
1/4 cup mayonnaise
2 teaspoons yellow mustard
1 teaspoon white vinegar
Instructions
Cut the eggs in half lengthwise.
Remove the yolks to a separate bowl and place the egg white halves on a serving tray or deviled egg tray..
Using a fork, smash the yolks and mix in the mayo, mustard, and vinegar. You will want to mash until you have a creamy mixture.
Taste and season with salt and black pepper if desired.
Place filling in a piping bag or resealable plastic bag to make filling the eggs easier.
Snip the corner of the ziplock bag and squeeze to fill the egg white halves with the egg yolk filling. Garnish with paprika or chives on top of the eggs.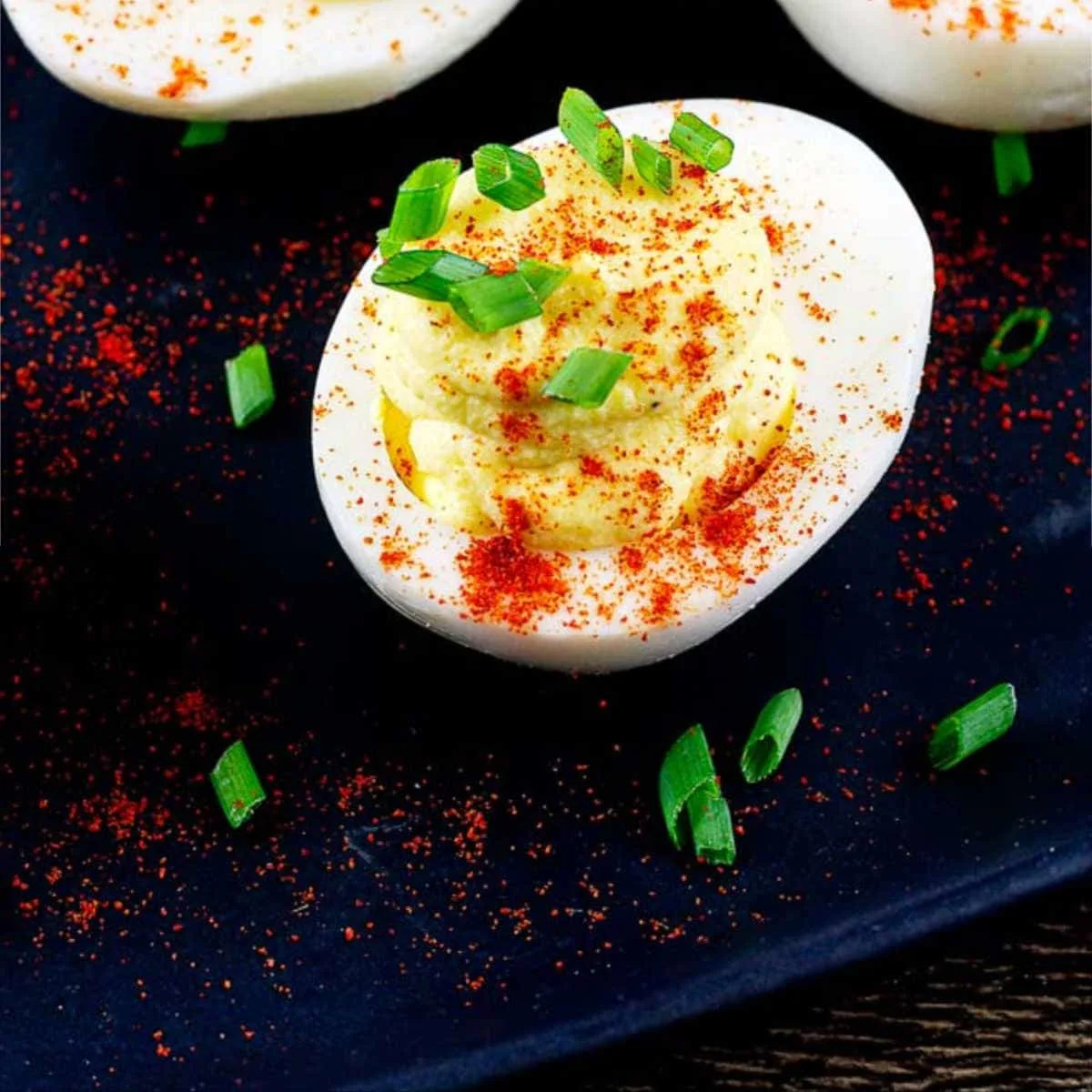 Tapas Tips & Tricks
Use a fork to smash the yolks before adding anything else. This makes for a smoother filling.
For a super creamy yolk mixture, pulse in a food processor until smooth.
To keep them from sliding on the serving tray, place on lettuce leaves or a pinch or two of salt. Or, if you often serve deviled eggs you can invest in a deviled egg tray that is going to be best for holding those wobbly oval-shaped egg whites!
The best way to fill the eggs is with a piping bag. Use a decorating tip to make them "fancy."
Other tasty garnishes for filled eggs are: crispy bacon, green onions, cheddar cheese, chili powder or a gherkin pickle slice.
Some other popular mix-ins for the egg yolk filling are pickle relish, splash of hot sauce, avocado, horseradish or dijon mustard instead of yellow mustard.
Leftover deviled eggs will stay fresh in your fridge in an airtight container for up to 4 days.
Use leftover eggs to make egg salad!
And, for all the best tips and tricks, check out my Complete Guide to Perfect Deviled Eggs.
If you love this recipe as much as I do, please write a five-star review in the comment section below (or on Pinterest with the "tried it" button – you can now add pictures into reviews, too!), and be sure to help me share on facebook!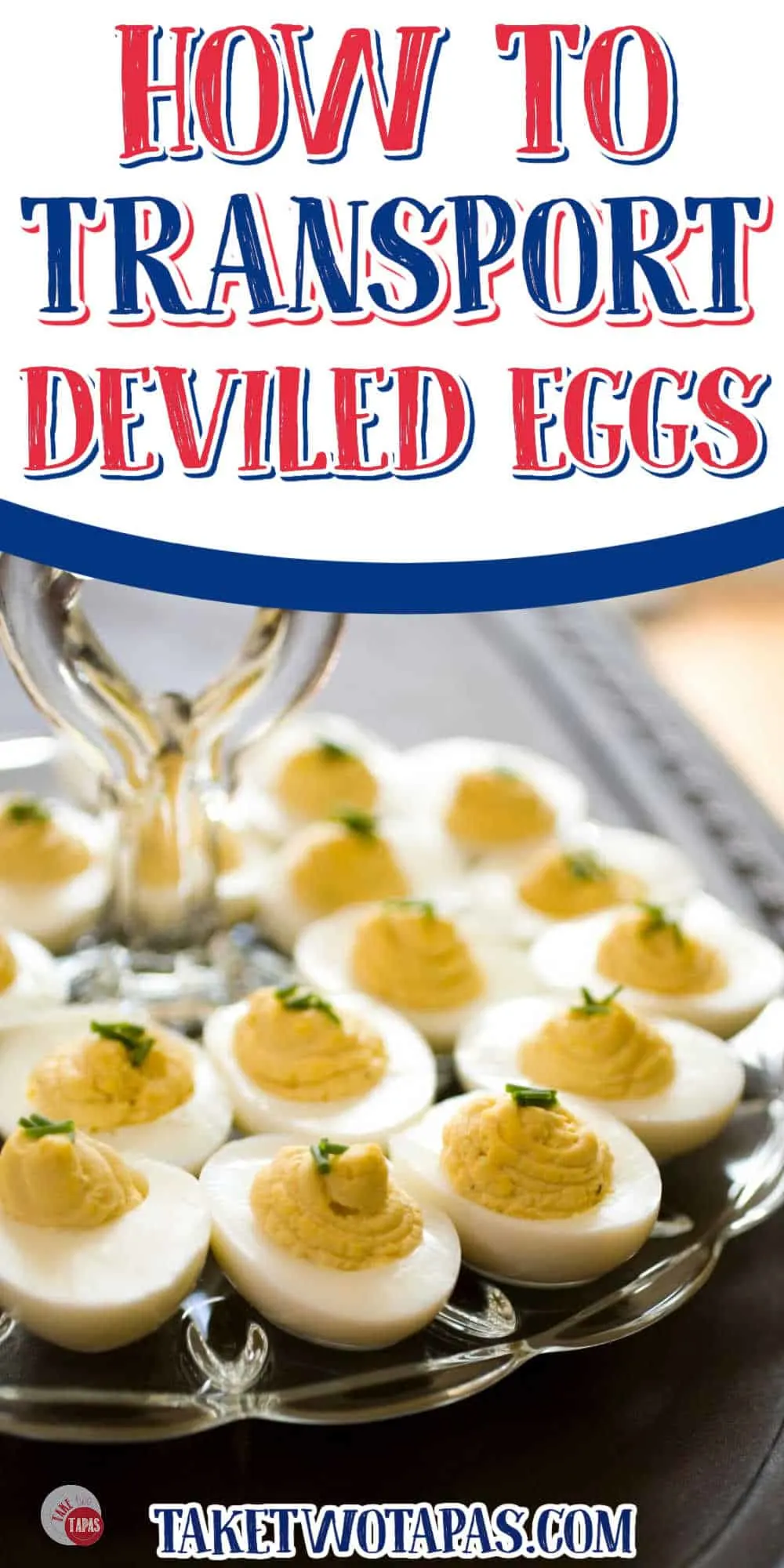 More Easy Finger Foods
TakeTwoTapas.com. Content and photographs are copyright protected. Sharing of this recipe is both encouraged and appreciated. Copying and/or pasting full recipes to any social media is strictly prohibited.