Stuffed mushrooms are a classic party appetizer. Plump baby portobello caps stuffed with gooey cheese, spinach, crisp red peppers, and a few other goodies, baked with a crunchy cheesy top make for the perfect party appetizer!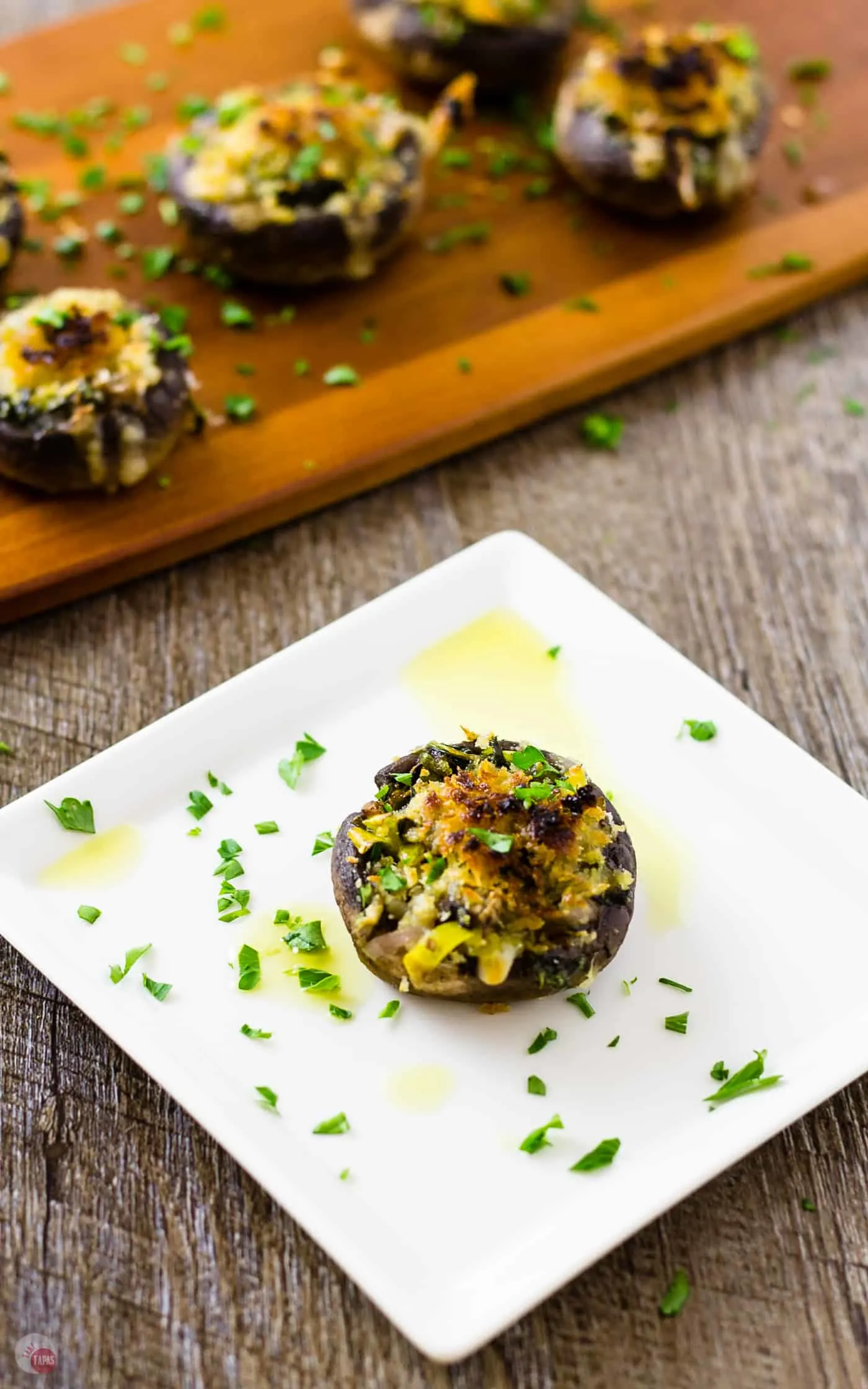 Vegetarian Stuffed Mushrooms
I was, and still am, not a fan of mushrooms. But everyone I love and care about eats them so I put on my big girl pants and make them. Every so often… So if I am going to make and eat them, they must be the best stuffed mushrooms of all time!
These stuffed mushrooms are a great appetizer for a gathering, the first course for an elegant dinner party, or a delicious and earthy side dish for any meal. A juicy texture and creamy filling make this easy mushroom recipe a winner.
If you are looking for a main dish, you can certainly take this recipe and just make it for 1 or 2 full size large portobello mushroom caps. Because the recipe is vegetarian, it's a great meatless meal!
Mushrooms are super versatile! Check out these Roasted Garlic Butter Mushrooms, Mushroom Bruschetta Spread, and Savory Mushroom Crackers from Pie Crust!
Why this Stuffed Mushrooms Recipe is Awesome
A great vegetarian option!
It is a simple recipe to whip up and serve at or bring to parties.
You can make them vegan by leaving out the cheese or using a vegan-friendly cheese.
They can be made ahead and cooked right before serving.
This post may contain affiliate links. As an Amazon Associate, I earn from qualifying purchases. Read my disclosure policy here.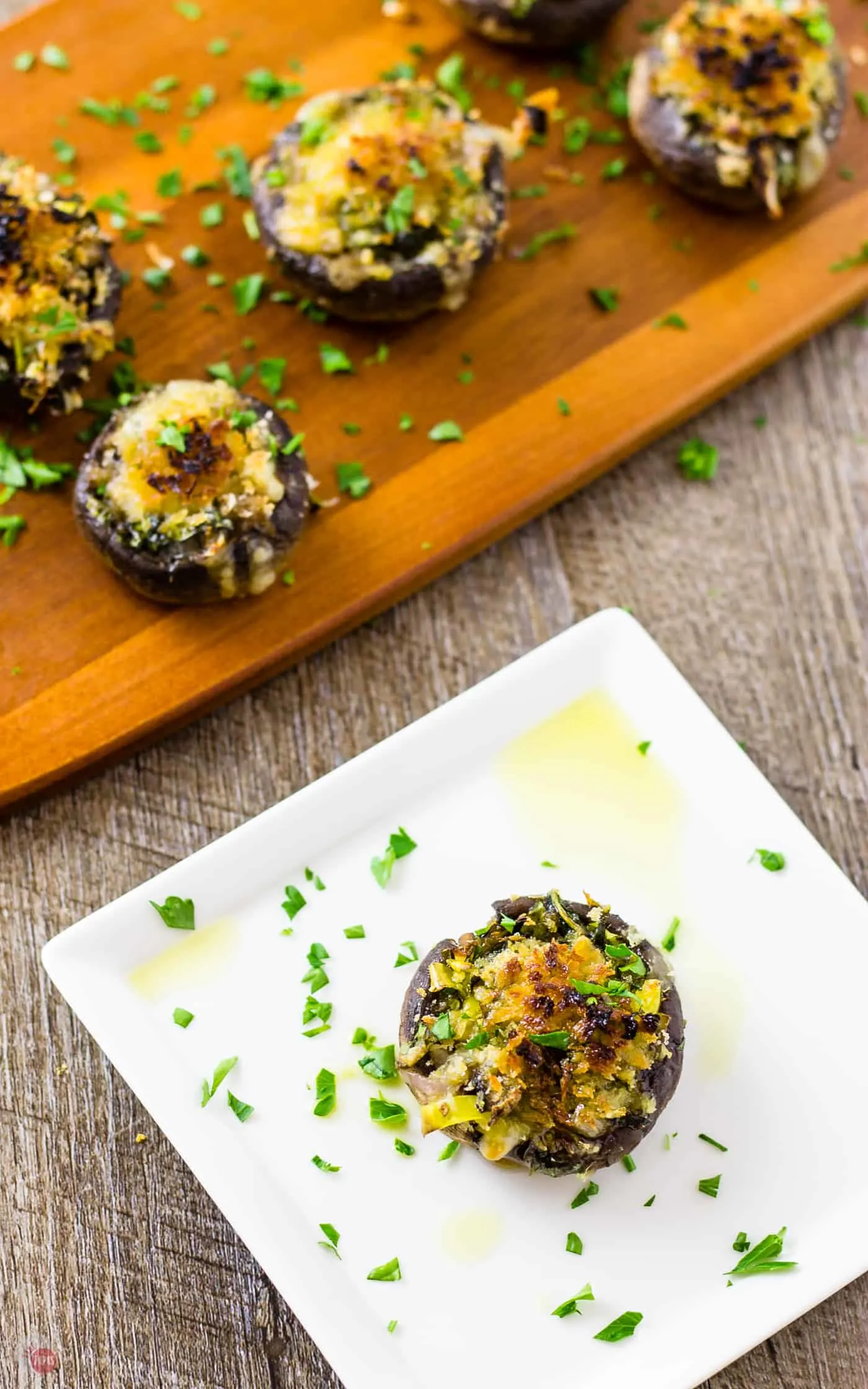 Ingredients Needed
Mushrooms – Baby bella mushrooms or baby portobello mushrooms are the best, but white mushrooms work too. Just make sure the cap is spacious enough for the delicious filling. Smaller mushrooms can be chopped up with the mushroom stems as part of the filling or tossed into a salad.
Spinach – Use the fresh or raw spinach for this. It's way better!
Cilantro – This is for making a drizzle oil. Feel free to leave it out if you don't want it.
Roasted red peppers – These are used as part of the filling for our mushrooms
Cheese – We use feta for the filling and parmesan on top, but you can omit it completely if you'd like to make them vegan. Some folks also opted for cream cream cheese.
Capers – I love the bright, briny flavor that capers add to this mushroom filling.
Balsamic vinegar – The acidity of the vinegar blends nicely with the fresh vegetables and balances umami flavors. A splash of white wine can also do the trick.
Bread crumbs – I prefer to use panko for this recipe. It gives the tops of the mushrooms a nice crunch.
Olive oil – This is also used to make the drizzle oil.
Salt and black pepper – As always, use these to taste and your liking.
Fun variations include adding a little bit of crab meat, if you are opposed to cilantro, melt butter and drizzle over the top or just use a good quality olive oil, top with chopped green onions (scallions), add chopped fresh herbs, Italian seasoning, onion powder, bacon bits or even cayenne pepper to spice it up.
For more insider tips & tricks, and a candid behind the scenes look follow me on social media! Check use out on Pinterest, Facebook, Instagram, & Twitter (yes, people still use Twitter, LOL!)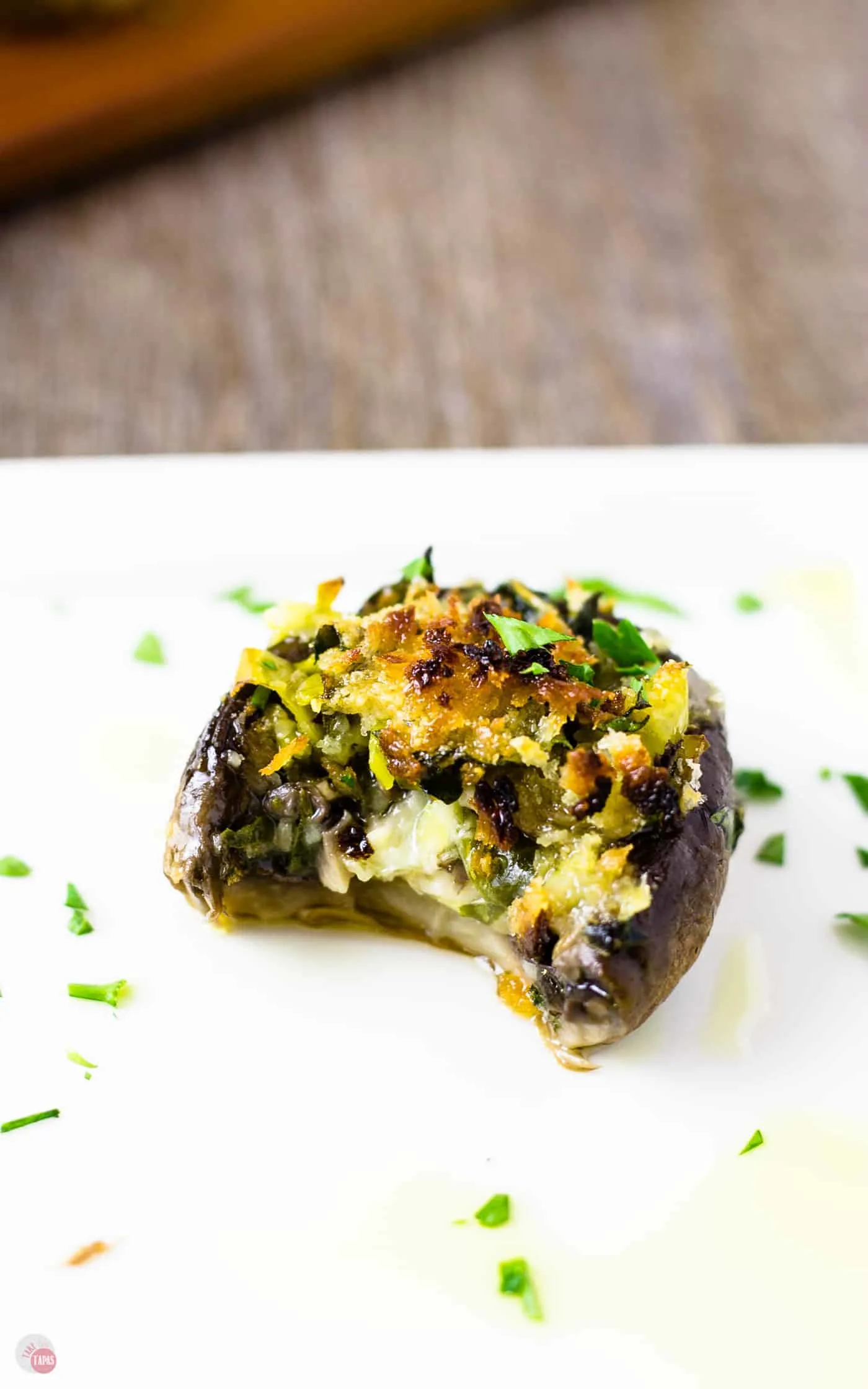 How to Make Stuffed Mushrooms
FIRST: Make cilantro drizzle oil but pulsing cilantro, garlic, and shallot in a food processor. Add to sauce pan with olive oil. Simmer for 10 minutes. Strain and store until ready to use. This sauce is also amazing as a salad dressing or bread dip!
SECOND: Preheat oven to 375F. Line a rimmed baking sheet with foil and spray with cooking spray. Remove stems from mushroom caps and clean.
THIRD: Finely chop stems and garlic and add to a medium sized mixing bowl with the red pepper, feta, pepperoncini, capers, remaining shallot, balsamic vinegar, panko, and spinach.
FOURTH: Season and stuff the mushrooms. Top with parmesan cheese. Bake in a shallow baking dish for 10-15 minutes or until done. Drizzle with cilantro oil and enjoy!
For the full recipe and detailed instructions, please refer to the recipe card at the bottom of the post.
How do you make stuffed mushrooms not watery?
When using fresh ingredients, like the spinach, be sure to drain everything first. You can also roast the mushrooms caps for a few minutes upside down before stuffing them.
Are stuffed mushrooms vegan?
You can make these vegan by substituting the cheese for vegan cheese.
How long do uncooked stuffed mushrooms last?
If you want to stuff them early, they will last a 2-3 days in the fridge before cooking them. Store them in an airtight container.
Can you freeze stuffed mushrooms?
Yes, you can but you will want to freeze them before you cook them. Fill the mushrooms and then freeze for up to 3 months.
Are they gluten free?
If you use a gluten free version of the panko bread crumbs, then they are.
Can you use regular sized mushrooms?
Yes! Just make the filling and stuff them in large mushrooms caps. You might need to add in a few small chopped mushrooms to make more filling.
How to Clean Mushrooms
Do not soak the mushrooms as they will absorb all the extra water. Instead, take a damp paper towel or cloth and gently wipe off the caps. If that takes too long, you can spray them with water over a strainer and then dry quickly.
Can you make them in advance?
You can clean the mushroom caps, store them in a brown paper bag in the refrigerator. Make the filling and store as well. Strain the oil and store. Then I would stuff right before baking.
How to Store Leftovers
Store any leftover stuffed mushrooms, if there are any, in the refrigerator for up to 3 days. Reheat in the oven for best results.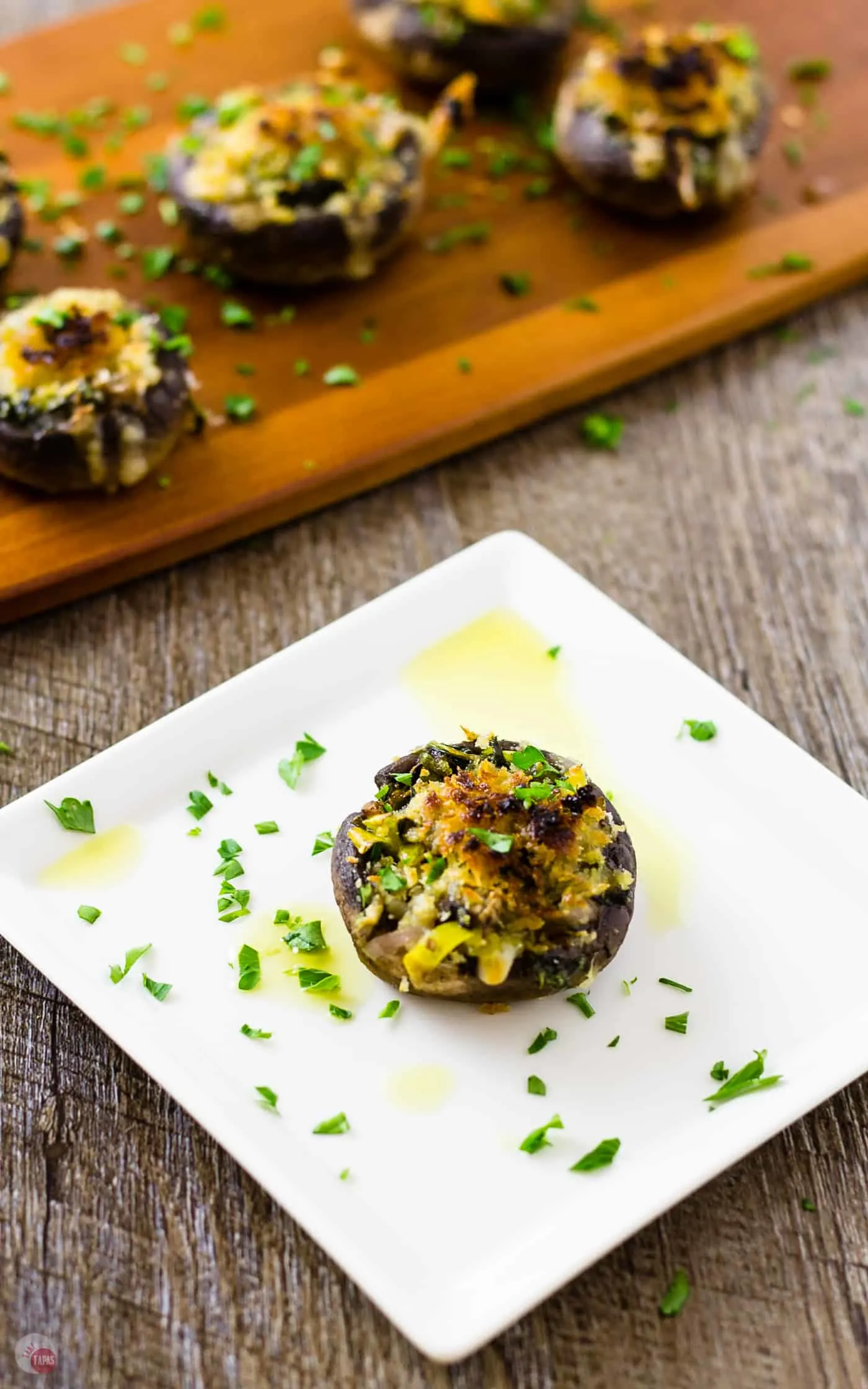 Tapas Tips & Tricks
clean the mushrooms with a damp paper towel.
skip the cheese to make it vegan.
pick uniform size mushrooms so they cook evenly.
larger mushrooms may need to bake for 20 minutes or more.
If you love this recipe as much as I do, please write a five-star review in the comment section below (or on Pinterest with the "tried it" button – you can now add pictures into reviews, too!), and be sure to help me share on facebook!

Whip up a batch of my Magnificent Stuffed Mushrooms and celebrate! It's a great recipe for any occasion!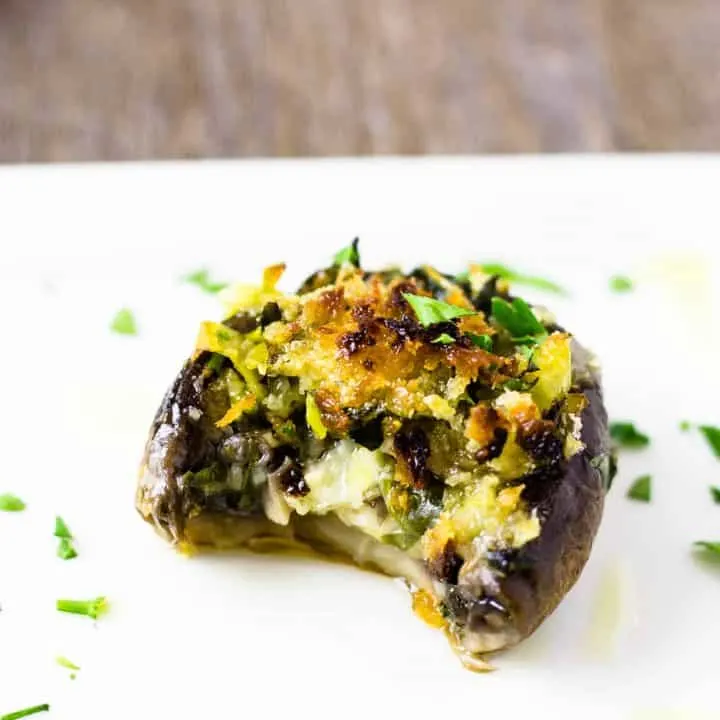 Magnificent Stuffed Mushrooms
Stuffed Mushrooms are a staple party appetizer. Check out my Magnificent Stuffed Mushrooms with a few surprise ingredients!
Ingredients
Cilantro Oil
1/2 cup olive oil
1 cup fresh cilantro (washed and dried)
1 medium shallot (chopped fine)
2 cloves garlic (chopped)
Stuffed Mushrooms
2 8 ounce packages of baby portabella mushrooms (stemmed, washed, and stems removed and chopped)
1 roasted red pepper-jarred (chopped)
1 cup fresh spinach (chopped)
2 ounces feta cheese (crumbled)
1 tablespoon capers (chopped)
6 pepperoncini peppers (chopped)
1 tablespoon balsamic vinegar
2 tablespoons panko breadcrumbs
2 tablespoons cilantro oil (plus more for presentation)
1 tablespoon Parmesan cheese (grated)
salt and pepper to taste
Instructions
Make the Cilantro Oil
Add olive oil to small saucepan.
In a food processor, add the cilantro, garlic, and 1/2 the chopped shallot.
Pulse until cilantro is thoroughly chopped and garlic and shallot are incorporated.
You might need to add a teaspoon of olive oil to facilitate this process.
Remove cilantro purée and add to saucepan with olive oil.
Simmer on low for 10 minutes or until the oil is fragrant.
Strain the oil and puree through a fine-mesh sieve for 5 minutes saving the oil and cilantro purée in separate containers.
The oil can be stored in the refrigerator for up to a week and used just like plain olive oil in any other recipe.
Stuff the Mushrooms
Heat the oven to 375F.
Lightly spray a foil-lined baking sheet with olive oil spray.
While the cilantro oil is straining, gather the mushroom stems, red pepper, feta, pepperoncini, capers, remaining shallot, balsamic vinegar, panko, and spinach in a medium mixing bowl.
Toss to mix well.
Add the cilantro purée and 2 tablespoons cilantro oil to the stuffing mixture.
Taste and add salt and pepper as needed.
Season the mushroom caps with salt and pepper.
Stuff with the above mixture and top with a little of the parmesan cheese.
Drizzle with cilantro oil and bake for 10-15 minutes depending on the size of your caps.
Remove the stuffed mushrooms from the oven when done and let cool for a minute or two.
Add a drizzle of cilantro oil on your serving plate and top with the magnificent stuffed mushrooms. Enjoy!
Notes
clean the mushrooms with a damp paper towel.
skip the cheese to make it vegan.
pick uniform size mushrooms so they cook evenly.
larger mushrooms may need to bake for 20 minutes or more.
This mixture is also great with pasta if you are not in the mood to stuff!
Recommended Products
Nutrition Information:
Yield:

8
Serving Size:

1
Amount Per Serving:
Calories:

211
Total Fat:

18g
Saturated Fat:

3g
Trans Fat:

0g
Unsaturated Fat:

14g
Cholesterol:

7mg
Sodium:

807mg
Carbohydrates:

11g
Fiber:

3g
Sugar:

5g
Protein:

4g
This nutrition information was generated via a third party, Nutritionix, and can not be held liable for any discrepancies in the information provided.
Easy Appetizers
TakeTwoTapas.com. Content and photographs are copyright protected. Sharing of this recipe is both encouraged and appreciated. Copying and/or pasting full recipes to any social media is strictly prohibited.