Stuffed Mushrooms are a staple party appetizer. Check out my Magnificent Stuffed Mushrooms with a few surprise ingredients!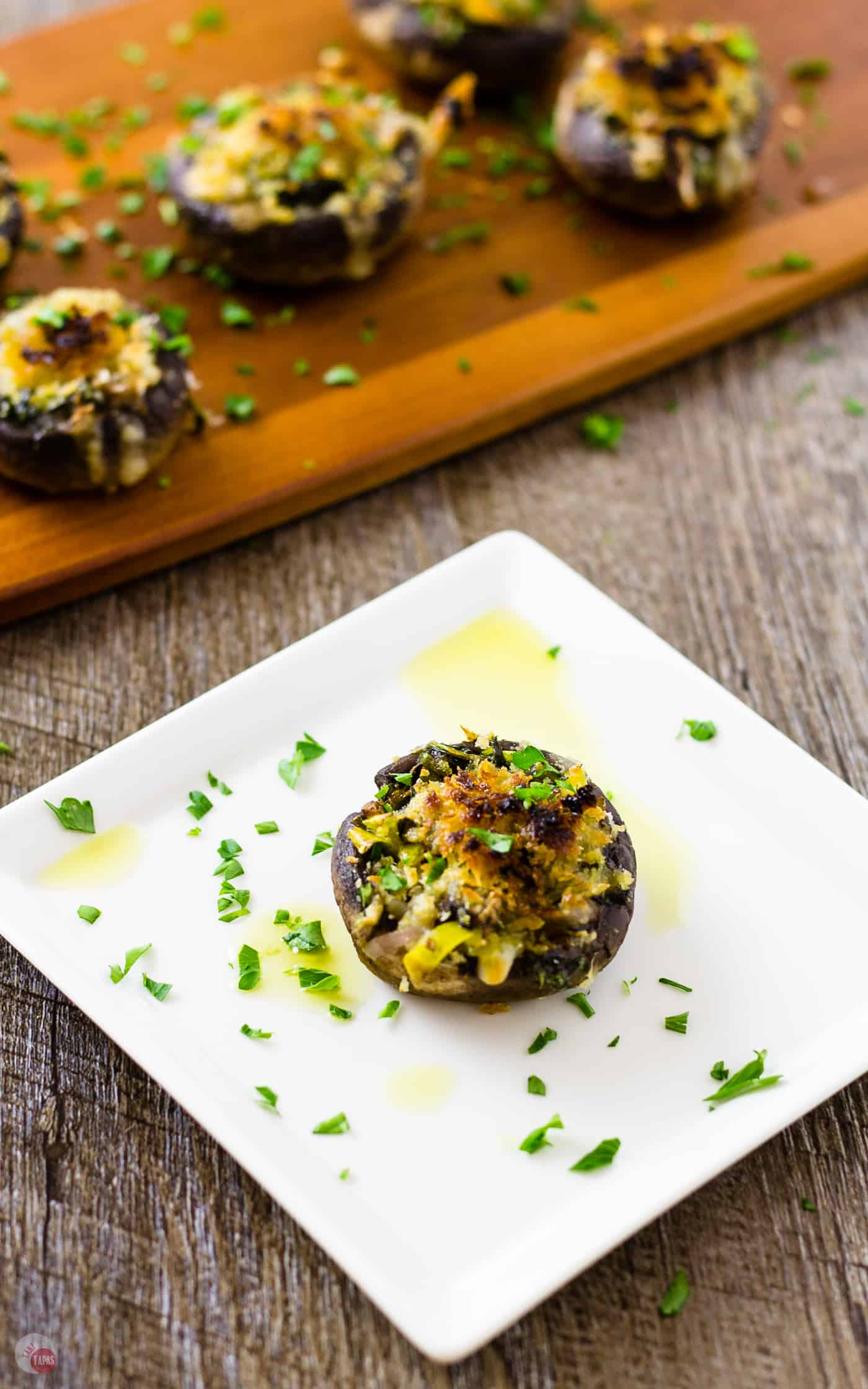 If you'd rather skip my (very helpful, I think) tips and tricks, essential cooking info, and similar recipe ideas – and get straight to this delicious recipe – simply scroll to the bottom of the page where you can find the printable recipe card.
Bare with me as I tell you the story of my Magnificent Stuffed Mushrooms. The story involves a lot of shoes…
My close friends know that I have a love affair with shoes that began a few years ago thanks to my husband Brooks. For most girls, the affinity for shoes manifests itself around the time they can touch their toes. My infatuation, however, began at a MUCH later date.
I attribute this delay to late blossoming and a tomboy upbringing that was even further postponed by a post-college occupation that only required me to wear jeans and tennis shoes.
Blaming my husband for introducing me to beautiful shoes is my excuse for having a closet full of them and, believe me when I say, he is literally paying the price for that monumental mistake.
This post may contain affiliate links. As an Amazon Associate, I earn from qualifying purchases. Read my disclosure policy here.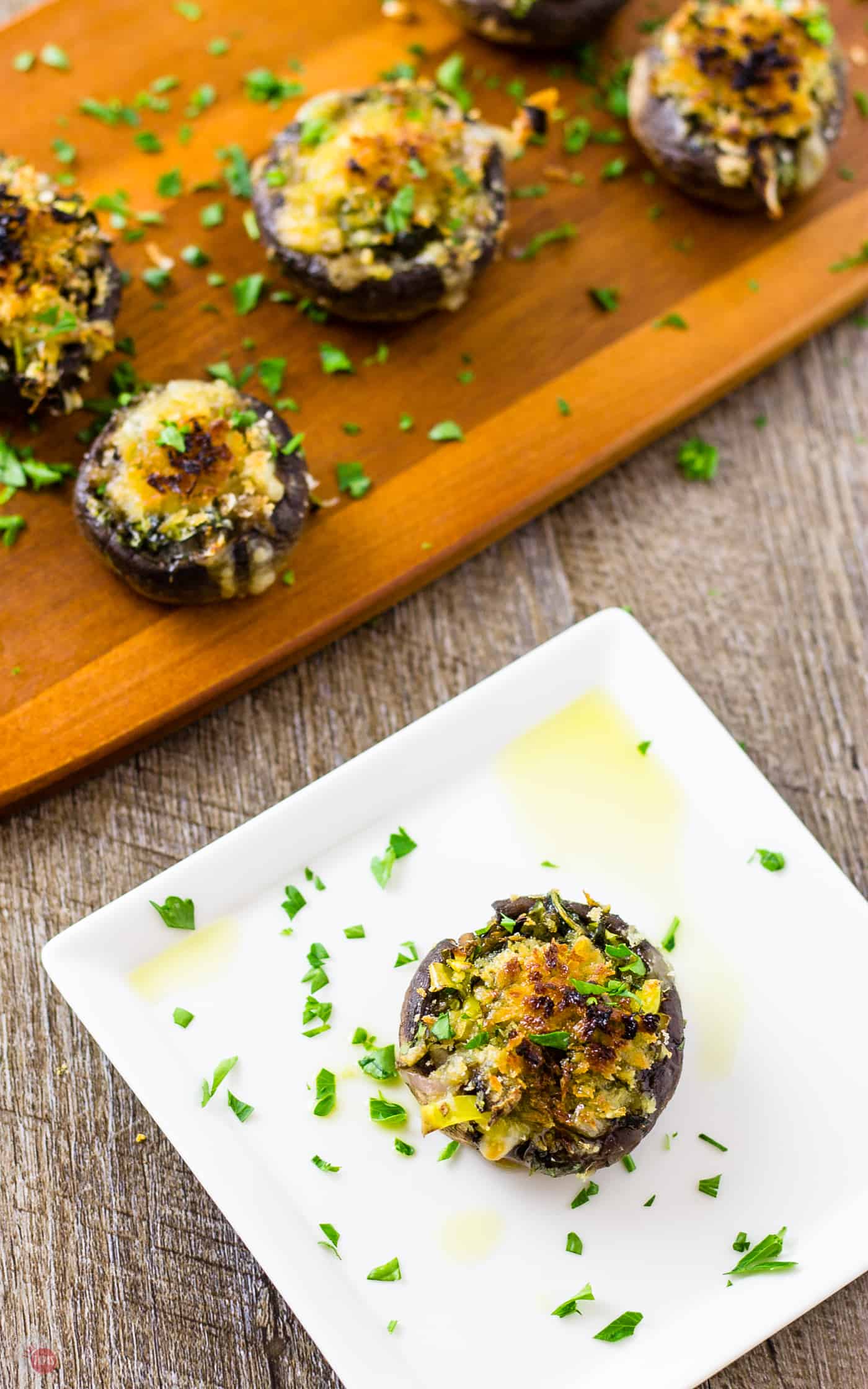 You may be asking yourself what this has to do with mushrooms. Hold your horses speedy; I'm getting there! Be open-minded when I tell you that I think of mushrooms as the high heels of the food world.
When I see a pair of stunningly glamorous, sky-high stilettos I start to drool, much the way I do when I smell mushrooms delicately simmering in a warm bath of butter and wine.
Just as shoes complete the outfit, mushrooms add a depth and complexity unlike any other to the dish in which they are added to, making it hard to think of it without them. Their earthiness rounds out even the most one-dimensional entrée and turns it into an ensemble of flavor.
On the flip side, mushrooms are also like those beautiful suede platforms that look great on the rack and then turn into shackles of pain within 10 minutes of putting them on. That's right! I like the flavor of mushrooms but do not like to feel them in my mouth.
Their texture does not sit well with me (it must be a psychological barrier I use to block out a horrific previous encounter). Unfortunately for me, my husband, and probably most of the earth's population, like mushrooms.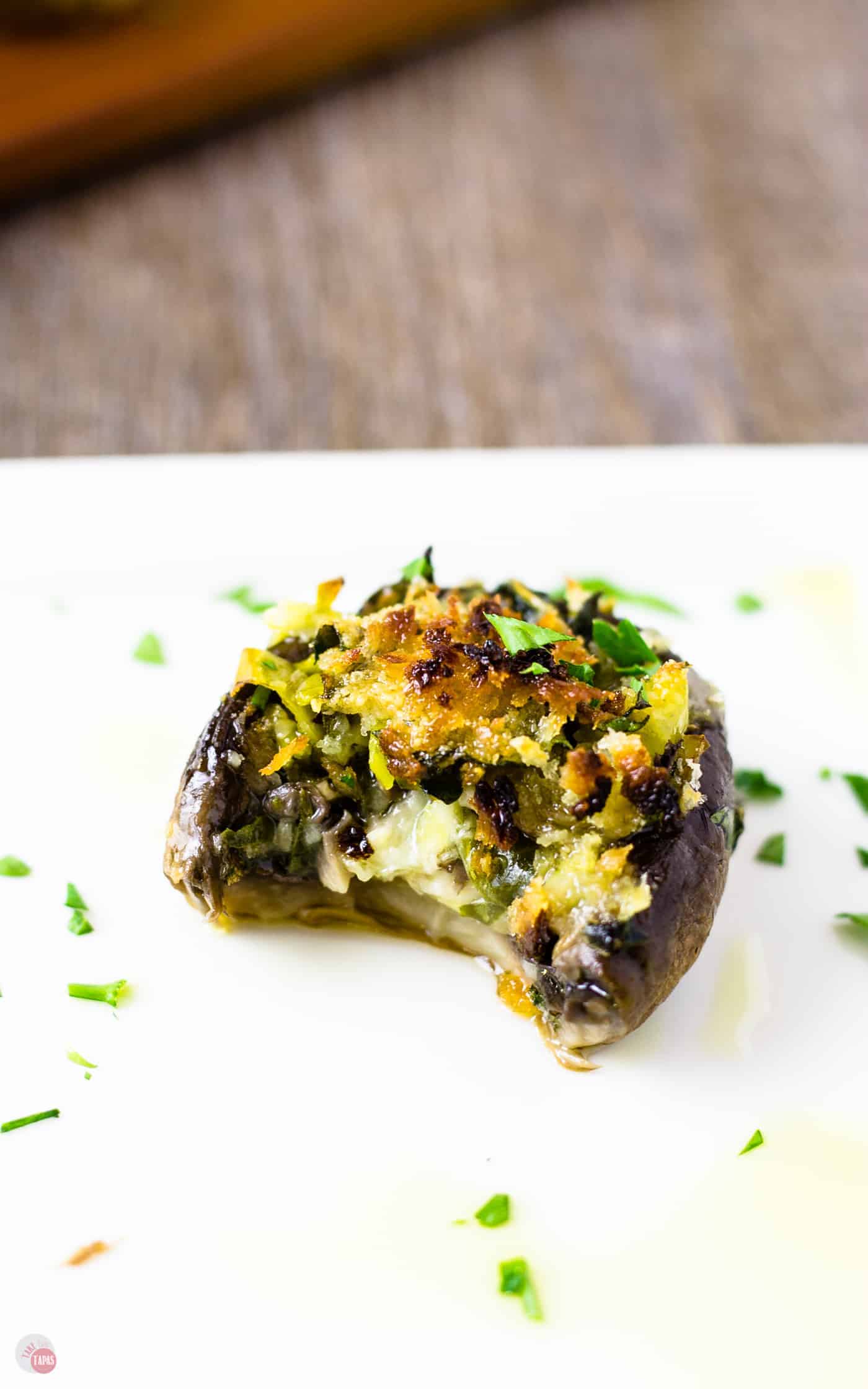 He suffers from withdrawal when he's at home because they are not usually included on my grocery list. In an attempt to act like an adult, I resign myself to get over my aversion to the texture and cook with them.
For my first try at making them more palatable, I revised a recipe for the traditionally stuffed mushroom. I felt so confident in my attempt, I even decided to serve it as the amuse bouche at my "Seven Deadly Sins" supper club.
Those little fungus buttons were the highlight of the evening (the irony that they were served first is not lost on me!) If you're thinking that I served without tasting first, I'll tell you that my mom stood in as the guinea pig before they hit the tables.
I even garnered enough courage to eat one myself. Believe it
I even garnered enough courage to eat one myself. Believe it or not, I liked them. I know that if I liked them, you certainly will too. I even used this recipe for the Magnificent Stuffed Mushrooms as an adaptation of another family favorite, Yuck Mushroom Bruschetta Spread.
My problem with the texture of mushrooms still lingers, but their contribution to the other dishes that I make is undeniable. Just like those amazing patent leather heels of mine that can elevate even jeans and an old t-shirt but still hurt my feet, I can't deny the power of the mushroom.
My stubbornness aside, I think I will incorporate them into more of my dishes provided that I can chop them small enough to pass undetected or leave them large enough to pick out.
One way or another, Brooks might be able to dump his mushroom mistress for good, as soon as he pulls in our driveway next time.
For more insider tips & tricks, and a candid behind the scenes look follow me on social media! Check use out on Pinterest, Facebook, Instagram, & Twitter (yes, people still use Twitter, LOL!)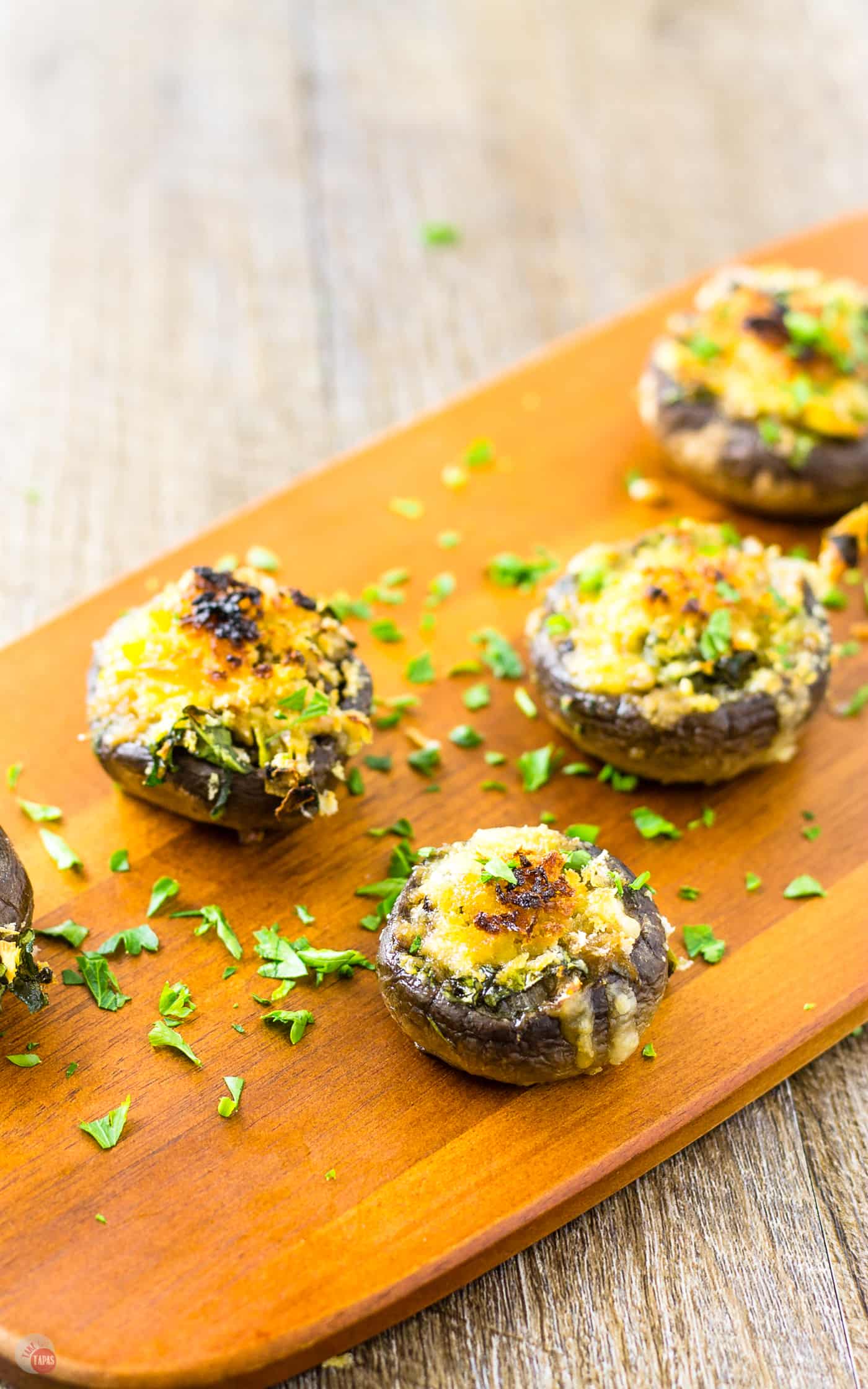 Whip up a batch of my Magnificent Stuffed Mushrooms and banish the mistress for good!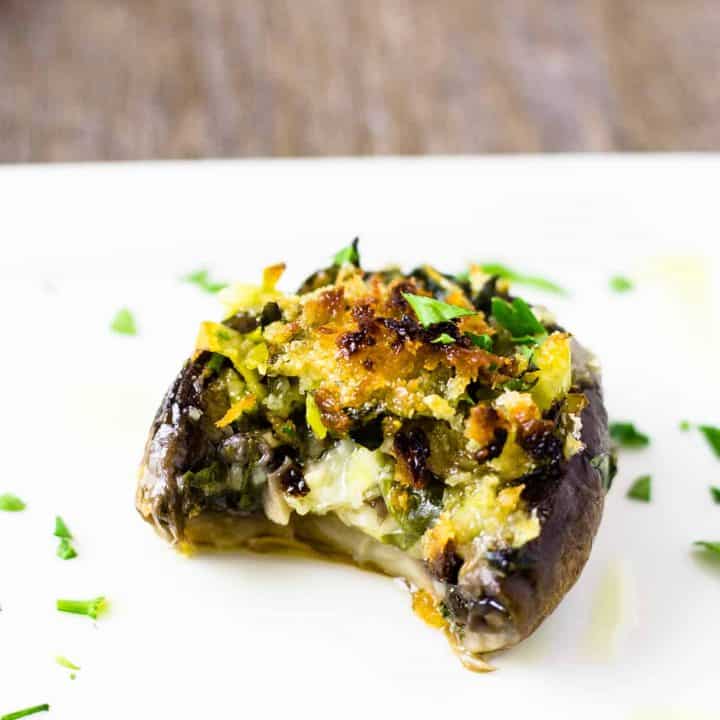 Magnificent Stuffed Mushrooms
Stuffed Mushrooms are a staple party appetizer. Check out my Magnificent Stuffed Mushrooms with a few surprise ingredients!
Ingredients
Cilantro Oil
1/2 cup olive oil
1 cup fresh cilantro (washed and dried)
1 medium shallot (chopped fine)
2 cloves garlic (chopped)
Stuffed Mushrooms
2 8 ounce packages of baby portabella mushrooms (stemmed, washed, and stems removed and chopped)
1 roasted red pepper-jarred (chopped)
1 cup fresh spinach (chopped)
2 ounces feta cheese (crumbled)
1 tablespoon capers (chopped)
6 pepperoncini peppers (chopped)
1 tablespoon balsamic vinegar
2 tablespoons panko breadcrumbs
2 tablespoons cilantro oil (plus more for presentation)
1 tablespoon Parmesan cheese (grated)
salt and pepper to taste
Instructions
Make the Cilantro Oil
Add olive oil to small saucepan.
In a food processor, add the cilantro, garlic, and 1/2 the chopped shallot.
Pulse until cilantro is thoroughly chopped and garlic and shallot are incorporated.
You might need to add a teaspoon of olive oil to facilitate this process.
Remove cilantro purée and add to saucepan with olive oil.
Simmer on low for 10 minutes or until the oil is fragrant.
Strain the oil and puree through a fine-mesh sieve for 5 minutes saving the oil and cilantro purée in separate containers.
The oil can be stored in the refrigerator for up to a week and used just like plain olive oil in any other recipe.
Stuff the Mushrooms
Heat the oven to 375F.
Lightly spray a foil-lined baking sheet with olive oil spray.
While the cilantro oil is straining, gather the mushroom stems, red pepper, feta, pepperoncini, capers, remaining shallot, balsamic vinegar, panko, and spinach in a medium mixing bowl.
Toss to mix well.
Add the cilantro purée and 2 tablespoons cilantro oil to the stuffing mixture.
Taste and add salt and pepper as needed.
Season the mushroom caps with salt and pepper.
Stuff with the above mixture and top with a little of the parmesan cheese.
Drizzle with cilantro oil and bake for 10-15 minutes depending on the size of your caps.
Remove the stuffed mushrooms from the oven when done and let cool for a minute or two.
Add a drizzle of cilantro oil on your serving plate and top with the magnificent stuffed mushrooms. Enjoy!
Notes
*This mixture is also great with pasta if you are not in the mood to stuff!
*If you like this recipe, leave me a comment and rate it with some stars! Thank you!
Nutrition Information:
Yield:

8
Serving Size:

1
Amount Per Serving:
Calories:

211
Total Fat:

18g
Saturated Fat:

3g
Trans Fat:

0g
Unsaturated Fat:

14g
Cholesterol:

7mg
Sodium:

807mg
Carbohydrates:

11g
Fiber:

3g
Sugar:

5g
Protein:

4g
This nutrition information was generated via a third party, Nutritionix, and can not be held liable for any discrepancies in the information provided.
If you love this recipe as much as I do, please write a five-star review in the comment section below (or on Pinterest with the "tried it" button – you can now add pictures into reviews, too!), and be sure to help me share on facebook!

©TakeTwoTapas.com. Content and photographs are copyright protected. Sharing of this recipe is both encouraged and appreciated. Copying and/or pasting full recipes to any social media is strictly prohibited.