Spicy Margarita Shrimp Skewers are perfect for your next party. Tequila, lime, and a hint of Sriracha make these shrimp extra delicious!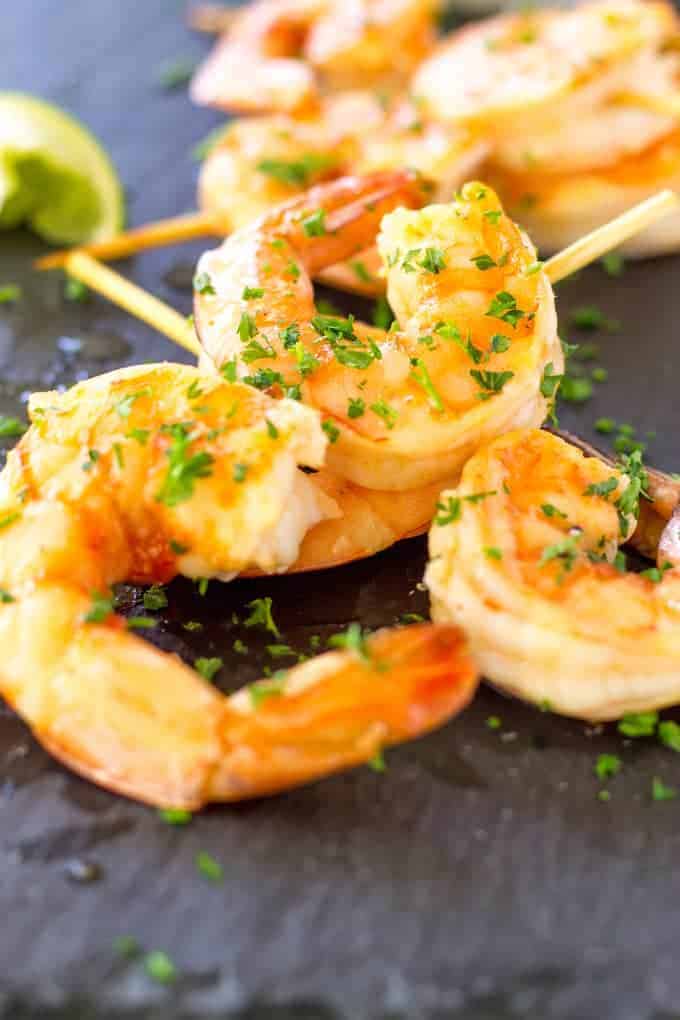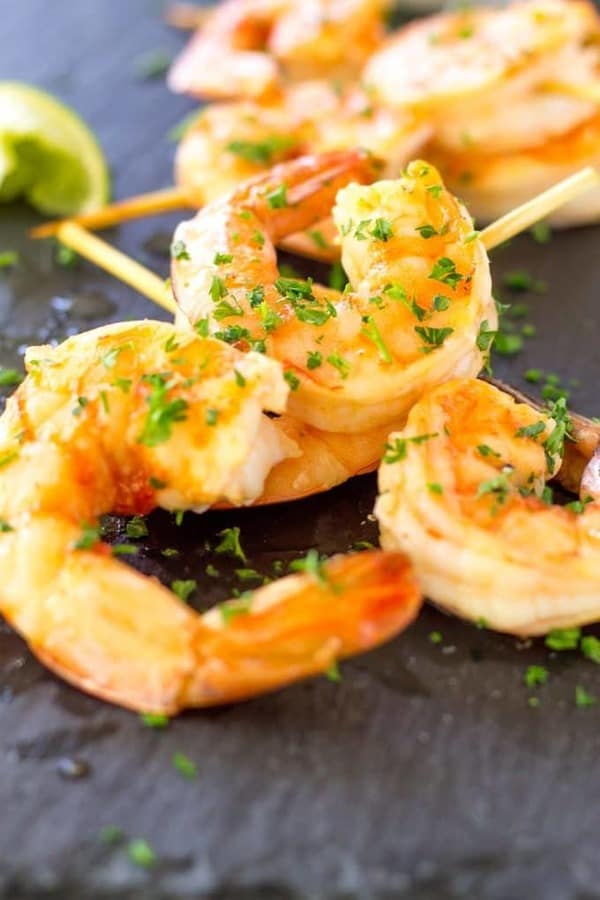 Using Alcohol in Marinades
You guys know that I am in love with margaritas. Tequila and I have had a rocky relationship but we are together again and no longer on a break like Ross and Rachel.
I recently made a 3-ingredient margarita for my 3-ingredient cocktail series. It was delicious and super quick to make. You know, for those cocktail emergencies. Now I am taking my tequila relationship to another level with Margarita Shrimp Skewers!
These margarita shrimp are a bit on the spicy side, like a margarita with a kick to it, that pairs oh so nicely with the sweet and juicy shrimp.
Think of it as the perfect marriage of shrimp cocktail and a margarita. Who doesn't love the thought of that?
Let's get started with a spicy marinade that has all the components of a margarita. Lime, salt, tequila. And then throw in some Sriracha for spice, some garlic for flavor, some honey for a hint of sweetness to counter the heat, and some olive oil to bring it all together.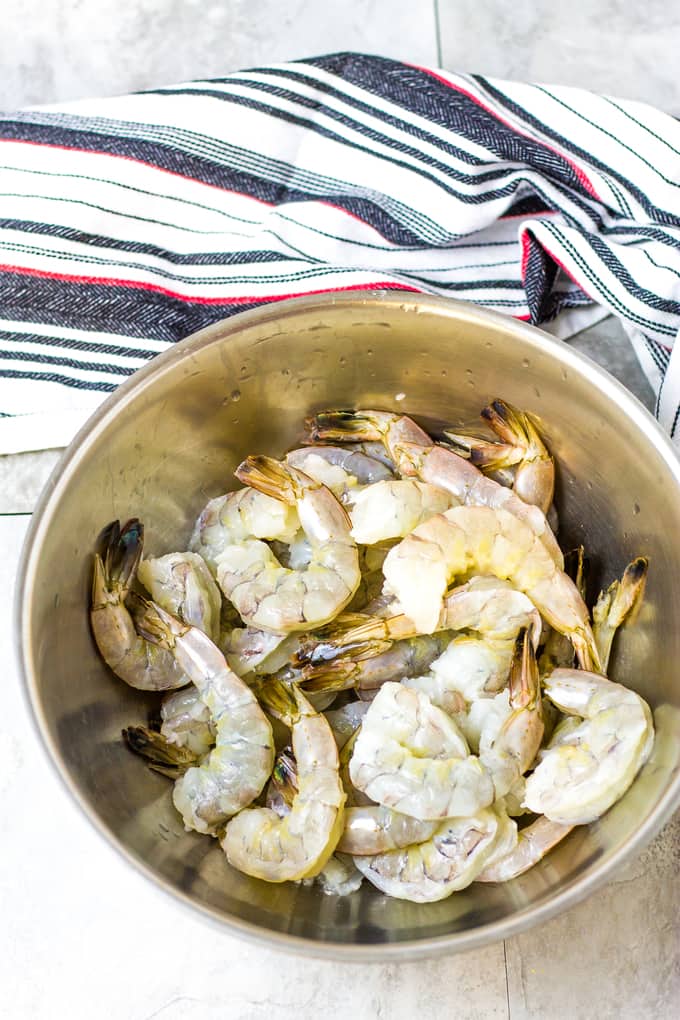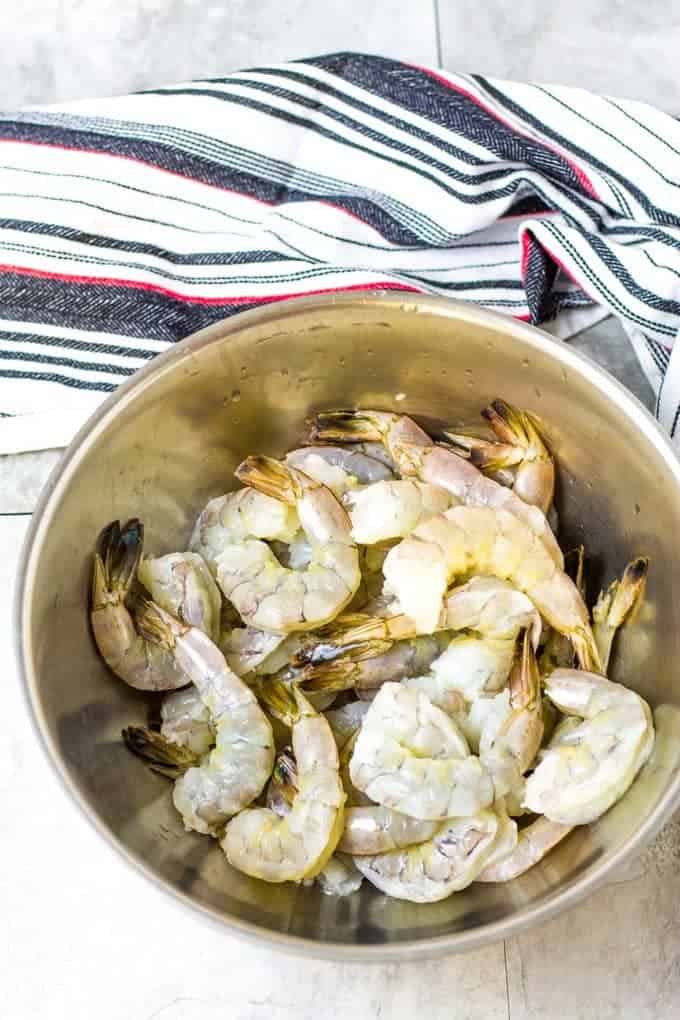 If you'd rather skip my (very helpful, I think) tips and tricks, essential cooking info, and similar recipe ideas – and get straight to this delicious recipe – simply scroll to the bottom of the page where you can find the printable recipe card.
How long should you marinate shrimp?
If the shell is on the shrimp still you can marinate them for up to 2 days if the marinade isn't too acidic. 8 hours with the shell off. If you use a highly acidic marinade I would only go about 30 minutes to an hour. This margarita marinade isn't too acidic even though it does have lime juice so I like to go about 4 hours.
I'm going to grab some large shrimp that I have (I use the 16/20 count for this) and peel, devein, and butterfly them. Pour the marinade over the shrimp and cover.
Store them in the fridge for 4 hours. You can go less than this but the shrimp won't absorb as much of the margarita flavors. Can we really call them Margarita shrimp then?
While the shrimp are getting all cozy in the marinade, soak your skewers if you are using wooden ones. This will keep them from burning while cooking on the grill or in the oven.
This post may contain affiliate links. As an Amazon Associate, I earn from qualifying purchases. Read my disclosure policy here.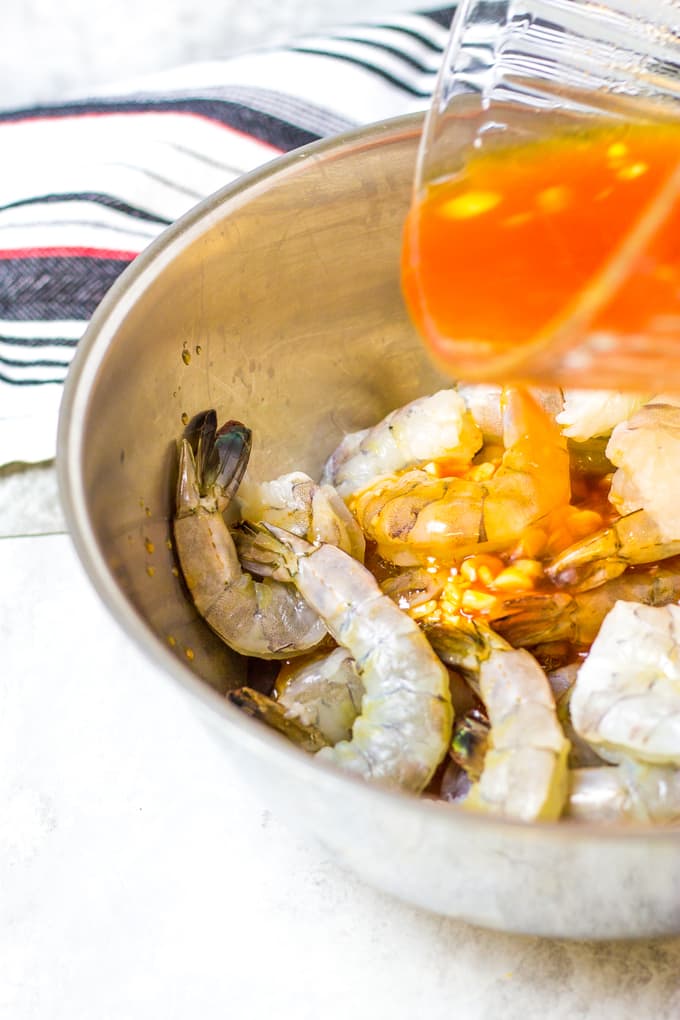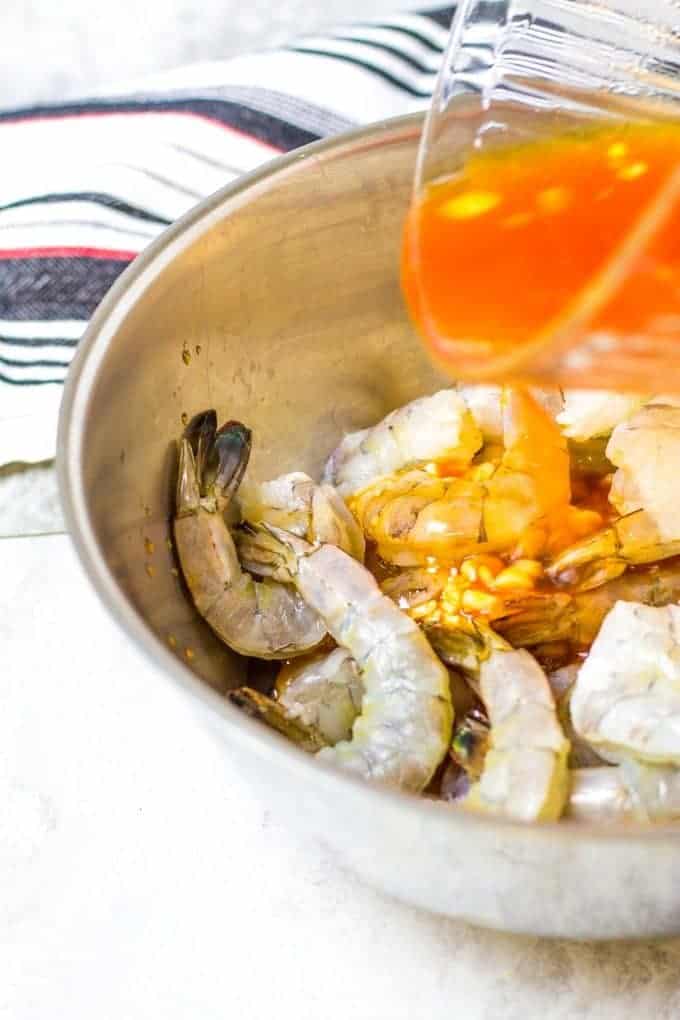 When you are ready to serve these yummy Margarita shrimp to your guests, put two or three on each skewer.
I like to stick the shrimp twice to keep their shape and so the shrimp won't flop around.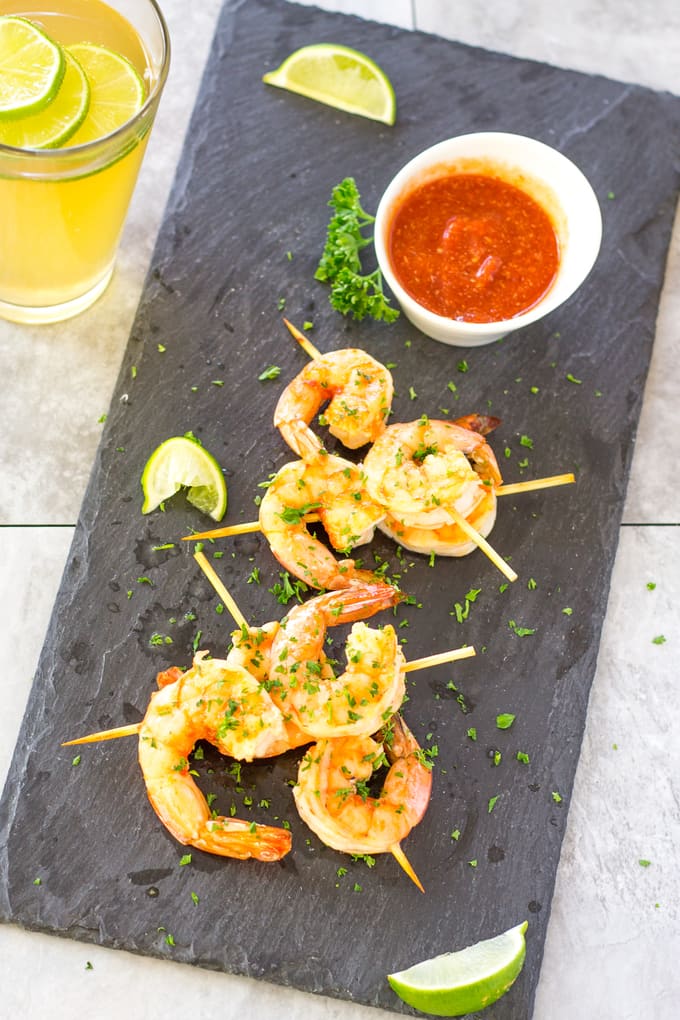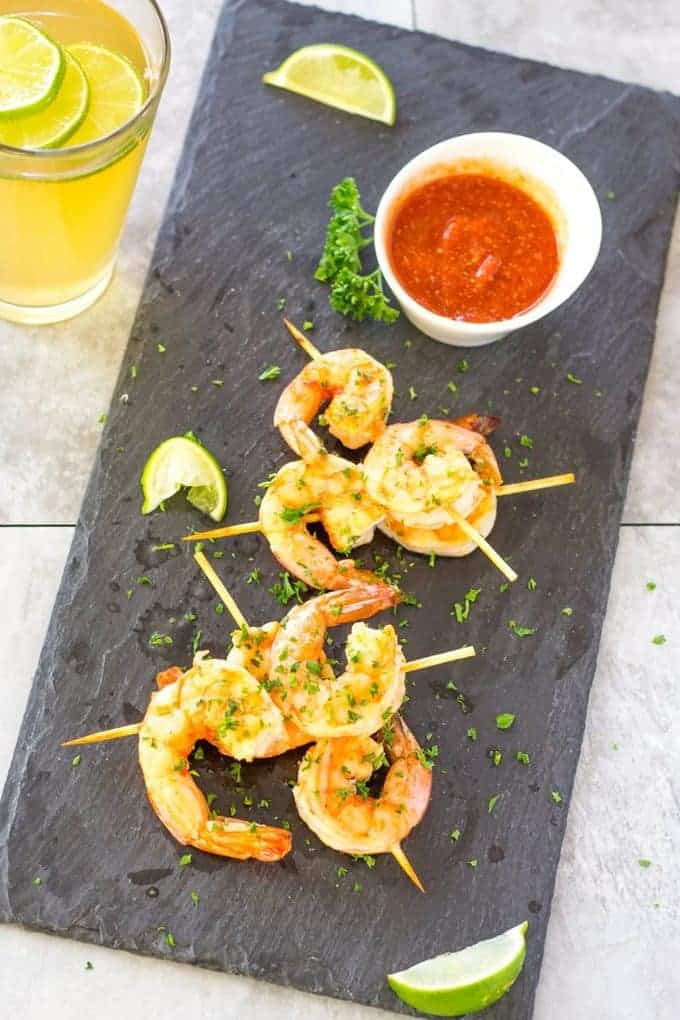 You have two options at this point for cooking. The original recipe that I use as inspiration cooks them in a skillet and uses the remaining marinade as a sauce to coat the shrimp.
I baked mine in the oven but you can also throw them on the grill if you are already partying outside. Any way you do it, the shrimp will be plump and delicious!
I am adapting this recipe as an appetizer so I am serving them on skewers. Too much sauce would be messy so I opted for a dipping/cocktail sauce.
The combination of the Margarita Shrimp skewers and the spicy cocktail sauce has such a great flavor and the right amount of heat!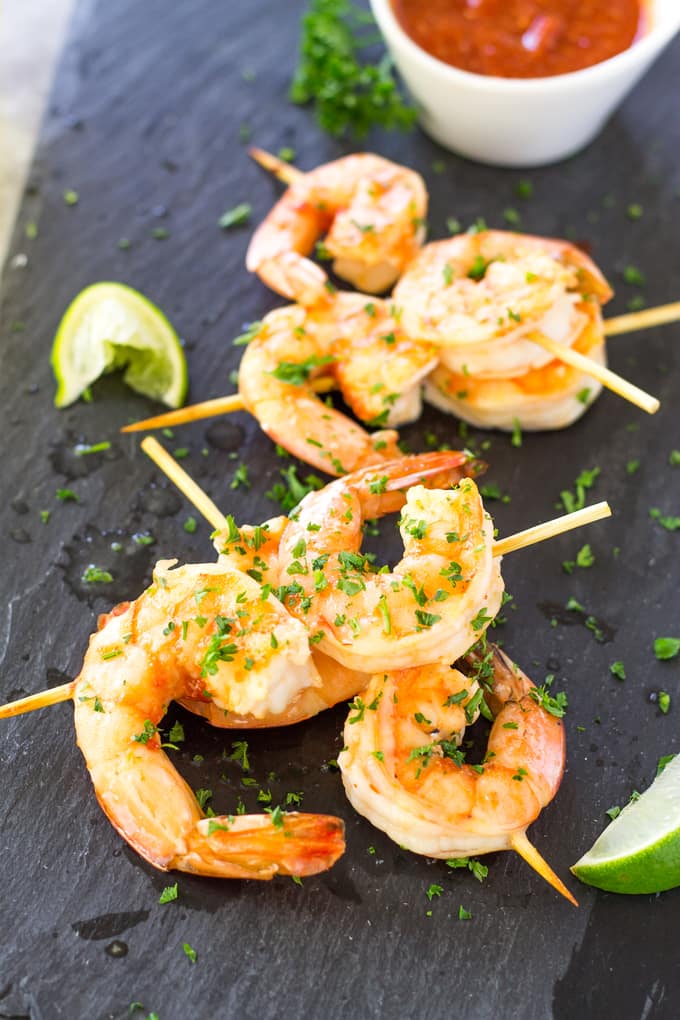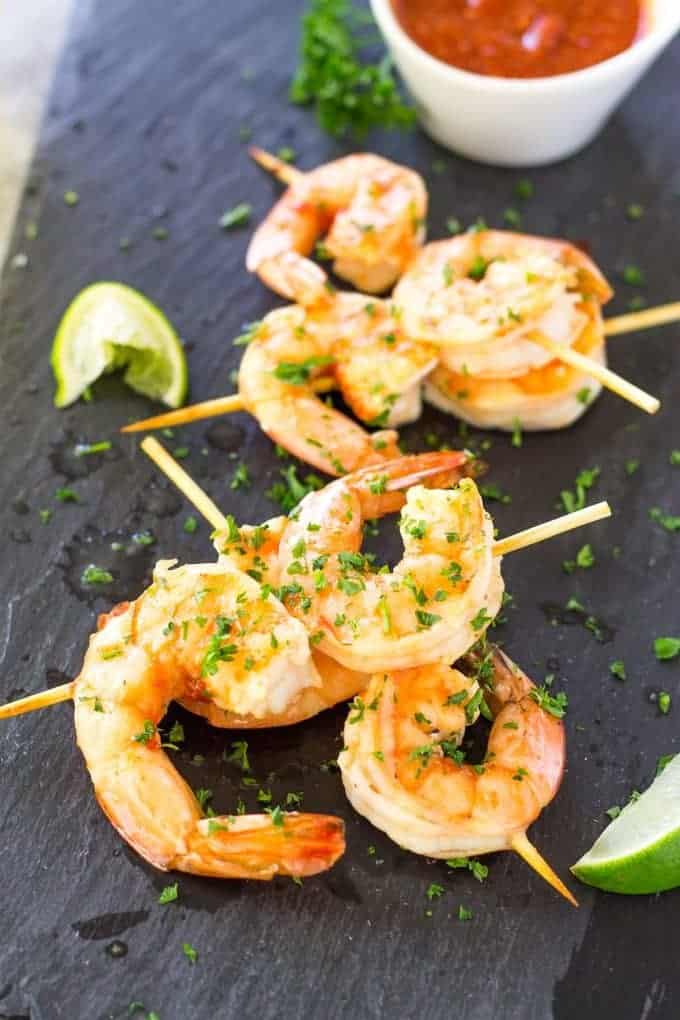 You can't have shrimp without a cocktail sauce. Even if they are already spicy and full of flavor. They just seem naked without a little skinny dip, or chunky dunk, in this tasty sauce!
At least in my book.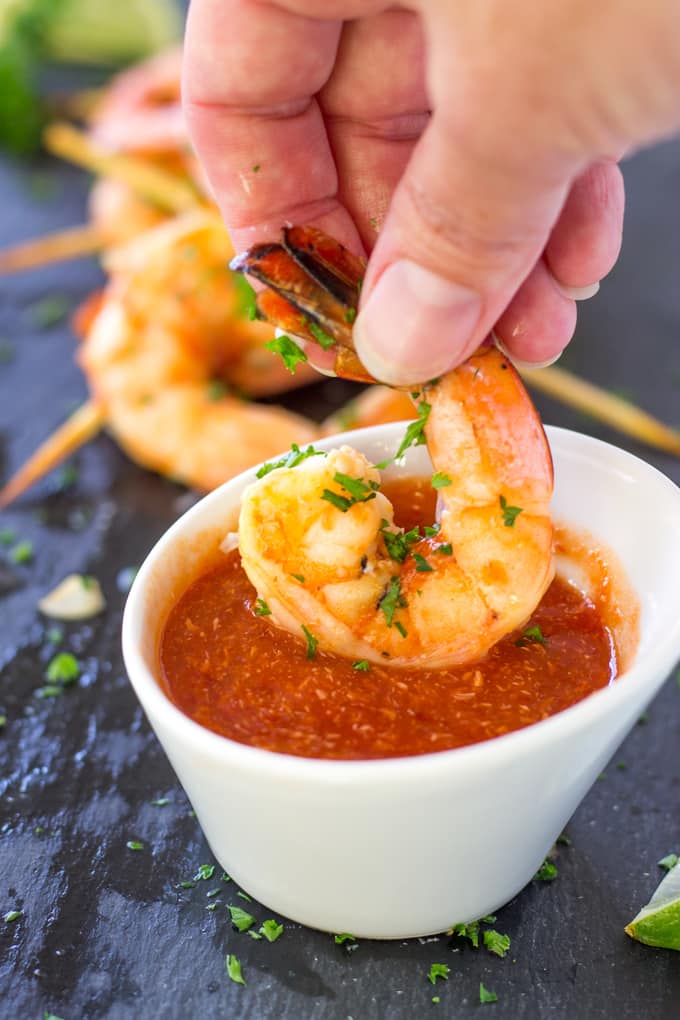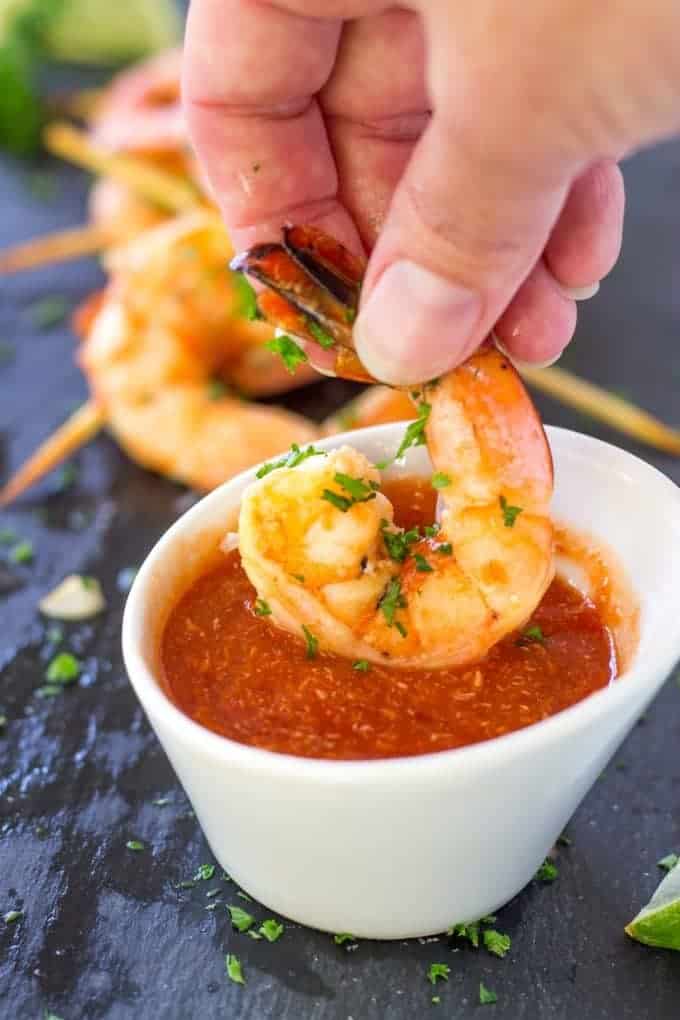 This Spicy Cocktail Sauce is so good I might use it on my crab legs too!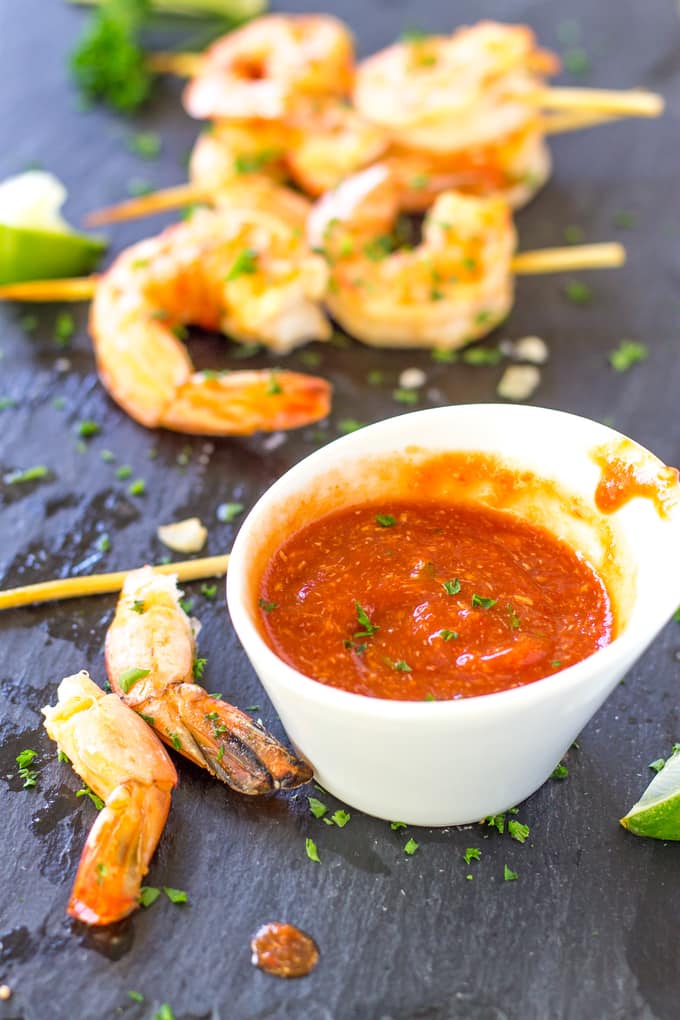 For more insider tips & tricks, and a candid behind the scenes look follow me on social media! Check use out on Pinterest, Facebook, Instagram, & Twitter (yes, people still use Twitter, LOL!)
These Margarita Shrimp Skewers have all the flavors of lime, tequila, and salt with plump juicy shrimp that can serve as a full meal or appetizers for a party!
If you like reading my posts and seeing my recipes, follow me on your favorite social media channel for behind the scenes photos and much, much more: Pinterest, Facebook, Instagram, and Twitter!
I am bringing you this recipe as part of our Freaky Friday Blog Hop. The original recipe is for Spicy Tequila Shrimp by Sandra at The Foodie Affair.
Sandra says that she is not a writer, photographer or chef, but a self-taught home cook, wife, mother, and full-time professional worker bee. I am in touch with these titles too!
She enjoys fresh flowers, candles, wine, and food that looks good and tastes scrumptious all the while working out and running to keep on enjoying all the yummy treats she makes!
Sandra blogs recipes that fall all over the spectrum. She has some healthy posts like her Chunky Avocado Dip and some sinful dishes like her Poutine Gravy Fries.
Don't forget about her sweet treats of which she has healthy and decadent ones. Her Chocolate Chips S'mores Cookie Skillet and her Fruit Kabobs with Chocolate Cherry Yogurt Dip.
Check Sandra out as well as all the other bloggers that are participating in this summer's Freaky Friday!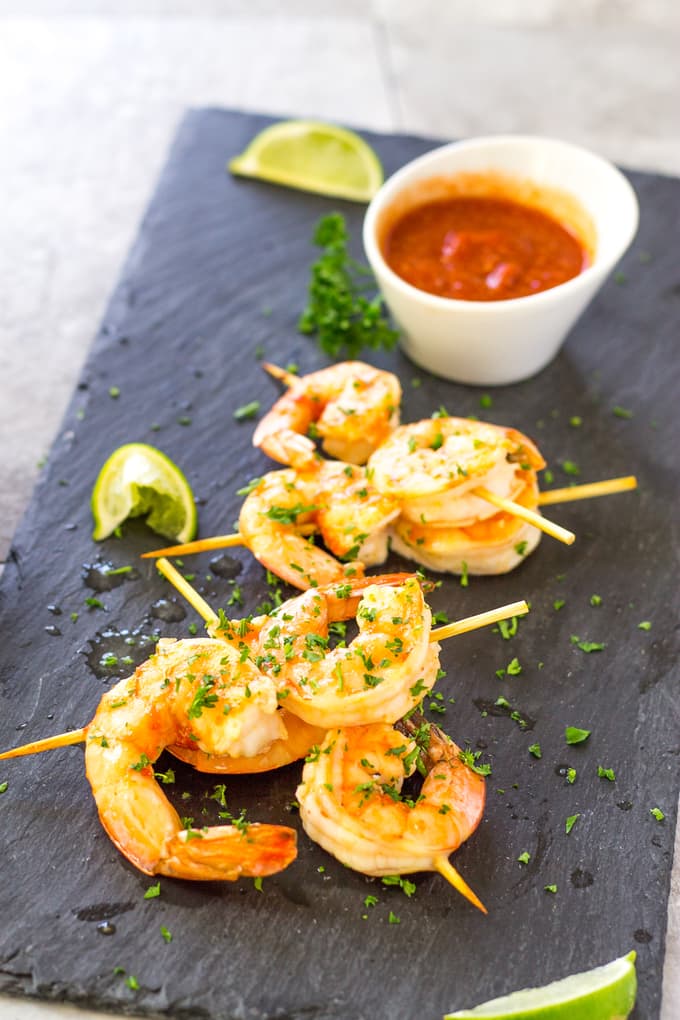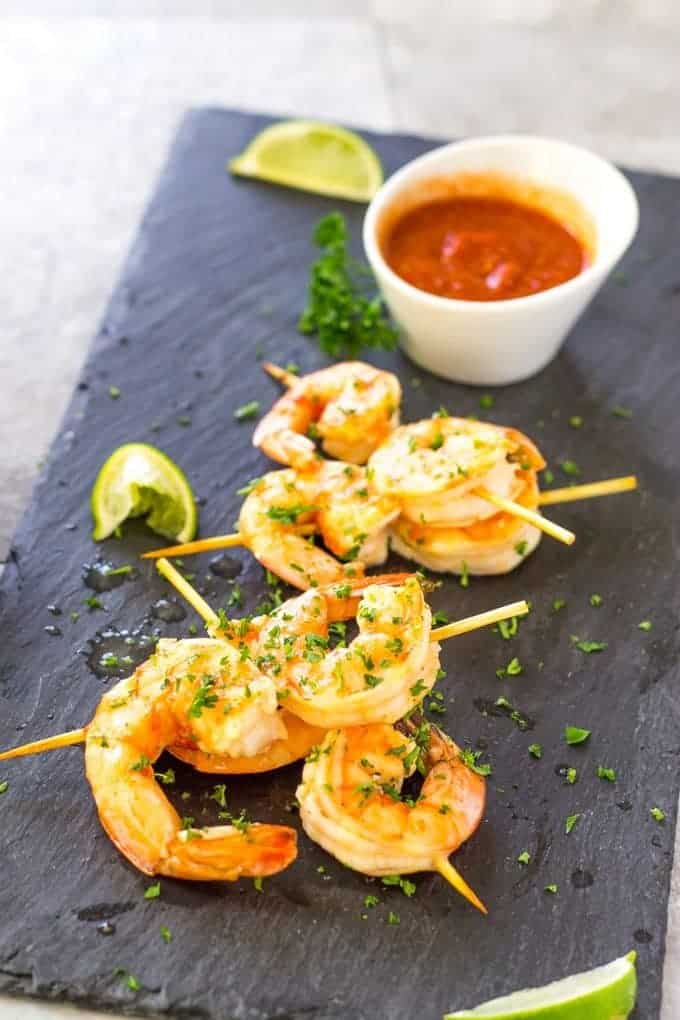 Freaky Friday is a secret recipe swap between a group of bloggers where we make a recipe from another blog. But, the secret comes in to play, because you don't know who is making something from your blog and what recipe they are recreating.
Only the event organizer knows who is assigned to which blog. Then on Friday we all post and share all the recipes! Like secret Santa but way more delicious!
Last Freaky Friday I made Pineapple Hummus from Lisa's Dinnertime Dish and the one before that I made Creamy Corn Crock Pot Dip from Debi at Life Currents.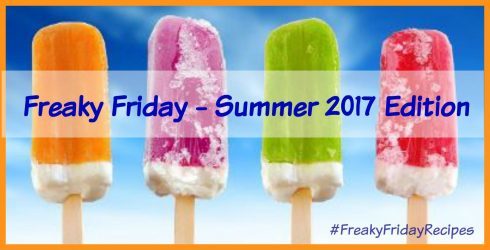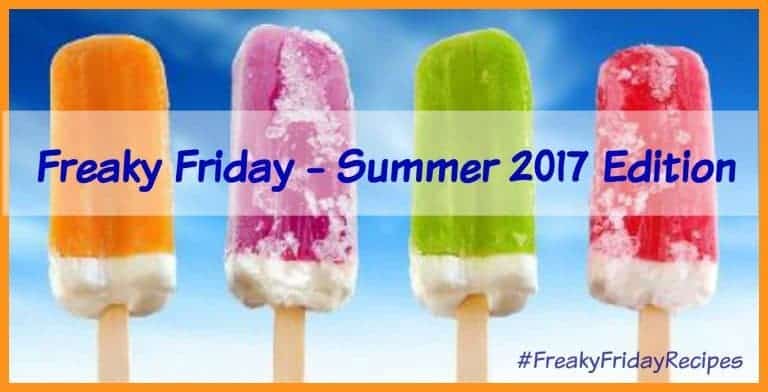 Here is a list of all the other bloggers that are participating! Click on over to see the recipe they recreated and the original blog!
#FreakyFridayRecipe Summer 2017 Edition
A Dish of Daily Life – Mexican Black Beans
An Affair from the Heart –Deconstructed Guacamole Salad
A Kitchen Hoor's Adventures – Homemade Strawberry Frozen Yogurt Popsicles
Aunt Bee's Recipes – P.F. Chang's Lettuce Wrap Salad
Belle of the Kitchen – Crock Pot Honey Sriracha Meatballs
Bowl Me Over – Grilled Shrimp Nicoise Salad
The Devilish Dish – Southwestern Coleslaw
The Flavor Blender – Creamy Frozen Margarita Pie Slice with a Pretzel Crust
Full Belly Sisters – Bacon Scallion Deviled Eggs
The Foodie Affair – New Zealand Bacon and Egg Pie
Honey & Birch – Grilled Guacamole
Hostess at Heart – Easy Oven-Baked Chicken Fajitas
Lemoine Family Recipes – Easy Peach Dumplings
Lisa's Dinnertime Dish – Tortellini Caprese Salad
PicNic – Oreo Scones
PlatterTalk – Black Bean and Roasted Corn Chowder
Seduction in the Kitchen – Peach Sweet Tea
Take Two Tapas – Spicy Margarita Shrimp Skewers
Who Needs a Cape? – No Bake Chocolate Cherry Cheesecake Parfait

Which one of these amazing recipes is your favorite?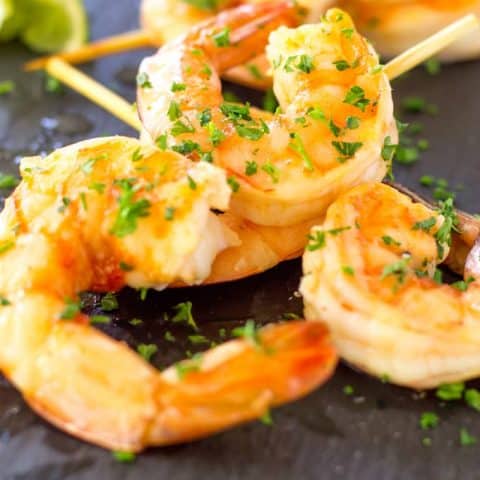 Spicy Margarita Shrimp Skewers
Spicy Margarita Shrimp Skewers are perfect for your next party. Tequila, lime, and a hint of Sriracha make these shrimp extra delicious!
Ingredients
2 pounds large shrimp (peeled, deveined, butterflied)
Margarita Marinade:
1/4 cup Blanco Tequila
1/4 cup lime juice (fresh squeezed)
1/4 cup honey
2 tablespoons Sriracha (or other hot sauce)
3 cloves garlic (sliced thin)
2 tablespoons olive oil
12 skewers
Dipping Sauce
3 tablespoons cocktail sauce
1 tablespoon prepared horseradish
1 tablespoon Sriracha
parsley (for garnish)
Instructions
Start by marinating the shrimp.
Place your peeled (leave the tails on for presentation if you want to) shrimp in a large bag.
Mix your marinade by combining Sriracha, honey, tequila, lime juice, garlic, and 2 tablespoons olive oil.
Pour over the shrimp and close the bag.
Store in the fridge for 4 hours.
When ready to serve, place 2 or 3 shrimp on each skewer.
Bake your Margarita Shrimp Skewers
Preheat the oven to 400F.
Place the shrimp skewers on a baking sheet and bake for 8-10 minutes or until shrimp are done to your liking.
While the margarita shrimp skewers are cooking, prepare the cocktail sauce.
Mix the cocktail sauce, prepared horseradish, and Sriracha and place in a serving bowl.
When the shrimp are done cooking remove them from the oven.
Serve them on the skewers with the cocktail sauce, lime wedges for squeezing, and a sprinkle of parsley.
Notes
*If you like this recipe, please leave me a comment and rate it with some stars. Thank you!
Nutrition Information:
Yield:

6
Serving Size:

1
Amount Per Serving:
Calories:

304
Total Fat:

7g
Saturated Fat:

1g
Trans Fat:

0g
Unsaturated Fat:

5g
Cholesterol:

319mg
Sodium:

1725mg
Carbohydrates:

20g
Fiber:

1g
Sugar:

14g
Protein:

35g
This nutrition information was generated via a third party, Nutritionix, and can not be held liable for any discrepancies in the information provided.