Do you love cracker toffee or Christmas Crack as it is now called? Do you find that you eat too much? These cracker toffee truffles are just what you are looking for. These sweet and salty two bite truffles will satisfy your craving and keep you from overindulging!
cracker candy
I'm sure you have heard of cracker candy or Christmas Crack as it likes to be called on Pinterest. If not, maybe you are lucky because it is totally addicting, and like chips, once you start you just can't stop!
Imagine thin salty crackers, wrapped in buttery caramel toffee, and topped in chocolate. Already drooling aren't you? Me too!
Also called Saltine Toffee, because it is mainly made with saltine crackers, it is a staple at Christmas cookie exchanges and is often given away as edible gifts to friends, family, and co-workers. I know I would love a box or two of Cracker Toffee in my stocking this year!
If you'd rather skip my essential cooking tips and tricks and get straight to this delicious recipe – simply scroll to the bottom of the page where you can find the printable recipe card.
why do crackers crack?
To answer this important question we need to start with what are crackers and why do they crack? Crackers were accidentally invented when someone (a man LOL) overcooked some "bread" to the point where it got extra crispy. Thin but still edible, they made a "cracking" noise while they cooked. Boom, the cracker was born!
Oh, and the holes in crackers are not purely decorative! Turns out you need the holes in the crackers to release the steam during baking or they will turn soggy and no longer snap and crack! Then they are just bread…
Saltines are especially good crackers because of their minimal flavor and ingredients and can be used in a variety of ways. As breadcrumbs, as a coating for chicken, a cure for an upset stomach, and the base of cracker toffee!
Try this with Matzo too!
This post may contain affiliate links. As an Amazon Associate, I earn from qualifying purchases. Read my disclosure policy here.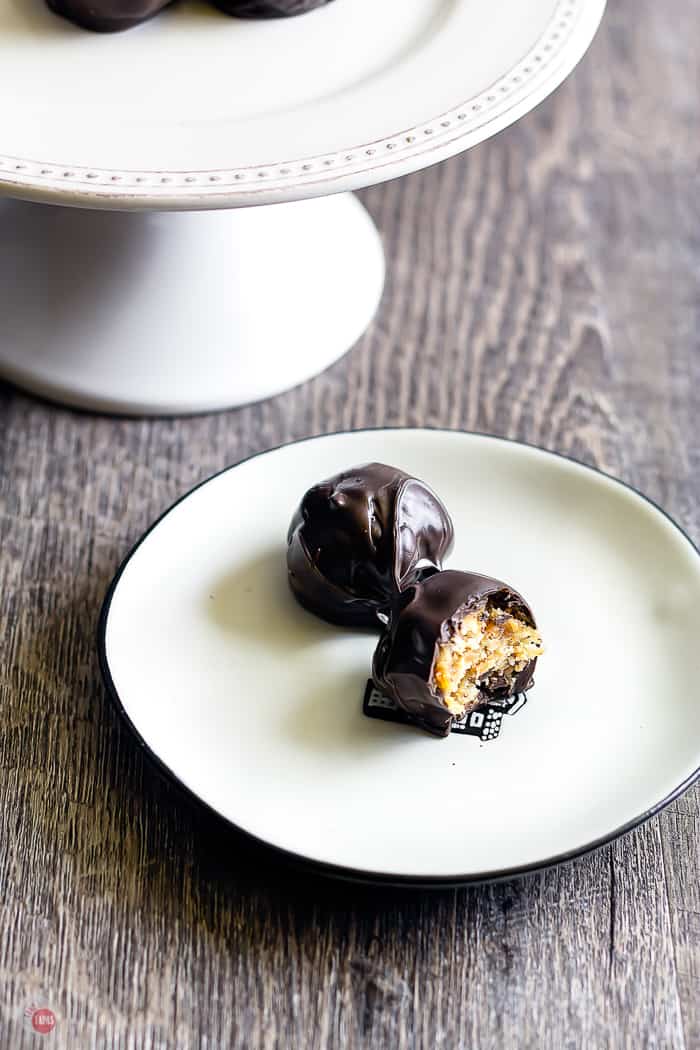 What is cracker toffee?
Cracker toffee is just plain crackers coated in a buttery crispy layer of toffee. Or caramel if you prefer! There is some debate as to whether it is a caramel coating or a toffee coating.
What is the difference between caramel and toffee?
Caramel and toffee are essentially made by the same process of carefully burning/melted/browning sugar and butter to create that amber colored sweet treat we all love.
The difference between the two is that caramel contains added dairy like milk or cream and is often cooked to a lower temperature (248F) where it retains more of the liquid and thus is softer in texture.
Toffee is cooked to a higher temperature (300F) where more of the "moisture" from the ingredients is released leaving the sugar in a drier or crispy state. When you break it, it snaps!
how do you make toffee?
Toffee is made by caramelizing sugar or molasses along with butter. The mixture is heated until its temperature reaches the "hard crack stage" of 300 to 310 °F. Once cooled, it can be topped with other ingredients like chocolate, or broken into pieces and eaten plain.
I make a sesame seed toffee or brittle that my Ma taught me how to make in the microwave. Check it out!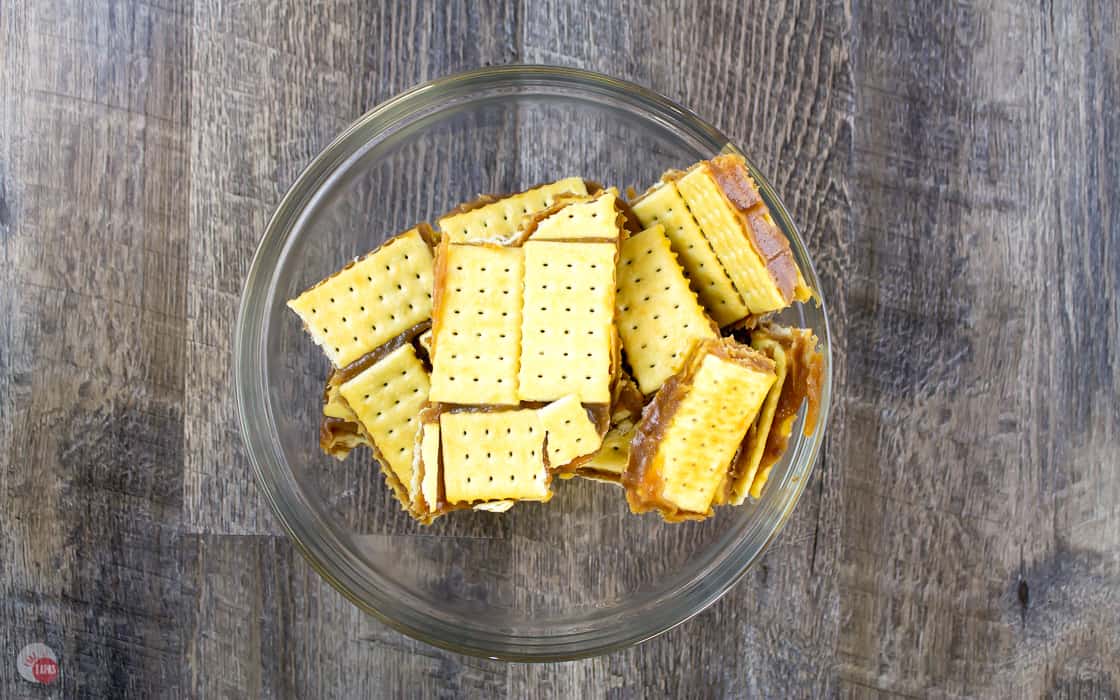 Christmas crack recipe
The cracker candy is easy to make because it is just toffee and crackers. Let's start with the crackers.
For this recipe I opted to use Club crackers because they are rectangular in shape so they fit in the pan better in layers. The have butter baked in so it gives it a richer flavor. And they have more holes for the toffee to seep into!
Reasons to use club crackers instead of saltines:
Smaller size so they can be put in a pan easier
Butter baked in so they add more butter flavor to candy
Have more holes so toffee seeps in the cracker more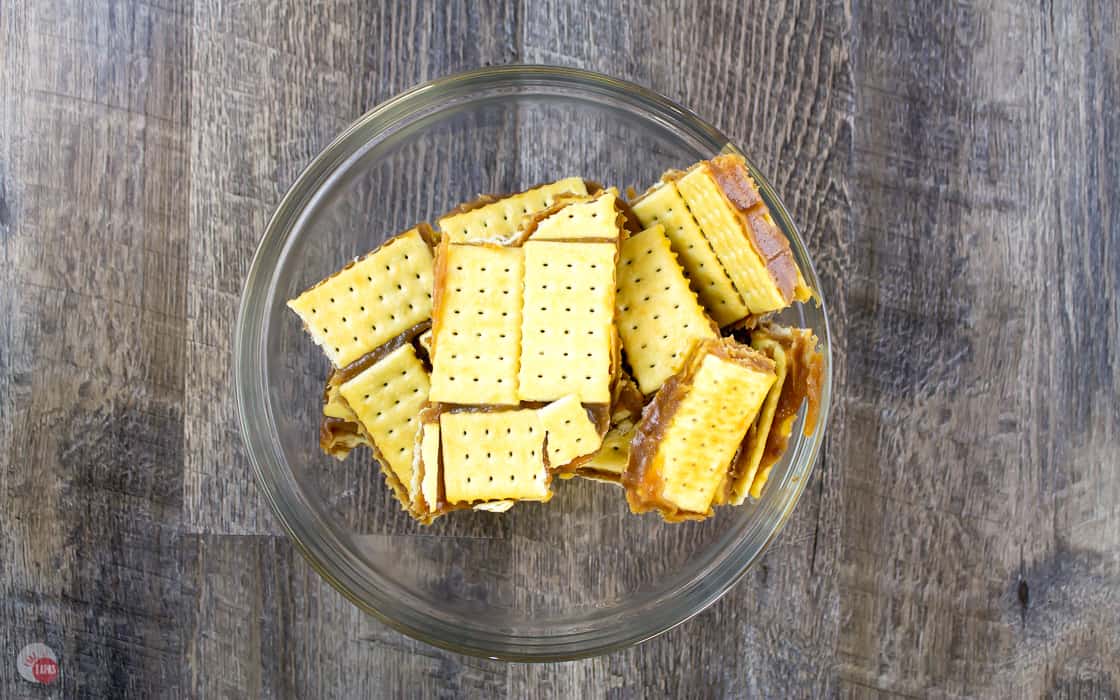 making the saltine cracker toffee candy
Start by making a layer of crackers in the bottom of your 9×13 pan. No need to grease the pan, there will be plenty of butter, TRUST ME! Also, lay the crackers salt side up so the salt stays with the crackers and not on the bottom of the pan!
Have your next two layers of crackers ready to go, because the next steps happen quickly.
Make the toffee mixture but melting butter and brown sugar in a pan over medium heat. I like to use brown sugar because it has molasses in it which deepens the already yummy flavor.
Add graham cracker crumbs to the mixture and stir to combine. The graham cracker crumbs add a little extra flavor to the mixture and make it a little more substantial.
Next comes the cream. Pour in slowly and stir to combine. Once everything is mixed together, bring to a low boil and boil for 7 minutes stirring occasionally so it doesn't burn.
If you are a stickler you can bring out your candy thermometer and pull when it gets to 248F but I hate washing extra dishes so I just boil for 7 minutes and I know that I am there.
For more insider tips & tricks, and a candid behind the scenes look follow me on social media! Check use out on Pinterest, Facebook, Instagram, & Twitter (yes, people still use Twitter, LOL!)
Layering the Cracker Candy
Once you have the caramel/toffee ready, pour half the caramel mixture over the first layer of crackers. Be very careful as hot sure will burn!!!
Add another layer of crackers and pour the remaining caramel mixture over the crackers. Spread evenly.
Top with one more layer of crackers. I like to press the top layer of crackers ever so gently into the toffee to make sure they stick. Chill in the fridge for 15 minutes or until set.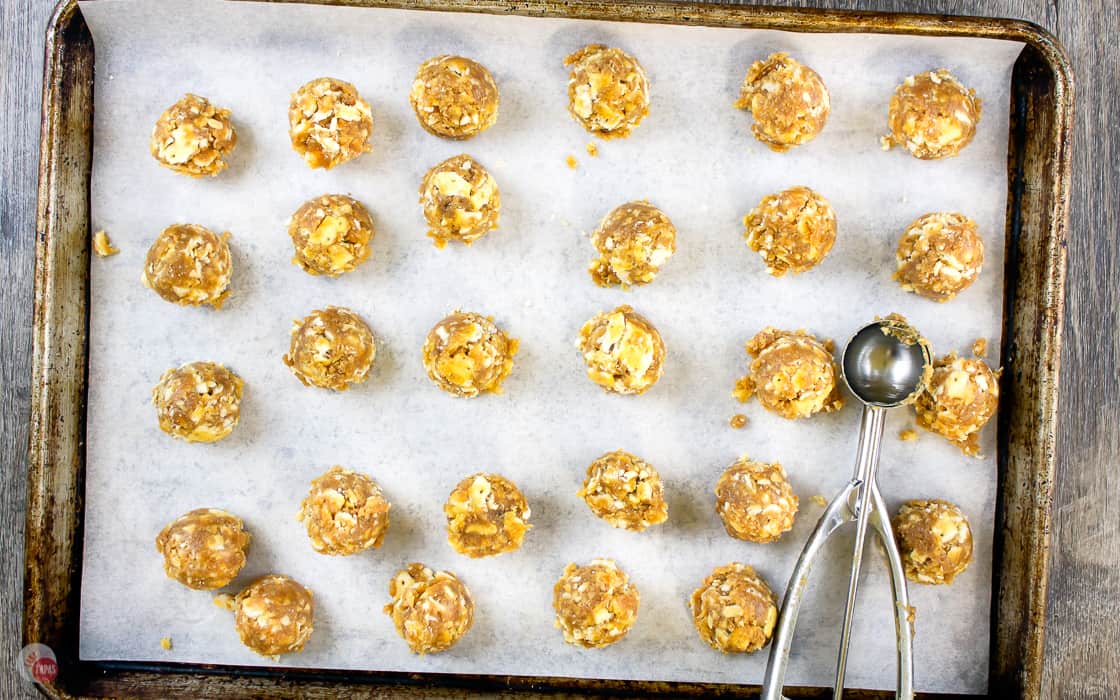 Make the cracker truffles
Remove the cracker candy from the pan and place in a bowl. Using your hands break into small pieces. This will be messy and sticky but so worth it. I tried a stand mixer and it can work but you need to break up the blocks into smaller sections.
I would guess that a food process would work as well but I always get worried that they bottom would be over chopped and the top would be whole. But use your best judgement.
Once the mixture is broken up, scoop into 1 inch balls and place on a baking sheet lined with parchment paper.
Freeze for 10 minutes to chill and set.
While the truffles are chillin' melt some dark chocolate in the microwave or on a double boiler.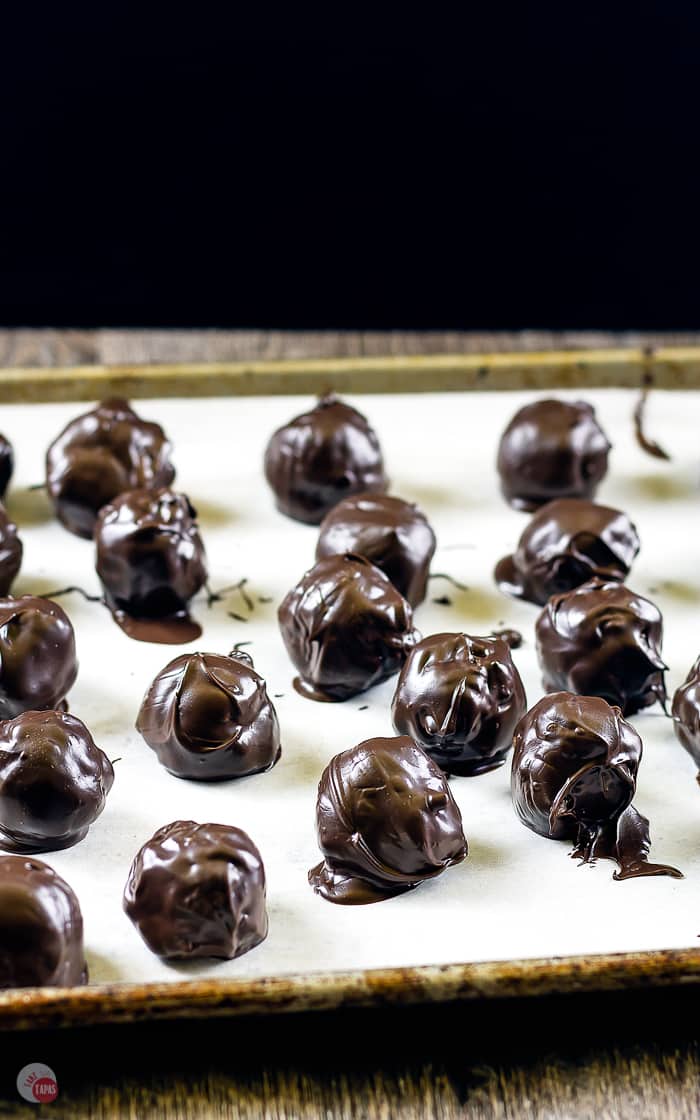 Dip the cracker toffee truffles
Remove the truffles from the freezer and one at a time dip them in the melted chocolate. Place back on the baking sheet and let them set up.
Having them frozen helps the chocolate set faster which is great! Let them all set up and then store in an air tight container for up to a week!
tips to for making cracker candy
place the first layer of crackers salt side up to keep the salt on the cracker and not the pan.
work quickly and carefully when making the toffee mixture and layering crackers.
freeze the truffles to make the chocolate set faster.
use a mixer or food processor to chop up cracker toffee layer easier and less messy.
use dark chocolate for dipping to counter the sweetness of the toffee
sprinkle with sea salt or sprinkles for extra flavor and texture. Be sure to do this after dipping each truffle or the chocolate will be hard the toppings won't stick.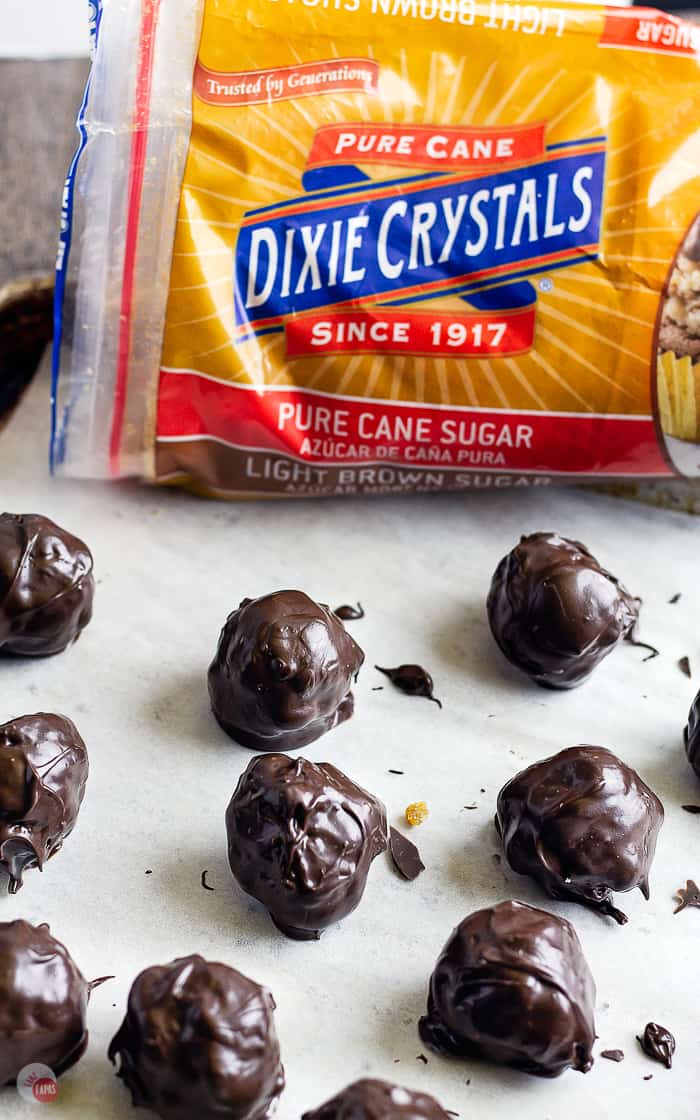 Make sure you are using the best ingredients when making these truffles. I like to use Imperial Sugar brown sugar because the rich flavor and it melts so easily!
finish off the party with these recipes:
Check out these other truffles:
If you love this recipe as much as I do, please write a five-star review in the comment section below (or on Pinterest with the "tried it" button – you can now add pictures into reviews, too!), and be sure to help me share on facebook!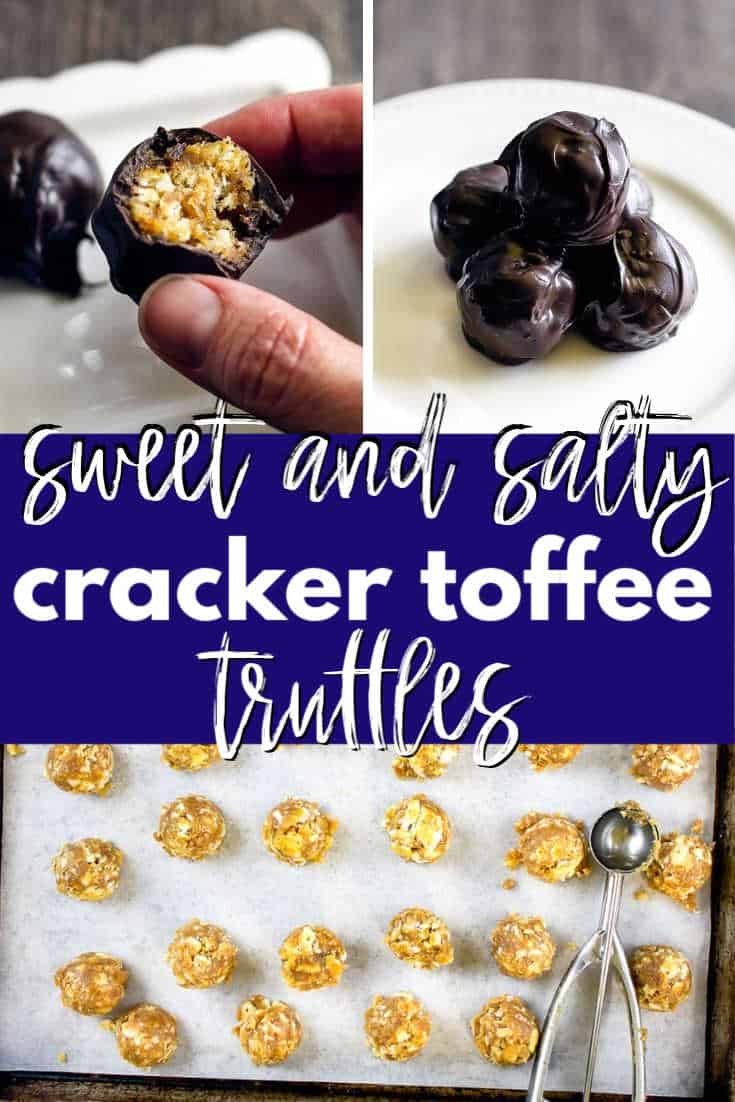 Easy Salted Cracker Toffee Truffles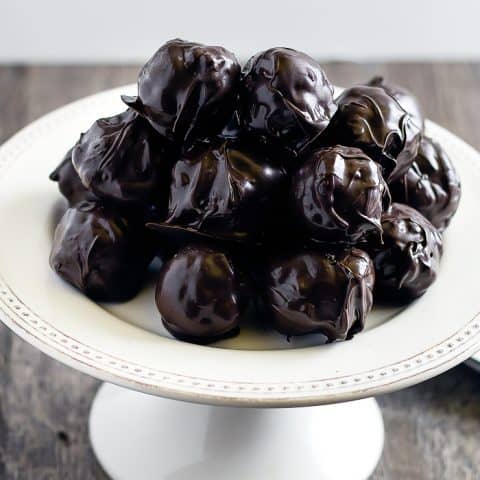 Cracker Toffee Truffles
Additional Time:
10 minutes
These sweet and salty two bite truffles will satisfy your craving and keep you from overindulging!
Ingredients
Caramel Layer
1 cup butter
2 cups brown sugar
1 cup graham cracker crumbs
2/3 cup evaporated milk
Cracker Layer
Chocolate Coating
2 cups dark chocolate chips or wafers
Instructions
Mix the graham crackers, butter, milk, and brown sugar in a heavy-bottom sauce pan.
Bring to a boil over medium high heat.
Boil for 7 minutes, stirring occasionally
While the sugar mix is boiling, line a 9x13 pan with one layer of club crackers. Salt side up!
Count how many you used and get another two layers ready to go.
When the 7 minutes are up, pour half the mixture over the first cracker layer.
Spread evenly.
Place another layer of crackers over the caramel layer.
Pour the other half of the caramel mixture over the second layer of crackers and spread out.
Place one more layer of crackers.
Once the last crackers are laid out, chill in the fridge until set.
Once set, crush up the layered crackers in a food processor.
Scoop into small truffle balls that are about 3/4 of an inch round and place on a parchment-lined cookie sheet. Chill in the refrigerator for at least 15 minutes.
While chilling, melt your chocolate. Take your truffles out of the fridge and dip one at a time in the chocolate and completely coat. Remove and place back on the same parchment-lined cookie sheet.
Keep dipping until all the truffles are covered. Place back in the fridge until set. About 15 minutes. Enjoy!
Notes
*If you like this recipe, please leave me a comment and rate it with some stars. Thank you!
Nutrition Information:
Yield:

40
Serving Size:

1 truffle
Amount Per Serving:
Calories:

173
Total Fat:

9g
Saturated Fat:

5g
Trans Fat:

0g
Unsaturated Fat:

4g
Cholesterol:

14mg
Sodium:

122mg
Carbohydrates:

21g
Fiber:

1g
Sugar:

15g
Protein:

1g
This nutrition information was generated via a third party, Nutritionix, and can not be held liable for any discrepancies in the information provided.
Don't forget to check out all the other chocolate posts this week!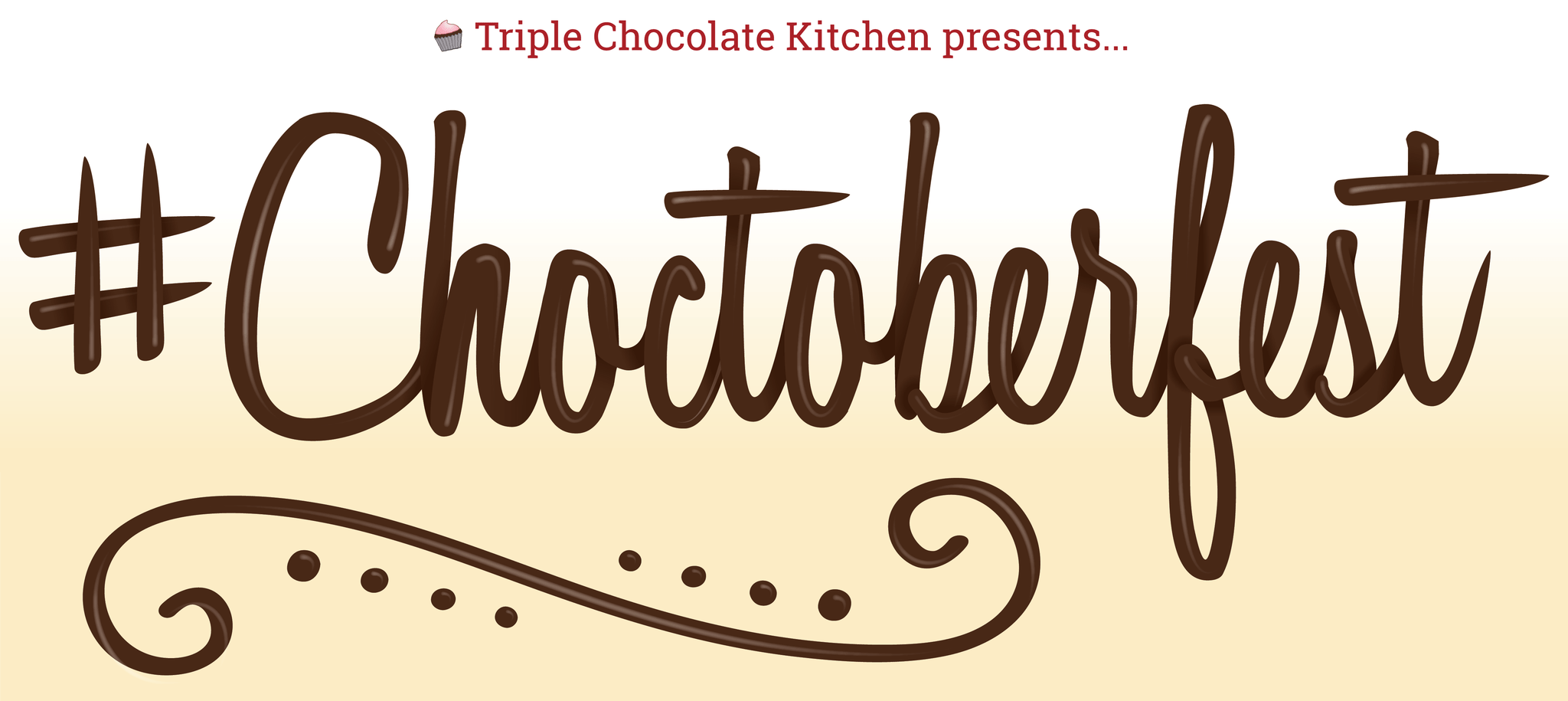 ©TakeTwoTapas.com. Content and photographs are copyright protected. Sharing of this recipe is both encouraged and appreciated. Copying and/or pasting full recipes to any social media is strictly prohibited.