A traditional Spanish Tortilla Espanola, full of thin slices of potato and eggs and fried to a golden brown, is "Southerned" up with creamy and spicy Pimento Cheese. This omelet is perfect as a brunch menu item, a tapas meal centerpiece, or a midnight snack after too many sangrias!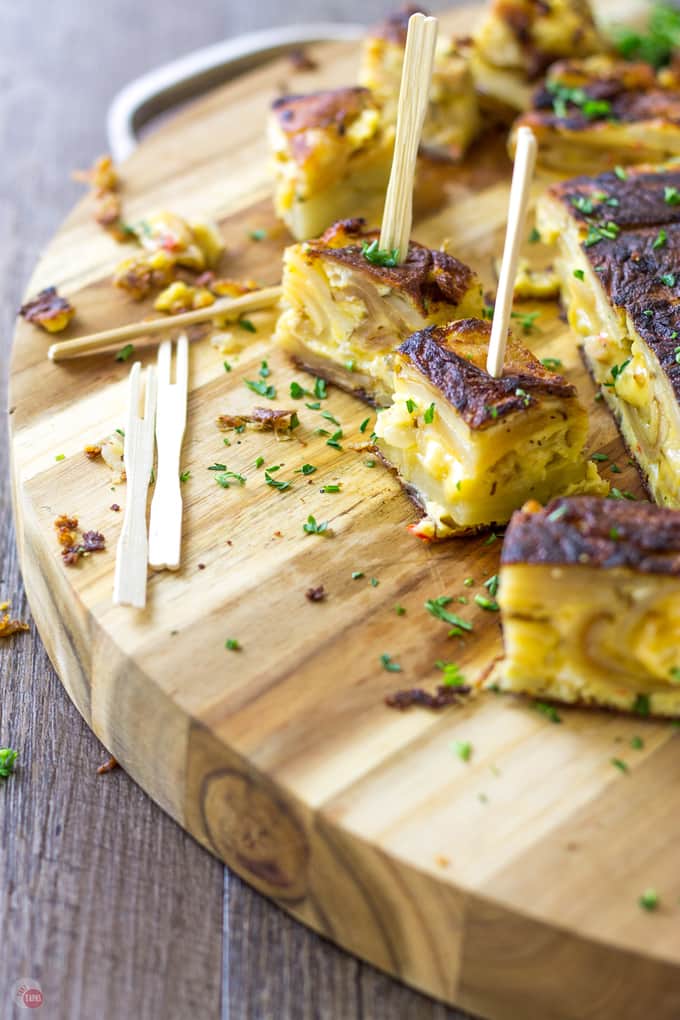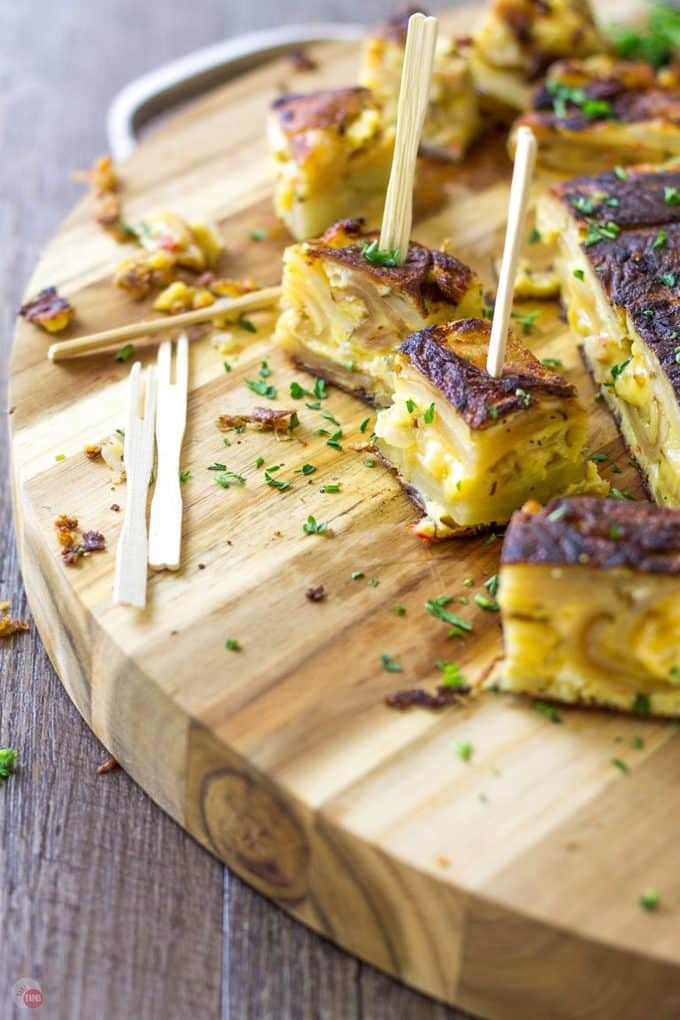 The end of my Southern Tapas series is near and I have been saving the heartiest for the end. I figure we start light with a meal so we started light with my Pan Con Tomate but we are getting to the end of the meal so let's get some potatoes in our bellies!
A Tortilla Espanola, or Spanish egg and potato omelet, is a great way to soak up that wine you have been drinking all this time too. Let's add a Southern twist with some of my creamy pimento cheese spread!
This dish takes a little preparation so be warned, but don't be scared it's not that bad. And it is totally worth it in the end. I promise!!!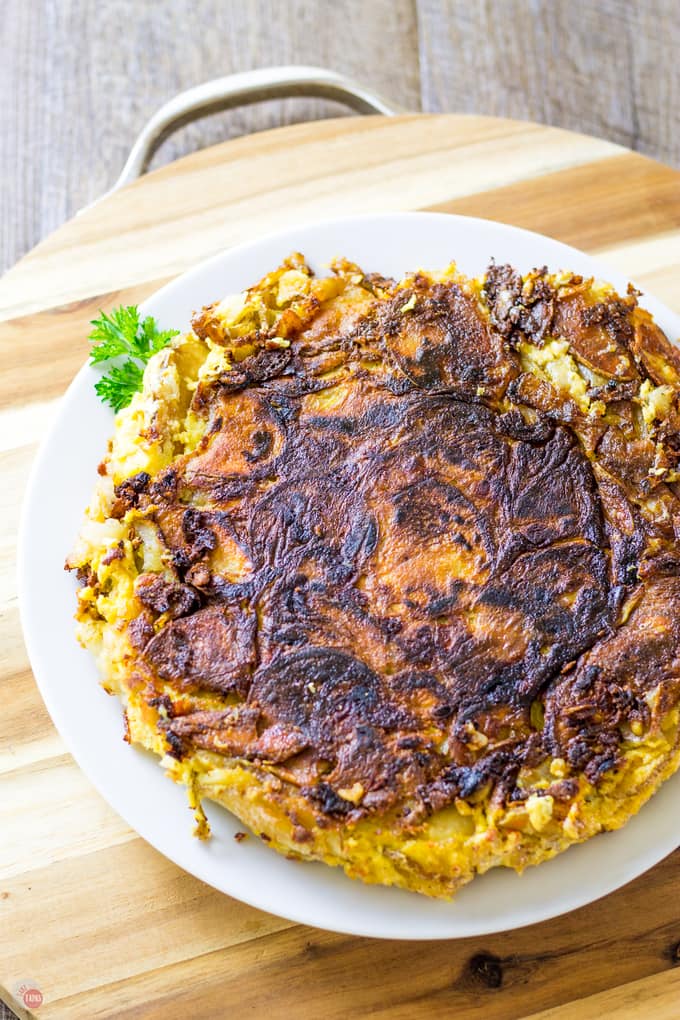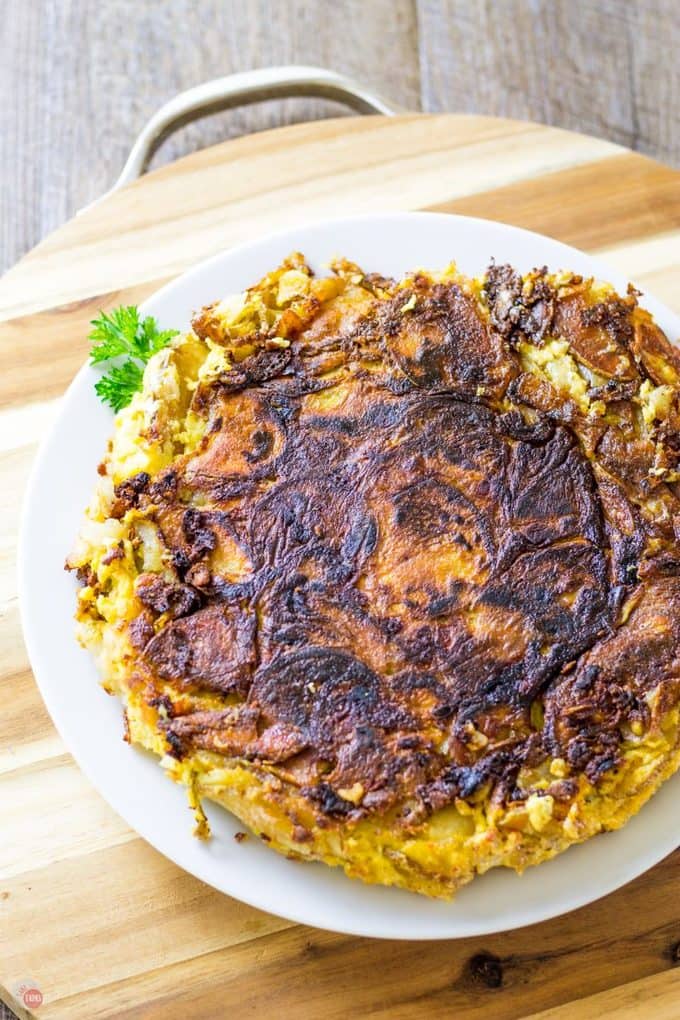 The first thing you need to do is get your pans ready. I make the Tortilla Espanola in my tried and true cast iron skillet. If you don't have one that is ok, just make sure your pan is non-stick.
And you need pimento cheese already prepared too. Make my recipe ahead of time, I always have a bit in my fridge for crackers, or buy some already prepared.
Next, you will need to get your potatoes sliced thin. It's easy to do with a fancy mandoline slicer like my hubby bought for me this past Christmas because he was sick and tired of me having bloody knuckles all the time. If you are handy with your knife, go for it, but I recommend a slicer, even if you get a cheap one.
Or you can use the slicer blade on a food processor if you have one of those. My oldie-but-goodie slices a little thick for my taste, but that's because mine is about 9 years old.
This post may contain affiliate links. As an Amazon Associate, I earn from qualifying purchases. Read my disclosure policy here.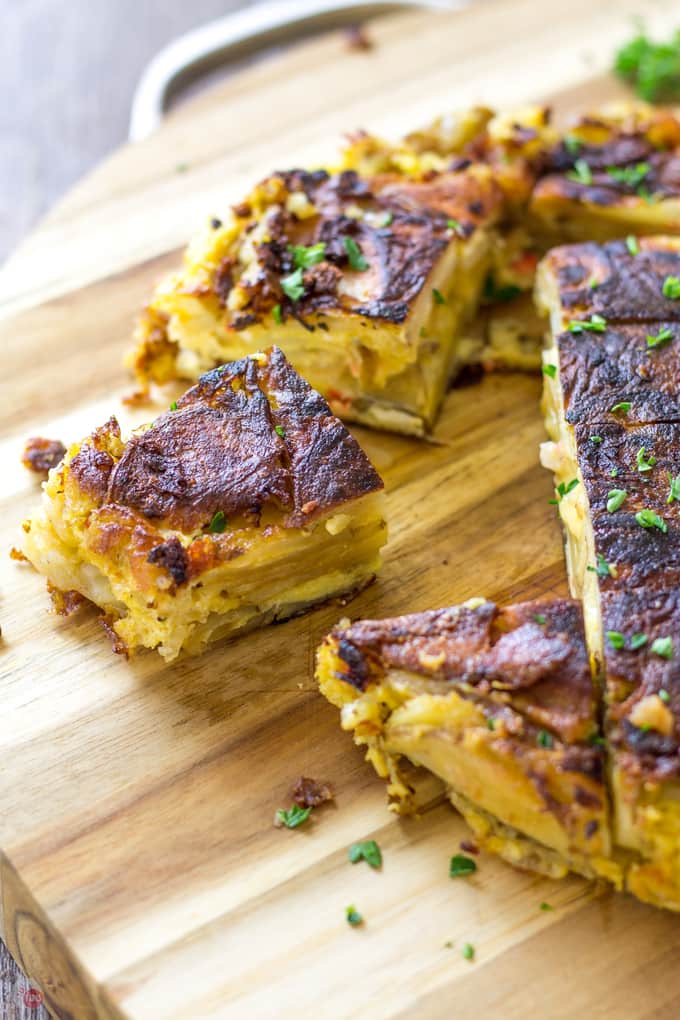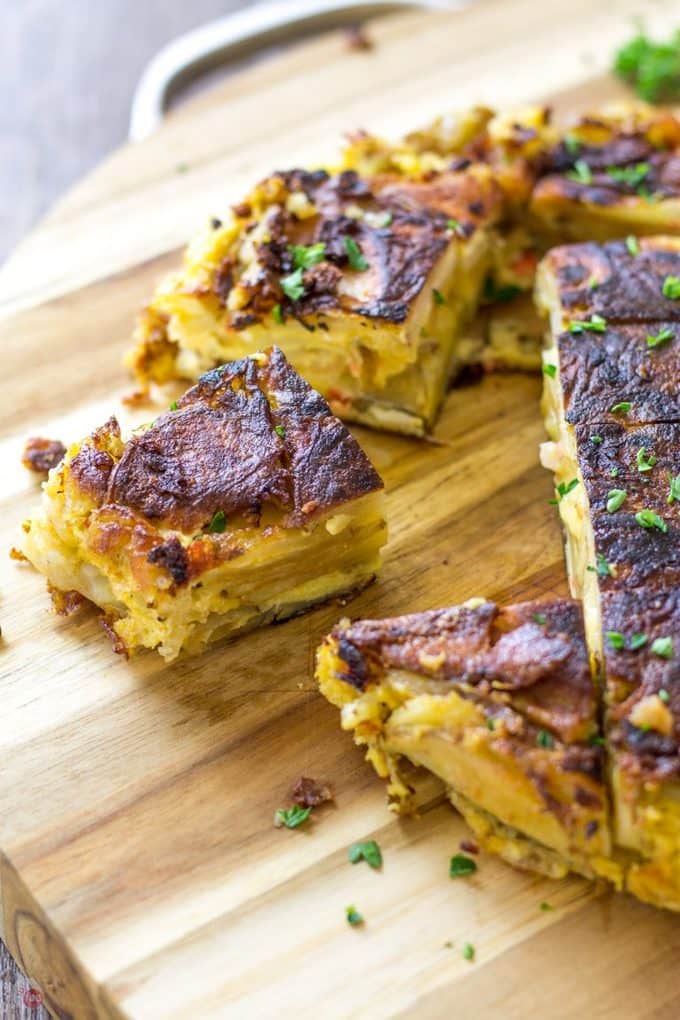 Once you get your potatoes sliced all thin, let get them cooked a bit. By the way, I left my peels on the potato because I'm lazy. Or is it because of the fiber…
Whatever reason I am going with, let's move on. I cook the sliced potatoes in olive oil until they are tender. Sort of like frying some thick cut potato chips.
After they reach the tender stage, pull them out and let them drain in either a colander or a paper-towel lined plate. This takes a few batches so don't feel you need to fry all 2 pounds at one time.
Now it is time to get to business! Gather your tender potatoes, your pimento cheese, your eggs, and your non-stick skillet. It's time to make the Tortilla Espanola!
For more insider tips & tricks, and a candid behind the scenes look follow me on social media! Check use out on Pinterest, Facebook, Instagram, & Twitter (yes, people still use Twitter, LOL!)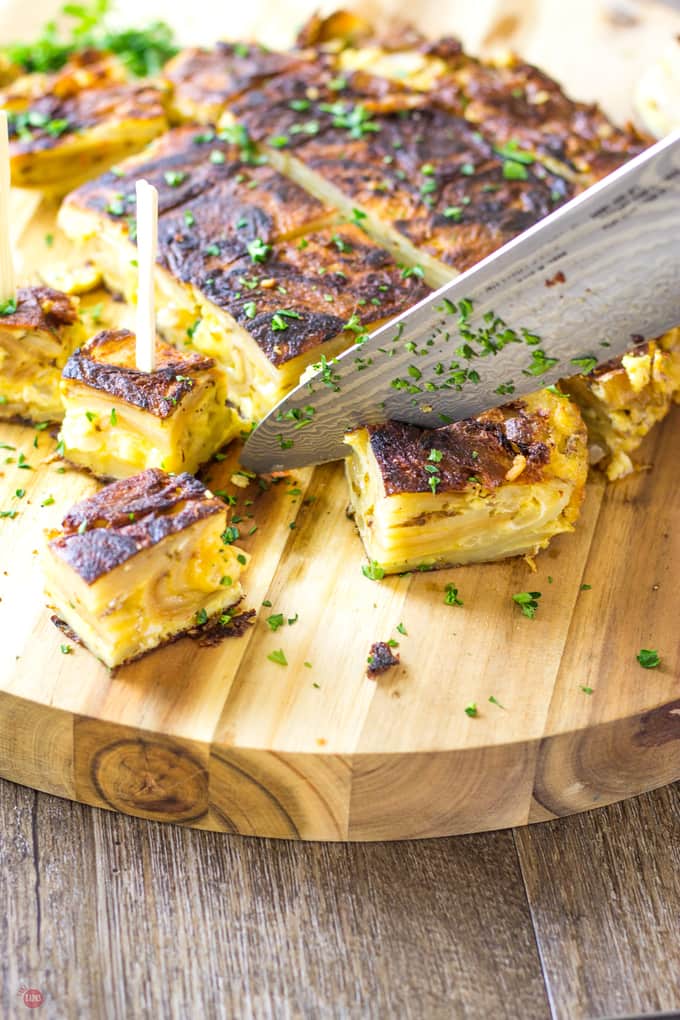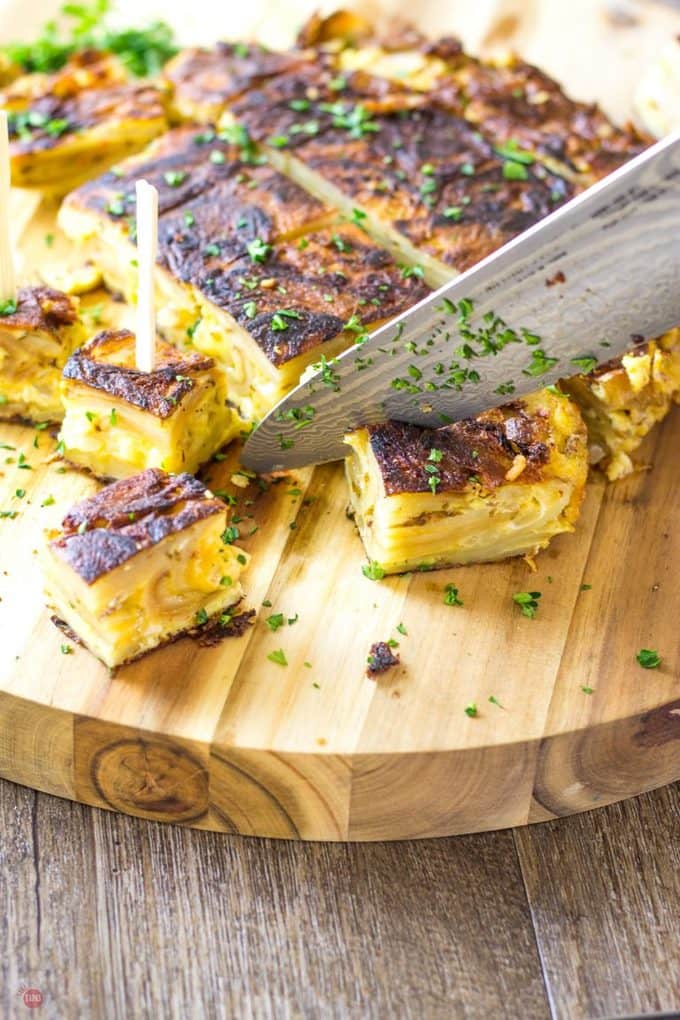 Put your olive oil in the pan and get it nice a hot. A really hot skillet helps to sear the bottom of the Tortilla Espanola and keep it from sticking. This is important because we are going to flip this baby over and we don't want it falling apart.
Mix the eggs, potatoes, pimento cheese, and your sauteed onions in a bowl. Season with salt and pepper and get ready for action.
Pour the mixture into the pan and let it sit for a few minutes. We are cooking the Tortilla Espanola for about 10 minutes so it will take a good 5 or so minutes on each side. Be patient and keep shaking the pan to keep it from sticking.
I run my spatula around the edges picking the omelet up every few inches, making my way around the pan. When we flip the Tortilla Espanola, we need it to release completely from the pan.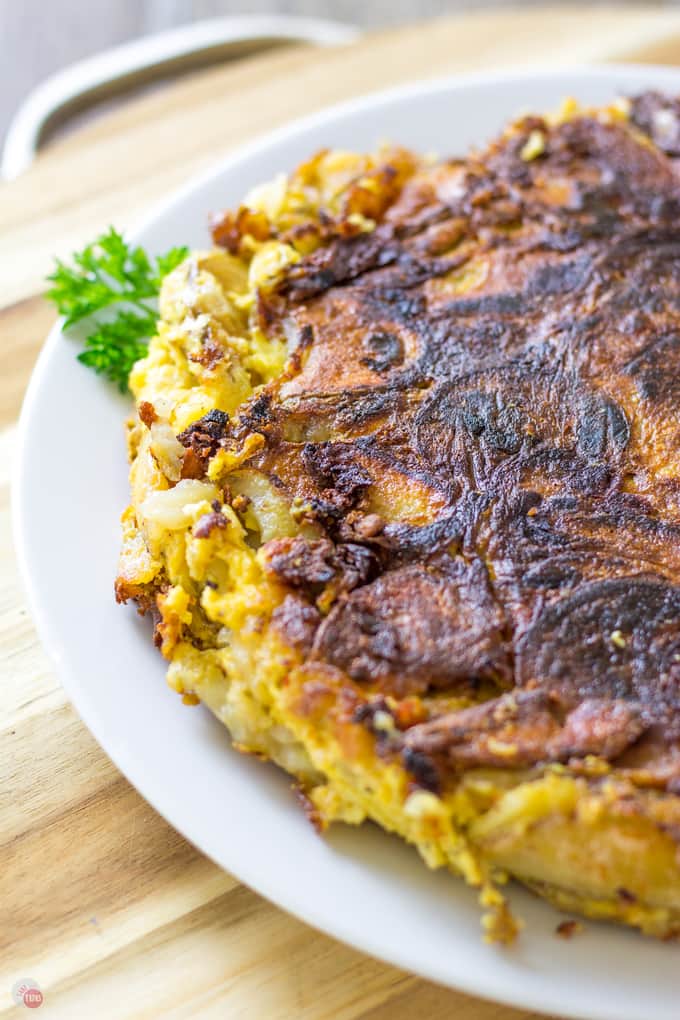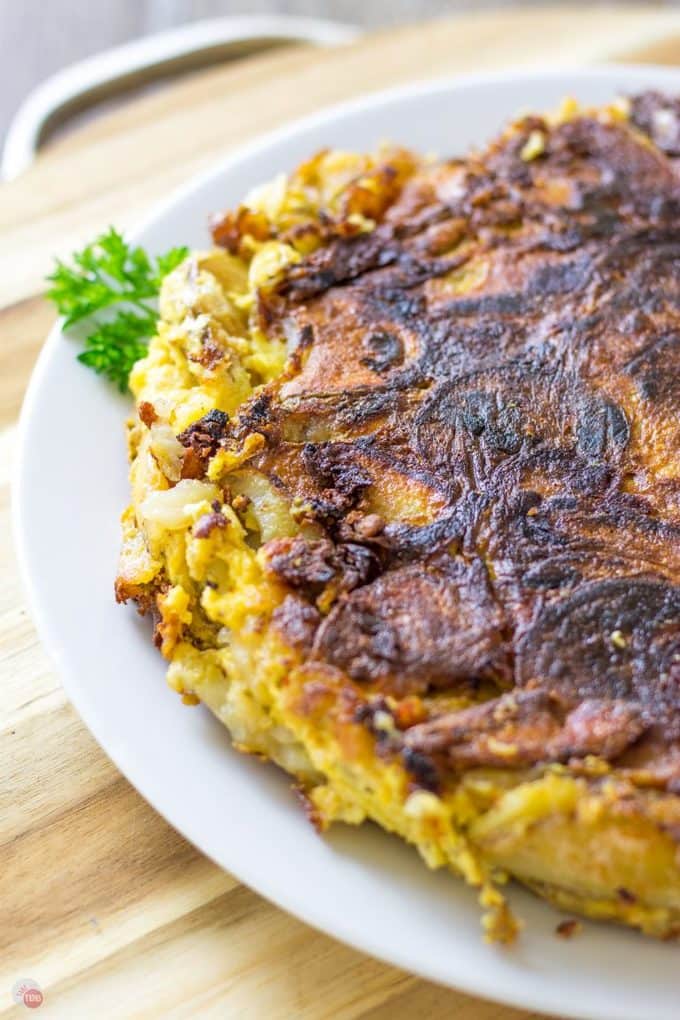 Look at that crust!!
When it is time to flip (the bottom is a golden brown and the center is starting to set up nicely) get a plate that covers the entire surface of the skillet.
Cover the skillet, Place your hand in the center of the plate, and invert the skillet so the Tortilla Espanola is now on the plate crust side up. Gently slide it back into the skillet, crust side up, and place back on the burner.
Cook for another 5 minutes or so, getting that golden crust, while also shaking and lifting the tortilla Espanola around the edges to prevent sticking on this side.
When the eggs are cooked and it is all holding together as one giant omelet, time to slide it out of the pan and back onto the plate. Or a cutting board or serving platter, just remember that we are dicing this pretty baby up in a little bit so make sure you can cut it on the serving dish.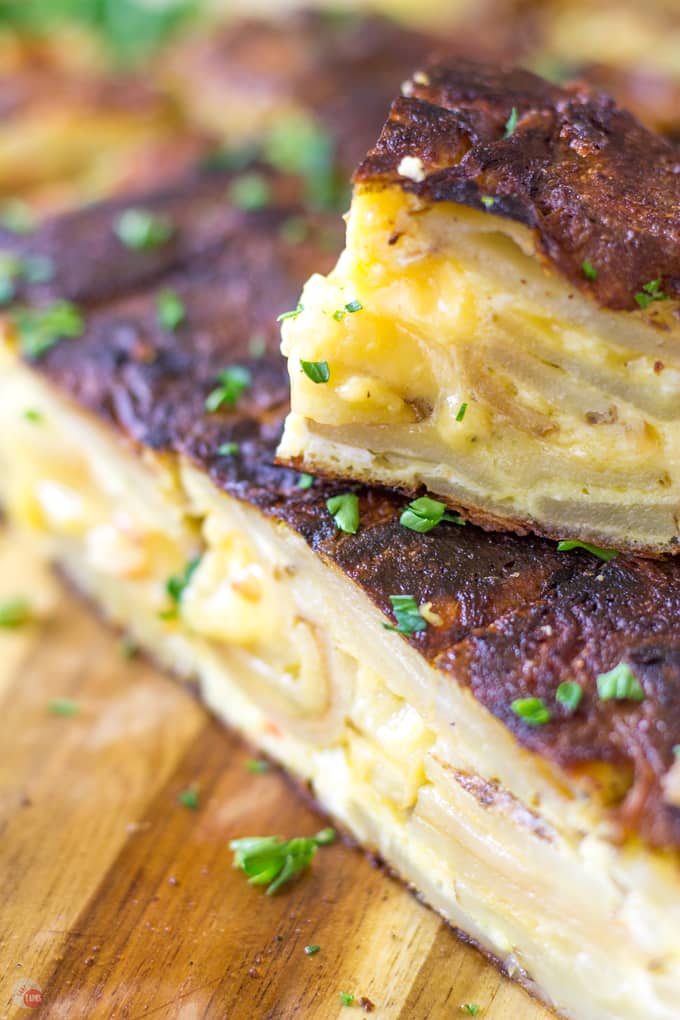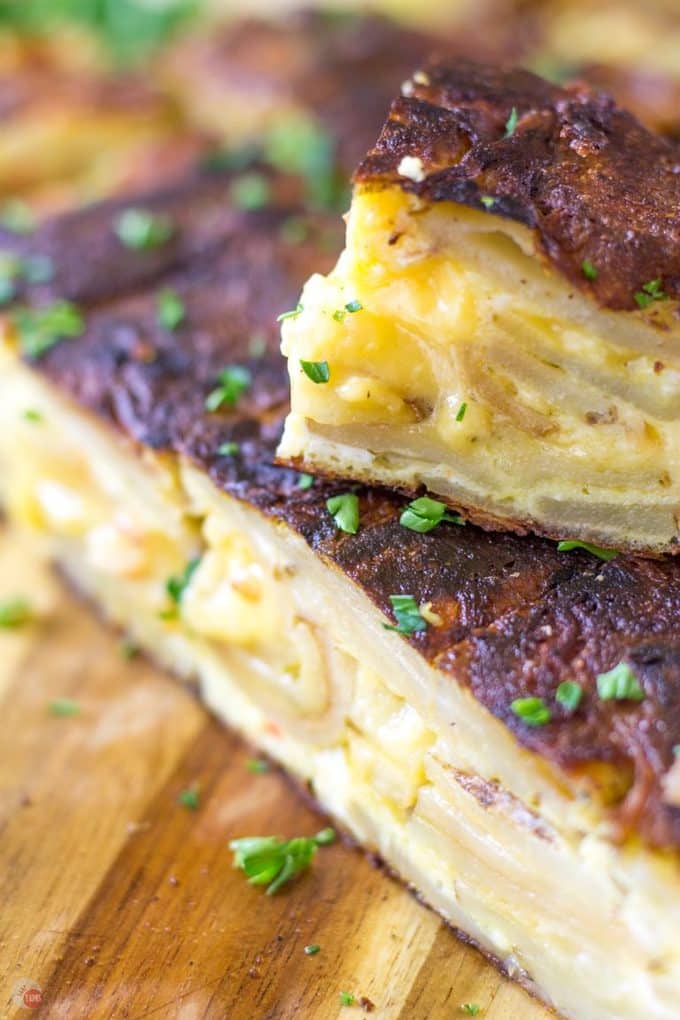 The Pimento Cheese Tortilla Espanola is served either warm or at room temperature. I like mine in small squares on tiny forks. Being that is is so thick, you don't need a lot of it. Making one this size serves 10-15 people.
A few cuts of the knife, a sprinkle of chopped parsley, and you are serving something spectacular!
Look at these cheesy, eggy, potatoey layers!!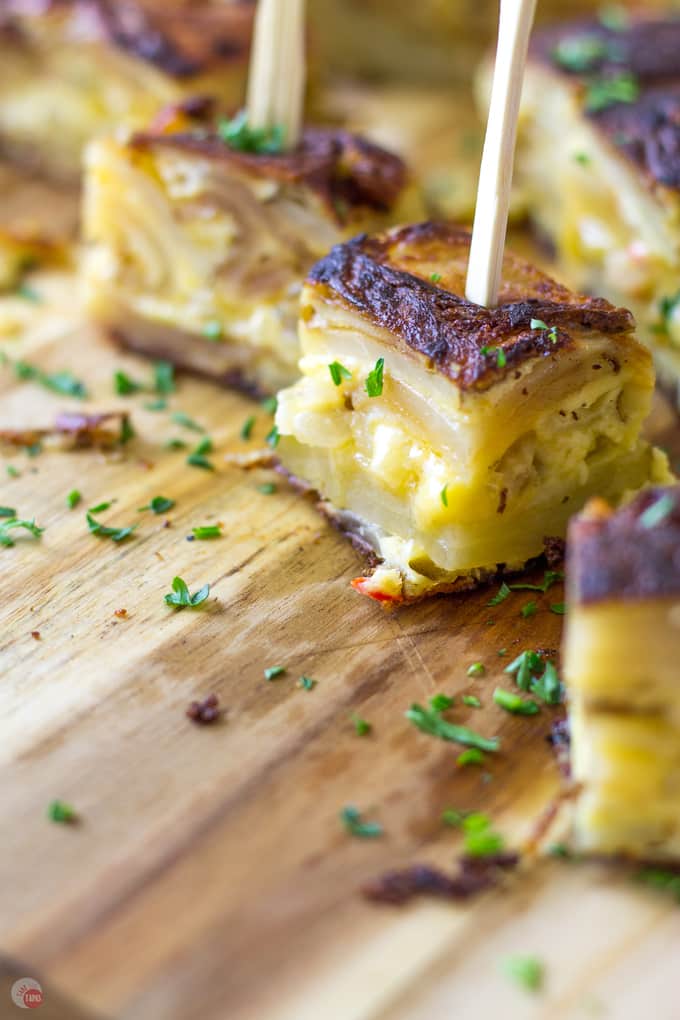 This looks like breakfast on a stick to me, but the Pimento Cheese Tortilla Espanola is so much more than that. Traditional tapas fare, breakfast/brunch for a crowd, or a midnight snack, this Pimento Cheese Tortilla Espanola is everything you want in an omelet and more!
MORE FINGER FOODS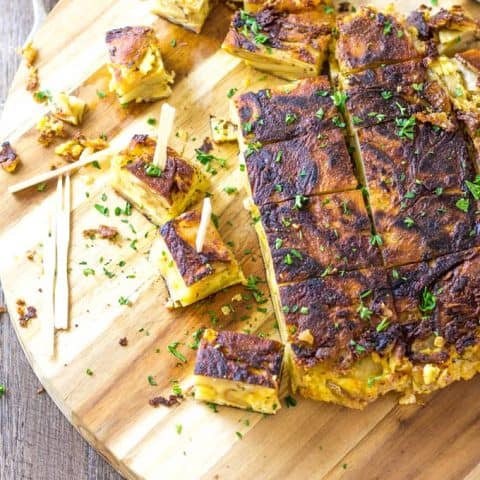 Pimento Cheese Tortilla Espanola
A traditional Spanish Tortilla Espanola, full of thin slices of potato and eggs and fried to a golden brown, is "Southerned" up with creamy and spicy Pimento Cheese. This omelet is perfect as a brunch menu item, a tapas meal centerpiece, or a midnight snack after too many sangrias!
Ingredients
1 cup + 2 Tbsp olive oil (I prefer avocado oil for the higher heat)
2 pounds potatoes (sliced thin)
1 medium onion (sliced thin)
6 large eggs
3/4 cup pimiento cheese (prepared)
salt and pepper (to taste)
chopped parsley (for garnish)
Instructions
Heat the olive oil in a large fry pan over medium-low heat.

Add 1/3 of the potatoes and fry, turning occasionally, until the slices are tender and slightly browned.
Using a slotted spatula, transfer the potatoes to a colander or a paper towel-lined plate.
Continue cooking the potato slices in batches until they are all cooked.

In another fry pan over medium heat, warm 2 Tbs. olive oil.

Add the onion and cook, stirring often, until the onion is soft.
Set aside to cool slightly.
In a large bowl, whisk the eggs until well blended.
Add the onion and the pimento cheese.
Fold in the cooked potatoes.
Let stand for 5 minutes so the potatoes can absorb some of the egg and onion flavors.
Season with salt and pepper.
Pour off all but 1/3 cup of the oil from the large fry pan and place it over low heat.
Pour in the potato and egg mixture.
Cook until the bottom of the omelet is set and golden brown. This takes 5 to 8 minutes.
Be sure to shake the pan regularly and slide a spatula under it at regular intervals to avoid sticking.
Place a large round platter or plate on top of the pan.
Invert the pan and plate together, and lift off the pan.
Slide the Tortilla Espanola back into the pan and return it to low heat.
Cook until the second side is set, about 5 minutes.
Invert the Pimento Cheese Tortilla Espanola again onto a plate.
Let it stand until slightly cooled, at least 5 minutes.
Cut into pieces and serve hot or at room temperature.
Nutrition Information:
Yield:

10
Serving Size:

1
Amount Per Serving:
Calories:

233
Total Fat:

13g
Saturated Fat:

4g
Trans Fat:

0g
Unsaturated Fat:

9g
Cholesterol:

123mg
Sodium:

179mg
Carbohydrates:

21g
Fiber:

2g
Sugar:

2g
Protein:

8g
This nutrition information was generated via a third party, Nutritionix, and can not be held liable for any discrepancies in the information provided.
This Pimento Cheese Tortilla Espanola is inspired from this recipe from Williams Sonoma
TakeTwoTapas.com. Content and photographs are copyright protected. Sharing of this recipe is both encouraged and appreciated. Copying and/or pasting full recipes to any social media is strictly prohibited.