Banana Pudding is a classic Southern dessert that is loved by many and these Banana Pudding Truffles are that special dessert all rolled into one bite! Vanilla wafers, ripe bananas, rolled up and dipped in white chocolate!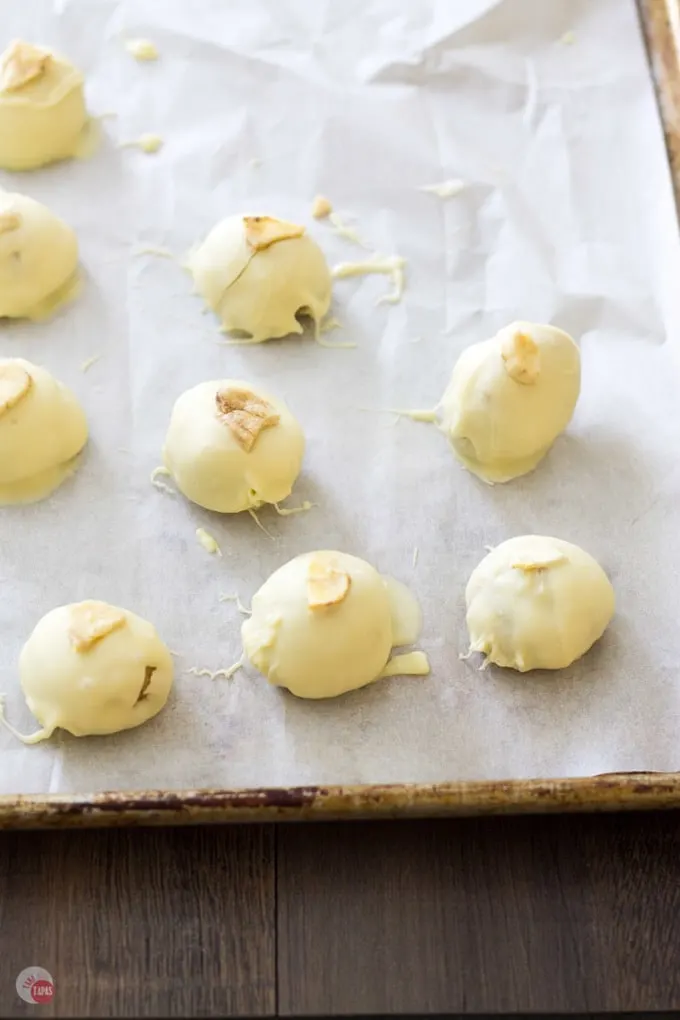 Banana Pudding Truffles
I have a problem. There is one thing I always buy at the grocery store that I think I am out of, but I don't because there are still some left at home.
Do you have the same problem? Can you guess what that thing is?
BANANAS!
When I embark on my daily, yes daily, trip to the store I usually have a list. Most of the time that list is in my head which is a bad thing because if I see anyone at the store that I know, I am going to stop and talk to them and forget my list.
5% of the time I have a written list but I still buy things that are not on it because I am easily swayed by pretty labels and sales signs. But mostly it's because I think I am running out of it, or will very soon, and need to have more on hand.
This post may contain affiliate links. As an Amazon Associate, I earn from qualifying purchases. Read my disclosure policy here.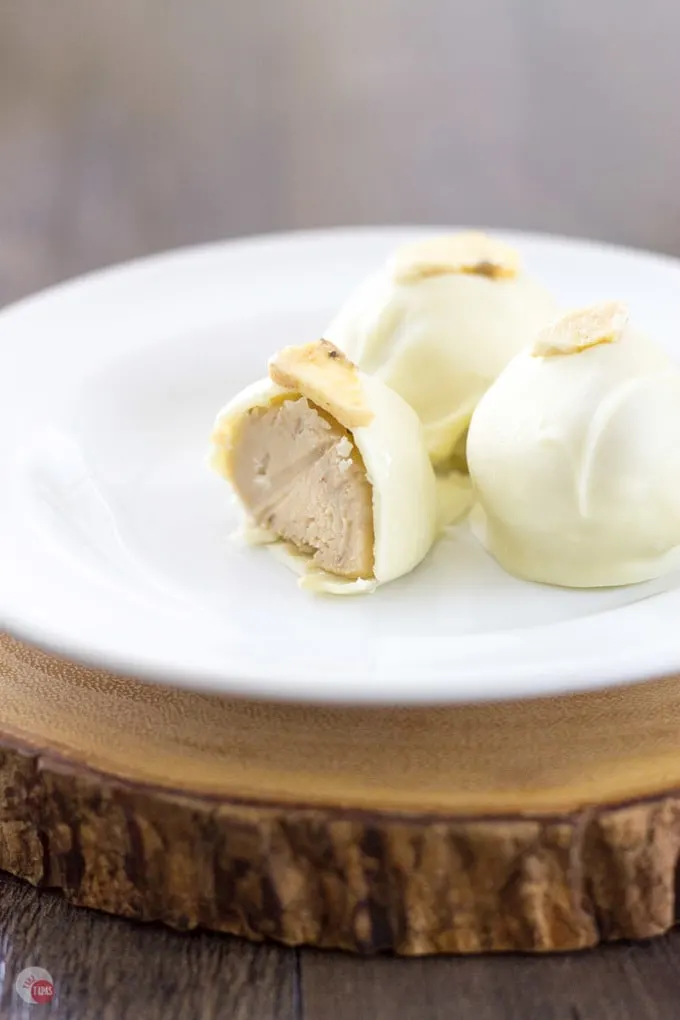 When I arrive home from my daily shopping trip, and I start to unload the bags, I usually see this item on the counter.
Darn, I already have it. But they are super ripe. Plus they are covered in small brown spots so the kids won't eat them.
They don't eat anything that is considered "bad" and this list includes, but is not limited to, mushy grapes, broken crackers, and cookies with less than 10 chocolate chips in them.
Let's not even discuss the date on the milk. One second into the date stamped on the milk jug and it is no longer drinkable. Even though it has never been opened. Are you with me moms?
For more insider tips & tricks, and a candid behind the scenes look follow me on social media! Check use out on Pinterest, Facebook, Instagram, & Twitter (yes, people still use Twitter, LOL!)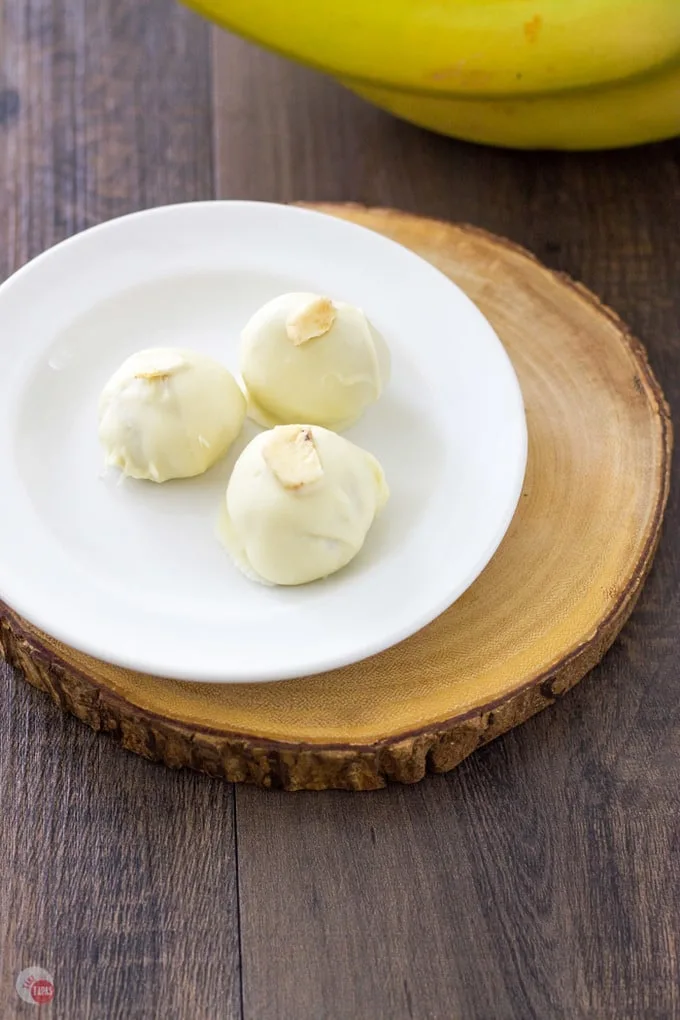 How to Make Banana Pudding Truffles
Bananas! I buy them all the time and no one eats them fast enough.
But heaven forbid I skip buying them on one trip to the store and we are out, and I am the worst mom ever.
My kids are going to starve because we ran out of non-spotted bananas 5 seconds before I walked back in the door.
What do I do with all those un-eatable, brown-spotted, bananas that are on my counter and will not get eaten because the "new/good" bananas are now available?
Cut them up and freeze them and use them for smoothies and ice cream.
*If you are doing this too, I recommend slicing and separate the slices before you freeze.
But my number one thing to make with them is banana pudding. Who can resist this classic Southern dessert?
Check out my Mind-Blowing Banana Pudding Post to see how I modernized this classic dessert with Crispy Sugared Pecans, instead of vanilla wafers, that is now one of my most popular posts.
Now, I know you are not supposed to leave out the wafers because that will get you excommunicated and uninvited from the next pot-luck so I remade the "classic" banana pudding, with the vanilla wafers, into a one-bite dessert! Banana pudding truffles!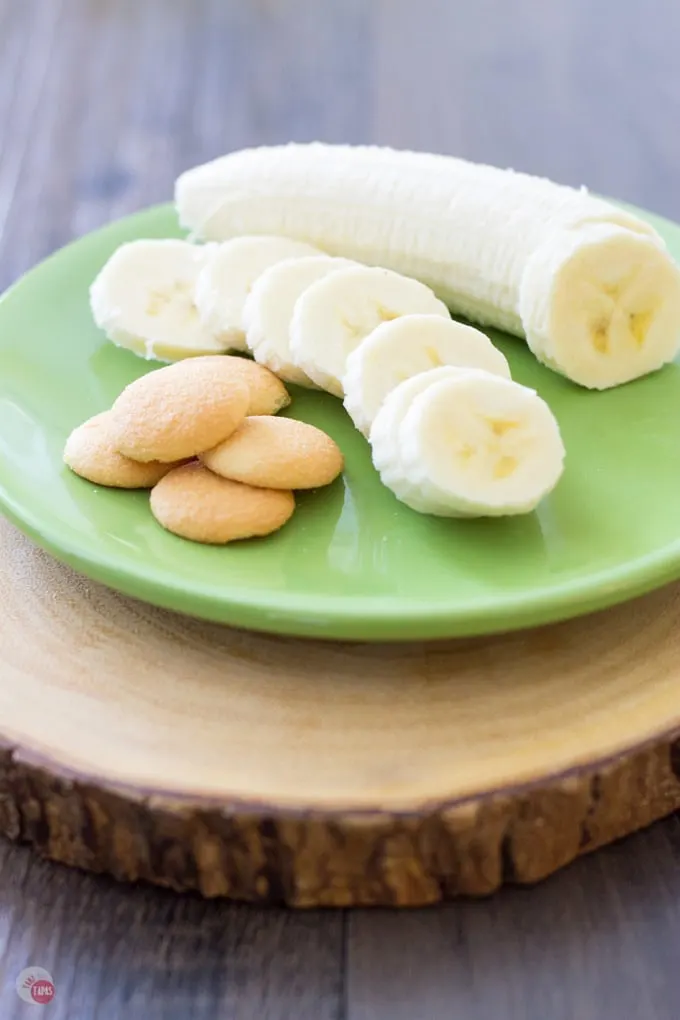 Ingredients Needed
Of course! I used the same vanilla wafers, the ripe bananas – that are browning on my counter in record numbers right now – and some cream cheese for good measure. Banana pudding with cream cheese?
You bet! All of these ingredients are combined, rolled into bite-sized portions, and dipped in white chocolate.
What could be better? Topping it with a crispy banana chip, that's what!
The inside of the banana pudding truffles is creamy and full of banana and vanilla flavors which are enhanced by the white chocolate coating. That banana chip on the top just seals the deal.
Now you know what to do with all those bananas you keep buying and your kids don't eat. Make banana pudding truffles.
How long do they last?
These last 2-3 days in the refrigerator in an air-tight container. After that, the insides start to "weep" and leak out of the coating.
Can I use milk or dark chocolate?
Of course you can! I prefer the white chocolate in this instance but if you like dark or milk chocolate, have at it!!
Looking for a bite-sized dessert to take to a party you've been invited to? Check out these other dessert truffles to fit your special occasion!
If you love this recipe as much as I do, please write a five-star review in the comment section below (or on Pinterest with the "tried it" button – you can now add pictures into reviews, too!), and be sure to help me share on facebook!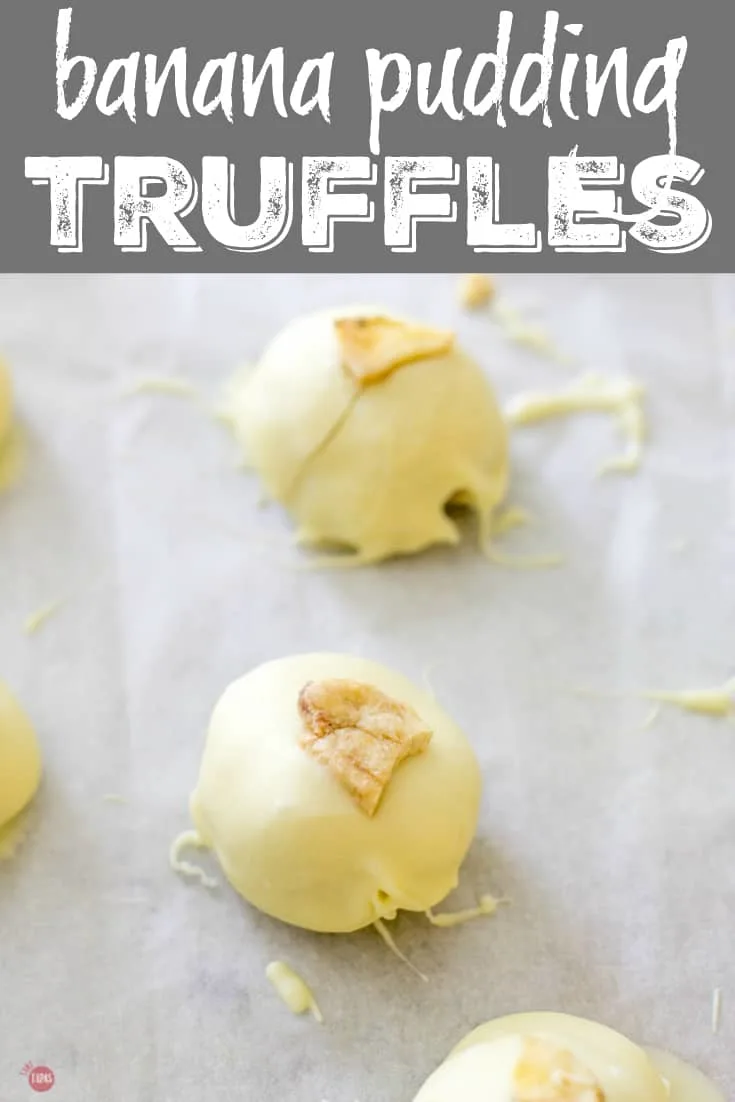 What is your favorite Southern classic dessert besides Banana Pudding Truffles?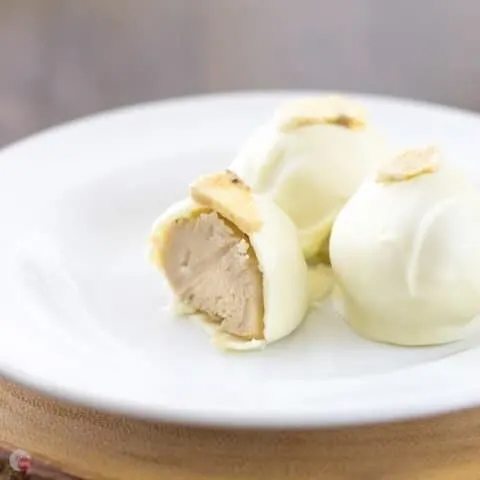 Banana Pudding Truffles
Banana Pudding is a classic Southern dessert that is loved by many and these Banana Pudding truffles are that special dessert all rolled into one bite! Vanilla wafers, ripe bananas, rolled up and dipped in white chocolate!
Ingredients
11 ounces vanilla wafers
8 ounces cream cheese (softened)
20 banana chips
2 mashed ripe bananas
8 ounces white chocolate
Instructions
Place vanilla wafers in a food processor and pulse until crumbs.
Add the cream cheese and bananas.
Pulse until a stiff batter is formed.
Scoop out into small balls. Approximately 1.5 inches in diameter.
Freeze for 15 minutes.
While the balls are freezing, melt your chocolate in a double boiler on the stove top.
Once balls are frozen, dip them in chocolate and place on parchment paper.
Add a banana chip on the top.
Place back in the fridge until chocolate is set.
Serve!
If you don't manage to eat all of them, keep them stored in the fridge.
Notes
*If you like this recipe, leave me a comment and rate it with some stars. Thank you!
Nutrition Information:
Yield:

30
Serving Size:

1
Amount Per Serving:
Calories:

122
Total Fat:

7g
Saturated Fat:

4g
Trans Fat:

0g
Unsaturated Fat:

3g
Cholesterol:

9mg
Sodium:

72mg
Carbohydrates:

14g
Fiber:

0g
Sugar:

9g
Protein:

1g
This nutrition information was generated via a third party, Nutritionix, and can not be held liable for any discrepancies in the information provided.
Easy Snacks
TakeTwoTapas.com. Content and photographs are copyright protected. Sharing of this recipe is both encouraged and appreciated. Copying and/or pasting full recipes to any social media is strictly prohibited.