Olives are the perfect snack for day or night.  Full of healthy fats and Vitamin E these olives marinated in olive oil and balsamic vinegar are the perfect choice to satisfy that salty snack craving!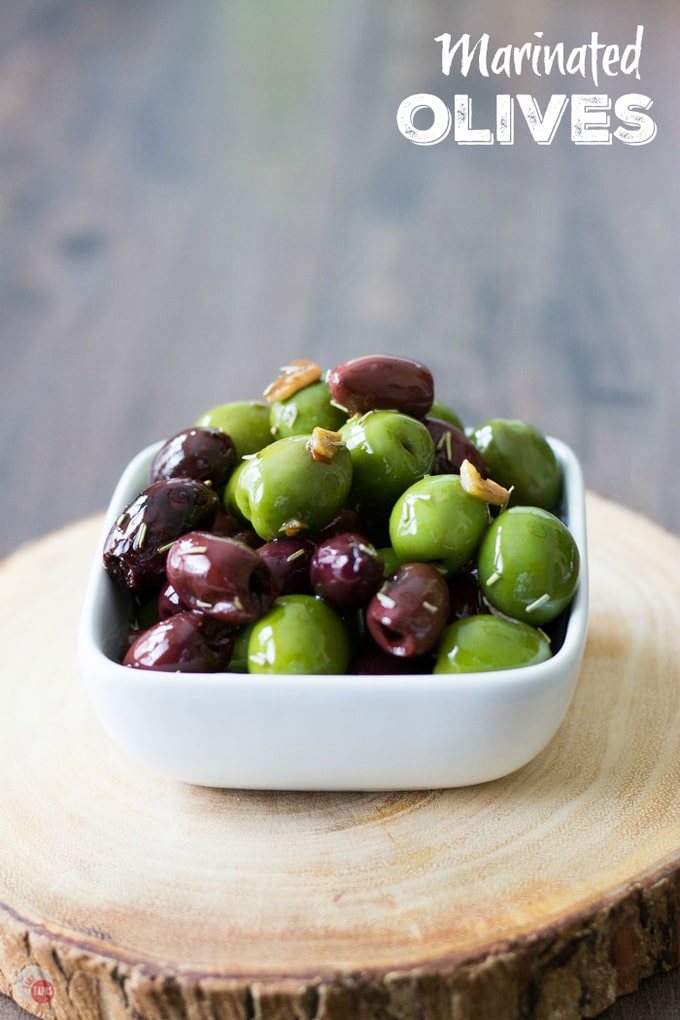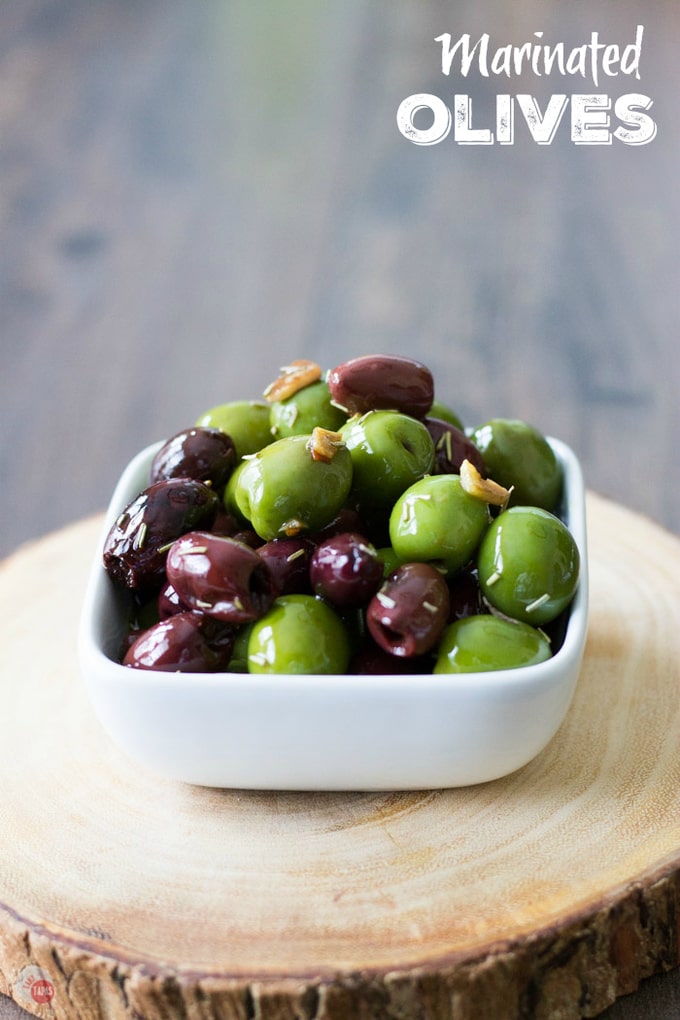 Olives seem to be playing a big part of my diet lately.  It's not a bad thing since olives are very healthy. Full of vitamin E, which is good for your skin and mine since I am getting wrinkles at a rapid pace, and good fats. Never thought about fats being healthy but in doing a bunch of research I found that avocados and olives are excellent for you.  Monounsaturated fats have been shown to lower cholesterol, reduce your risk of breast cancer, and reduce belly fat and overall weight.
I care about all the nutritional information associated with olives but I am really excited about the taste.  Popping them in my mouth and getting that burst of salt and the tang of the brine and biting into the chewy flesh is just a good.  I don't even mind if the olive still has a pit in it because I can nibble on that while doing other things.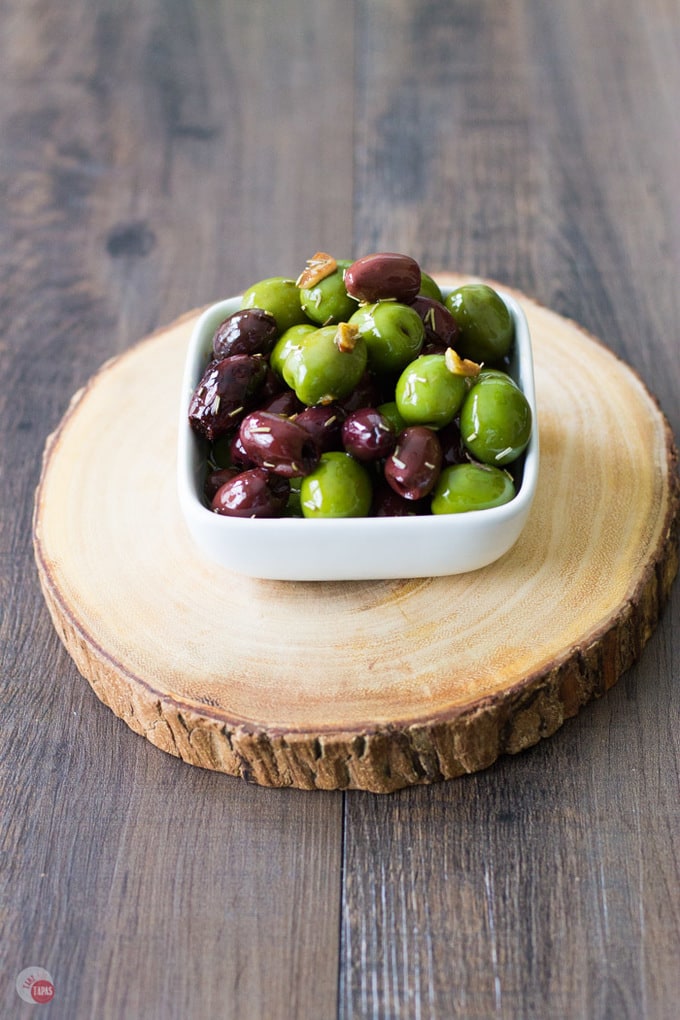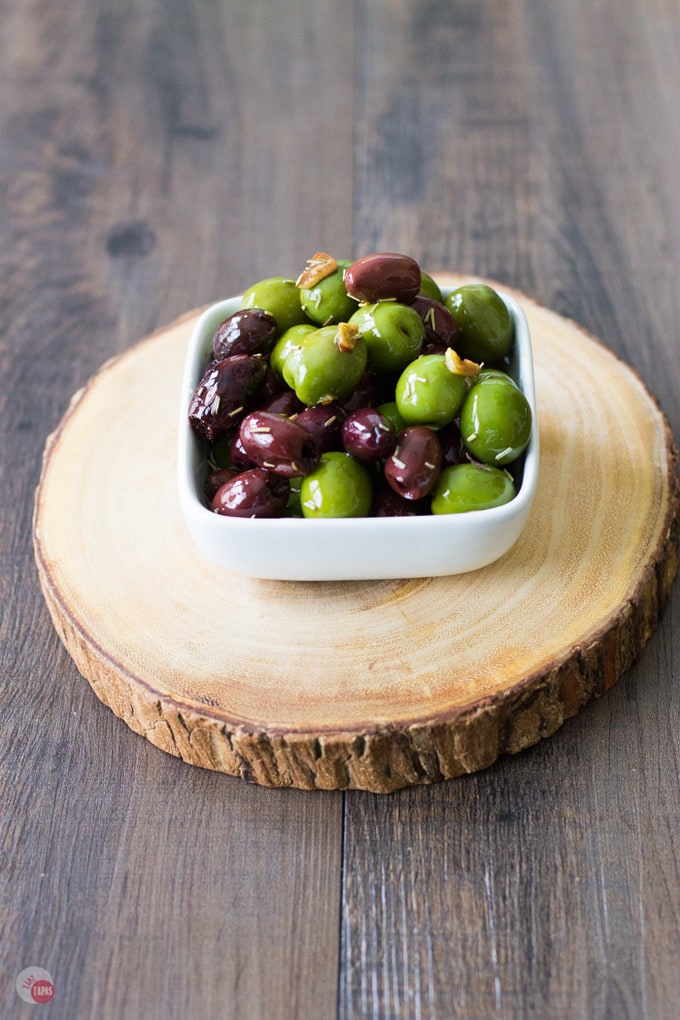 Other than using them on my Meze Hummus Platter, my Summer Antipasto Tapas Cheese Board, and my Winter Holiday Cheese Party I could just open a jar and start eating.  My favorite olives to snack on have always been basic black olives.  The ones you bust out of the can and pop on the end of your fingers.  I always put one olive on each finger before I started eating them.  Used to drive my mom crazy that I would eat all the olives off her relish tray before any of the guests have arrived.
Now that I am almost a grown up, I am broadening my olive choices.  My new favorite olive is a Castelvaetrano olive.  It is a green olive from a region in Southwest Sicily.  Bright green and crisp bite but with a slight buttery flavor.  Grown for their oil, their popularity as a table olive is growing fast!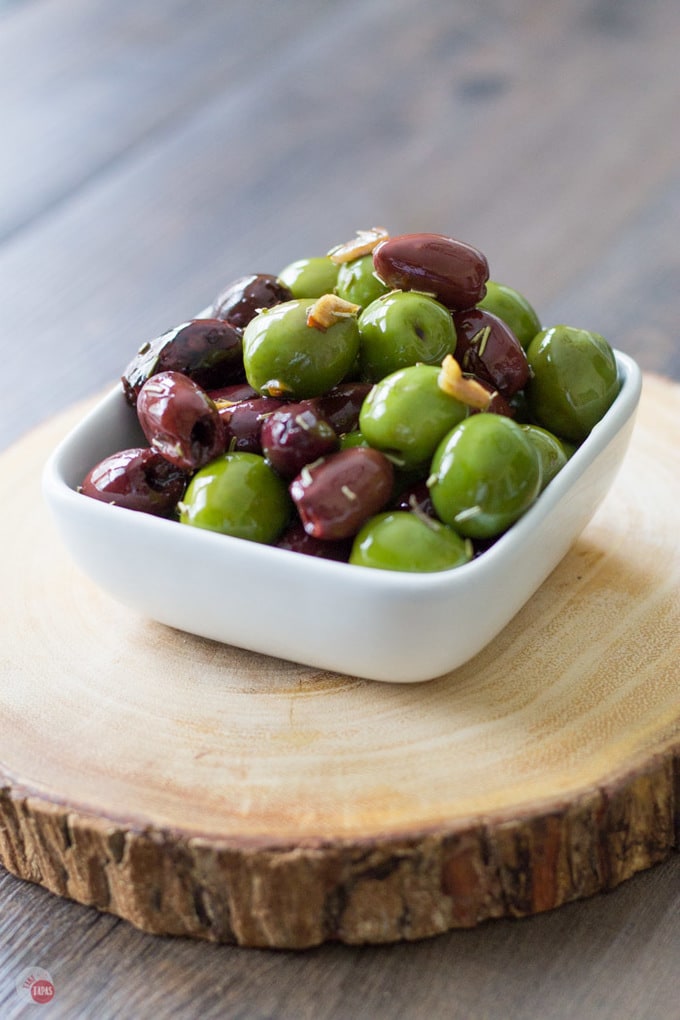 My other favorite is a Kalamata olive and is a dark purple olive from Greece that is usually brined in a wine vinegar to leave only a slightly bitter taste.  A great complement to the buttery Castelvetranos!  Not only do I like eating them right out of the jar I also like adding flavors to my olives.
My friend Michelle over at A Dish of Daily Life has a great recipe for marinated olives.  When I was looking for a good recipe to marinate mine I immediately grabbed her recipe!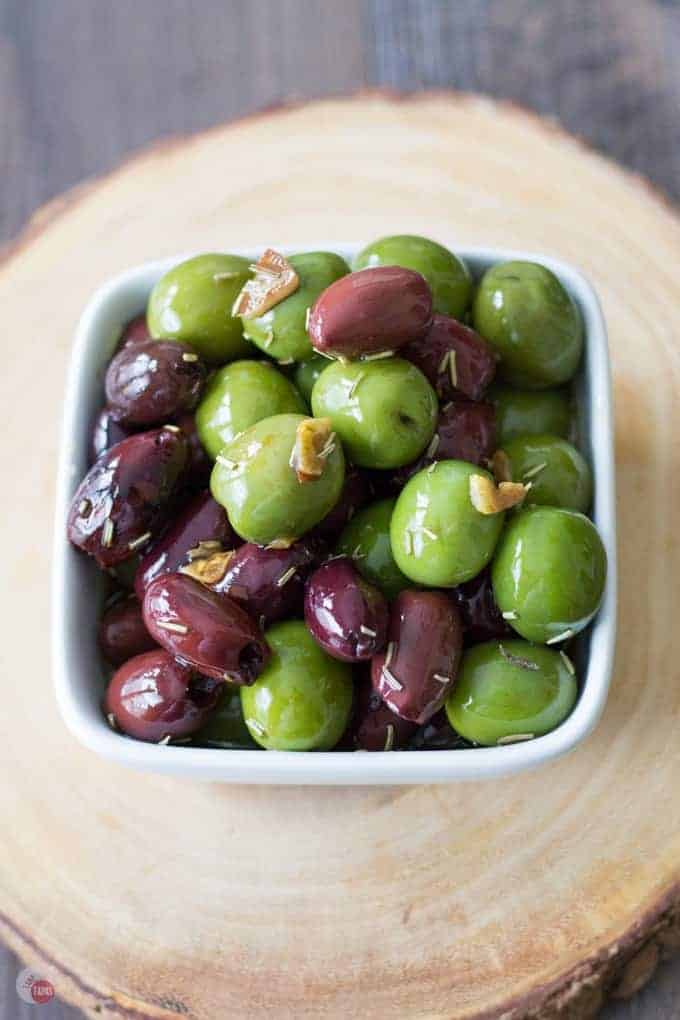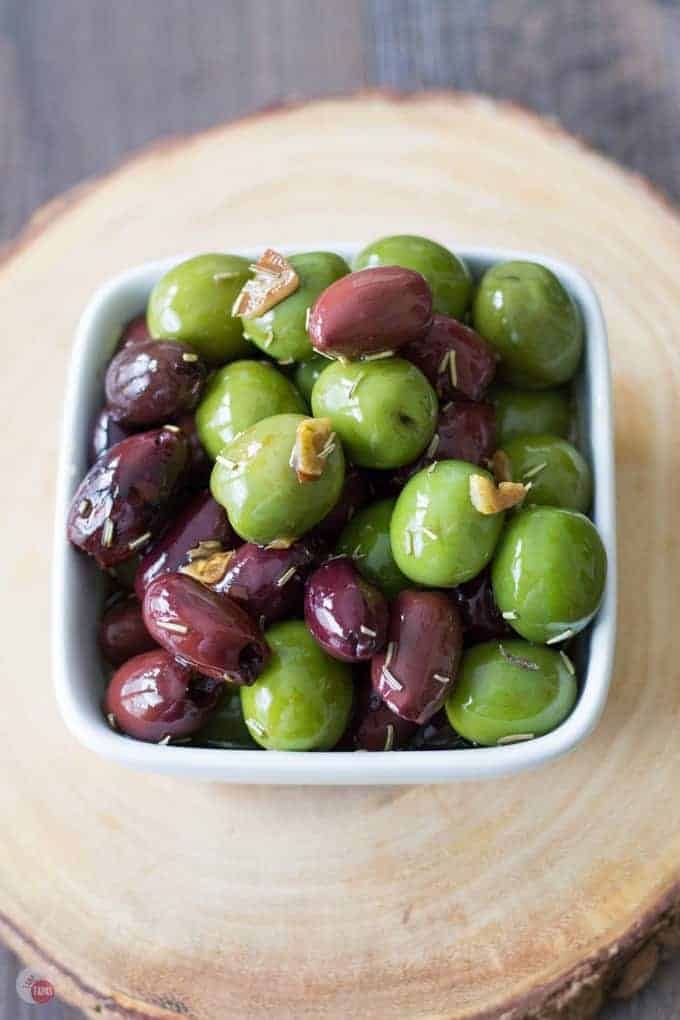 Michelle uses a combination of olive oil, red wine vinegar, garlic, rosemary, and red pepper flakes.  Then pours the warm marinade over a collection of olives.  She uses Spanish olives so I thought I can use this marinade with my favorites!  The only difference I made her original recipe was to leave out the lemon zest and up the spice factor with double the red pepper flakes.  Other than that, no changes are needed.  It is already an awesome recipe!
By the way, you might have noticed that the title had a #GetWellMichelle hashtag in it.  Michelle recently had some major surgery and we are helping her through the busy season while she is unable to post on her blog during her recovery.  Pop on over to her Facebook Page or Twitter and send her a "Get Well Michelle" message and you use the #GetWellMichelle if you have the time!  I know she would appreciate it!  At the bottom of this post is a list of the other recipes from Michelle that my blog buddies are sharing, so hop on over to their pages and check them out!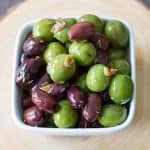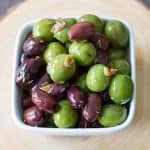 Marinated Olives for Your Cheese Board
Ingredients
1 cup Castelvetrano Olives
1 cup Kalamata Olives
1/2 cup olive oil
1 tablespoon rosemary
2 tablespoons red pepper flakes
2 garlic cloves , sliced thin
2 tablespoons balsamic vinegar
Directions
Remove olives from jar/can without the juice.

Place olives in a glass bowl or jar.

In a small saucepan, add the olive oil and garlic.

Heat over medium heat for 2 minutes or until garlic starts to turn golden brown.

Add the rosemary and the red pepper flakes.

Cook for 2 minutes.

Remove from heat and add the vinegar.

Pour over the olives and let sit for at least 10 minutes.

An hour is better.

Store in the refrigerator until all eaten!

Note that the olive oil will solidify in the fridge but will return to a liquid state at room temperature.

Just remember to remove the olives from the fridge at least 20 minutes before you serve them.
Loading nutrition data...
Use these olives as a snack, add them to a salad, or the centerpiece of your next cheese board!
This recipe adapted from A Dish of Daily Life.
December Recipes
I'm linking up and partying at Fiesta Friday | Saucy Saturdays and other link parties.  Check them out here!