Love that chewy, crispy, chocolaty snack cake from your childhood? Now you can make them at home but a little more sophisticated. These two-bite Star Crunch Truffle Balls bring you right back to your youth while still being an adult!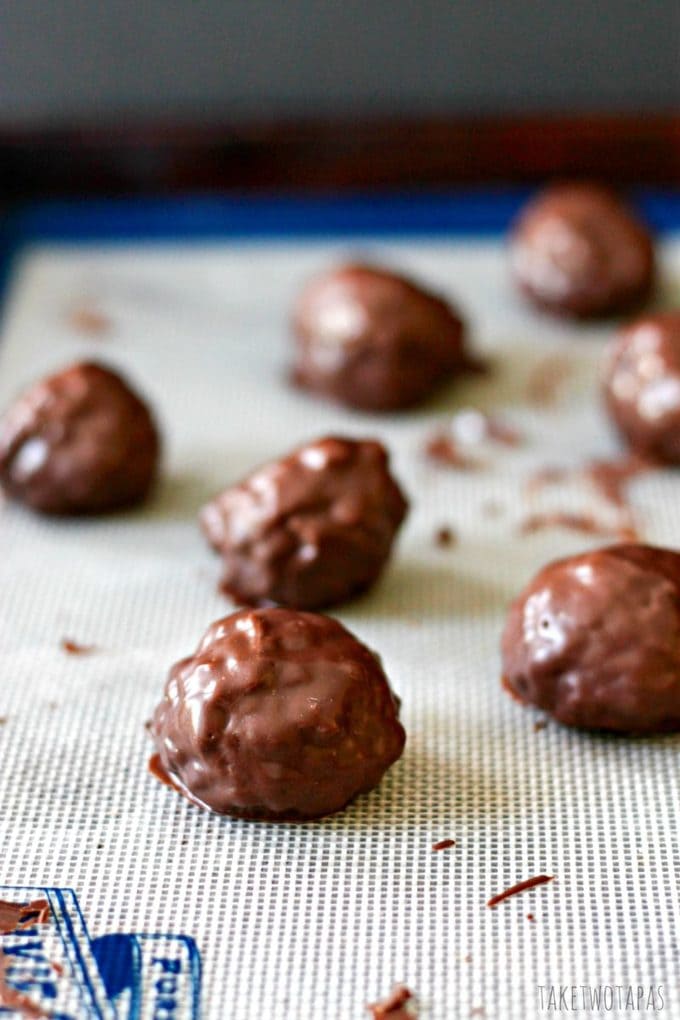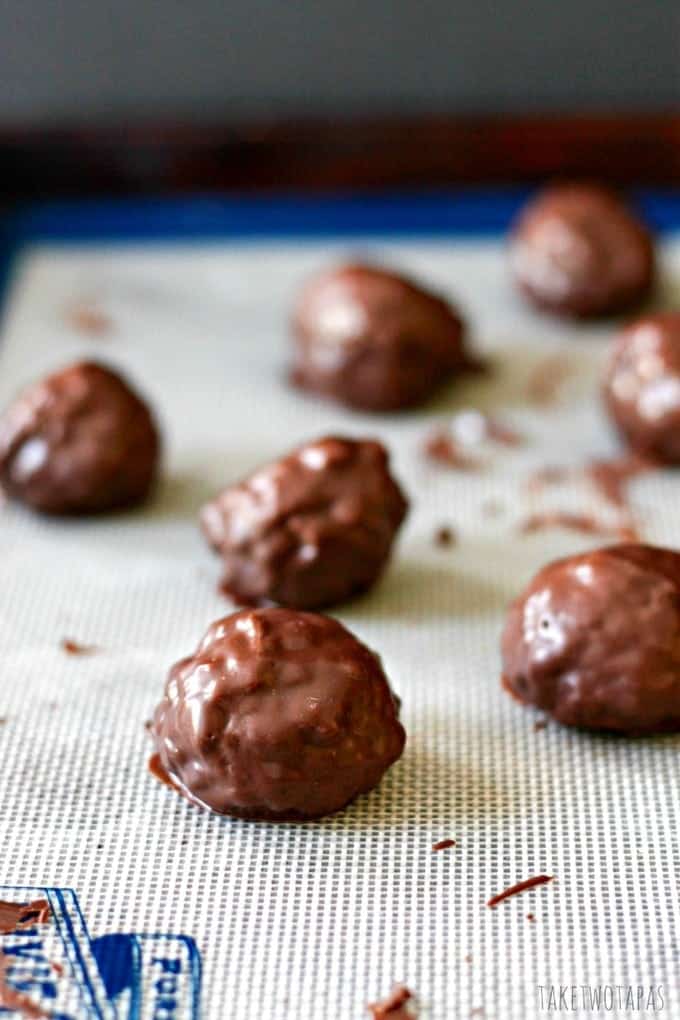 What is a Star Crunch Little Debbie you ask?
As a kid, I always ate Little Debbie Snack Cakes. Swiss rolls are my absolute favorite, sometimes consuming almost a whole box in one sitting (love that childhood metabolism), and I even have a methodical way to eat them.
I unwrap the chocolate coating first and then eat the small ridge of pooled chocolate at the lip of the roll. Next, I peel away the chocolate robe and eat that glorious sheet of chocolate.
Then I chomp my way down the cake and cream filling. After one roll, onto the next one… Don't make fun of me, I even eat my Sno-Caps in a weird way. In terms of favorite snack cakes, the Star Crunch snack cake is a close second!
This post may contain affiliate links. As an Amazon Associate, I earn from qualifying purchases. Read my disclosure policy here.

If you'd rather skip my (very helpful, I think) tips and tricks, essential cooking info, and similar recipe ideas – and get straight to this delicious recipe – simply scroll to the bottom of the page where you can find the printable recipe card.
Ever tried to share your traditions with your kids and they laugh at you? My kids don't like anything I show them, but bring in a stranger and let them show them the EXACT thing and they act like it's the greatest thing in the world. I tried this with snack cakes and my kids held true to their actions, until Christmas time.
My oldest son went to his Youth Group dirty Santa gift exchange and came back with a box of Little Debbie snack cakes. A large cardboard box filled with 8 smaller boxes of delicious snack cakes.
He was so cheerful and happy when he brought them home and showed me his haul. He was so excited to get all this edible goodness instead of a tiny trinket. His gift was a box of Minion bath soaps…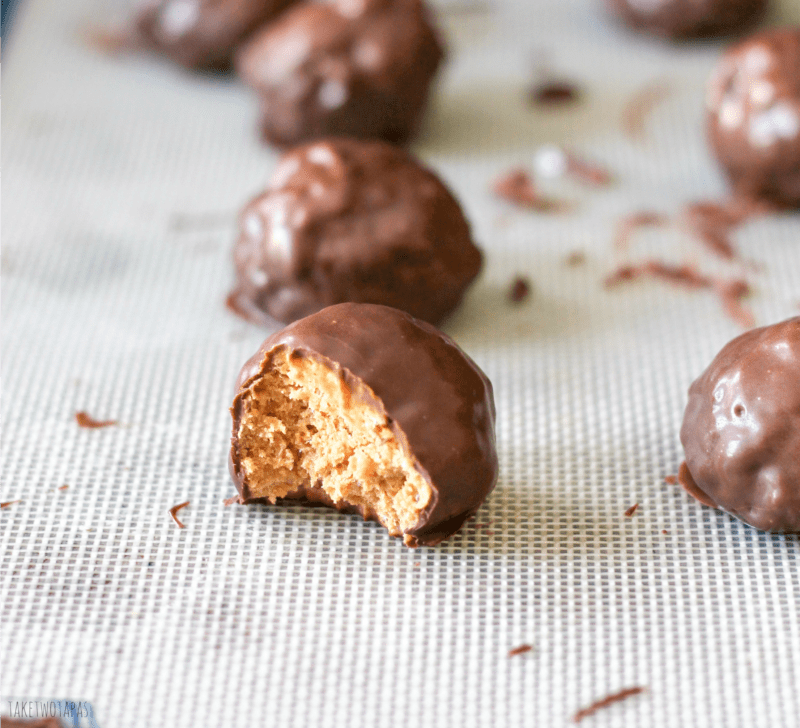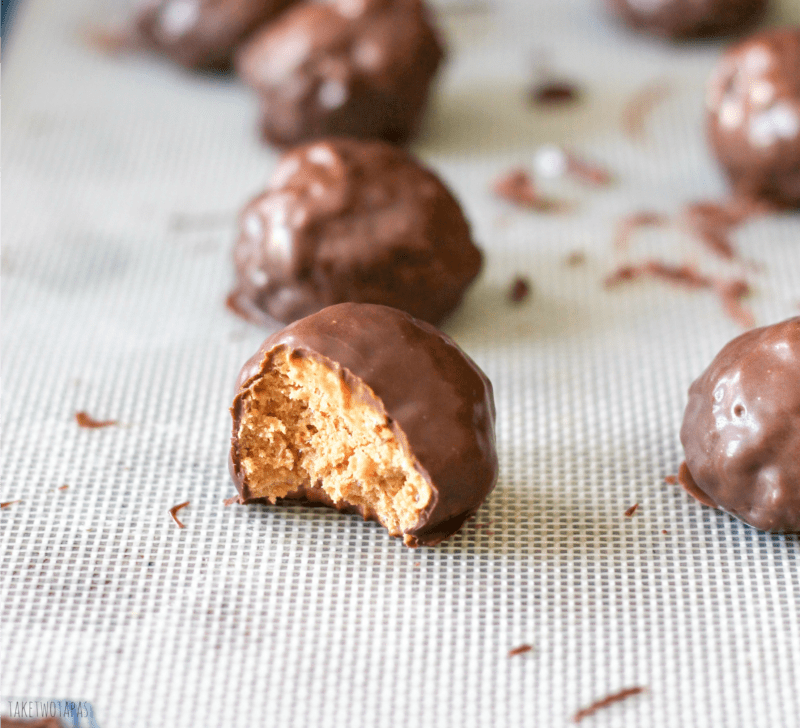 For more insider tips & tricks, and a candid behind the scenes look follow me on social media! Check use out on Pinterest, Facebook, Instagram, & Twitter (yes, people still use Twitter, LOL!)
His first question to me was "What is a Star Crunch?" I wanted to say that they were the delicious snacks I have been begging you to try but you wouldn't. I didn't say it I just smiled. He could tell right away that I was holding my tongue and just to throw it in my face, he ate one. Now he is hooked!
The Star Crunch Truffle idea…
After eating a few that he so graciously shared with me, I came to the realization that I still love them, but the serving is way too large for me. I really just need a bite or two, not an entire medium pizza portion. I have been known to take down a few of those no problem too but the old metabolism has other ideas.
Making a smaller version, as is the Take Two Tapas way, will still get me a crunchy, chewy, chocolatey fix without having a stomach ache or feelings of guilt.
The method is easy to prepare and you end up with 50 little Star Crunch Truffle Balls that are the perfect size for walking down memory lane. The inside won't be as dark as the original Star Crunch snack cake, but the taste is the same which is all that matters.
Star Crunch Recipe Ingredients
caramel
marshmallows
butter
dark chocolate chips
crispy rice cereal
All of these yummy ingredients make a delicious truffle ball with a chewy and crispy center with a cover of dark chocolate! What could better to pop in your mouth when you have a craving?
What is your favorite Little Debbie Snack cake? How many Star Crunch Truffle Balls can you eat in one sitting, and do you have a method of eating it that will help me feel less weird about my consumption routine?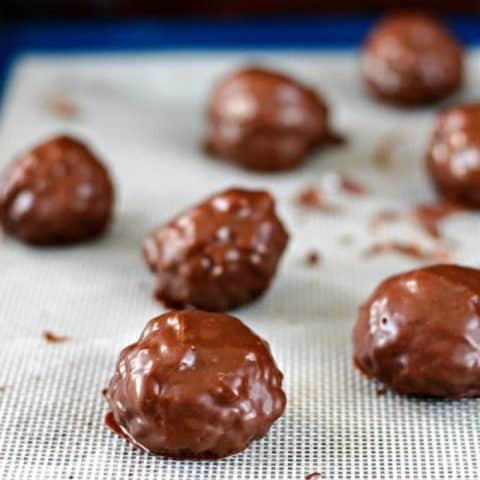 Homemade Star Crunch Truffle Balls
Love that chewy, crispy, chocolatey snack cake from your childhood? Now you can make them at home but a little more sophisticated. Two-bite Star Crunch Truffles bring you right back to your youth while still being an adult!
Ingredients
Star Crunch Chewy Center
one 11 ounce bag of caramels (bits or about 35 unwrapped caramel squares)
4 tablespoons of butter (room temperature)
2 cups mini marshmallows
4 cups Rice Krispies cereal
2 tablespoons dark chocolate chips
Star Crunch Chocolate Coating
12 ounces dark chocolate discs or chips
2 tablespoons vegetable shortening
Instructions
Prep the cereal
Place the cereal in a zip-top bag, squeeze out all the air, and crush the cereal a bit with a rolling pin, can, or your big muscles. The cereal in the original snack cake is smaller than the one in the box so I brought them down to a size that is close.
Remove the cereal from the bag and pour into a metal or glass bowl until ready to add to the caramel mixture.
Make the caramel mixture
In a medium, heavy-bottomed saucepan, melt the butter and caramels over medium heat.
Whisk to combine.
Stir in the 2 tablespoons dark chocolate chips and stir until melted.
Add in the marshmallows and stir until all combined. You will get an arm workout!
Pour the caramel mixture over the 4 cups of cereal in the larger bowl.
Stir to combine. It will start to get stiff very soon so work fast.
Let cool for a few minutes.
Make the Star Crunch Truffle Balls
Once the caramel cereal mixture has cooled a bit, roll into 1.5 inch balls. I used a small ice cream scoop to keep them uniform, just make sure to coat it with non-stick spray so they are easier to roll.
When ready to coat, melt the chocolate discs and shortening over a double boiler.
Dip the truffles in the melted chocolate one at a time.
Roll to cover completely and remove with a fork.
Tap the fork on the edge of the bowl to remove any excess.
Place the truffle on a parchment-lined baking sheet or a silicone baking sheet.
Continue dipping until all the truffles are coated.
Cool the truffles in the fridge until the coating is set. This takes about 20 minutes.
Store in an air-tight container until they are all gone. This only takes about 1 day or two:)
Notes
*If you like this recipe, please leave me a comment and rate it with some stars. Thank you!
Nutrition Information:
Yield:

20
Serving Size:

1
Amount Per Serving:
Calories:

234
Total Fat:

11g
Saturated Fat:

6g
Trans Fat:

0g
Unsaturated Fat:

5g
Cholesterol:

9mg
Sodium:

101mg
Carbohydrates:

33g
Fiber:

1g
Sugar:

22g
Protein:

2g
This nutrition information was generated via a third party, Nutritionix, and can not be held liable for any discrepancies in the information provided.
If you like these Homemade Star Crunch Truffle Balls, try Derby Week Bourbon Balls, Cracker Truffles, Dulce de Leche Fireball Truffles, or these Chocolate Beer Truffles with Beer Pretzel Praline from my friend Dini at The Flavor Bender.
Recipe for these truffles was adapted from the awesome Averie Cooks!
©TakeTwoTapas.com. Content and photographs are copyright protected. Sharing of this recipe is both encouraged and appreciated. Copying and/or pasting full recipes to any social media is strictly prohibited.