Don't serve boring cocktails! A great cocktail deserves a fun garnish and here are a few ideas for cocktail garnishes that will elevate your glass and your status as a party host.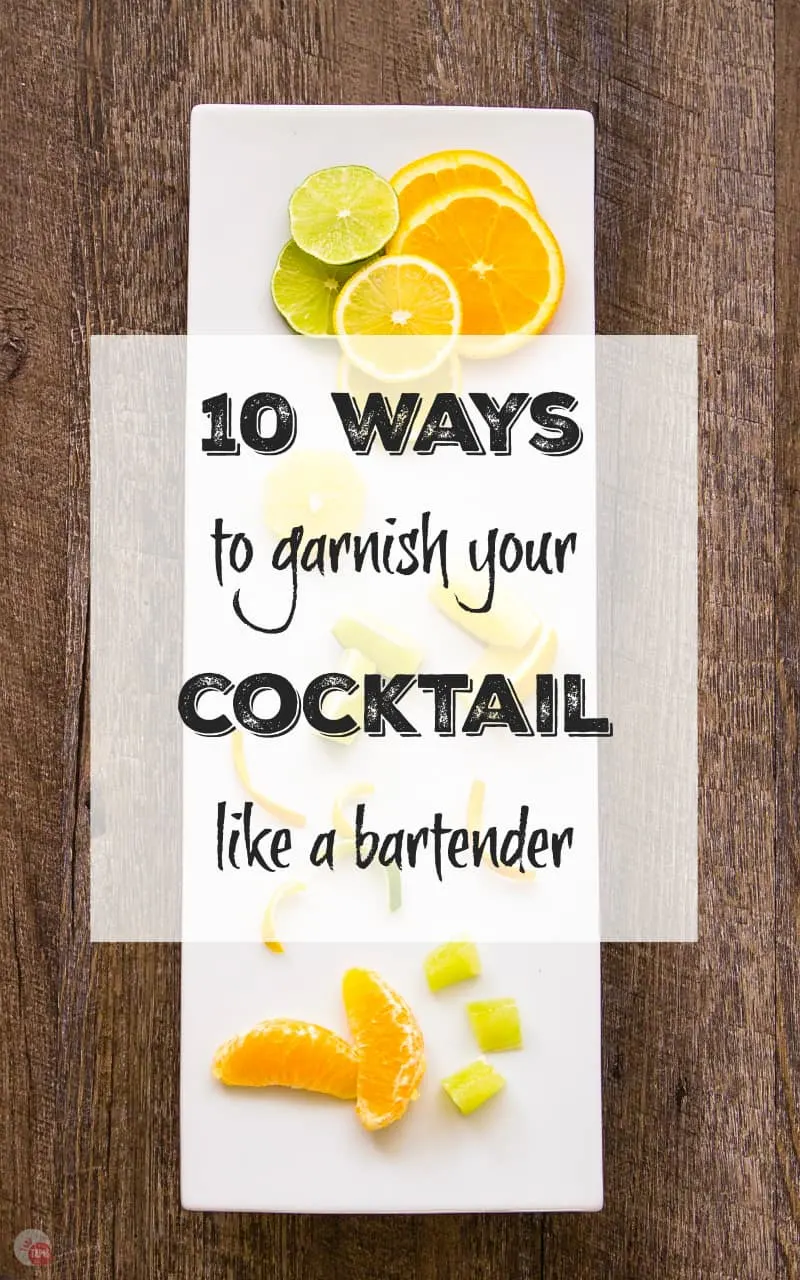 Cocktail Garnishes
While adulting and drinking cocktails are fun in itself, who says you have to have boring beverages.
Not only can you have fun creating a cocktail recipe, mixing spirits and flavors, but you can make your cocktail garnishes unique and exciting.
Below I show you 10 ways to garnish your cocktail, or mocktail because non-alcoholic drinks need flair too, like a bartender and the hit of the party.
This post may contain affiliate links. As an Amazon Associate, I earn from qualifying purchases. Read my disclosure policy here.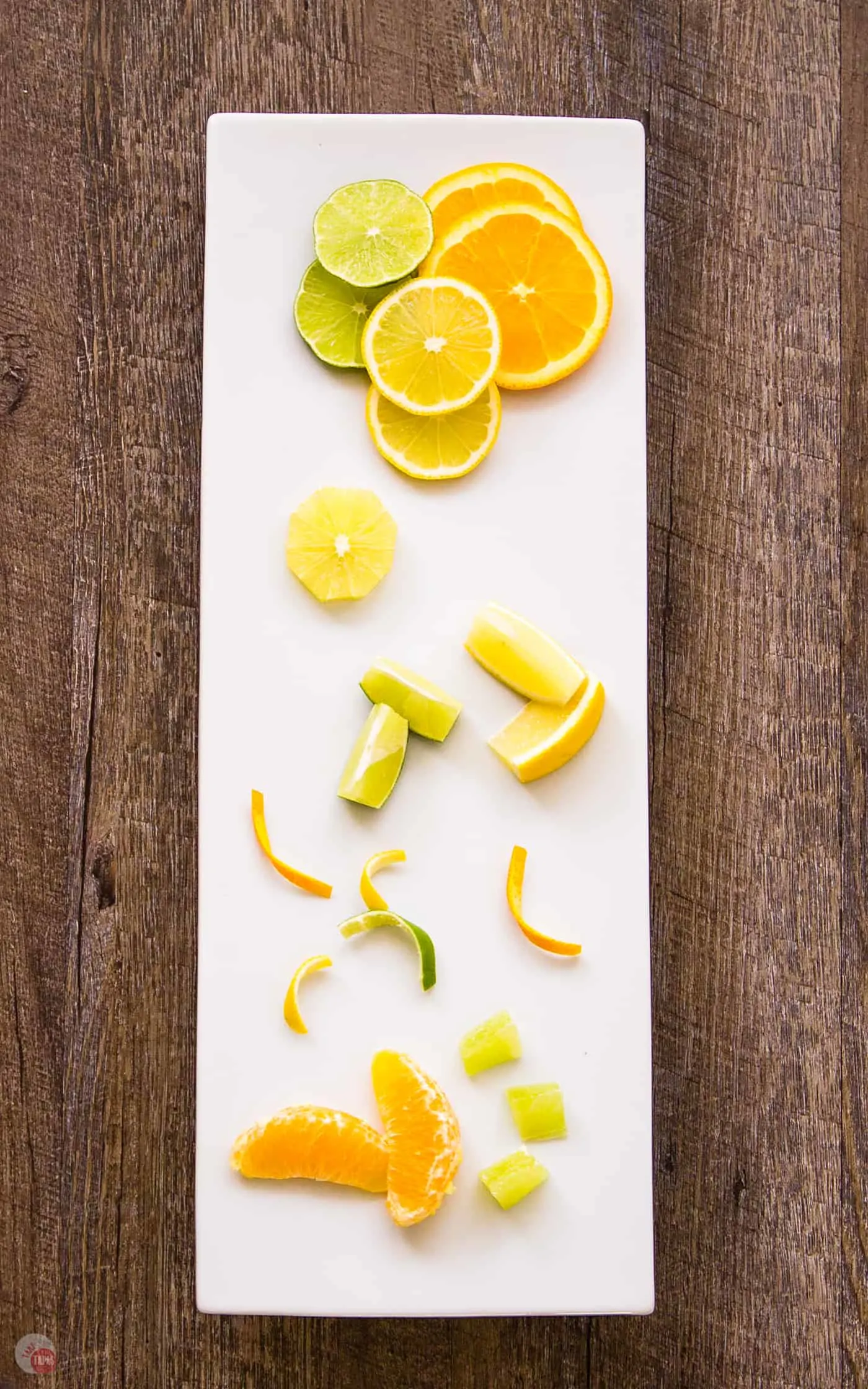 Let's start with some basics, the citrus garnish.
Ways to use Citrus Cocktail Garnishes
the wedge
the wheel or slice
a twist
a sliver
chunks or muddled pieces
Citrus Wedges
The wedge and the wheel are the most common ways to garnish with citrus. I like these cocktail garnishes because they are classic, functional, and pretty when the citrus colors are vibrant.
The wedge can be squeezed to add more flavor and the wheel looks great floating on top of your drink giving you a little hint of aroma when you take a sip.
Of course, you can always stand the slice up on the side of the glass too for a little height.
You can see a wedge in action on my Blueberry Margarita and the wheel taking center stage with my Blood Orange Cinnamon margarita!
Wheels
The wheel also looks great with the peel or rind removed like in my Kiwi Mint Mojito. You don't want to eat the peel of a Kiwi anyway.
Twist
A twist or a slice is perfect for more refined cocktails or those with only a few ingredients.
These cocktail garnishes are used for just a hint of flavor or aroma where the drink can really shine on its own but you don't want a naked drink.
The most popular twist is a lemon twist like in my Limoncello Lady and the wide sliver skewered on my Pomegranate Gimlet.
Pieces
The last citrus cocktail garnishes are chunks and muddled pieces. These are prominent in my Caipirinha where you need to muddle the limes to extract their juices.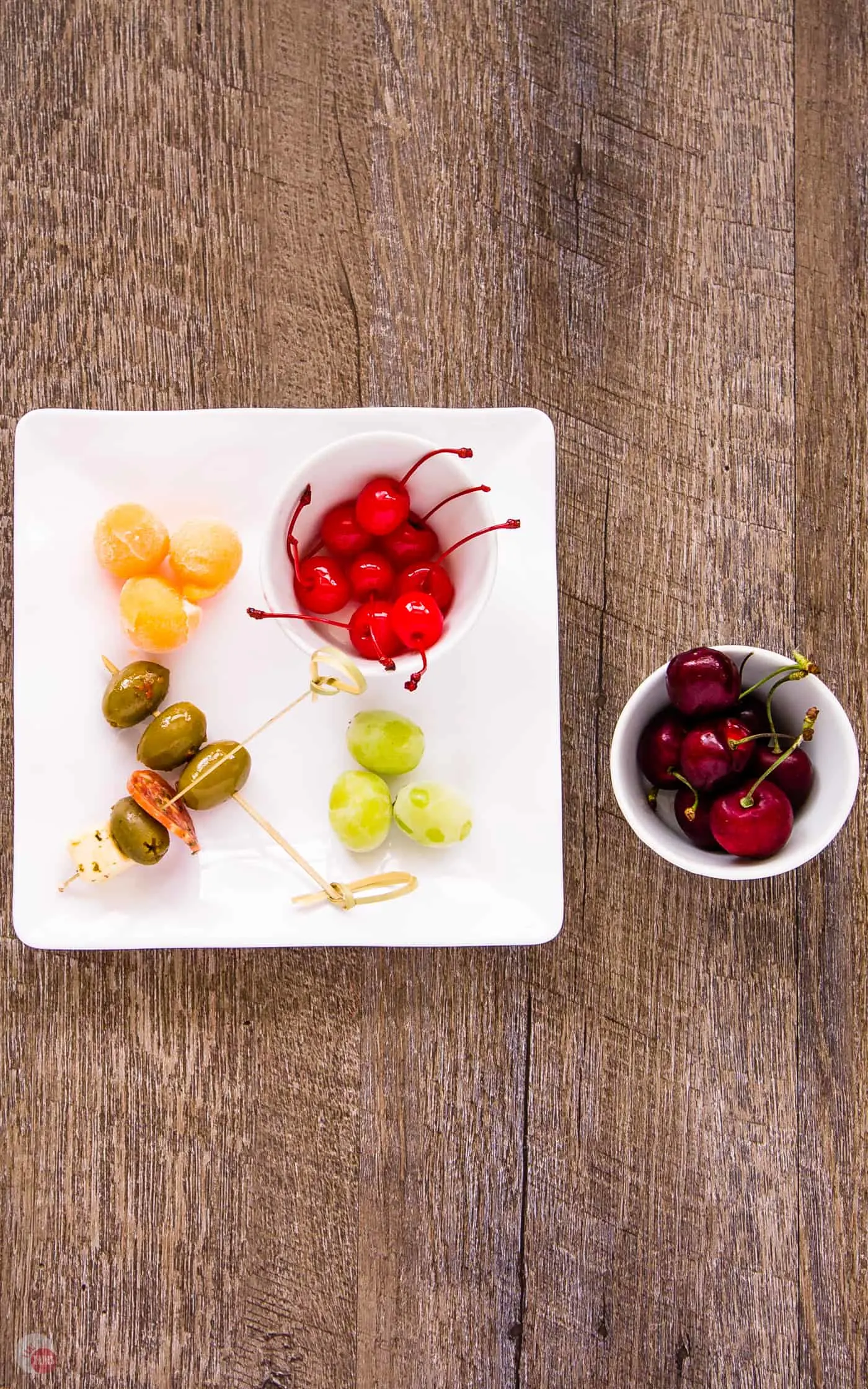 Skewered Cocktail Garnishes
These cocktail garnishes are great for extra fruit pieces, olives, and also as a way to give your cocktail a little stir if you have been talking and haven't had a sip in a little while.
Some popular skewered cocktail garnishes are:
olives
cheese
small pieces of cured meats
A skewer is a great way to add some flair to your cocktail while also providing a hint as to what flavors are in the cocktail and give you a little snack if you are drinking a strong beverage like a Bloody Mary.
You can check out my favorite beverages with skewered cocktail garnishes like my Blackberry Coconut Smash and my Bloody Marianne.
These are my favorite cocktail skewers: bamboo & metal. Feel free to use herb stems as skewers too.
A firm sprig of rosemary can hold olives just as well as a regular skewer and it will add a hint of fresh herb smell.
For more insider tips & tricks, and a candid behind the scenes look follow me on social media! Check use out on Pinterest, Facebook, Instagram, & Twitter (yes, people still use Twitter, LOL!)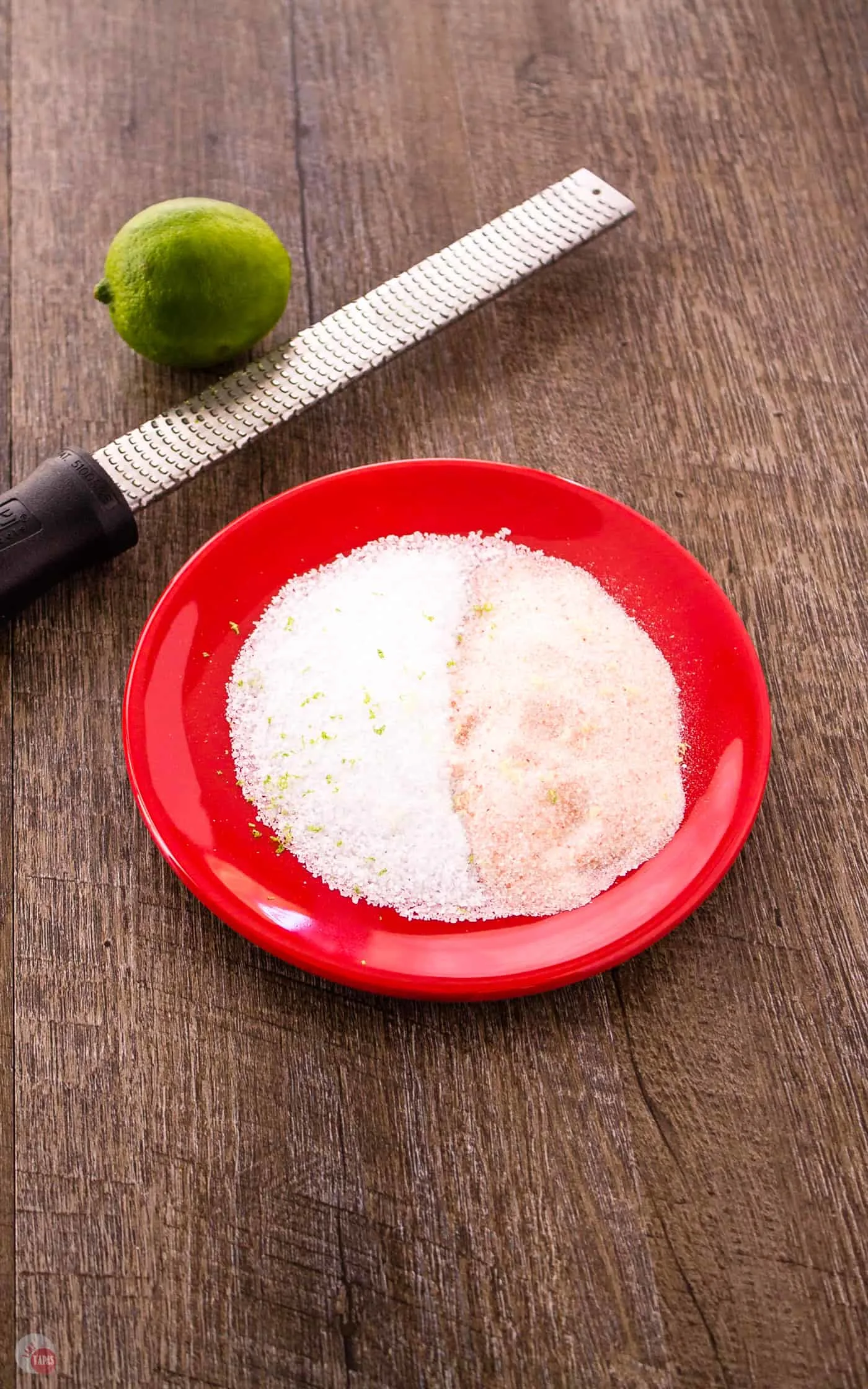 Rimming Salts and Sugars
If you want to have a boring salt or sugar rim based on whether your cocktail is sweet or savory feel free. But why not spruce up your rimming game with sugars and salts that are EXTRA!
Citrus zest can not only add some flavor to the salt or sugar but also a burst of color. My Flying Monkeys Cocktail uses black sanding sugar usually reserved for sugar cookies to add some color.
I took the sugar rim to another level with a chocolate caramel sauce on my Great Pumpkin Cocktail.
If you want to be full on "over the top" how about a small bag of snacks clipped to the side of your drink?
My Tropical Mini Cocktails use a small zip-top bag and tiny clothespins to attach a bag of goodies to your drink.
This Mini Grapefruit Pina Colada has a sack of toasted coconut chips to add more flavor and a little crunch. And a little fun too!
I use these clothespins and tiny bags to show off my edible cocktail garnishes!
For more insider tips & tricks, and a candid behind the scenes look follow me on social media! Check use out on Pinterest, Facebook, Instagram, & Twitter (yes, people still use Twitter, LOL!)
Fancy Cocktail and Mocktail Garnishes
ice cubes with flowers
shaped ice cubes
frozen fruit
dry ice
herbs
candy
Frozen ice cubes or an ice ring if you have a large batch punch to keep cool add pretty color to your drinks.
You can even freeze juice instead of water for your ice cubes to keep from diluting the beverage as they melt.
Plastic toys such as spiders and teeth are fun to freeze in ice cubes for Halloween!
If you don't feel like making ice cubes, you can freeze fruit. When they thaw they don't dilute your cocktail at all! I use frozen melon balls and grapes in my Summer Sangria.
Herb leaves always make pretty cocktail garnishes like mint and basil but you can also use the leaves of fruit like pineapple for a bold statement
I have been adding hard candy to my plain spirit bottles to flavor my vodka and rum but you can also drop a piece of candy to add some color to a beverage.
A pretty colored peppermint or candy cane can add some much-needed sparkle to a clear martini during the holidays.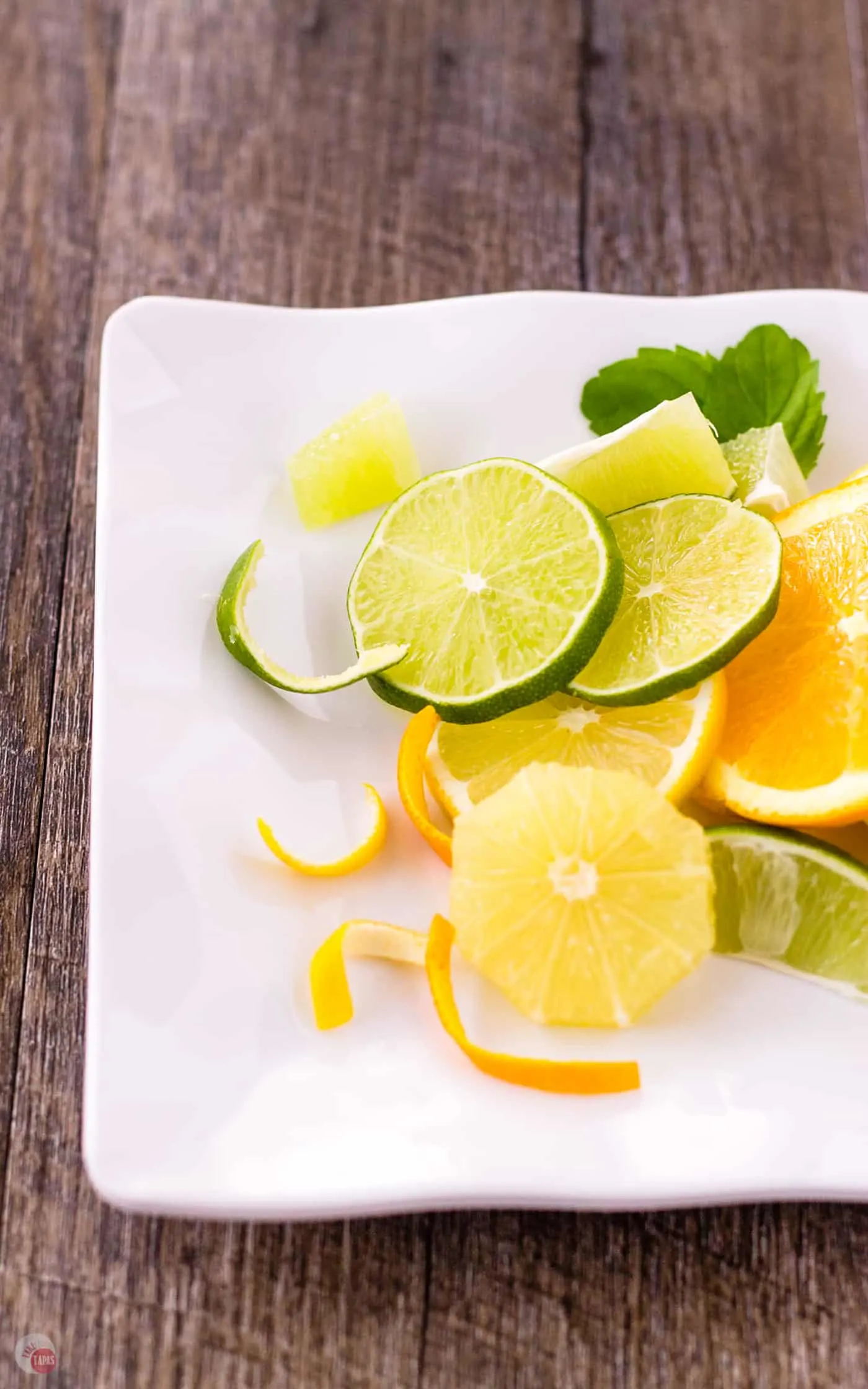 Not all garnishes need to be edible just make sure you warn the consumer that they are not to avoid a choking hazard. Some of my favorite inedible unique cocktail garnishes are:
If you love this recipe as much as I do, please write a five-star review in the comment section below (or on Pinterest with the "tried it" button – you can now add pictures into reviews, too!), and be sure to help me share on facebook!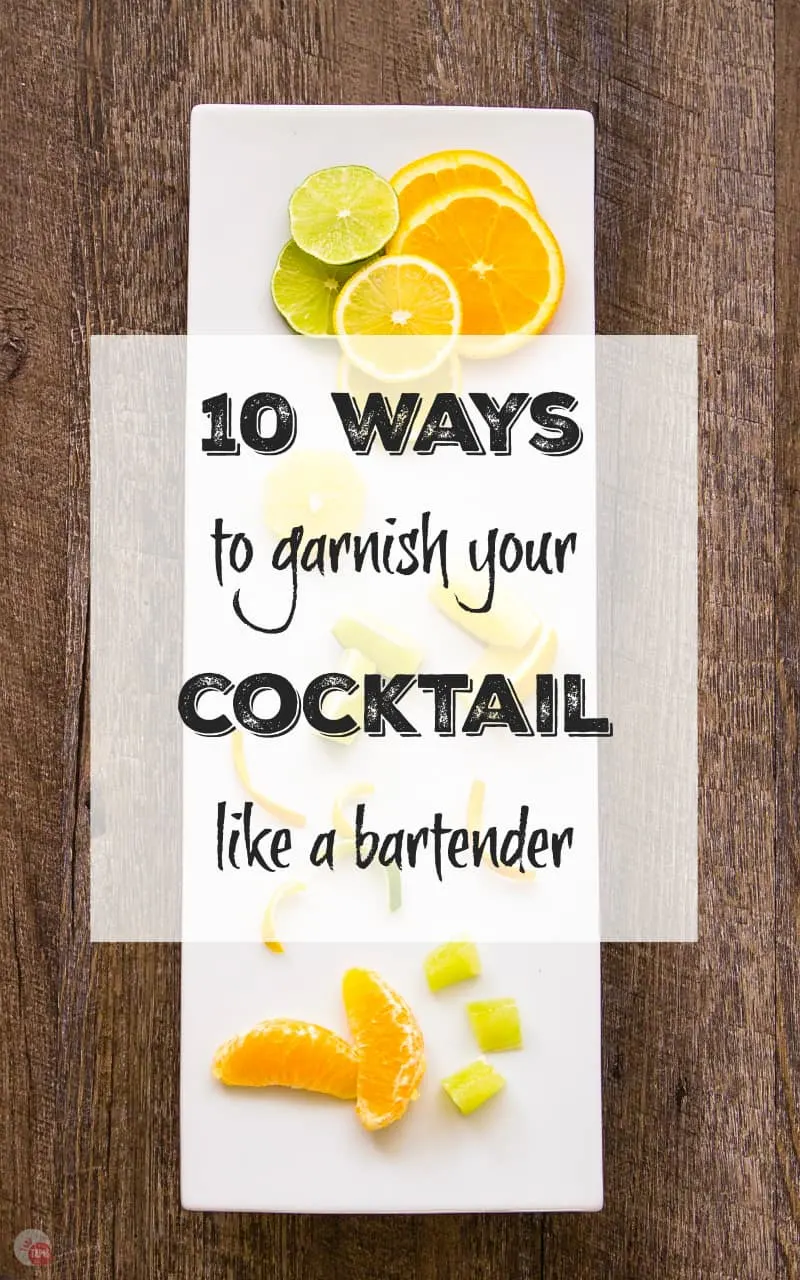 You can have the tastiest cocktails around but if they are ugly, no one will want to be seen drinking one! Up your cocktail garnishes game with these easy and professional looking additions to make any beverage look better.
Here are a few other fun and unique cocktail garnishes you might want to try!
Easy Party Foods
TakeTwoTapas.com. Content and photographs are copyright protected. Sharing of this recipe is both encouraged and appreciated. Copying and/or pasting full recipes to any social media is strictly prohibited.