Whether you like your grapefruit fresh for breakfast or it's juice in a cocktail for some bite, a Paloma Pink Grapefruit Shot is the perfect way to enjoy it!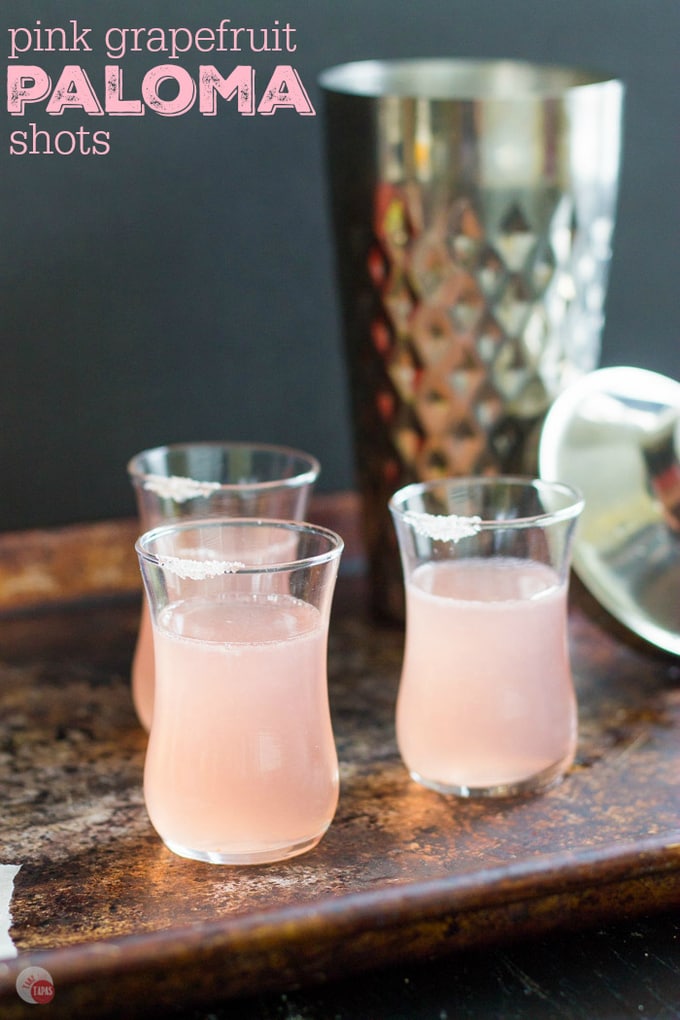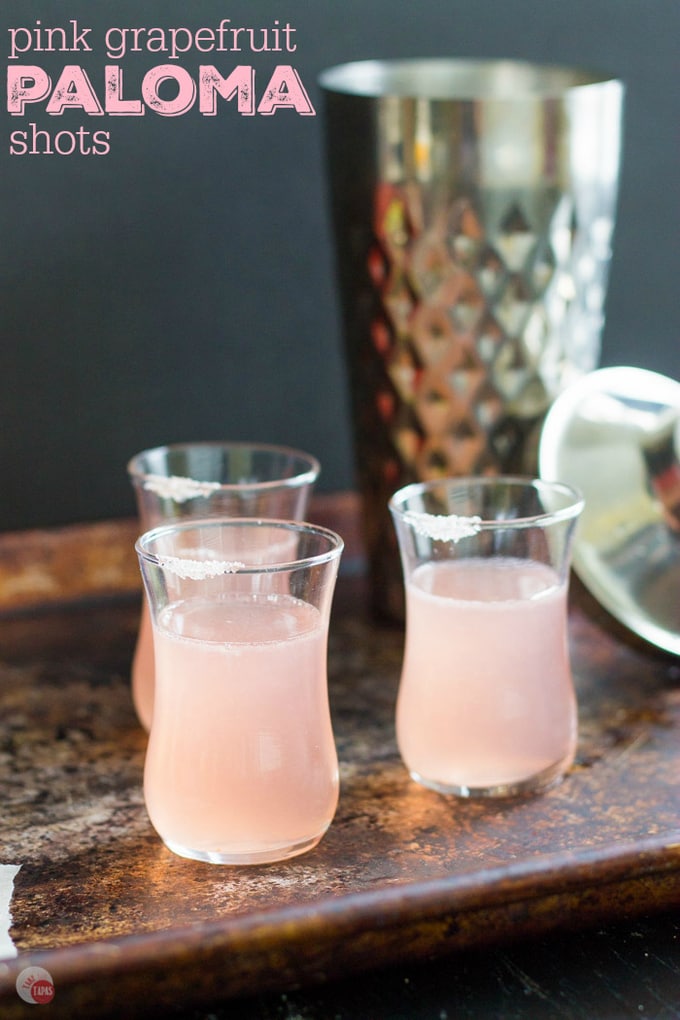 We are quickly approaching grapefruit season and I find that the best way to enjoy it is a Paloma pink grapefruit shot.
I recently showed you how I reduced my favorite Bloody Mary Cocktail to a shot because sometimes you want a whole cocktail but you really just need a shot.
Like when you have a nagging hangover or you are about to give a presentation and need to take the edge off.
Disclaimer: Do Not Drink at Work!
Unless you are like me and blog from home and then it is technically drinking at work. Sometimes I forget to hydrate appropriately while drinking cocktails and having shots helps.
I can have a shot and then I have to drink a full glass of water before I can have another one. A good rule to live by.
Especially when I tend to snack a lot while drinking cocktails, having to drink a full glass of water helps to keep the snacking at bay.
This post may contain affiliate links. As an Amazon Associate, I earn from qualifying purchases. Read my disclosure policy here.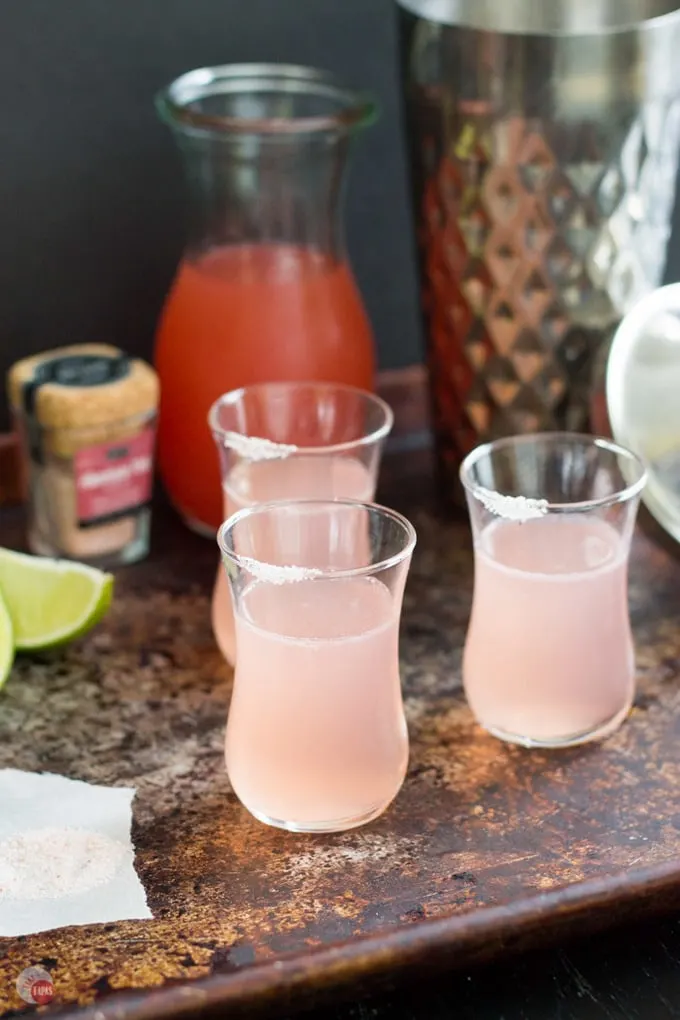 GRAPEFRUIT COCKTAILS
Being from Florida we never really had a shortage of great citrus with grapefruit being one of them. Grapefruit season starts in November but really reaches its peak in December.
Seems weird to have fresh fruit in the middle of the winter but we are talking about Florida. Winter is really just 60 degrees with a slight breeze.
Fresh fruit is a great way to start your day but let me tell you that grapefruit is not just for breakfast. Its juice is the perfect mixer for a cocktail.
Salt is another thing that we don't have a shortage of. As the Atlantic Ocean and the Gulf of Mexico are on either side of us, the salty ocean breeze mixes perfectly with the tart and bright citrus.
Almost like they were created to balance each other out. A great way to find that balance is a cocktail of tart citrus with a salty rim. The Paloma is that perfect cocktail.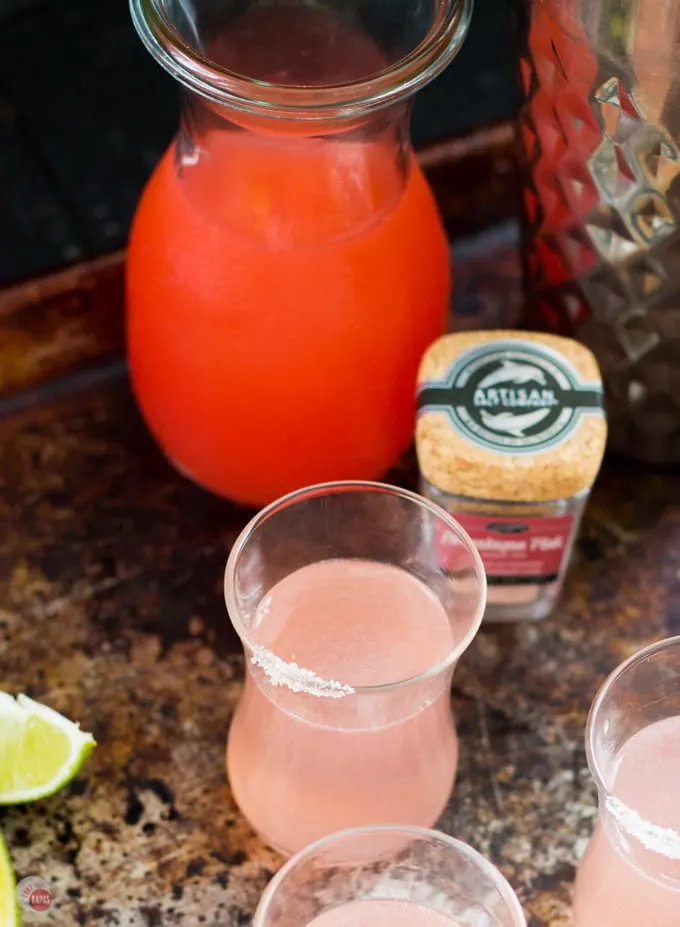 WHAT IS A PALOMA COCKTAIL?
You might even think that the Paloma was created in Florida, and it might have been, but it is most beloved in Mexico.
A tequila or mescal-based cocktail such as this one seems right at home in Mexico. You can even wave to Florida across the Gulf and feel that salty breeze on your face while drinking it!
Paloma, Spanish for "dove," is usually made with a grapefruit soda and some tequila but I like to add grapefruit juice and lime juice with my own levels of simple syrup to keep control over the sugar levels.
This allows me to make the cocktail to my exact specifications. Ready to start drinking them? I know I am.
For more insider tips & tricks, and a candid behind the scenes look follow me on social media! Check use out on Pinterest, Facebook, Instagram, & Twitter (yes, people still use Twitter, LOL!)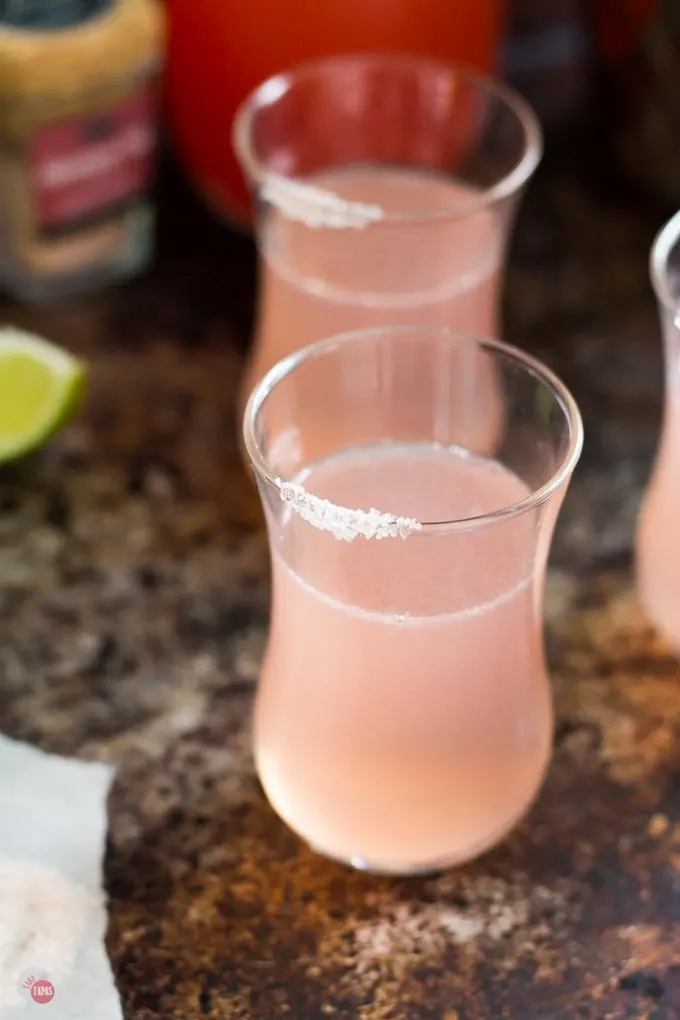 TEQUILA SHOT RECIPES
A whole cocktail is a great idea, and this recipe makes two of them, but if you want to share and don't want to commit to it for the entire night, make these shots.
Share them with your party guests. Make a few rounds if you are feeling happy.
If you are like me, I like to try lots of different cocktails and these shots allow me to taste my favorites and still have room to try others. No commitment necessary.
Kind of makes me a cocktail slut but who's judging?
To go with the theme and keep the Paloma Shot all pink I used Himalayan Pink Salt. If you like it, check out my Bloody Mary Shots where I talk about my bamboo salt cabinet.
MORE PARTY FOODS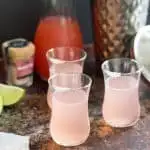 Paloma Pink Grapefruit Shots
Whether you like your grapefruit fresh for breakfast or it's juice in a cocktail for some bite, a Paloma Pink Grapefruit Shot is the perfect way to enjoy it!
Ingredients
Paloma Shots:
1/4 cup Tequila
2 tablespoons Simple syrup
1/4 cup fresh lime juice
1/4 cup pink grapefruit juice
1/3 cup club soda
Shot glasses
Himalayan Pink Salt
Simple Syrup:
1 cup water
1 cup granulated sugar
Instructions
Make your simple syrup by heating up your 1 cup of water in the microwave or on the stove top.
Add your 1 cup of sugar and stir until dissolved.
Store in your refrigerator until ready to use up to 3 weeks.
To make your shots:
Add your tequila, simple syrup, lime juice, grapefruit juice, and club soda to a cocktail shaker or large glass.
If you are using a shaker you might want to leave out the soda, shake, and then stir it in later.
Get your shot glasses ready by rubbing a small amount of lime juice on the rim of your shot glass and dipping it in the salt.
Add a few ice cubes to the shaker, stir, and pour into the shot glasses.
Drink and enjoy!
Nutrition Information:
Yield:

5
Serving Size:

1
Amount Per Serving:
Calories:

197
Total Fat:

0g
Saturated Fat:

0g
Trans Fat:

0g
Unsaturated Fat:

0g
Cholesterol:

0mg
Sodium:

81mg
Carbohydrates:

46g
Fiber:

0g
Sugar:

44g
Protein:

0g
This nutrition information was generated via a third party, Nutritionix, and can not be held liable for any discrepancies in the information provided.
TakeTwoTapas.com. Content and photographs are copyright protected. Sharing of this recipe is both encouraged and appreciated. Copying and/or pasting full recipes to any social media is strictly prohibited.