Whether you're hosting the next dinner party at your place or you just want to create a beautiful dish for your family, knowing the right way to cut lemon wedges can help up your game in the kitchen and provide a beautiful presentation along with a better citrus flavor to your next meal. So what is the best way to cut lemon or lime wedges?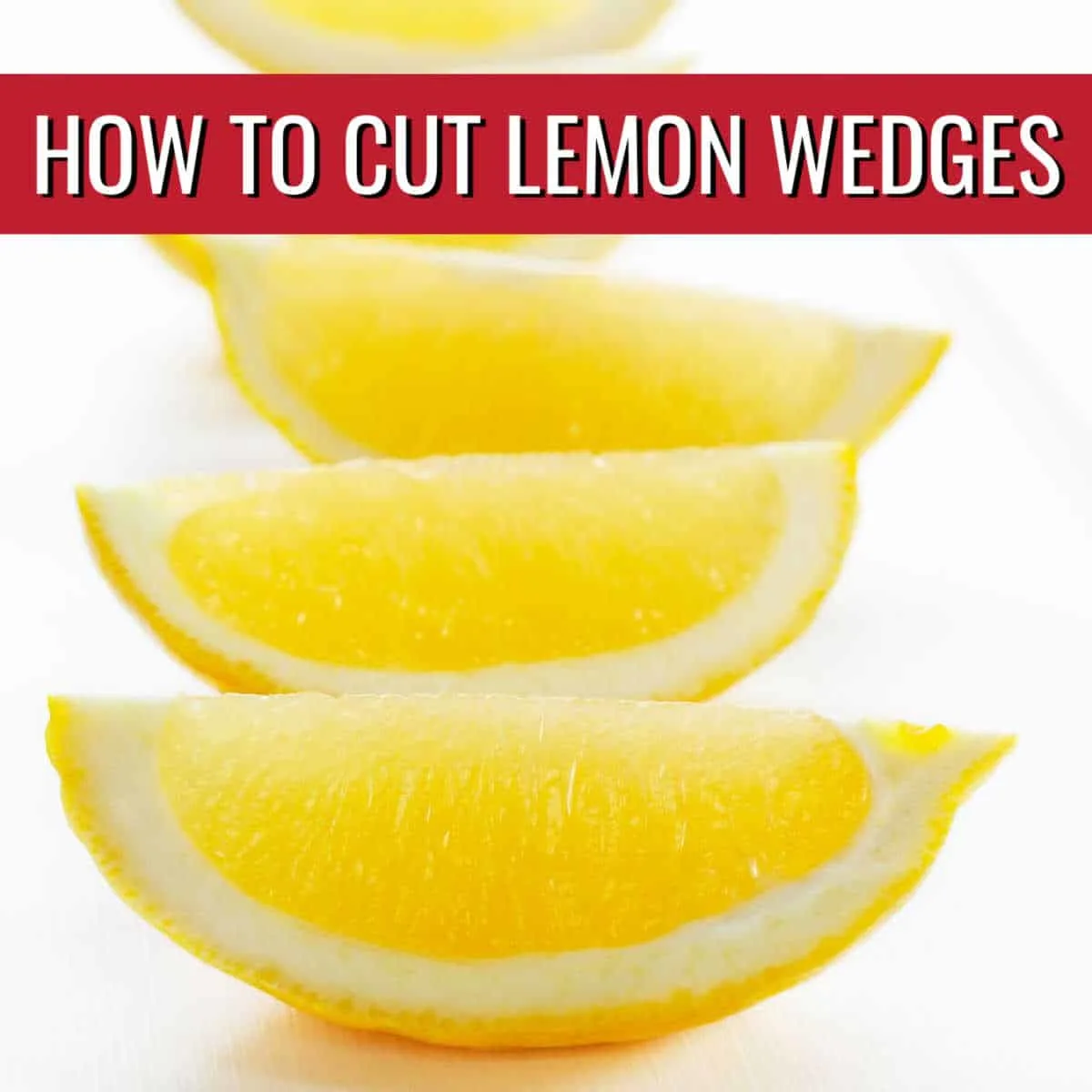 How to Cut the Perfect Lemon Wedges
If you're creating a dish that calls for lemon wedges on the side, knowing the right way to cut them will save you time. And make sure that you get the most juice from each slice.
Although it may seem straightforward, most people are surprised to learn that there is a strategy behind the way that lemons are cut.
Break out the cutting board and the knives to learn how you can get the most juice out of your lemons and add a little vitamin c to your next meal!
This post may contain affiliate links. As an Amazon Associate, I earn from qualifying purchases. Read my disclosure policy here.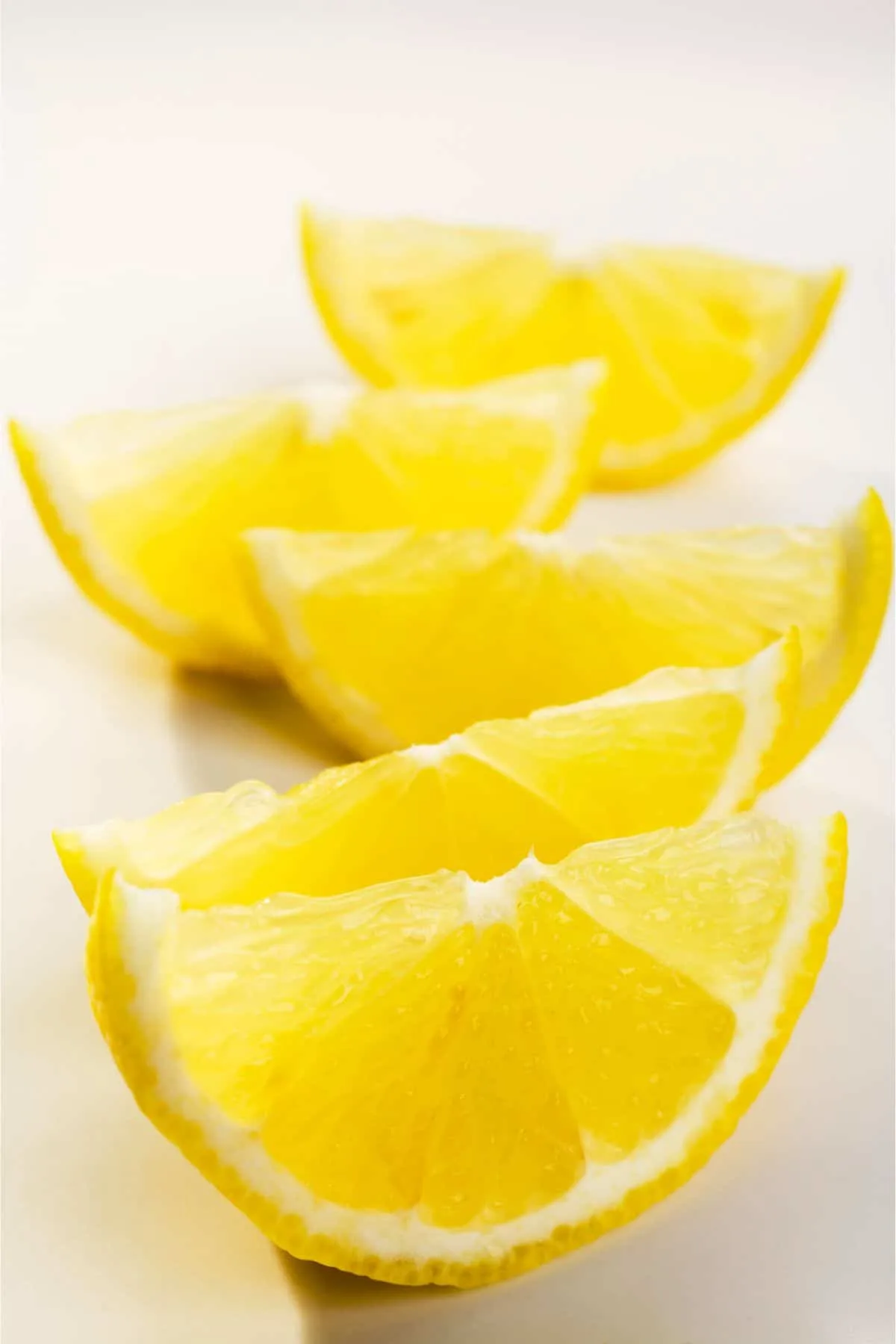 How do you cut a lemon for wedges?
Although there can be a lot of different ways to cut lemon slices, a true lemon lover will know the best way to create the perfect lemon wheel.
Start by washing your whole lemons under cold water. It is also very important to wash lemons if you plan on using the lemon peel for lemon twists or creating lemon zest.
Once they are clean, use a sharp knife such as a paring knife and a cutting board to cut off both ends of the lemon. If you use a dull knife, your cuts will not be as clean. A sharper knife allows for better presentation.
Slice it down the middle, creating two lengthwise wedges. From your lemon halves, create a smaller wedge from each by slicing them in half down the middle again. All in all, you should end up with 8 different lemon segments.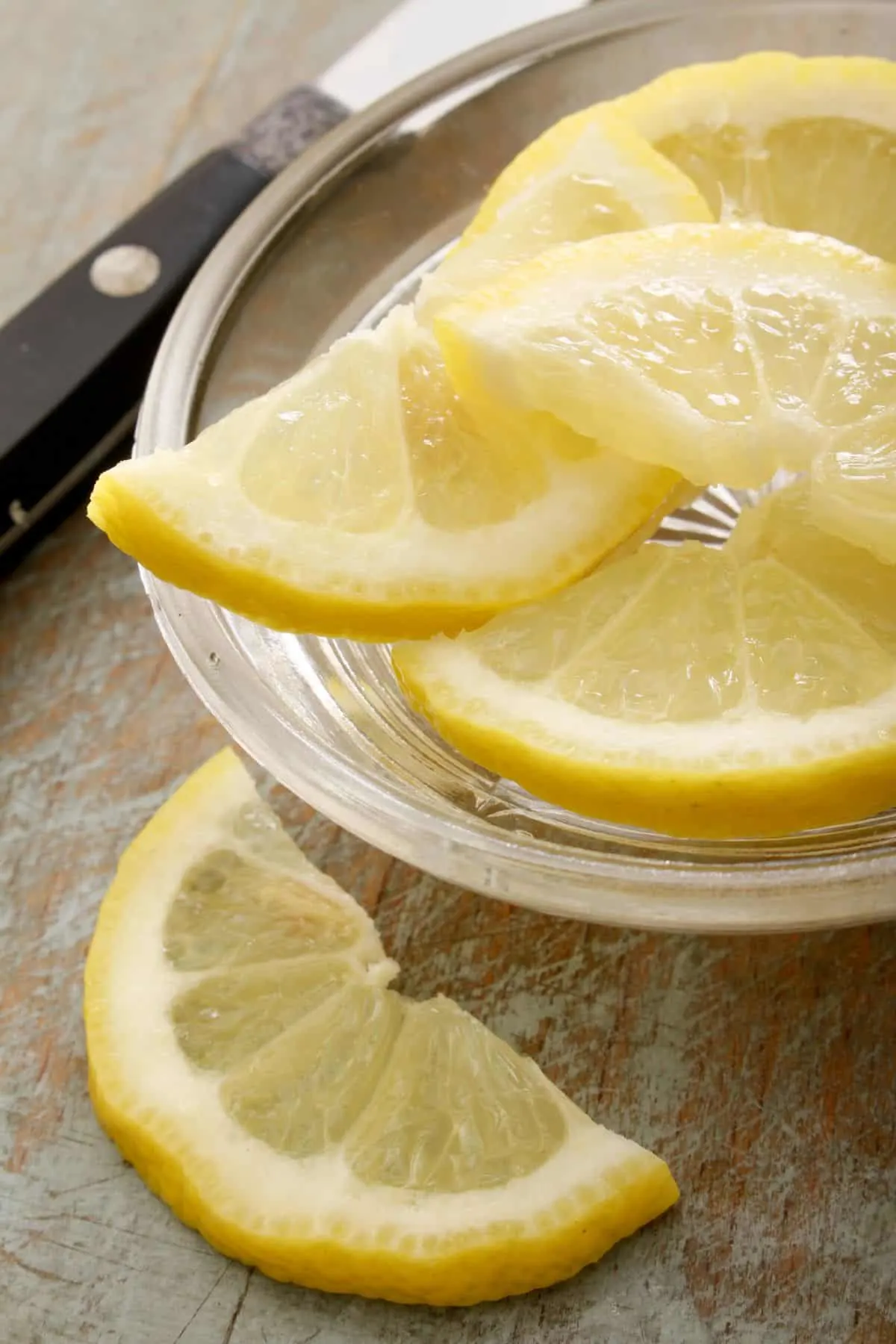 How do you cut lemon and lime wedges?
For restaurant lemon wedges and lime wedges, just follow the instructions above to create the perfect wheel or slice.
One thing to note is that for presentation, make sure to remove the lemon seeds and the white membrane. The "pith" is the white part inside the fruit that looks like strings.
Although this white stuff doesn't affect the flavor, I find it looks better when removed.
What is the right way to cut a lemon?
With any form of citrus wedges, there's no "wrong" way to do it, but there is definitely a much easier and cleaner way of making sure you have a great garnish for your drink, or dish.
By cutting your citrus fruit into eight equal pieces following the directions above, you will be able to get a good squeeze of fresh lemon juice from them for your iced tea, your salmon steak, or any other drink or dish you use them for.
A good thing to keep in mind when choosing your lemons is to look for the most vibrant yellow lemon, because this is likely to produce as much juice as you need and will be a good choice for a garnish as well. I personally recommend using meyer lemons for the best results.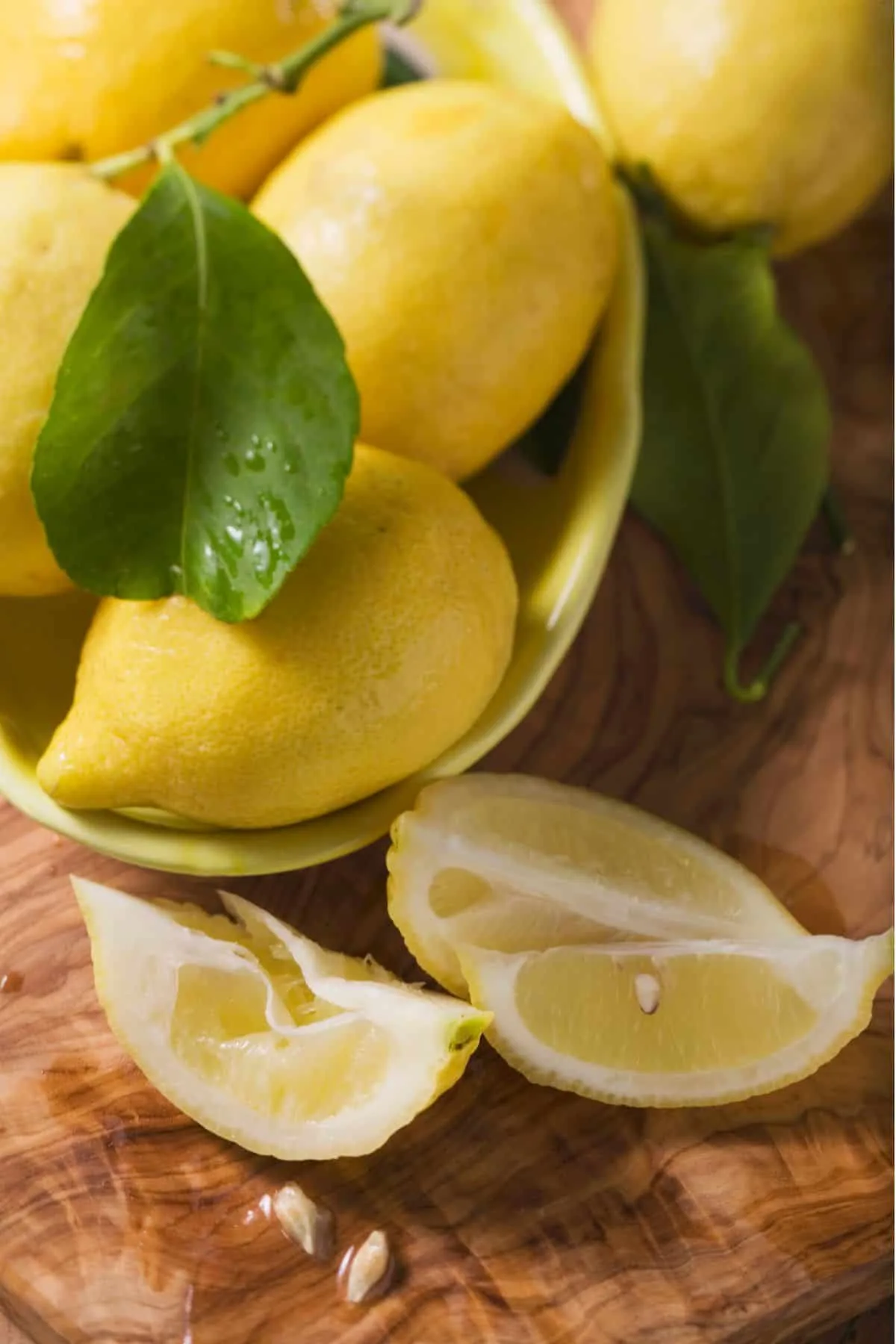 How far in advance can you cut lemon wedges?
Cutting lemon or lime slices ahead of time may seem like a good idea, but they can quickly lose moisture and the citric acid inside will dry up.
To keep them all fresh, wrap each of the thin slices in plastic wrap (removing as much air as possible) before placing them in an airtight container or plastic bag.
If you know you won't use them in a few days' time, you can also freeze them! Just take your cut lemons and place each one in the cup of a muffin tin.
Using a glass of water, fill each of the tins until the lemon is submerged, creating ice cubes with the lemon inside. Cover with plastic wrap and freeze.
To use, take out of the freezer and defrost in room temperature water.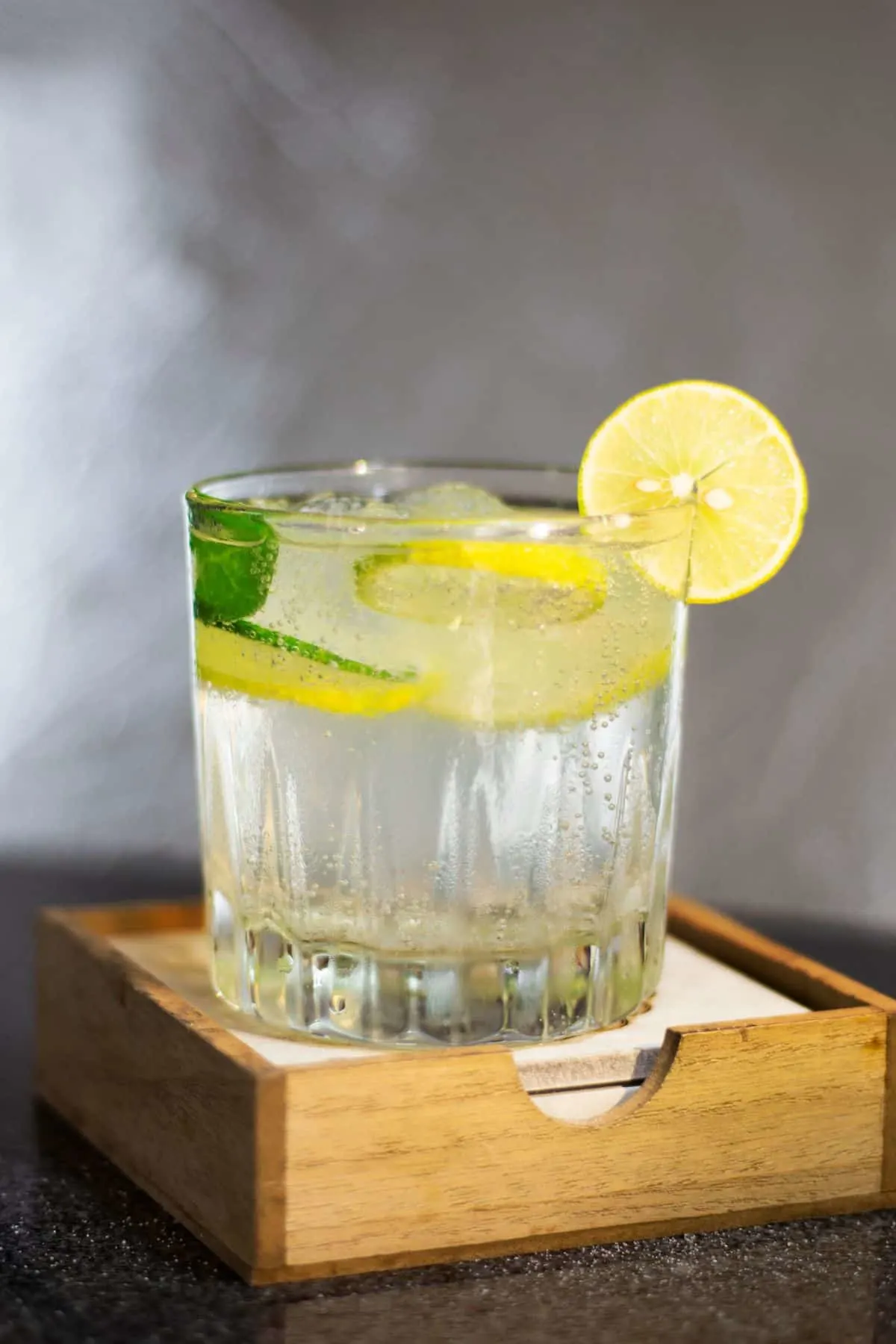 How can I cut lemon or lime peels for garnishing?
If you want to include a garnish along with your lemon wedges recipe, I recommend a channel knife twist, which creates a tight spiral to use for plating or the rim of a glass.
If you don't have a channel knife, a vegetable peeler will also work for creating flatter, long slices from the cut sides of your citrus. Orange slices also look good when presenting a meal, in addition to lemon and lime.
This is one of the beautiful ways to up your visual game on your meals (I also recommend serving on a white plate, so the colors really pop).
If you love this recipe as much as I do, please write a five-star review in the comment section below (or on Pinterest with the "tried it" button – you can now add pictures into reviews, too!), and be sure to help me share on facebook!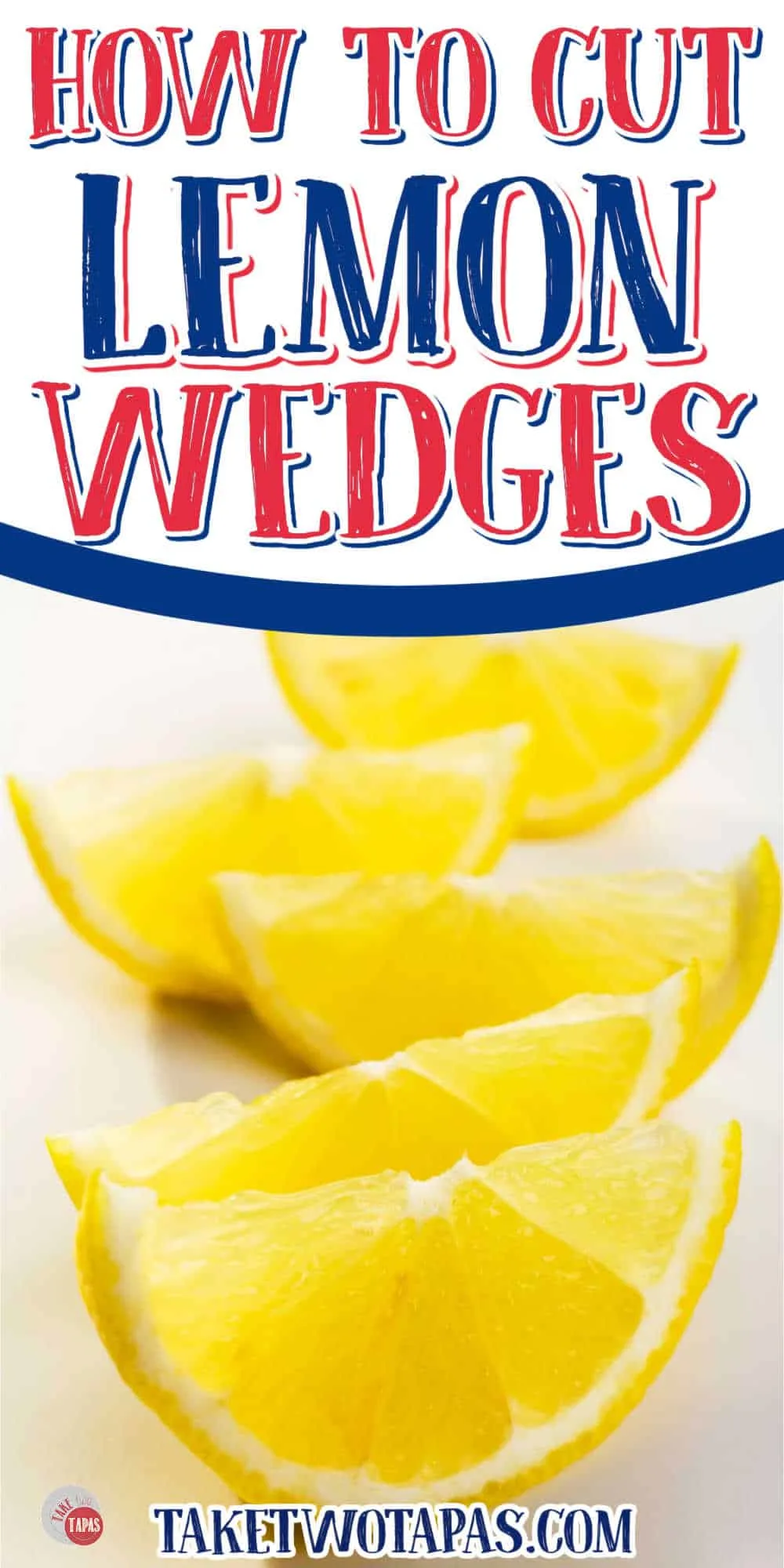 Prep like a chef for your next time hosting dinner and drinks by learning how to cut the perfect lemon wedge. In a few easy steps, you can get the juiciest slices to garnish your meal or beverages, and really show off your skills by adding a lemon peel garnish to the side.
More Kitchen Tips & Tricks
TakeTwoTapas.com. Content and photographs are copyright protected. Sharing of this recipe is both encouraged and appreciated. Copying and/or pasting full recipes to any social media is strictly prohibited.