It's officially Fall and there is a crispness to the air now. Let's celebrate with a crisp light cocktail made with fresh blackberry syrup and sparkling water, my Blackberry Coconut Splash!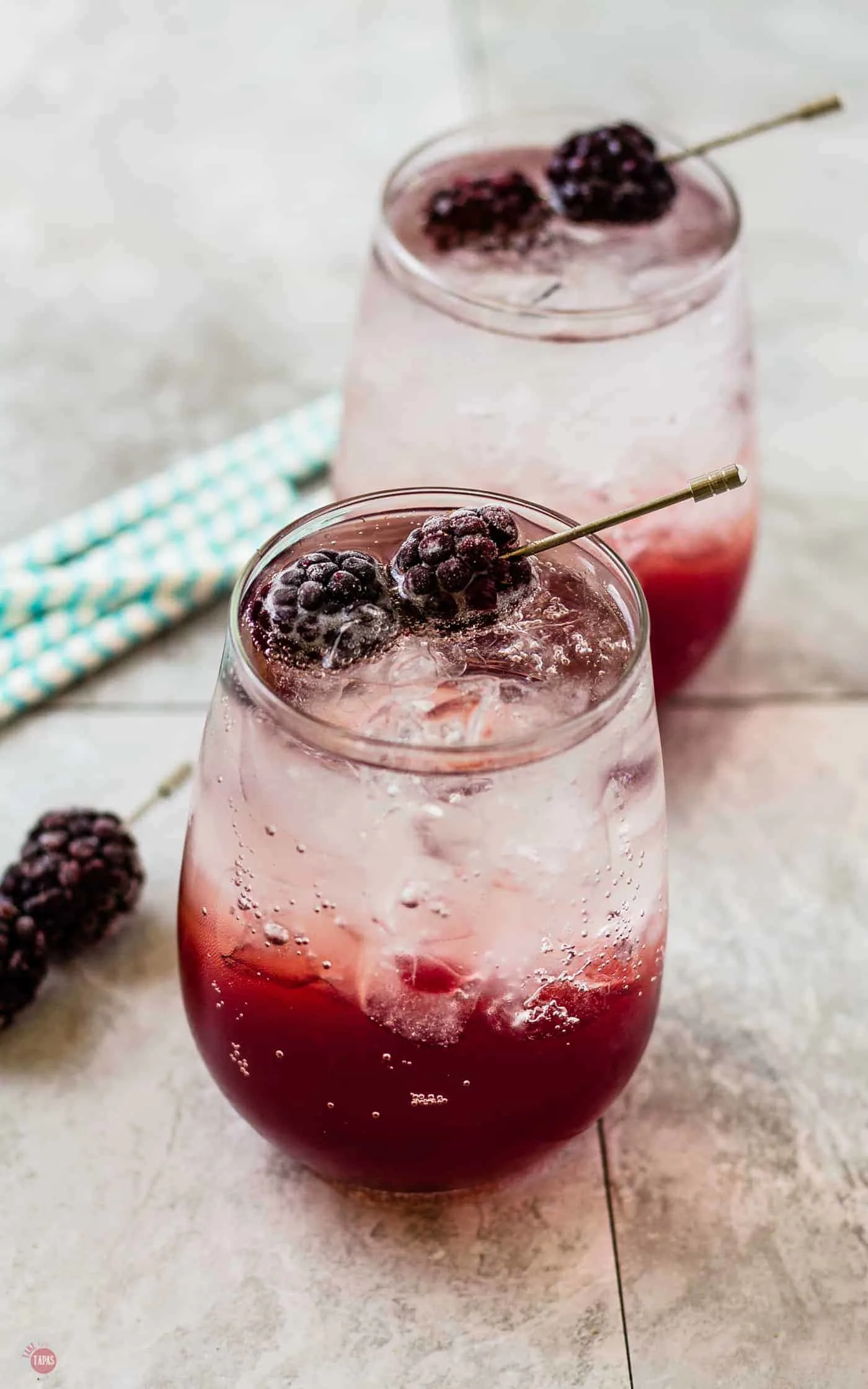 It has officially crossed over into Fall and I could not be happier! The Arizona summer was a hot one even without the humidity, but having 80-degree weather with no humidity is amazing.
The top is off the Jeep and I am driving around with the doors off and the breeze in my hair. Time to ring in the new season with a Blackberry Coconut Splash!
I have to admit I was nervous moving to Arizona and having to live in such heat. Yes, it is a dry heat but it is still super hot.
Not having humidity means great hair days and with the top off of the Jeep my hair can fly around and will go back to normal when I stop and get out. Thank goodness for the little things! Cooler weather also means more hiking trips.
This post may contain affiliate links. As an Amazon Associate, I earn from qualifying purchases. Read my disclosure policy here.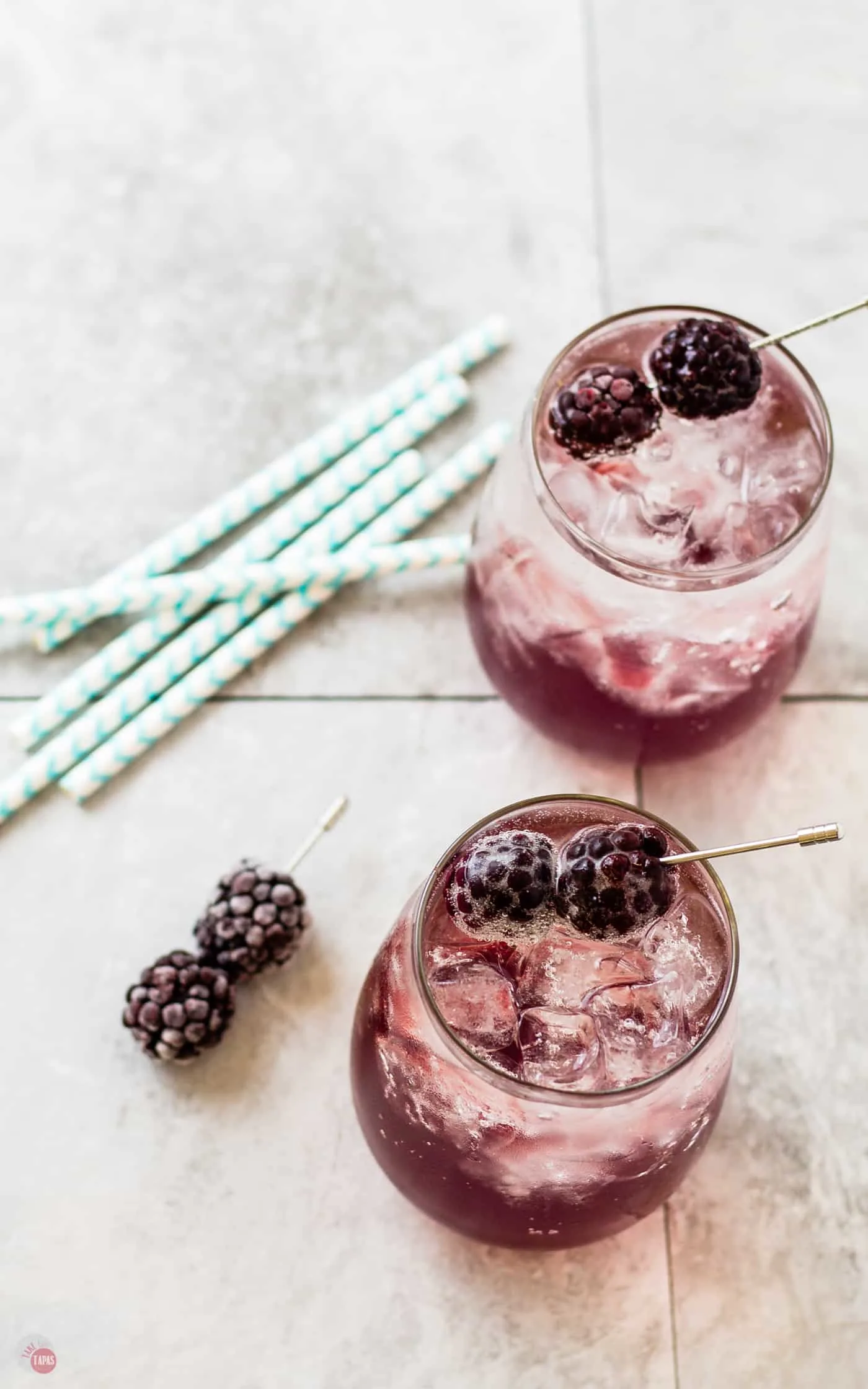 For more insider tips & tricks, and a candid behind the scenes look follow me on social media! Check use out on Pinterest, Facebook, Instagram, & Twitter (yes, people still use Twitter, LOL!)
More hiking trips mean less time for adult beverages because you don't want to mess around with dehydration. That is no joke! But you still want to have a few to unwind after a rough week, like the one I had last week, just not full on.
Not sure I want to stop having adult beverages full-stop, so a lighter cocktail is a welcome addition to my drink rotation.
Earlier this summer I posted about sparkling water and how it makes staying hydrated more fun. With all the fun flavors of sparkling water out there coconut is my favorite, but I have to wait and see what other flavors they are coming up with before I can really choose a favorite.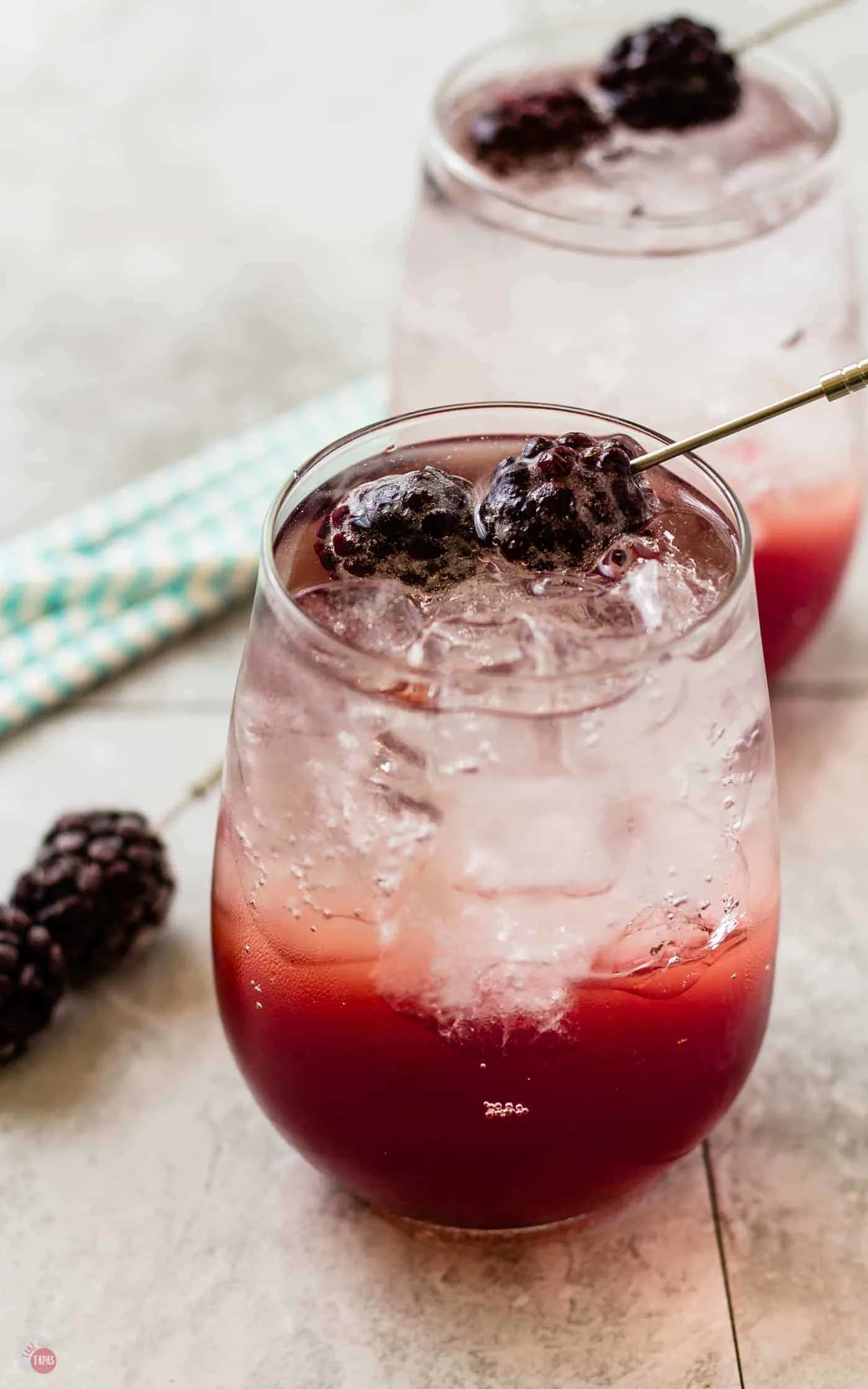 WHAT IS THE DIFFERENEC BETWEEN SPARKLING WATER, SELTZER WATER, CLUB SODA, AND TONIC WATER?
Sparkling water is just water with carbonation added by infusing the water with carbon dioxide under pressure. This is true of seltzer water also. Just artificially carbonated plain H2O.
Mineral Water is naturally carbonated to a slight degree. Club soda is carbonated water but with the addition of mineral-like ingredients such as potassium bicarbonate and potassium sulfate. You get the bubbles and the mineral taste in one go!
Tonic water is water but it contains quinine which gives it a bitter taste. Tonic water also gives you added calories to the tune of 130 per 12 ounces due to added sugar. You can always choose diet tonic water if you are in love with that bitter taste, which pairs well with gin:)
SO BACK TO THE BLACKBERRY COCONUT SPLASH AND MY CHOICE OF MIXTURES
Cocktails are always in need of mixers and my hubby loves his tonic water but I feel that the tonic water and even club soda, leave a weird and sometimes bitter aftertaste. That after effect may or may not jive with the overall drink flavors so if you are need of something to add but don't want any extra sugar, try sparkling water.
Since I have been guzzling coconut sparkling water all week I decided to add another flavor to it. Because the farmers' markets have been good to me this summer, I have frozen away quite a few bags of fruits.
Blackberries as big as quarters, blueberries, strawberries, and even raspberries. Enough to last me all winter! I made a simple syrup using the frozen blackberries and used a few to garnish my drink.
If you love this recipe as much as I do, please write a five-star review in the comment section below (or on Pinterest with the "tried it" button – you can now add pictures into reviews, too!), and be sure to help me share on facebook!

A simple layering of the blackberry syrup, a sip of vodka, some ice, and a topping of coconut sparkling water makes my Blackberry Coconut Splash light and refreshing. A great way to ring in a new season without overdoing it. It has fruit, water, and a little bit of sugar but not much that it dulls the crisp flavor on your tongue.
If you prefer a sugar-free version, simply muddle 1/4 cup blackberries in the bottom of your glass instead of using the syrup and continue on with the vodka and sparkling water. If you like a little more intense flavor, these Bourbon Blackberries are just what you are need!
The layering effect adds a little more sparkle to the drink just like my Penitent Punch and will wow anyone! Don't forget to garnish the Blackberry Coconut Splash with a few blackberries too. Since mine were frozen I used my heavy-duty cocktail skewers to get through the frozen berries.
My Blackberry Coconut Splash is a great way to spend the season getting ready for all the holiday parties! What is your favorite way to ring in a new season?
MORE EASY APPETIZERS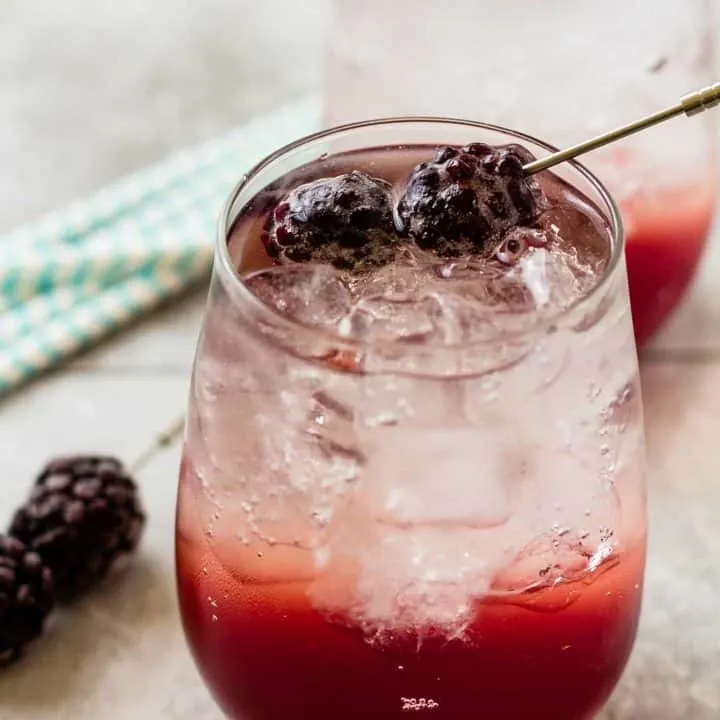 Blackberry Coconut Splash
It's officially Fall and there is a crispness to the air now. Let's celebrate with a crisp light cocktail made with fresh blackberry syrup and sparkling water, my Blackberry Coconut Splash!
Ingredients
For the Blackberry Syrup
1 cup Blackberries (fresh or frozen)
1 cup water
1 cup sugar
For the Blackberry Coconut Splash Cocktail
4 tablespoons Blackberry Syrup
2 ounces Vodka
12 ounces Coconut Sparkling Water
Blackberries (for garnish, fresh or frozen)
Instructions
Blackberry Syrup
Combine the blackberries, water, and sugar in a saucepan over medium heat.
Bring to a boil and stir until the sugar dissolves.
Remove from the heat and let cool for 5 minutes.
Strain the syrup through a mesh or sieve to remove seeds and skins.
Store the blackberry syrup in the refrigerator until ready to use. Lasts up to 1 week.
To Make the Blackberry Splash Cocktail
Add 2 tablespoons blackberry syrup to the bottom of a glass.
Fill the glass with ice.
Add 1-ounce vodka to each glass.
Top with Coconut Sparkling Water
Garnish with blackberries on skewers, fresh or frozen.
Enjoy!
Notes
*If you like this recipe, please leave me a comment and rate it with some stars. Thank you!
Nutrition Information:
Yield:

2
Serving Size:

1
Amount Per Serving:
Calories:

1377
Total Fat:

48g
Saturated Fat:

45g
Trans Fat:

0g
Unsaturated Fat:

3g
Cholesterol:

0mg
Sodium:

518mg
Carbohydrates:

226g
Fiber:

22g
Sugar:

184g
Protein:

7g
This nutrition information was generated via a third party, Nutritionix, and can not be held liable for any discrepancies in the information provided.
TakeTwoTapas.com. Content and photographs are copyright protected. Sharing of this recipe is both encouraged and appreciated. Copying and/or pasting full recipes to any social media is strictly prohibited.