This sweet and tart Lemon Drop Dazzler is made with vodka, fresh lemon juice, and sparkling water. Light and refreshing with all the bright lemon flavor you love!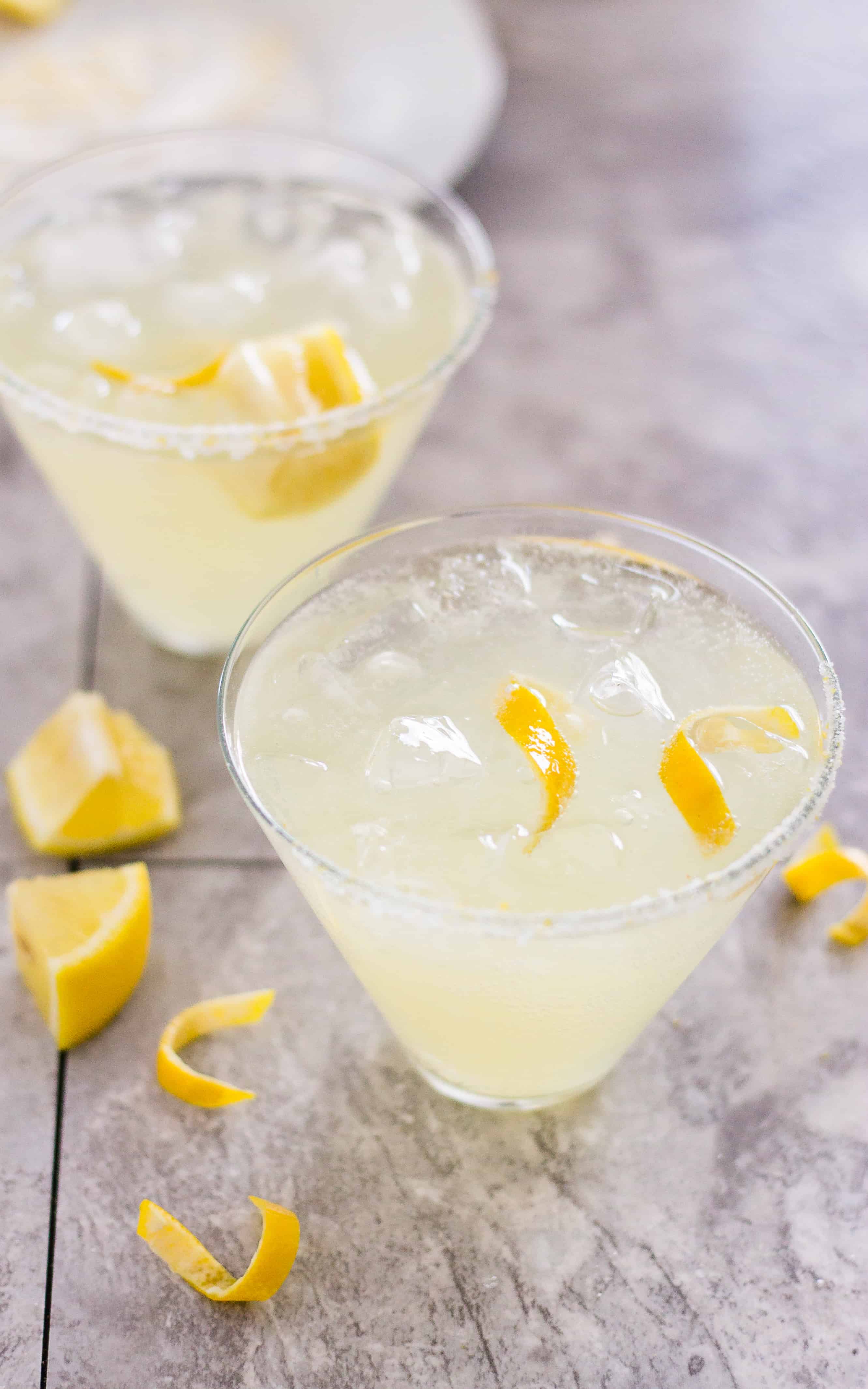 Lemons always brighten my day!  The health benefits of lemons are numerous but quite frankly I just love the smell and color!  It's even Feng Shui to have a bowl in your house with citrus.  There is some argument as to which citrus (orange, lemon, lime)  and how many (7,9) so you might as well get at least ten oranges, limes, and lemons.
If you can't figure out how many to have, just keep more than the maximum on hand and use any extra for cocktails!
Aside from Feng Shui and other health benefits, lemons are also perfect for cocktails.  Last year I made a series of 3 ingredient cocktails which included a Limoncello Lady.  This fun and bubbly beverage is made of limoncello, prosecco, and lemonade for all the lemon goodness you like!  One of my other favorite lemon cocktails is a throwback to my college days.  The Lemon Drop.
This post may contain affiliate links.  I earn a small commission for my endorsement, recommendation, testimonial, and/or link to any products or services from this website.  Your purchase helps support this blog at no additional cost to you and allows me to continue bringing you delicious recipes and funny stories.  For my entire disclosure policy click here.
There are two ways to enjoy A Lemon Drop.
a Lemon Drop Martini
a Lemon Drop Shot
Let's start with the shot because that is what I started with in college.
The Lemon Drop Shot is comprised of
Lemon Flavored Vodka
Lemon Juice
Sugar on the rim of the shot glass
Lemon Wedge for sucking on after the shot is taken
These fun shots are made in large quantities in a cocktail shaker and poured into multiple shot glasses so you and all your friends can partake together.  There isn't any water in these shots so make sure you hydrate between shots if you plan on taking more than one.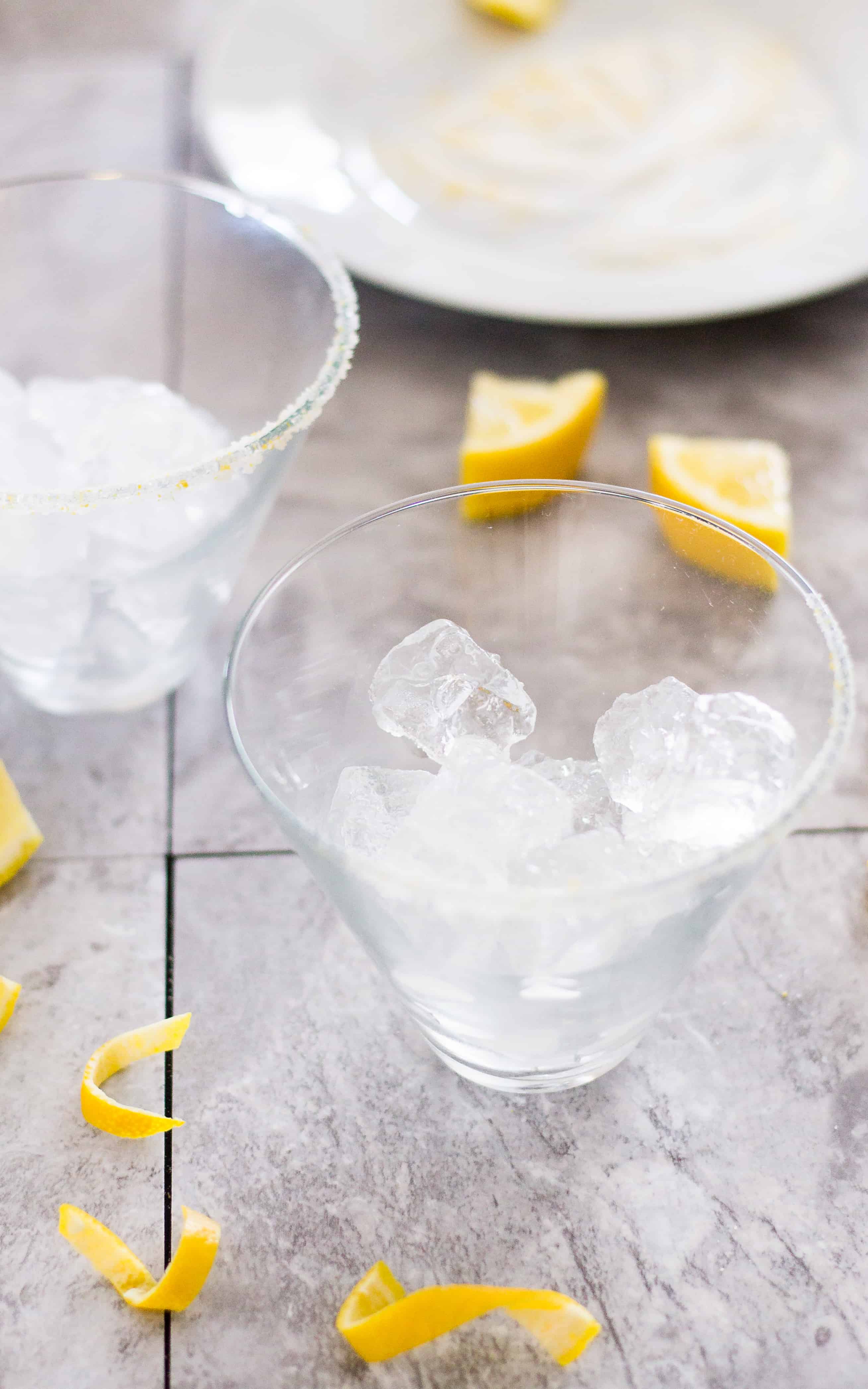 The next way to enjoy the Lemon Drop is the Martini.
The Lemon Drop Martini is comprised of
the same lemon vodka
lemon juice
simple syrup
extra items
In addition to the simple syrup, different versions of the Lemon Drop Martini can contain sweet and sour mix, extra limoncello, and even Cointreau or triple sec.  These extra additions remind me of a margarita and not a martini but those are just my taste buds.  This is why when I want to add more to this cocktail I opt for things that just enhance the flavor and not add any extra stuff.
Enter the Lemon Sparkling Water.  The more lemon the better but not more sugar!
A few tips for making the Lemon Drop Dazzler
It's all about the lemons!  I prefer Meyer lemons because they are little sweeter and less tart but use what you have.
Use ALL parts of the lemon.  I zest the lemon for the rimming sugar.  I save a part unzested to make my lemon twist garnish.  Then I juice the lemon after that to get the fresh juice for the cocktail.
Use a plain vodka, not a lemon one because the lemon in the vodka (unless homemade) can interfere with the fresh lemon juice and zest.
Use a simple syrup that is unflavored for the same reason or use one that is spicy like a jalapeño simple syrup because it enhances the lemon flavor and not the acidity.
Use a good juicer to extract all the juice and reduce the number of lemons you have to use.
Shake your ingredients (minus the sparkling water) in a cocktail shaker to blend completely!
A pretty glass is best!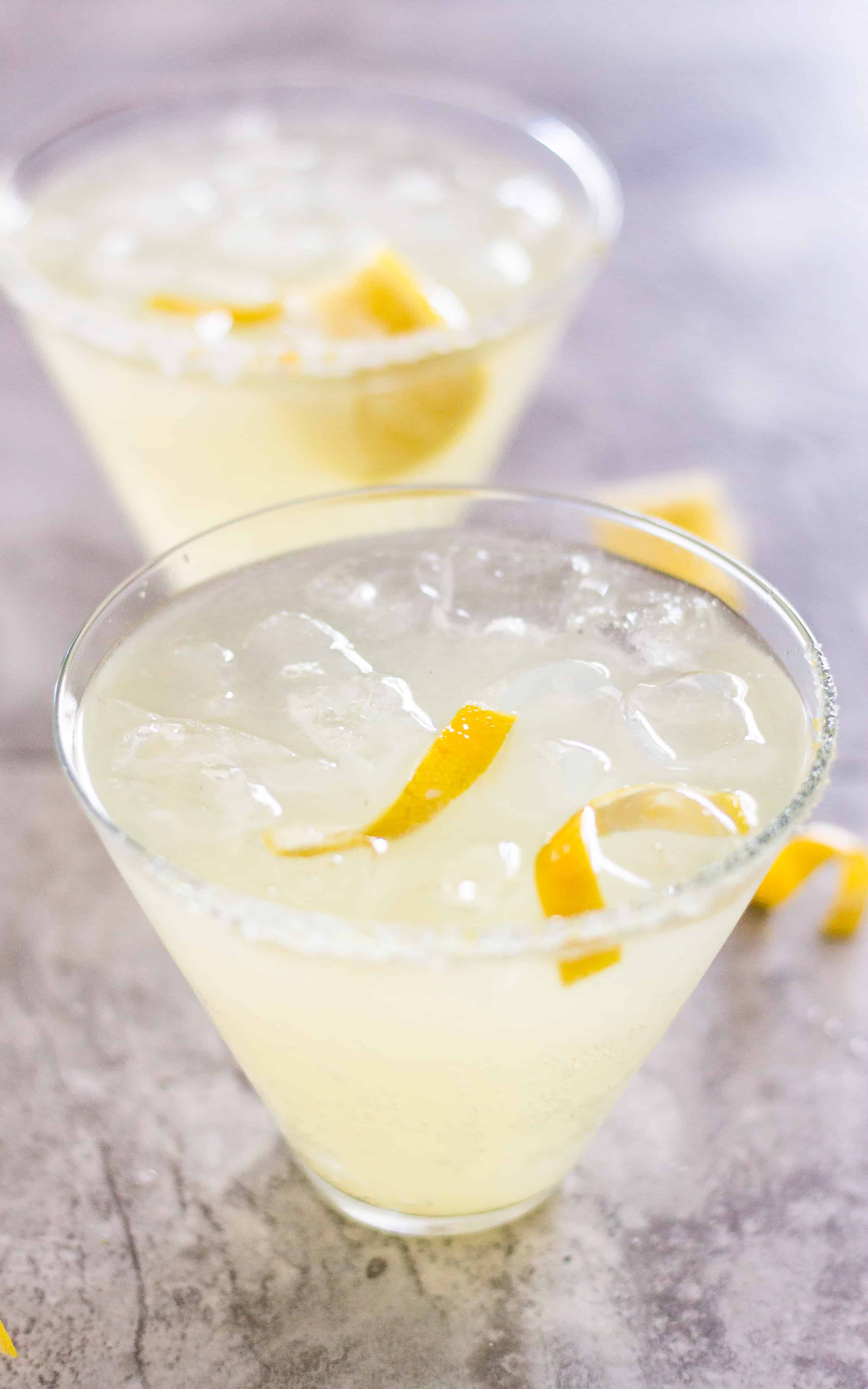 For my Lemon Drop Dazzler, I will keep the spirit of the martini going but only in my choice of glass.  A stemless martini glass is a great way to serve this beverage but if you are sipping it down by the pool you might want to opt for a larger, sturdier, and maybe shatter-proof drinking vessel. I love my Yeti cup for this to keep it cool but also because it holds 2 of them:)
My Lemon Drop Dazzler is perfect for reminiscing about college years, sipping a bright cocktail with less sugar, or refreshing you poolside with all the bubbles!
Print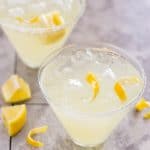 Lemon Drop Dazzler
---
Author:

Prep Time:

5 mins

Total Time:

5 mins

Yield:

3 cocktails

Category:

Cocktails, Drinks
Description
This sweet and tart Lemon Drop Dazzler is made with fresh lemon juice and sparkling water. Light and refreshing with all the bright lemon flavor you love!
---
Ingredients
3 oz vodka
2 ounces lemon juice (fresh squeezed)
2 ounces simple syrup
1 teaspoon granulated sugar
1 teaspoon lemon zest
12 ounces lemon flavored sparkling water (I prefer Lacroix but use your favorite)
---
Instructions
Make the lemon sugar garnish
Zest your lemons before you juice them.
Combine the sugar and lemon zest.
Juice your lemon and use the lemon to wet the rim of your glass.
Dip your glass rim into the lemon zest sugar.
You can make your lemon twist garnishes from the peel so nothing is wasted.
Prepare the Lemon Drop Dazzler
In a cocktail shaker, add the lemon juice, vodka, and simple syrup.
Shake to mix.
Fill the garnished glasses with ice.
Divide the mix between the 3 glasses.
Top with lemon sparkling water.
Garnish with lemon peel twists and enjoy!
Notes
*If you like this recipe, please leave me a comment and rate it with some stars.  Thank you!
Keywords: lemon drop, lemon, sparkling water, skinny cocktails, easy cocktails, cocktail
If you like reading my posts and seeing my recipes, follow me on your favorite social media channel for behind the scenes photos and much, much more: Pinterest, Facebook, Instagram, and Twitter!
Enjoy these other Lemon Drop inspired recipes: