This post is sponsored by Drizly.  Drizly provided the product but the recipe and all my thoughts and opinions expressed here are my own.
A seasonal and fruit Blood Orange Cinnamon Margarita is a new twist on a Traditional Margarita.  Enhance it with a cinnamon sugar rim!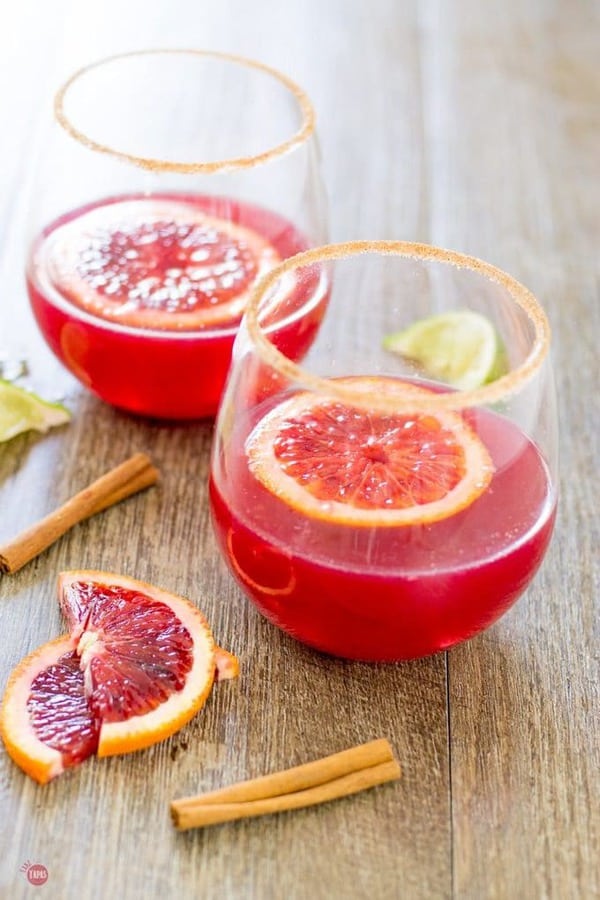 Blood Orange season is on its way out.  Boo!  Are you a fan of blood oranges?  I love them but just recently I am starting to use them more and more.  Maybe I forgot about them until now.  They have been THE fruit trend for this winter season. Everyone is posting pictures of their beautiful purplish, orange, red flesh and their sweet juice!  While cruising my produce department (that's a thing right?) I spotted the last few blood oranges available.  Being seated right next to the limes immediately makes me think of a blood orange cinnamon margarita.
Cinnamon you say?  Remember me talking about my love-hate relationship with cinnamon.  My tumultuous relationships with various other spices can be hard, but cinnamon is a real nose burner for me.  I tell my cinnamon story with my Homemade Chai Spice Mix and how much I loathe cinnamon brooms in the fall while trying to make my Fall Spiced Nuts. But let's not get hung up on the cinnamon and direct our attention back to the blood orange cinnamon margarita.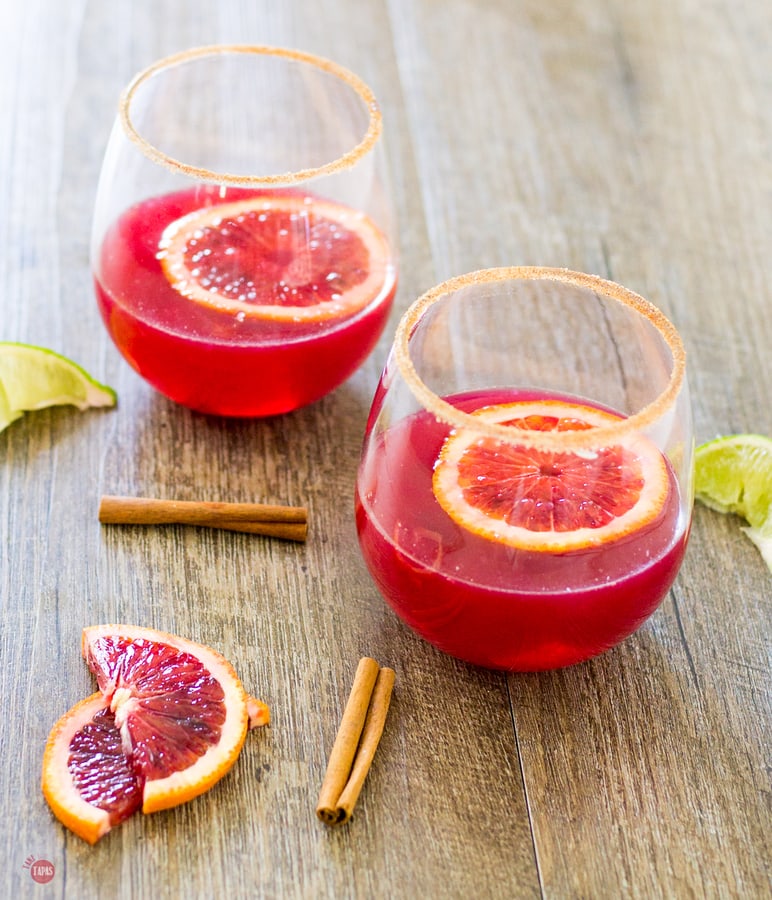 Margaritas, being a classic cocktail, lend themselves to a range of variations.  Different fruit juices, sodas, and spirits.  I prefer certain tequilas when blended with different fruit flavors.  And I also have a favorite for when I am just slamming back some shots.  For this blood orange cinnamon margarita, the blood orange really stands out when paired with 1800 Silver.  It has a crisp flavor that complements the sweet and tart juice.
While gathering my ingredients for this blood orange cinnamon margarita, I ordered my tequila from Drizly.  Right from my computer!!  Drizly is an alcohol delivery service that takes the shopping out of cocktail making.  I can stock my entire bar with the click of a mouse and all while sipping my drink in my pjs.  Click on your favorite spirit and BOOM you are ready for happy hour.


So when it comes to making this margarita, you better get your squeeze on.  My favorite juicer
is the easiest way to get the job done without getting carpal tunnel or bringing out any big appliances.  We don't have room on our kitchen counters or bar carts for bulky nonsense.
Juice your blood oranges and revel in how pretty that juice is.  Don't drink it just yet even though you are tempted to!  Juice those limes too.  Once you are done with that, grab your triple sec, agave or honey, and listen for the doorbell.  Your tequila should be arriving shortly.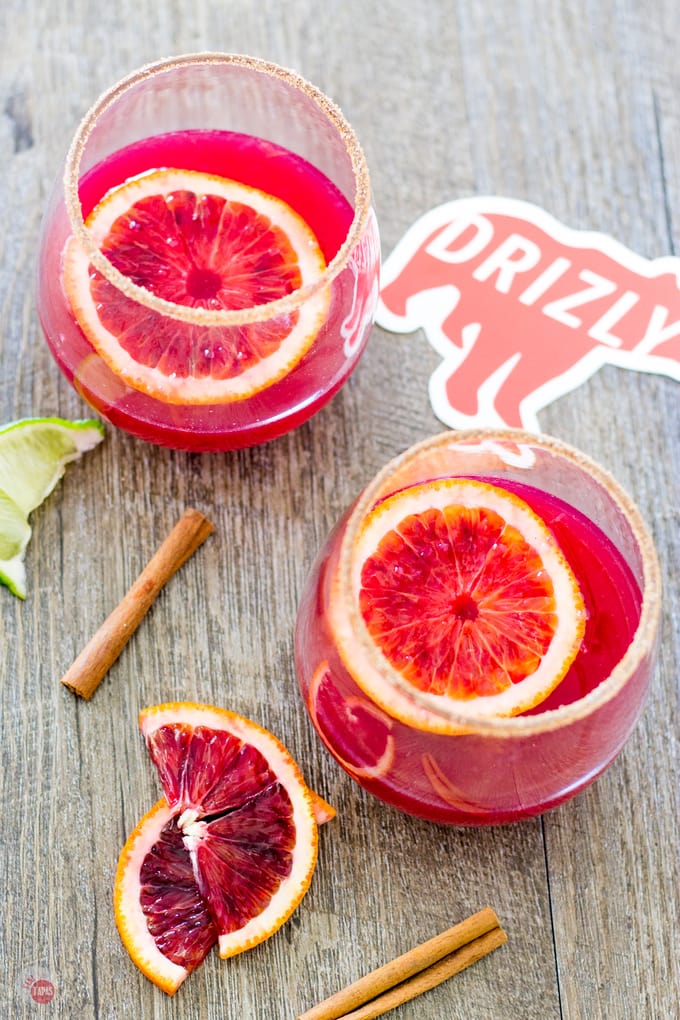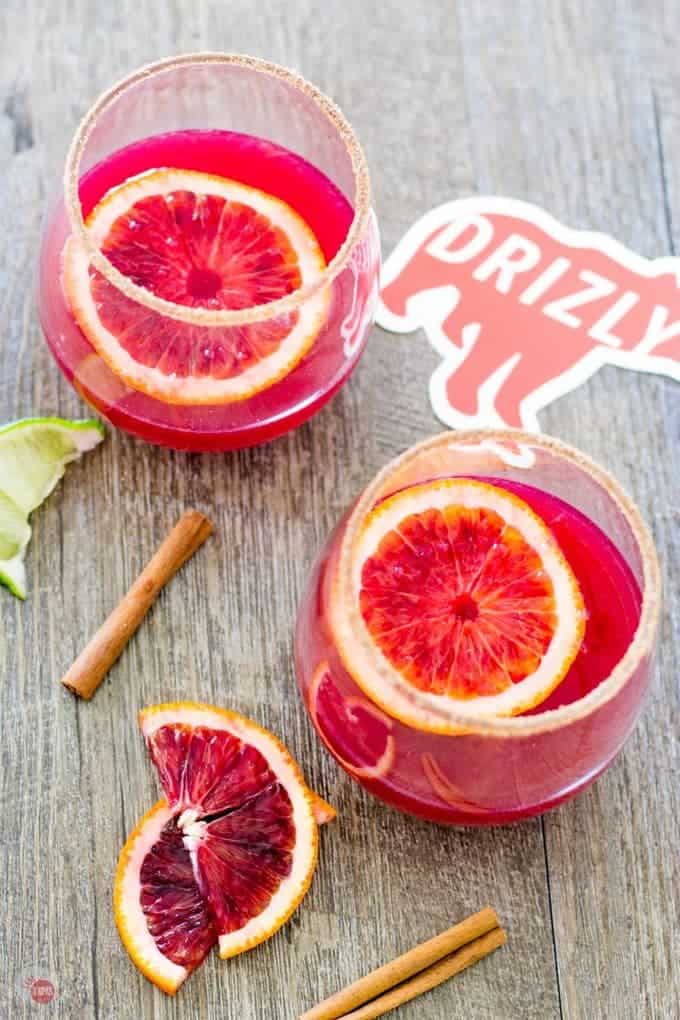 When you tequila arrives, mix all your ingredients in a cocktail shaker or tall glass.  I use a big plastic cup that I got from a restaurant most of the time but you can be classy and use a real shaker.  Once your margarita is mixed together, over ice if you like it cold or your juice isn't cold, gather some cinnamon, sugar, and salt if you like it.
I use a tiny bit of salt in my cinnamon sugar rim mixture just to balance all the flavors out.  Don't be scared about putting cinnamon with your margarita.  It can seem odd or downright wrong while you are mixing it with the sugar but we have to have some trust here.
Rub your glass rim with one of the limes you juiced, dip the rim in the mixture, then add your margarita.
Go ahead and sip it.  You know you are interested to see how it all comes together.  You will not be disappointed:)
What is your favorite kind of margarita?  I am still crushing on my Blueberry Margarita from last year.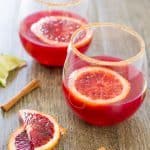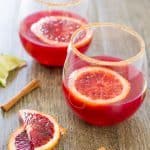 Blood Orange Cinnamon Margarita
Ingredients
For the blood orange cinnamon margarita
1/2 cup tequila
3 tablespoons fresh lime juice
3 tablespoons fresh blood orange juice
1 tablespoon agave or honey
1 tablespoon triple sec
ice
For the cinnamon sugar rim
1 part cinnamon
1 part sugar
1/2 part kosher salt (optional)
Directions
Mix together the tequila and lime juice.

Add the blood orange juice.

Add the agave or honey adjusting amount for desired sweetness.

Add the triple sec.

Stir or mix.

Pour over a glass of ice or in a cocktail shaker with ice.

On a small plate, mix the cinnamon, sugar, and salt.

Stir to combine evenly.

Rub the glass rim with a cut lime or dip in lime juice.

Dip the glass in the cinnamon, sugar, salt mixture to coat.

Pour the margarita mix into the glass straining out the ice if desired.

Enjoy responsibly!
Recipe Notes
Recipe Notes
This makes one margarita. Increase the amounts to fit as many margaritas as you need.
Loading nutrition data...