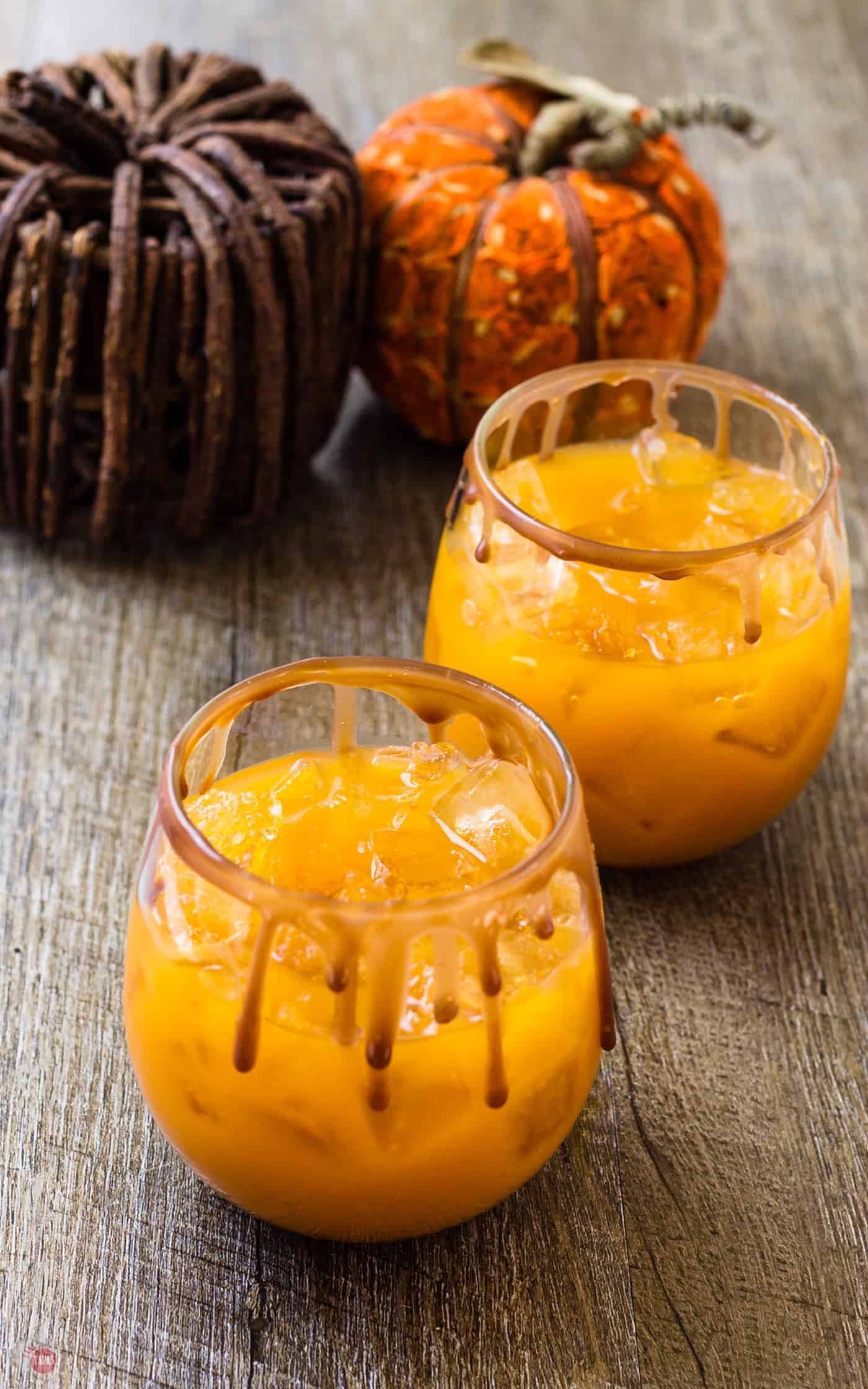 Nothing says fall quite like pumpkins and apples so I combined the two, with a little bourbon, into my Pumpkin Apple Punch that I lovingly call, The Great Pumpkin.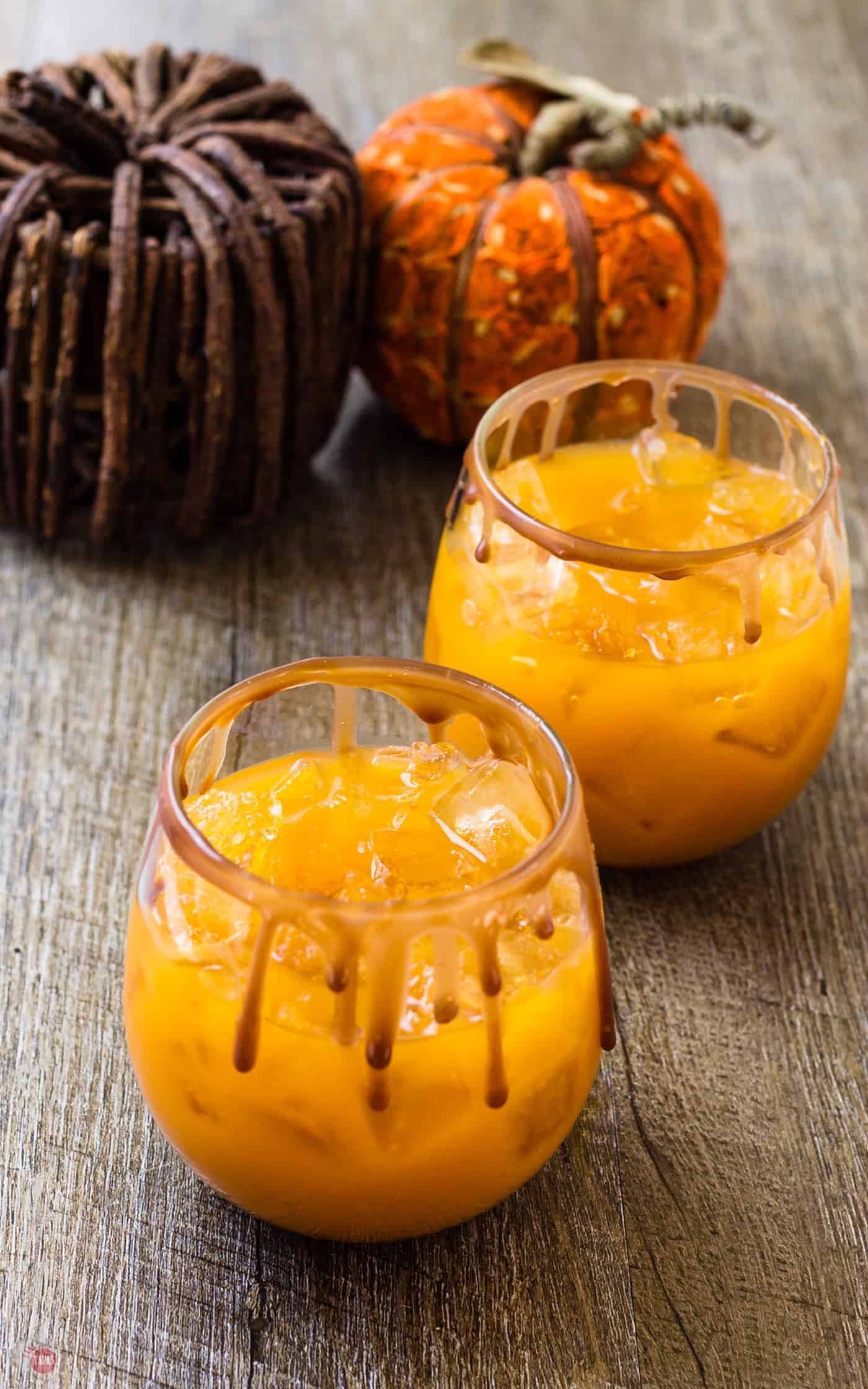 Pumpkin Punch
Is everyone sad that Choctoberfest is nearly over? I am so sad I am drowning my sorrows in a Friday Cocktail that I made just for the occasion.
An adult beverage that ties together the flavors of fall, a choice of spirit depending on your taste buds, and a nod to the best Halloween Show of all time, "It's the Great Pumpkin, Charlie Brown!"
Because we are celebrating Choctoberfest I threw a little chocolate in there to finish off the event strong. Check out my nod to Halloween and Choctoberfest in the form of my Pumpkin Apple Punch, or as I like to call it, "The Great Pumpkin."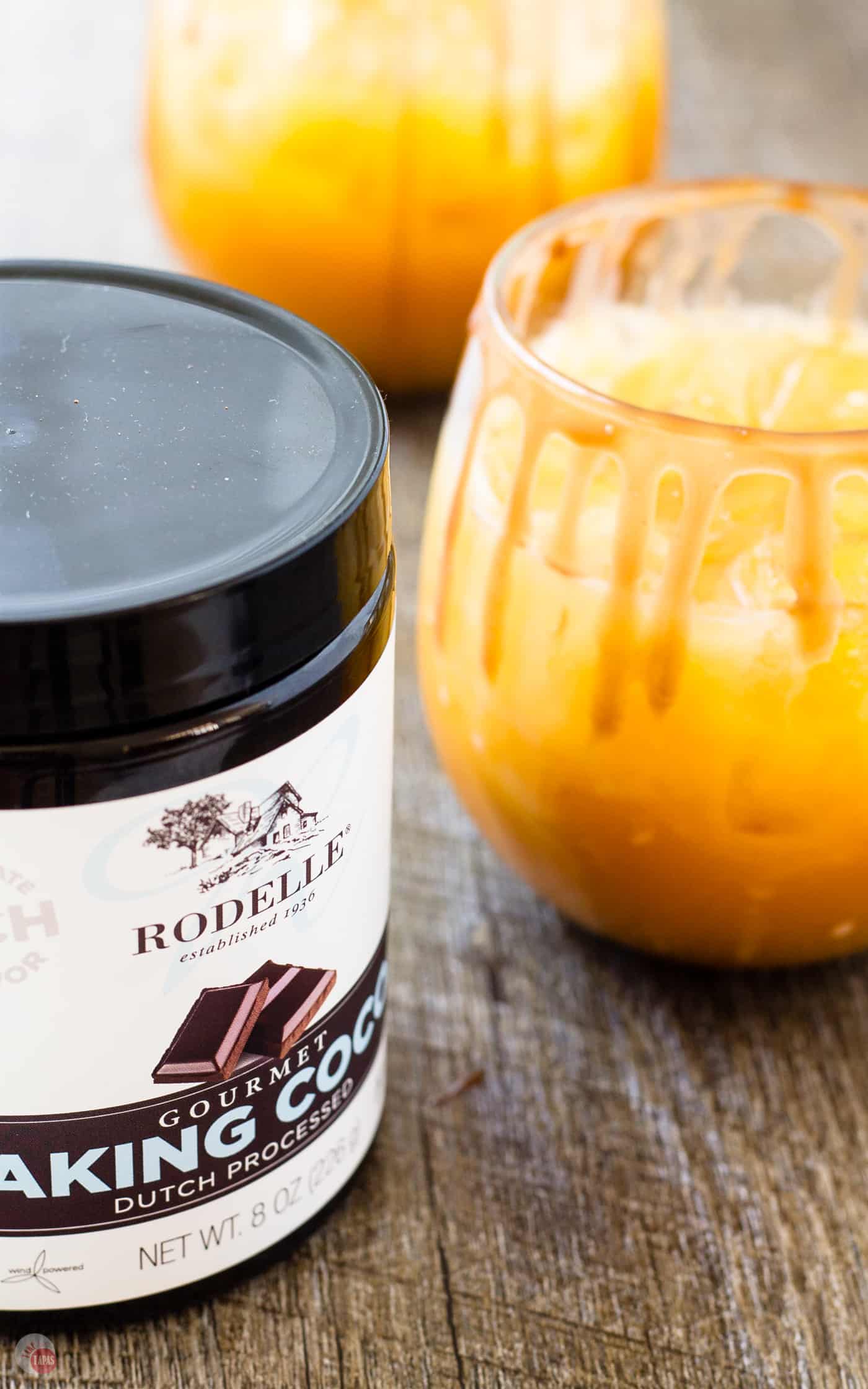 If you'd rather skip my (very helpful, I think) tips and tricks, essential cooking info, and similar recipe ideas – and get straight to this delicious recipe – simply scroll to the bottom of the page where you can find the printable recipe card.
This Choctoberfest recipe is sponsored by Rodelle. Rodelle provided me with a container of amazing high-quality Gourmet Baking Cocoa to make this cocktail perfect.
Just take me to the Pumpkin Apple Punch Recipe Already!
If you'd rather skip my (very helpful, I think) tips and tricks, essential cooking info, and similar recipe ideas – and get straight to this delicious easy Great Pumpkin Punch recipe – simply scroll to the bottom of the page where you can find the printable recipe card.
Salted Caramel Sauce Recipe
Rodelle's Gourmet Baking Cocoa powder has one of the highest levels of cocoa butter on the market and I will show you how I use it in just a bit. I will tell you that once I opened the container I could smell the rich cocoa and wanted to dive in head first! I think I did have a little cocoa powder under my nose for a few hours after smelling it too closely.
Let's get on with the recipe for my Pumpkin Apple Punch before I divulge more of my embarrassing moments. We will save that for after I have had a few of these cocktails, so let's talk caramel sauce. Or should I say Chocolate Caramel Sauce?
This post may contain affiliate links. As an Amazon Associate, I earn from qualifying purchases. Read my disclosure policy here.

Alcoholic Fall Punch Recipes
After spending the summer upping my cocktail game and expanding my recipe index with adult beverages one thing I figured out is that I like cocktail garnishes. Call it an oral fixation if you will (I did bite my nails when I was little) but I just love having a little something extra on the rim of my glass while having a drink.
Even when I am just drinking water I prefer a lime wedge on the rim. I have a little fit of sorts when I am drinking out of my Yeti cup though as there isn't a rim to garnish so I use straws.
For a while now I have been that person who drinks out of a straw all the time, probably because I like a lot of ice in my drinks and it keeps my teeth from getting cold. I'm that person who always grabs a few extra straws at restaurants and keeps them in my car for "straw emergencies."
Straws also help when I am drinking plain water and want to get it down fast, but not such a big helper when alcohol is involved. Faster is not always better when it comes to alcohol. Back to the rim of the glass.
When planning this recipe I looked for something "Fall-ish" that would taste great with pumpkin and apples. Caramel apples sprung to mind so I immediately went for a caramel drizzle for the rim and because it is Choctoberfest, I decided to make a chocolate caramel sauce. Doesn't that sound good?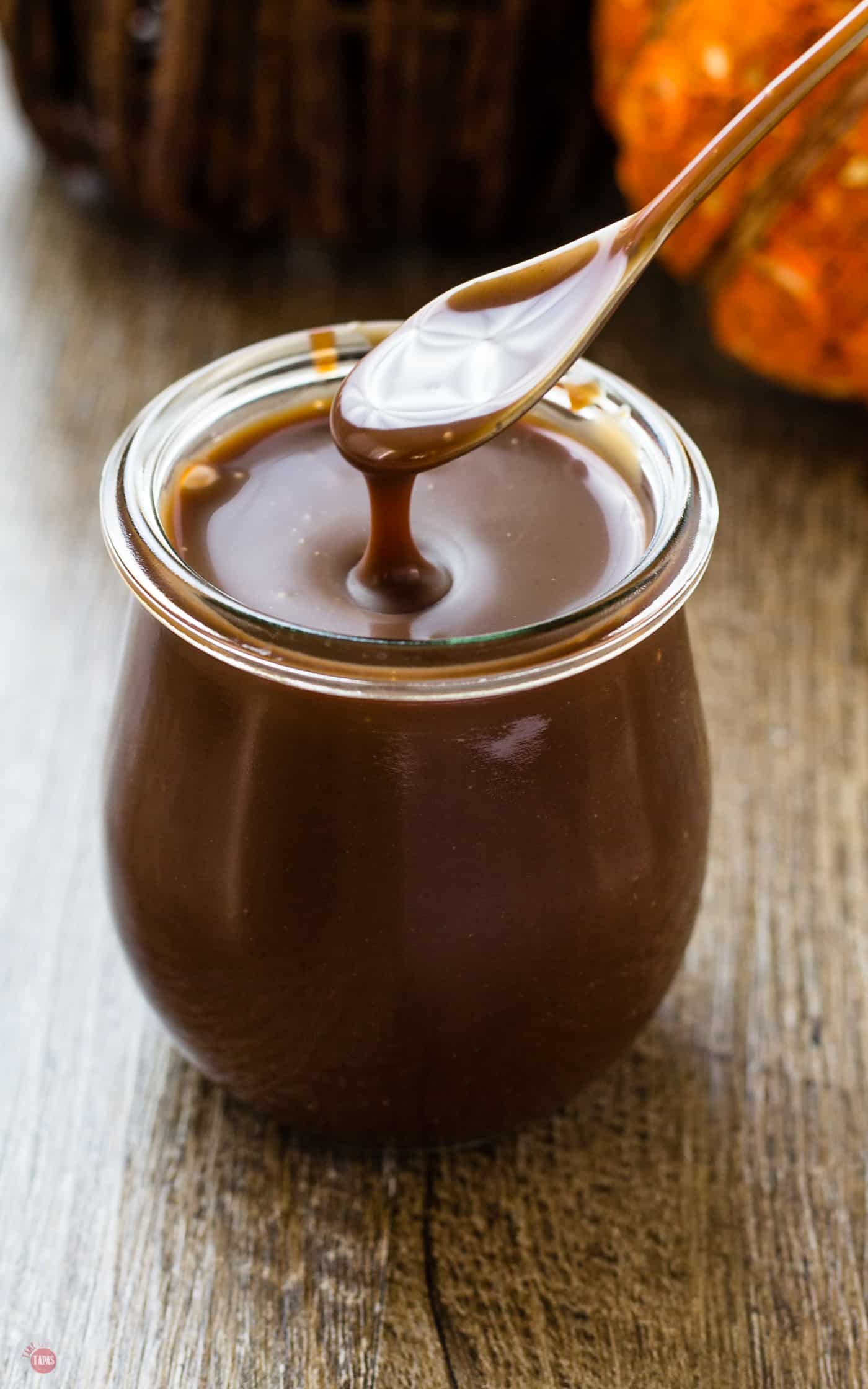 Spiked Caramel Sauce
Because I don't currently have a recipe for plain caramel sauce, just a whiskey-infused one that I use on my Pie Crust Cookies that is also made with coconut milk, I searched for a simpler one. One that will stay soft and spreadable in the fridge.
Once I found one I added some of the amazing Rodelle Gourmet Baking Cocoa and voila! Chocolate Caramel Sauce that is perfect for rimming my glasses.
The chocolate caramel sauce only takes a few minutes to whisk up and goes great with brownies and ice cream too!
You will only be using a few tablespoons of the recipe for the cocktail so hang on to the extra for any other caramel needs you might have! I think it looks pretty darn pretty on the rims of my punch glasses, don't you?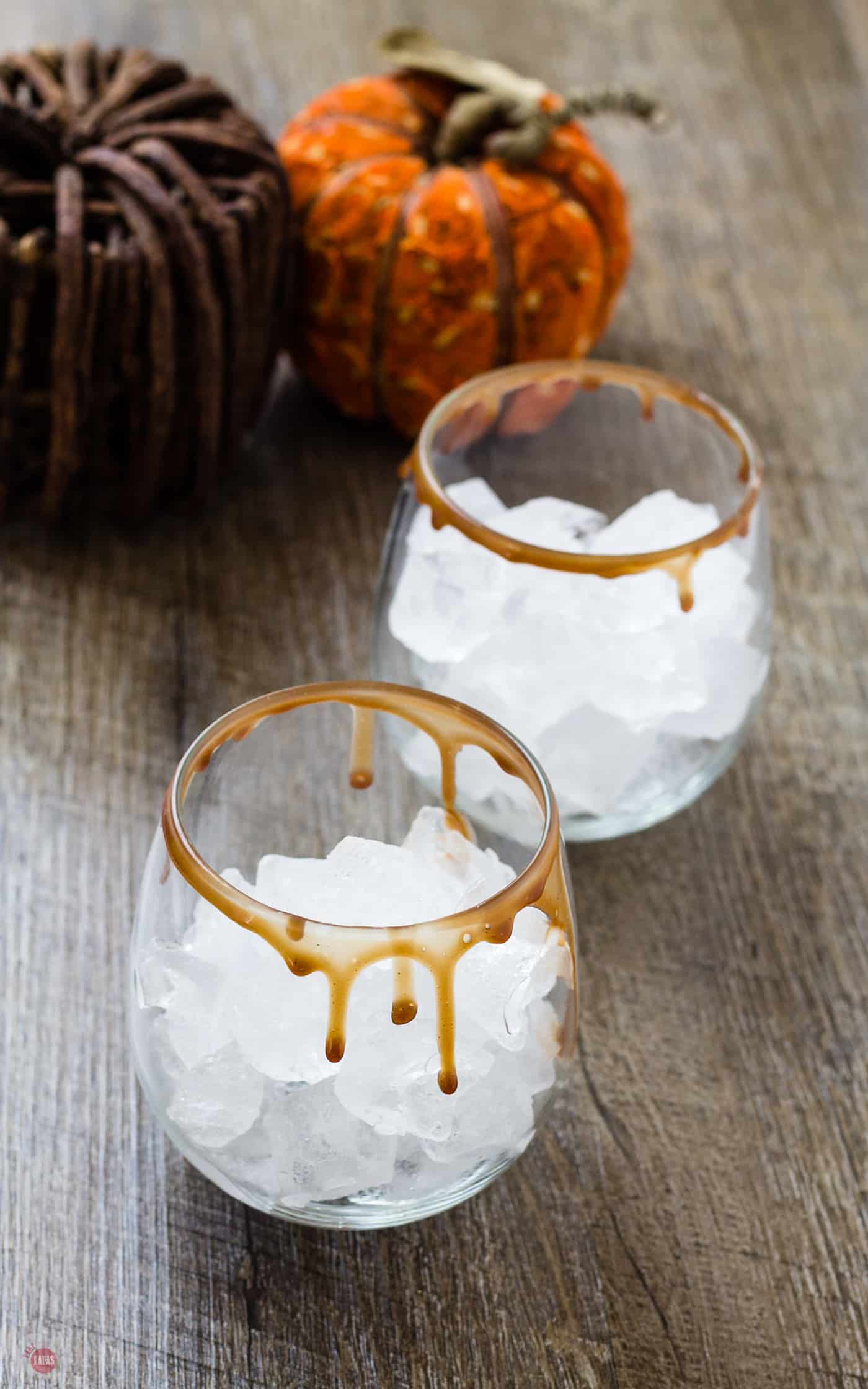 Apple Cider Punch
Looks kind of like a clear caramel apple just waiting to be eaten, right? That is exactly the look I am going for especially since the punch is full of apple cider and pumpkin, both of which scream caramel to me!
When fall rolls around what is the first drink you can't wait to have? For Christmas, it is always eggnog and for Fall it's apple cider, hands down. The hubby loves his apple cider, hot and with a few "ga-doogahs" of bourbon.
Since my Ma isn't around to tell us the exact fluid measurement of a "ga-doogah" I'll share with you how I figured it out. It is a very precise process.
You tip the bourbon bottle, or scotch in Ma's case, and pour until you hear the opening of the bottle make a sound that sounds like "ga-doogah," and then you stop. Not quite sure how many actual ounces it measures out to be but who's counting?
Ok, I HAVE to count because I can't list a "ga-doogah" on my recipe card. I use a very scientific method of determining the amount which involves pouring the bourbon into a measuring cup, counting the sounds, and checking the amount on the side of the measuring cup.
It turns out it is approximately 2 fluid ounces and the perfect amount for my Apple Pumpkin Punch.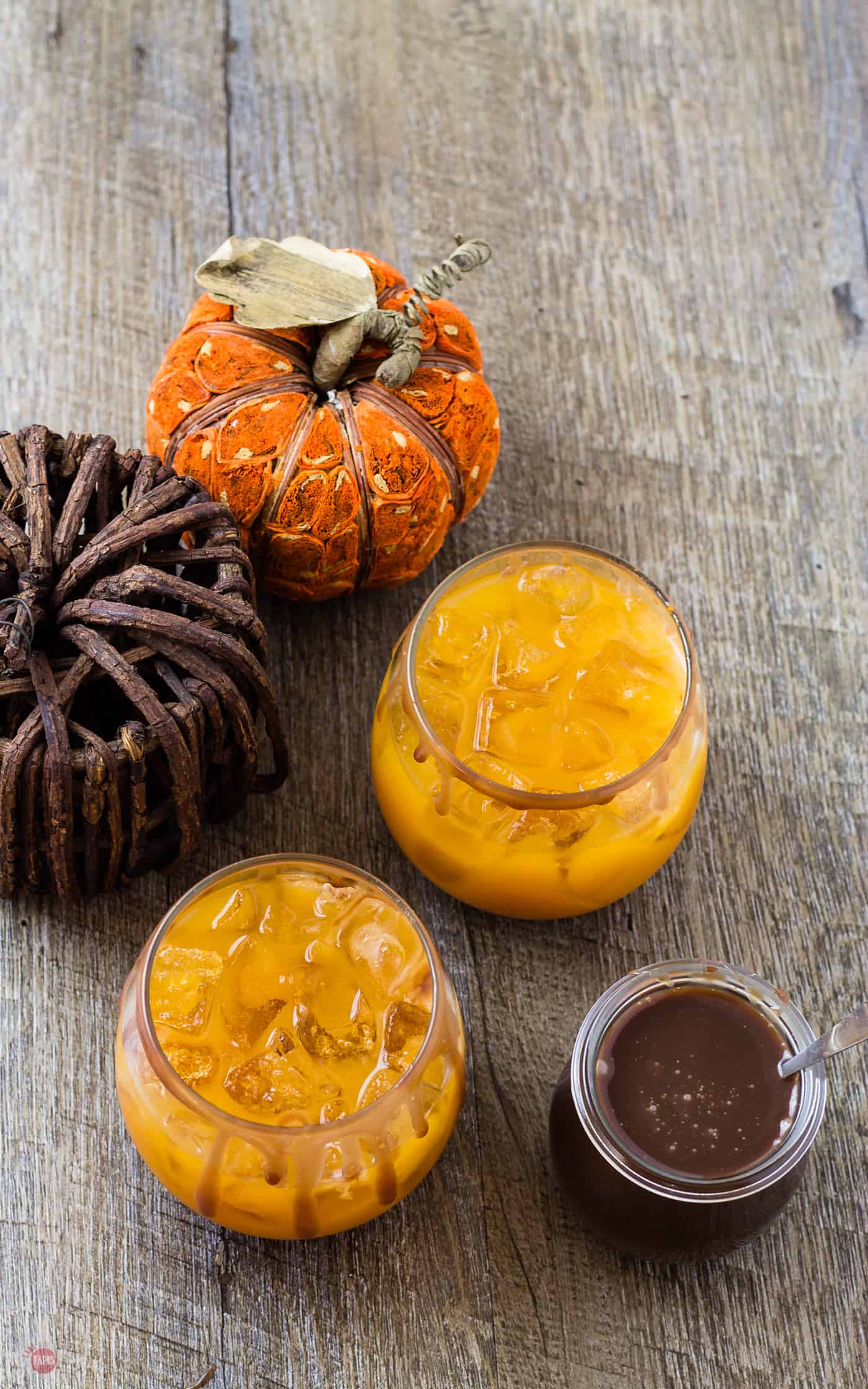 For more insider tips & tricks, and a candid behind the scenes look follow me on social media! Check use out on Pinterest, Facebook, Instagram, & Twitter (yes, people still use Twitter, LOL!)
Apple Punch
So with an apple cider base and a few "ga-doogahs" of bourbon, all we need is some pumpkin. If you are like me, and Linus from Charlie Brown, we are always staying up late waiting for the Great Pumpkin to appear!
If I lived in the world of the Peanuts Gang I would gladly give up trick-or-treating for the chance to hang out in the pumpkin patch all night waiting for the Great Pumpkin.
I didn't really care about getting a lot of candy growing up because I would have already found my mom's candy stash before the big night, picked out my favorites, and hidden them for later.
I can spare some time for pumpkin watching even if Sally didn't want to.
When it comes to fall baking the easiest way to get pumpkin puree is to buy the canned pumpkin. Sorry to all the organic farmers and make your own baby food people out there but I love me some kitchen hacks and convenience products. A few tablespoons out of one of the cans in my pantry and we are ready to go!
FAQ about Pumpkin Apple Punch:
Q: What is a great drink for Thanksgiving?
A: This one is!
Q: Can you use another spirit in the punch?
A: I prefer rum or bourbon in this punch recipe but tequila will work too. I might even be tempted to try amaretto!
Q: Can you use homemade apple cider?
A: Yes, you can. Homemade is best!
Q: Can this be turned into a large batch punch for a party?
A: Sure can. Just multiply everything by 5 for 10 servings and save the chocolate caramel sauce on the side.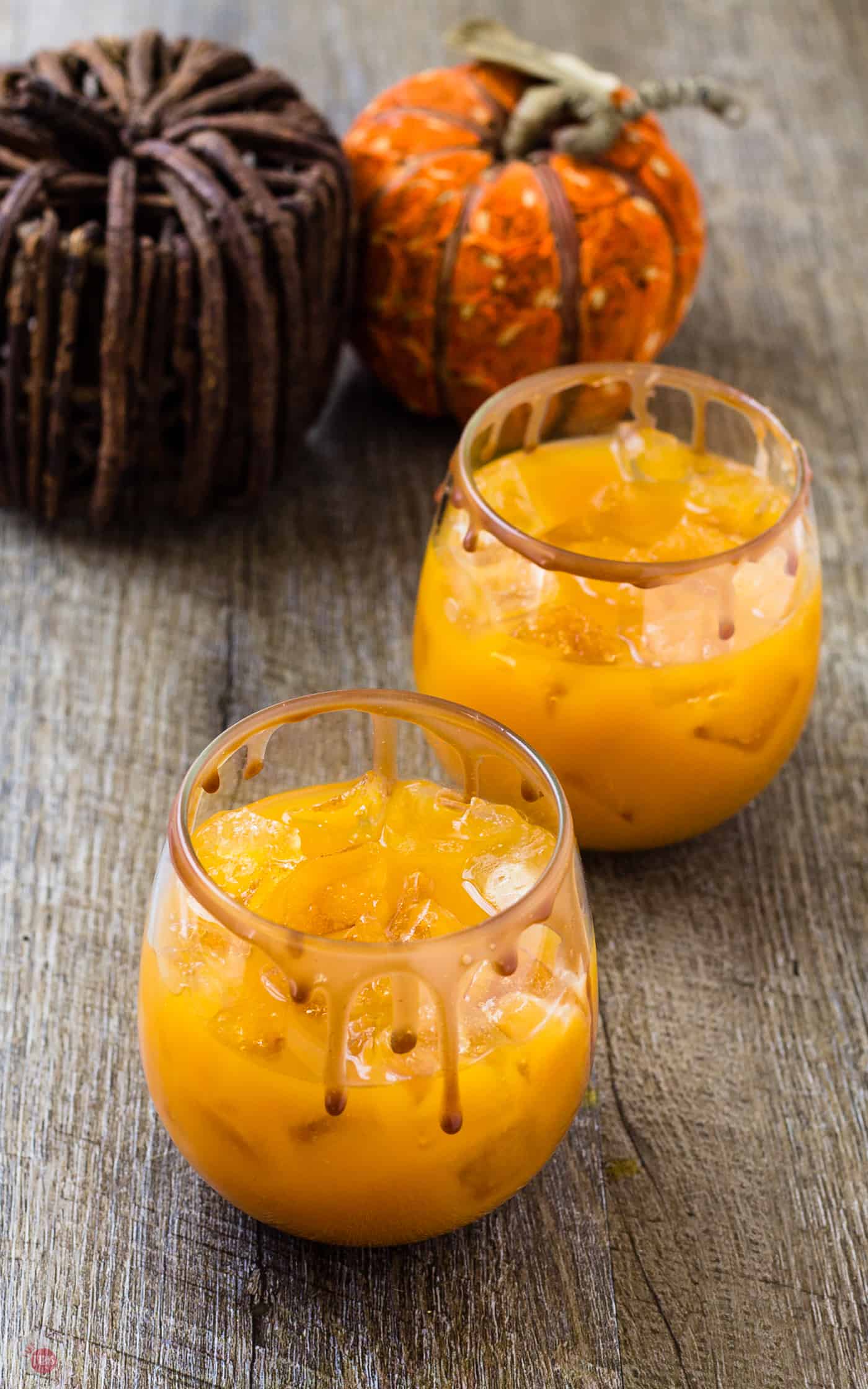 Sign up to early access to recipes, tips & tricks, and behind the scenes info in our newsletter! It's FREE and we promise not to SPAM you. Click here to join us!
Spiked Apple Cider Punch
The apple cider and pumpkin puree go perfectly together. The prepared puree "dissolves" in the apple cider to give it a silky texture and a little extra richness. I love the subtly of the pumpkin that comes from not having pumpkin pie spice overpowering everything in its path, like those blasted cinnamon brooms!! Can you tell I hate them?
You know what else goes great with apple cider and pumpkin? Bourbon. And rum!
I was torn while developing this recipe as to which spirit I should use. I started with rum, which goes great with apple cider by the way, and bourbon. The hubby voted bourbon, of course, but I am still torn. The bourbon adds a little smokiness to the drink whereas the rum feels light and crisp among the rich flavors.
And both go very well with the chocolate caramel sauce drizzled on the rim of the glass too! I couldn't bring my self to limit the recipe to one or the other so I listed both spirits in the Pumpkin Apple Punch recipe so you can make either version depending on your mood or tastes buds.
I know my Pumpkin Apple Punch will be your new fall cocktail and you will fall head over heels for the chocolate caramel sauce too! You can even call it the "The Great Pumpkin" like I do as you are sipping away in the pumpkin patch waiting for the big arrival. Just be sure to hide some Halloween candy for later after all the kids are in bed!
Other great Holiday Cocktail recipes to try!
If you love this recipe as much as I do, please write a five-star review in the comment section below (or on Pinterest with the "tried it" button – you can now add pictures into reviews, too!), and be sure to help me share on facebook!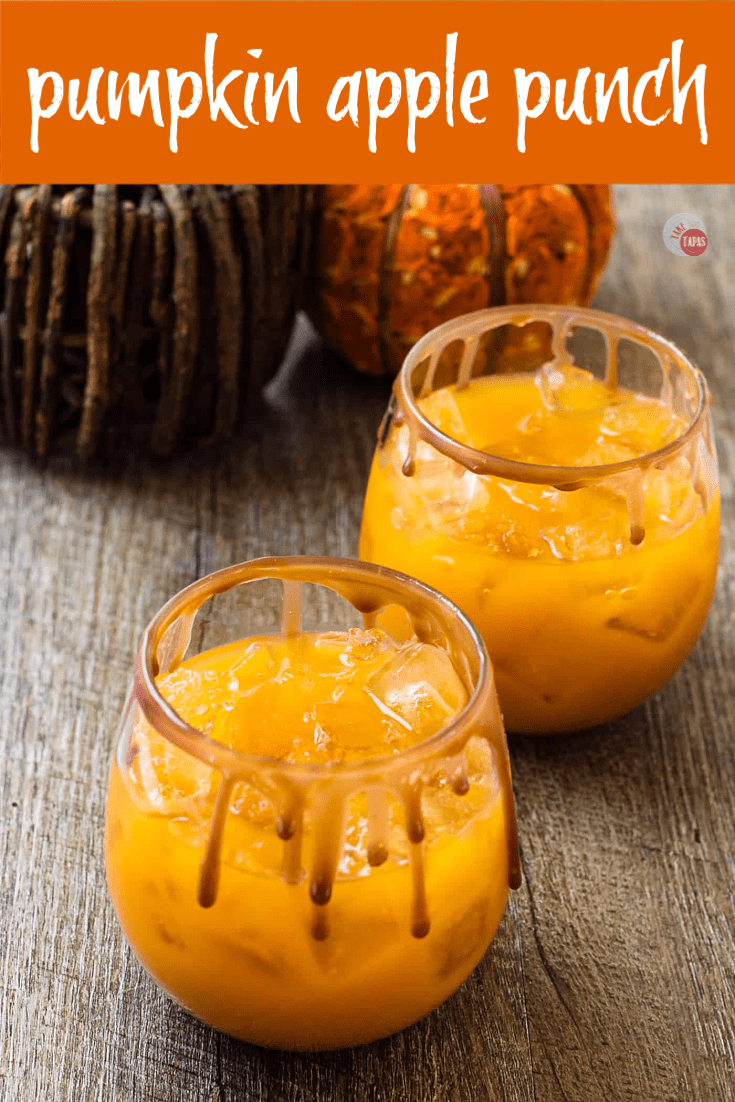 Easy Pumpkin Apple Punch Recipe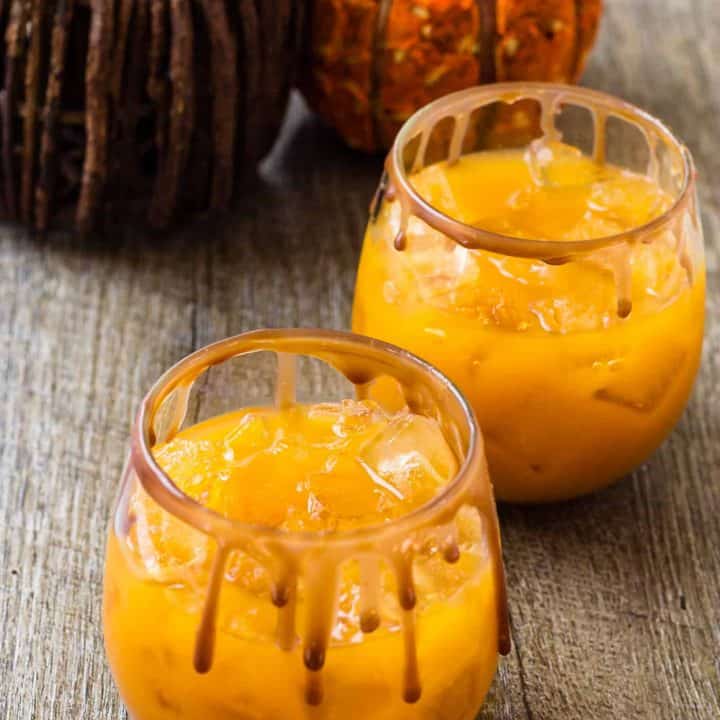 Pumpkin Apple Punch - The Great Pumpkin Cocktail
Nothing says fall quite like pumpkins and apples so I combined the two, with a little bourbon, into my Pumpkin Apple Punch that I loving call, The Great Pumpkin.
Ingredients
Chocolate Caramel Sauce
1 cup granulated sugar (I used Imperial Sugar)
3/4 cup heavy cream
3 tablespoons Rodelle Baking Cocoa
3 tablespoons butter (unsalted and cubes)
Pumpkin Apple Punch
2 tablespoons Chocolate Caramel Sauce
3 tablespoons pumpkin puree
8 ounces Apple cider
3 ounces bourbon or white rum
Instructions
Make the chocolate caramel sauce
Add the sugar and water in a heavy-bottomed pot.*
In a separate container mix the Rodelle cocoa powder in the heavy cream and whisk to combine.
Set the butter and the chocolate heavy cream close to where you will be working on the stove, along with a whisk.
Cook the sugar and water over medium heat, stirring frequently, until the sugar dissolves completely.*
After the sugar has fully dissolved, stop stirring.
Turn up the heat to medium-high and let the sugar continue to cook until it changes color to an amber color, while only swirling the pot occasionally.*
Once the dissolved sugar mixture reaches a medium copper color, turn off the heat, add the butter and chocolate heavy cream, constantly whisking.*
Continue whisking until the mixture becomes homogeneous and all clumps dissolve.
Whisk continually until all the ingredients are mixed in and all the clumps are smoothed out.
Let the sauce cool for a few minutes.
Pour the caramel sauce into a storage container and store in the refrigerator for up to a week.
To make the Pumpkin Apple Punch
Pour a few tablespoons of the Chocolate Caramel Sauce onto a small plate.
In a cocktail shaker combine the pumpkin puree, bourbon, and apple cider.
Shake or stir to combine.
Dip the rims of your glasses into the chocolate caramel sauce.
Add ice to your glasses.
Pour the Pumpkin Apple Punch into the glasses.
Enjoy!
Notes
*I made the chocolate caramel sauce the day before so it would have time to cool and thicken. If you don't have time to make it you can use store-bought caramel sauce and add a touch of chocolate syrup before rimming the glasses.
*If sugar crystals form up the sides of the pot, use a pastry brush wet with water to brush the crystals away.
*Do not walk away from the sugar mixture as the color changes very quickly and you can burn it!
*I removed my pan from the burner while adding the butter and cream and started whisking. I would occasionally put it back on the warm burner to help it blend better.
*The chocolate caramel sauce will drip down the side of your glass so either lick it off or you can choose to drizzle it down the insides of the glasses before adding the ice. I am not a fan of this as much because I can't really taste it until I reach the bottom of the glass.
*If you like this recipe, please leave me a comment and rate it with some stars. Thank you!
Nutrition Information:
Yield:

2
Serving Size:

1
Amount Per Serving:
Calories:

1140
Total Fat:

53g
Saturated Fat:

32g
Trans Fat:

2g
Unsaturated Fat:

16g
Cholesterol:

151mg
Sodium:

459mg
Carbohydrates:

131g
Fiber:

4g
Sugar:

121g
Protein:

6g
This nutrition information was generated via a third party, Nutritionix, and can not be held liable for any discrepancies in the information provided.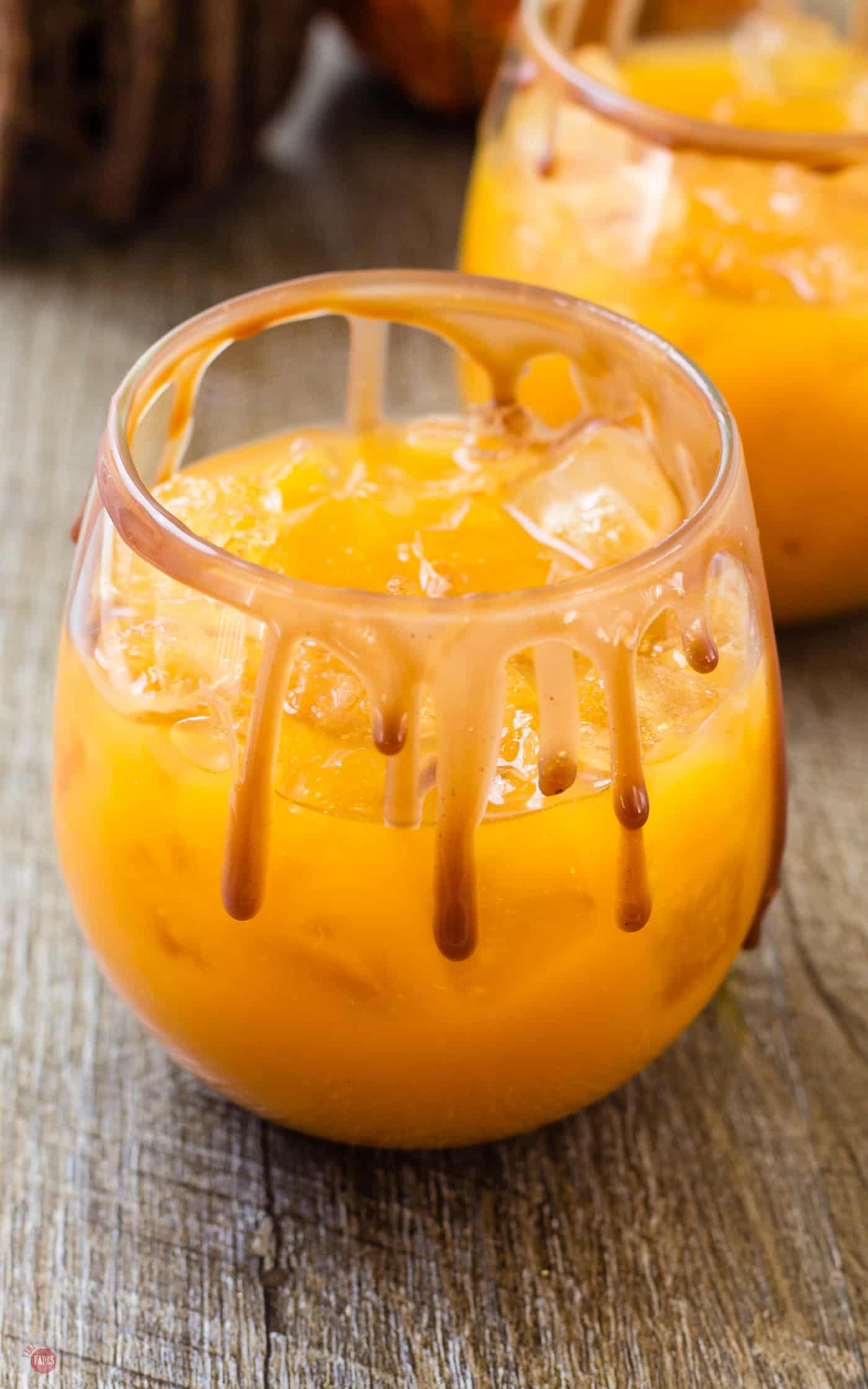 I adapted the recipe for the Chocolate Caramel Sauce from GoodieGodmother.com.
©TakeTwoTapas.com. Content and photographs are copyright protected. Sharing of this recipe is both encouraged and appreciated. Copying and/or pasting full recipes to any social media is strictly prohibited.