This crisp cucumber mint gin cooler with a homemade sour mix is the perfect way to feel like you are enjoying a spa refreshment but still adulting with a cocktail!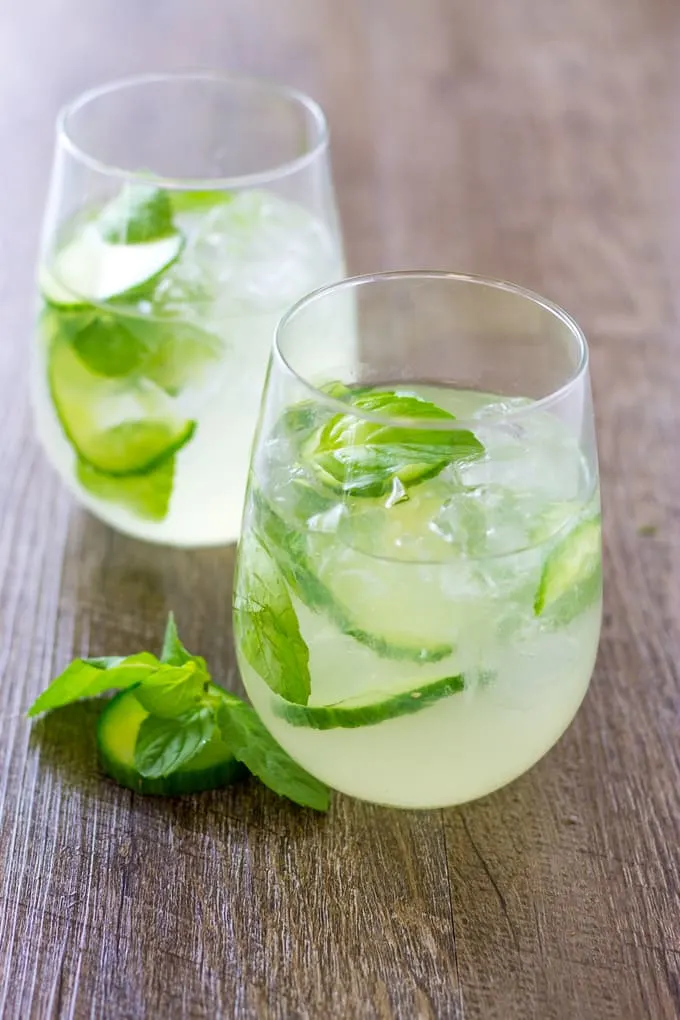 Summer is not over yet and I am still sweating away in Arizona! Trying to stay hydrated and still get my drink on is difficult but this cucumber mint gin cooler is doing the trick.
I am not going to lie and say that I only drink these on the weekends. Day drinking, even weekdays, is a necessity when you are a food blogger.
Under my credentials, it says Jennifer Stewart, Gluttonous Grocery Shopper, Horrible Dresser, Ice Tea Guzzler, Dirty Dish Creator, and now Day Drinker. When am I supposed to do all my recipe tasting?
I can't just write down some ingredients on a piece of paper and hope they taste good before I put them on the interweb!
This post may contain affiliate links. As an Amazon Associate, I earn from qualifying purchases. Read my disclosure policy here.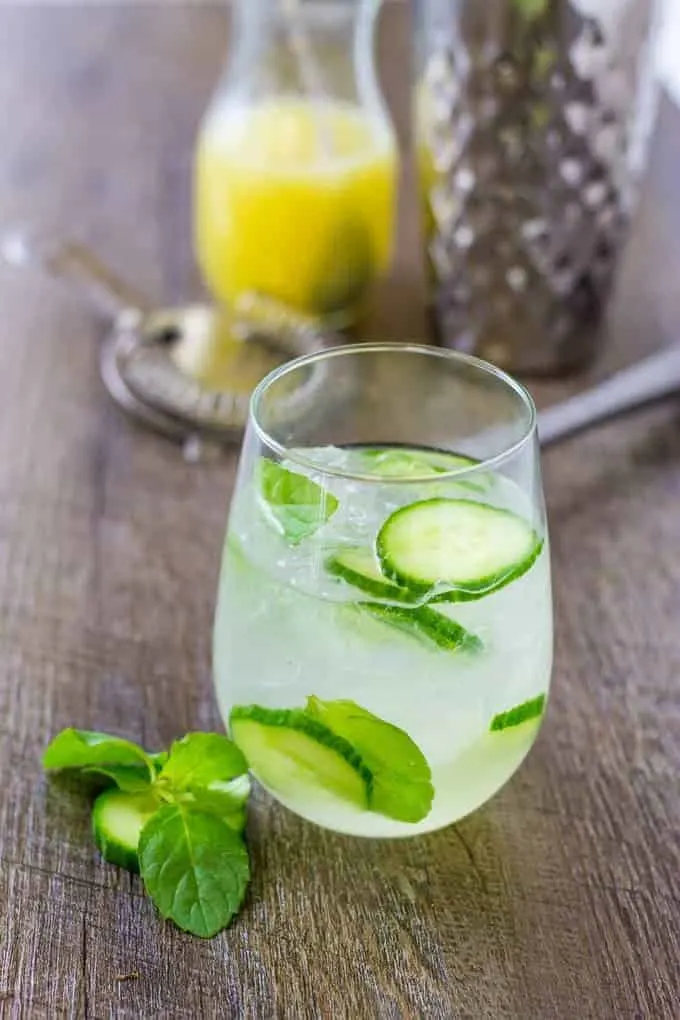 Now don't freak out because this is the first gin cocktail I have made. I have never been a gin drinker but I am not one to turn down the opportunity to try a new spirit. You have to try everything at least once!
Unless you are allergic to it!!! I can't believe I need to state that but there you go.
I even try things that I haven't like previously just to make sure that my taste buds haven't changed because those finicky little buds change all the time.
Look at me over here eating cinnamon and ginger now!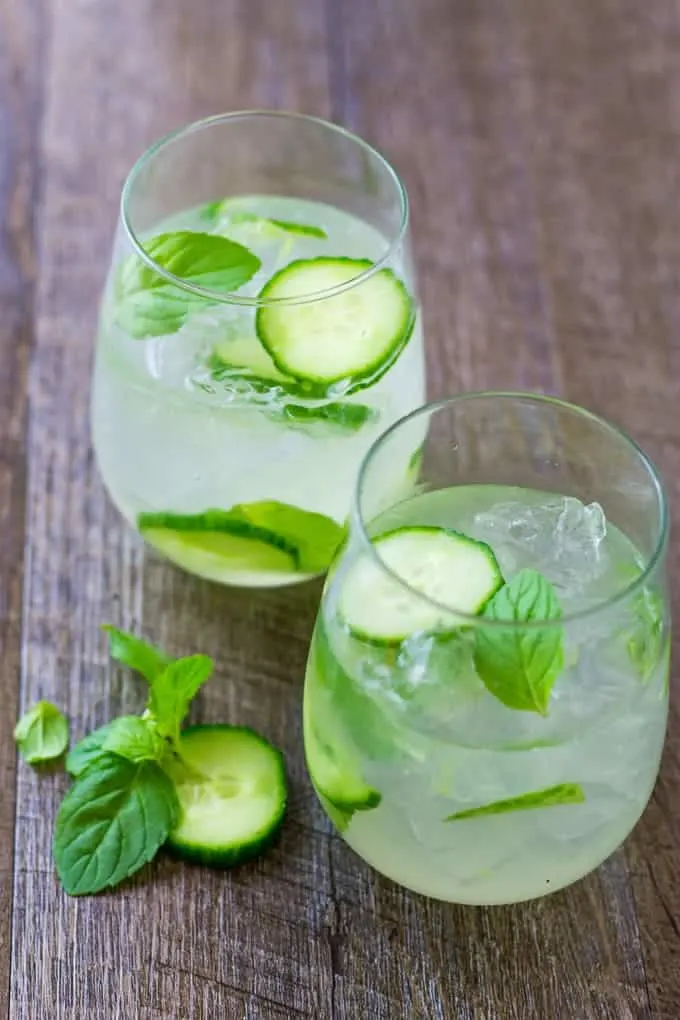 For the full recipe and detailed instructions, please refer to the recipe card at the bottom of the post.
Now, this Cucumber Mint Gin Cooler was a surprise to me when I made it. I have been looking to make a cocktail with gin all summer when I started my 3 Ingredient Cocktail Series.
In the series, I use tequila, beer, bourbon, amaretto, and even prosecco. How have I not used gin before? Oh yeah, not a big fan.
The only time I considered drinking gin was a few years ago when everyone was discussing whether or not to garnish your gin with a cucumber or lime.
Is it cucumber with the Hendrick's and lime with the Bombay Sapphire or the other way around? They discuss it in a controversial movie but I wouldn't know anything about that. *Insert eye roll*
Why is it only one garnish? Why not both? What about the different liquors requires two vastly different garnishes?
Hold on and I will give it a test.
For more insider tips & tricks, and a candid behind the scenes look follow me on social media! Check use out on Pinterest, Facebook, Instagram, & Twitter (yes, people still use Twitter, LOL!)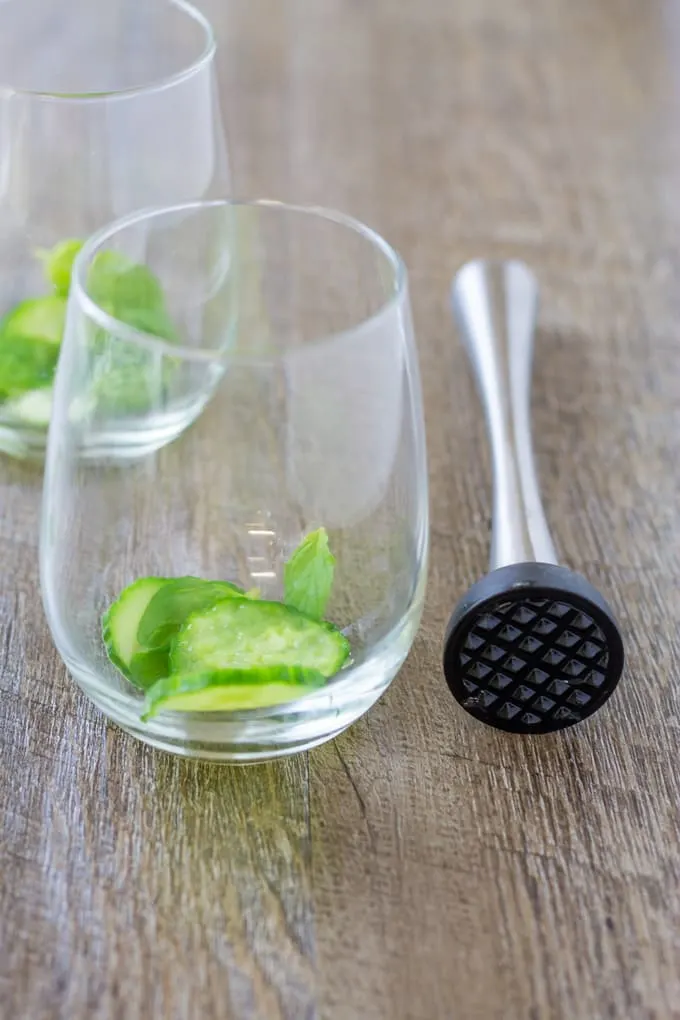 I can see why cucumber is better with the Hendricks. The cucumber is complemented and enhanced with the Hendricks, more so than the Bombay.
Google helped me when I simply searched why you garnish with a cucumber and it answered with Hendrick's uses cucumber when they make their gin.
Boom.
Enough about all that, let's get back to the cocktail.
The Cucumber Mint Gin Cooler came about when I asked my friend Chrissy, who drinks gin, what she likes with hers. She mentioned recently having a cocktail with cucumber and mint.
Having some flavors is a great starting point so I grabbed the gin, cucumber, and mint and headed to the kitchen.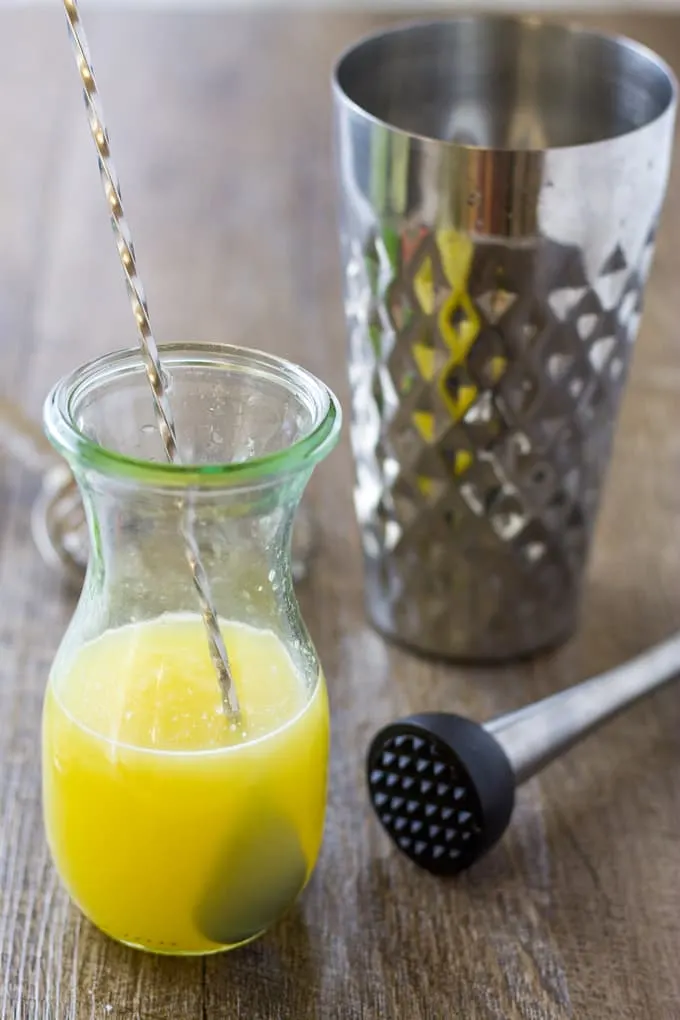 Muddled cucumber, bruised mint, and gin. What next? Let's even it out with some sparkling water because I am not a fan of tonic water. It sounds like something a "healer" from the 1800s would sell.
And it is too bitter with the gin for my taste buds. It needs a little sweetness to even it out.
Lemon-Lime soda (pick your fave) is my go-to cocktail leveler but it is not enough. How about a little sour mix? The other citrus will help round out the cucumber and mint, I feel.
If you love this recipe as much as I do, please write a five-star review in the comment section below (or on Pinterest with the "tried it" button – you can now add pictures into reviews, too!), and be sure to help me share on facebook!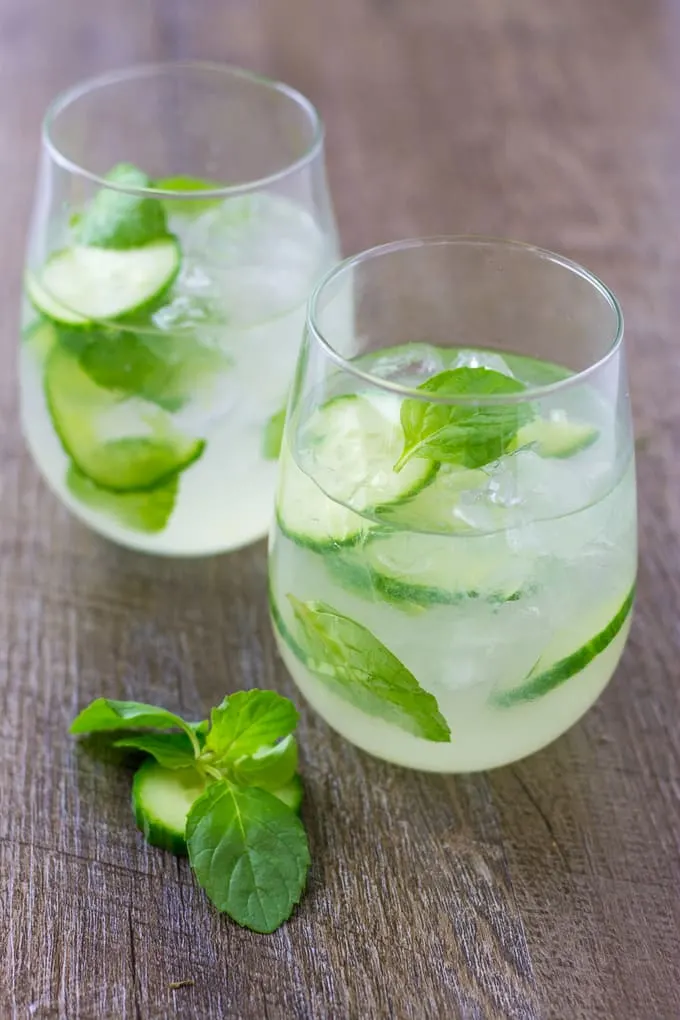 Traditional sour mix tastes so fake so I decided to make my own and use honey instead of regular sugar. BOO-YAH! That little bit of homemade sour mix did the trick.
HOW DO YOU MAKE A HOMEMADE SOUR MIX FOR YOUR COCKTAILS?
First off let's talk about what sour mix is. Sour Mix is a combination of lemon juice, lime juice, and a sweetener. Most store-bought sour mixes are full of sugar and artificial lemon/lime juices and other "natural" flavors.
Forget all that mess and the fake neon color that comes with it. Making homemade is certainly better.
THE RECIPE FOR A HOMEMADE SOUR MIX IS SIMPLE.
Equal parts of water, sugar, lemon juice, and lime juice. For my recipe, I left out the water and just used the juices and the sweetener. Freshly squeezed lemon and lime juices are best so get ready for a marathon session of squeezing that juicer.
Instead of using sugar, I chose raw honey.
If you want to warm a little of the juice it helps the honey to dissolve fully otherwise you will be shaking the mix for a long time. Leaving out the water means that the sour mix is stronger than the premade stuff, so you won't need as much.
This recipe makes 1 cup of homemade sour mix and this recipe only uses 1 tablespoon per cocktail so you will have to store the unused sour mix in the refrigerator until next time!
My Cucumber Mint Gin Cooler with a homemade sour mix is perfect for weekends, nights and even during the day!
MORE EASY APPETIZERS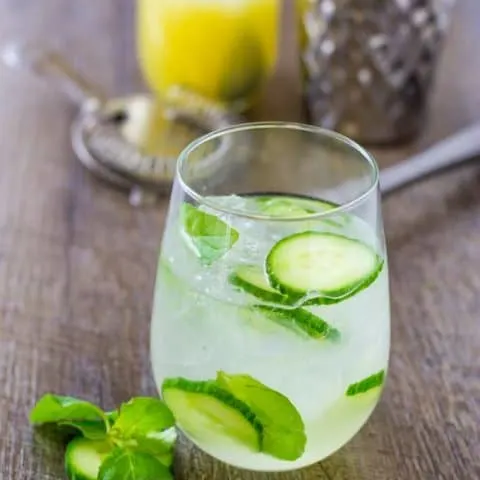 Cucumber Mint Gin Cooler with Homemade Sour Mix
This crisp cucumber mint gin cooler with a homemade sour mix is the perfect way to feel like you are enjoying a spa refreshment but still adulting with a cocktail!
Ingredients
For the Homemade Sour Mix
1/2 cup lemon juice (fresh squeezed)
1/2 cup lime juice (fresh squeezed)
2 tablespoons honey
For the Cucumber Mint Gin Cooler
2 ounces gin
8 ounces sparkling water
1 ounce of homemade sour mix
3 cucumber slices
4 mint leaves
mint and cucumber (for garnish)
Instructions
Make the homemade sour mix
Combine the honey and the juices together in a closeable container and shake the mess out of it.
The honey will be thick so make sure you get it all combined.
Store this in the fridge for up to 2 days.
To make the Cucumber Mint Gin Cooler
Muddle the cucumber slices and mint in the glass.
Add ice to the glass.
In a separate shaker or container, combine the gin, sour mix, and sparkling water.
Stir to combine.
Pour over the ice and stir or mix by pouring into another glass and then back into the first one.
Garnish with cucumber slices and mint sprigs.
Notes
*If you like this recipe, please leave me a comment and rate it with some stars. Thank you!
Nutrition Information:
Yield:

1
Serving Size:

1
Amount Per Serving:
Calories:

425
Total Fat:

1g
Saturated Fat:

0g
Trans Fat:

0g
Unsaturated Fat:

0g
Cholesterol:

0mg
Sodium:

60mg
Carbohydrates:

80g
Fiber:

6g
Sugar:

54g
Protein:

5g
This nutrition information was generated via a third party, Nutritionix, and can not be held liable for any discrepancies in the information provided.
TakeTwoTapas.com. Content and photographs are copyright protected. Sharing of this recipe is both encouraged and appreciated. Copying and/or pasting full recipes to any social media is strictly prohibited.