Forget the vodka and the tequila, this Bloody Marianne contains bourbon and a few other secret ingredients to bring you maximum flavor with a fancy twist!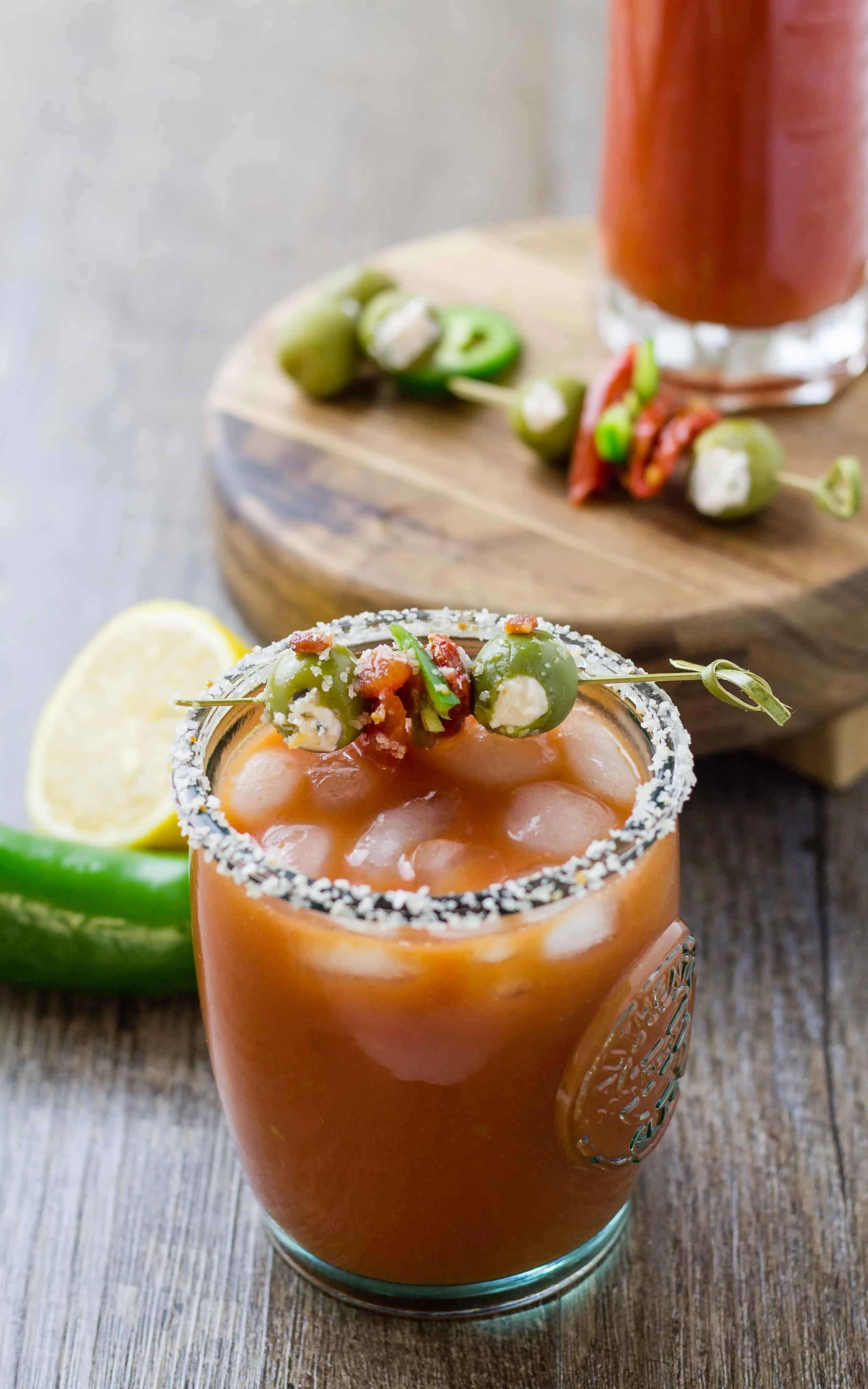 How long does it take a food blogger to name their recipe? The answer today is 3.5 hours and ten names. Not every recipe takes that long but this one sure did.
Believe it or not, I was not drinking 10 cocktails while this dilemma was taking place but by the end, I was desperately wanting 10 of them. Want to hear the tale of 10 names?
It ends with the name Bloody Marianne as you can clearly see, but it took a while to get there.
A Bloody Marianne is a gourmet twist on a Bloody Mary
This is where the whole thing started. It's cocktail Friday and I have been slipping on actually getting my cocktail recipes out early on Fridays, I guess the holiday stress is finally crushing me, but I wanted to get this week's out early.
As you can see, it's late on Friday and the reason for the late post is 10 names long.
A Bloody Mary typically consists of tomato juice, vodka, lemon juice, Worcestershire sauce, horseradish, and a dash of hot sauce. There are plenty of Bloody Mary Mixes on the market and I have my favorite but a homemade Bloody Mary is the best.
The flavors come through clearer and you can customize the amount of Worcestershire, hot sauce, and horseradish thus controlling the heat.
I prefer mine very spicy but I'm here to tell you about my special twist not my love of hot sauce.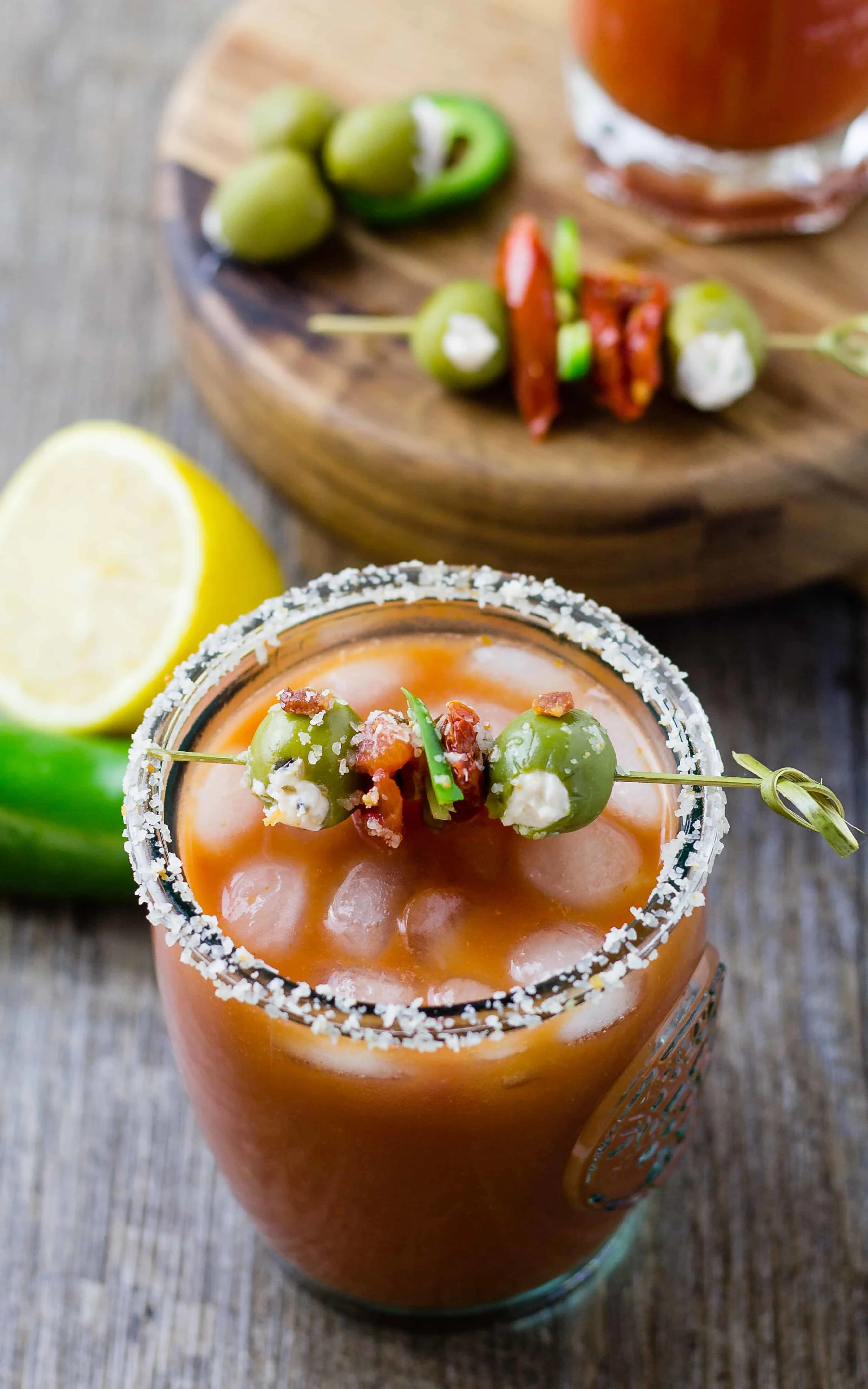 Vodka, Tequila, or Bourbon?
A Bloody Mary is made with vodka but there is also a Bloody Maria which is a Bloody Mary but with tequila. When I make the latter version I use lime juice instead of lemon and a little more jalapeno.
These versions are equally delicious but I am not sure their choice of alcohol goes with my special ingredient, Sun-Dried Tomatoes.
When I open my liquor cabinet and decide which spirit direction I'm going to take the bourbon is front and center. I hesitate and then think, why not because I also drink Micheladas which are cocktails made with tomato juice and beer.
The sun-dried tomatoes I add to the tomato juice bring an extra depth of tomato flavor but also a little sweetness to the acidic tomatoes. They also compliment the bourbon nicely too.
Adding sun-dried tomatoes makes these Bloody Marianne cocktails a little fancy so they require a fancy garnish. Goat cheese pairs well with sun-dried tomatoes as I see in so many cheeseball combinations so I feel the typical olive garnish needs to be stuffed with cheese.
Spicy sun-dried tomato goat cheese. BOOM!
This post may contain affiliate links. As an Amazon Associate, I earn from qualifying purchases. Read my disclosure policy here.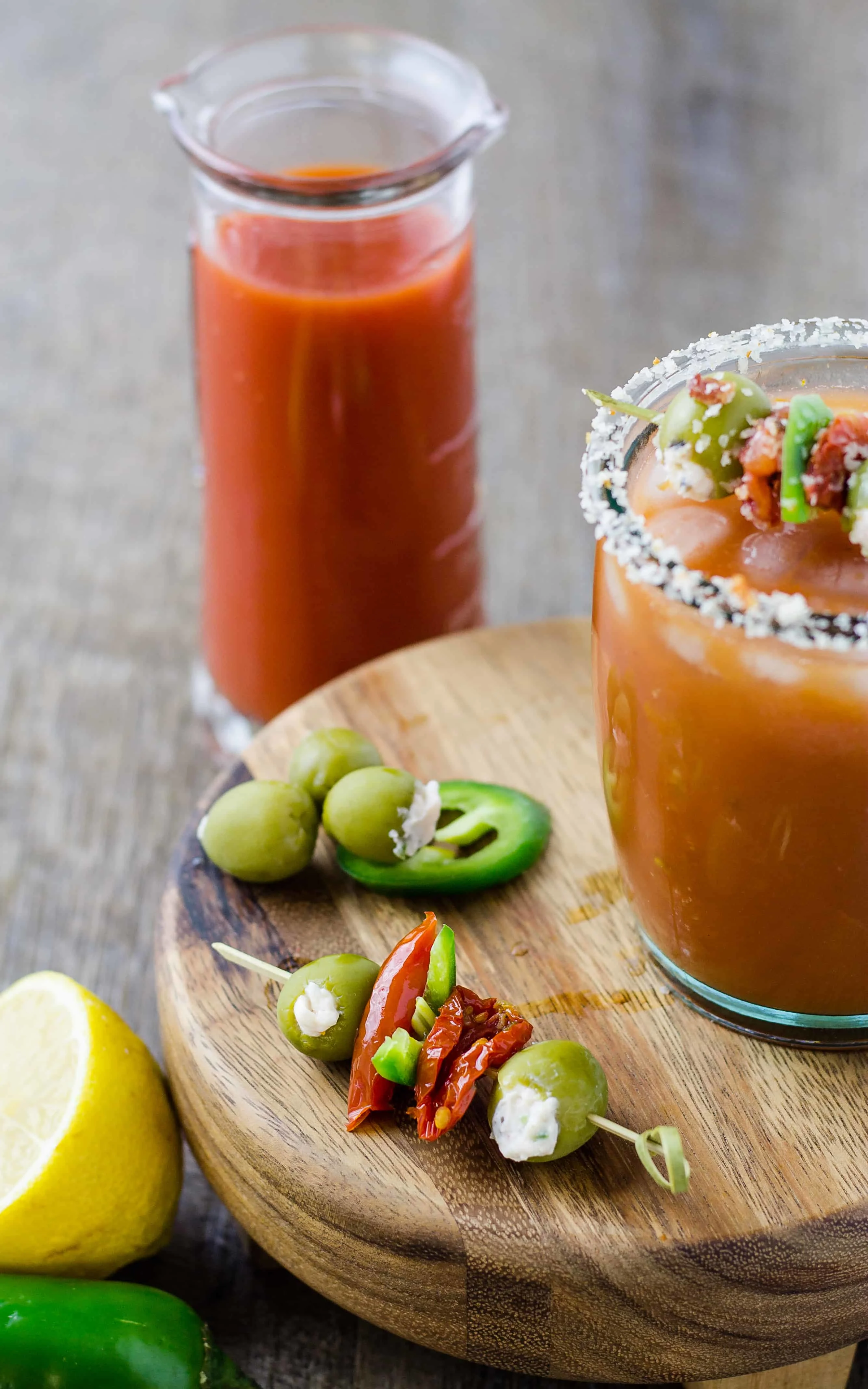 Ten names and over 3 hours
What do I call my new version of a Bloody Mary? My original thought was a male name because of the bourbon addition. I want the name to be similar to Mary and Maria so I start throwing around Michael, Matt, Mark. Nothing seems to fit so I ask my friends for help.
They help with recipe testing why not recipe naming?
They give me Mario, Marvin, Merlin, and Maximillian. All good but so far everyone I have asked is female, so maybe I should ask a male and get his perspective on my male Bloody Mary.
After their input, I add Maximus and Manny to the list. That's 9 names to choose from time to start narrowing them down. This is when the technical aspect of blogging comes into play.
Which one sounds the best? What will readers search for? What looks good in a picture? Do any of them sound outrageous? Then I get more input from the men.
For more insider tips & tricks, and a candid behind the scenes look follow me on social media! Check use out on Pinterest, Facebook, Instagram, & Twitter (yes, people still use Twitter, LOL!)
A male take on my bourbon Bloody Mary…
The men are excited to try my bourbon version and ask me how many strips of bacon, beef jerky, and beef sticks are in it. I have bacon salt on the rim but technically none because the garnish is a skewer of sun-dried tomatoes, jalapenos, and goat cheese stuffed olives.
I'm met with laughs and a declaration that the garnishes are a little "light" and not really befitting of a male Bloody Mary. All of the names on my list demand ginormous, manly, meaty, over-the-top garnishes so I need to pick a different one.
I switch my attention back to feminine names for my Bourbon Bloody Mary because who says a woman can't drink a bourbon cocktail. The sun-dried tomatoes I add to the Bloody Mary are Italian in nature so I search for an Italian version of Mary.
Maria is one, along with Miriam and Marianne but Marianne feels like a fancy version of Mary. 10 names and 3.5 hours later, Bloody Marianne, it is!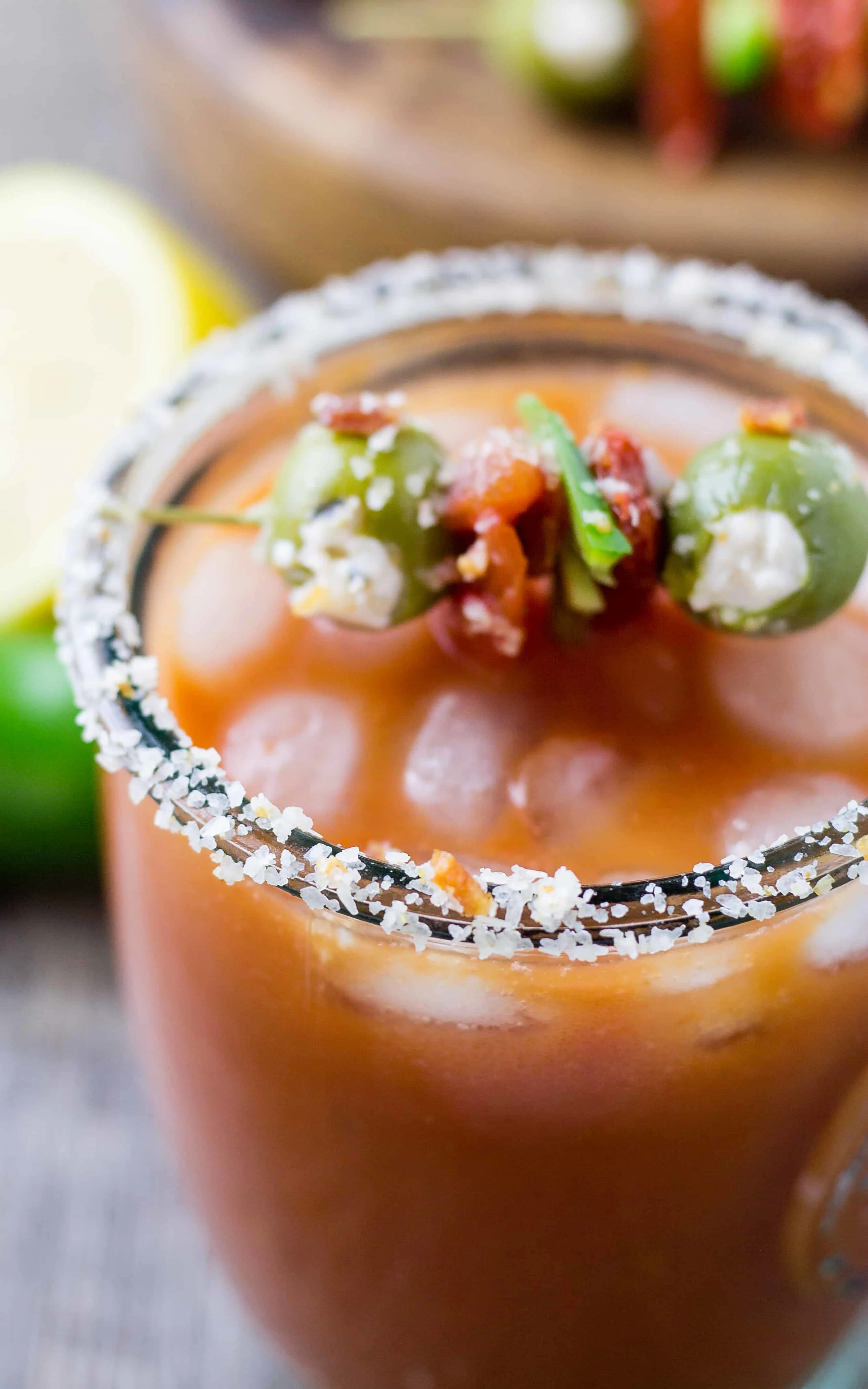 Right now I am wishing I had 10 Bloody Marianne Cocktails so I can forget the last 3.5 hours of stress and just finish writing this post so you can start making one too.
By the way, the Bloody Marianne version works well as a Bloody Mary Shot too!
More Party Essentials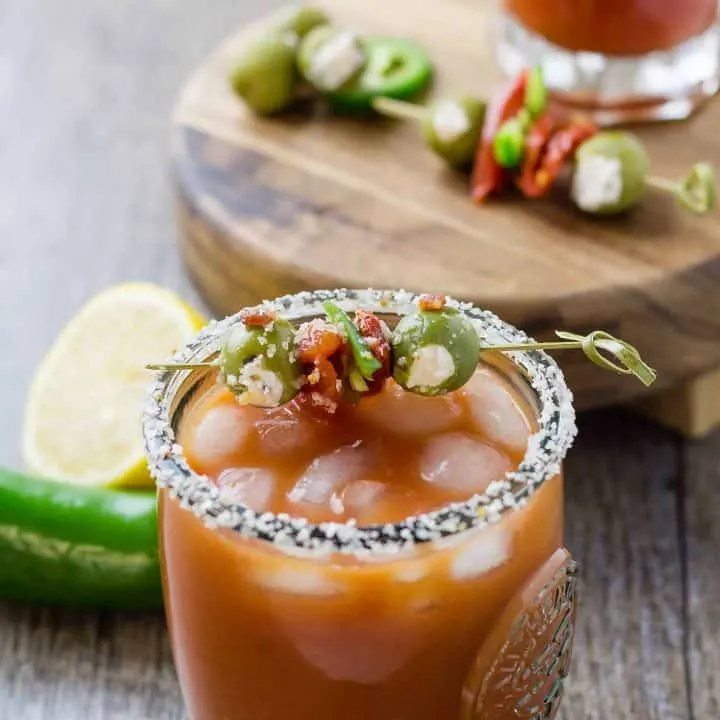 Bourbon Bloody Mary
Forget the vodka and the tequila, my Bloody Marianne contains bourbon and a few other secret ingredients to bring you maximum flavors!
Ingredients
For the Goat Cheese Stuffed Olives
2 ounces goat cheese
1/8 teaspoon celery salt
2 sun-dried tomatoes (chopped fine)
1/8 teaspoon fresh jalapeno (chopped fine)
For the Bloody Marianne
10 ounces tomato juice
4 ounces bourbon
6 dashes Worcestershire sauce
4 dashes hot sauce
2 ounces lemon juice
1 dash celery salt
5 sun-dried tomatoes (chopped)
olives (pitted for garnish)
4 sun-dried tomatoes (for garnish)
2 slices fresh jalapeno (for garnish)
bacon salt (optional garnish)
Instructions
Make the Goat Cheese Stuffed Olive Garnish
Mix together the goat cheese, celery salt, chopped jalapeno, chopped sun-dried tomato.
Pipe or stuff with a spoon the goat cheese mixture into olives.
Skewer the olives, sun-dried tomatoes, and jalapeno slices for complete the garnish.
Prepare the Bloody Marianne
In a blender, combine the tomato juice, sun-dried tomatoes, lemon juice, Worcestershire, hot sauce, bourbon, and celery salt.
Blend to puree the sun-dried tomatoes with the other ingredients.
Rim two glasses with bacon salt if desired.
Add ice to the glasses.
Pour the Bloody Marianne over the ice into the two glasses.
Garnish with Goat Cheese Stuffed Olive Garnish.
Enjoy with a friend!
Notes
If you like this recipe, please leave me a comment and rate it with some stars. Thank you!
Nutrition Information:
Yield:

2
Serving Size:

1
Amount Per Serving:
Calories:

352
Total Fat:

13g
Saturated Fat:

6g
Trans Fat:

0g
Unsaturated Fat:

6g
Cholesterol:

30mg
Sodium:

1332mg
Carbohydrates:

15g
Fiber:

3g
Sugar:

9g
Protein:

14g
This nutrition information was generated via a third party, Nutritionix, and can not be held liable for any discrepancies in the information provided.
TakeTwoTapas.com. Content and photographs are copyright protected. Sharing of this recipe is both encouraged and appreciated. Copying and/or pasting full recipes to any social media is strictly prohibited.