This Kiwi Mint Mojito brings the sweet and tart flavors of fresh kiwi and bright mint with a white rum. Perfect for front porch sitting or poolside sunbathing!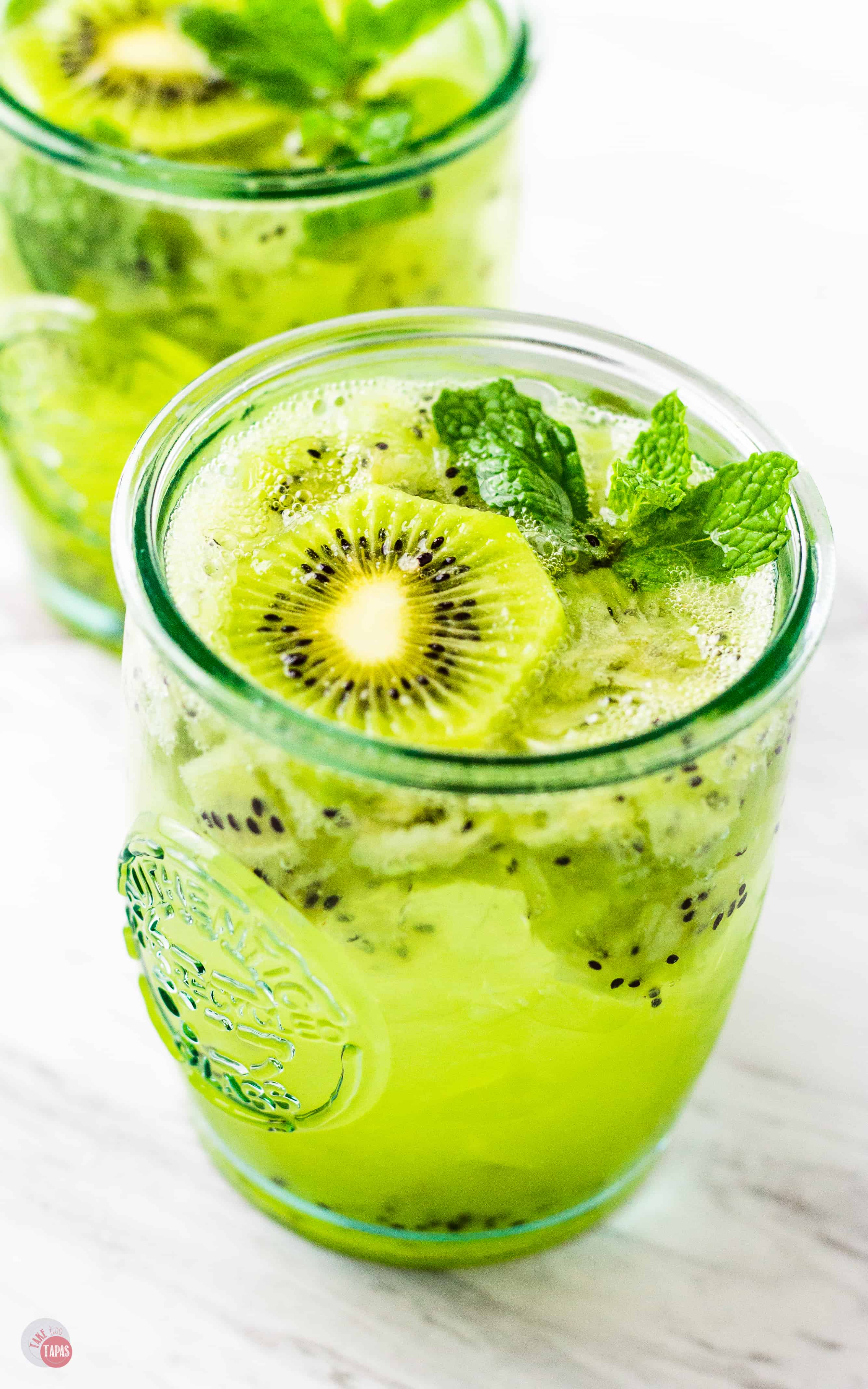 Let's talk mojitos for a moment. This classic cocktail, born in Havana, Cuba, is completely underrated in my opinion! I'm not usually one for a rum drink unless I am in the Caribbean itself because they make the most amazing rum, but a good mojito can really convert me to a full-time rum girl.
Tequila is my vice of choice these days and you could make a "Mexican" mojito with tequila but because of the mint, I would not recommend it. Let's stick with the rum!
A classic mojito recipe
A classic mojito recipe consists of 8 mint leaves, 1 ounce of lime juice, 2 tablespoons sugar, 2 ounces white rum, topped off with club soda. You start by muddling the mint leaves and lime wedges where you get your juice together. Muddling releases the oils from the mint leaves and lime peel to get the "juices" flowing.
Then you add more lime wedges and sugar and muddle again. The texture of the sugar helping to break them down even more.
Next, you add some ice, pour in your rum, and top with club soda. Stir and enjoy, right?
Not so, right!!!

If you'd rather skip my essential cooking tips and tricks and get straight to this delicious recipe – simply scroll to the bottom of the page where you can find the printable recipe card.
How to Make a Mojito
First, I don't like adding actual lime wedges to muddle as the pith (or white part of the lime peel) breaks off and gets bitter and I hate that. I juice my limes and then leave a pretty wedge for a garnish if necessary. That's what my perfectly good citrus juicer is for!
Next, I do not like to add straight raw sugar to any drink. It's like when someone makes sweet tea and pours the bag of sugar into the hot tea and it never fully dissolves so you are chewing the gritty sugar when you should be enjoying your tea. YUCK! I always make a simple syrup for my cocktails and even my iced tea.
*Party tip* If you are serving tea, make it all unsweet and add a little jar of plain simple syrup to the table so people can sweeten their own tea and you don't have to have two pitchers of tea! This also works for cocktails too. Some like theirs sweeter than others.
So no granulated sugar floating around your cocktail glass! Before I move on let me say that the simple syrup in this Kiwi Mint Mojito is a jalapeño simple syrup. I love the slight heat that I get with it and it tempers the sweet and tart of the kiwi. If you are not a jalapeño fan, then just use plain simple syrup or Rose's Sweetened Lime Juice.
Lastly, you add the rum and club soda, stir and enjoy. Enjoy yes, but I also don't want large mint leaves floating around getting stuck in my teeth or clogging up my straw! Who wants that? Not this girl!!
I use a cocktail shaker and strain out the lime wedges and mint leaves, the only exception being fresh fruit like in this kiwi mint mojito.
This post may contain affiliate links. As an Amazon Associate, I earn from qualifying purchases. Read my disclosure policy here.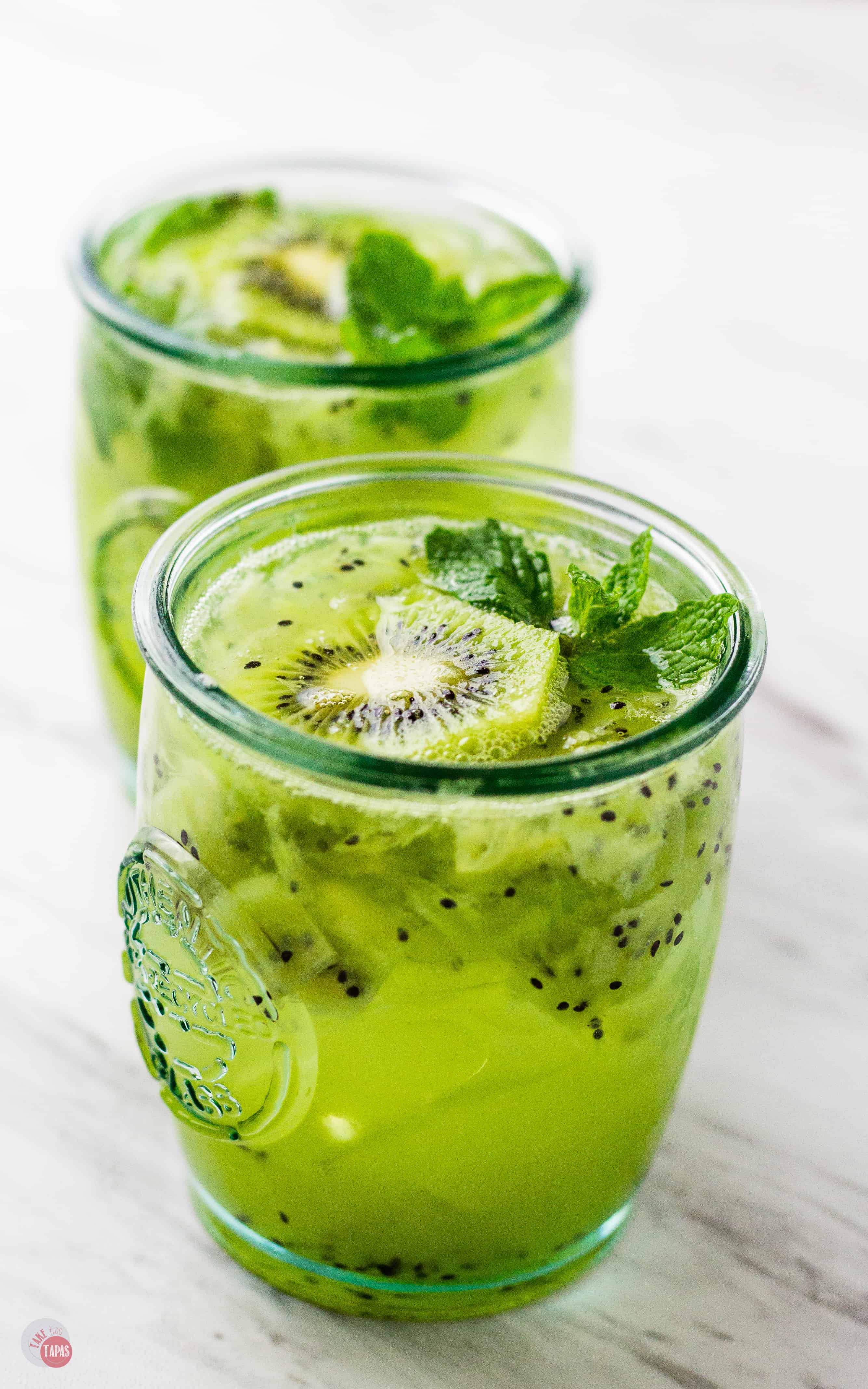 For more insider tips & tricks, and a candid behind the scenes look follow me on social media! Check use out on Pinterest, Facebook, Instagram, & Twitter (yes, people still use Twitter, LOL!)
The proper way to make a fruit mojito
I use my muddler or a spoon to mash the kiwi first and add that to my cocktail glasses. Next, I add the mint and simple syrup to my cocktail shaker and muddle the mint leaves.
Once the mint leaves have released all their minty goodness, I add the rum and shake. I strain the mint, syrup, and rum into my glasses with the kiwi and top with sparkling water.
So mint leaves in my teeth or stuck up my straw. I might get a few kiwi chunks in there but that's ok.
Let me say this also, if you like club soda, by all means, use it. I find it has a salty taste to it so I prefer sparkling water. Plus then I feel healthy AF because I am getting more water in my body:)
Sparkling water also comes in a variety of cool flavors so I prefer a lime one when I am using lime in my cocktails. I love coconut sparkling water too, like the one I used in my Blackberry Coconut Splash.
Start off your fruit mojito journey with this Kiwi Mint Mojito and use it as a jumping off point to try other fruits that you love!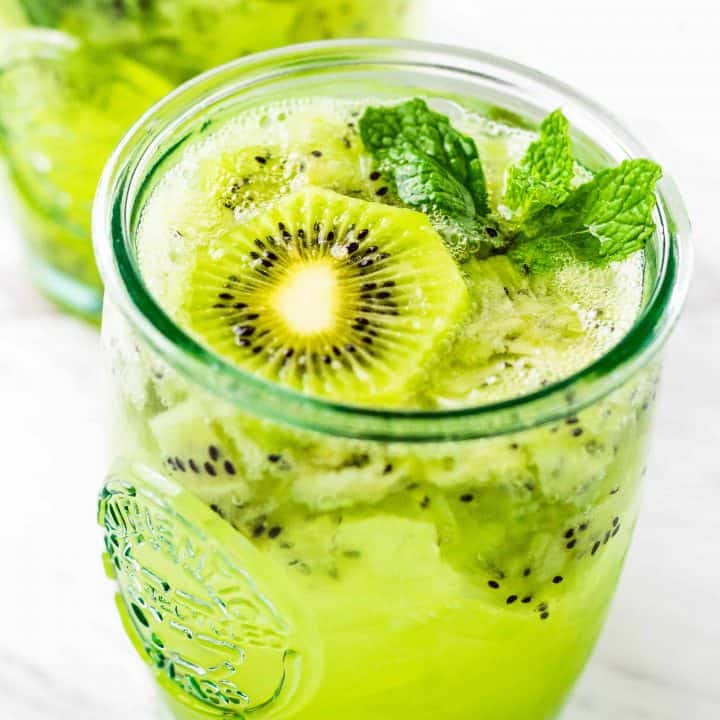 Kiwi Mint Mojito
This Kiwi Mint Mojito brings the sweet and tart flavors of fresh kiwi and bright mint with a white rum. Perfect for front porch sitting or poolside sunbathing!
Ingredients
3 kiwi (peeled, sliced)
7 mint leaves
1.5 ounces fresh lime juice (3 tablespoons)
2 ounces jalapeño simple syrup (see notes)
2 ounces white rum
8 ounces sparkling water (lime flavored)
Mint leaves for garnish
Instructions
In a tall glass or cocktail shaker, place the kiwi slices, reserving a few for garnishing, and muddle or smash with a spoon until only a few pieces remain.
Divide the muddled kiwi between two cocktail glasses.
Add ice to the glasses.
In the shaker, add the lime juice, mint leaves, and jalapeño simple syrup.
Muddle the mint leaves in the juices.
Stir or shake to combine.
Add the rum and mix one more time.
Divide this mixture into the two glasses with kiwi and ice.
Pour 4 ounces sparkling water into each glass.
Garnish with kiwi slices and a few mint sprigs.
Enjoy!
Notes
*If you like this recipe, please leave me a comment and rate it with some stars. Thank you!
Nutrition Information:
Yield:

2
Serving Size:

1
Amount Per Serving:
Calories:

153
Total Fat:

1g
Saturated Fat:

0g
Trans Fat:

0g
Unsaturated Fat:

1g
Cholesterol:

0mg
Sodium:

19mg
Carbohydrates:

21g
Fiber:

6g
Sugar:

10g
Protein:

3g
This nutrition information was generated via a third party, Nutritionix, and can not be held liable for any discrepancies in the information provided.
©TakeTwoTapas.com. Content and photographs are copyright protected. Sharing of this recipe is both encouraged and appreciated. Copying and/or pasting full recipes to any social media is strictly prohibited.