If you are not a beer drinker this Shandy cocktail will change your mind! A mix of Satsuma Orange rum liqueur, orange juice, and Blue Moon beer make the perfect orange Shandy for breakfast or after dinner!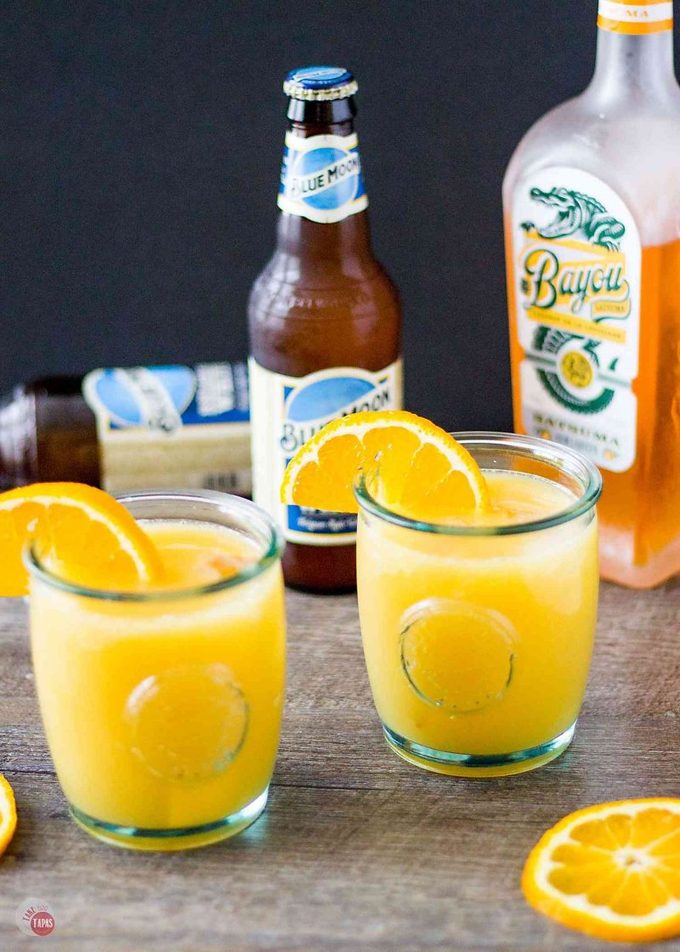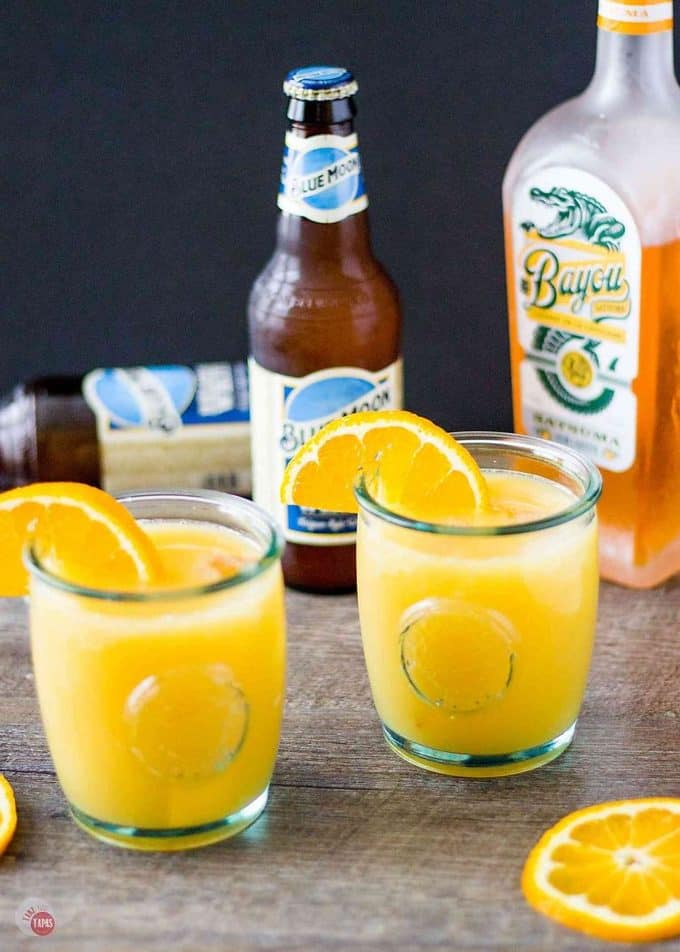 Beer Cocktails
Beer will never be the same again. Thank goodness because I have never been a beer drinker. Not because I don't like the taste, but because I can't really handle the bubbles. Yes, I said bubbles. Burping is the problem. I have a hard time burping and at the rate I can throw back some drinks, too many bubbles make for a very upset tummy. A flat beer would be great! Because no one wants a flat beer like me or makes a flat beer, I found a new way to drink it, and it is called an Satsuma Shandy.
Making cocktails is quickly becoming my favorite pastime. After recently whipping up a series of cocktail shots, one for each day of the week, I am loving studying mixology!
Starting with a White Russian Shot on Monday because everyone needs something strong at the end of a Monday. Then I ended the week with a Bloody Mary Shot for Sunday. Perfect for brunching!!
What is a Shandy Drink?
Back to the shandy… If you have never heard of a shandy cocktail, let me break it down for you. Pick a soda or juice and mix it with a beer. I also like to mix mine with a liquor too. Ever heard of a beergarita? Beer and margarita? YES PLEASE!!! But that is all a shandy is. Simple as that!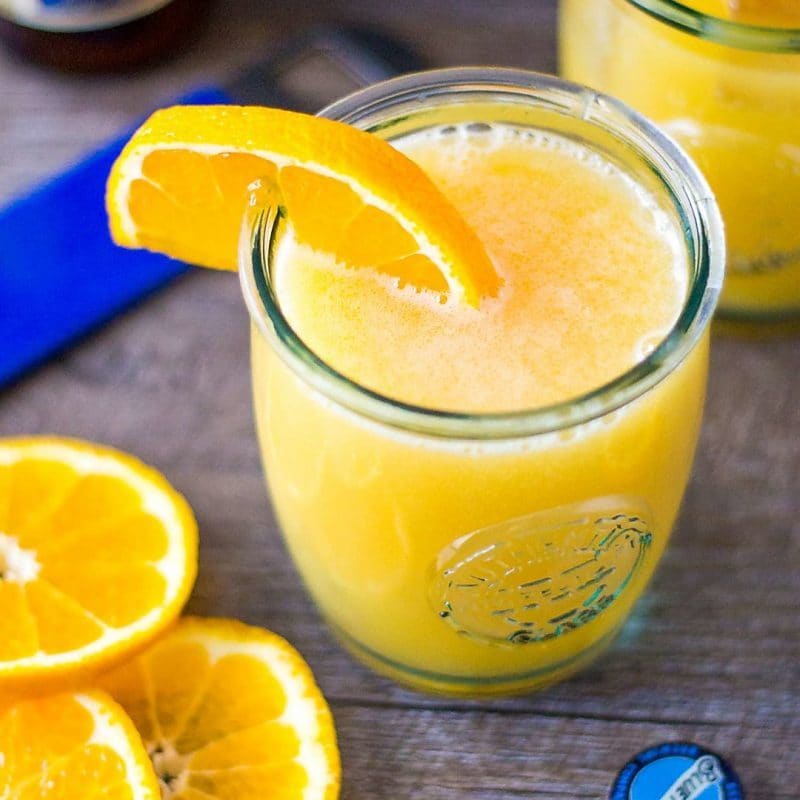 If you'd rather skip my essential cooking tips and tricks and get straight to this delicious recipe – simply scroll to the bottom of the page where you can find the printable recipe card.
On my most recent trip to Phoenix, I had a few tequila and orange juice cocktails on the plane and quickly fell in love! I was drinking them at a pretty face pace because I had an unaccompanied minor behind me screaming and kicking my seat for 3 hours.
But once I started drinking them, I forgot how much I loved orange juice (and I forgot all about that out of control child.) And think of all the vitamin C I got on that trip!
I even started drinking them here at home and boy were the kids happy that I started buying orange juice again. I had to quit for a while because they were drinking it so fast and leaving the blasted cartons in the fridge with less than a sip of it left. Can ya feel me, moms?
This post may contain affiliate links. As an Amazon Associate, I earn from qualifying purchases. Read my disclosure policy here.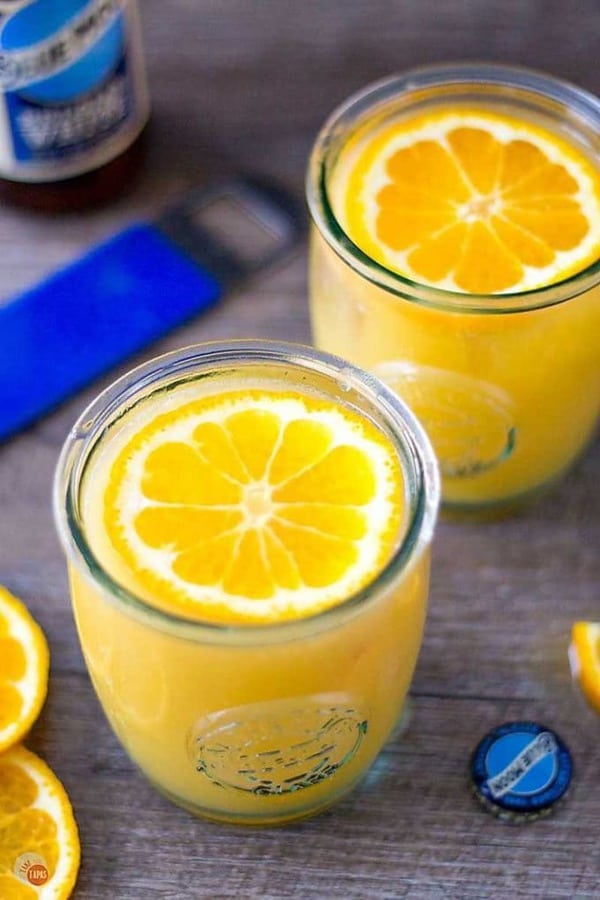 Best Beer For a Shandy?
What would a beer taste like mixed with orange juice? Let's try it now as I happen to have a few Blue Moon beers in the party fridge out back. Bartenders always serve or garnish Blue Moon with an orange, and when you mix in the orange juice, it counts as healthy, right?
Let's just go with that.
I recently discovered a Satsuma Orange Rum Liqueur, which is a rum with satsuma orange flavors and is slightly thicker than just plain rum. I have been enjoying it with Sprite for a cocktail that I will be sharing with you next week!
Satsuma Shandy Recipe
Being that I am swimming in orange flavors with the orange juice and the hints of satsuma in the beer, I thought I might add a bit of this to my orange shandy to up the orange factor even more. The rum also ups the alcohol factor just a tad so be careful when you partake.
You might think you are having orange juice at breakfast and it will hit you in the end. This satsuma shandy recipe makes two drinks but I had both of them myself a few days ago. It was a good morning:)
For more insider tips & tricks, and a candid behind the scenes look follow me on social media! Check use out on Pinterest, Facebook, Instagram, & Twitter (yes, people still use Twitter, LOL!)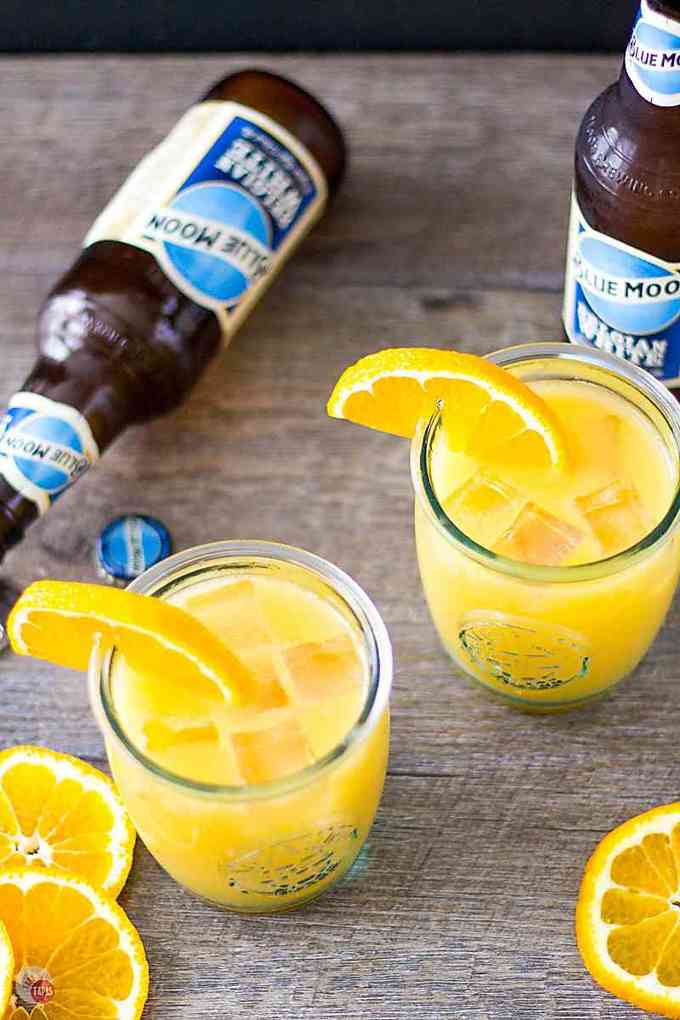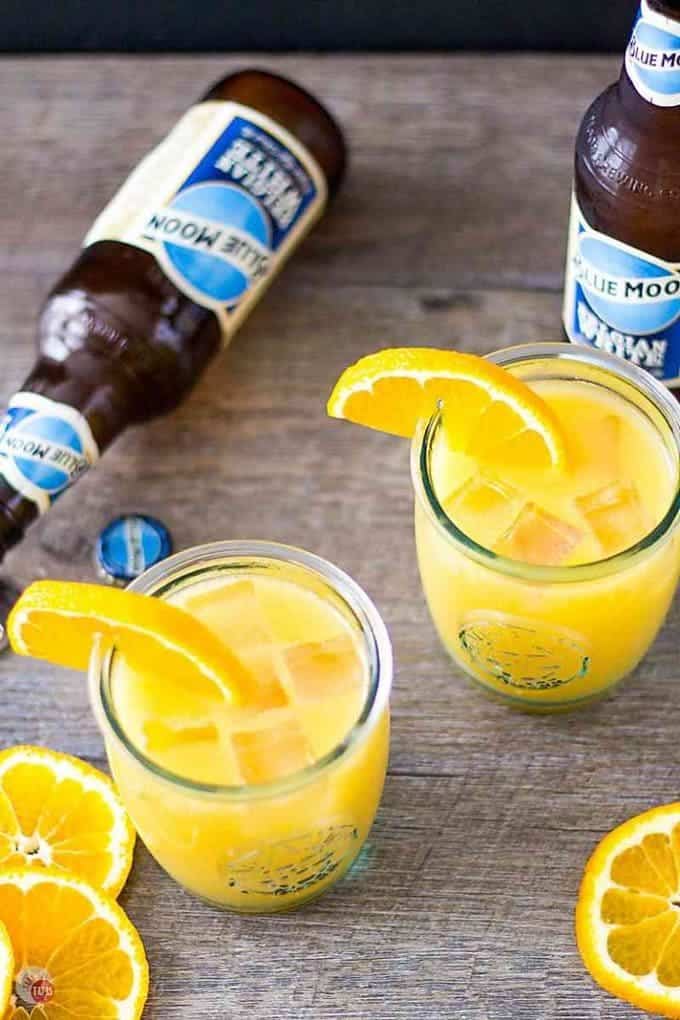 Garnish the orange shandy with an orange wedge or a slice. I think the orange slice is cleaner looking and keeps the ice from falling on your face. Either way, you will want this drink pronto! My only question is do you want to make one or two? And if you are making two, who are you sharing it with?
Easy Orange Shandy Recipe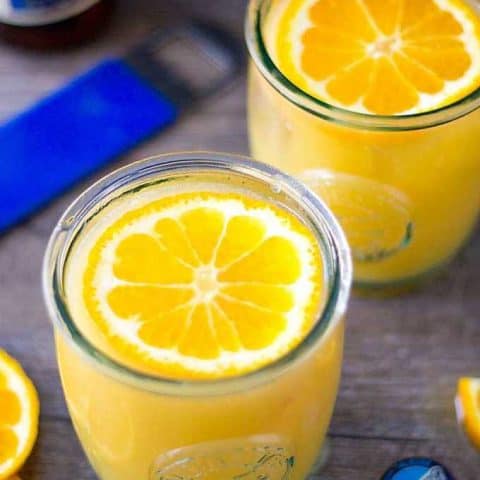 Satsuma Orange Shandy Cocktail
If you are not a beer drinker this Shandy cocktail will change your mind! A mix of Satsuma Orange rum liqueur, orange juice, and Blue Moon beer make the perfect orange Shandy for breakfast or after dinner!
Ingredients
12 ounces orange juice
1.5 ounces Satsuma Orange Liqueur
12 ounces Blue Moon beer
Orange wedges or slices for garnish
Instructions
Mix the orange juice and orange rum liqueur together in a large glass or shaker.
Divide into two glasses with a few ice cubes.
Open the beer and divide between the two glasses.
Give the glasses a quick stir.
Garnish with an orange wedge or orange slice.
Enjoy!!
Notes
*If you like this recipe, please leave me a comment and rate it with some stars. Thank you!
Nutrition Information:
Yield:

2
Serving Size:

1 cocktail
Amount Per Serving:
Calories:

240
Total Fat:

0g
Saturated Fat:

0g
Trans Fat:

0g
Unsaturated Fat:

0g
Cholesterol:

0mg
Sodium:

10mg
Carbohydrates:

35g
Fiber:

1g
Sugar:

24g
Protein:

2g
This nutrition information was generated via a third party, Nutritionix, and can not be held liable for any discrepancies in the information provided.
@TakeTwoTapas.com. Content and photographs are copyright protected. Sharing of this recipe is both encouraged and appreciated. Copying and/or pasting full recipes to any social media is strictly prohibited.
This recipe inspired by Plain Chicken.