Last updated on September 13th, 2019 at 08:08 pm
Easy pickled asparagus spears take only a few minutes of prep and give you a crisp-tender snack and a tangy addition to a relish tray or cheese board!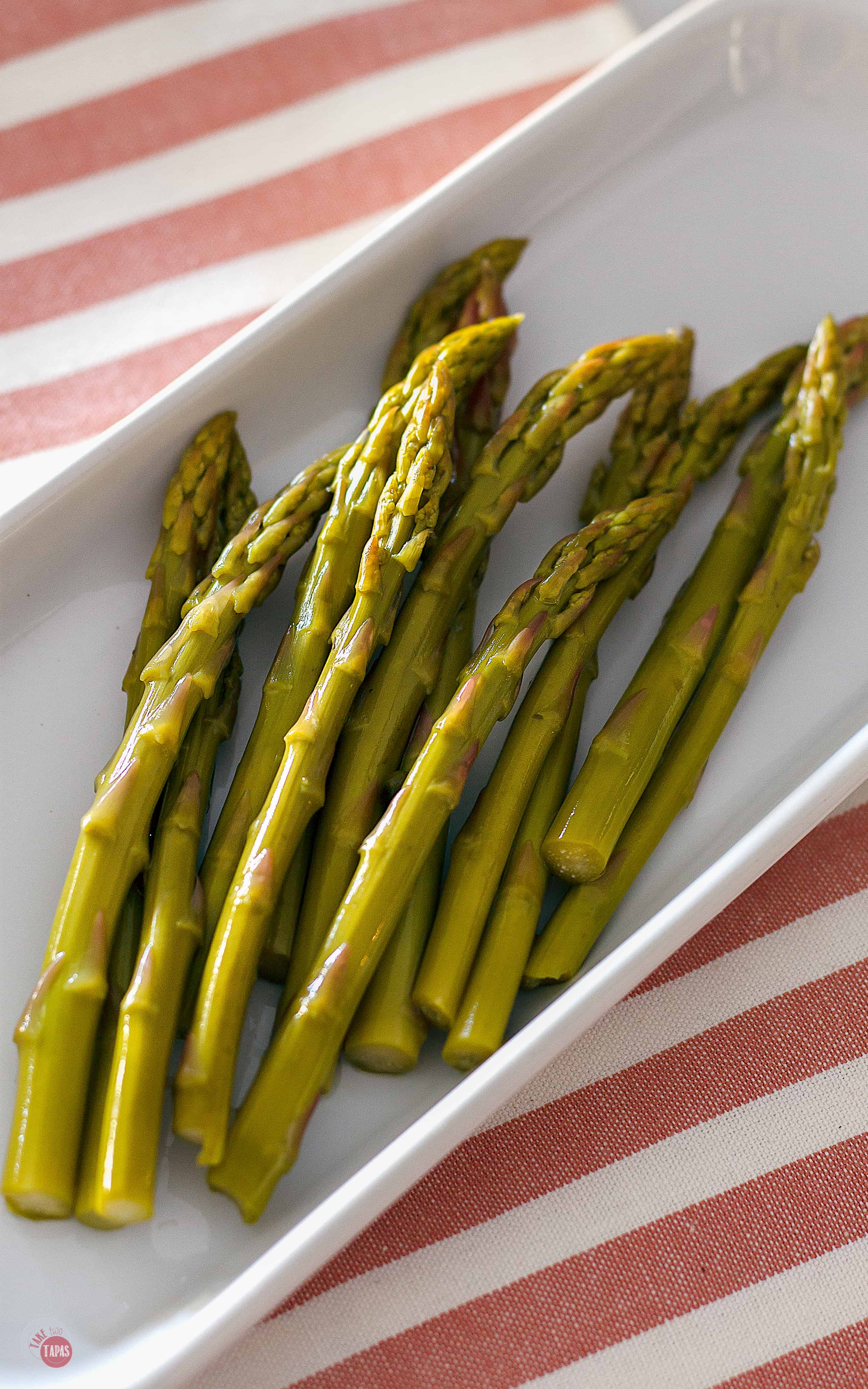 Pickled Asparagus Recipe
Did you grow up eating asparagus? I didn't, but only because my mom always served it from a can. She had a few tricks for spicing up the canned asparagus recipe, but I never liked the "smushy" texture and weird aroma that the canned asparagus spears would emit, so I steered clear from them. Little did I know that I would grow to love asparagus spears, just with a different preparation.
As I grew up and my taste buds evolved, I grew to love asparagus. The thing I love about them the most is their crisp-tender texture. I typically prepare my asparagus spears by roasting them in the oven with some olive oil and salt which is the best recipe for asparagus spears.
The oven brings out the flavor of the tender spears, all while maintaining that amazing texture. But what if you are in the mood for pickled asparagus? Or have a relish tray that requires some asparagus spears but not the soggy kind? Believe it or not, you can get crispy pickled asparagus spears with just a few steps. And no soggy can mess!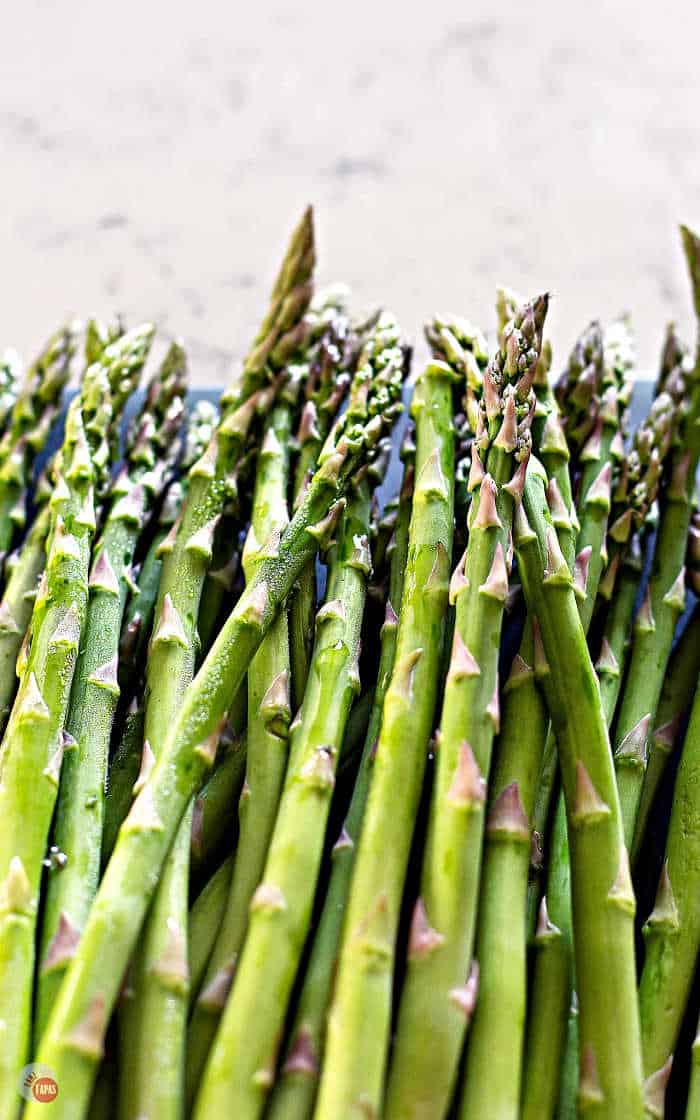 Just take me to the Easy Pickled Asparagus Recipe Already!
If you'd rather skip my (very helpful, I think) tips and tricks, essential cooking info, and similar recipe ideas – and get straight to this delicious Easy Pickled Asparagus recipe – simply scroll to the bottom of the page where you can find the printable recipe card.
Just like any recipe for quick pickled vegetables, you need to start with prepping the asparagus spears. And no you don't just hack off the woody bottoms of the stalks, you have to snap your asparagus spears to know where the tough part ends and the tender part of the asparagus beings.
Where do you snap asparagus spears?
Start by washing and drying the fresh asparagus spears, paying close attention to the delicate tops. You want clean asparagus before pickling. If any part of the tip is mushy or slimy, it's not going to work for this recipe. Trim that spear and save it for soup stock. I save all my trimmed ends for that purpose already.
Depending on how thick the asparagus stalk is, peeling is not necessary. If your spear is on the thicker side, you can gently peel a little of the skin off with a vegetable peeler. Now you are ready to snap the asparagus. Snapping ensures you only trim off the part that is too tough.
When I snap the spears, I hold the asparagus stalk on either end and start to bend slowly. The stalk will snap at the place along the spear where it gets tender. My mom started by snapping one or two spears, lining them up with the tips of the rest of them and trimming the rest of the pack at that location.
I have had my asparagus spears snap at a wide range of places even though they are all the same size and diameter. I trust nature more than myself, so I snap all my spears individually. But by all means, snap one or two and then trim the asparagus bunch at that location.
Don't forget to save the trimmed ends for soup. Just place them in a freezer bag with all those onion pieces and celery stalk tops you cut off but didn't want to waste. They make the best vegetable broth for soup!!!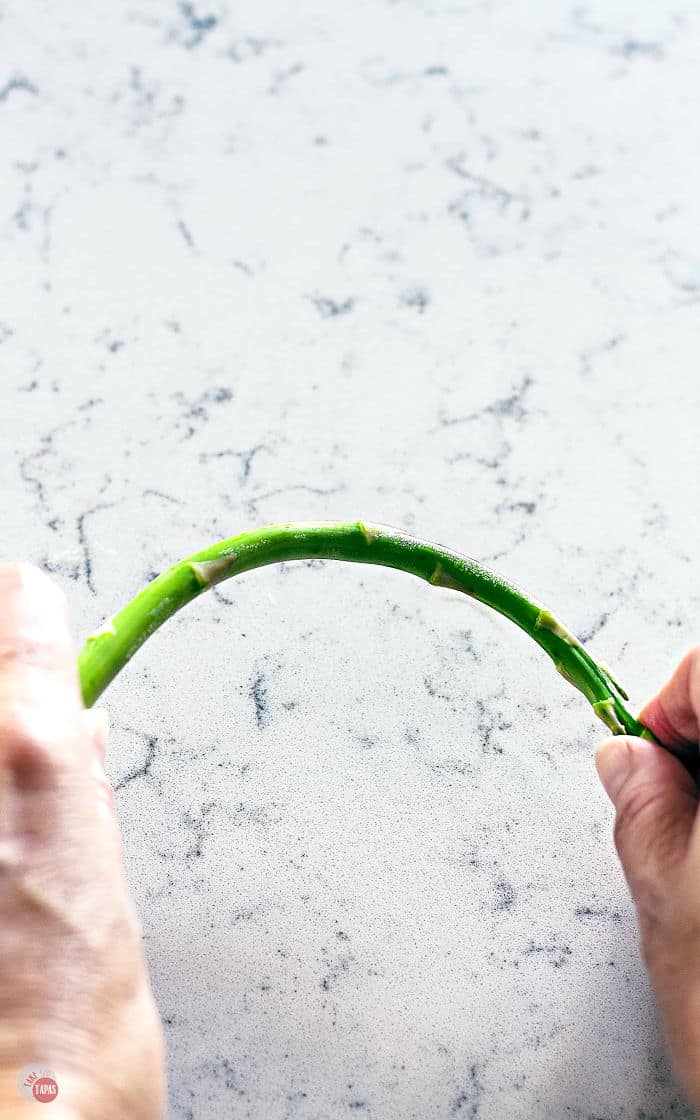 Quick Pickle Recipe
The basis of a quick pickle is to get the vegetables to absorbs the vinegary solution giving them flavor all while softening them up just a bit. We are not using traditional canning techniques and boiling the prepared jars until they seal under vacuum.
And because of that, these are not room temperature/shelf stable. Once the asparagus is pickled it will need to remain in the refrigerator until eaten.
It won't take long…
This post may contain affiliate links.
I earn a small commission for my endorsement, recommendation, testimonial, and/or link to any products or services from this website.

Your purchase helps support this blog at no additional cost to you and allows me to continue bringing you delicious recipes and funny stories.

For my entire disclosure policy

click here

.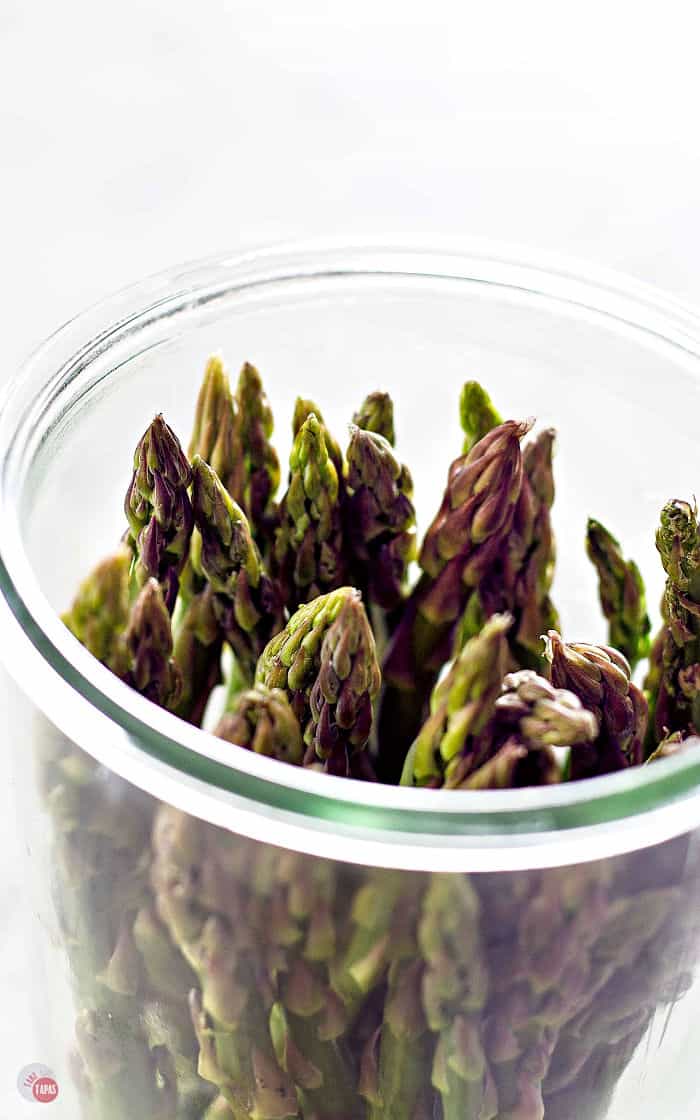 How to Pickle Asparagus
Start the quick pickle by adding the snapped asparagus spears, tip up, into a jar. I love using these Weck Jars because they hold quite a bit and fit nicely in my fridge. Feel free to use any glass jar, as long as it is GLASS.
The pickling liquid starts with boiling vinegar, water, and spices. Once the pickling solution comes to a boil, pour it gently over the spears, filling up the jar with 1/4 inch space for the lid. You might notice that the spears "float" up and out of the pickling liquid. No worries, just place the lid on (without the sealing ring) and this will hold them under solution.
Place in the fridge for at least 4 hours but 3 days is ideal. If you are planning on serving these pickled asparagus spears as part of a relish tray or antipasto platter, I would give them at least 24 hours to get happy and pickled😜.
FAQ about Easy Pickled Asparagus:
Q: How long do you process pickled asparagus?
A: They need to be in the liquid for at least an hour, but they taste best after 4.
Q: Does asparagus go bad??
A: Yes it does. I do these in small batches to keep this from happening but if you don't eat them fast, I wouldn't keep them around for more than 2 weeks.
Q: How do you know if your asparagus is bad??
A: The tips of the spears will be mushy, slightly darker green in color, and have a slimy film to them. If you see this, toss them out and start over.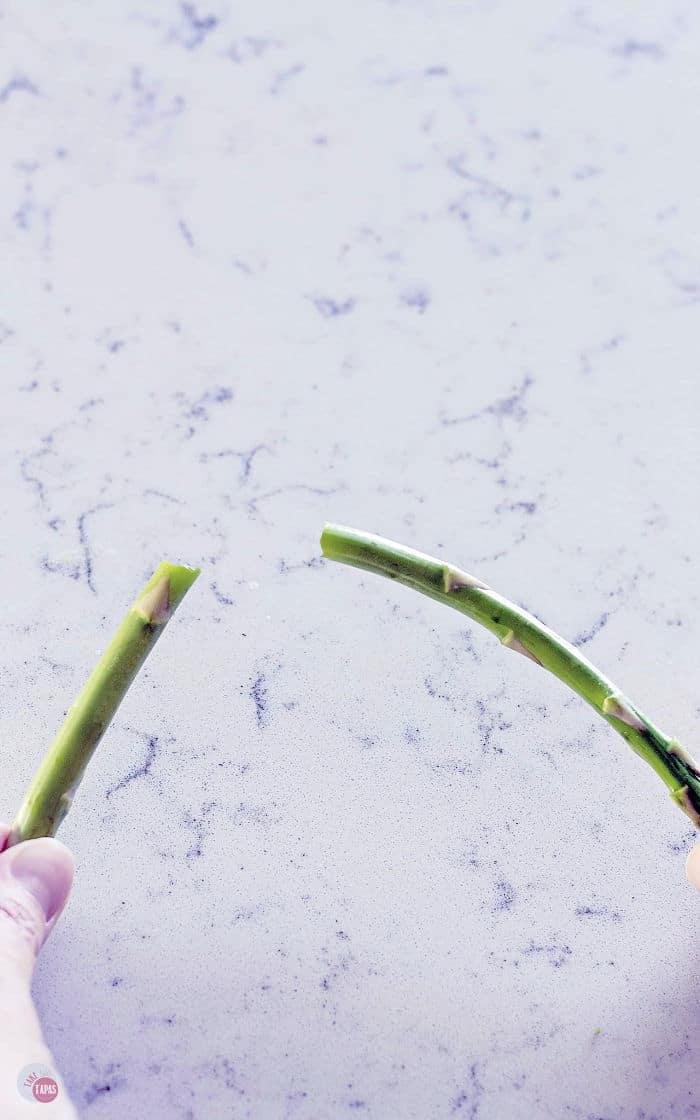 Look for these easy to make, quick refrigerator pickled asparagus spears on my modern relish tray coming later this week. I have one more pickled veggie to share before then!
Other great Easy Refrigerator Pickle recipes to try!
If you like reading my posts and seeing my recipes, connect with me on your favorite social media channel for behind the scenes photos and much, much more:
Sign up to receive a free email in your inbox with each new recipe:
If you love this Easy Pickled Asparagus Recipe as much as I do, please write a five-star review in the comment section below (or on Pinterest with the "tried it" button – you can now add pictures into reviews, too!), and be sure to help me share on facebook!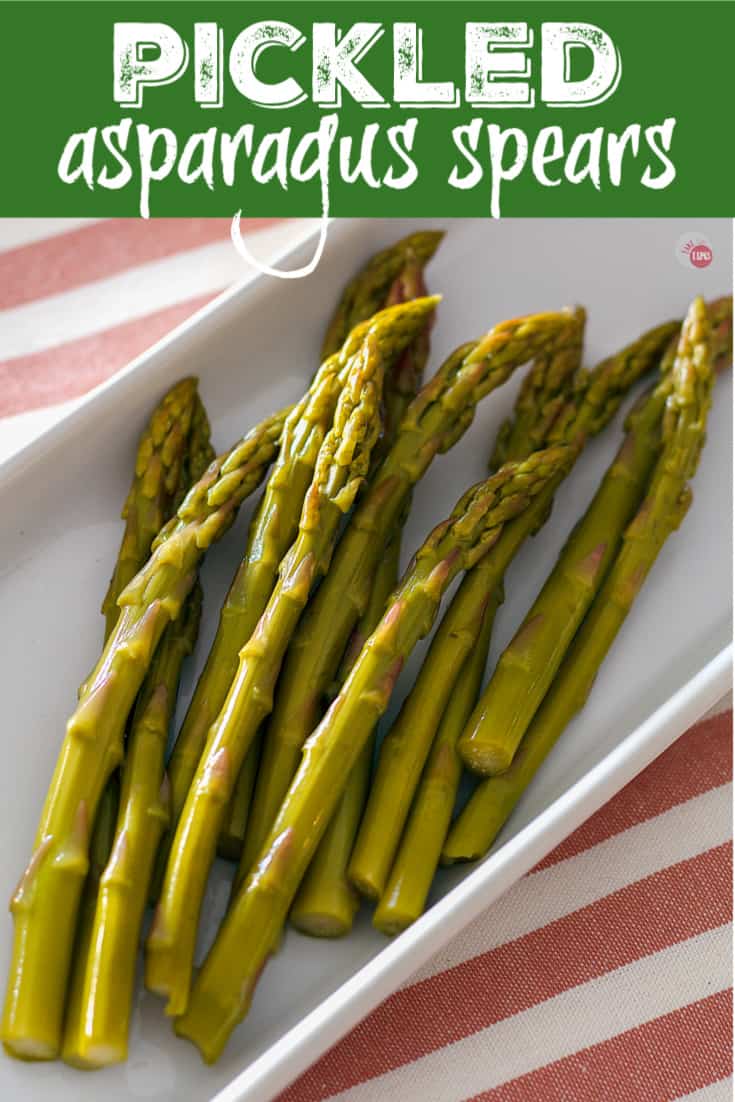 Easy Pickled Asparagus Recipe
Easy Pickled Asparagus - Refrigerator Asparagus Spear Pickles
Easy pickled asparagus spears take only a few minutes of prep and give you a crisp-tender snack and a tangy addition to a relish tray or cheese board.
Ingredients
1 pound asparagus spears
1 cup white vinegar
1 cup water
1 teaspoon whole peppercorns
1/2 teaspoon salt
1/2 teaspoon red pepper flakes
1 teaspoon dill
Instructions
Clean, peel, snap, and trim your fresh asparagus spears.
Place them in the jar, tips up, making sure they fit all the way down into the jar and can be covered by the liquid.
Add in the dill and red pepper flakes.
Make the pickling liquid
Bring the water, vinegar, salt, and peppercorns to a boil over medium heat, in a saucepan.
Boil for 1 minute.
Gently remove from the heat and pour over asparagus spears until the jar is full but 1/4 inch of space.
Set the jar lid on the top but don't seal or tighten.  This will help to keep the asparagus spears submerged.
Let sit 5-10 minutes to cool.
Seal the jar with rubber ring or screw top and store in the refrigerator until ready to eat.
Notes
*If you like this recipe, please leave me a comment and rate it with some stars.  Thank you!
Nutrition Information:
Yield:

8
Serving Size:

1
Amount Per Serving:
Calories:

18
Total Fat:

0g
Saturated Fat:

0g
Trans Fat:

0g
Unsaturated Fat:

0g
Cholesterol:

0mg
Sodium:

142mg
Carbohydrates:

2g
Net Carbohydrates:

0g
Fiber:

1g
Sugar:

1g
Sugar Alcohols:

0g
Protein:

1g
This nutrition information was generated via a third party, Nutritionix, and can not be held liable for any discrepancies in the information provided.
©TakeTwoTapas.com. Content and photographs are copyright protected. Sharing of this recipe is both encouraged and appreciated. Copying and/or pasting full recipes to any social media is strictly prohibited.