A crisp and light cocktail with a hint of heat, my Lime Coconut Cooler is perfect for any weather. Go put the lime in the coconut like the song says!
If you'd rather skip my (very helpful, I think) tips and tricks, essential cooking info, and similar recipe ideas – and get straight to this delicious recipe – simply scroll to the bottom of the page where you can find the printable recipe card.
I found this amazing new spirit and I can't believe I haven't made 100 cocktails from it already. Ok, it's not a new spirit per se but it is newish to me and I am totally in love!
To be fair, I say that I am in totally in love with just about every cocktail I make, but I truly am. My cocktail love is fleeting and fickle and each new one I make is my new favorite for that week. Or until I run out of the ingredients and need to buy more.
What is Lime Liqueur?
What is it and can I fill my bathtub with it? If I had enough money I just might because it is THAT good. Made with a neutral alcohol and steeped with limes it is crisp and the sugar added makes it the perfect mixer.
Just like the limeade I am always going on about, this lime liqueur is a great way to start any cocktail. And it's made by one of my fave tequilas.
Because the liqueur is potent in itself and sweet at that, I like to mix it with something rather light. What is lighter than water? I like to think that sparkling water is and with all the new flavors out, there is no shortage of combination to try.
Just like the Blackberry Coconut Splash, I made a few weeks ago, my Lime Coconut Cooler is only 3 ingredients if you don't count the garnish!
This post may contain affiliate links. As an Amazon Associate, I earn from qualifying purchases. Read my disclosure policy here.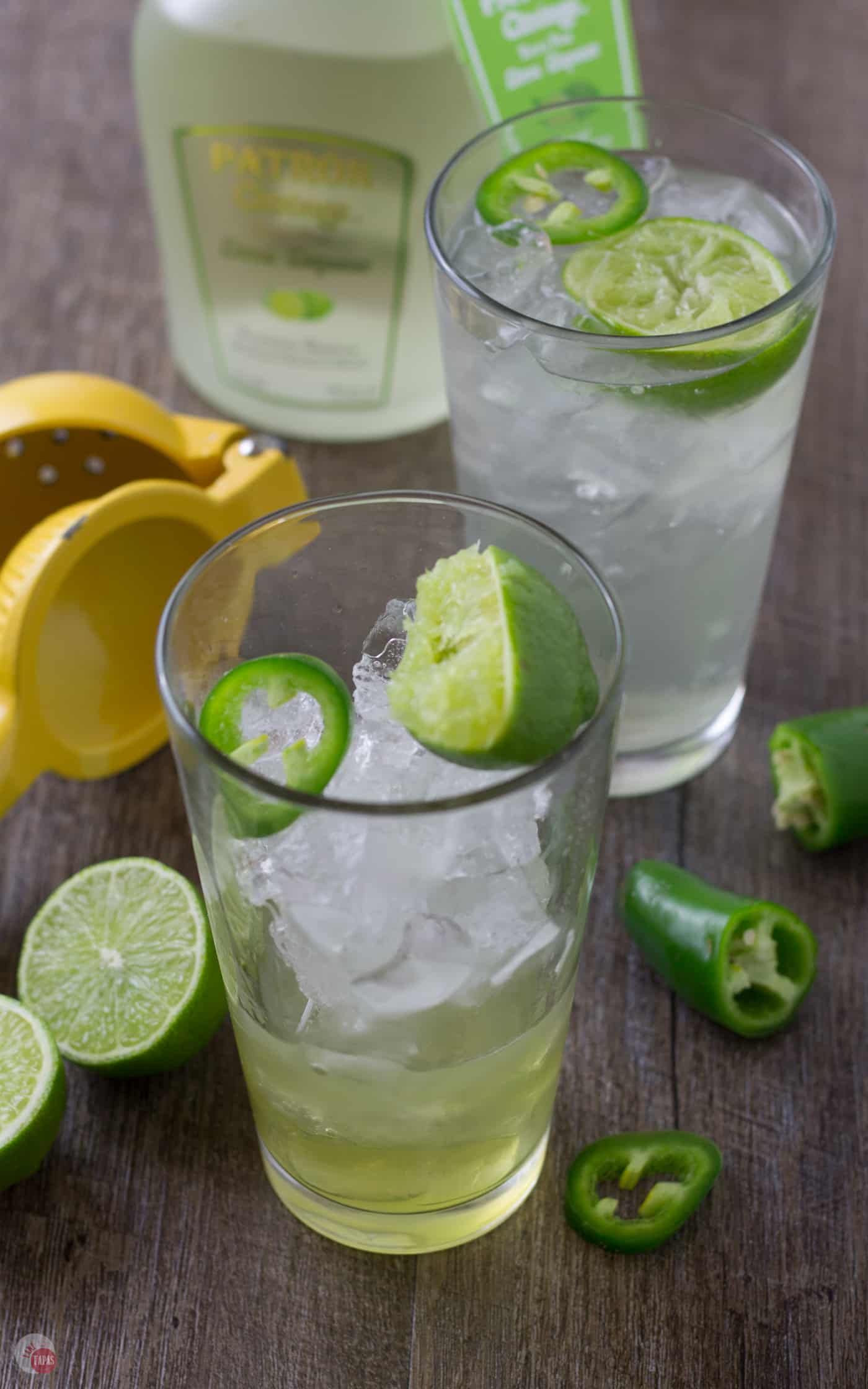 To start the Lime Coconut Cooler grab your glasses and some ice. Unlike my usual cocktails, this one is a tad bit bigger so grab a pint glass or a larger tumbler.
Fill them up with ice and grab your ingredients: Lime Liqueur, Chili Pepper Simple Syrup, and the Coconut Sparkling Water. I am quickly becoming addicted to sparkling water even though it makes me feel like I have to burp all the time from the bubbles.
Sometimes I open the can or the bottle and let it sit out for a bit to remove some of the carbonation. The flavor is still there even though my entire family says its gross.
Add your lime liqueur and the simple syrup to the glasses. Next, I like to juice my lime directly into the glass and then toss the lime half on top of the ice. The last thing is the coconut sparkling water. Just go ahead and pour it right on top the carbonation will do a little stirring up on its own.

All the good stuff is still at the bottom so I give it a slight stir with my straw or a cocktail spoon. You can also pour it into a large cup, mine is a plastic cup from a take-out place, and then pour it back into your cocktail glass.
This is known as the "Redneck Flip" since it's not done in a fancy cocktail shaker. I have one I'm usually just too lazy to grab it out of the bar cabinet in the other room when I am mixing my drink in the kitchen.
One thing I do use is my stackable measuring cups because they have small ones that measure ounces and tablespoons. They are so amazing and a few of them are chipped but I can't bear to toss them out. I really love them for making cocktails because most recipes are in ounces of liquid and not in cups or teaspoons. Crazy mixologists…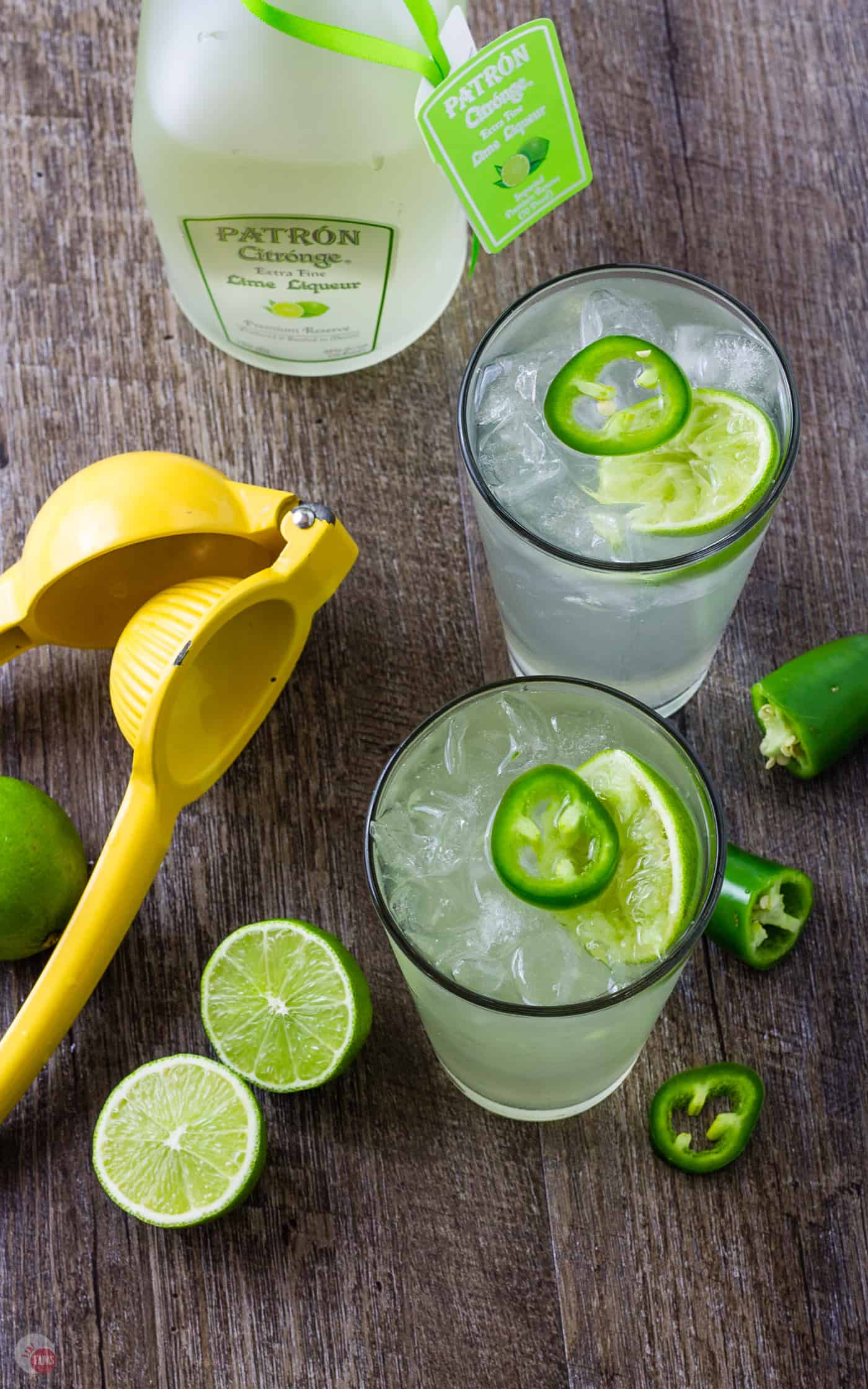 For more insider tips & tricks, and a candid behind the scenes look follow me on social media! Check use out on Pinterest, Facebook, Instagram, & Twitter (yes, people still use Twitter, LOL!)
Why is it called a Lime Coconut Cooler?
I was listening to music to other day and in my iTunes library, I have the song "Put The Lime in the Coconut" and that's how the combination came to me. I was updating the photos for my chili pepper simple syrup so when I was done I added a little to the lime liqueur/coconut water mix I was already drinking.
You might think the heat from the peppers is a bit much but the amount that you add is minimal. You just get a hint of heat while drinking it and it slowly builds in the back of your throat over a few cocktails. The flavor of the peppers really goes well with the lime too. Perfect for Taco Night, or any night for that matter.
If you want the jalapeno a little more forward you can add a little bit more syrup and then add a slice of fresh jalapeno to the top of the glass. That way when you drink it you get the aroma from the pepper right off the bat. Or if you don't want the heat at all feel free to add a sweetened lime syrup or a plain simple syrup and add more fresh lime. Some don't like the added sugar but I feel that calories consumed with friends don't count!
My Lime Coconut Cooler is clean and crisp and with sparkling water and will be your new favorite summer cocktail!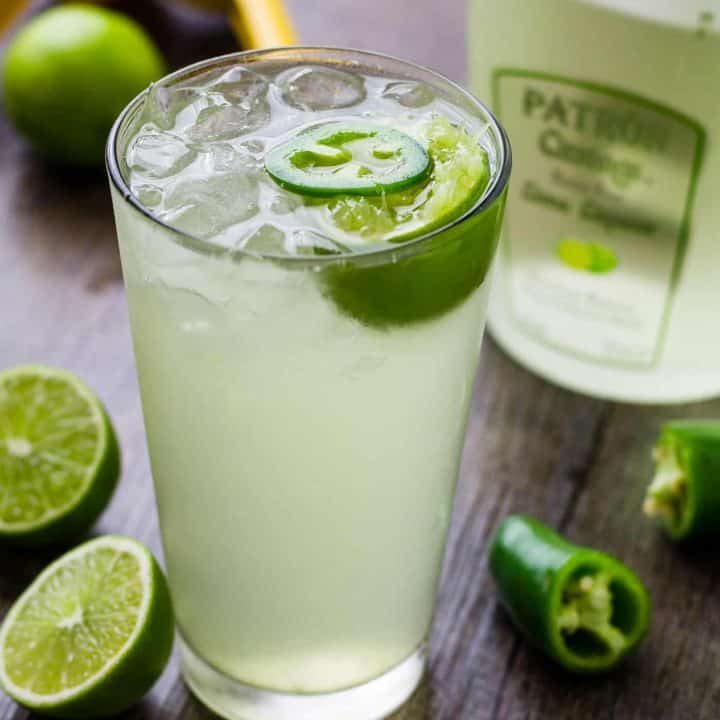 Lime Coconut Cooler
A crisp and light cocktail with a hint of heat, my Lime Coconut Cooler is perfect for any weather. Go put the lime in the coconut like the song says!
Ingredients
4 ounces Lime Liqueur (I use Patron brand)
1 ounce Chili Pepper Simple Syrup
24 ounces Coconut Sparkling Water
1 lime (juiced)
limes and jalapeno slices (for garnish)
Instructions
In two tall glasses add ice to the top.
Pour 2 ounces of lime liqueur in each glass.
Add 1/2 ounce Chili Pepper Simple Syrup.
Pour in 12 ounces of Coconut Sparkling Water.
Squeeze half a lime on the top.
Garnish with squeezed lime and a jalapeno slice.
Enjoy!
Notes
*If you like this recipe, please leave me a comment and rate it with some stars. Thank you!
Nutrition Information:
Amount Per Serving:
Calories:

230