If you are in need of a quick easy drink, check out this collection of 3 Ingredient Cocktails!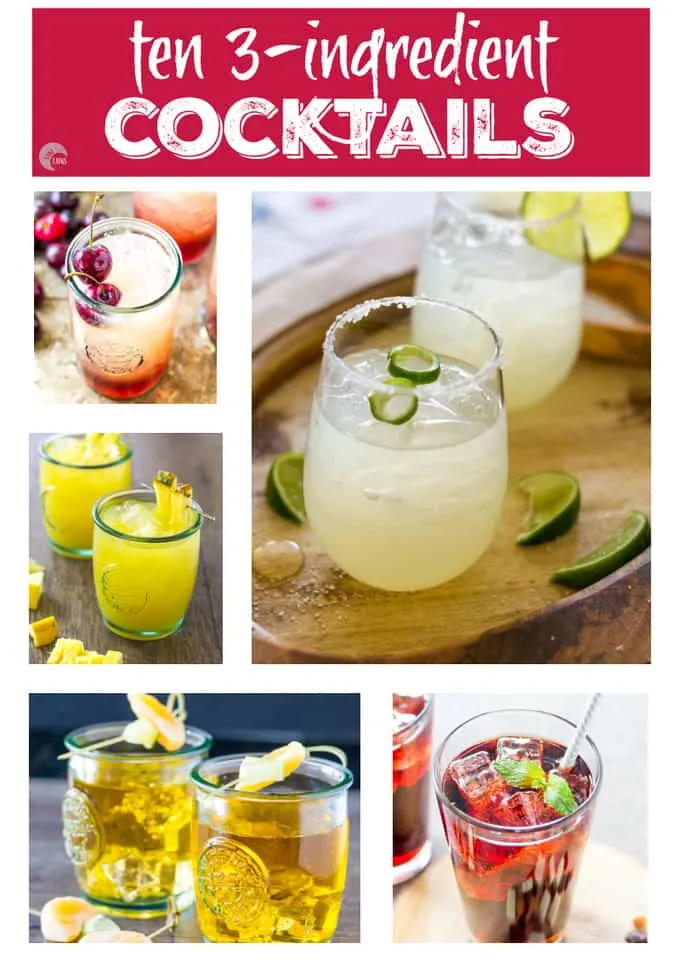 This summer with the move to Arizona, I keep looking for ways to make the transition easy and one way of doing that is day drinking. Just kidding!!
I have been enjoying my cocktails the past few months but I mean looking for easier recipes for said cocktails.
Easy 3 Ingredient Drinks
What's easier than 3 ingredients? Ok, maybe 2 Ingredient cocktails…
I do have one of those at the bottom of the post BTW in case you were wondering! Check out these 3 ingredient cocktails to help you get your drink on EASIER and FASTER!
This post may contain affiliate links. As an Amazon Associate, I earn from qualifying purchases. Read my disclosure policy here.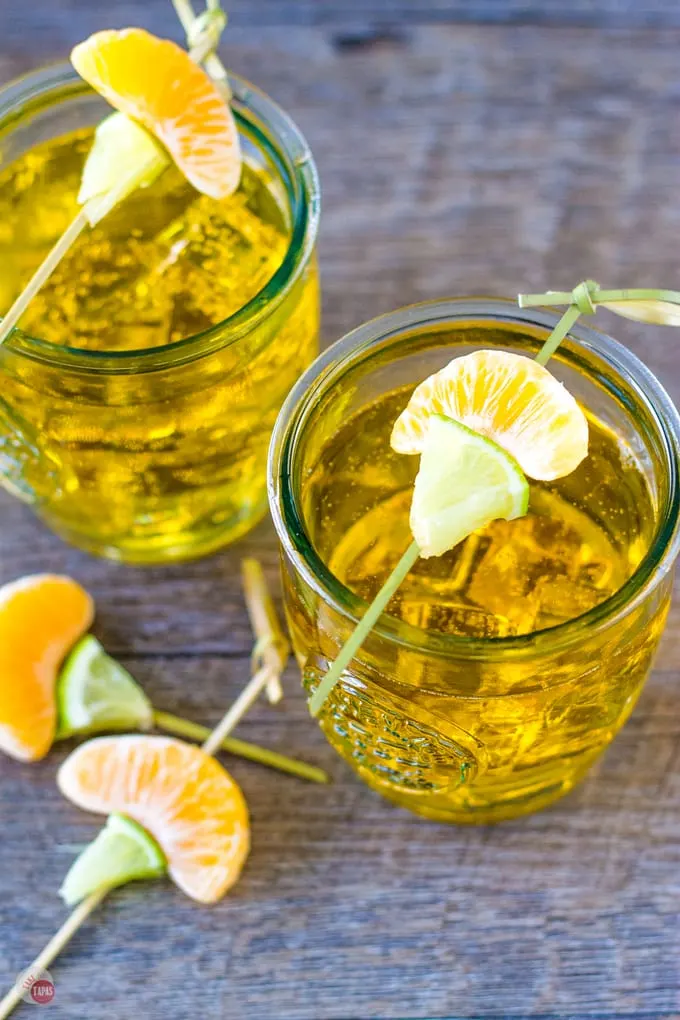 This Satsuma Orange Jubilee uses a Satsuma Orange Rum Liqueur that is to die for! A splash of this bright and flavorful liqueur over some ice and mixes with a lemon-lime soda is all you need.
Really this is a 2 ingredient cocktail but sometimes I like to add a splash of orange juice too. The carbonation of the soda really makes the orange scent extra fragrant!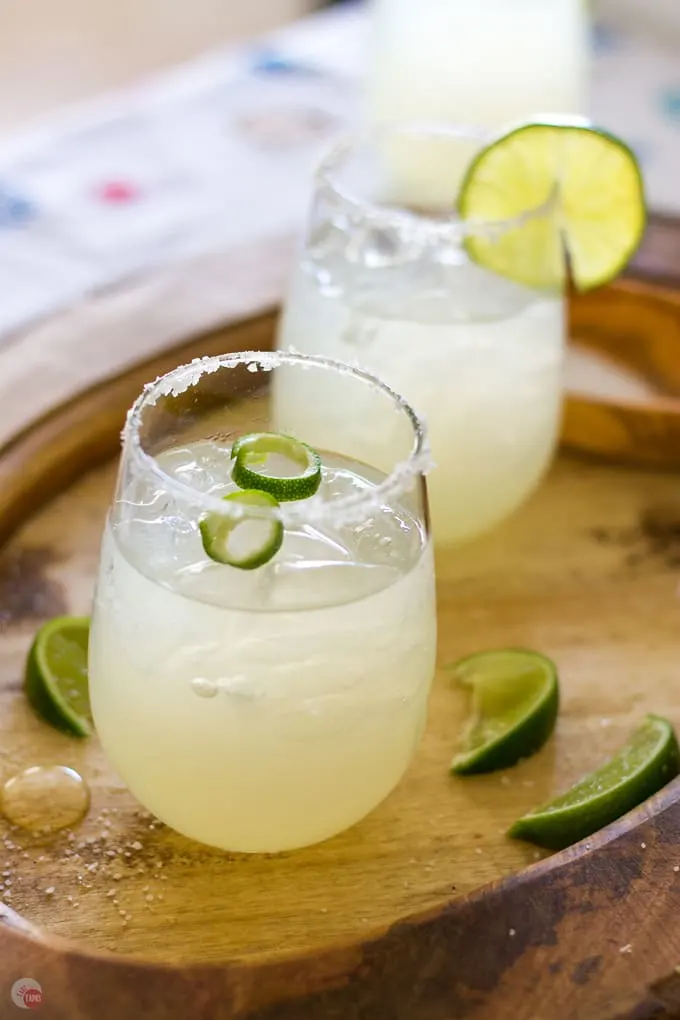 This 3 ingredient margarita is one of my favorite cocktails for summer. I love to use limeade or lemonade because they already have the right amount of sweetness and tartness.
It has all the traditional ingredients of a margarita: tequila, triple sec, lime juice, and of course, salt. Using the limeade incorporates the lime juice, sugar or simple syrup, and a little water.
I prefer the already prepared limeade in the refrigerator section instead of the frozen concentrate. The frozen kind tends to be a little too sweet for my taste.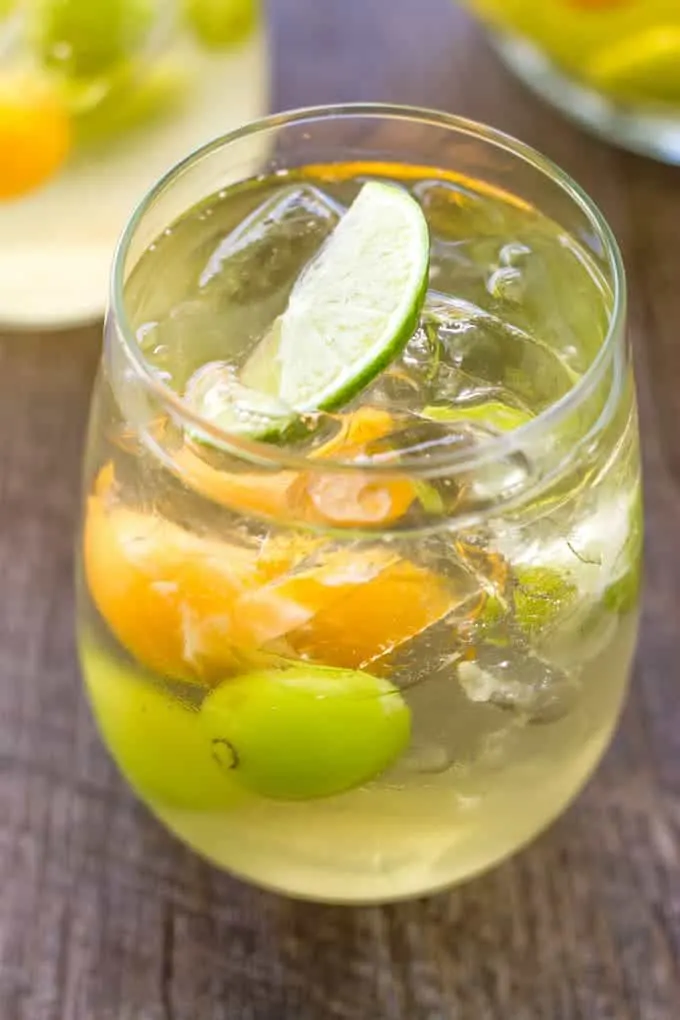 This super fun sangria for summer couldn't be simpler or more refreshing! I love all the fruit in sangria but trying to wait until the flavors blend is a little hard for me.
Taking a riff off a wine spritzer, the 3 ingredient sangria uses a fruity chilled white wine like Pinot Grigio, a lemon-lime soda for extra citrus flavor, and Grand Marnier for even more orange flavor.
Garnish or keep it chilled with frozen grapes and melon balls to avoid diluting it in the summer sun!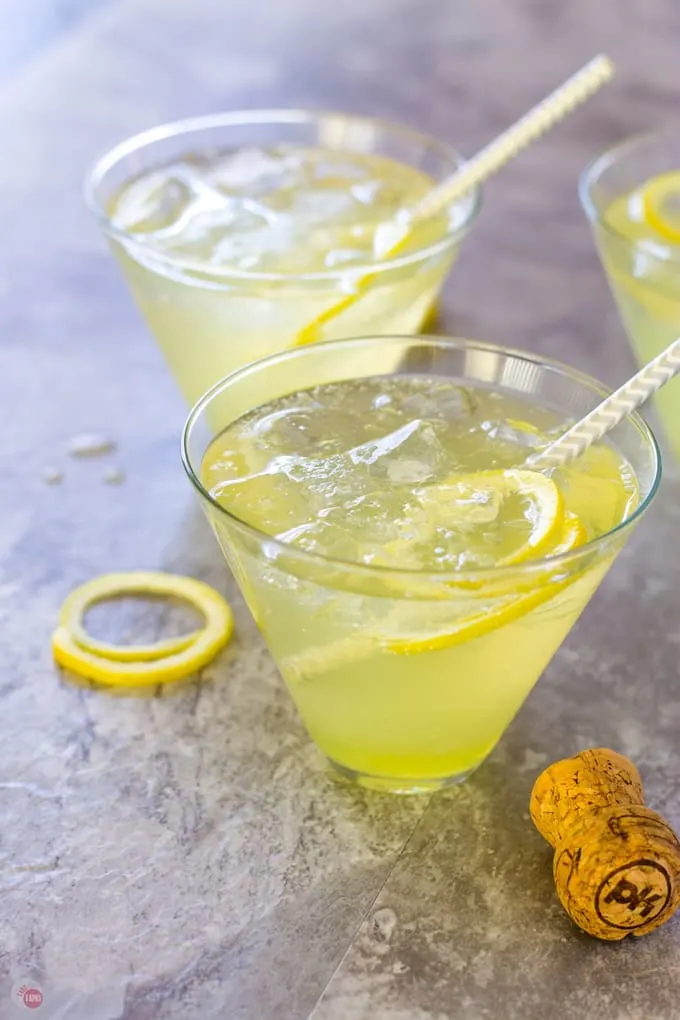 My tart and bright Limoncello Lady really brings the flavors of lemon front and center. Combining prepared lemonade, limoncello, and bubbly prosecco to bring it all together.
Bubbles really make the lemon flavors and aromas tickle your nose while you are sipping on it. A few lemon twists garnish this simple cocktail!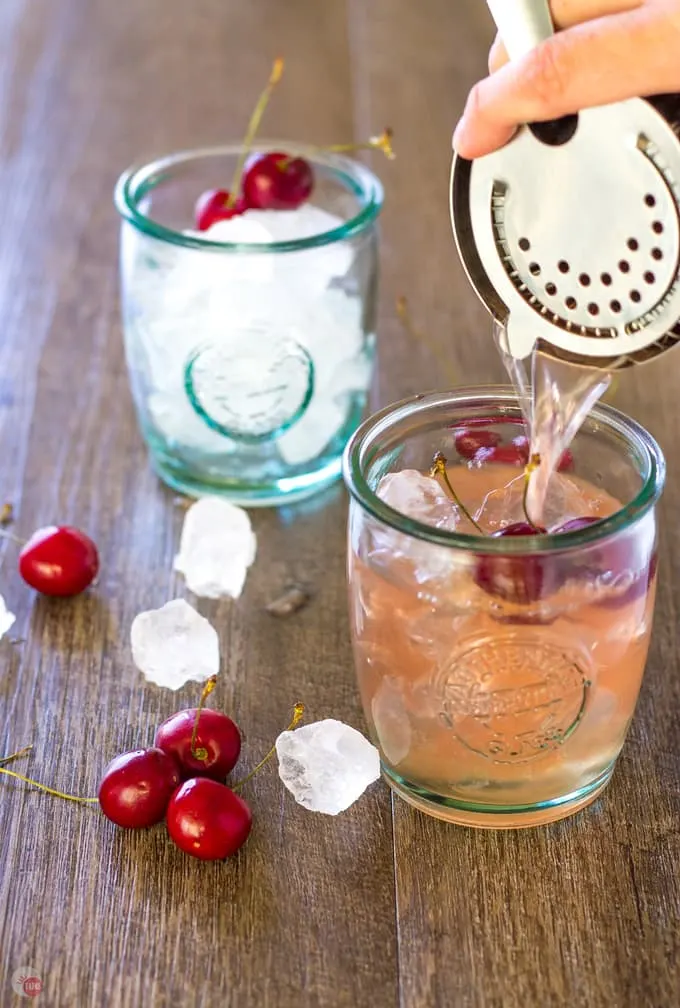 My Cherry Lime Bourbon Smash is a riff on cherry limeade but with a warm and caramel-ly addition.
Muddling fresh (or frozen) cherries into seltzer or soda water and combining it with lime juice and a splash of bourbon creates a bright, sweet, and tart cocktail that is perfectly balanced with the warm vanilla tones of the bourbon.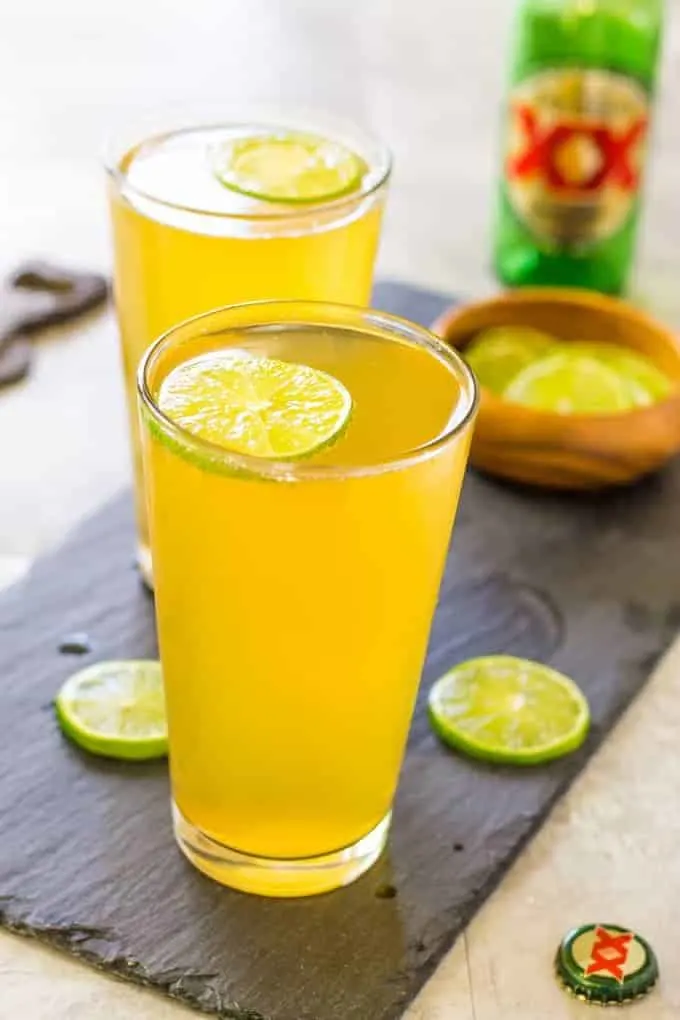 Shandy cocktails were all the rage last year and then came the shrubs. Shandy recipes are simple, just beer and a little mixer. Some have additional alcohol or spirits in them but it just depends on the flavor combination.
This Margarita beer shandy has the flavors of a margarita with lime and tequila but mellowed with a light beer. I prefer Dos Equis with mine!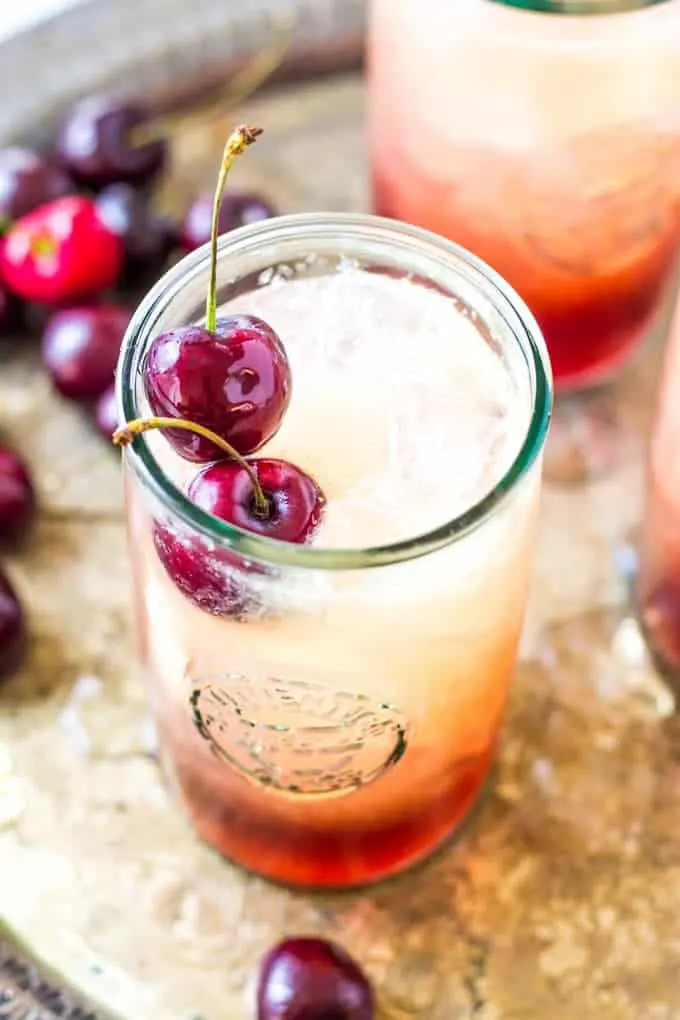 My Cherry Amaretto Limeade uses my favorite prepared limeade, cherry juice or pomegranate juice if you can't find any and amaretto. The flavors of caramel and almonds mix well with the tart lime and sweet cherries.
It's similar to my Cherry Lime Bourbon Smash but the bourbon is a little smoky and this one is a little sweeter. Much like a dessert cocktail!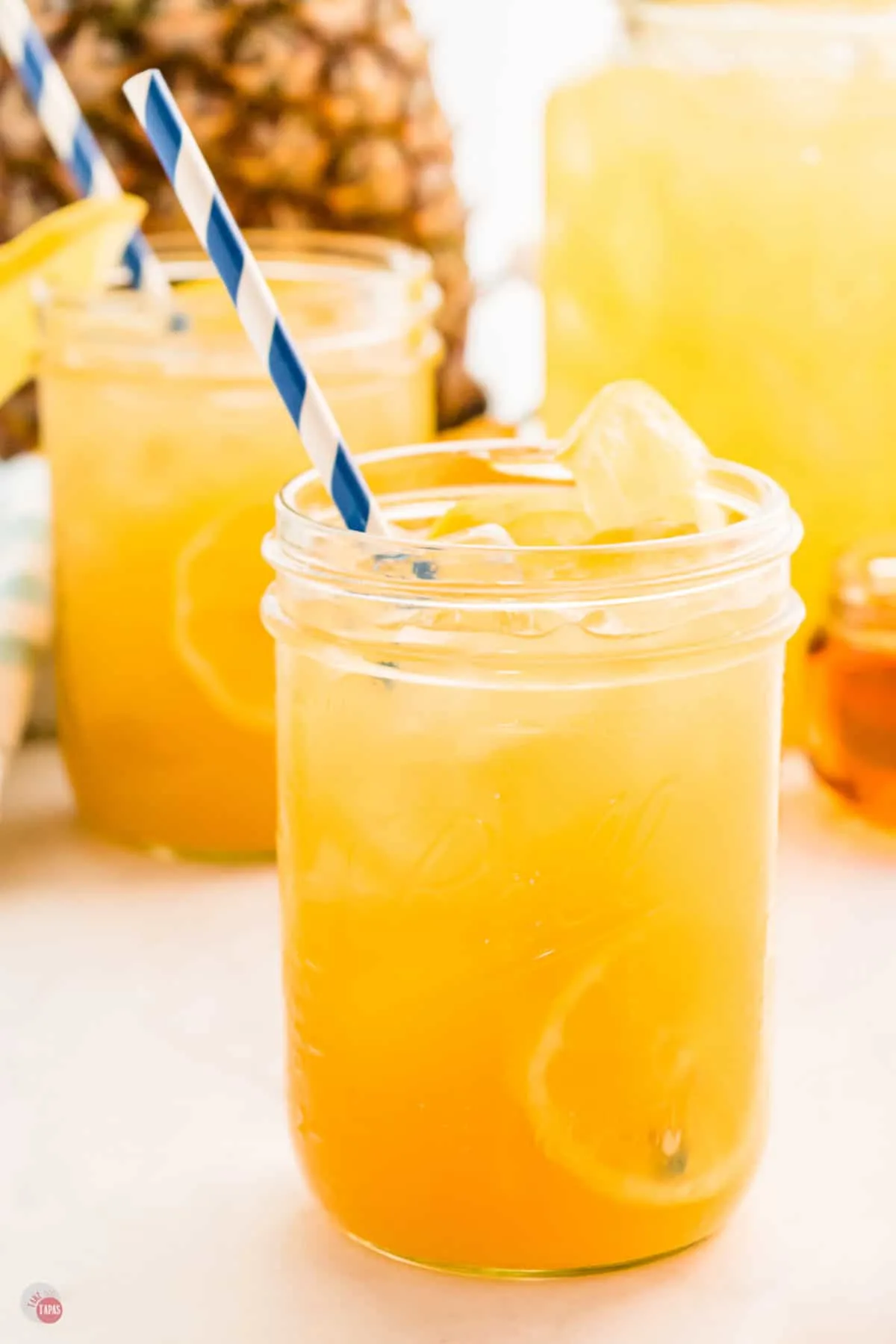 My Pineapple Bourbon Lemonade is by far my most popular 3 ingredient cocktail I think its the combination of fresh pineapple juice (not the canned kind, although its ok if you don't have fresh,) and the bourbon.
The sweetness of the pineapple blends perfectly with the smoky bourbon. I know!!
I was just as surprised as you to taste it and see how perfectly they mix. A splash of fresh lemon juice brightens it up even more!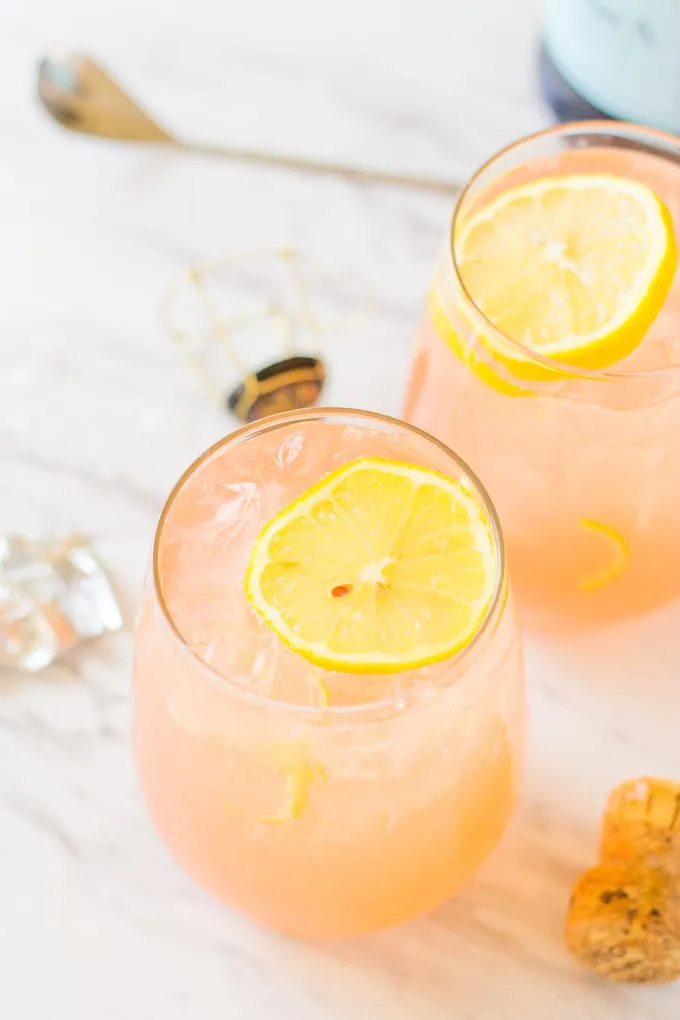 Speaking of tart, grapefruit is perfect for cocktails! Grapefruit juice mixed with the sweetness of lemonade balances it out so it's not so tart.
The addition of prosecco and its bubbles brings all the aromas and flavors front and center. They can tickle your nose while you are drinking it!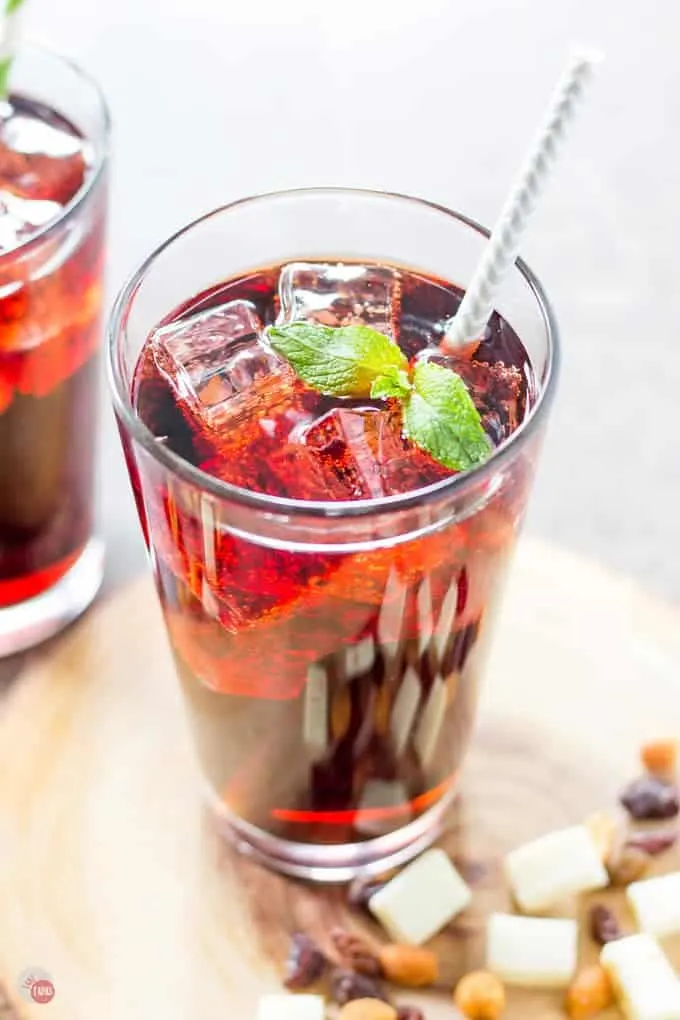 A Kalimotxo is definitely the epitome of simple cocktails. Cola and red wine. You can't get much easier than that unless they sold it already combined.
I like to use Coke Classic and a fruity red wine like Pinot Noir or a table wine like Chianti. It's the adult version of a cherry coke! Can you tell that I like cherries?
While you are hanging out by the pool, be sure to try out a few of my 3 ingredient cocktails. So simple and easy to make they won't cut into your pool time!
Here are a few of the tools I use to serve these cocktails. I love these recycled glasses, straws, skewers, cherry pitter, citrus juicer, cocktail shaker, toothpicks, and this zester. Maybe I should do a resource page on stocking your home bar?!?!
For more insider tips & tricks, and a candid behind the scenes look follow me on social media! Check use out on Pinterest, Facebook, Instagram, & Twitter (yes, people still use Twitter, LOL!)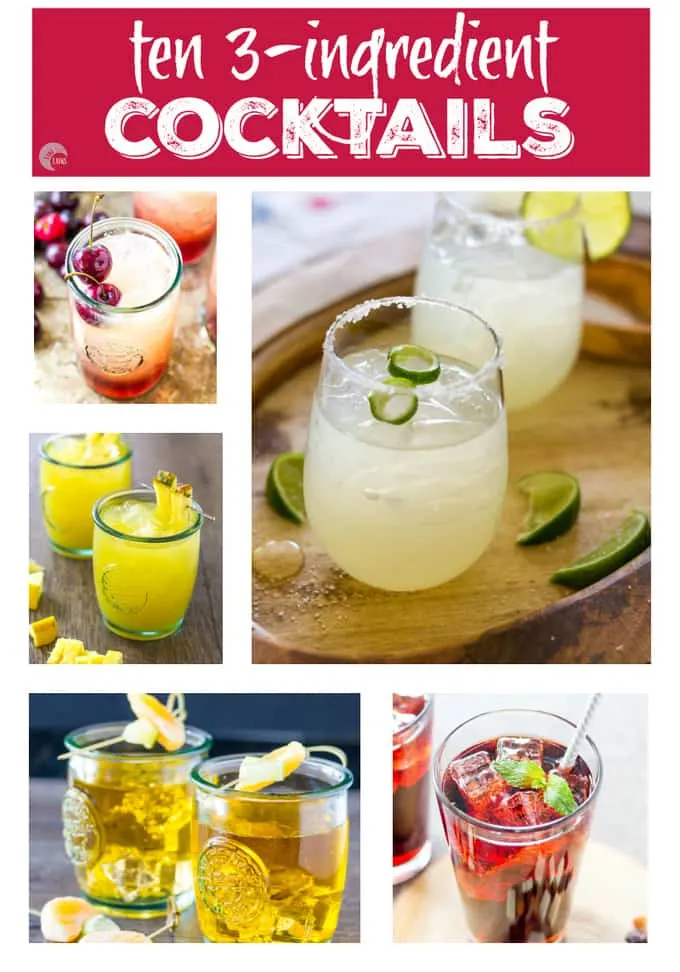 TakeTwoTapas.com. Content and photographs are copyright protected. Sharing of this recipe is both encouraged and appreciated. Copying and/or pasting full recipes to any social media is strictly prohibited.