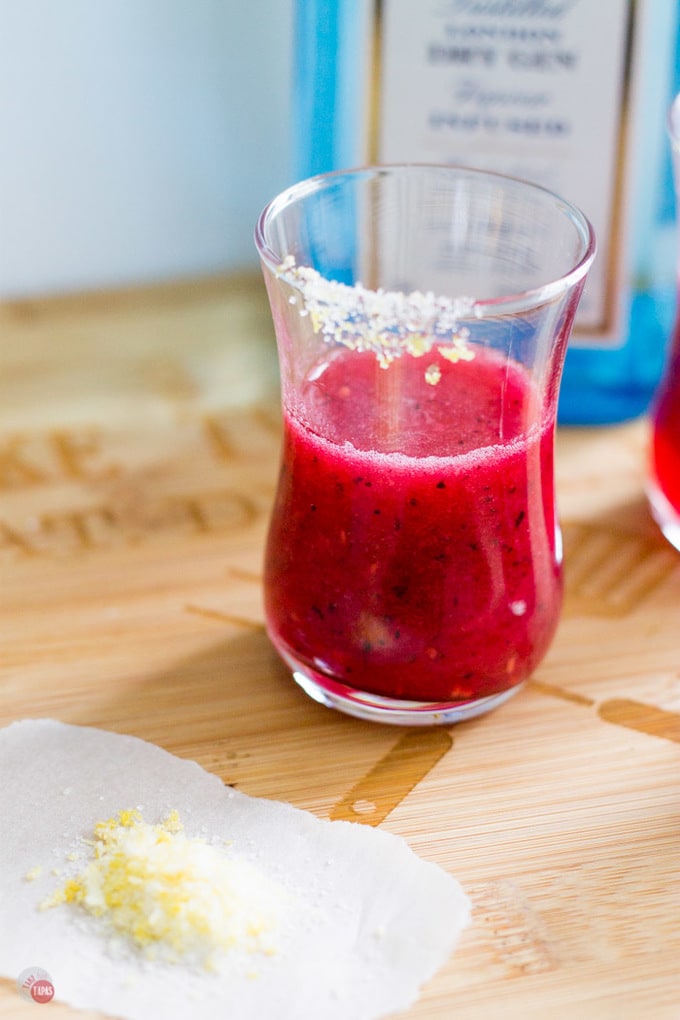 The tart and herbaceous flavors of a classic gin and tonic are balanced with the sweetness of mixed berries in these gorgeous purple Mixed Berry Gin & Tonic cocktail shots!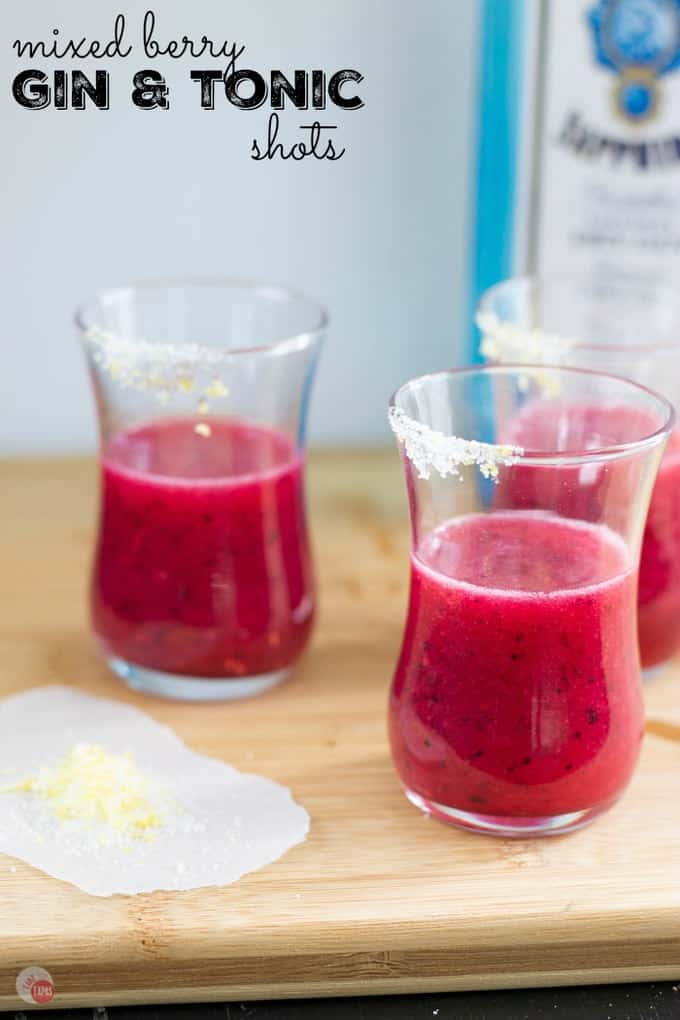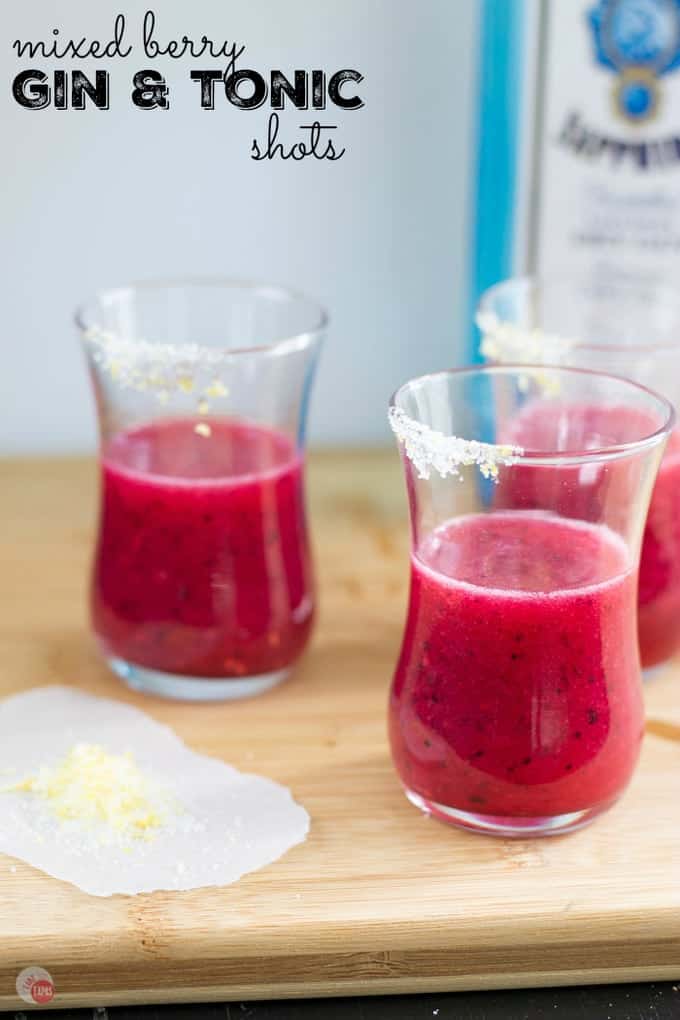 The Gin & Tonic cocktail is another classic that I have been wanting to do a riff on. If you have been following along this month, you have seen my other recipes for classics that I have made into shots like the Bloody Mary, the Sidecar, and the Paloma.
The Gin & Tonic is the natural choice for the next one! Here is what I did!
This post may contain affiliate links. As an Amazon Associate, I earn from qualifying purchases. Read my disclosure policy here.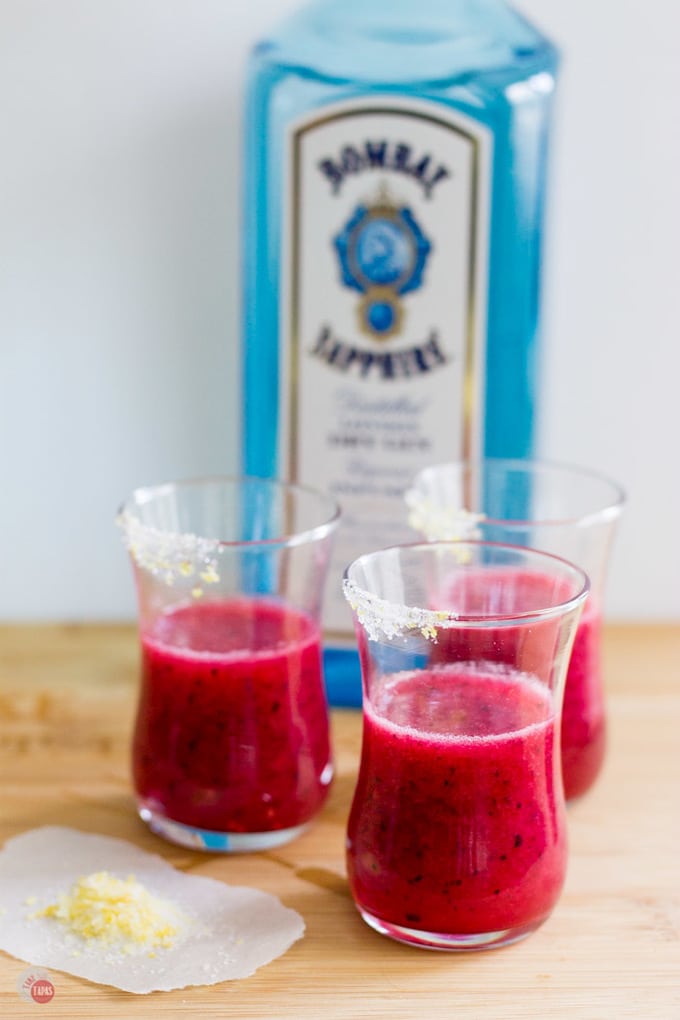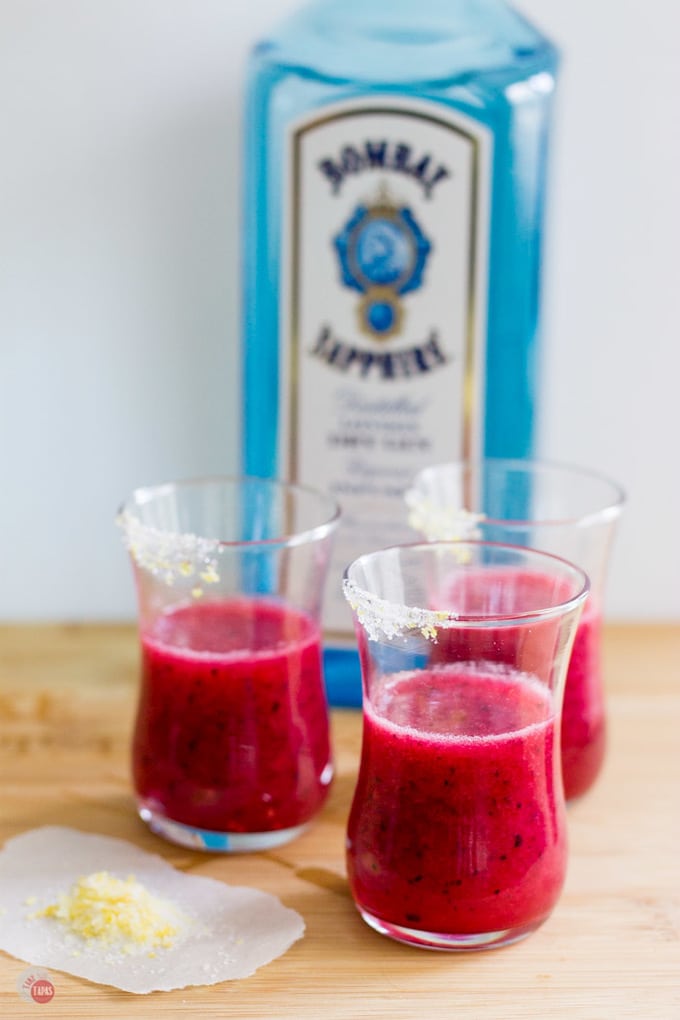 If you'd rather skip my (very helpful, I think) tips and tricks, essential cooking info, and similar recipe ideas – and get straight to this delicious recipe – simply scroll to the bottom of the page where you can find the printable recipe card.
Start with the cocktail basics…
The Gin & Tonic is just that. Gin and Tonic.
Nothing too fancy, or too fussy, just clear, crisp flavors that work well together. The only thing to argue about is the brand of Gin.
If you watched the controversial Fifty Shades of Grey movie, then you know the only way to drink gin is properly garnished. Two of the most popular brands are Bombay Sapphire, which should be served with lime, and Hendricks that should be served with a cucumber. I threw out these rules and served Bombay Sapphire Gin with berries and *GASP* lemon.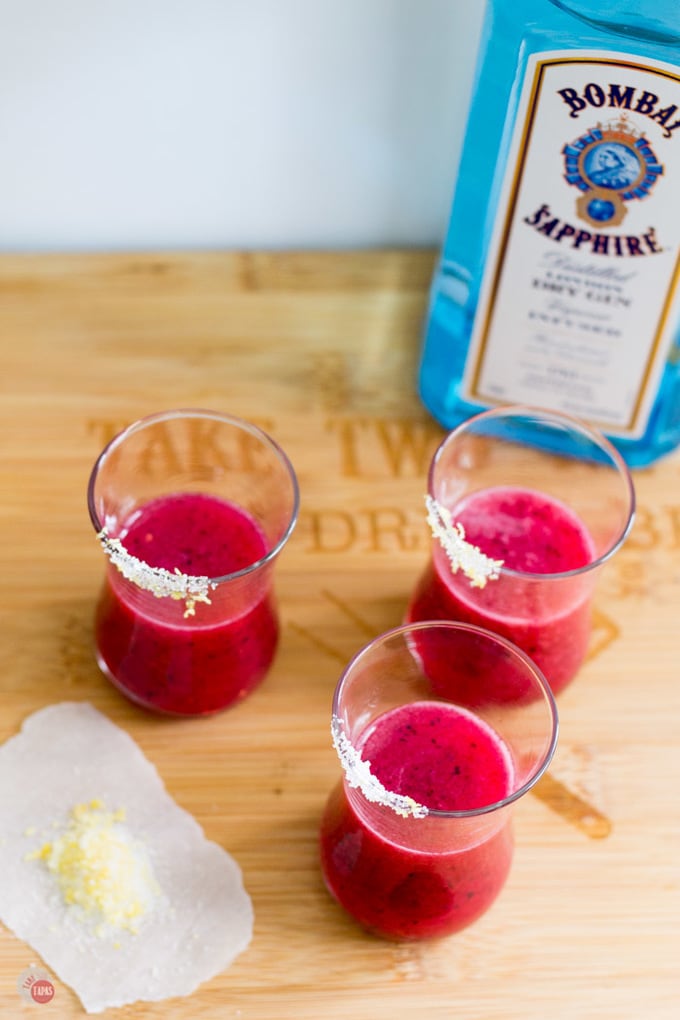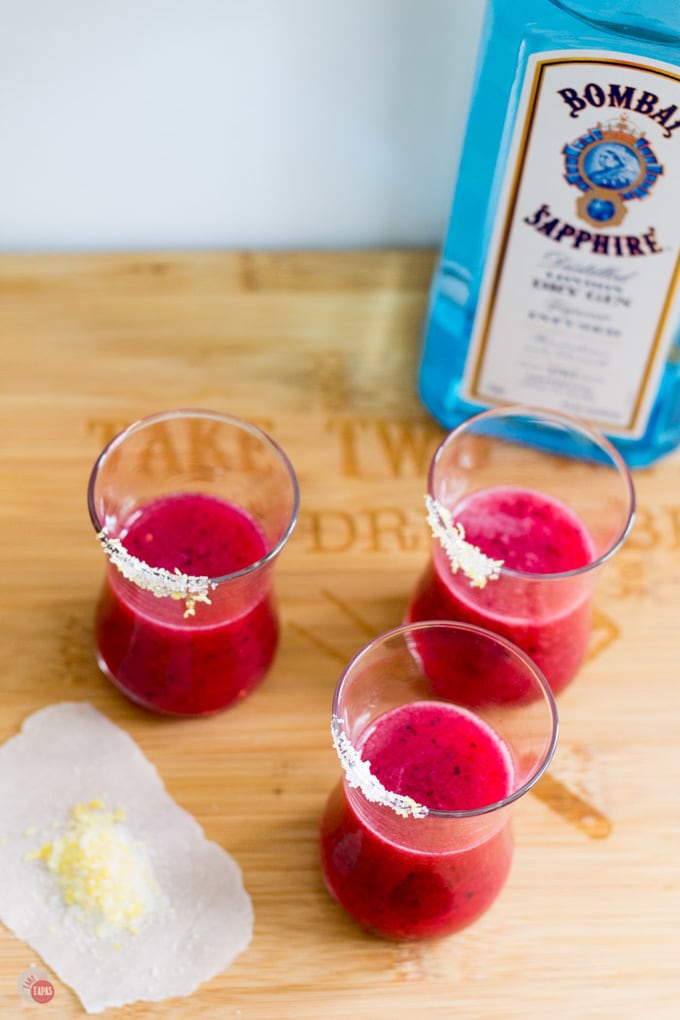 Why would I do this to a classic cocktail?
Because I am a rebel!!
But seriously, I really enjoyed the Bombay brand and the way it mixed with the bitterness of the tonic. Thinking that using berries would make it "healthy-ish" – don't laugh because this is a totally legitimate adjective – and that the berries offer a flavor contrast that makes the shot mix together easier. What goes with berries? Lemon!
I used lemon zest in the rimming sugar, which is not typical with a gin & tonic, to make shooting it more adventurous.
Which berries did I use for the Gin & Tonic shot?
A combination of blueberries, raspberries, and strawberries because these are what I found in my fruit and veggie drawer when I went searching. Several containers of berries, 95% eaten and then put back in the fridge. Much like that last swig of OJ or milk that someone couldn't drink and throw away the container.
I have all boys in the house, so everything is 95% eaten and then left for me to finish/throw away because it has gone stale due to lack of proper storage. AMIRIGHT moms?
You can also grab some of those frozen mixed berries you have reserved for all those smoothies that you are not making.
Throw together these Mixed Berry Gin & Tonic shots and start your week, party, or Netflix binge session off with a bang!
Mixed Berry Gin and Tonic Shots
Ingredients
1/3 cup Gin
1/3 cup Tonic water
1/3 cup mixed berry puree
1 tablespoon lemon zest
2 tablespoons granulated sugar for rimming glasses
Instructions
Make your rimming sugar by mixing a small amount of sugar, roughly 2 tablespoons, with 1 tablespoon lemon zest.
Make the berry puree by mixing 1/2 cup berries, frozen or fresh, with 1/2 cup water.
Blend until combined and all large chucks are gone.
Mix the gin and mixed berry puree in a cocktail shaker with ice.
Shake to combine.
Add the tonic water and stir. Tonic is carbonated and shaking is not advised:)
Rub a small section of the shot glass with lemon juice
Dip the glass in the lemon sugar to get a small amount to stick.
Strain the gin and tonic mixture into the shot glasses.
Enjoy!
Notes
*If you like this recipe, please leave me a comment and rate it with some stars. Thank you!
Nutrition Information:
Yield:

5
Serving Size:

1
Amount Per Serving:
Calories:

56
Total Fat:

0g
Saturated Fat:

0g
Trans Fat:

0g
Unsaturated Fat:

0g
Cholesterol:

0mg
Sodium:

2mg
Carbohydrates:

8g
Fiber:

1g
Sugar:

7g
Protein:

0g
This nutrition information was generated via a third party, Nutritionix, and can not be held liable for any discrepancies in the information provided.