Feeling a little repentant today? Try my Penitent Punch which is a wine lover's version of a Long Island Iced Tea. This twist on a classic cocktail will bring you to your knees! Instead of a splash of cola, it's topped with wine.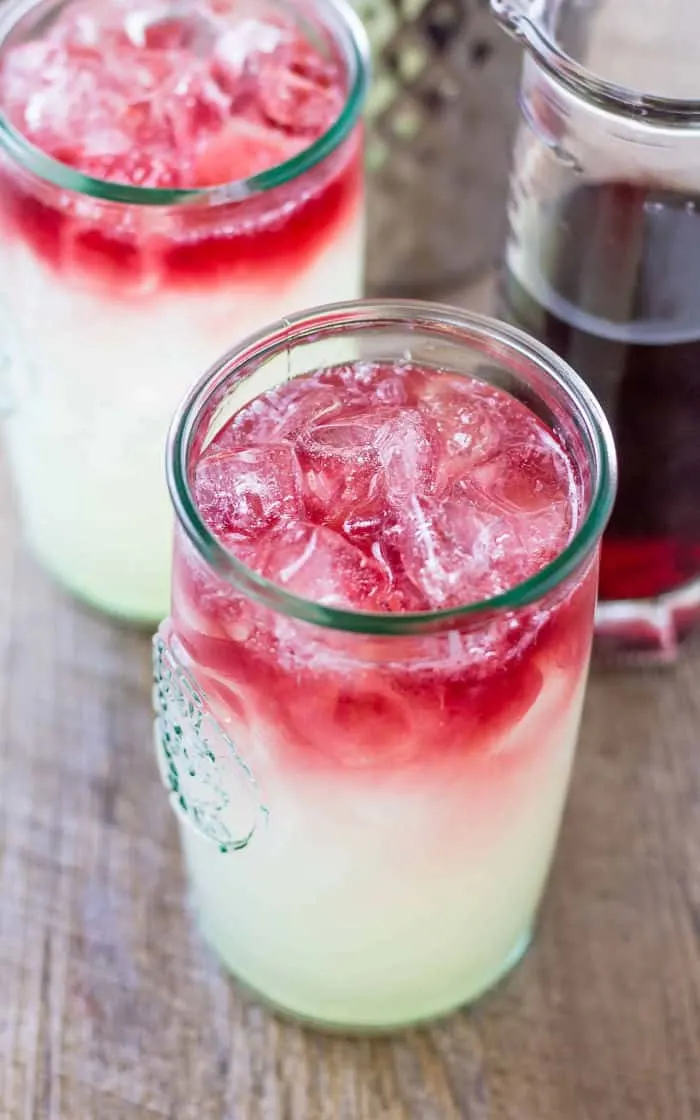 Long Island Iced Tea
This post comes with a humbling story and a lame movie reference but hang with me as I share a recipe for my penitent punch; a twist on a classic cocktail that will bring you to your knees!
A Long Island Iced Tea has always been a cocktail that will do just that (the knee bringing part.) Come to think of it, I recently read an article written by bartenders about the drinks that you should immediately stop ordering.
This was one of them. The reason being, a Long Island Iced Tea is a very strong drink and you tend to get intoxicated faster which is a bad thing. Why?
drunk fast=fewer drinks=a lower bar bill=small tip
Bartenders want to keep the drinks flowing and a Long Island Tea puts a cork in that!
This post may contain affiliate links. As an Amazon Associate, I earn from qualifying purchases. Read my disclosure policy here.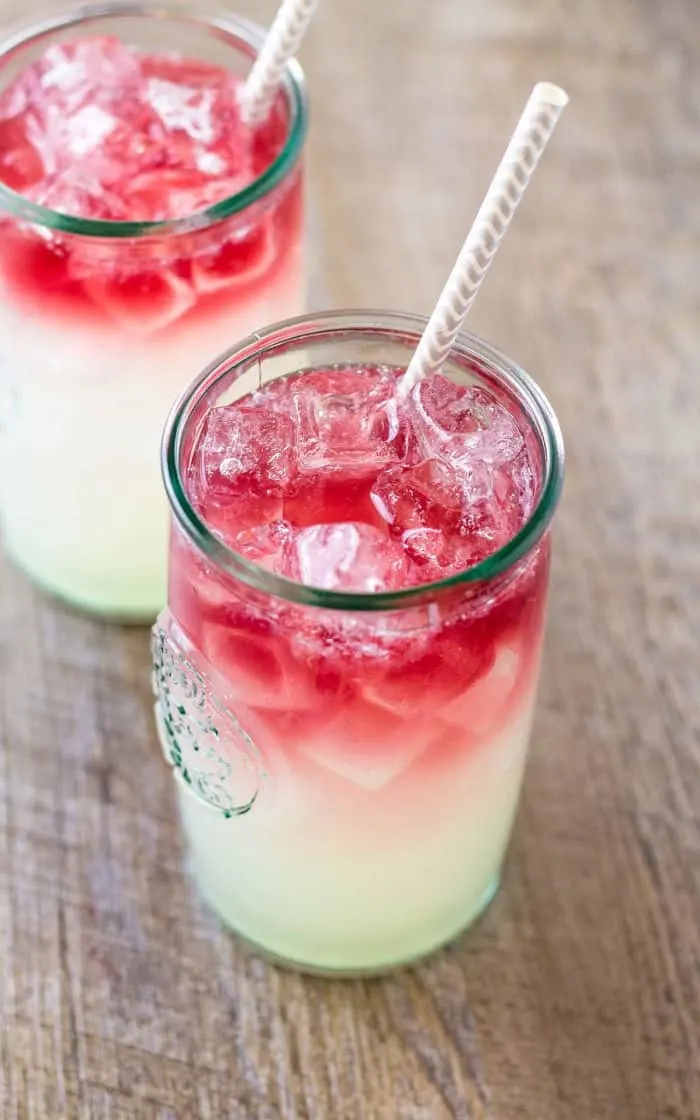 What is a Long Island Iced Tea?
A Long Island drink is 5 Spirits, a touch of lemon juice, and a topping of cola to give it the "tea" coloring. One that will humble you quite quickly.
I have never had one before as I was never brave enough to try it until last summer, albeit under the guise of another name. More on that later…
Why do they call it that?
As the story goes, a bartender from Long Island was challenged to make a strong cocktail that looked like iced tea. Challenge accepted, challenge won!
How much alcohol is in it?
Quite a bit actually. This strong mixed drink is actually 80% alcohol and 20% mixer. WHOA! No wonder I can't have more than two, LOL!
What alcohol is in a Long Island Iced Tea?
Being 80% alcohol, this cocktail is pretty complex. Not sure why someone decided to put all these together but I am pretty glad they did. Maybe they were trying to use up the last remaining sips from a bunch of different bottles?
Ingredients Needed
Gin (1 part)
Rum (1 part)
Tequila (1 part)
Vodka (1 part)
Triple Sec (1 part)
Cola (I use red wine instead) (1 part)
Sour Mix (1 part)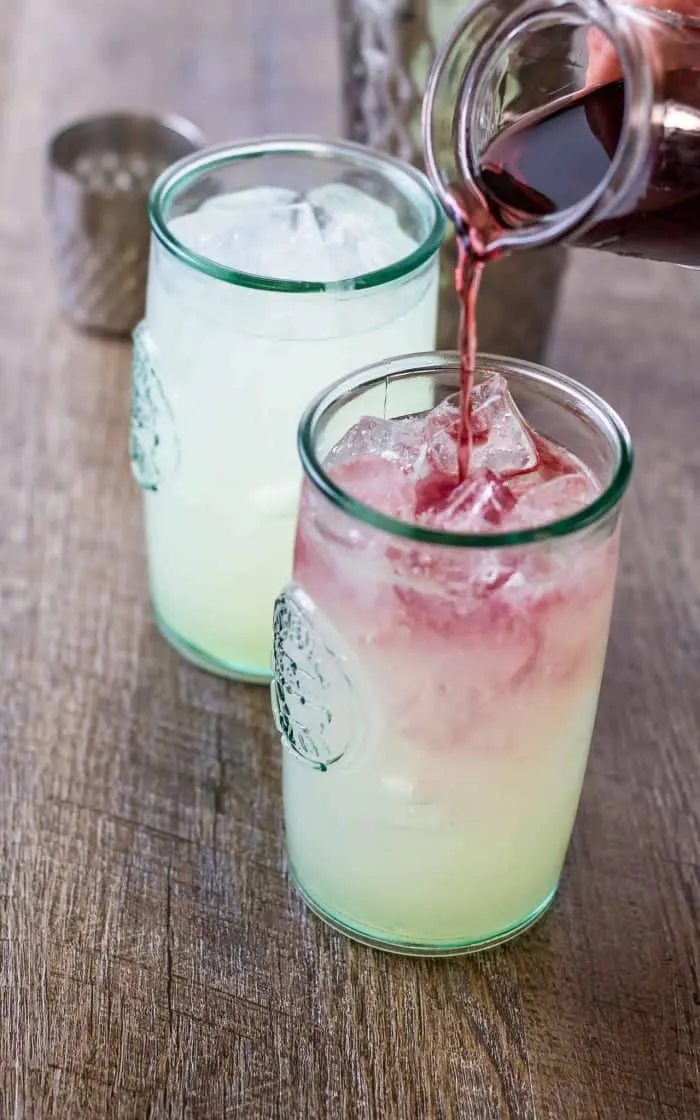 What is triple sec?
Triple sec is sweet orange flavored liqueur made from dried orange peels.
How strong is it?
Very, so drink responsibly! And be sure to hydrate in between drinks if you plan on having more than one. Oh, and a designated driver too!
Does it contain tea?
This unassuming cocktail is camouflaged as iced tea even though it doesn't actually contain any iced tea at all. Unless the serve accidentally adds more tea to your glass.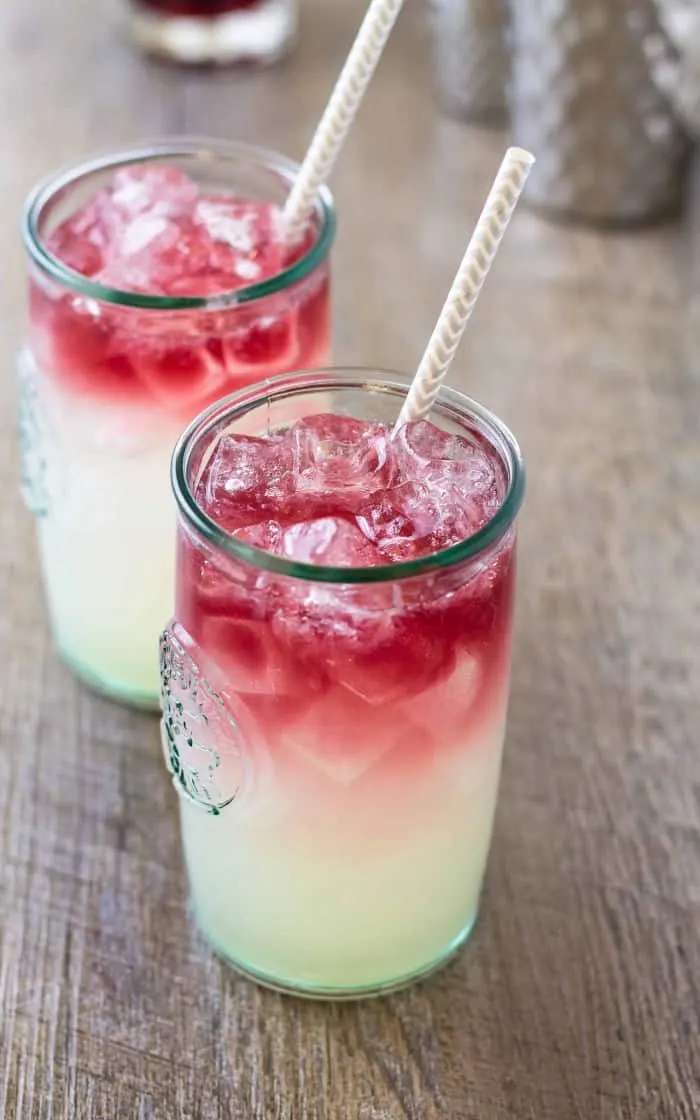 Where did it come from?
The pizza joint where I tried the cocktail called it a Humble Tea and boy, did it ever humble me. I should have known better when the cocktail menu stated a "3 Drink Maximum" under the name.
Normally there is a minimum listed but this is the first time I had seen a MAXIMUM. Surely a typo but that didn't stop me from ordering one. Upon verification by our server, while I was sucking my first one down through a straw, there is a 3 drink maximum. PER DAY!
As I approached the bottom of my second one it became apparent why you can only have three. The tart and fruity flavors of the Humble Tea remind me of a raspberry lemonade but the sheer amount of alcohol in it catches up to you in no time. Since we were walking back to the hotel I had one more or the road.
This was a humungous mistake because I don't remember much after we got back to the room and my screaming headache didn't help as I sat on my knees in the bathroom praying to the Porcelain God the next morning. HUMBLE INDEED!
Two liters of water and a sleeve of Saltine crackers later, I finally had my wits about me. A mistake not to be repeated that trip I assure you, but we did go back to the pizza place again. I had to ask what was in the Humble Tea before we left so I could share this drink with all my friends.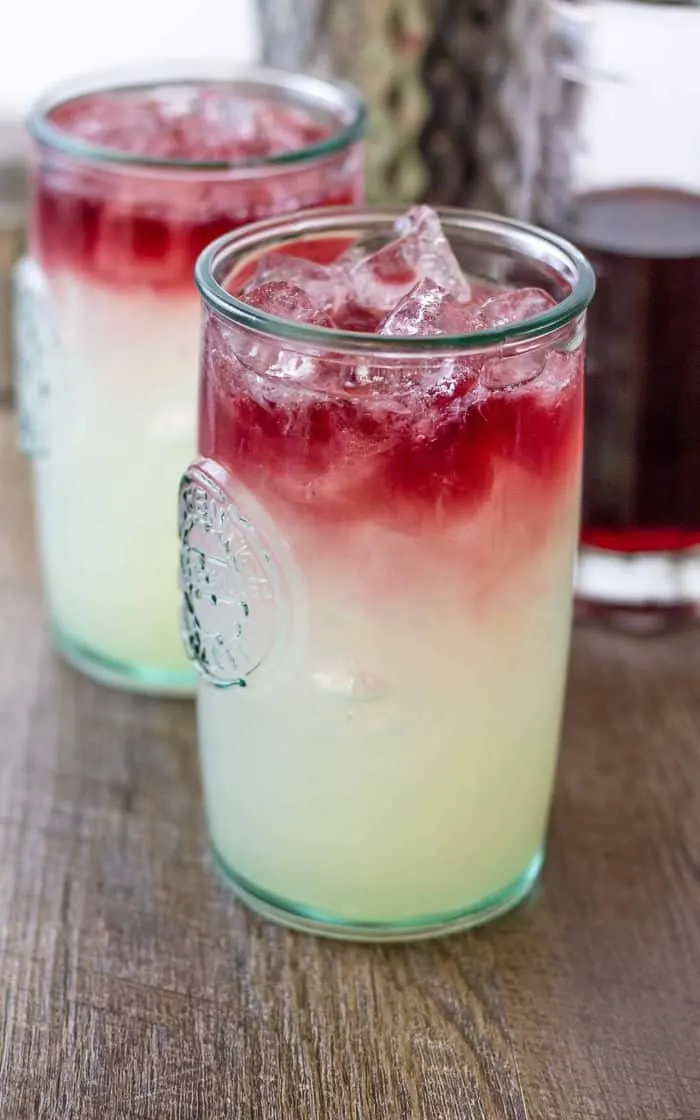 For more insider tips & tricks, and a candid behind the scenes look follow me on social media! Check use out on Pinterest, Facebook, Instagram, & Twitter (yes, people still use Twitter, LOL!)
Tapas Tips & Tricks
After you mix the spirits together, yes all 5 of them, you add the sour mix and combine.
Pour it over ice in a tall glass leaving some room at the top for the wine.
Slowly pour the wine on the top of the cocktail with the help of a spoon to make a gorgeous layered or ombre effect.
You will want to stir the drink to combine all the flavors but it sure is pretty to look at like this!
Their recipe uses a pinot noir but for my Penitent Punch I fruited it up even more by using a red sangria.
If you love this recipe as much as I do, please write a five-star review in the comment section below (or on Pinterest with the "tried it" button – you can now add pictures into reviews, too!), and be sure to help me share on facebook!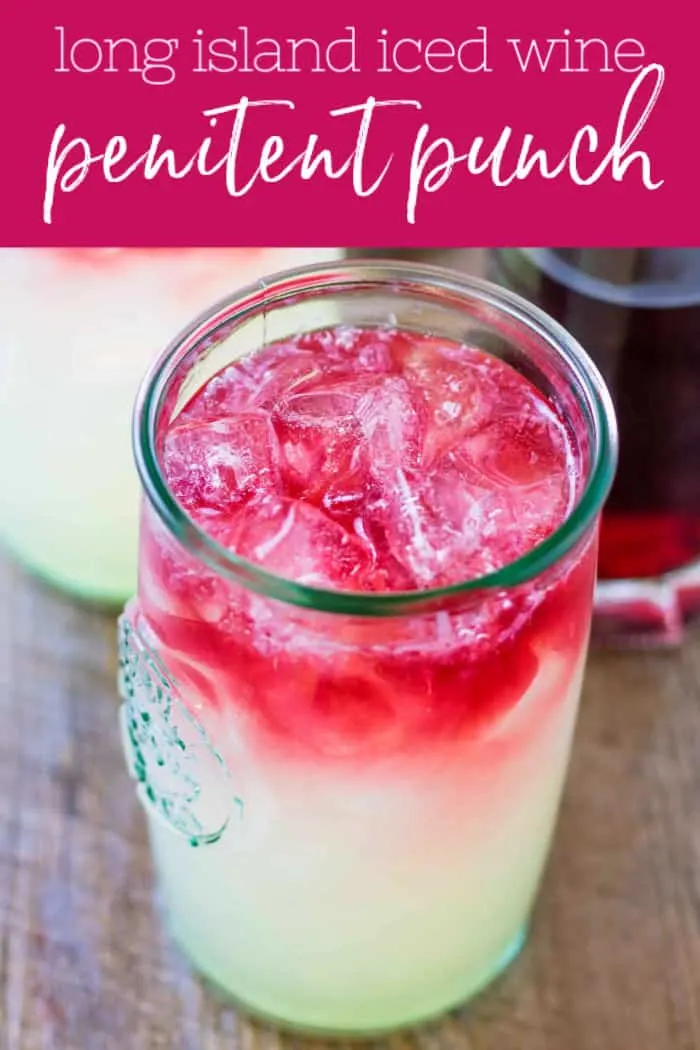 The Penitent Punch cocktail is almost all alcohol and it is very strong so please drink responsibly. It tastes like a fruity lemonade-style drink but it packs a punch! No pun intended…
Red Wine Long Island Iced Tea
Feeling a little repentant today? Try my Penitent Punch which is a wine lover's version of a Long Island Iced Tea. It will bring you to your knees!
Ingredients
1 ounce Gin
1 ounce White Rum
1 ounce Tequila (Blanco or Silver)
1 ounce Vodka
1 ounce Triple Sec
3 ounces Red Wine (I use a fruity sangria)
Instructions
Mix the gin, rum, tequila, vodka, triple sec, and sour mix in a cocktail shaker.
Add ice to two tall glasses.
Pour the punch mixture over the ice.
Add wine to the top of each glass.
Don't stir it if you want to keep the ombre effect, but it tastes much better after you do.
Notes
*If you like this recipe, please leave me a comment and rate it with some stars. Thank you!
Nutrition Information:
Yield:

2
Serving Size:

1 cocktail
Amount Per Serving:
Calories:

235
Total Fat:

0g
Saturated Fat:

0g
Trans Fat:

0g
Unsaturated Fat:

0g
Cholesterol:

0mg
Sodium:

4mg
Carbohydrates:

14g
Fiber:

0g
Sugar:

12g
Protein:

0g
This nutrition information was generated via a third party, Nutritionix, and can not be held liable for any discrepancies in the information provided.
Easy Appetizers
TakeTwoTapas.com. Content and photographs are copyright protected. Sharing of this recipe is both encouraged and appreciated. Copying and/or pasting full recipes to any social media is strictly prohibited.