Quite a few cocktails use a sweet and sour mix or even a simple syrup. Kick it up with my Jalapeno Simple Syrup made with jalapeno and serrano peppers.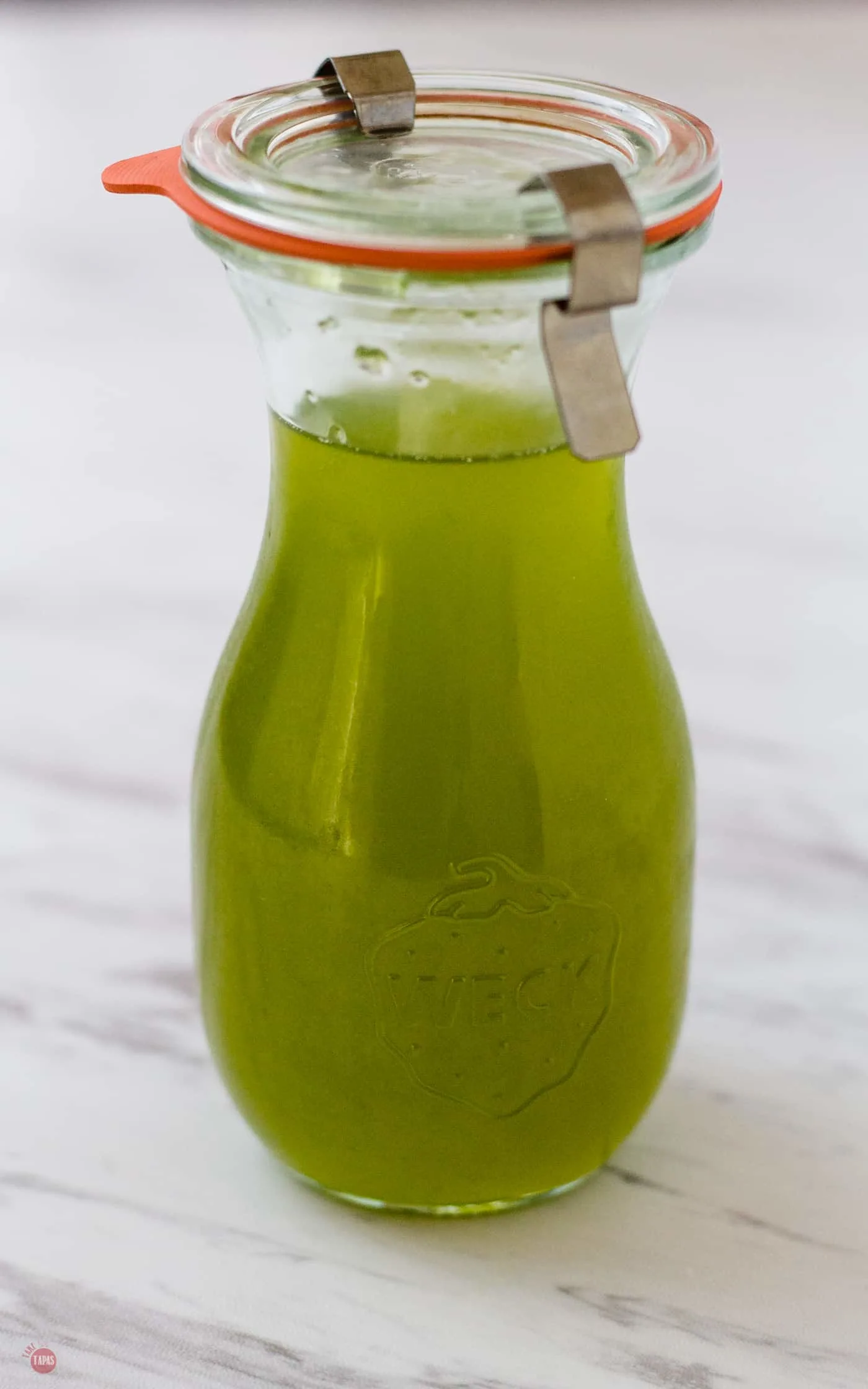 Jalapeno Simple Syrup
This quick, easy, and spicy simple syrup is a great addition to your cocktail! I like at least one dash of hot sauce in my food so what could be wrong with a little kick in my drink?
Not what you were expecting when I said the sauce was it?
Since there are peppers in my drink technically the sauce is technically my veggies… Here's where my train of thought started. When I was lucky enough to go to the Kentucky Derby in 2013, I was looking for a drink with a little kick.
This post may contain affiliate links. As an Amazon Associate, I earn from qualifying purchases. Read my disclosure policy here.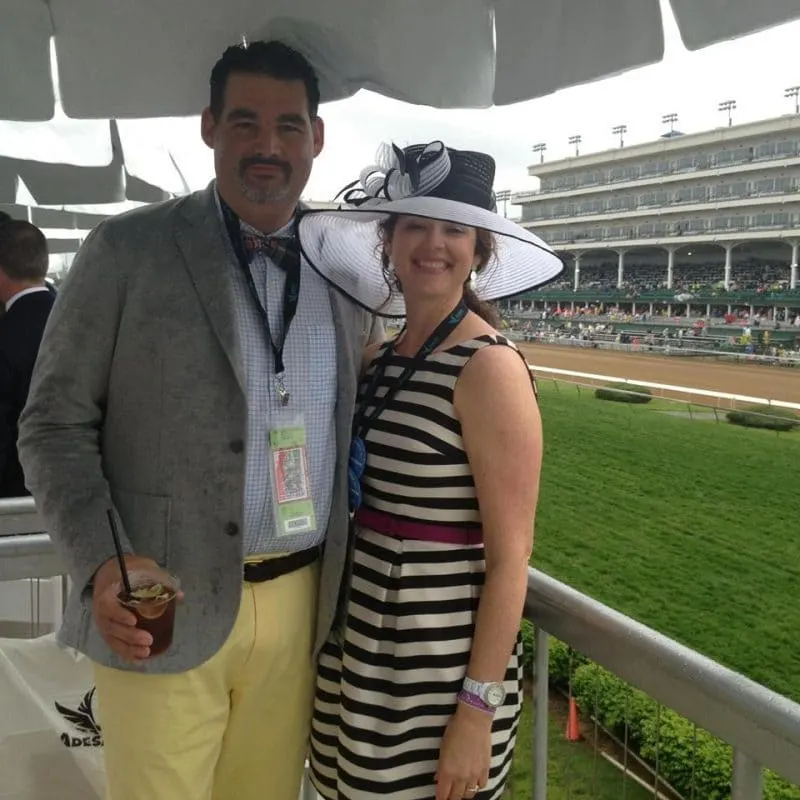 Here we are in the Derby! Check out my hat!
Spicy Simple Syrup
I am still drinking vodka cranberries but recently I found a habanero and lime syrup that I have been adding to my cranberry concoction. At the Kentucky Derby, I asked the bartender if he had any such syrup on hand.
He said no but mentioned that he had some Tabasco behind the bar. Why not give that a try, especially since he promised he would make me a new one if I didn't like it, as I had nothing to lose.
He threw a few dashes into my glass with a squeeze of lime and off I went. These few drops made the day (besides the fact that I was at the DERBY and a few feet from the horses) and it turned out to be my new favorite drink.
Aside from the Oaks Lily Cocktail, of which I tossed back a few while there. Ever since then I have been throwing a kick in all of my drinks. I find it opens up the flavors of each ingredient.
That sounded a little snooty and food writery but it is true.
Also, I hear that spicy foods are great for your metabolism so if I'm tossing back a few drinks I want my metabolism working overtime to get exterminate those calories, otherwise my New Year's Resolutions are going to be over before they had a chance to marinate!!!
For more insider tips & tricks, and a candid behind the scenes look follow me on social media! Check use out on Pinterest, Facebook, Instagram, & Twitter (yes, people still use Twitter, LOL!)
How to make Jalapeno Simple Syrup
The basic recipe for simple syrup is one part sugar and one part water. Boil the water and dissolve the sugar.
Pretty simple right? It is which is why I hate to buy it but when I saw that Habanero one I did pay the money for that one. After going through a lot of that I had to learn to start making my own.
To infuse flavors, herbs, and citrus into simple syrup is easy too, it just takes a little extra time.
I was not about to bring in some Habanero peppers as I wear contacts and I have had many a hot pepper juice get on my fingers and ruin some contact lenses to say nothing of the pain in my eye.
I went with something a little tamer and used a mixture of serrano and jalapeno peppers to make my chili pepper simple syrup. Just chop and add to the simple syrup. Let them steep in the hot syrup for 10-15 minutes then remove them.
Looking for options for your chili pepper selection? Check out these options as a substitute for chili pepper. If you really want to geek out on peppers and pick the right one with the perfect amount of heat, check out this post on how peppers are ranked on the Scoville Scale.
For the full recipe and detailed instructions, please refer to the recipe card at the bottom of the post.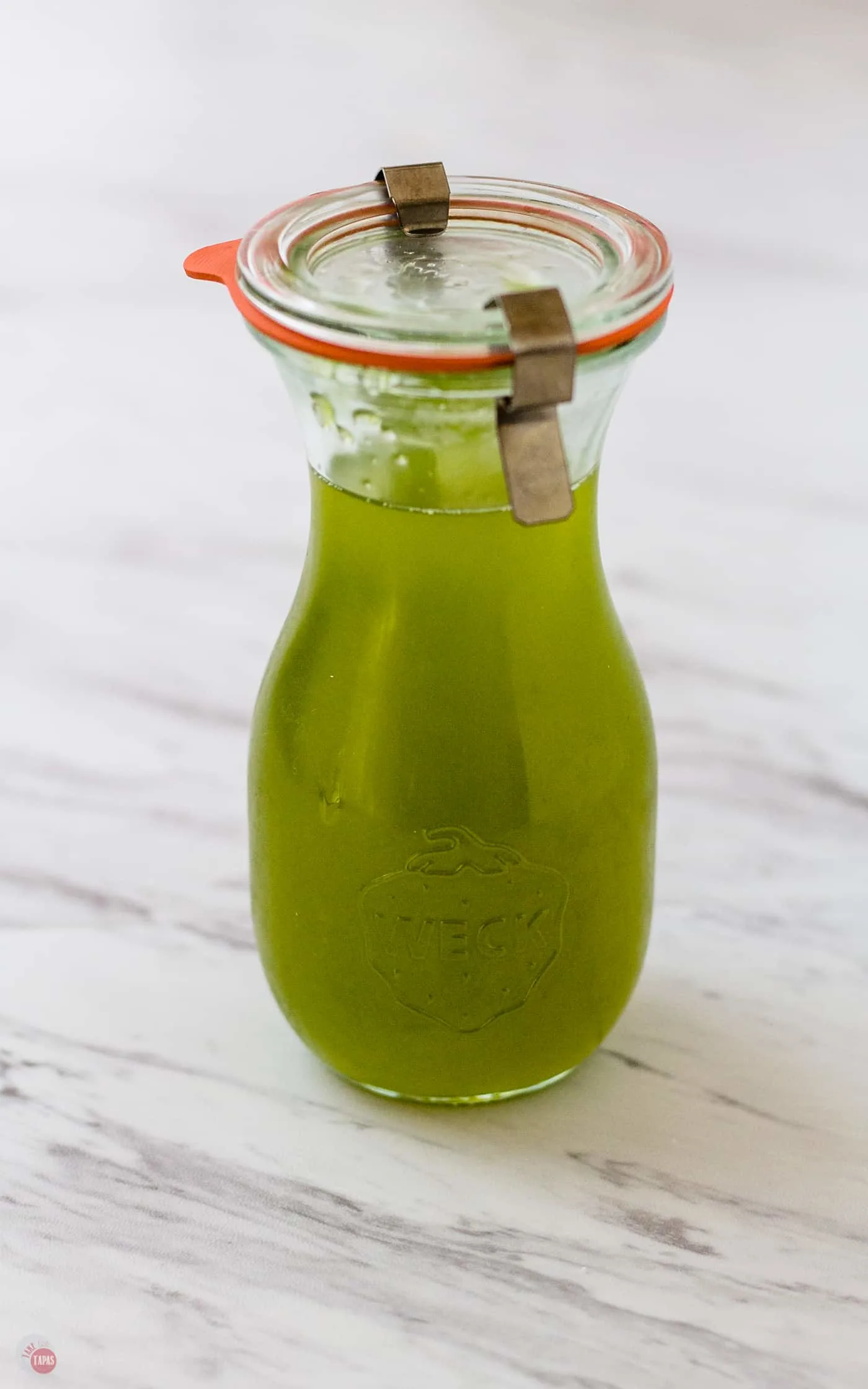 Removing the peppers will leave a slight hint of the heat in the syrup but I prefer to have it a little stronger so I kept the peppers in the syrup and pureed the whole thing.
After you strain the pepper seeds out you can store the syrup in a food safe container for a few weeks.
Pureeing the peppers gives the syrup a light green color whereas if you remove them you will just be left with some heat in a clear syrup.
The pureed peppers lend a little pulp-like texture to your cocktail so if you like that, I recommend blending it all together. Go big or go home!
If you are looking to add another level to your libations, this chili pepper simple syrup will do just that.
Easy Party Foods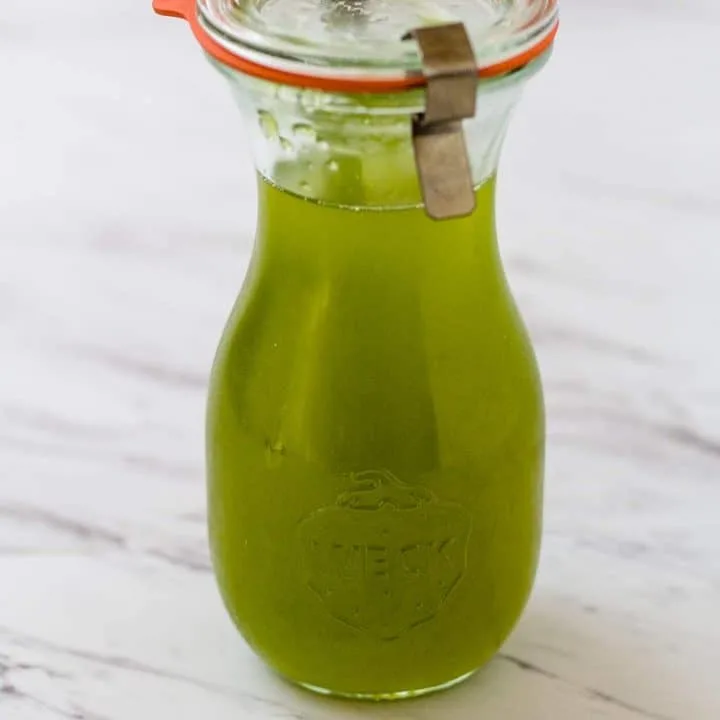 Chili Pepper Simple Syrup
Quite a few cocktails use a sweet and sour mix or even a simple syrup. Kick it up with my chili pepper simple syrup made with jalapeno and serrano peppers.
Ingredients
1 cup sugar
1 cup water
3 jalapeno peppers (sliced thin)
2 serrano peppers (sliced thin)
1/2 teaspoon kosher salt
1 tablespoon lemon juice (feel free to use lime or any other citrus)
Instructions
Put water and sugar in a small saucepan.
Heat over medium heat until sugar dissolves, stirring occasionally.
When sugar dissolved, add salt, sliced chili peppers, and lemon juice.
Remove from heat.
Steep for 10 minutes.
Pour all contents into blender and pulse until everything is all pureed nicely.
If you like your syrup smooth, you can strain your syrup through a sieve.
If you like a little texture, just put straight into your storage container, preferably glass, and place in the refrigerator until ready to use.
Notes
*If you like this recipe, leave me a comment and rate it with some stars. Thank you!
Nutrition Information:
Yield:

2
Serving Size:

1
Amount Per Serving:
Calories:

396
Total Fat:

0g
Saturated Fat:

0g
Trans Fat:

0g
Unsaturated Fat:

0g
Cholesterol:

0mg
Sodium:

538mg
Carbohydrates:

102g
Fiber:

1g
Sugar:

101g
Protein:

0g
This nutrition information was generated via a third party, Nutritionix, and can not be held liable for any discrepancies in the information provided.
TakeTwoTapas.com. Content and photographs are copyright protected. Sharing of this recipe is both encouraged and appreciated. Copying and/or pasting full recipes to any social media is strictly prohibited.