Curious about how long to air fry a specific food? Check out this handy chart for Air Fryer Cooking Times! Print and place inside a kitchen cabinet for easy reference.
The first time that I used an air fryer, I immediately understood what all the praise was about.
Air fryers are able to create the best results for a ton of my favorite recipes, with a warm interior and crispy exterior in a lot less time and with only a little oil when compared to conventional oven recipes.
I've found the perfect air fryer cheat sheet for the most common foods, which is a great starting point for anyone who is new to easy air fryer recipes, or just wants a handy reference for if they forget.
Figuring Out Air Fryer Cooking Times
When it comes to making your favorite foods, the air fryer cook times can vary based on a number of factors, which is why this air fryer cooking chart can be so useful.
A lot of people have trouble figuring out how long food cooks in the air fryer because it is so different from a regular oven.
This printable air fryer times chart with all the most popular foods is a great way to make sure you have the exact time right in front of you, so you don't even have to think about it.
Click here for a printable version of this handy chart!
This post may contain affiliate links. As an Amazon Associate, I earn from qualifying purchases. Read my disclosure policy here.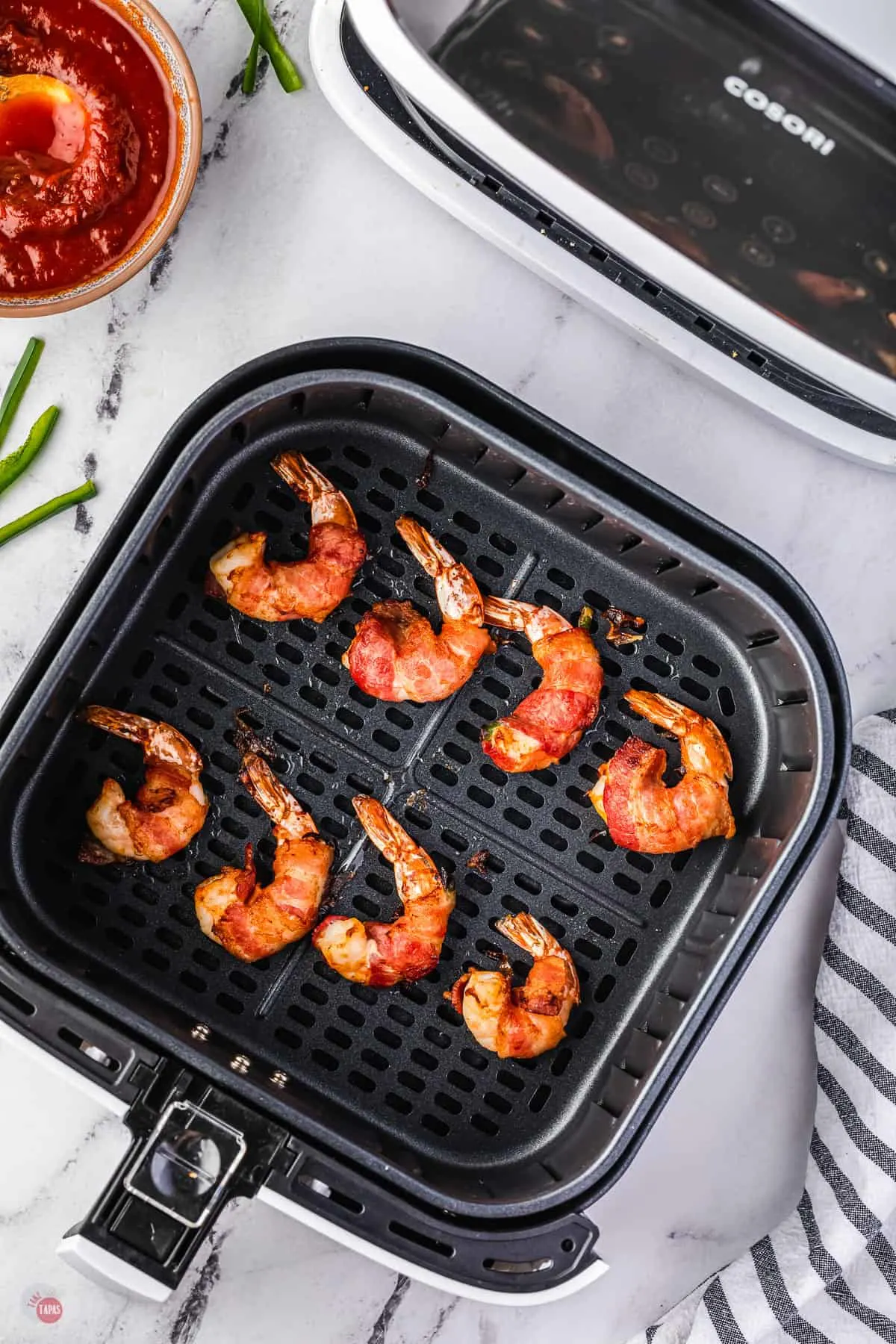 Why Choose An Air Fryer?
If you're trying out a new food and want the perfect crisp outside, air frying is the way to go.
Although you can get similar results with a convection oven or deep fryer, the air fryer oven is unique.
The cooking process of the air fryer uses condensed hot air along with a smaller air fryer basket. This means faster cooking times when compared to the traditional oven.
If you choose to use the standard oven, you will need longer cooking times to achieve the same results.
Air frying also can be a better option than deep frying and is much healthier.
Deep-fried foods typically have to be submerged in a heavy oil. While air fry food only needs to be sprayed with a cooking spray or oil lightly before baking.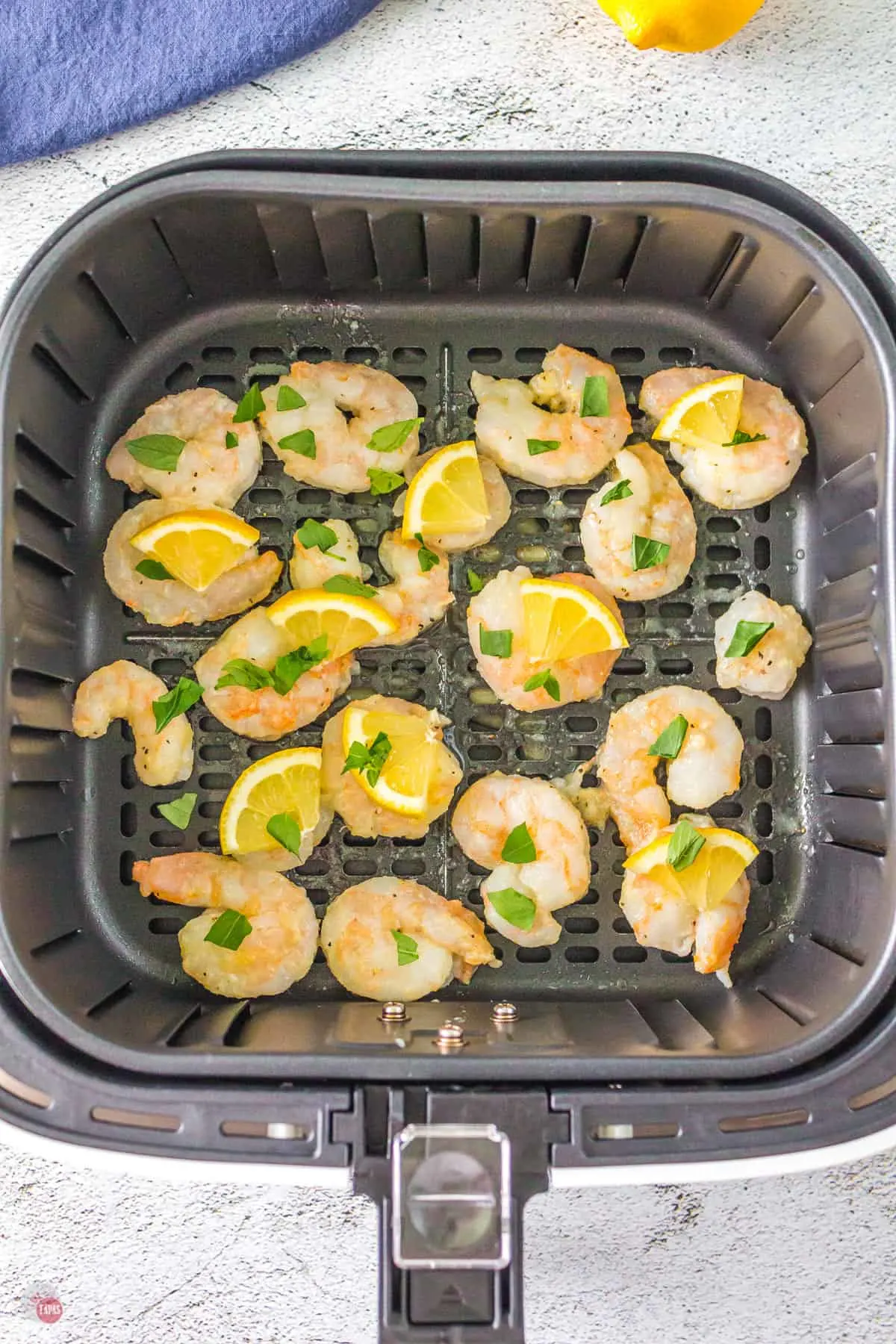 Cooking Meat & Fish In The Air Fryer
There are a ton of delicious air fryer recipes that use meat. And you can cook a ton of different types when you know the right cooking temperature and time.
Since all air fryer models are different, I highly recommend using a meat thermometer. Whether you just started using an air fryer or are an expert.
It's important to make sure that the air fryer internal temperature gets high enough to cook your meat inside, without burning the outside.
The meats that you can cook in the air fryer include:
Chicken breast
Pork chops
Fish fillet
Chicken nuggets
Pork tenderloin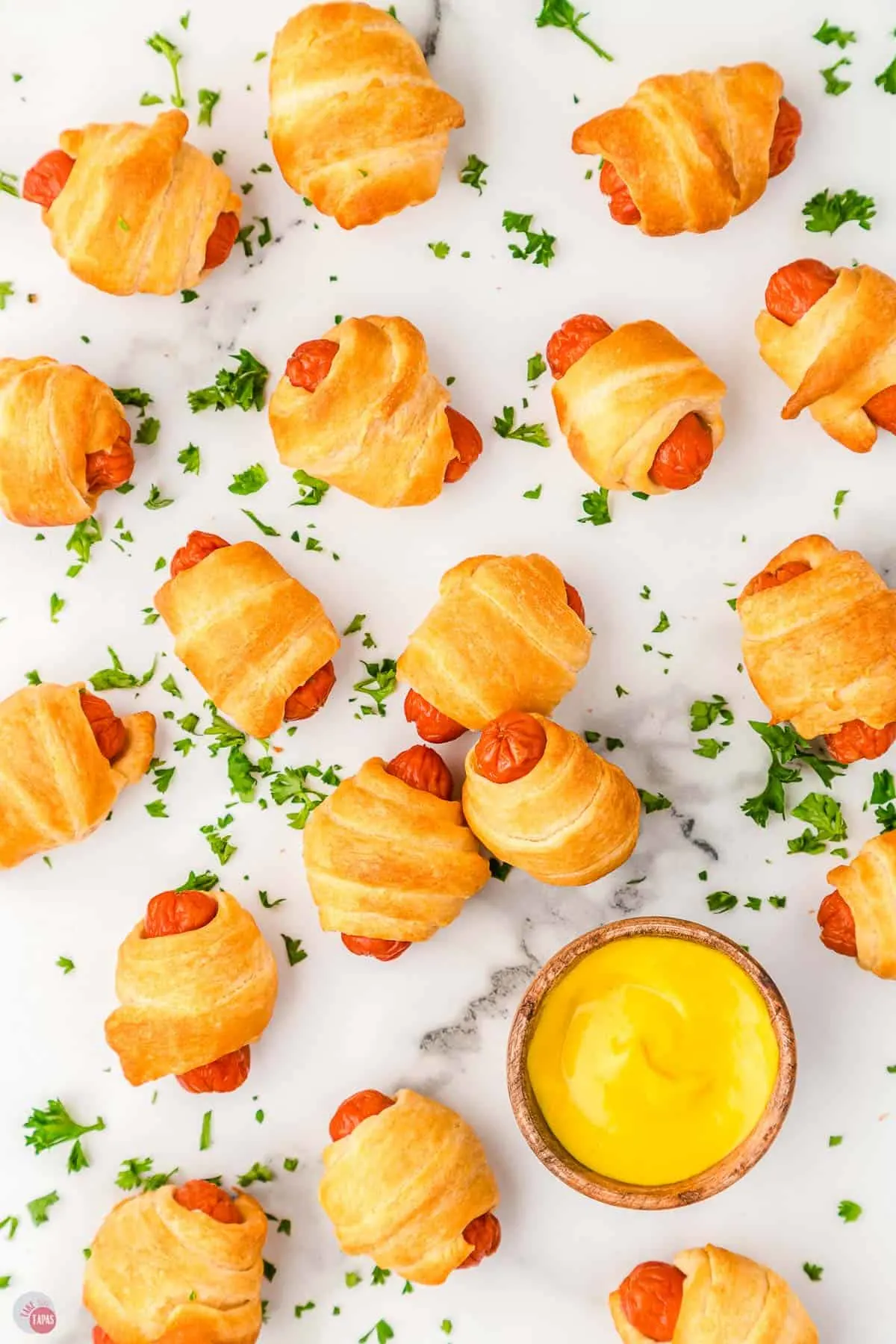 Cooking Fried Food In The Air Fryer
Rather than using a deep fryer, you can easily throw those foods into the air fryer. The use an oil sprayer to coat them with a little olive oil or vegetable oil.
This is a great option for french fries, onion rings, tater tots, or jalapeno poppers if you want that crispy exterior.
My. most popular air fryer recipe is my Blooming Onion. Try it with the bloomin onion dip!
As a general rule of thumb, the air fryer times for these foods are between 15 – 17 minutes at 350 degrees F. Make sure to lay them out in a single layer and shake at the halfway mark.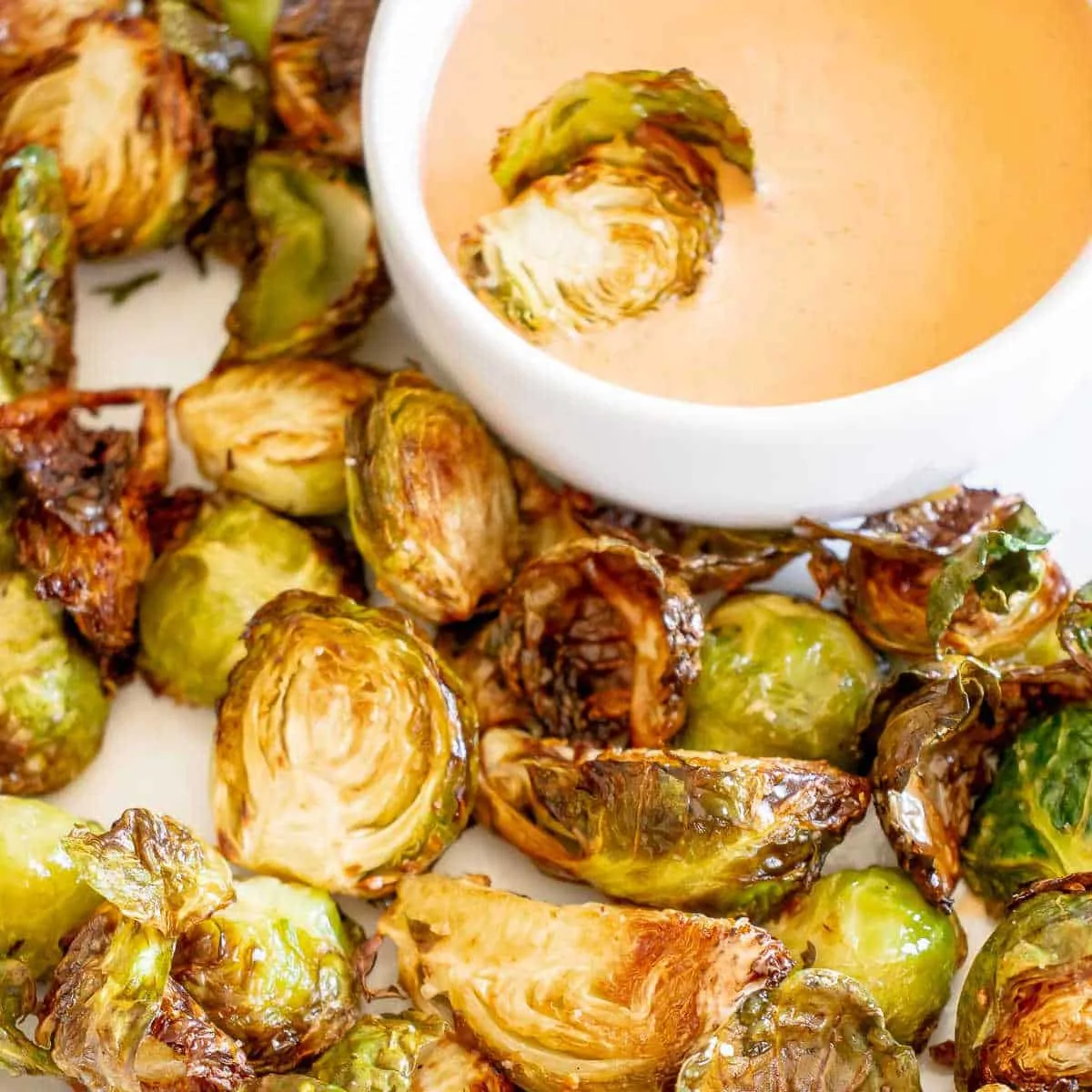 Cooking Vegetables In The Air Fryer
Some of my favorite air fryer meals include brussels sprouts, asparagus, and broccoli. Because this cooking method can create the same effect as roasting.
But with half the amount of oven time that it would normally take.
Along with getting in your greens, you can also use it to create delicious potato wedges or baked potatoes.
Pro tip – try placing your potato slices in silicone muffin cups or line your air fryer basket with parchment paper to make for easy clean up.
Tip For The Air Fryer
The biggest thing to keep in mind when using this type of kitchen appliance is that the air fryer cooks your food in a much smaller area than the regular oven.
Because of this, there are higher temperatures inside the basket. Although it may seem the same, there are different temperatures needed for cooking.
These high temperatures can burn food more easily, so make sure to check on your food more often and continuously flip your food to avoid hot spots.
Additionally, don't forget to preheat your air fryer before putting in your food.
The heating element does take a little while to reach the right level, so wait until it is fully heated before placing your food in the basket.
Can't find the food that you want to cook on my air fryer cheat sheet? I have good news – you can easily find an air fryer calculator online, which can give you the cooking time for food that spans a variety of sizes and types.
If you love this recipe as much as I do, please write a five-star review in the comment section below (or on Pinterest with the "tried it" button – you can now add pictures into reviews, too!), and be sure to help me share on facebook!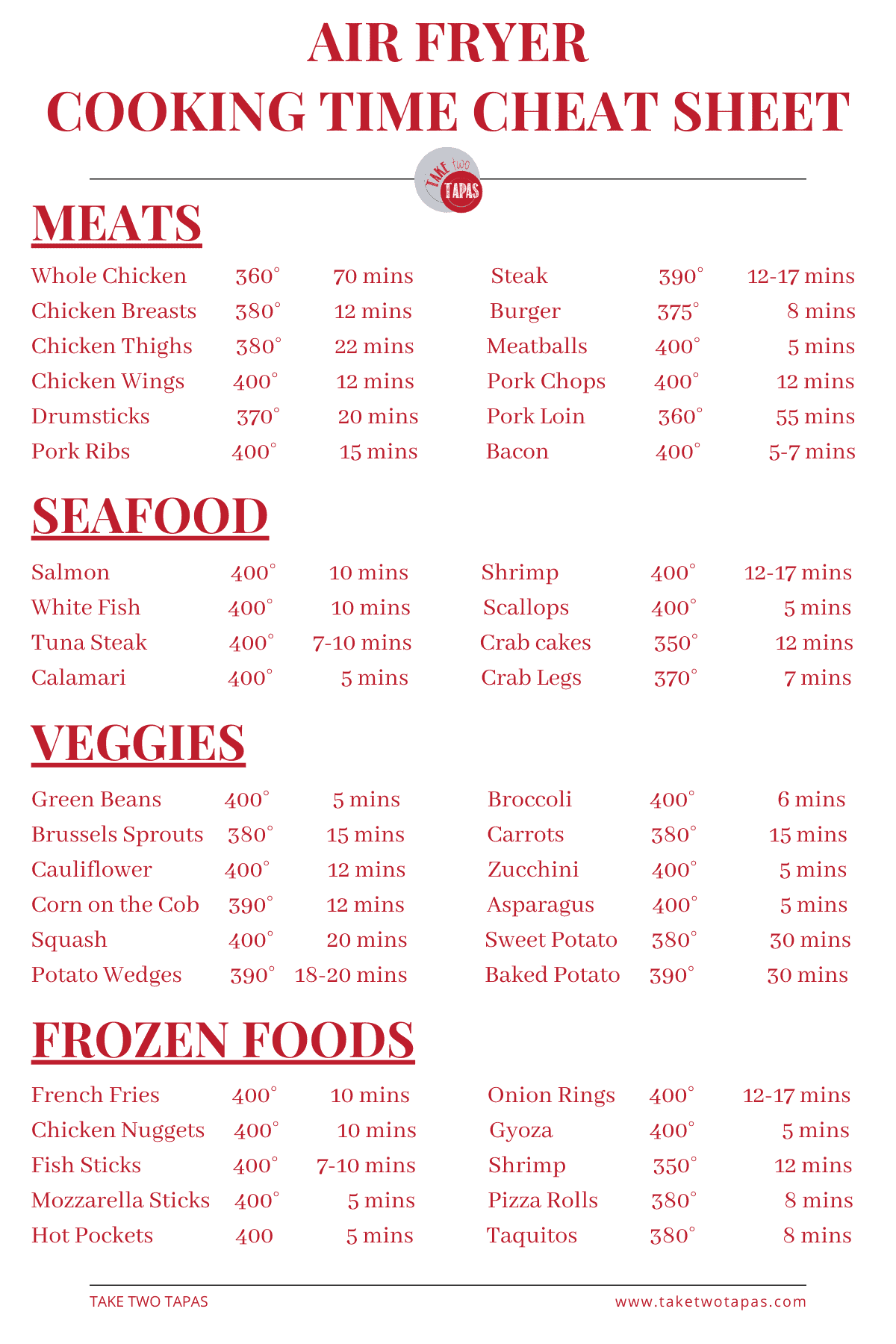 Whether you want to try out that great recipe you found or are batch creating some healthy meals with your new air fryer, this handy guide is an easy way to make sure that your favorite foods aren't overcooked or undercooked. Just pop this cooking times' cheat sheet into your recipe binder and pull it out whenever you need a quick reference guide for making the perfect crispy food.
Air Fryer Recipes