Crispy and tender Air Fryer Brussels Sprouts are crunchy on the outside and soft on the inside. A great side dish and now even easier in the air fryer! A hint of garlic and a spicy buffalo ranch dipping sauce bring the flavor level up a few notches!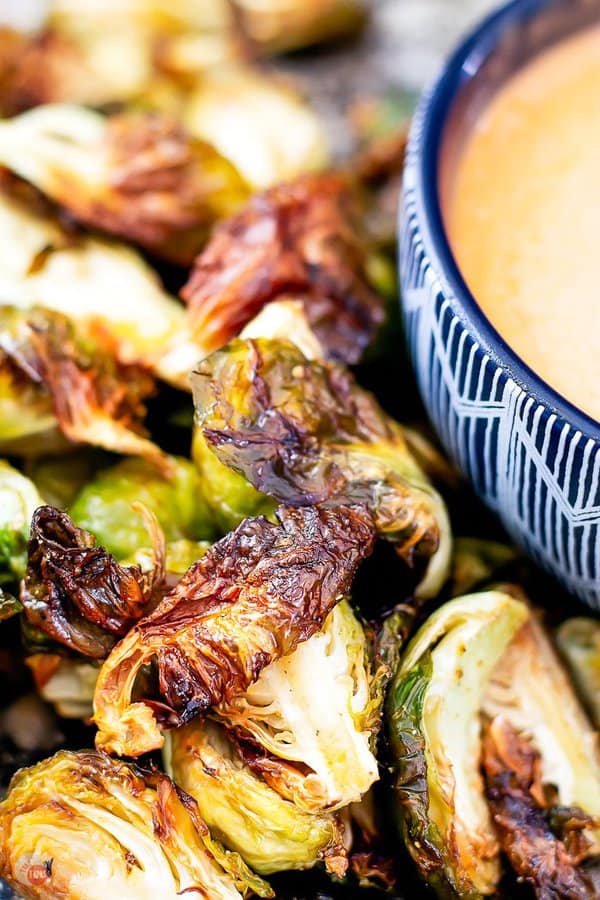 Air Fryer Brussel Sprouts
If you are like me and start a new "healthy eating" regimen only to fall off the wagon a few weeks later because it's too hard, I have a great recipe for you that you are going to love! If you love Brussels sprouts of course…
I am not one to get sucked into all the new food trends or gadgets, even though I finally got an electric pressure cooker (as a gift) but this air fryer trend that is front and center is no joke. I got one and love it!
This prompted me to start looking for air fryer recipes not just for side dishes and meats, but for appetizers!
I am not one for full meals as you know so I need something I can make my snacks in. Of all the air fryer vegetable recipes I found on Pinterest, sprouts seem to be the favorite for veggies. You can get those lovely outer leaves like deep frying, but with a fraction of the oil.
I adapted one for my liking and found that I love using the trendy air fryer because it is like a small convection oven that doesn't heat up my kitchen like my full size oven does.
And my son loves it because he can make pizza rolls in 6 minutes instead of the regular 30. You are going to love this Brussels sprouts so much you will add it to your list of easy air fryer recipes for all year long!
This post may contain affiliate links. As an Amazon Associate, I earn from qualifying purchases. Read my disclosure policy here.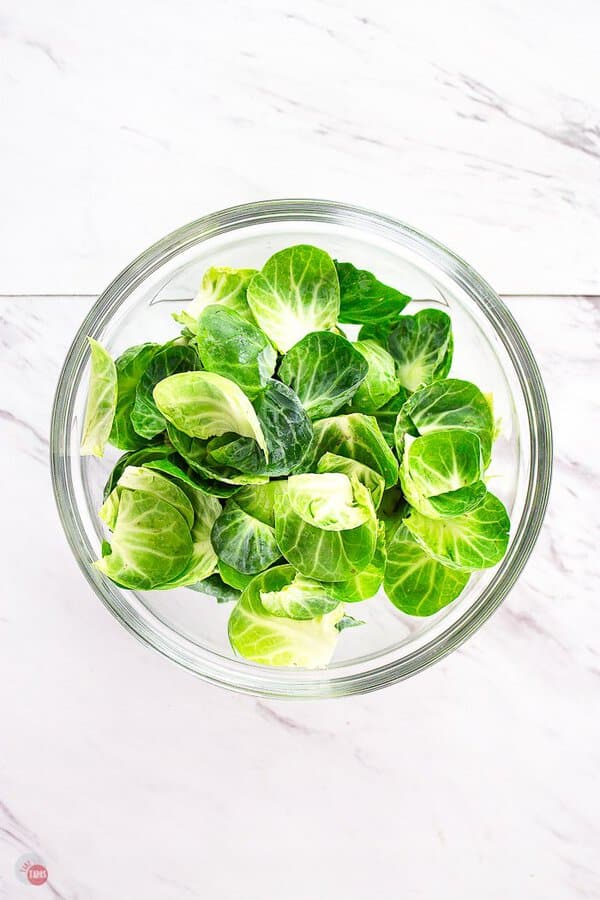 Why this Air Fryer Brussel Sprouts recipe is awesome
You only need four ingredients to make them.
They are ready in under 30 minutes!
A healthier alternative to deep frying.
Can be paired with lots of main dishes.
Endless variations so you never get bored.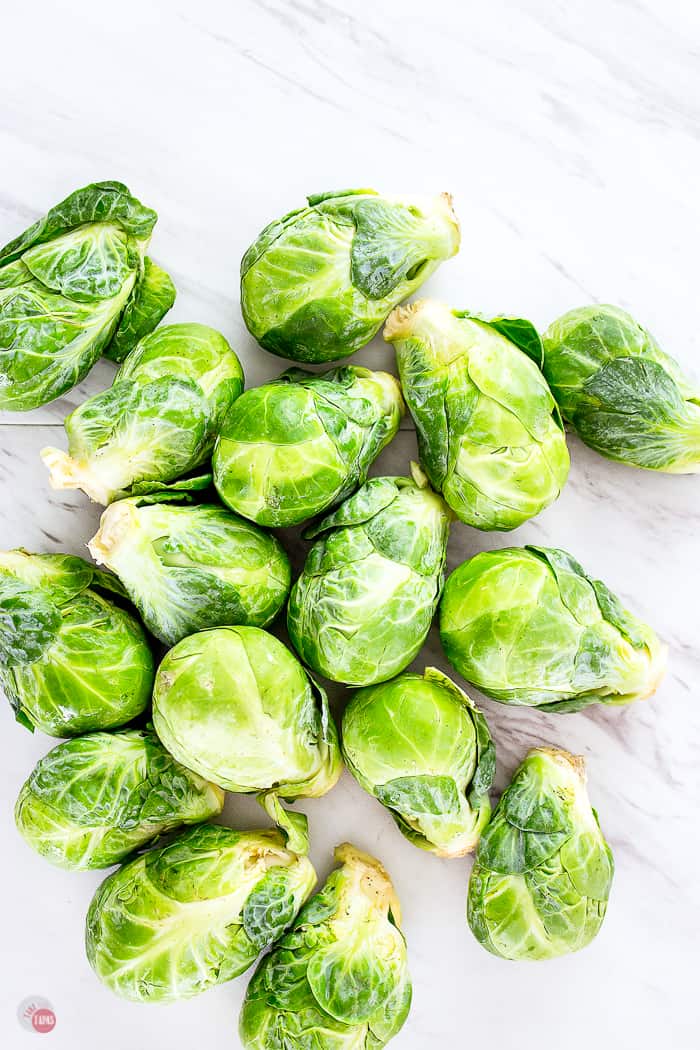 For more insider tips & tricks, and a candid behind the scenes look follow me on social media! Check use out on Pinterest, Facebook, Instagram, & Twitter (yes, people still use Twitter, LOL!)
Ingredients Needed
Brussels sprouts – You will need about two cups. Make sure they are properly trimmed (see my tips and tricks below for just how to do that!)
Olive oil – While you don't need this oil for the actual frying, it does help the garlic and salt to stick to your sprouts. Avocado oil can also be used.
Garlic – I wanted to keep the flavor of these sprouts pretty simple. Minced garlic cloves provide much better flavor than granulated garlic.
Salt – You can add this to your liking and taste. I prefer using fine sea salt here.
Buffalo hot sauce – These brussel sprouts air fryer recipe is great all on it's own, but a spicy and creamy dipping sauce is always fun to pair with them!
Ranch dressing – The ranch adds a touch of creaminess to the dipping sauce.
How to make Air Fryer Brussel Sprouts
First: Trim the fresh brussels sprouts as you normally would by cutting off the end where it was attached to the stalk. Any loose leaves I separate as not to waste and then cut the sprout in half.
Second: Cut the sprouts so they are close to the same size. If the half is bigger than my thumb (in diameter) then I quarter it. Not all sprouts are created the same size so one might be ok whole and others might need to be cut down a bit.
Third: Toss the quarters in a little oil and chopped garlic, salt and pepper if desired. Air fry the quarters/halves as listed in directions leaving the loose leaves out for now. Doing this in single layer is important to get crispy edges. It allows the hot air to circulate around each piece.
Fourth: once the sprouts are done frying and removed, toss the loose leaves in the remaining oil/garlic mixture.
Fifth: fry the leaves for a fraction of the time.
Sixth: eat the leaves as a crispy snack "chip" or add these to the top of the bowl of sprout quarters/halves for a crunchy topping!
For the full recipe and detailed instructions, please refer to the recipe card at the bottom of the post.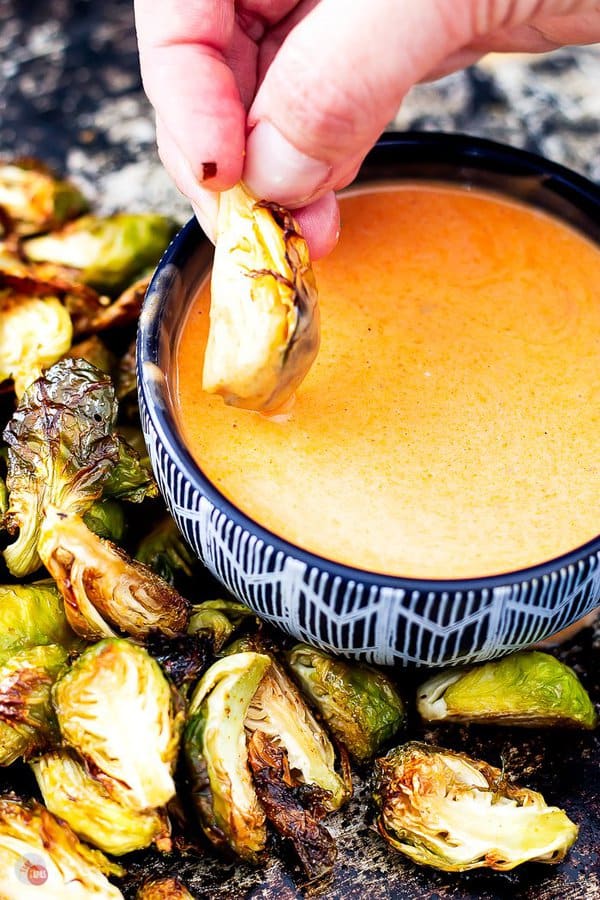 Variations
One of the things I love is that while this is my favorite way to enjoy this easy recipe, I can easily customize it with just a few basic ingredients. Here are my favorite ideas.
Toss with balsamic vinegar or balsamic glaze for a sweet, but tangy glaze.
Top with freshly grated parmesan cheese while still hot.
Add a dash of garlic powder to the dipping sauce.
Grate fresh lemon zest over top to brighten.
FAQs
Can you air fry frozen sprouts?
You can, but they do not come out as crispy and you might need to microwave them for a bit beforehand to get some of the moisture out. It is still a fantastic easy side dish, just not as crunchy.
Can I make this recipe without oil?
You certainly can, I just use it to help keep the salt and garlic sticking to the sprouts and aid in the crispness. It still using way less oil than the deep-fried counterparts.
How to reheat sprouts in the air fryer after they have been cooked
Air fry at a lower temperature (325F) and heat for 3-4 minutes. Be sure to shake a few times to ensure even cooking. Store in an airtight container for up to 5 days.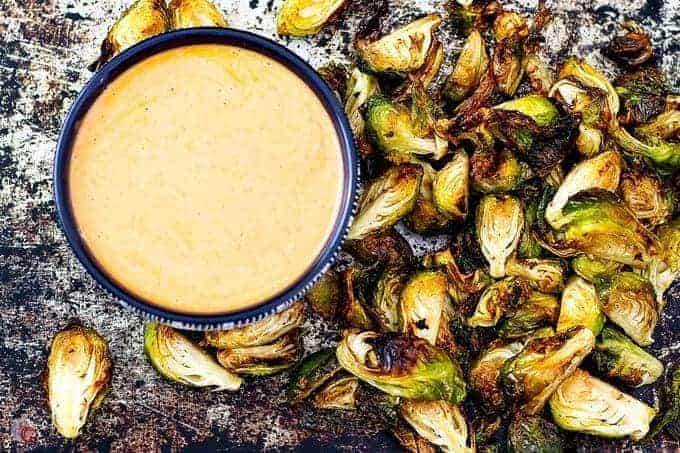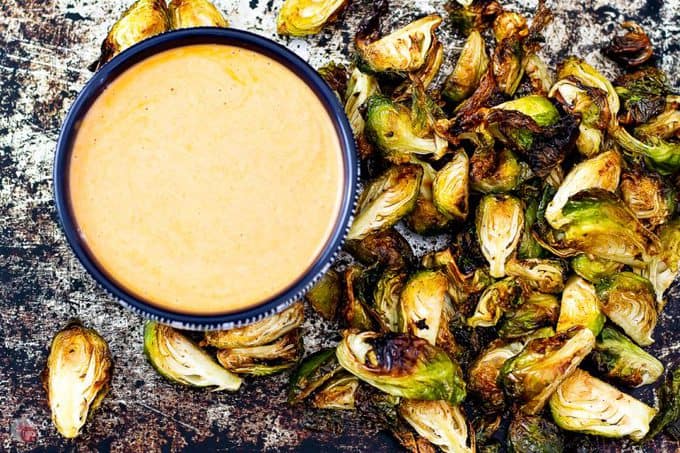 How small do I need to chop the sprouts?
I use the rule that if the sprout is bigger than 2 inches I quarter them. If smaller, then keep in halves.
Do I need to preheat the air fryer?
Technically you don't need to preheat an air fryer but I like to do that just because I think it jump starts the cooking process. I feel weird putting food in a cold appliance like an oven so I turn it on for just a minute or two while I am doing final prep work.
Buffalo Ranch dipping sauce is a great addition to these sprouts! The dip is not part of the healthy air fryer part and not really in the Paleo/Keto/Whole30 diet list but it is oh so delicious!
Tapas Tips & Tricks
These Brussels sprouts are so easy to make and one of the most delicious vegetables I have had. Here are a few tips to getting them just right!
Trim off the leaves that are low on the stalk or that fall off when you trim the end off.
Keep the loose leaves and the sprout halves/quarters separate as they cook for different times.
If the sprout is larger than 1 inch in diameter you will need to half them. If the half is still too big then quarter them.
When cutting the sprout make sure to cut through the stalk or all the leaves will fall apart.
Because the air fryer doesn't use oil, I did in this case for optimal garlic stickage, this recipe is still full on air fryer healthy and diet restriction friendly. Especially for Keto and Whole30!
If you love this recipe as much as I do, please write a five-star review in the comment section below (or on Pinterest with the "tried it" button – you can now add pictures into reviews, too!), and be sure to help me share on facebook!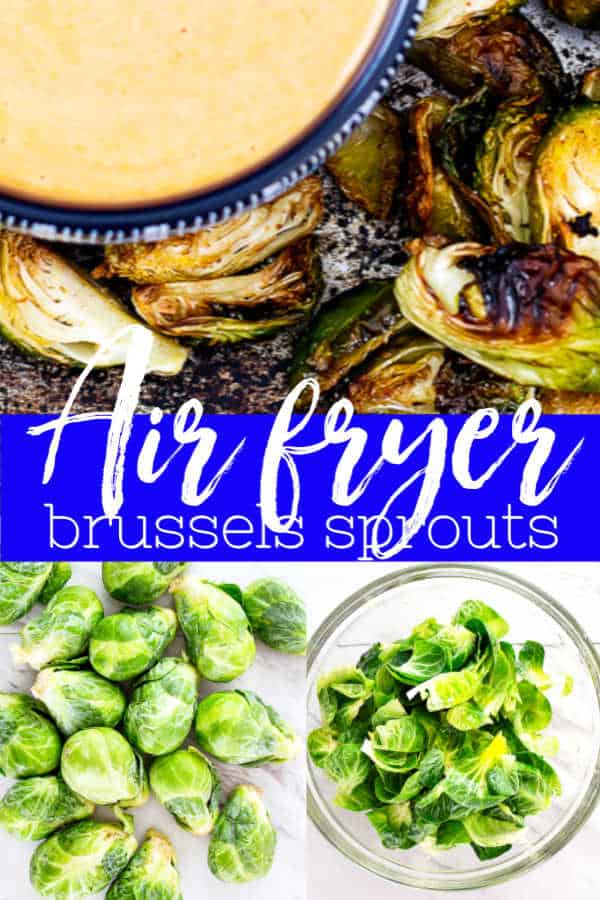 More Easy Appetizers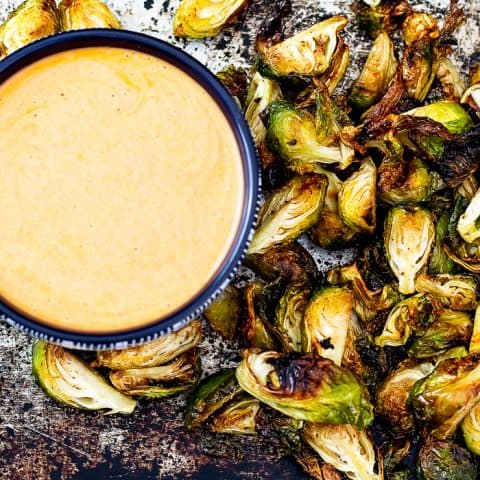 Air Fryer Brussels Sprouts with Buffalo Ranch Dipping Sauce
Crispy and tender Brussels sprouts are a great side dish and now even easier in the air fryer! A hint of garlic and a spicy buffalo ranch dipping sauce bring the flavor level up a few notches!
Ingredients
Brussels Sprouts
1 pound Brussels sprouts ~ 2 cups
2 tablespoons olive oil
2 cloves garlic, minced
1 teaspoon salt
Buffalo Ranch Dip
Instructions
Trim sprouts by cutting off the section that attaches to the stalk and remove any loose leaves and save the leaves.
Half or quarter the sprouts to be all the same size, not larger than the diameter of your thumb.
Mix the olive oil and garlic in a bowl.
Toss the quarters/halves in the oil and garlic mixture.
Add them to the airfryer and cook at 350F for 15 minutes, shaking every 5 minutes, checking for your level of doneness that you prefer.
While they are cooking, prep the buffalo ranch dip by mixing the ranch and hot sauce to your level of spiciness.
When the sprouts are done, remove to a serving bowl.
Toss the loose sprout leaves in the leftover oil/garlic mixture.
Add to airfryer basket and cook at 350F for 1-3 minutes or until crispy but not burnt.
Remove and eat as a snack or sprinkle on top of sprout quarters/halves as a nice crunchy topping.
Enjoy!
Notes
*If you like this recipe, please leave me a comment and rate it with some stars in the recipe card. Thank you!
Nutrition Information:
Yield:

6
Serving Size:

1/6th
Amount Per Serving:
Calories:

105
Total Fat:

8g
Saturated Fat:

2g
Trans Fat:

0g
Unsaturated Fat:

6g
Cholesterol:

13mg
Sodium:

417mg
Carbohydrates:

4g
Fiber:

1g
Sugar:

1g
Protein:

5g
This nutrition information was generated via a third party, Nutritionix, and can bot be held liable for any discrepancies in the information provided.
TakeTwoTapas.com. Content and photographs are copyright protected. Sharing of this recipe is both encouraged and appreciated. Copying and/or pasting full recipes to any social media is strictly prohibited.