Get a taste of the bayou with your favorite side dish when you make spicy Cajun French Fries to serve with your favorite creole dishes or just a simple hamburger or hot dog.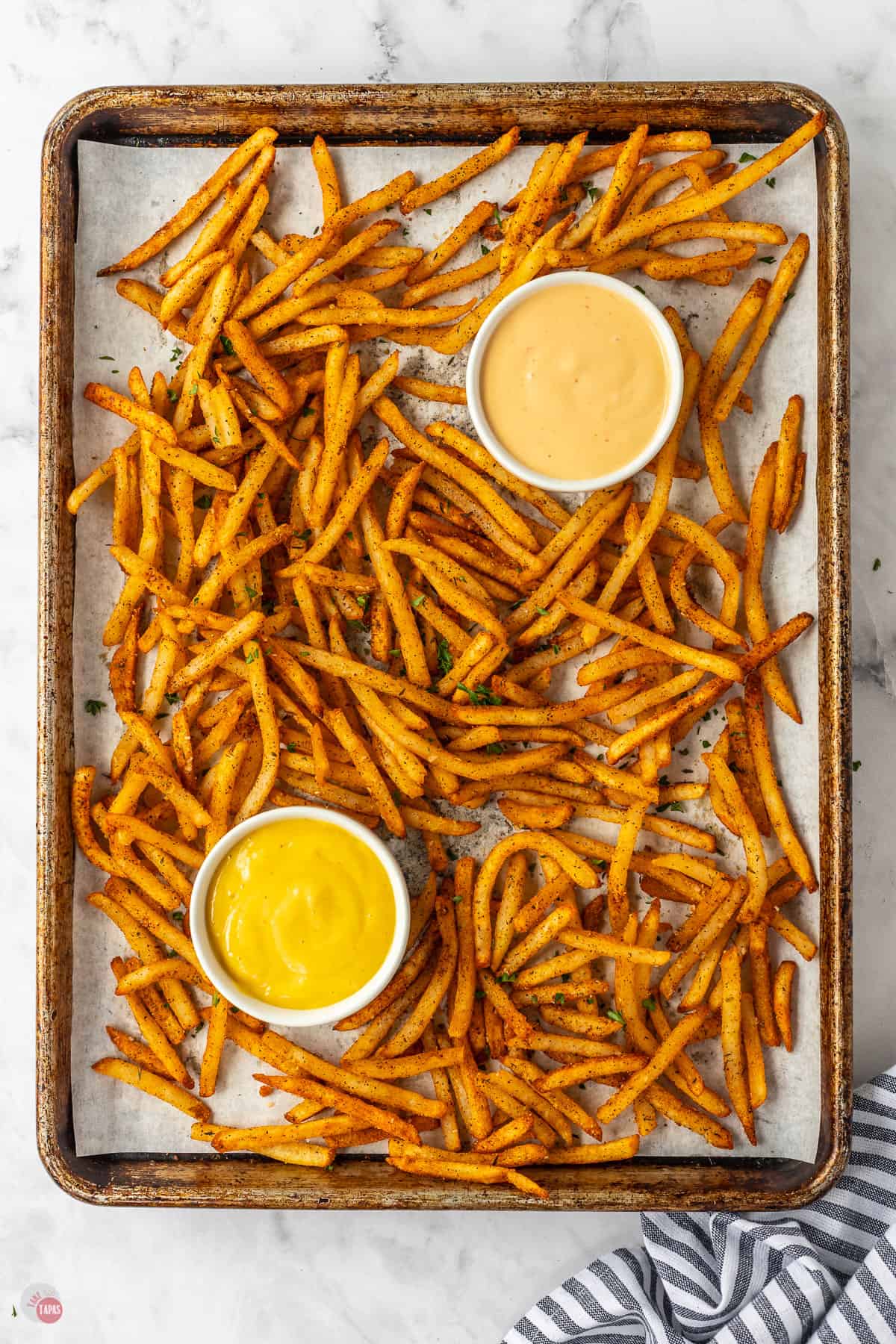 If you'd rather skip my (very helpful, I think) tips and tricks, essential cooking info, and similar recipe ideas – and get straight to this delicious recipe – simply scroll to the bottom of the page where you can find the printable recipe card.
Adding a little Cajun spice to your french fries is easier than you think, I bet you already have all the spices needed.
You can add them to frozen french fries like I made here, or if you have a favorite way to make french fries from scratch add the homemade Cajun seasoning to those.
Either way, you will want to eat the whole pan, they are that good!
WHAT ARE CAJUN FRIES?
Crispy on the outside, tender on the inside like French fries should be, and dusted with slightly spicy Cajun seasoning.
Think of them as gourmet seasoned fries that will go perfectly with any dish or enjoy them as an appetizer all by themselves.
This post may contain affiliate links. As an Amazon Associate, I earn from qualifying purchases. Read my disclosure policy here.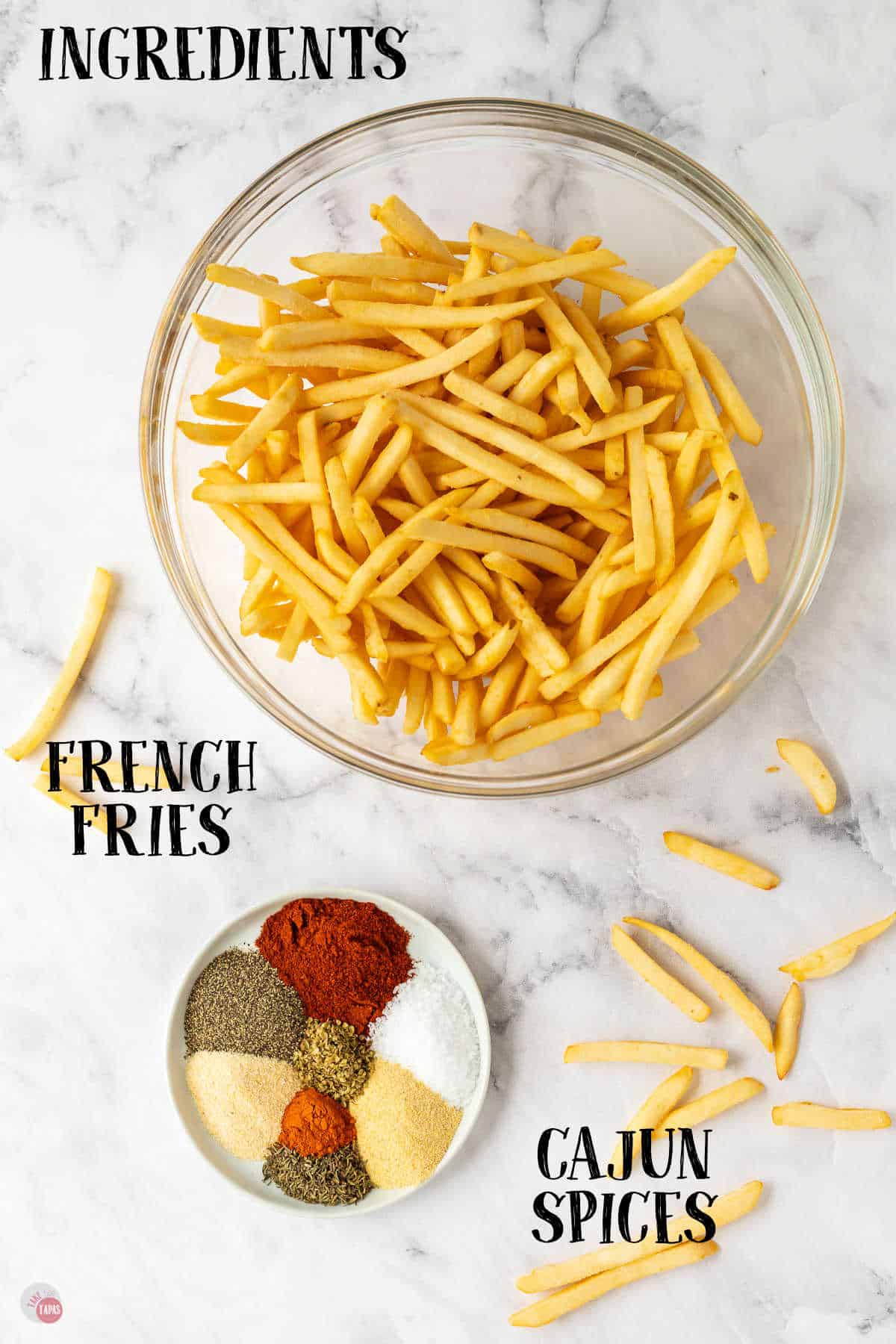 WHAT ARE CAJUN FRIES MADE OF?
CAJUN SEASONING SPICES
paprika
cayenne pepper
onion powder
garlic powder
salt and pepper
Cajun Spice Blend – You can make it homemade with the recipe below or you can use a pre-made blend from the store.
Frozen French Fries – I like to use the restaurant style straight cut fries but feel free to use your favorite brand or cut of fries. Just check for differing cooking times and temperatures.
You can always make your french fries homemade. See notes below*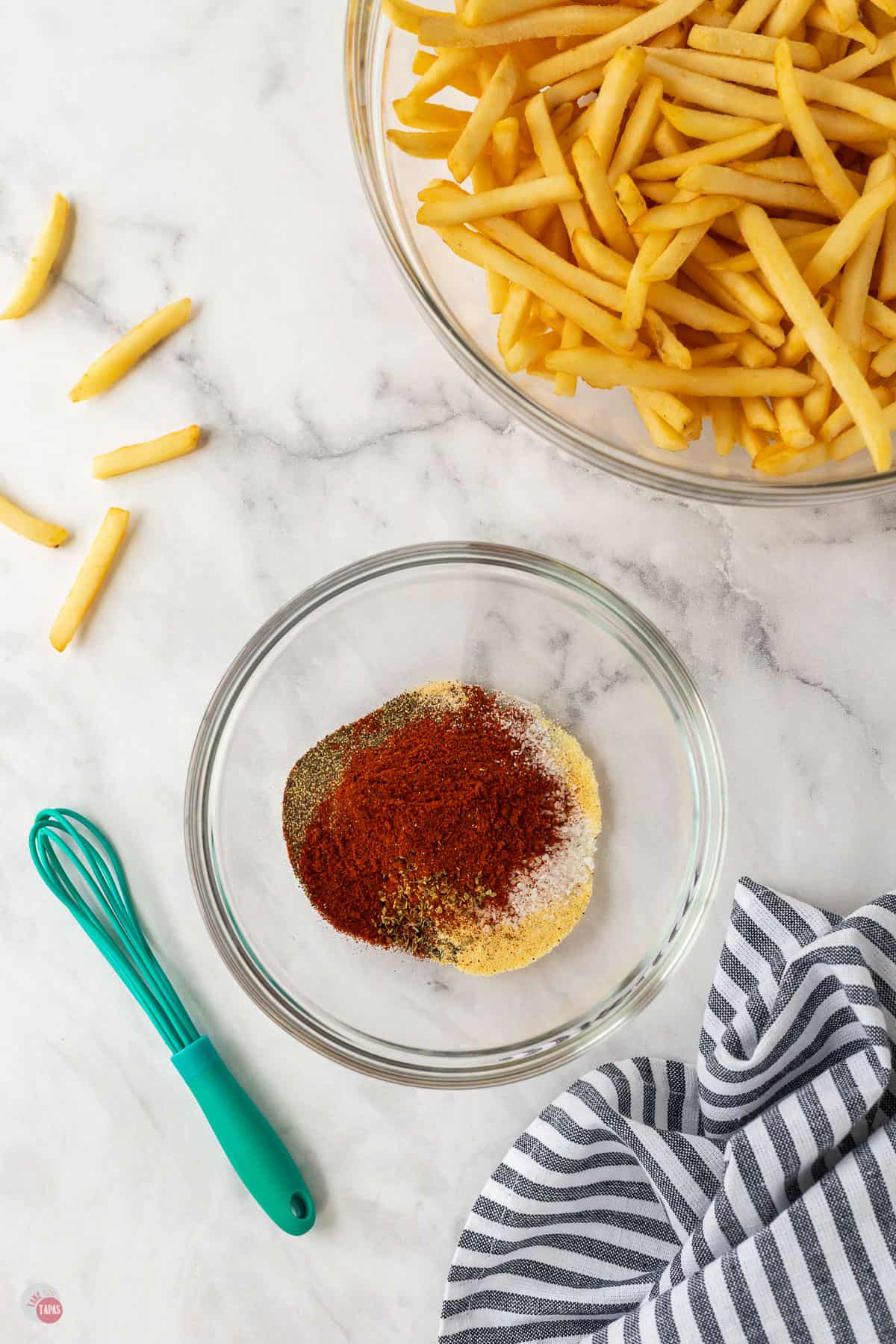 HOW TO MAKE CAJUN FRIES
STEP ONE: Preheat oven to 450F or according to package directions. Prepare a baking sheet with parchment paper.
STEP TWO: In a small bowl, mix the cajun seasonings. In a large bowl, add the frozen french fries. Sprinkle with half the seasoning. Toss to coat.
STEP THREE: Spread french fries on the baking sheet in a single layer. Sprinkle with remaining spice blend.
STEP FOUR: Bake in the preheated oven for 20 minutes or according to package directions until golden brown and crispy. Remove from the oven and serve warm with your favorite dipping sauces. Enjoy!
For the full recipe and detailed instructions, please refer to the recipe card at the bottom of the post.
For more insider tips & tricks, and a candid behind the scenes look follow me on social media! Check use out on Pinterest, Facebook, Instagram, & Twitter (yes, people still use Twitter, LOL!)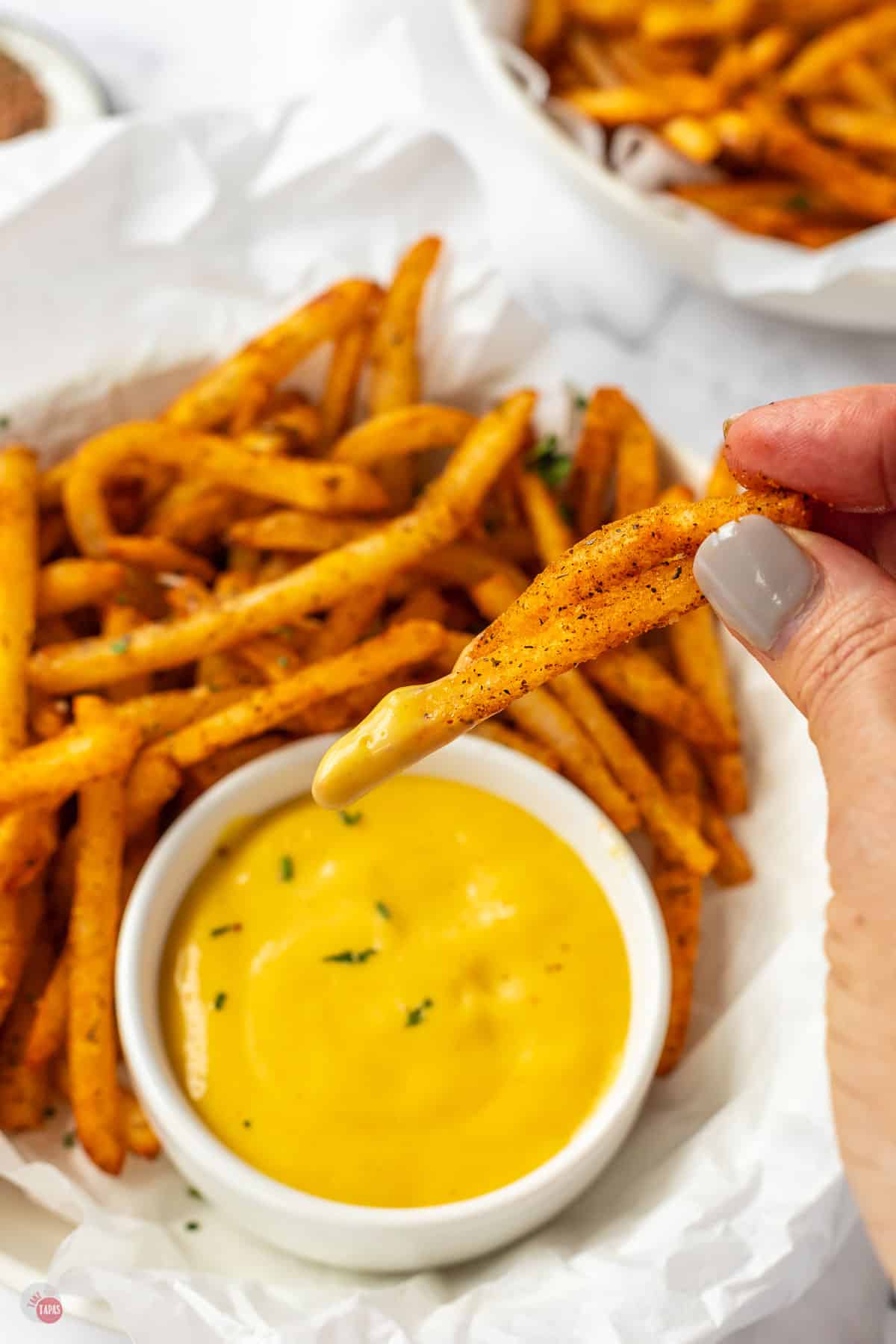 WHAT DO YOU DIP CAJUN FRIES IN?
ARE CAJUN FRIES SPICY?
They have a slightly spicy seasoning, but it is more a hint of heat than light your mouth on fire heat.
You can adjust it also based on how much of the hot spices you add.
CAN I DEEP FRY OR AIR FRY THESE?
Yes, follow the instructions on the package or the recipe you use to make your homemade french fries.
Just be sure to season after your deep fry or air fry so the seasoning sticks to them.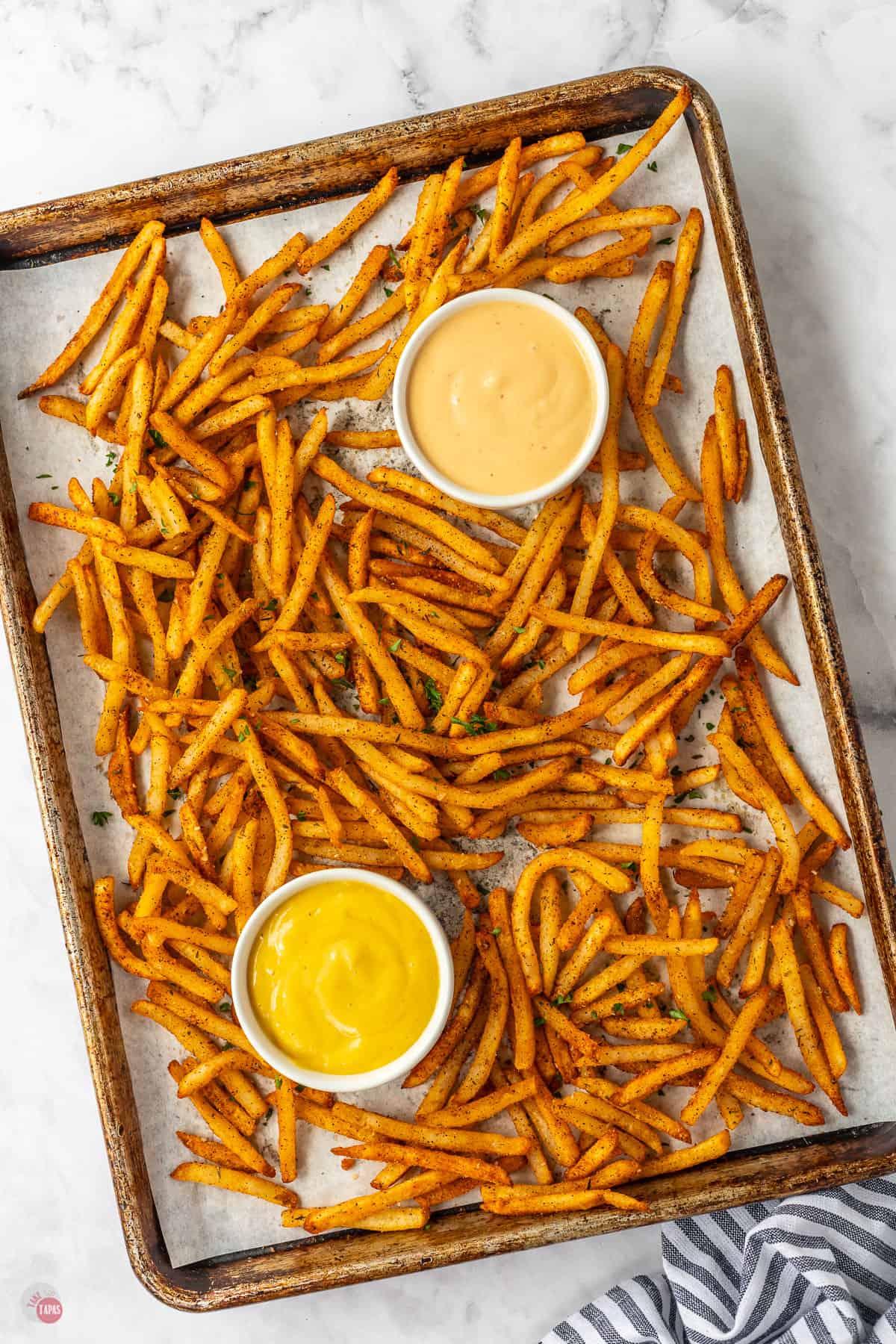 HOMEMADE FRENCH FRIES
I like to use frozen fries because it's super easy and I am short on time mostly but if you are wanting to make your fries from scratch, here are some instructions to get you started.
Step one: Cut the potatoes into 1/4 inch square sections. Russet potatoes are the best!
Step two: Soak in a bowl of ice cold water for 20-30 minutes.
Step three: Remove and pat dry with paper towel before cooking. Sprinkle with 1/3-1/2 the seasoning before proceeding with cooking method.
Air Fryer: 400F for 10-15 minutes or until crispy.
Deep Fry: 375F for 3-5 minutes or until you have tender crispy fries.
Oven Bake: 450F for 25-35 minutes or until golden brown.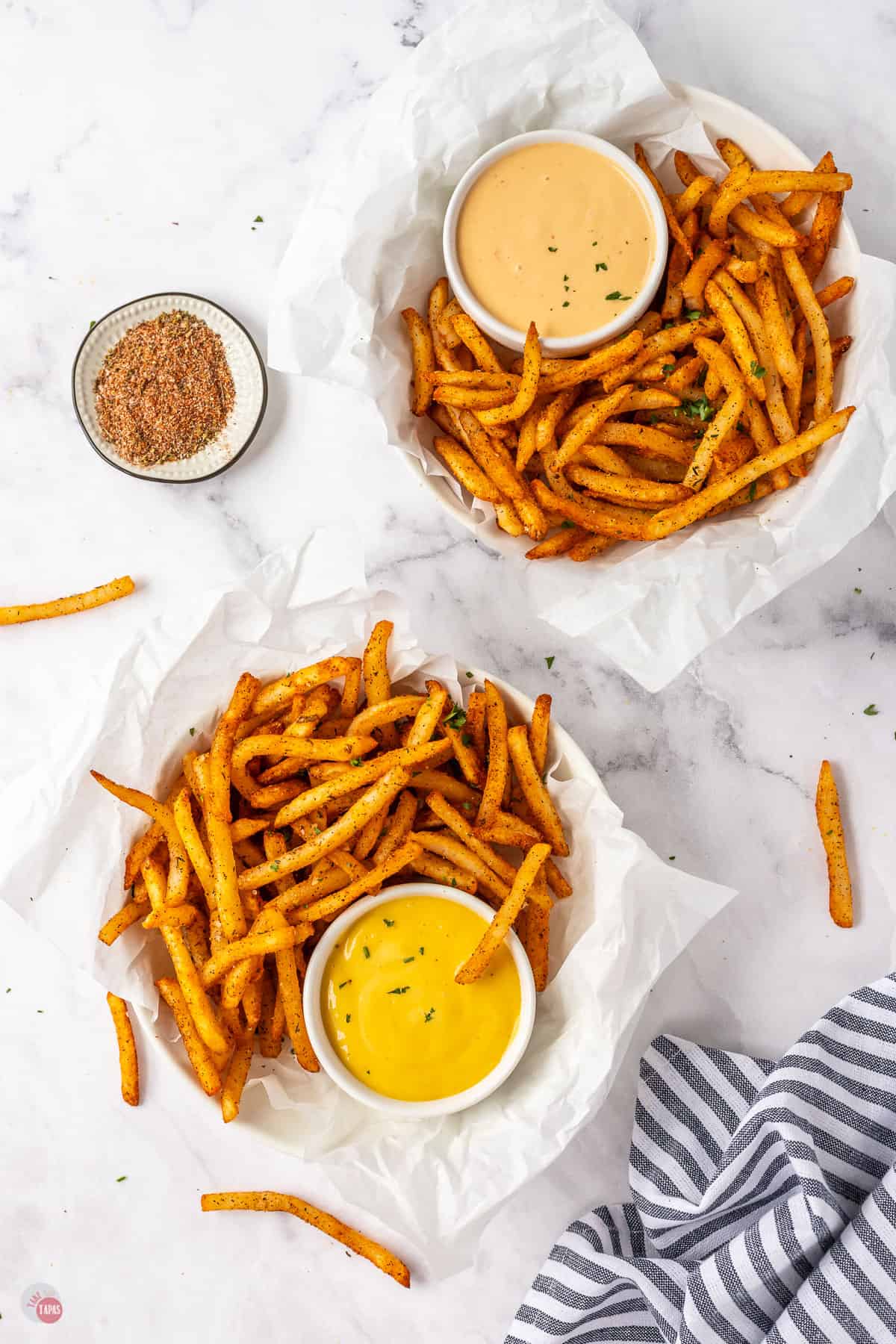 TAPAS TIPS & TRICKS
If you're having trouble getting the seasoning to stick use a little bit of cooking spray first.
If you are making your own french fries make sure to soak them in water for a while to remove some of the starch and then dry them before cooking. This helps a lot with the flavor and the texture of the fries.
I also love to make battered french fries and add this cajun seasoning to the batter and then sprinkle some on after cooking.
Sprinkle 1/3-1/2 of the seasoning on the fries prior to cooking and then sprinkle the rest when cooking is finished.
If you love this recipe as much as I do, please write a five-star review in the comment section below (or on Pinterest with the "tried it" button – you can now add pictures into reviews, too!), and be sure to help me share on facebook!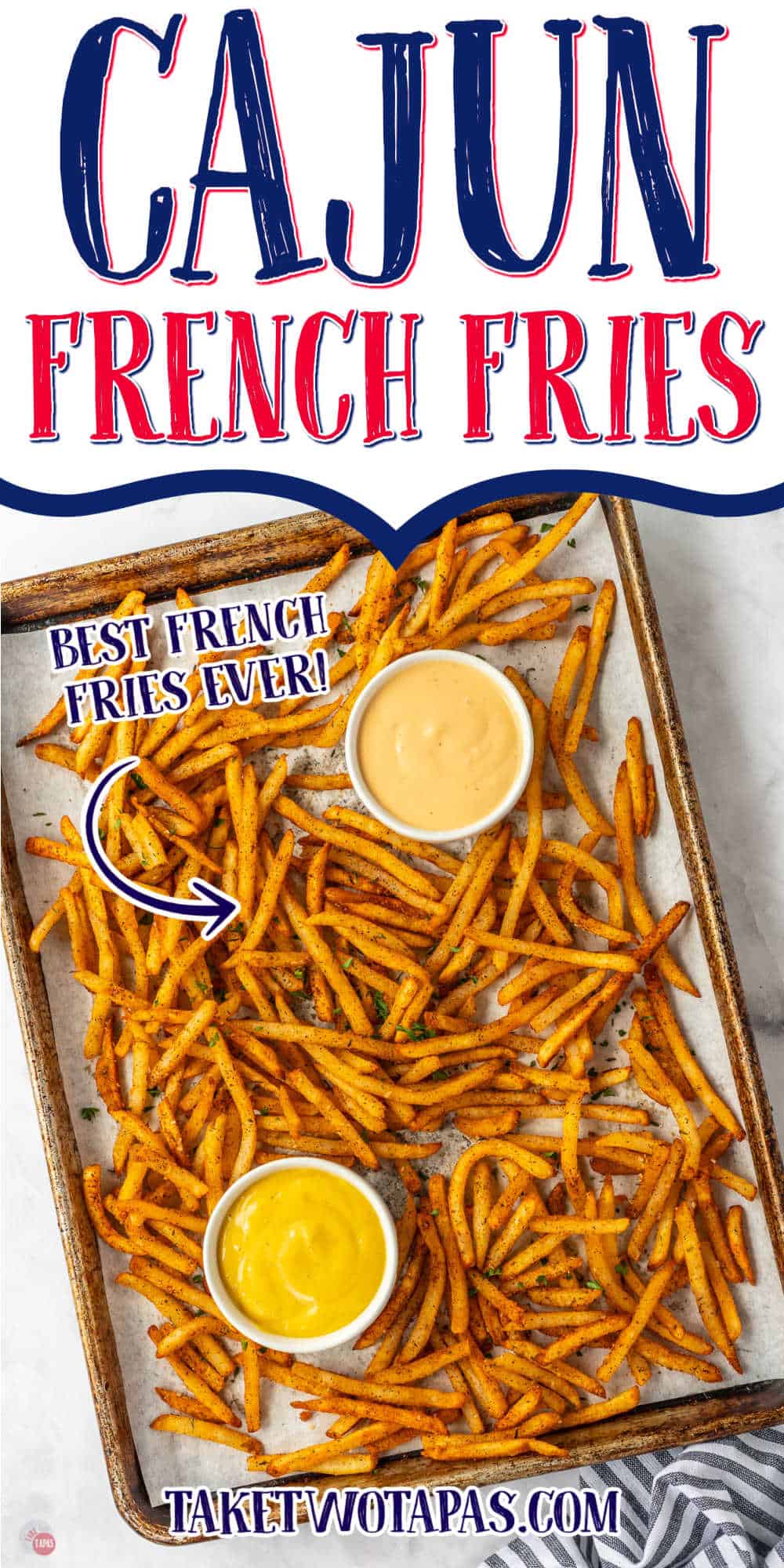 Cajun french fries go with everything, especially a Po Boy sandwich or your favorite burger, serve up these spicy fries with your next grilled dinner and let me know what you think in the comments.
SERVE SPICY CAJUN STYLE FRIES WITH
CAJUN FRIES RECIPE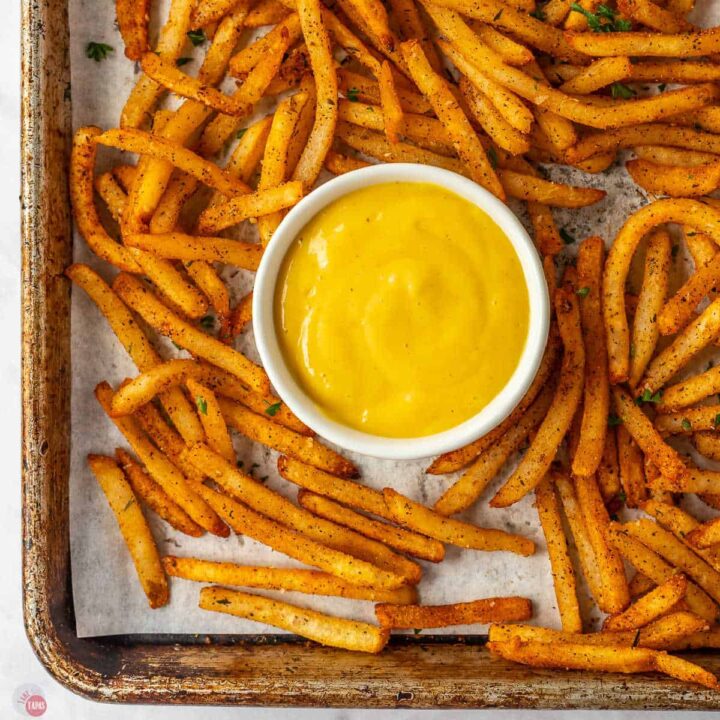 Cajun French Fries
Ingredients
26 ounces Frozen French Fries
Cajun Seasoning
1 tablespoon paprika
1/2 tablespoon salt
3/4 tablespoon garlic powder
1/2 tablespoon black pepper
1/2 tablespoon onion powder
1 teaspoon oregano
1 teaspoon thyme
3/4 teaspoon cayenne pepper
Instructions
Preheat oven to 450F or according to package directions.
Prepare a baking sheet with parchment paper or aluminum foil.
In a small bowl, combine the spices and mix thoroughly.
In a large bowl, add the french fries.
Sprinkle 1 tablespoon of the cajun seasoning over the fries. Toss to coat.
Spread the french fries on the prepared baking sheet in a a single layer.
Sprinkle an additional 1 tablespoon cajun seasoning.
Bake at 450F for 20 minutes or until crispy and golden brown. Flip or move around half way through to ensure even cooking.
Remove from the oven. Serve warm with your favorite dipping sauces.
Enjoy!
Notes
*If you love this recipe as much as I do, please leave me a comment and rate it 5 stars. Thank you!
*Save any remaining seasoning for another recipe!
Recommended Products
Nutrition Information:
Yield:

8
Serving Size:

1
Amount Per Serving:
Calories:

155
Total Fat:

5g
Saturated Fat:

1g
Trans Fat:

0g
Unsaturated Fat:

3g
Cholesterol:

0mg
Sodium:

697mg
Carbohydrates:

25g
Fiber:

3g
Sugar:

1g
Protein:

3g
This nutrition information was generated via a third party. I can not be held liable for any discrepancies in the information provided.
@TakeTwoTapas.com. Content and photographs are copyright protected. Sharing of this recipe is both encouraged and appreciated. Copying and/or pasting full recipes to any social media is strictly prohibited.