This recipe will help you make PERFECT, BUTTERY, TOASTED pecans, or any other type of nuts, to use in a variety of recipes and dishes. Think of all the great pecan pies!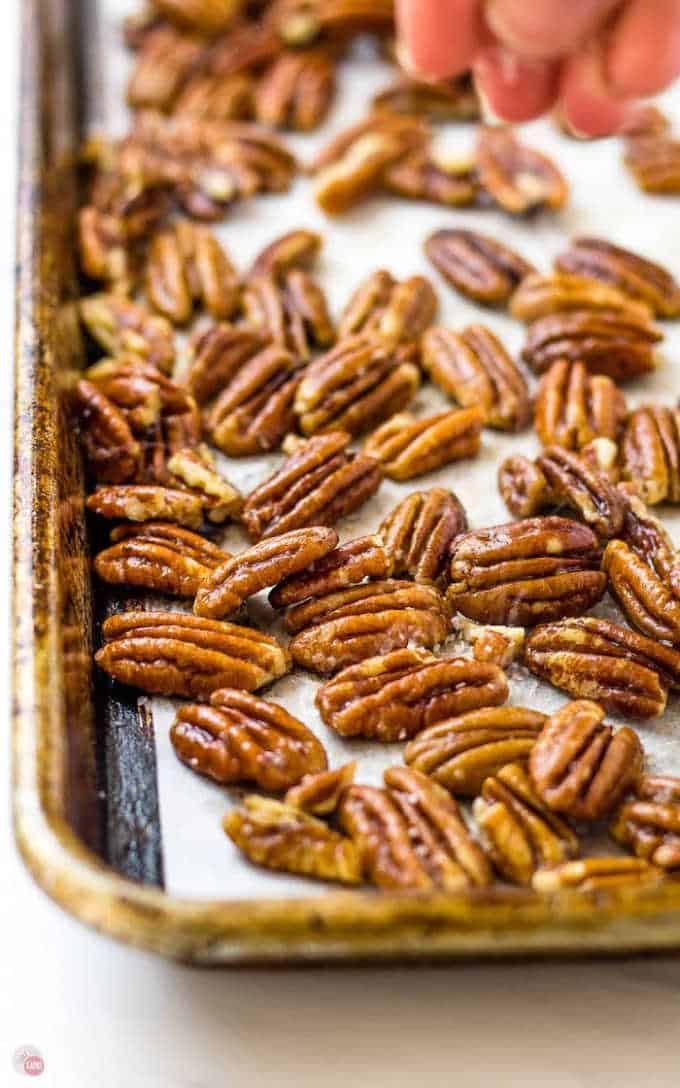 If you'd rather skip my (very helpful, I think) tips and tricks, essential cooking info, and similar recipe ideas – and get straight to this delicious recipe – simply scroll to the bottom of the page where you can find the printable recipe card.
There are all kinds of nuts out there, myself included, but in my house, pecans are king!
Give me a handful of perfectly toasted pecans and I am good to go.
The only way to get the perfect nut is to toast and salt it yourself, in the privacy of your own home, where only you can see how many of them you eat in one sitting.
Raw pecans are a great snack but toasted ones are even better!
This post may contain affiliate links. As an Amazon Associate, I earn from qualifying purchases. Read my disclosure policy here.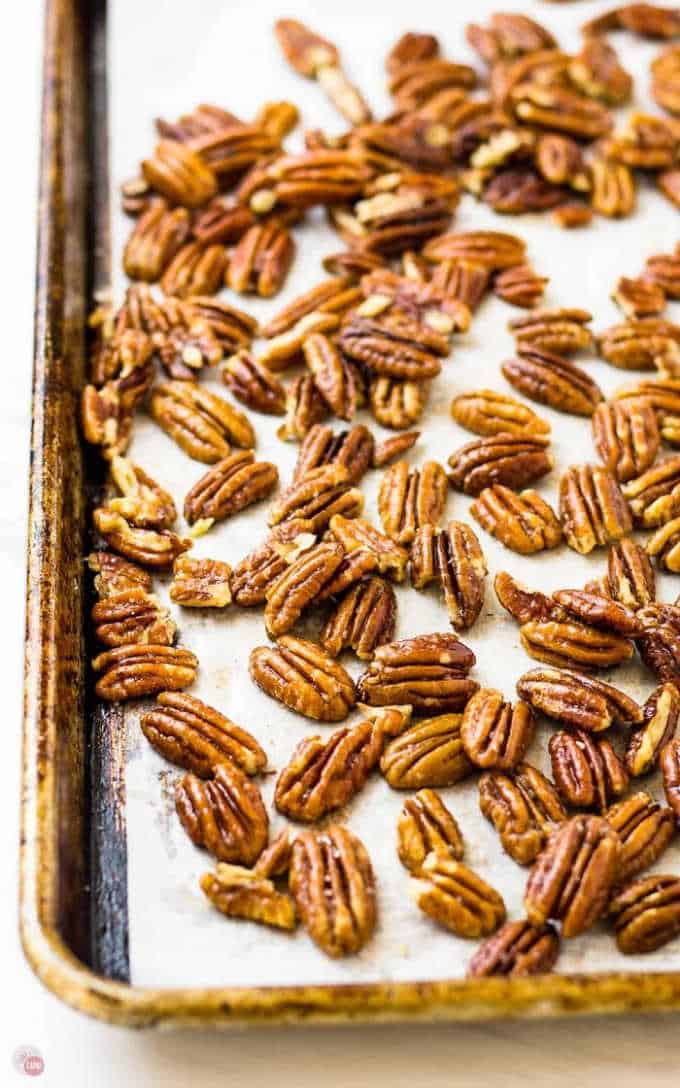 HOW TO TOAST PECANS IN THE OVEN
STEP ONE: Preheat oven to 275F. Toss pecans with melted butter.
STEP TWO: Spread evenly in a single layer on a rimmed baking sheet. Bake for 30 – 45 minutes stirring every 10-15 minutes to ensure even baking. When the nuts are lightly browned and fragrant (you can smell them) remove the pan from the oven.
STEP THREE: Take nuts and place them on a paper towel lined plate or cool baking sheet to remove any excess butter. Sprinkle with salt to taste. When completely cooled, store in the refrigerator until ready to use.
CAN YOU TOAST PECANS (NUTS) IN A PAN?
Yes, just make sure the pan is a heavy-bottomed dry skillet and use a medium to low heat to avoid hot spots that can burn the nut.
Stir often until the nuts are golden brown.
CAN I TOAST PECANS IN THE MICROWAVE?
If you don't feel like heating up the oven or need to toast a small batch of nuts, try roasting them in the microwave. Lightly oil them (1/2 teaspoon per 1 cup of nuts) and spread them out on a microwave safe plate.
Microwave at 1 minute intervals (30 seconds if roasting small sized nuts) until golden brown, stirring in between intervals.
ARE ROASTED AND TOASTED PECANS THE SAME THING?
Technically you can use the terms interchangeably for nuts but roasting actually means taking a raw ingredient, exposing it to dry heat, and cooking it all the way through.
Toasting is just used to mean that the outside is browned. Toasted nuts are browned on the outside and roasted nuts are cooked through.
These pecans are roasted in this recipe because of the length of the cook time but they are also toasted too!
USES FOR TOASTED PECANS
Healthy Snack on the Go
Salad/Soup Toppings
Add to a Cheese Board
Lunchbox Snack
Decorate Cakes and Cupcakes
Hostess Gifts/Teacher Gifts
Add to Pies and Cookies
Add crunch to Banana Bread (my fave use!)
Crush/Chop and coat Cheese Balls
TAPAS TIPS & TRICKS
Check out all these tips to get perfect, roasted pecan halves or roasted nuts every time you make them!
START LOW! Keep the oven temperature below 300F so you don't cook the nuts too fast. I prefer 250F or 275F but you might want to go even lower if the nut is smaller like a sunflower seed but I don't recommend going below 200F as you will be there all day waiting for those nuts to toast.
Lowering the temperature allows the nuts to toast evenly and all the way through. The only trade off is more time. But you get something in return for your patience, more flavor.
GO SLOW! Proper toasting takes time. Start with 10-minute increments and see how they do. Small seeds take only a few minutes but larger nuts take time. For a sunflower seed, I might go for 20 minutes stirring in 5-minute increments.
Letting the nuts toast slowly allows more time for the natural oils from the nuts to come out.
BUTTER! Get some help from butter by adding some melted butter to the nuts. This adds another barrier between the heat and the surface of the nut. With the help of the butter blanket, your nuts will get a flavor boost and it helps the nut toast evenly. Let's not forget that it helps the salt stick to the nuts better.
GET SALTY! When your nuts are done toasting, salt them while they are hot! We want the salt to stick to the nuts, not fall off when you store them.
If you are skeptical about salting your nuts use it sparingly. Salt brings out the flavors of the food it is added to even if you are using it for sweet treats so I add it to all of my nuts.
If you are on a salt-restricted diet or just don't like more salt then leave it off the whole batch and add right before you add the nuts to your recipe.
*Kitchen Hack*
When I make my Paleo Snack Bars I make small foil baking trays so I can remove the smaller nuts and leave the larger ones in longer without having to remove the whole tray.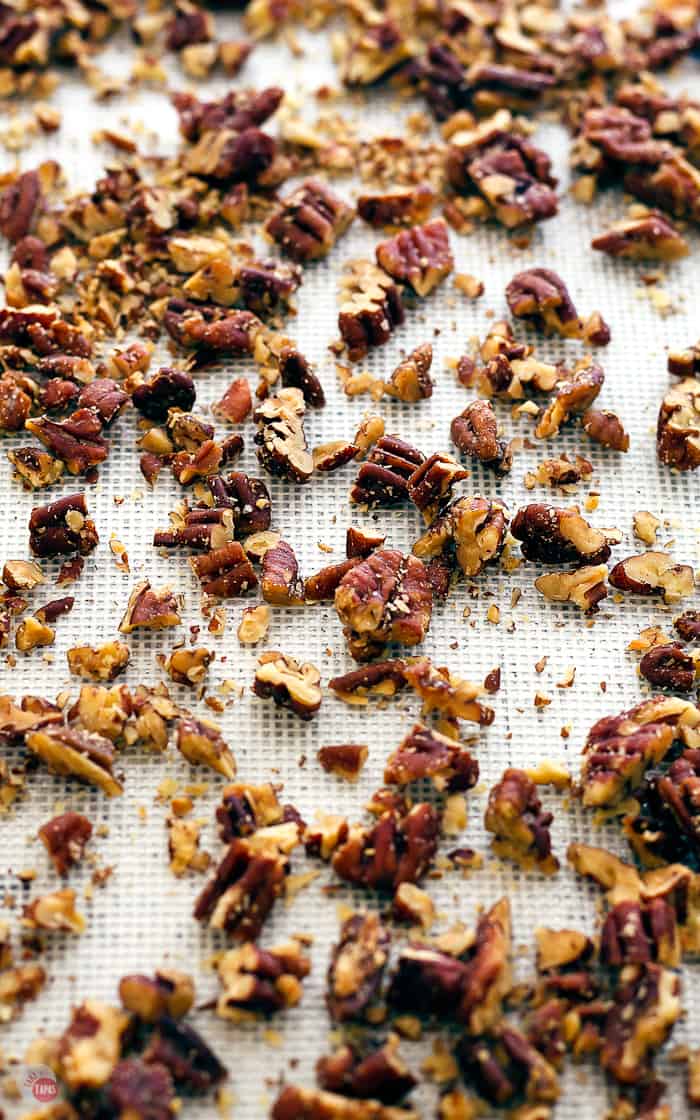 SHOULD YOU TOAST PECANS BEFORE BAKING?
Toasting brings out the nutty flavor so roasting your nuts will only enhance the flavor of your baked goods. It's best to roast the nuts whole or in halves and then chop before using.
Chopping beforehand will lead to small pieces that will easily burn.
SHOULD PECANS BE REFRIGERATED?
Pecans should definitely be refrigerated. Personally, when I but pecans I immediately come home and toast them in a big batch.
After that I break them into smaller portions and store them in the freezer. I will keep one portion in the refrigerator to snack on!
Nuts and seeds contain oils that can turn rancid if left at room temperature for too long.
HOW LONG DO TOASTED PECANS LAST?
They will last for one month in the refrigerator or 3 months in the freezer. If I have a large batch they might last 6 months.
If I was to keep them that long I would use a vacuum food bag system to remove the air. Just be sure to store them in an airtight container so they don't absorb other odors.
With these tips, you will have perfectly toasted pecans or other nuts that will liven up a school lunchbox, add crunch to your cheese board, add texture to your baked goods, and add some healthy fats to your trail mix and snack bags!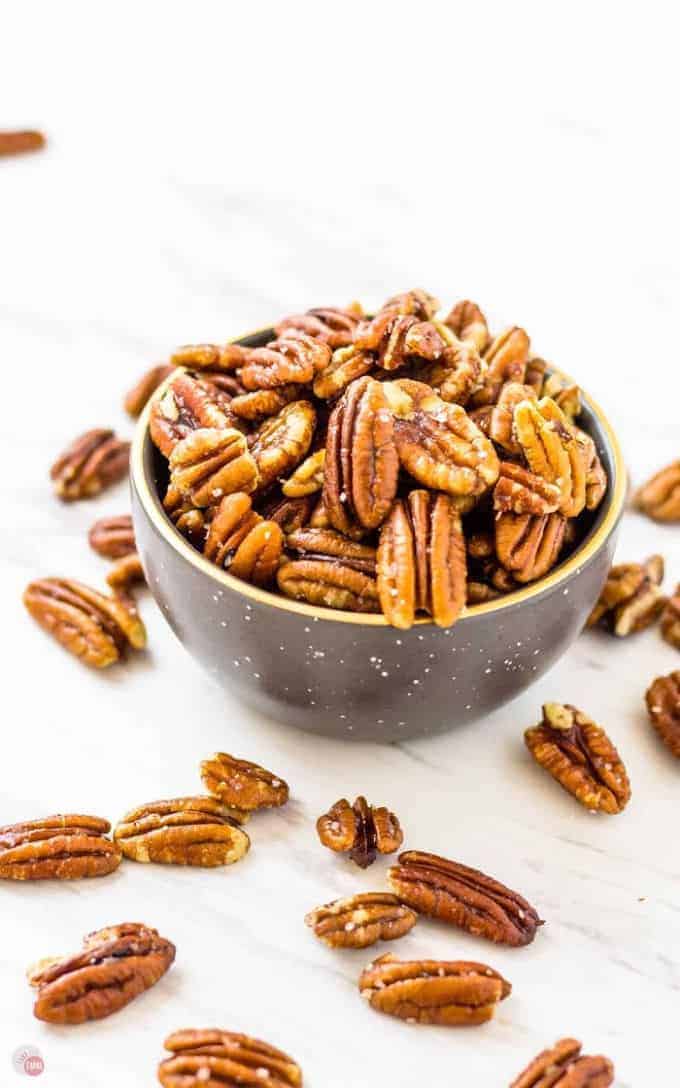 For more insider tips & tricks, and a candid behind the scenes look follow me on social media! Check use out on Pinterest, Facebook, Instagram, & Twitter (yes, people still use Twitter, LOL!)
FAVORITE TOOLS TO TOAST PECANS
If you love this recipe as much as I do, please write a five-star review in the comment section below (or on Pinterest with the "tried it" button – you can now add pictures into reviews, too!), and be sure to help me share on facebook!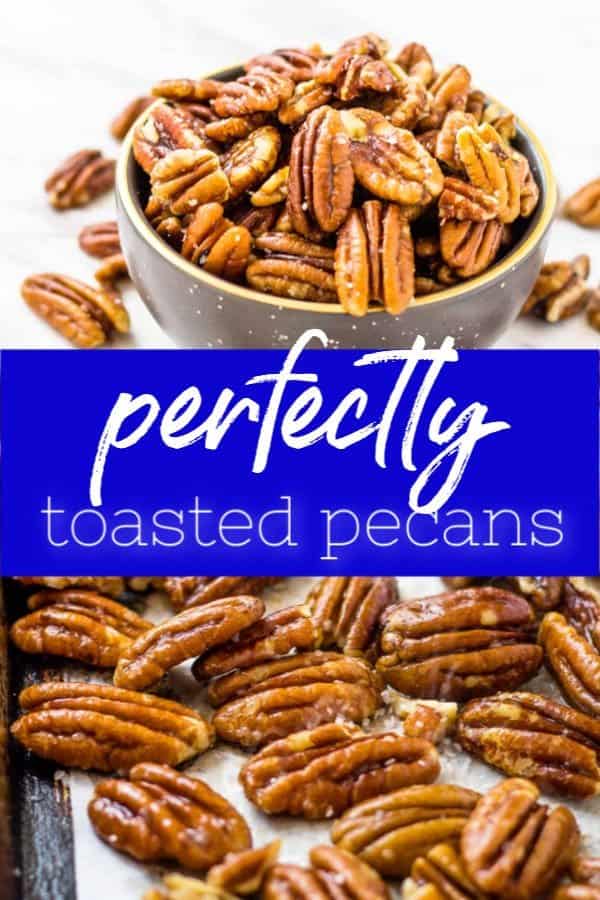 Now that you know how to perfectly roast nuts, what will you be putting these pecans in?
OTHER DELICIOUS NUTS TO MAKE
TOASTED PECANS RECIPE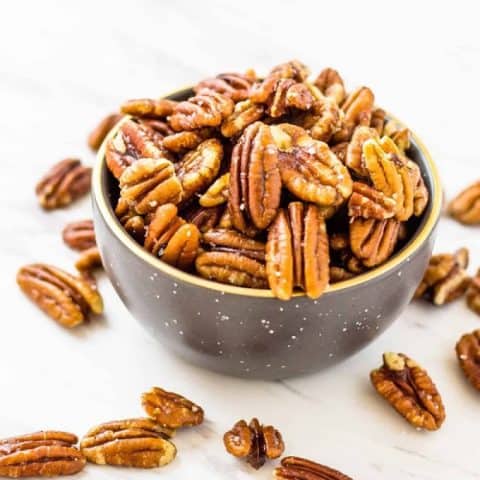 Perfectly Toasted Pecans
Want perfectly toasted pecans or any other nut for that matter? This quick tutorial will show you how!
Ingredients
1/2 cup butter (I use sweet cream Kerrygold, unsalted, organic)
2 teaspoons kosher salt
Instructions
Melt butter.
Toss pecans with the butter until evenly coated.
Place in an oven preheated to 275F.
Toast for 45 minutes, stirring every 15 minutes to ensure even cooking.
When done, place nuts on a cooling rack covered with paper towels.
Salt the toasted pecans to your liking.
Store in an airtight container when cool.
You can even freeze these for later use!
Notes
*If you like this recipe, please leave me a comment and rate it with some stars. Thank you!
Nutrition Information:
Yield:

16
Serving Size:

1
Amount Per Serving:
Calories:

241
Total Fat:

25g
Saturated Fat:

5g
Trans Fat:

0g
Unsaturated Fat:

19g
Cholesterol:

15mg
Sodium:

315mg
Carbohydrates:

4g
Fiber:

3g
Sugar:

1g
Protein:

3g
This nutrition information was generated via a third party, Nutritionix, and can not be held liable for any discrepancies in the information provided.
@TakeTwoTapas.com. Content and photographs are copyright protected. Sharing of this recipe is both encouraged and appreciated. Copying and/or pasting full recipes to any social media is strictly prohibited.