Sugar cookie truffles are no-bake recipe that uses Golden Oreo cookies and cream cheese then coated in rich white chocolate. Decorated with festive sprinkles makes them perfect for any occasion!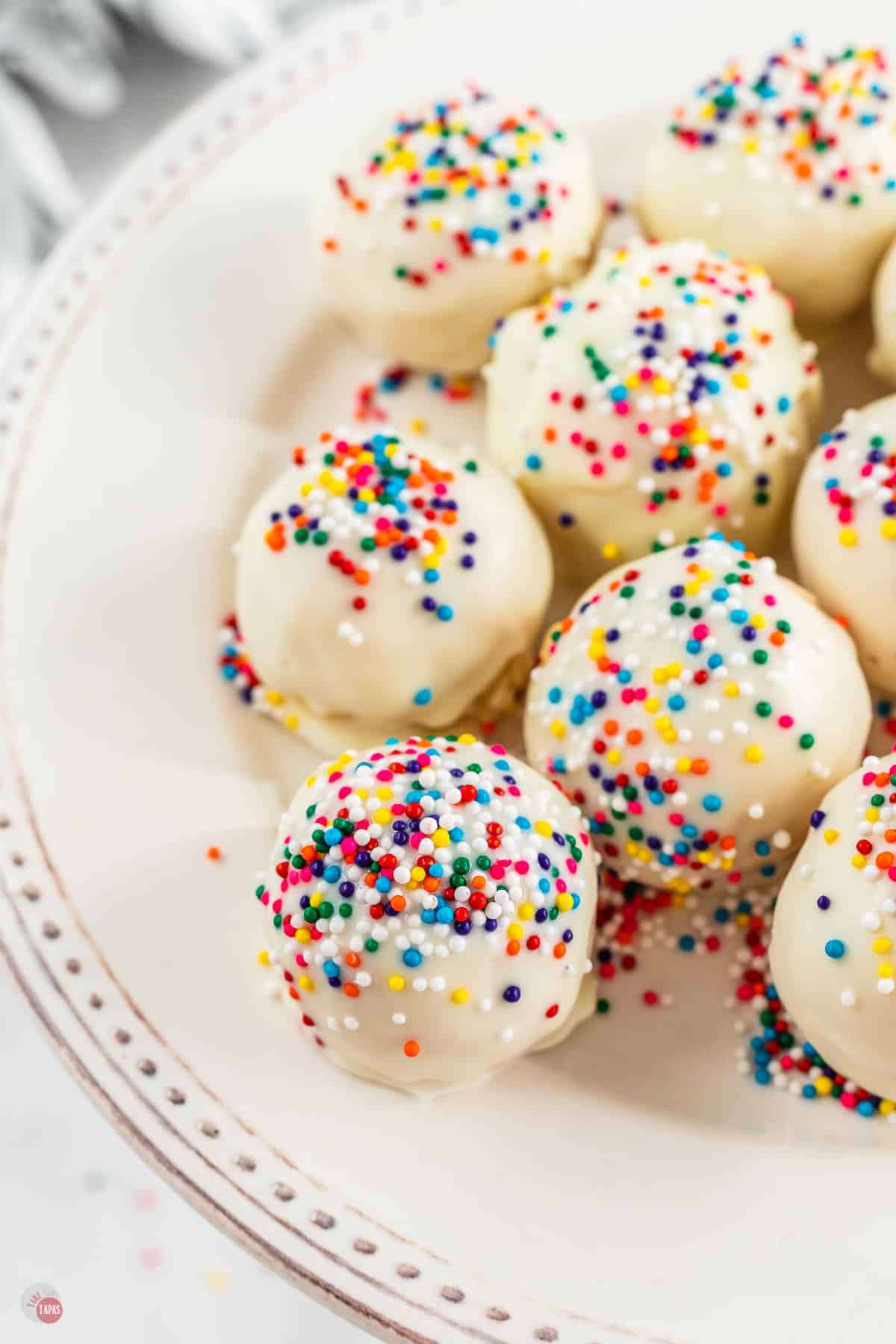 If you'd rather skip my essential cooking tips and tricks and get straight to this delicious recipe – simply scroll to the bottom of the page where you can find the printable recipe card.
SUGAR COOKIE TRUFFLES
Sugar cookies are amazing in themselves, but robed in chocolate and decorated with sprinkles, they transform into a drool worthy bite sized treat that everyone loves!
Oreo balls are easily made with 3 simple ingredients, cookies, cream cheese, and chocolate. This recipe expands on the traditional and uses Golden Oreos to give that sugar cookie flavor.
These are perfect for all year long but an extra special treat for the holidays. Switch up the sprinkles for green and red or even Christmas themed candies to make Christmas truffles!
WHY THIS TRUFFLE RECIPE IS AMAZING!
no bake recipe
uses just a handful of ingredients
everyone loves sugar cookies
customize for any occasion
fun to make with the kids
less than 30 minutes start to finish!
This post may contain affiliate links. As an Amazon Associate, I earn from qualifying purchases. Read my disclosure policy here.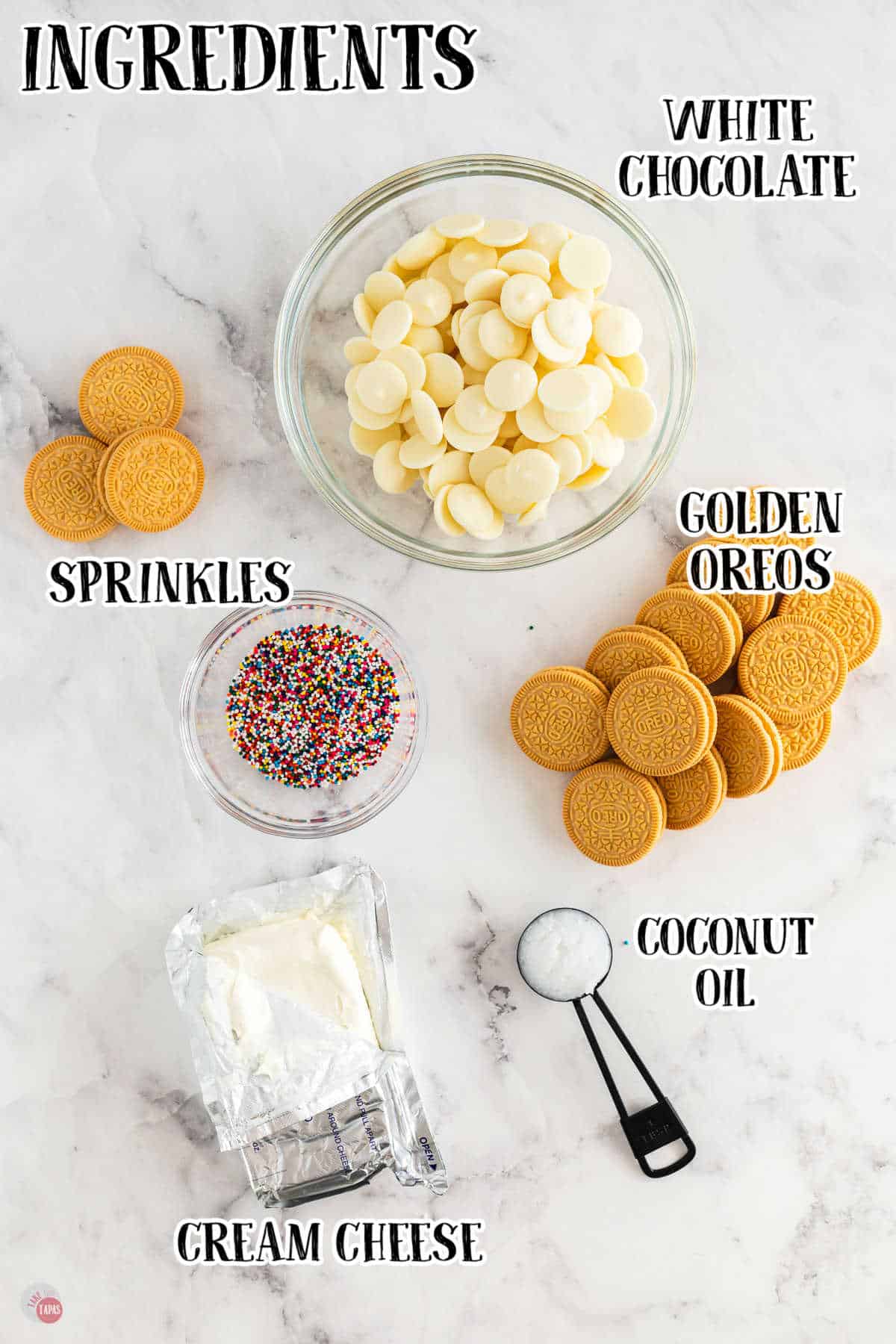 INGREDIENTS FOR SUGAR COOKIE TRUFFLES
Golden Oreo cookies
Cream Cheese
Vanilla
White Chocolate
Coconut Oil
Sprinkles
Oreo Cookies – I like to use Golden Oreos that are Double Stuf. You can use regular Golden Oreos, or even traditional chocolate Oreo cookies. You can also use store bought sugar or shortbread cookies.
Cream Cheese – Soft the cream cheese at least 15 minutes to make blending easier. You can use low fat or fat free cream cheese as well.
Vanilla – Vanilla extract enhances the flavor of the truffles. You can substitute it for almond extract or leave it out completely.
White Chocolate – Use melting wafers, candy melts, or almond bark. White chocolate chips are make not to melt and hold their shape. If you have to use these, do not leave out the coconut oil.
Coconut Oil – This helps the white chocolate stay smooth and give the truffles a smooth finish. If you use melting wafers or candy melts you can leave this out.
Sprinkles – Pick festive sprinkles to match your special occasion or leave them off and enjoy them plain.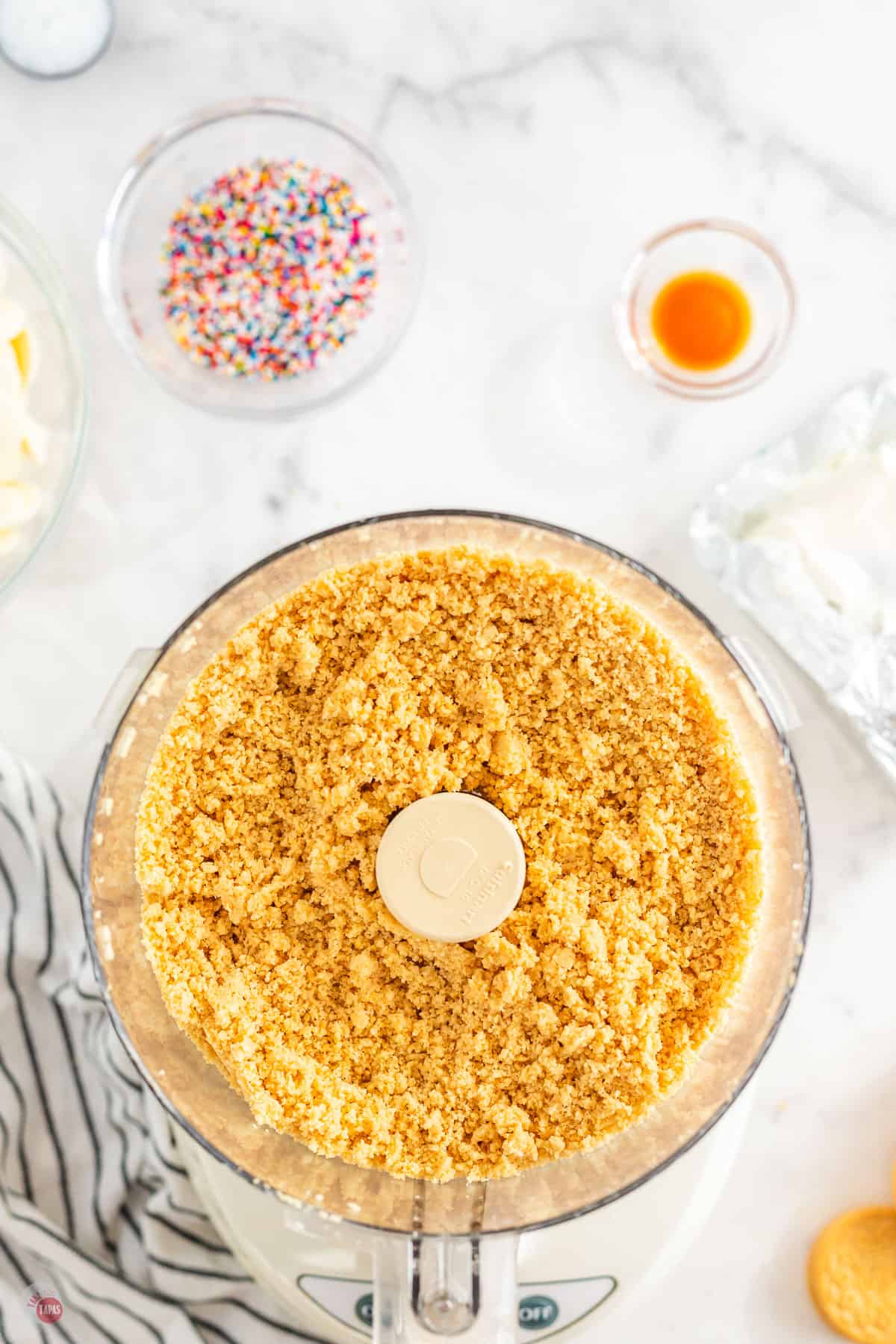 HOW TO MAKE SUGAR COOKIE TRUFFLES
FIRST: In a food processor, pulse the cookies until they resemble rough sand or are fine crumbs. Add the cream cheese and vanilla extract. Store or pulse to combine to make a batter move to a medium bowl.
SECOND: Scoop the batter into balls and place on a parchment paper or wax paper lined baking sheet. Chill for 20 minutes to set up. While chilling, melt chocolate.
THIRD: Place the white chocolate and coconut oil in a microwave safe bowl. Microwave in 30 second intervals until the white chocolate is melted and smooth.
FOURTH: Bring out the truffles and roll in your hands to smooth them out. Dip the truffles one at a time in the melted chocolate. Tap the fork or run along bowl edge to remove excess chocolate. Place back on the parchment paper lined baking sheet and top with sprinkles.
For the full recipe and detailed instructions, please refer to the recipe card at the bottom of the post.
For more insider tips & tricks, and a candid behind the scenes look follow me on social media! Check use out on Pinterest, Facebook, Instagram, & Twitter (yes, people still use Twitter, LOL!)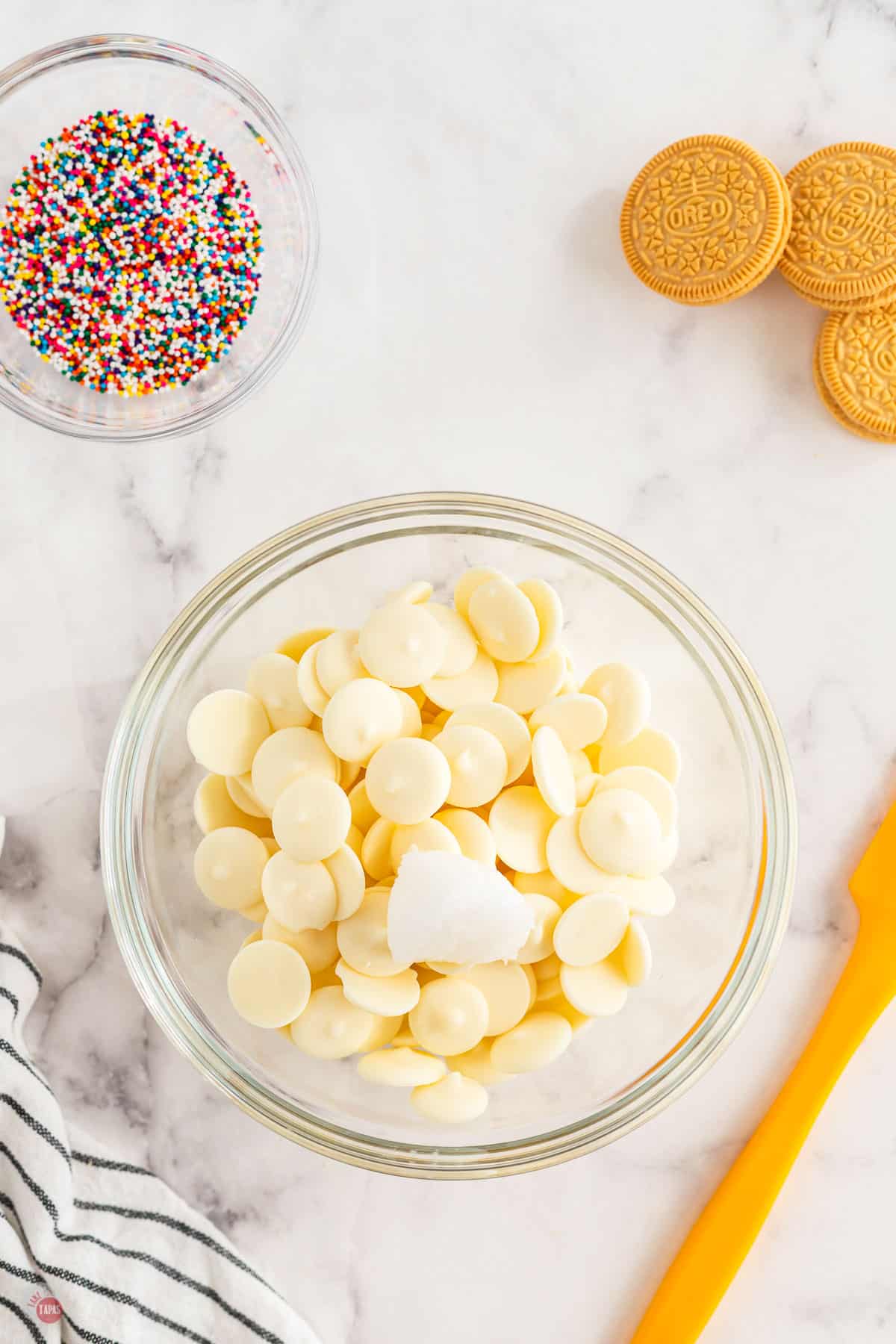 White chocolate is different from semi sweet and dark chocolate when melting. It can scorch easily so you need to be careful.
Because chips are made to keep their shape when baked, these are not the best option for melting. I prefer to use melting wafers, candy melts, or even almond bark/candy coating (found in most baking aisles!)
HOW TO MELT WHITE CHOCOLATE
Place the wafers in a microwave safe bowl and microwave in 30 second intervals. It's best to set your microwave at 50% power level. If you can't then use 15 second intervals.
Stir between each cooking interval to avoid hot spots and don't over heat.
I microwave just until about 75% of the white chocolate is melted. Then stir for a minute or two to melt remaining chunks. The warmth will continue to melt chocolate in the bowl as you stir.
If you microwave until everything is completely melted you can scorch the chocolate and you won't be able to use it. Do not add water or get water in the melted chocolate as it will cause it to seize up.
This recipe calls for coconut oil and I would use it if you have to use white chocolate chips. If you find the melting wafers, you can leave it out.
Dip the cookie truffles in the chocolate and tap off the excess. Decorate quickly!
CAN I FREEZE COOKIE TRUFFLES?
You can freeze the truffles before or after you dip them. If you freeze before dipping, let them warm a bit as the chocolate coating can crack if the truffle is too cold when dipping.
Once they are dipped you can freeze them in an air tight container for up 2 months. Freeze on the baking sheet with space between them, then transfer to the final storage container. This keeps them from sticking together.
CAN I USE A DIFFERENT COOKIE?
Feel free to use regular or flavored Oreo cookies. You can also use regular sugar cookies or shortbread cookies, either homemade or store bought.
TAPAS TIPS & TRICKS
Use a hard cookie, not a soft and chewy cookie.
Crush the cookies in a plastic bag with a rolling pin if you don't want to use a food processor.
Switch up the Golden Oreos and use regular or flavored Oreos!
Use white chocolate designed for melting. Melting wafers, candy melts, and even almond bark are best.
Chilling the truffles helps the chocolate coating set up quicker. Because of this, you will need to quickly decorate or the sprinkles won't stick.
These freeze beautifully so you can make them ahead of time and keep a batch for sweet emergencies.
If the chocolate starts to thicken or get hard while you are dipping the truffles, microwave it for 10-15 seconds to melt it again.
Use dipping tools to make it easier and less messy. If you don't have any on hand, use a fork and a tooth pick.
Remove the excess chocolate before placing on the baking sheet to reduce the pool around the bottom.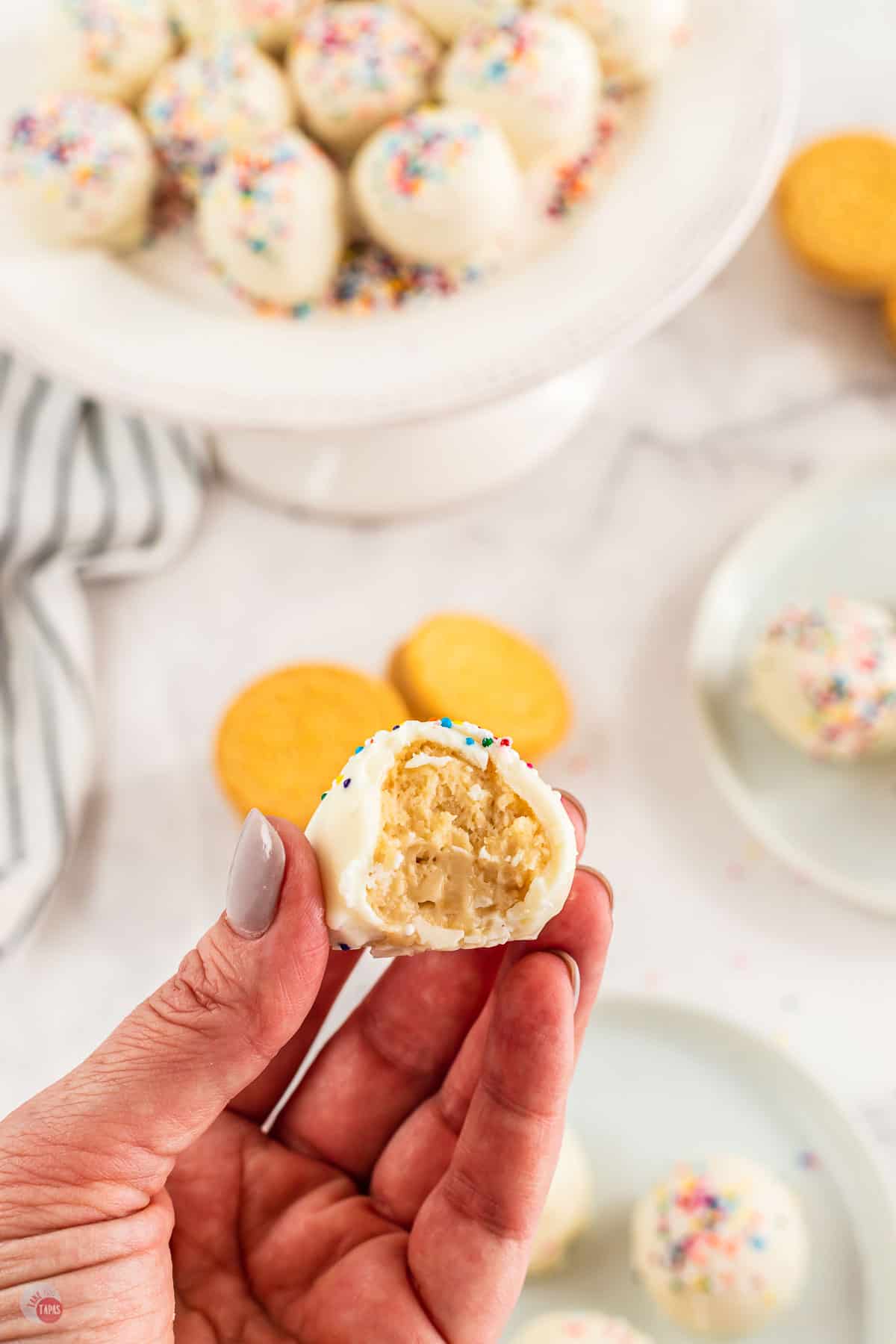 COOKIE TRUFFLE RECIPE FOR FREAKY FRIDAY
What is Freaky Friday? It's a recipe exchange put on by Michaela over at An Affair from the Heart. There are about a dozen people each time that get assigned a fellow foodie website to make a recipe from to share with our readers.
It's a win-win because we get to make a tried and true recipe from a friend and share it with our readers and you get to hear about another great food website you might not have found!
This time around I got Kathyrn who blogs at Kathryn's Kitchen Blog.
Kathyrn lives in sunny California and shares some AMAZING recipes! She strives for simple recipes that are healthy and easy to make. And after all my cheese and bacon eating I desperately need some healthy dishes to make.
She started cooking young and associates so many wonderful memories with that time in the kitchen. I am the same way! Not only great memories but life lessons that I carry with me today.
We are like soul sisters because she comes from an Italian family that also owns restaurants!
In choosing a recipe to make from her drool worthy list, I was torn between the corn fritters that I make over and over again, the homemade tuna poke that my husband wanted, and the cheese pizza roll ups that my son can't stop eating!
I finally decided on these sugar cookie truffles because I love a bite-sized treat!
Take a look at all of our 2021 Freaky Friday Holiday Cookie Exchange Recipes:
An Affair from the Heart – Candy Cane Puppy Chow
The Carefree Kitchen – Christmas Linzer Cookies
Devour Dinner – Peppermint Meltaways
Family Around the Table – Chocolate Overload Cookies
The Foodie Affair – Easy Pecan Pie Crust Cookie Recipe
Fresh April Flours – Pecan Chocolate Chip Cookies
The Fresh Cooky – White Chocolate Peppermint Cookies
Hostess at Heart – Crumbl Cookie Recipe
House of Nash Eats – Peppermint Chocolate Chip Cookies
Kathryn's Kitchen Blog – Peanut Butter Cup Cookies
Lemoine Family Kitchen – Lemon Thumbprint Cookies with Strawberry Jam
Lemon Blossoms – Cranberry Orange Biscotti
Life Currents – Chocolate Mint Rugelach
Life, Love & Good Food – White Chocolate Macadamia Nut Cookies
Soulfully Made – Polar Bear Paw Cookies
The Speckled Palate – Saltine Cracker Toffee
Sue Bee Homemaker – Jam Thumbprint Cookies
Take Two Tapas – Sugar Cookie Truffles
If you love this recipe as much as I do, please write a five-star review in the comment section below (or on Pinterest with the "tried it" button – you can now add pictures into reviews, too!), and be sure to help me share on facebook!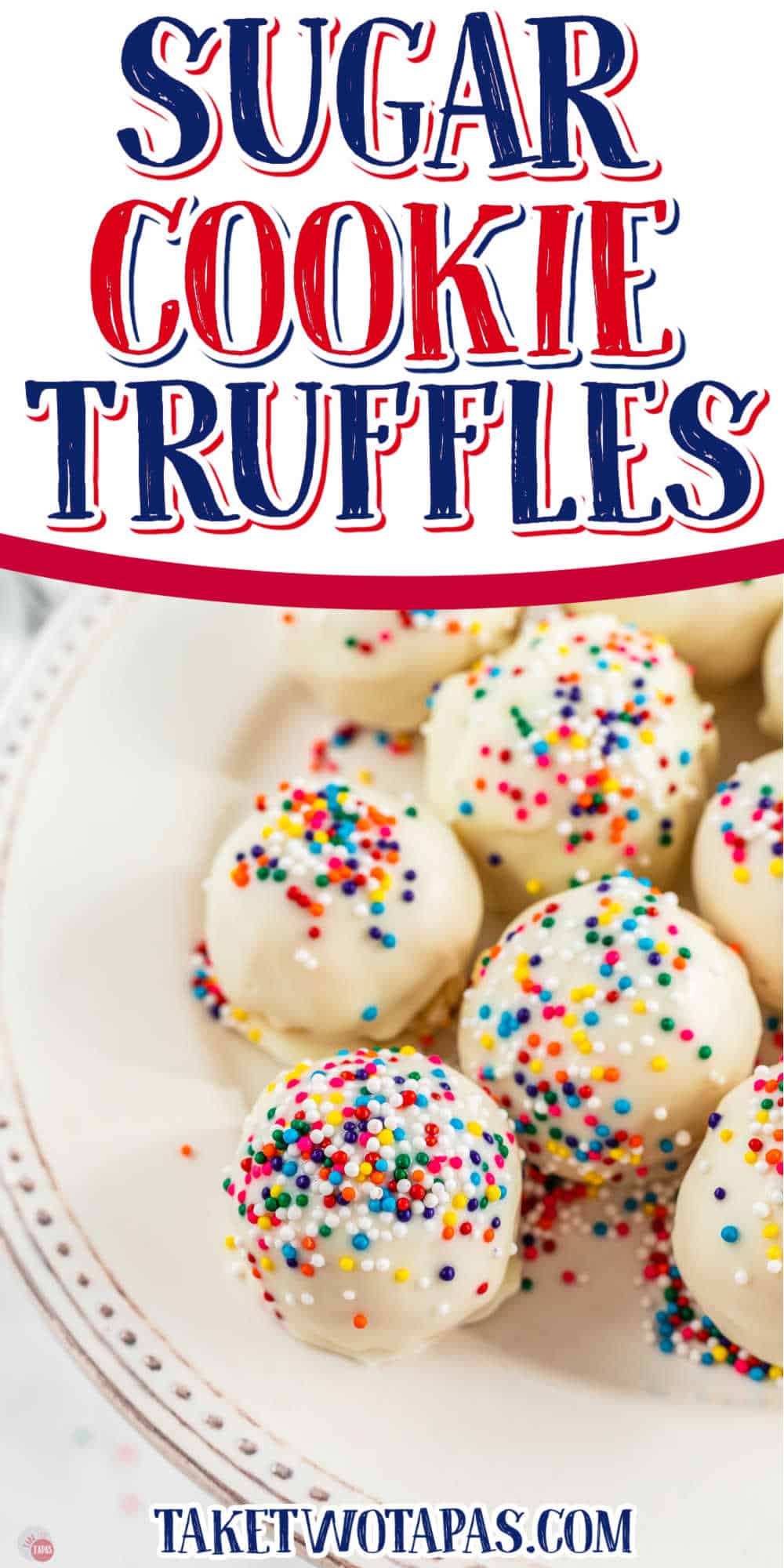 These No Bake Sugar Cookie Truffles are a hit with kids of all ages. Fun to make and perfect for any occasion!
MORE EASY SNACKS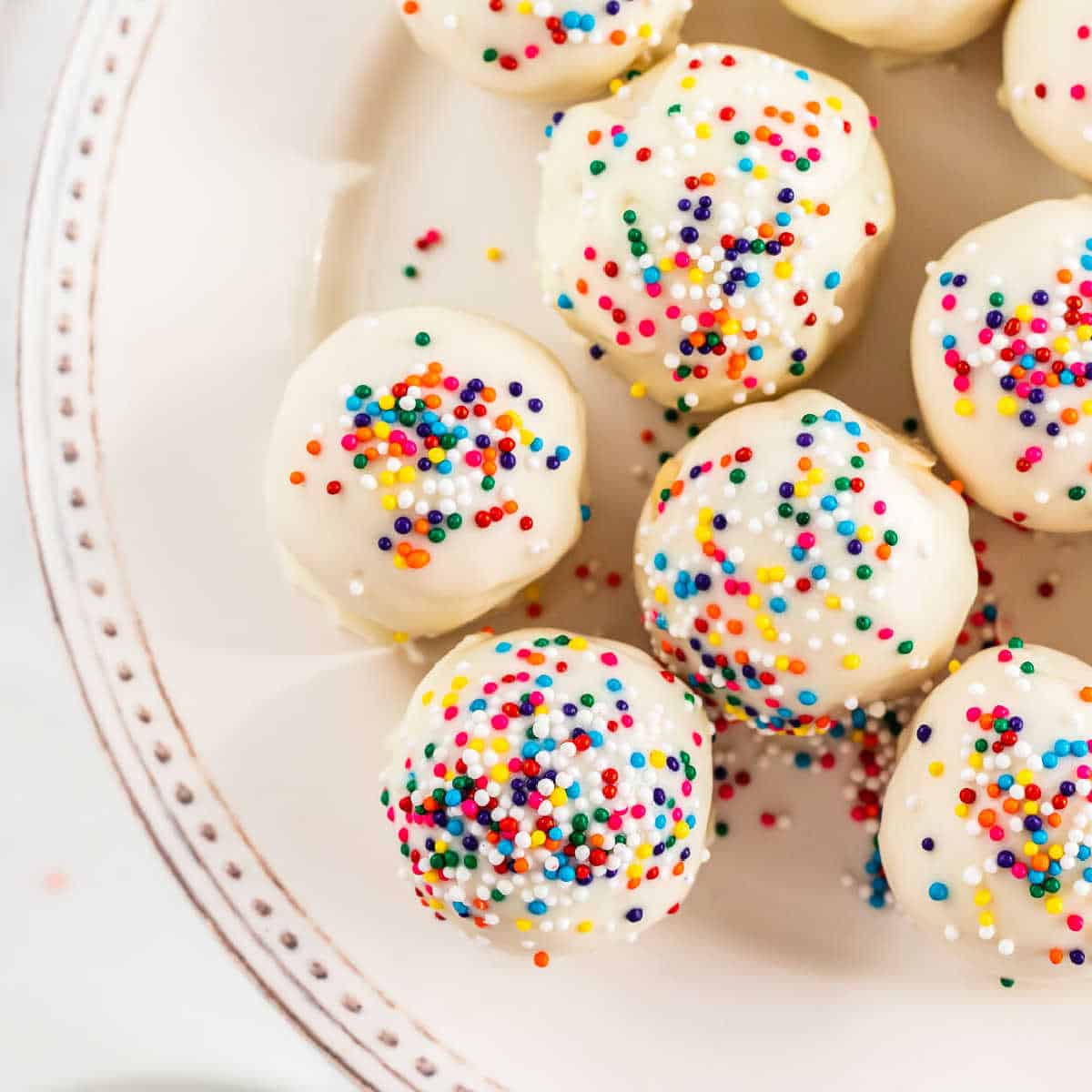 Sugar Cookie Truffles
Additional Time:
20 minutes
Ingredients
20 Golden Oreo Cookies (I use double stuf but you can use regular)
8 ounces cream cheese (softened)
1 /2 teaspoon vanilla extract
2 cup white chocolate melting wafers
1 tablespoon coconut oil
1/2 cup assorted sprinkles (optional)
Instructions
Prepare a baking sheet with parchment paper or baking mat. Set aside.
In a food processor, pulse the cookies until they resemble rough sand. (You can also use a rolling pin to crush the cookies in a plastic bag)
Add the cream cheese and vanilla extract. Store or pulse to combine to make a batter.
Scoop the batter into balls and place on the parchment paper. Chill for 20 minutes to set up.
While the truffles are chilling, place the white chocolate and coconut oil in a microwave safe bowl. Microwave in 30 second intervals until the white chocolate is melted and smooth.
Remove the truffles from the refrigerator. Roll in your hands to smooth them out.
Dip the truffles one at a time in the melted chocolate. Tap to remove excess.
Place back on the parchment paper lined baking sheet and decorate with sprinkles.
Continue until all the truffles are dipped and decorated.
Enjoy!
Notes
If you love this recipe as much as I do, please leave me a comment and rate it 5 stars. Thank you!
Recommended Products
Nutrition Information:
Yield:

12
Serving Size:

2 truffles
Amount Per Serving:
Calories:

291
Total Fat:

20g
Saturated Fat:

11g
Trans Fat:

0g
Unsaturated Fat:

7g
Cholesterol:

25mg
Sodium:

102mg
Carbohydrates:

26g
Fiber:

0g
Sugar:

23g
Protein:

3g
This nutrition information was generated via a third party. I can not be held liable for any discrepancies in the information provided.
@TakeTwoTapas.com. Content and photographs are copyright protected. Sharing of this recipe is both encouraged and appreciated. Copying and/or pasting full recipes to any social media is strictly prohibited.