Butter Pecan Toffee is CRISPY, BUTTERY, and studded with TOASTED pecans. Easy to make, it's great for giving as an edible gift for friends and family!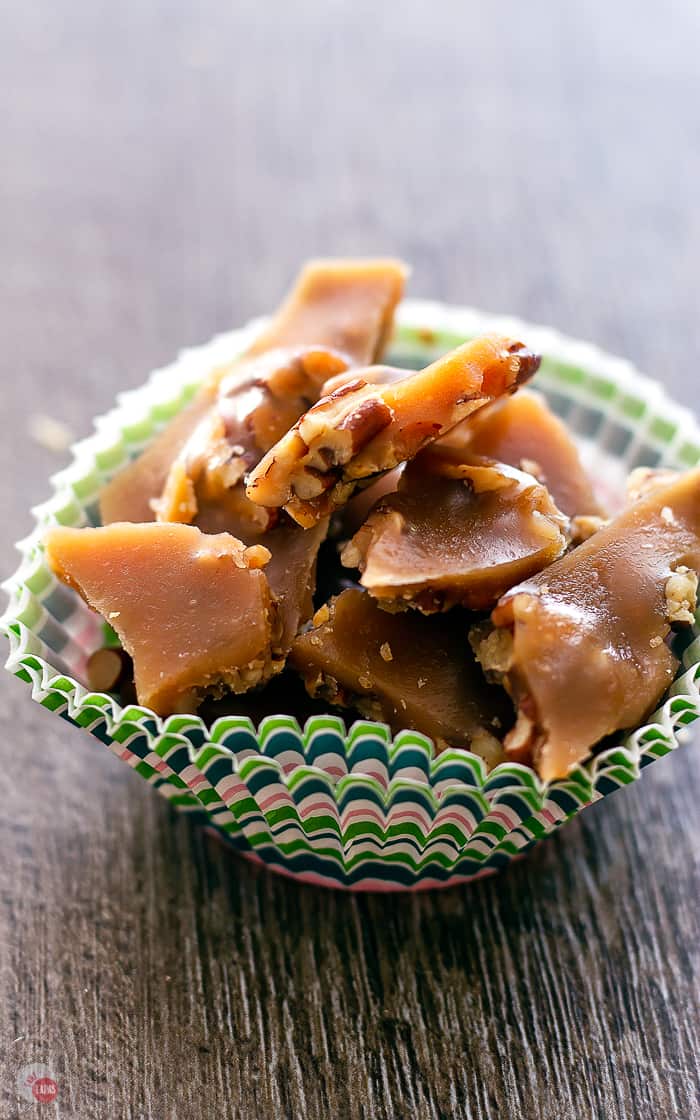 If you'd rather skip my essential cooking tips and tricks and get straight to this delicious recipe – simply scroll to the bottom of the page where you can find the printable recipe card.
This post is sponsored in conjunction with ChristmasSweetsWeek. I received product samples from sponsor companies to aid in the creation of the ChristmasSweetsWeek recipes. All opinions are mine alone.
WHAT'S THE DIFFERENCE BETWEEN TOFFEE AND BRITTLE?
Toffee is one of my favorite candies to eat. I prefer toffee over brittle because toffee is softer and it doesn't get stuck in my teeth.
There are three main differences between the two:
ingredients
cooking temperature
time at when the nuts are added
Brittle is made with sugar and water. The mixture is cooked to 300F-310F, which is called the hard-crack stage. At 300F, almost all the water is cooked out of the mixture leaving just hard sugar when cooled.
Toffee is made with butter and sugar. The toffee mixture is cooked to the lower end of the hard-crack range. It will harden completely when cooled and will snap when broken into pieces but it will chew a little softer due to the butter in the mixture.
The water from the butter will have evaporated but the fat will remain to make the toffee easier to chew.
Also, toffee is usually covered with chocolate right after the mixture is poured onto a baking sheet to cool.
Nuts may sometimes be sprinkled over the chocolate as well, but I didn't do either with this recipe. For Brittle, the sugar and water are cooked to the hard crack stage and then the nuts and flavorings are added.
The nuts are added to the toffee mixture after the butter melts and before the temperature has reached the hard crack stage.
Again, for this recipe, I poured the toffee mixture over the toasted pecans after it had reached the hard crack stage. Maybe I should have called it Pecan Butter Rum Toff-rittle. LOL!
This post may contain affiliate links. As an Amazon Associate, I earn from qualifying purchases. Read my disclosure policy here.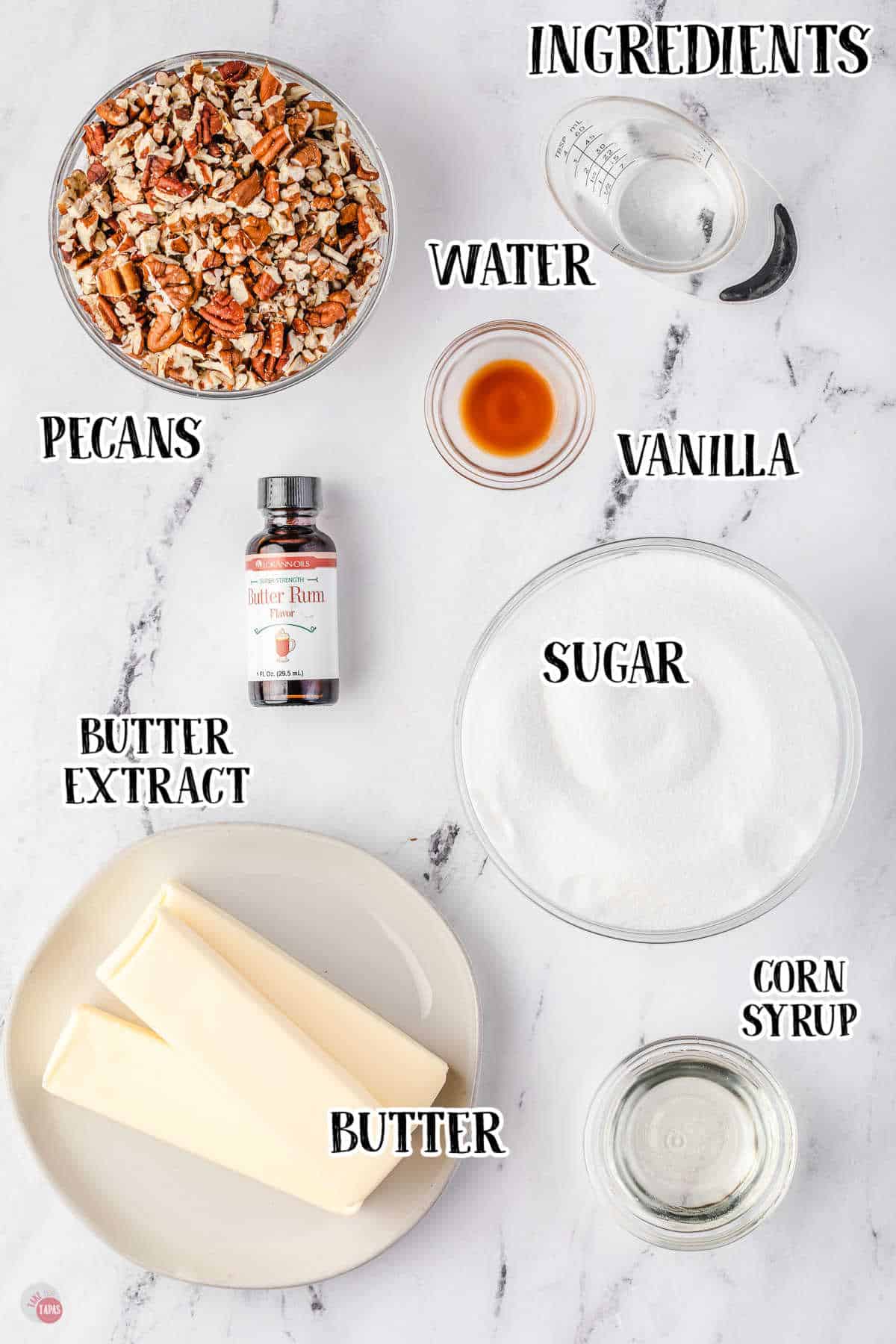 BUTTER PECAN TOFFEE INGREDIENTS
butter
sugar
corn syrup
vanilla extract
water
Pecans – Be sure to toast the pecans before using them. It enhances the flavor!
Butter – Always use unsalted butter when baking that way you can control the salt in the recipe.
Sugar – White granulated sugar is just what you need. I have not tested this recipe with sugar substitutes.
Corn Syrup – Light corn syrup is best for this toffee.
Extracts – This recipe uses a combination of vanilla and butter rum extracts.
For more insider tips & tricks, and a candid behind the scenes look follow me on social media! Check use out on Pinterest, Facebook, Instagram, & Twitter (yes, people still use Twitter, LOL!)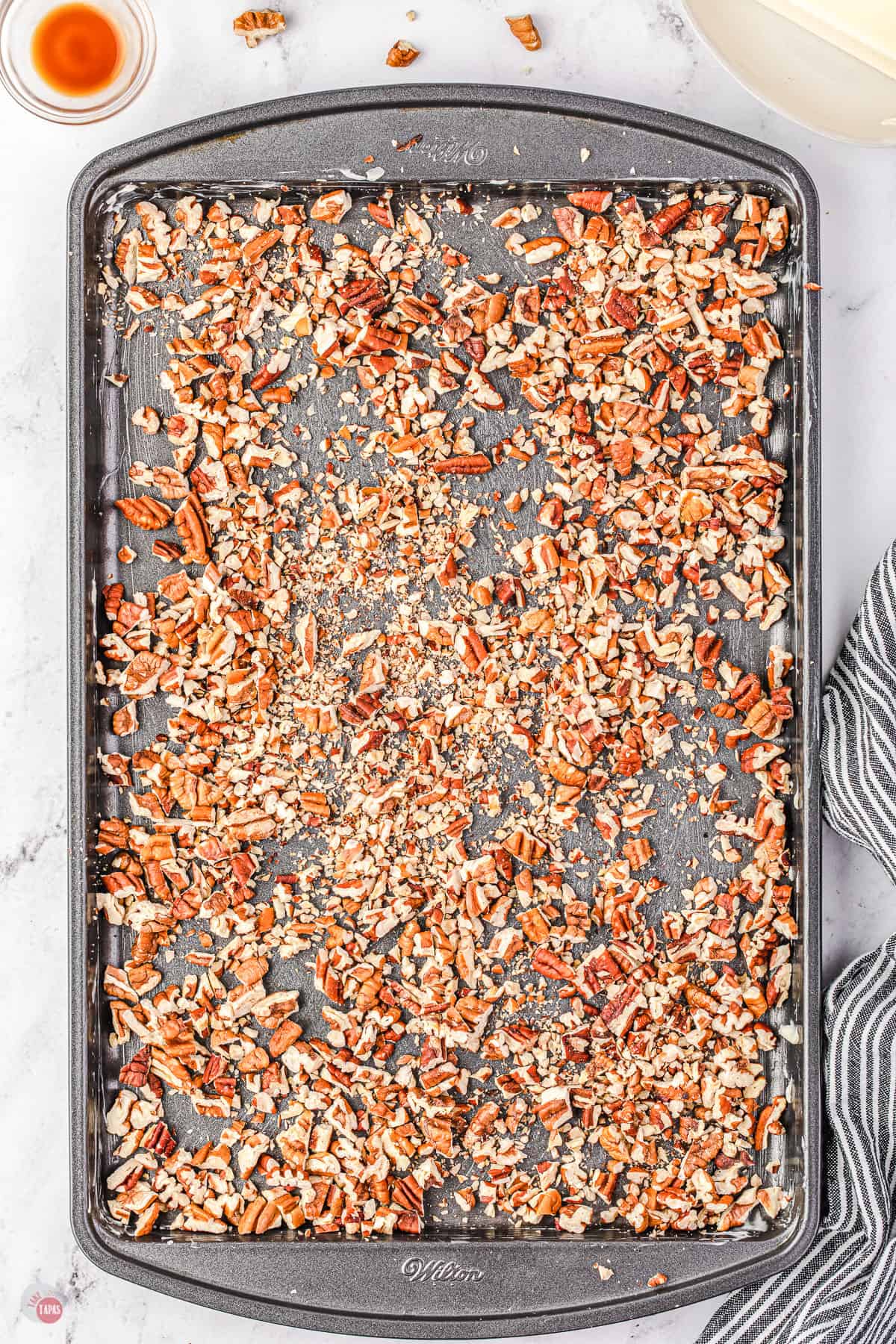 HOW TO MAKE BUTTER PECAN TOFFEE ON THE STOVETOP
ONE: Gather all your ingredients. Prepare your pan with butter, silicone baking sheet, or butter-coated foil and make a space on the counter to let your pan cool after you pour the toffee mix on it.
TWO: Gather all your ingredients next to the stovetop, get your thermometer ready, and have a small glass or bowl with water in it and a pastry brush.
THREE: Place the butter and sugar in a heavy-bottomed saucepan. Heat to medium-high heat, stirring to combine. Stir often until the sugar dissolves and the mixture comes to a boil.
FOUR: Once the mixture starts to boil, remove spoon/whisk and insert the candy thermometer. Continue cooking and do not stir until the mixture reaches the hard crack stage (300f).
FIVE: After the mixture is boiling, take a pastry brush and dip it in the water. Brush the sugar crystals from the sides of the pan. If the sugar mixture touches an undissolved sugar crystal on the side of the pan, it could cause all the other sugar crystals that have already dissolved to form again, making your toffee grainy.
SIX: Once the toffee mixture reaches 300F, remove the pan from the stove, add in the extracts and flavorings, stir to combine, and immediately pour onto the baking sheet. Spread with a spatula or spoon to even it out.
Let cool completely (1-2 hours) and then break into small pieces. Store in an air-tight container for up to a week.
For the full recipe and detailed instructions, please refer to the recipe card at the bottom of the post.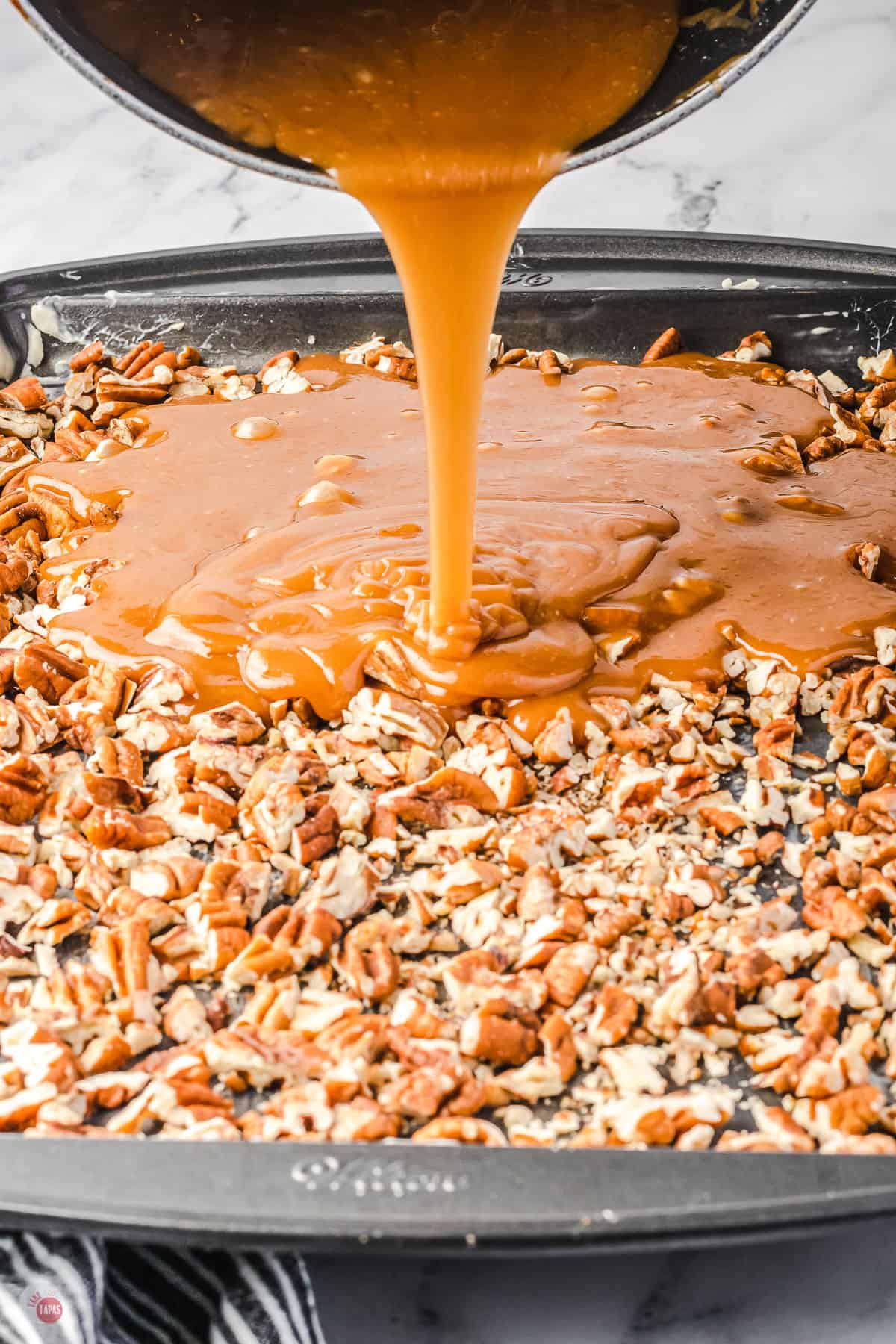 HOW TO STORE PECAN TOFFEE
You can store the toffee at room temperature in an air tight container for up to 2 weeks! If you are layering in a container, you might want to place wax paper between the layers.
CAN I FREEZE BUTTER PECAN TOFFEE?
Up to one week at room temperature or in the freezer for about a month.
CAN I USE DIFFERENT NUTS THAN PECANS?
Yes you can! I use pecans because I wanted it to taste like my Ma's Butter Pecan ice cream.
CAN I USE A DIFFERENT FLAVOR THAN THE BUTTER RUM?
You can, but it won't taste like butter rum LOL. Feel free to substitute any other flavor you have that goes with pecans.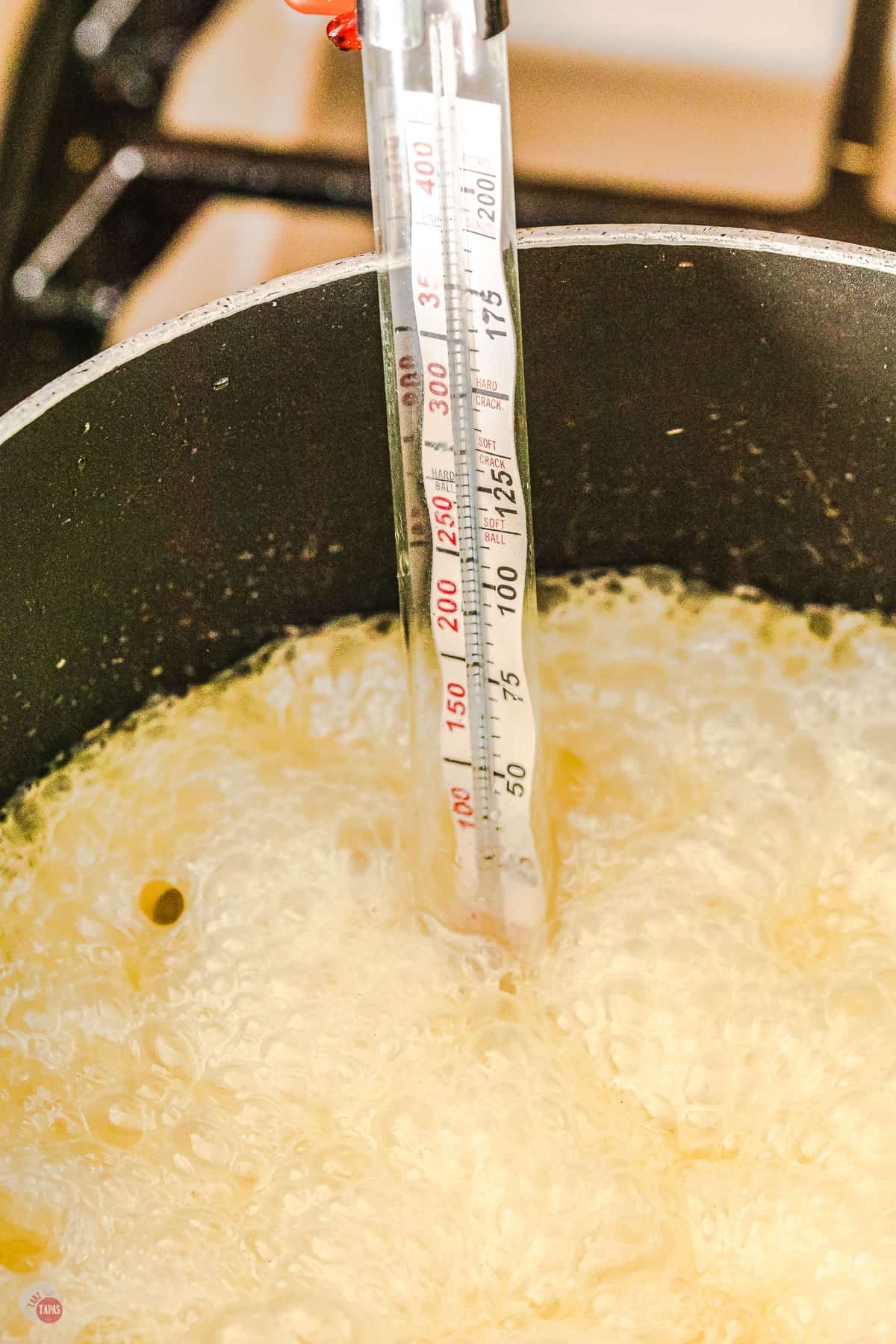 WHAT IF I DON'T HAVE A CANDY THERMOMETER?
You can use the water method. Every so often during the cooking process, take a spoon and pull out a tiny bit of the toffee mixture and drizzle it into a cup of water.
After a few seconds, pull out the toffee and see if it's hard. If you pull it out and the candy is still soft, keep cooking. If it is hard, you are ready to go.
The star of this Pecan Butter Rum Toffee is the Butter Rum flavor. There isn't any actual rum in the toffee but LorAnn Oils Butter Rum flavoring.
LorAnn Oils carries a variety of super strength candy flavoring oil and baking emulsions. Their flavorings and emulsions bring intense and vibrant flavors without it "baking out."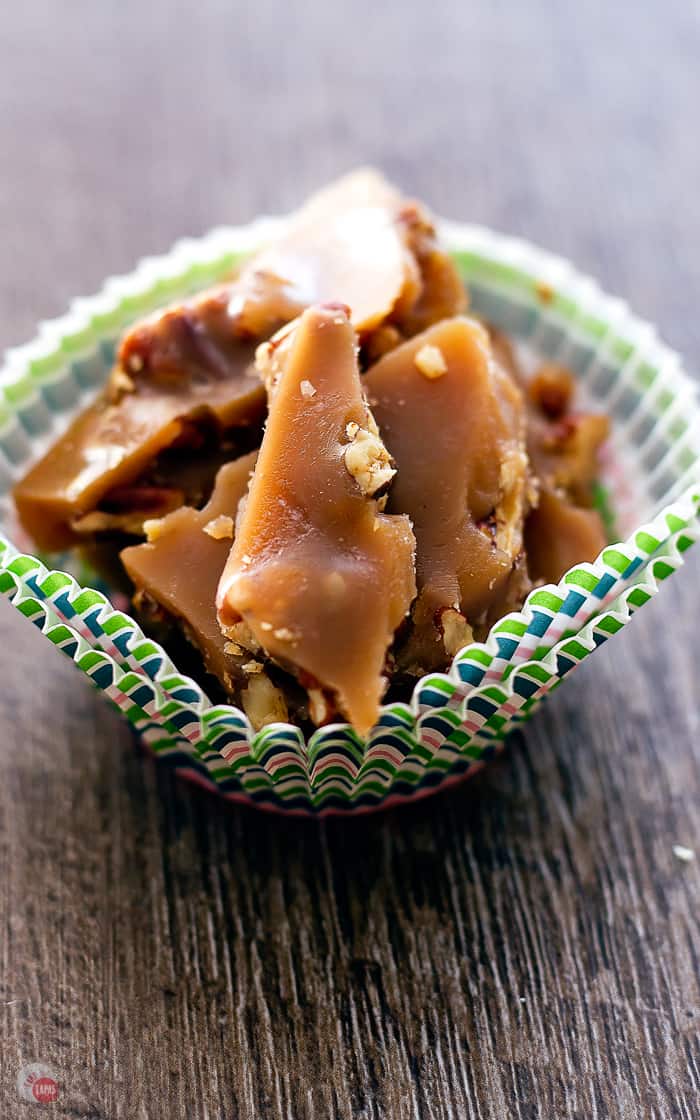 WHAT'S THE DIFFERENCE BETWEEN AN ENGLISH TOFFEE RECIPE AND A REGULAR TOFFEE RECIPE?
English toffee is typically made with brown sugar and butter whereas American toffee is made with white sugar and butter.
Also, English toffee doesn't usually have chocolate and crushed almonds on the top, it is like the recipe here.
But in America, we have taken the recipe and added the chocolate and crushed nuts, which the English call buttercrunch or Almond Roca.
Remember, English toffee doesn't have chocolate or nuts. If you see something labeled English Toffee and it has chocolate and nuts, it is really buttercrunch.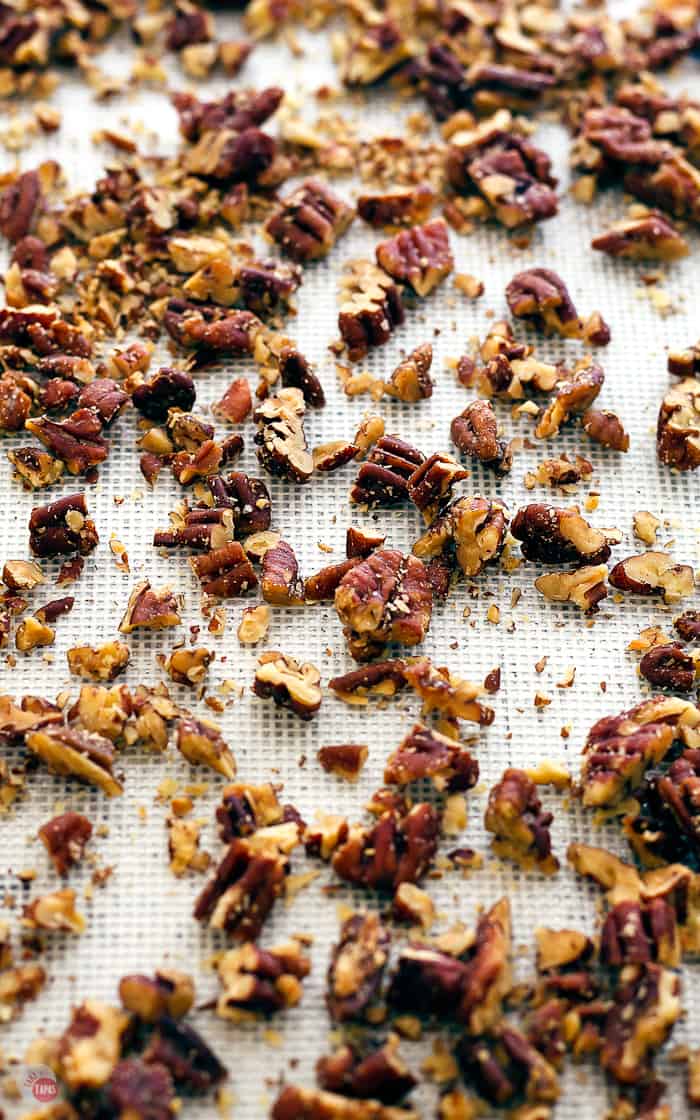 TAPAS TIPS & TRICKS
When adding the extracts and flavorings, do it one the mixture has come to the hard crack stage making sure to remove the pot from the stove.
Have a spot set up to put the pot on (like a trivet or a thick oven mitt on the counter) before you start cooking. Once the cooking starts, you don't want to leave the pot.
Toast the pecans before pouring the candy over them. It will enhance the flavors.
While the sugar mixture is boiling, use a wet pastry brush to brush off any sugar crystals that pop up on the side of the pot.
If you love this recipe as much as I do, please write a five-star review in the comment section below (or on Pinterest with the "tried it" button – you can now add pictures into reviews, too!), and be sure to help me share on facebook!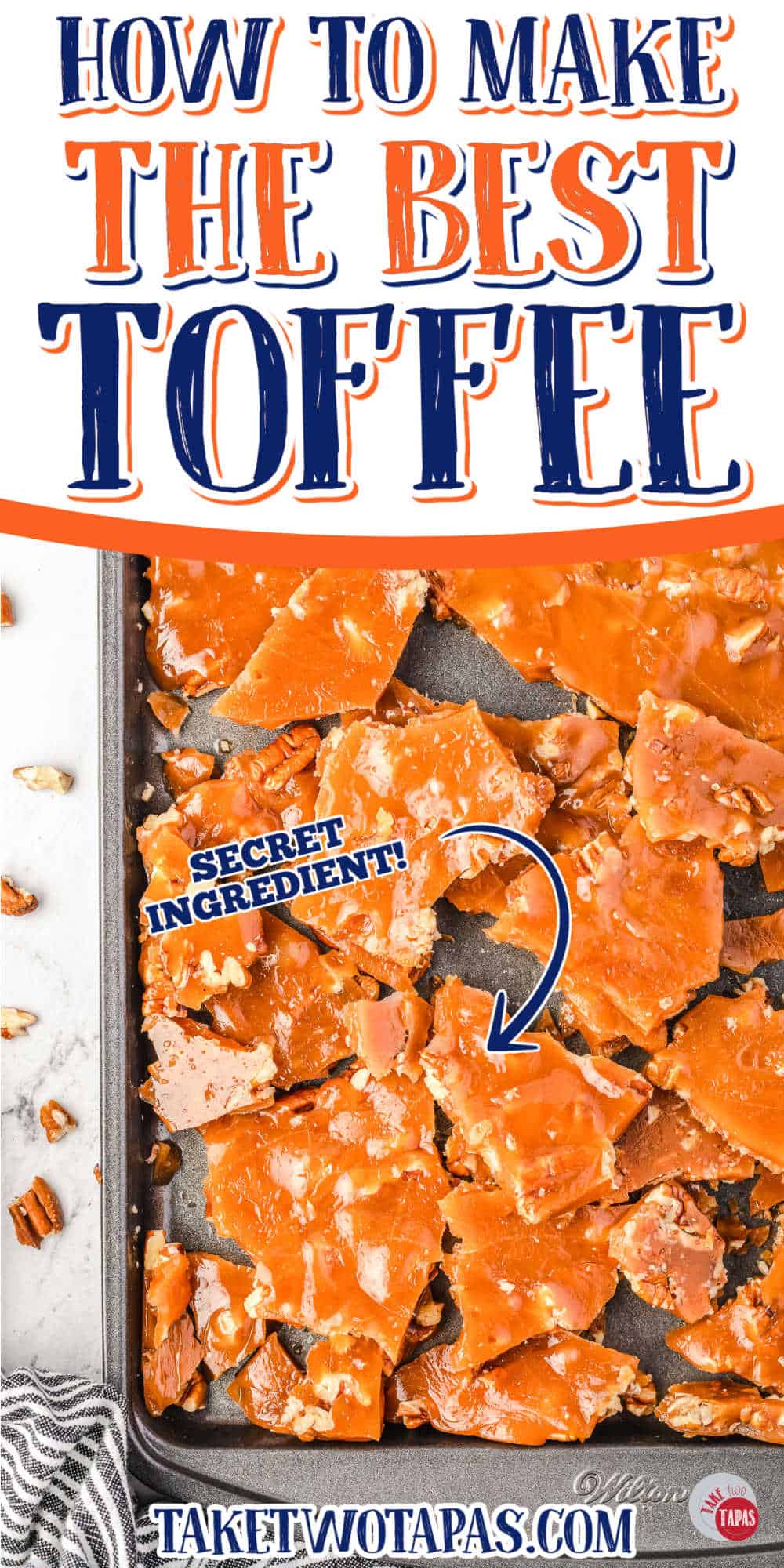 MORE EASY TAPAS RECIPES
BUTTER PECAN TOFFEE RECIPE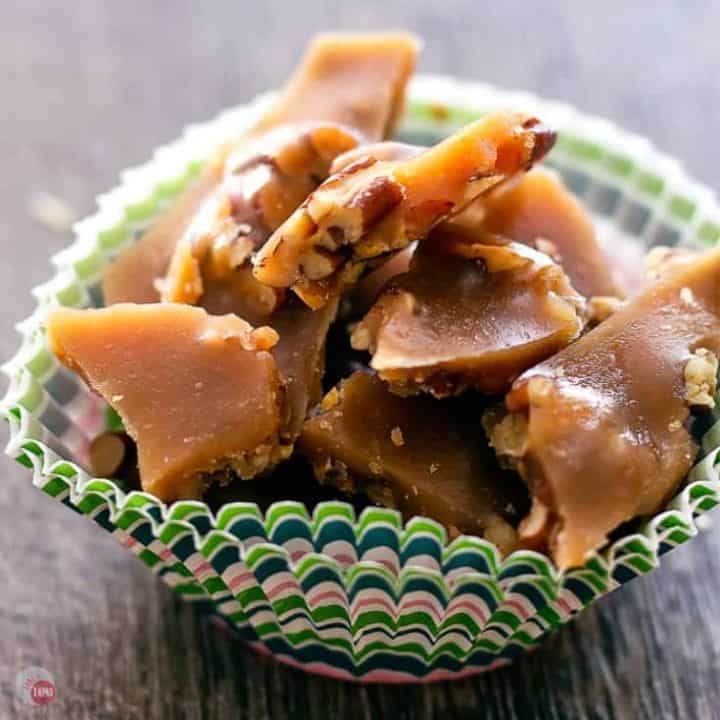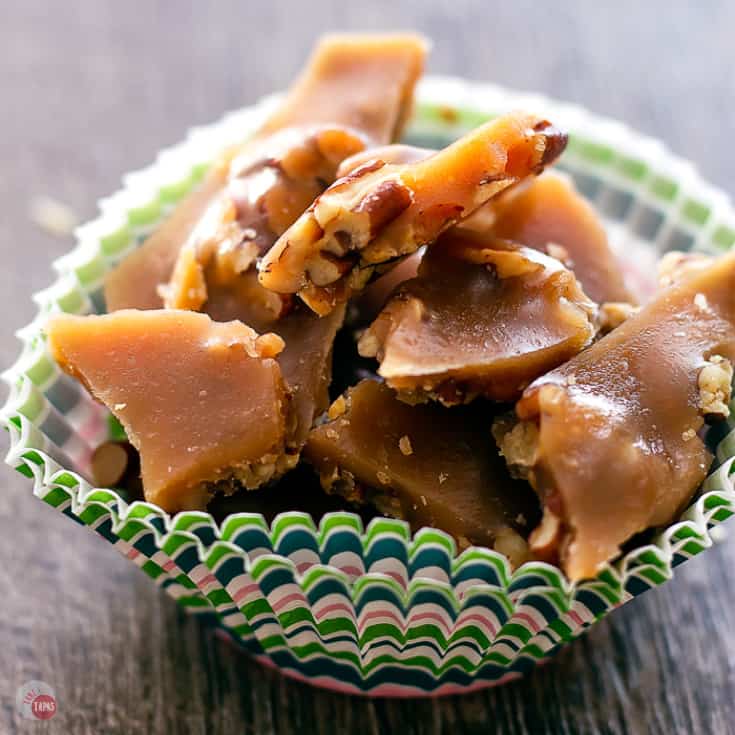 Pecan Butter Rum Toffee
Crispy, buttery, and studded with pecans, this easy to make Pecan Butter Rum Toffee is a great edible gift for friends and family!
Ingredients
2 cups toasted pecans
3 sticks unsalted butter
2 cups granulated sugar
1/4 cup water
3 tablespoons light corn syrup
1/4 teaspoon LorAnn Butter Rum
1/2 teaspoon vanilla
Instructions
Prepare the pan and pecans
If you haven't already, toast your pecans in the oven.
Once they are toasted, chop them and sprinkle evenly on a baking sheet that has been coated with butter.
Place the baking sheet on a heat-proof surface as you are going to pour the hot toffee mixture on it.
Cook the toffee mixture
Melt the butter in a heavy large saucepan over medium to medium-high heat.
Stir in the sugar, water and corn syrup.
Stir mixture until the sugar is completely dissolved.
Once the mixture comes to a boil, Do Not Stir.
Using a pastry brush dipped in water, wash down the sides of the pan to prevent any undissolved sugar crystals from coming into contact with the syrup.
Attach a candy thermometer to the pan (do not allow the tip of thermometer to touch the bottom of the pan).
Without stirring, continue cooking to 300°F (hard crack stage).
When syrup reaches the hard crack stage, immediately remove from heat and stir in the vanilla extract and the LorAnn Oils Butter Rum flavor.
Carefully pour the toffee mixture onto the prepared baking sheet.
Cool completely and break into bite-size pieces.
The Pecan Butter Rum Toffee can be stored at room temperature for 7 days, or frozen for about a month.
Notes
*If you like this recipe, please leave me a comment and rate it with some stars. Thank you!
Nutrition Information:
Yield:

16
Serving Size:

1
Amount Per Serving:
Calories:

261
Total Fat:

17g
Saturated Fat:

11g
Trans Fat:

0g
Unsaturated Fat:

6g
Cholesterol:

46mg
Sodium:

6mg
Carbohydrates:

28g
Fiber:

0g
Sugar:

28g
Protein:

0g
This nutrition information was generated via a third party, Nutritionix, and can not be held liable for any discrepancies in the information provided.
Other great #ChristmasSweetsWeek recipes to try:
Beverages:
Bourbon Salted Caramel Coffee with Whipped Cream from With Two Spoons
Cookie Butter Eggnog Cocktail from My Suburban Kitchen
Coquito from A Kitchen Hoor's Adventures
Eggnog Martini from Everyday Eileen
Frozen Caramel Hot Chocolate from Eat Move Make

Mulled Red Wine Sangria from Platter Talk
Red Velvet Hot Chocolate from Live Love Texas
Salted Caramel Affogato from Tara's Multicultural Table
Salted Caramel Apple Cider Martinis from Sweet Beginnings
Hazelnut Hot Chocolate Sticks from Family Around the Table
Salted Caramel Chocolate Martini from The Crumby Kitchen
Salted Caramel Espresso Martini from An Affair from the Heart
Sugar Cookie Martini from Strawberry Blondie Kitchen
Salted Caramel White Hot Chocolate from Who Needs A Cape?

Breakfast:
Baked Eggnog French Toast from The Spiffy Cookie
Peanut Butter Chocolate Chip Scones from Rants From My Crazy Kitchen
Candies:
Pecan Butter Rum Toffee from Take Two Tapas
Christmas Eggnog Fudge from For the Love of Food
Christmas Grinch Bark from Blogghetti
Cookie Butter Bark from Seduction in the Kitchen
Eggnog Sugar Cookie Bark from 4 Sons 'R' Us
Peppermint Marshmallow Fudge from Daily Dish Recipes
White Christmas Sugar Cookie Dough Fudge from Hezzi-D's Books and Cooks
Desserts:
Black Forest Cheesecake from Kate's Recipe Box
Butter Rum Cheesecake from Cookie Dough and Oven Mitt
Butter Rum Nutty Biscotti from Love and Confections
Chai Snickerdoodle Cookies from Mildly Meandering
Christmas Cornflake Wreaths from The Mandatory Mooch
Cookie Butter Blossom Cookies from The Bitter Side of Sweet
Frozen Mint Meltaway Pie from Cooking with Carlee
Vegan Gingerbread Cupcakes with Eggnog Frosting from The Baking Fairy
Lemon-Cardamom Sugarmen Cookies from Culinary Adventures with Camilla
Peppermint Mocha Cupcakes from The Beard and The Baker
Red Velvet Cupcakes with Eggnog Butter Frosting from Lady Behind the Curtain
Santa Hat Cupcakes from The Redhead Baker
Slice 'N' Bake Grinch Cookies from Big Bear's Wife
White Chocolate Dipped Gingerbread Cookies from Cheese Curd in Paradise
Thank you Christmas Sweets Week Sponsors: Dixie Crystals, Cabot Cheese, Lorann Oils & Flavors, Torani, Joyjolt, and Sweets & Treats Boutique. These companies also provided the bloggers with samples and product to use for ChristmasSweetsWeek recipes. All opinions are my own.
TakeTwoTapas.com. Content and photographs are copyright protected. Sharing of this recipe is both encouraged and appreciated. Copying and/or pasting full recipes to any social media is strictly prohibited.