A buttery and flaky cracker is mixed with creamy peanut butter and sweet honey and rolled into tiny cracker truffles. Dipped in dark chocolate and dusted with flake salt and they are the perfect bite!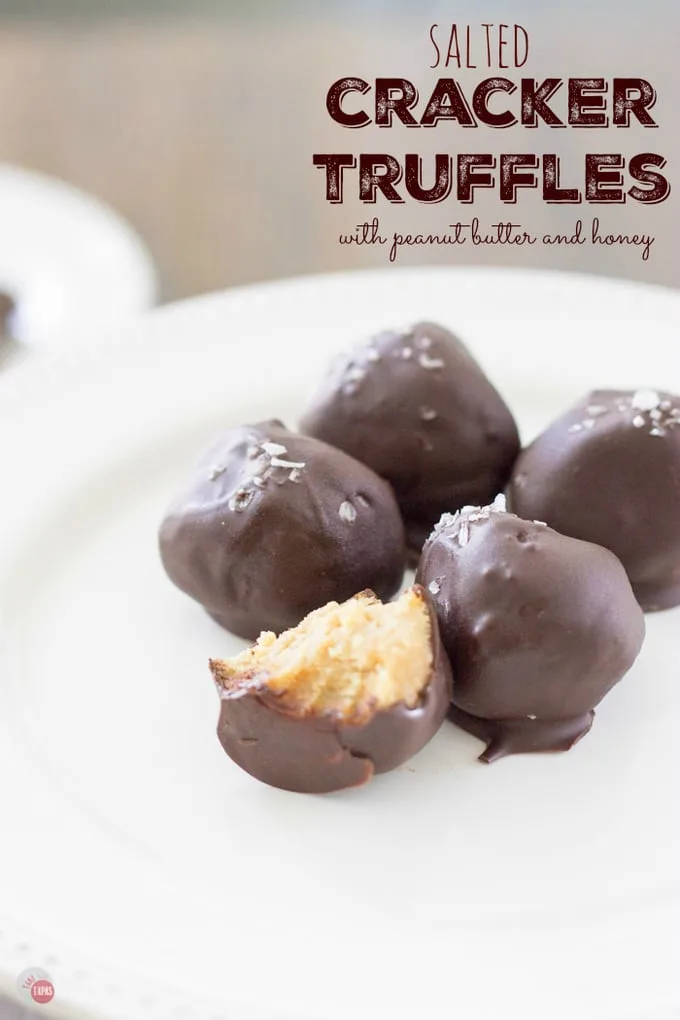 What kind of lunches did you have in your lunch box growing up? I packed my own lunches growing up which was not a good thing as I did not make good choices.
My lunch usually consisted of chips, toaster pastries, occasionally some fruit, but there was one thing that I longed to pack that everyone else had in their lunch boxes but we never had in our home. Sandwich Crackers!
This item was one that I drooled over and wanted to buy in the lunchroom when they were stocked and I was lucky enough to have some extra money on me.
It was also the subject of many unsuccessful trades in the lunch courtyard. No one wanted cold spaghetti for lunch for some reason.
This post may contain affiliate links. As an Amazon Associate, I earn from qualifying purchases. Read my disclosure policy here.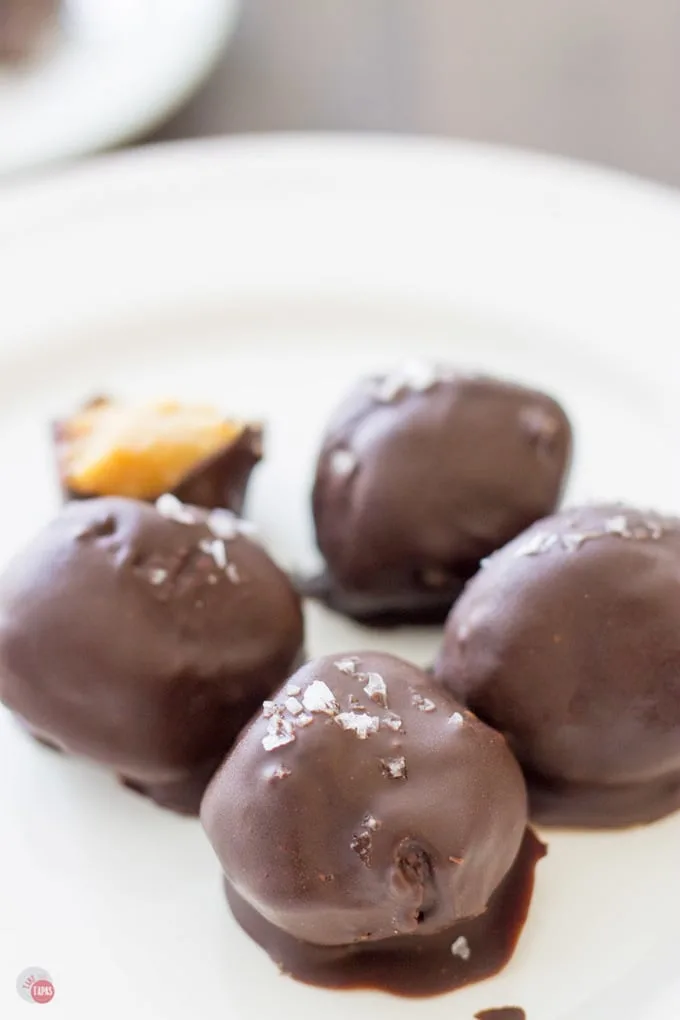 WHAT CAN YOU MAKE WITH SANDWICH CRACKERS?
Funny thing when I look back on it now and see that I can buy these for my own kids, yet they refuse to eat them. My kids are weird.
I am baffled by the fact that they have no interest in it, wouldn't try it unless I bribed them, and actually don't even like it once I made them try it for the first time.
Feeling nostalgic as I think how school lunches have changed and a little perturbed at my kid's reaction to this awesome treat (kinda thinking they are just too spoiled to appreciate it), I decided to buy some and make a cool new treat with it to show my kids that it is good.
That it tasted good. AND that they are missing out on life!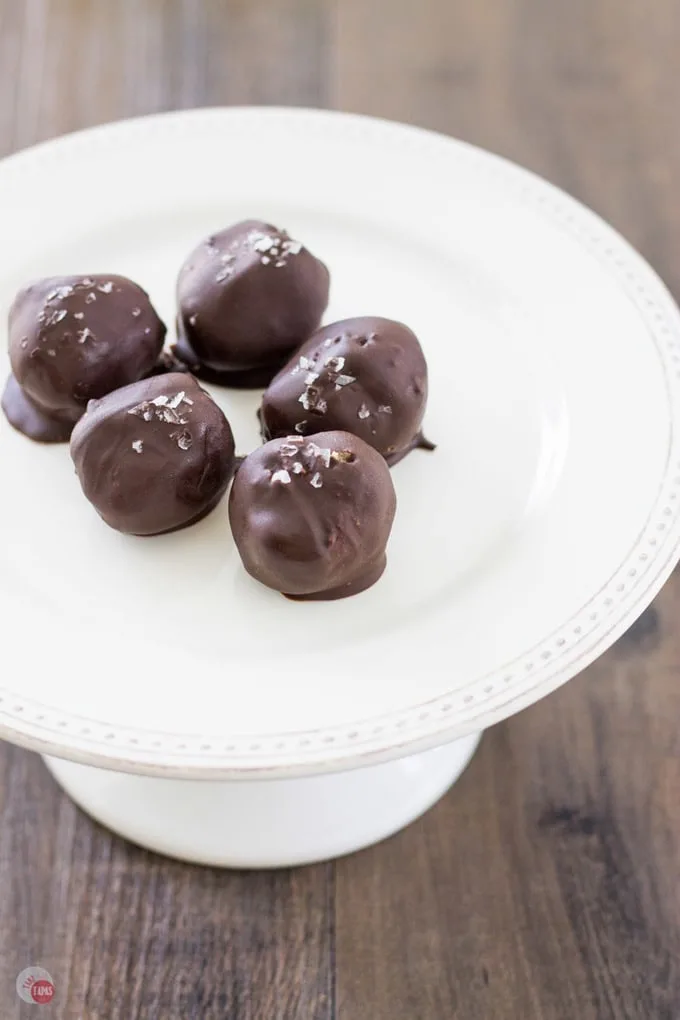 For more insider tips & tricks, and a candid behind the scenes look follow me on social media! Check use out on Pinterest, Facebook, Instagram, & Twitter (yes, people still use Twitter, LOL!)
On my most recent grocery run, which was about 45 minutes ago because I go all time, I went to the snack aisle with eager anticipation. Once I got to the aisle and raced down to the specific section, all I could do was stop and stare. My beloved treat was there.
Along with 15 other flavors that were not available back in my day.
No, the dinosaurs didn't eat them all, we were just limited on varieties. I grabbed my favorite sour cream and chive flavor but couldn't help but get the peanut butter and honey flavor to try and sway my kids one more time.
They eat peanut butter sandwiches all the time. No jelly of course, because that would be too normal.
I will also tell you, with no shame, that I opened the package of buttery crackers filled with peanut butter and honey and ate the first one (6 cracker sandwiches) while I was still shopping. Yes, I am that mom.
Forget the lectures about it technically being "stealing" since I haven't paid for it yet because I have seen plenty of moms silencing their kids with unpurchased cookies and crackers so they can finish their shopping trip in pseudo silence.
I did it because I couldn't wait and I was starving. An empty stomach is never a condition that you want to have when you go to the grocery store. I speak from experience, and remorse when it takes 15 trips to the car to get all the bags out.
If you love this recipe as much as I do, please write a five-star review in the comment section below (or on Pinterest with the "tried it" button – you can now add pictures into reviews, too!), and be sure to help me share on facebook!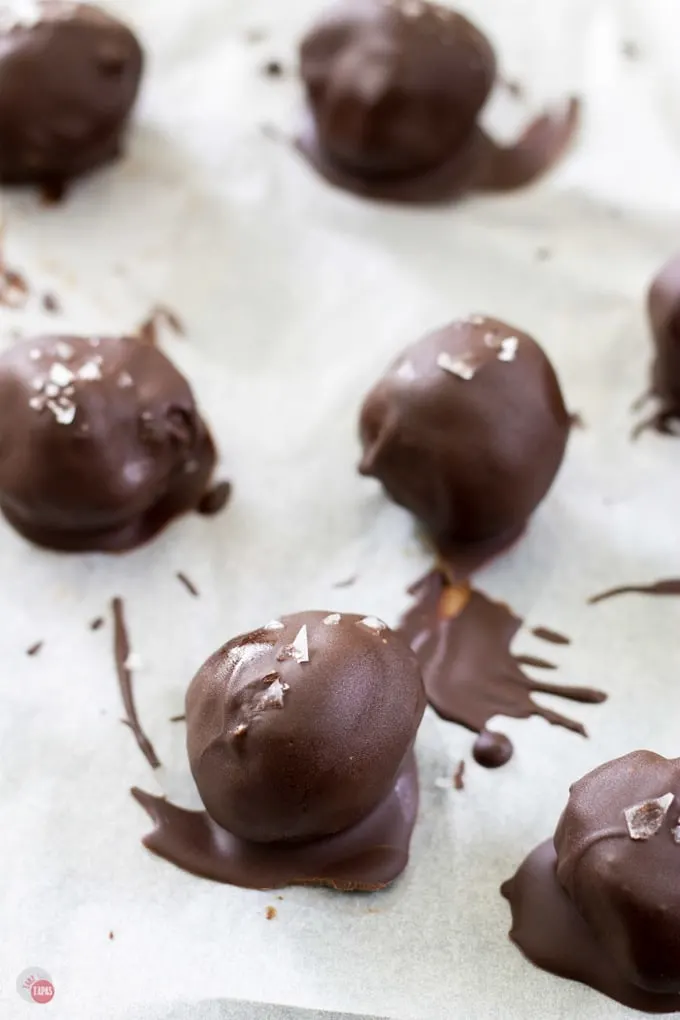 MAKING CRACKERS INTO TRUFFLES
Once I returned home, I ripped open the cracker packages that I managed not to scarf down in the car, in the food processor. Threw in some extra honey and peanut butter for good measure, and started rolling them into truffles.
I popped a few in my mouth to taste my new creation because I take quality control very seriously. So seriously that I had to go back to the store to get another package later that afternoon.
Enjoying my new cracker snack, I thought that dipping them in chocolate would only enhance the taste and keep them moist. It worked in terms of storage, but unnecessary because they only lasted a few hours.
A hint of salt on the top balances out the honey and peanut butter and makes the truffle complete! These truffles are like my Banana Pudding Truffles and my Fireball Dulce de Leche Truffles for all those adults out there!
Taking my much-beloved cracker snacks, my favorite is still the sour cream and chive, and turning them into a snack that maybe my kids would like is always fun. Maybe they will take them in their lunch box this week.
Maybe not.
After more bribing, they still won't eat them. Guess it's my lunch box they are going in.
Grab your cracker sandwiches and make a few batches of my Cracker Truffles for your lunchbox! Just be sure to put your name on them or they might get stolen!
MORE EASY APPETIZERS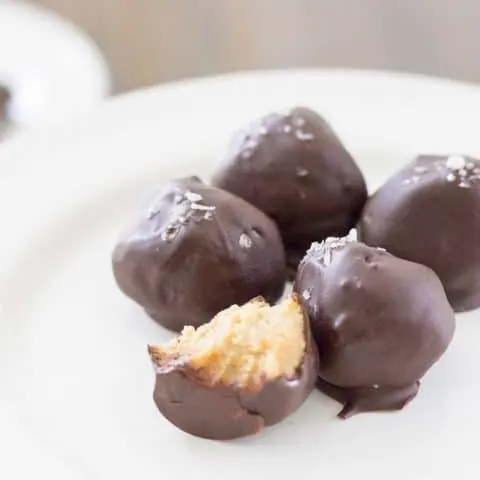 Cracker Truffles with Peanut Butter and Dark Chocolate
A buttery and flaky cracker is mixed with creamy peanut butter and sweet honey rolled into tiny cracker truffles and dipped in chocolate. YUM!
Ingredients
11 ounces peanut butter and honey snack crackers (6 packages)
8 ounces cream cheese
2 tablespoons honey
1/2 cup peanut butter
8 ounces dark chocolate
2 teaspoons coconut oil
Instructions
Prepare the cracker truffle center
Unwrap and put your cracker sandwiches in the food processor.
Pulse until completely crushed up.
Add the cream cheese, honey, and peanut butter.
Pulse to combine and make a thick batter.
Form the cracker truffles
Scoop into small truffle balls that are about 3/4 of an inch round and place on a parchment-lined cookie sheet.
Chill in the refrigerator for at least 15 minutes.
Dip your cracker truffles
While chilling, melt your chocolate and coconut oil in a double boiler.
Take your truffles out of the fridge and dip one at a time in the chocolate and completely coat.
Remove and place back on the same parchment-lined cookie sheet.
Sprinkle with flaky sea salt while the chocolate is still wet. Since they are cold, the chocolate will set pretty fast.
Keep dipping until all the truffles are covered.
Place back in the fridge until set. About 15 minutes.
Enjoy and keep stored in the fridge.
Notes
*If you like this recipe, please leave me a comment and rate it with some stars. Thank you!
Nutrition Information:
Yield:

24
Serving Size:

1
Amount Per Serving:
Calories:

205
Total Fat:

16g
Saturated Fat:

6g
Trans Fat:

0g
Unsaturated Fat:

8g
Cholesterol:

10mg
Sodium:

121mg
Carbohydrates:

13g
Fiber:

2g
Sugar:

8g
Protein:

5g
This nutrition information was generated via a third party, Nutritionix, and can not be held liable for any discrepancies in the information provided.
TakeTwoTapas.com. Content and photographs are copyright protected. Sharing of this recipe is both encouraged and appreciated. Copying and/or pasting full recipes to any social media is strictly prohibited.