These light and flaky mini phyllo cups are crisp, buttery, and can be filled with sweet or savory ingredients to make the perfect finger food.
Easy to make ahead, these easy phyllo shells can be stored in the freezer and turned into crowd pleasing appetizers or desserts!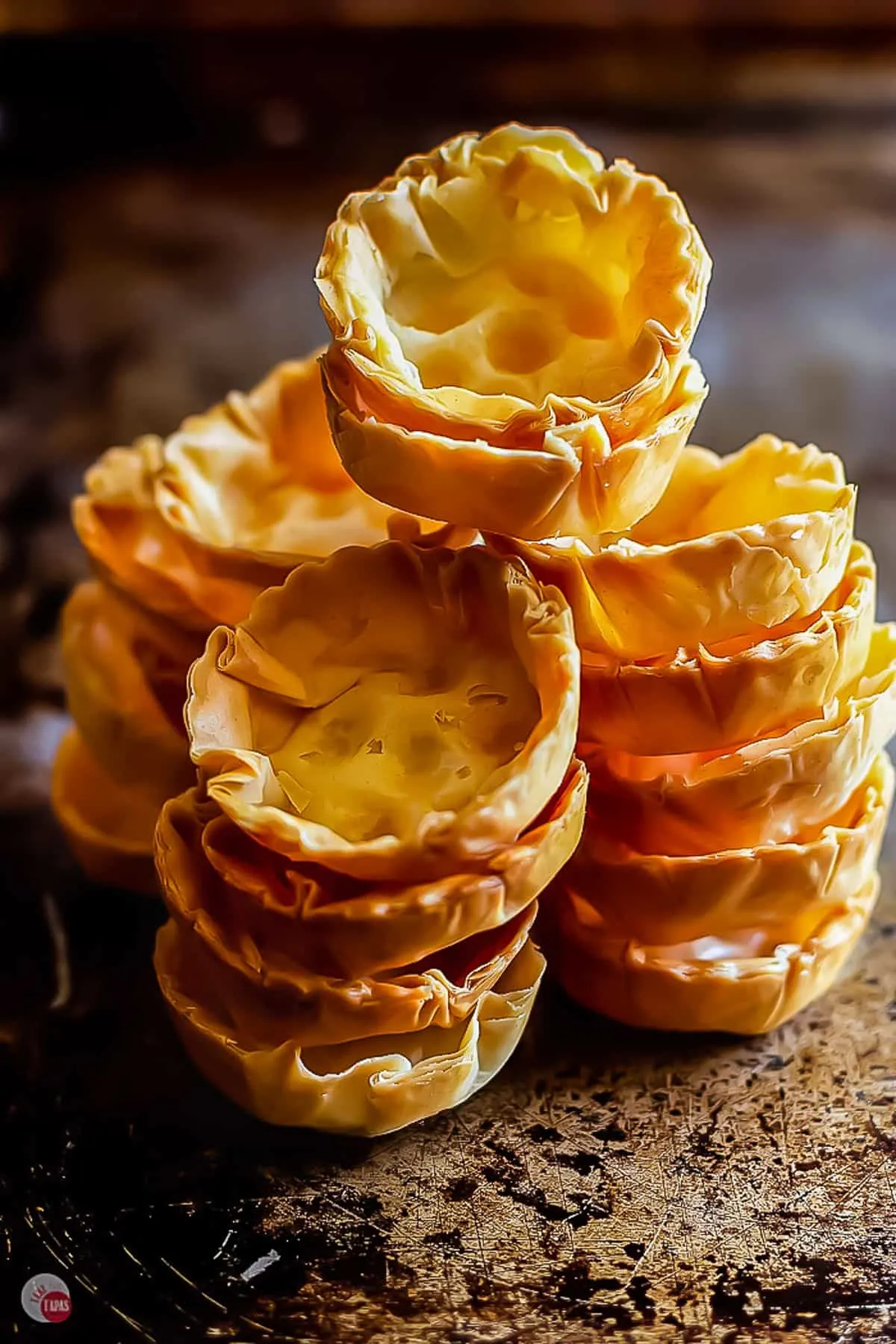 Phyllo cups for appetizers and desserts. The light and crunchy phyllo dough easily bakes in mini muffin tins to form phyllo shells.
Homemade phyllo cups for appetizers put that special spin on your dish. It can take a basic appetizer and make it amazing.
The crisp buttery phyllo crust forms petals around your filling. There is a satisfying crunch, but also a convenient finger food aspect to it.
At this point, it is worthy of not just an "ooh" but also an "ahhhh".
Phyllo cup fillings can be savory or sweet. There are so many different directions you can take like cheesy, meaty, creamy, custardy, or veggie. No matter which way you go you can't go wrong. Best of all, they take so little time to make!
Is Phyllo the same as Filo?
Why, yes they are! Just two different spellings for the same thing. The word means "leaf" in Greek if you are interested in that sort of thing.
This post may contain affiliate links. As an Amazon Associate, I earn from qualifying purchases. Read my disclosure policy here.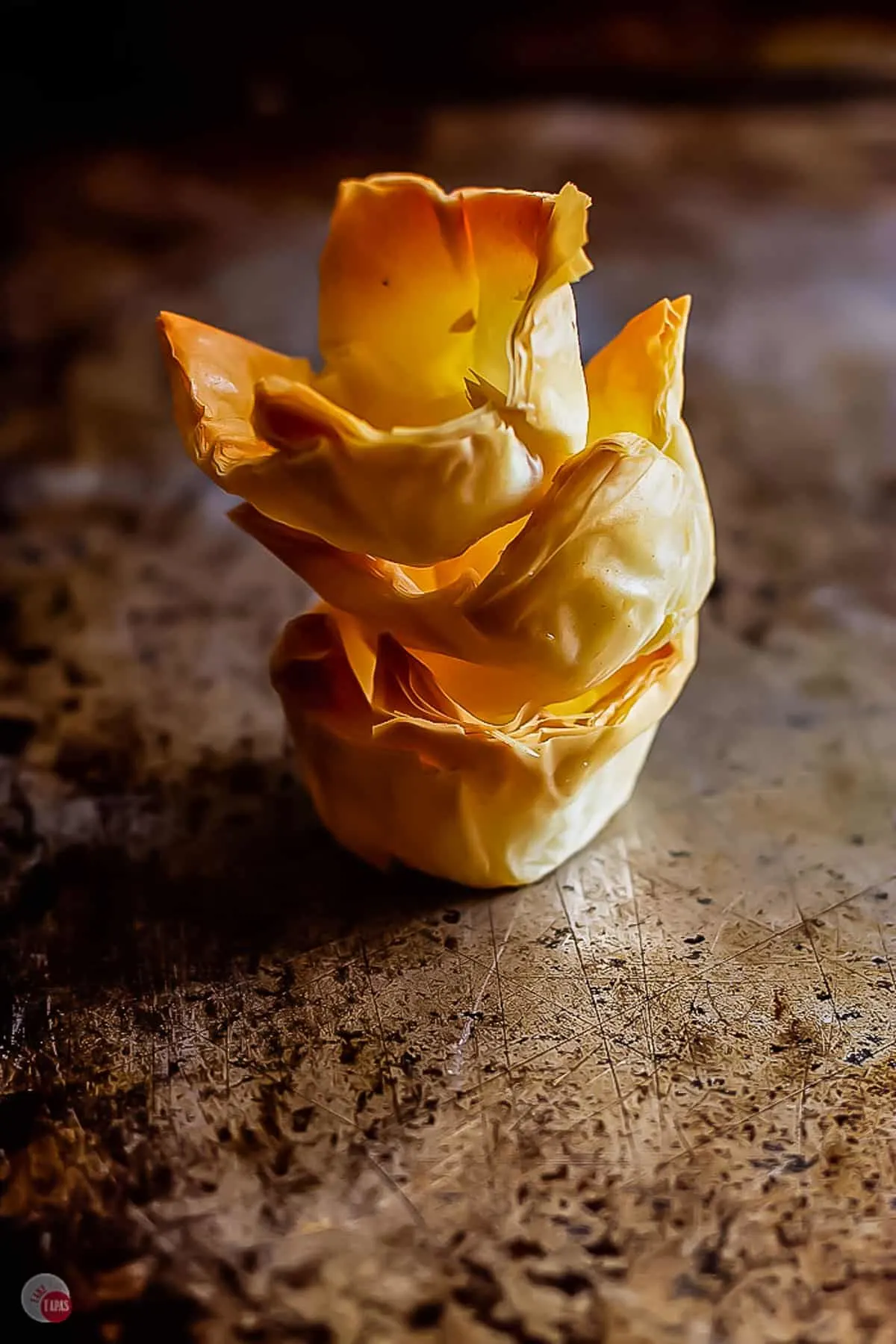 Can you buy phyllo cups?
I do like the convenience of buying them from the store, but I like being able to make something cheaper than I can buy them!
Where do you find phyllo dough in the grocery store?
You can easily find phyllo dough in the freezer section of the grocery store. Look wherever the pie crusts and puff pastry are kept. Usually in the ice cream and novelties section.
I love a great shortcut but if I have the time to make them, I will make a large batch and store them in the freezer for future parties!
Just like meal prepping for a week's worth of dinners, you can freezer prep for parties too. Think of all the appetizers and desserts you can make quickly and control the fillings.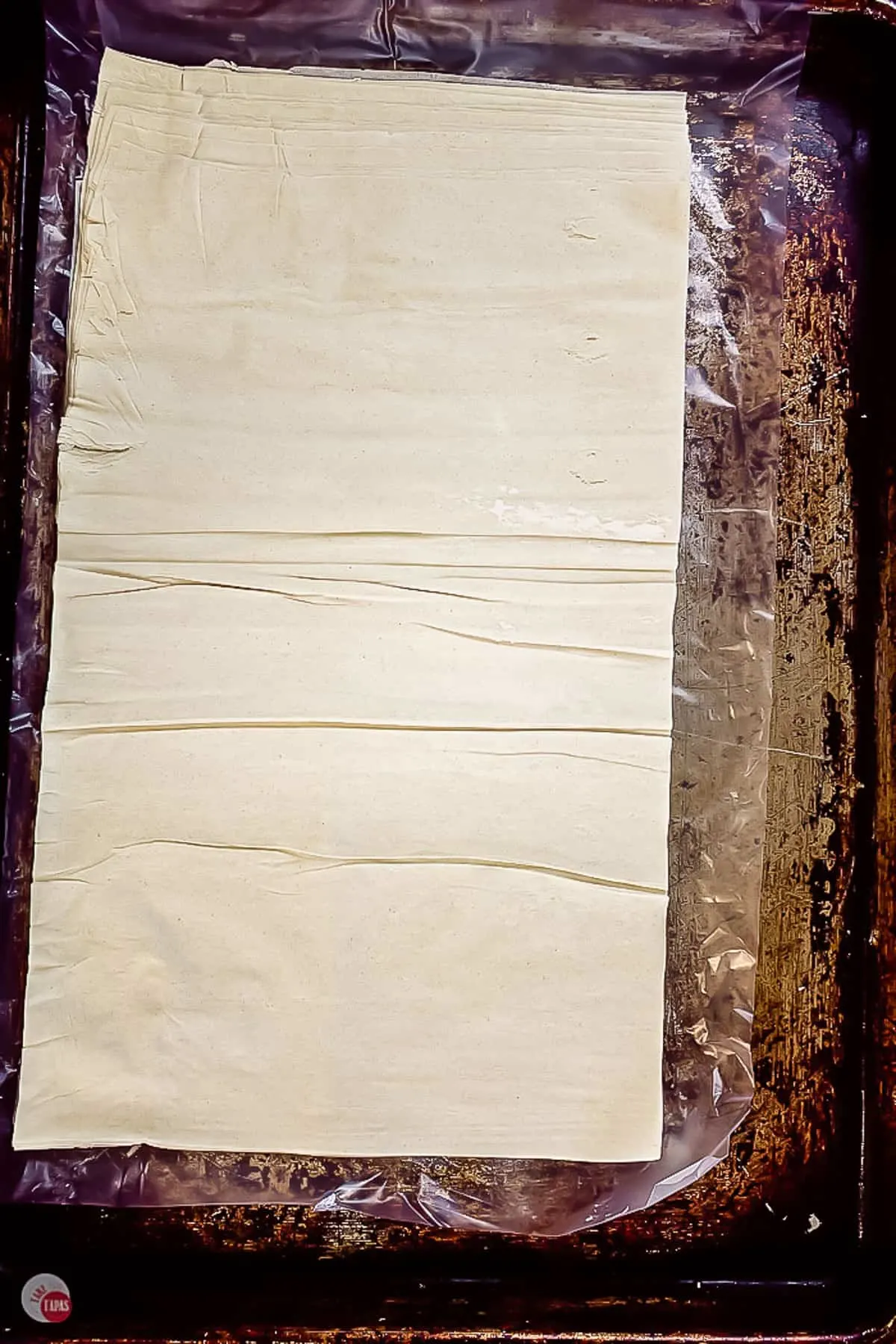 Is phyllo dough hard to work with?
You might be asking "why should I make them from scratch when I can just buy them at the store and not have all the mess?"
The convenience of pre-made is hard to beat though when it comes to phyllo, but don't be intimidated! Phyllo dough is easy and fun to work with.
Let's start by defrosting it. Frozen phyllo doesn't like to be touched.
How do you use frozen phyllo dough?
Defrosting the dough should be done nice and slow. I like to take my filo out of the freezer the night before and let thaw out in the refrigerator overnight.
The next morning, you are good to go.
You can also defrost at room temperature by taking the rolls out of the box and leave on the counter at room temperature for 30 minutes.
Just do not separate until completely thawed.
What is the fasted way to thaw phyllo dough?
If you are in a hurry, or forgetful like me, you can use the microwave. This is a last resort in my opinion but it can be done.
Can I defrost it in the microwave?
If you need to thaw rolls of phyllo dough, microwave it on high in the microwave for 60 seconds. If you're only using one roll, half it to 30 seconds.
Can filo pastry be refrozen?
Phyllo dough is sold frozen. You can refreeze it if you remember to cover the dough with a damp cloth while it is thawed.
Just wrap the phyllo sheets in some plastic wrap and place in a tightly-sealed freezer bag. The dough will keep for 2 months.
If you don't use all the phyllo dough once it's opened, just roll it back up, place in a zip-top bag and place in the refrigerator for up to 1 week.
You can refreeze opened phyllo for up to 2 months.
If you take some out and your plans change, you can keep thawed, UNOPENED, phyllo dough in the fridge for up to 4 weeks. Plenty of time to do your batch phyllo shells baking next weekend!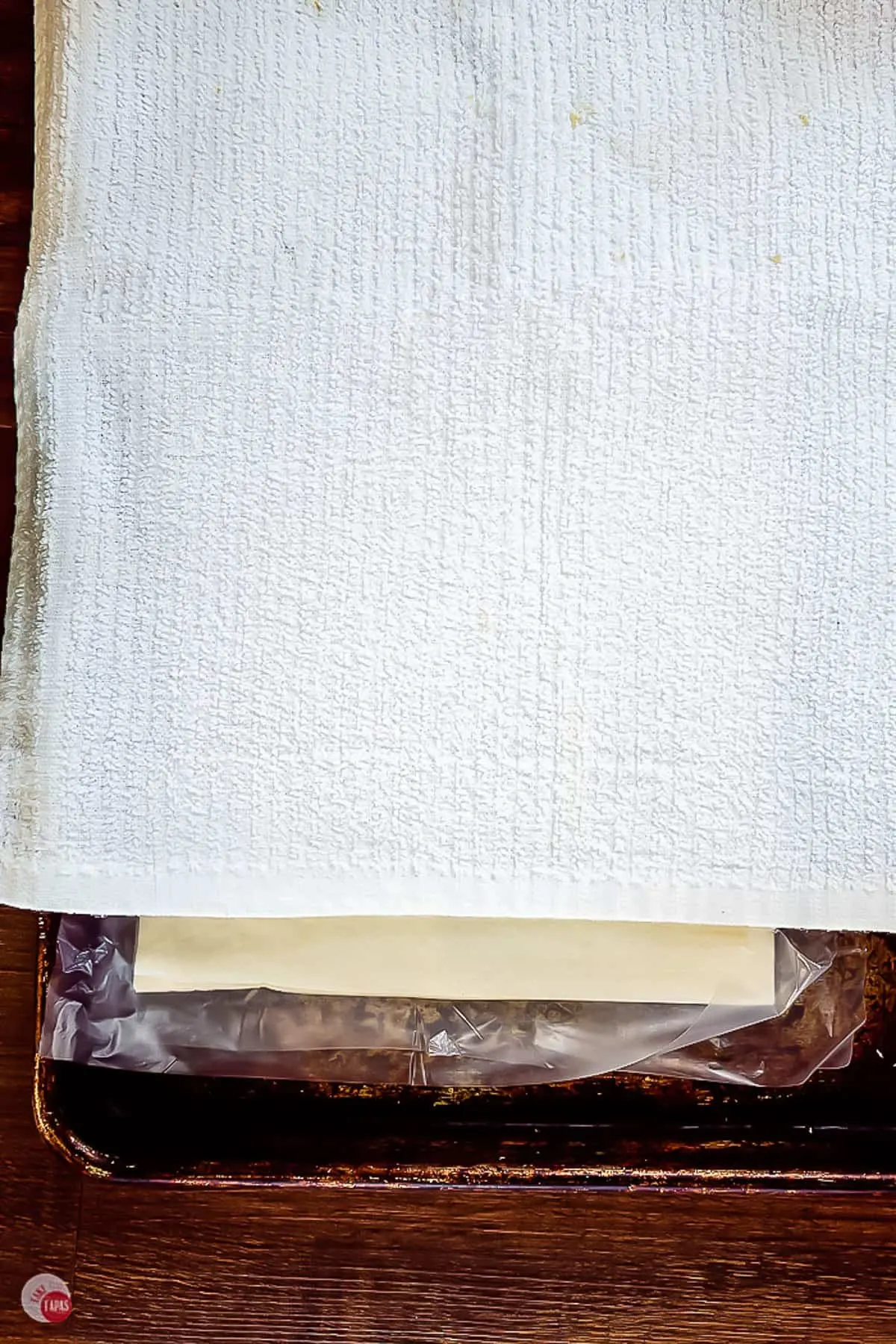 How do you keep filo pastry from drying out?
It's very important to keep the filo sheets moist so they don't dry out while working with the dough.
The easiest way is to take a clean towel, saturate it with water, WRING IT OUT COMPLETELY, and then lay over the unrolled filo sheets.
How many layers of phyllo dough should I use?
First thing to decide is what you are making the phyllo cups for. If you are planning on making savory phyllo cup appetizers, I would recommend using 6 sheets.
The thicker cup is better equipped for handling cheesy and meaty type party foods.
If you are planning on using sweet phyllo cup dessert recipes than I would say 4 sheets is a great number.
Phyllo shells that are lighter really let the ingredients be the star while supporting them with a crispy crunch.
For more insider tips & tricks, and a candid behind the scenes look follow me on social media! Check use out on Pinterest, Facebook, Instagram, & Twitter (yes, people still use Twitter, LOL!)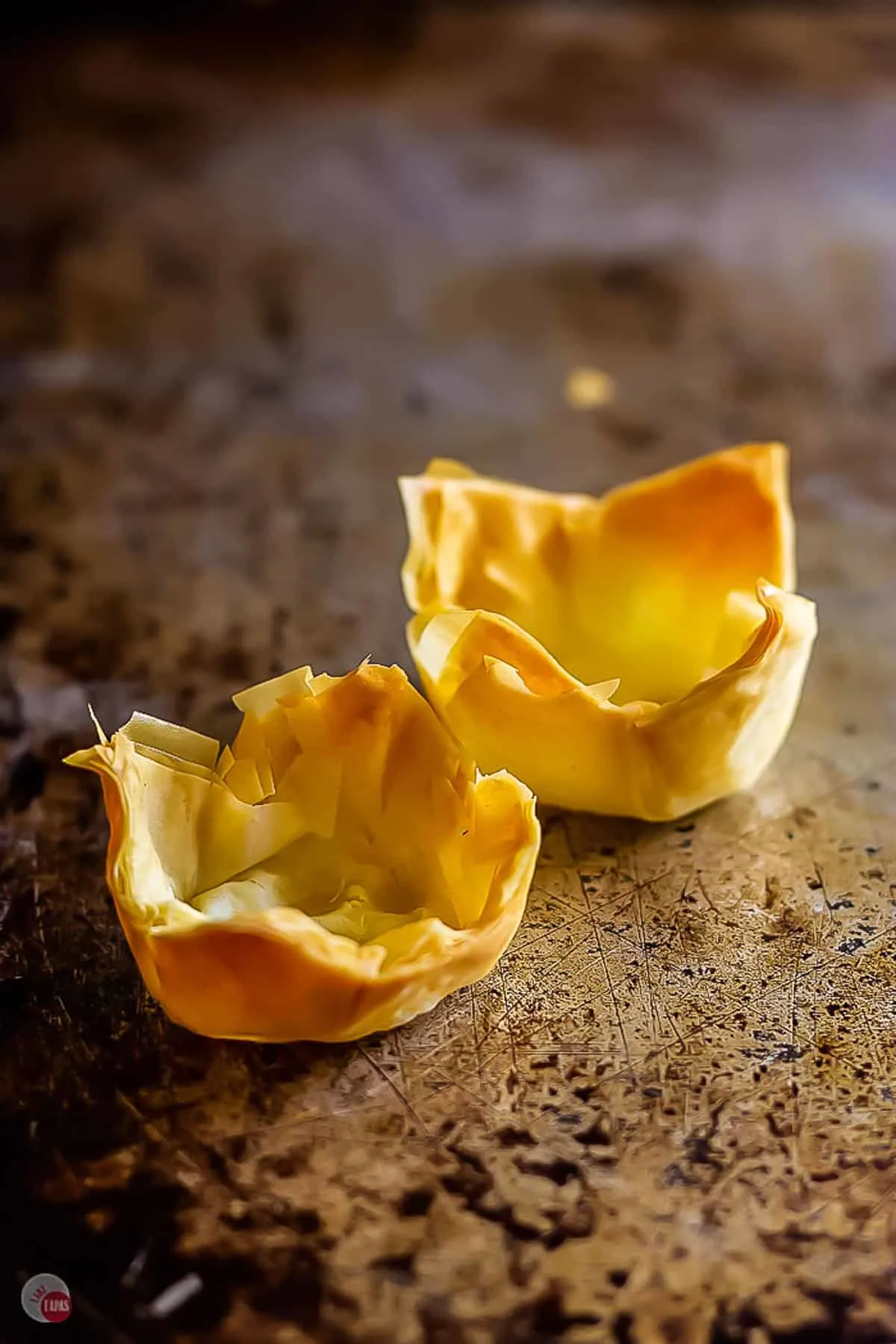 How to Make Phyllo Dough Pastry Cups
To assemble the mini phyllo shells, set up your working area first. Being organized and prepared will help the process go easier and faster.
I like to work inside a baking sheet with a rim to keep the melted butter from running onto the counter and the floor. This avoids any slips and falls later on.
Have your phyllo sheets, unrolled, and covered with a damp towel, on one side of your workspace. Place your melted butter and brush on the other.
Start by placing a sheet of phyllo on the pan, making sure to cover the stack of sheets again so they don't dry out. Brush it with butter – it doesn't have to be perfect – and then layer with another sheet. Press gently to get them to stick together.
Brush the top sheet with butter. Continue this process until you have a stack of 6 tissue thin sheets, with layers of melted butter between them.
Can I use oil instead of butter?
You can substitute oil instead of butter. Just as you do with the butter, brush the oil on each layer. Olive oil works great!
You can opt for olive oil with savory dishes and butter for sweet recipes depending on your tastes and dietary needs.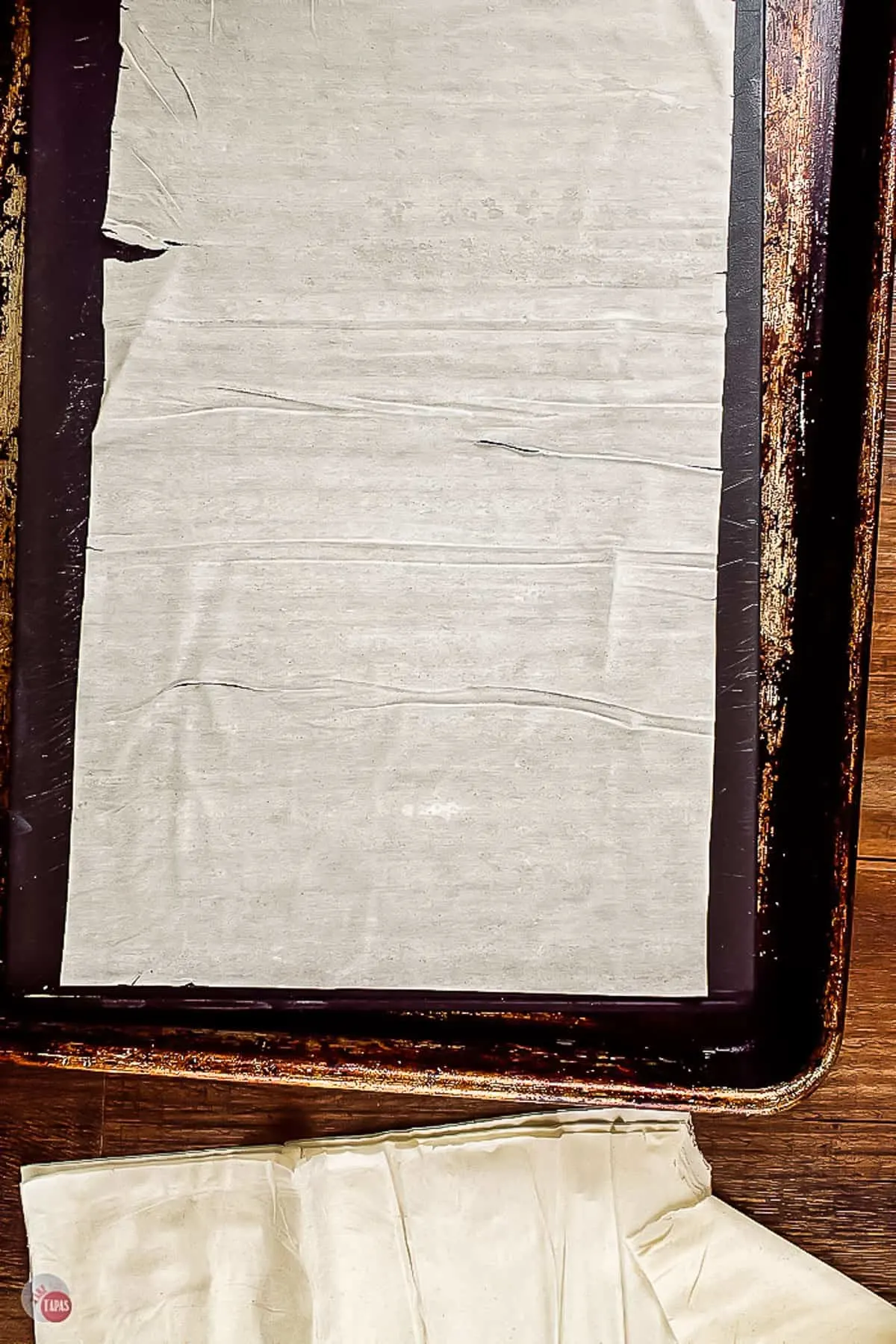 Once the stack is assembled, cut into the desired shapes. Squares are easiest to cut and don't leave any "scraps" to deal with.
I personally think the circle cups are prettier. You can safely get 12 cups (circles or squares) from each stack.
If you chose to make circles, don't throw away the scraps, I am going to show you what to do with those at the end.
Now that you have your shapes cut out, it's time to bake the phyllo shells.
How to Bake Homemade Phyllo Cups
You are making mini phyllo cups so grab your mini muffin pans. It doesn't matter if you cut out squares or circles, they will fit.
Start by brushing a little butter inside each of the wells of the muffin pan. Gently press the phyllo shapes into the well making sure to press into the edges to avoid air pockets and misshapen cups.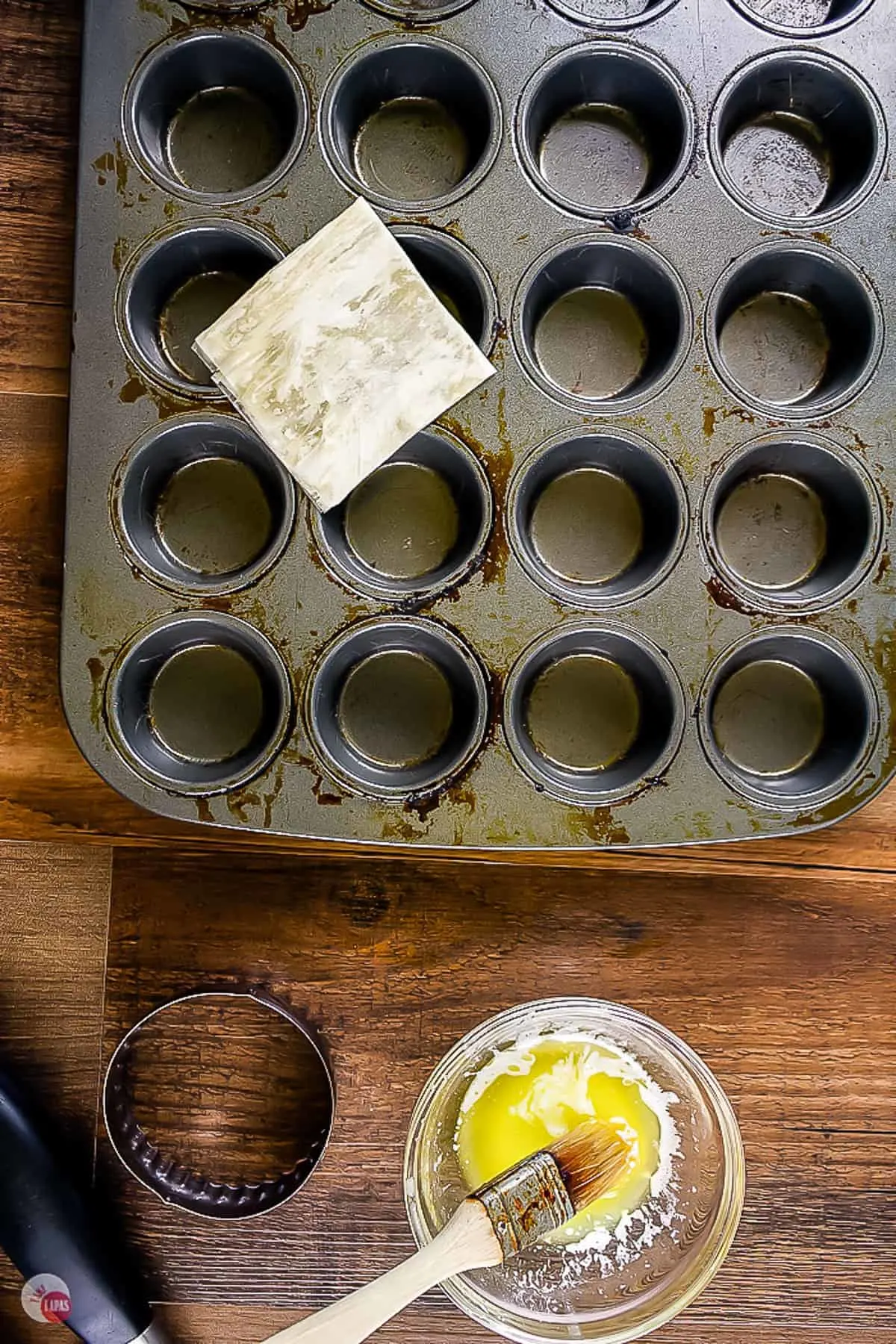 You are essentially blind baking a "crust" like you would a pie, so treat it as such. The layers of butter between the layers of dough will release steam while they cook creating those flaky layers we love so much.
But we don't want the layers to puff up too much and "fill" up the cups. We need a place to put all the yummy fillings so we need to keep the inside well as as deep as possible.
Once you have all the wells filled up, add a few dried beans or pie weights to keep the bottom as flat as possible while the shells are baked.
I have dried "docking" or poking a few holes in the bottom to let the steam escape but it doesn't work as good as weighting the bottom down.
You can see from the picture below that the cup without the weights puffed up in the middle.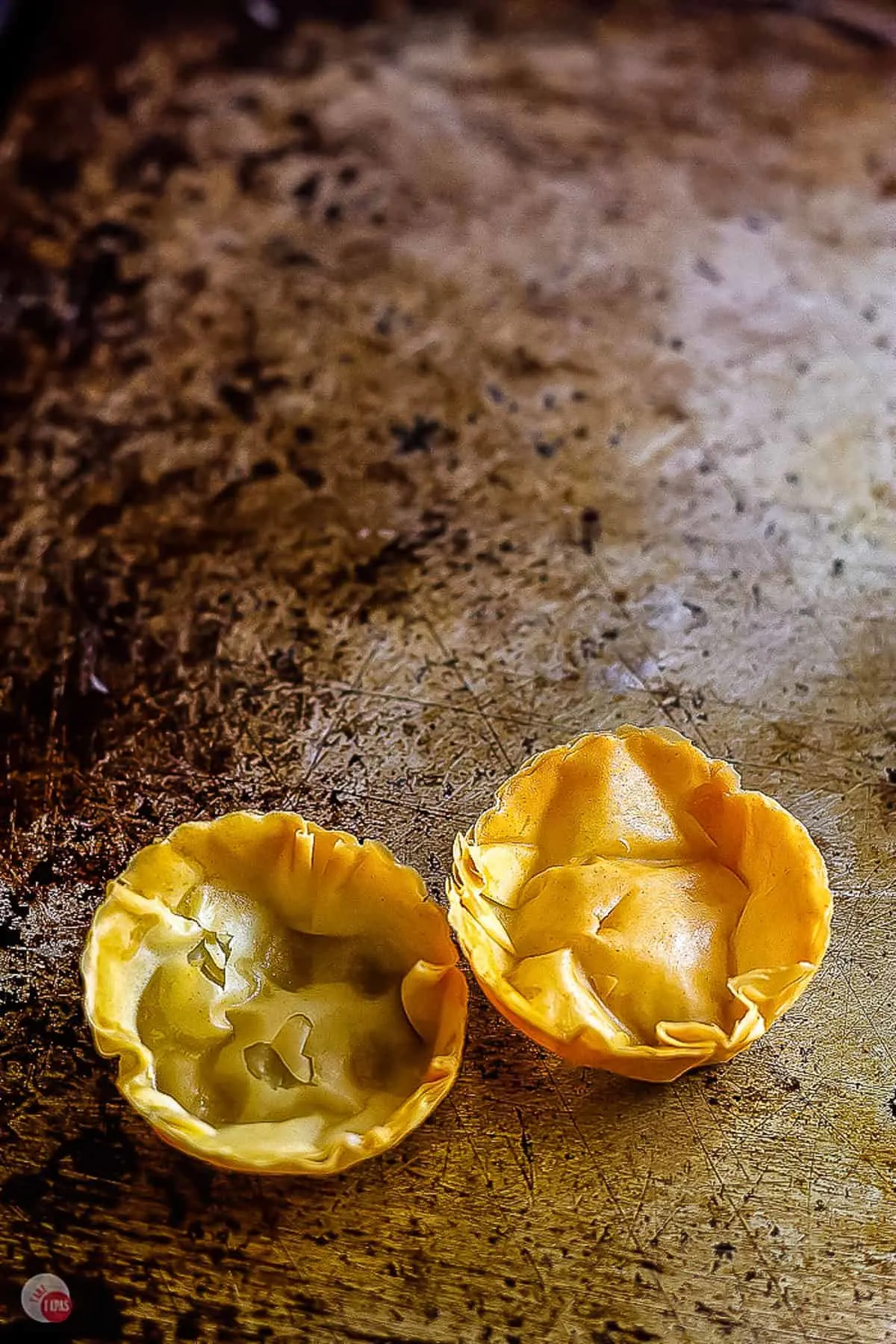 Baking Phyllo Cups
This puffing up means that the bottoms with crack easier and open the possibility of the fillings running out while serving or cooking them the second time.
Once the shells are weighted down, bake at 400F for 4-6 minutes depending on their final purpose.
Dessert shells or recipes that are not going to be cooked again can be baked to completion the first time (apprx 6-8 mins).
If you are making hot appetizers that will need to be cooked a second time, only bake until half or 3/4 done (appx 4-6 mins).
That way they won't be over cooked during the second time in the oven.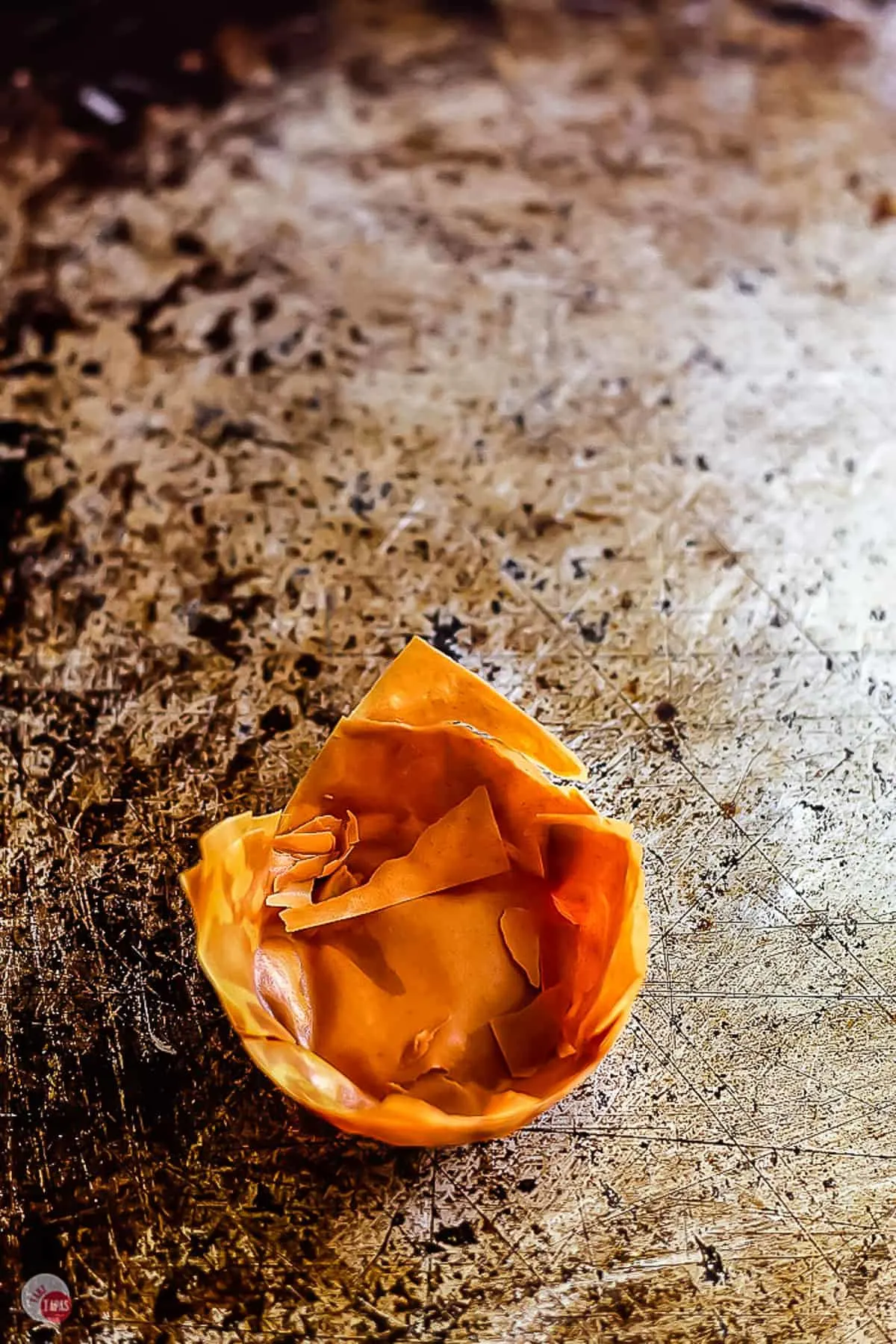 Cooling and Storing
Once the shells are baked to your liking, remove from the oven, and carefully remove the weights. They are going to be super hot so be careful.
You will want to let them cool for a minute or two but then be sure to remove them from the mini muffin pan as soon as possible and cool completely on a wire cooling rack.
If you let them cool in the muffin tin, all the melted butter will solidify again in the bottom of the well, making it harder to remove the phyllo cup and the phyllo cup will be soggy and not as crisp on the bottom.
You don't want that to happen!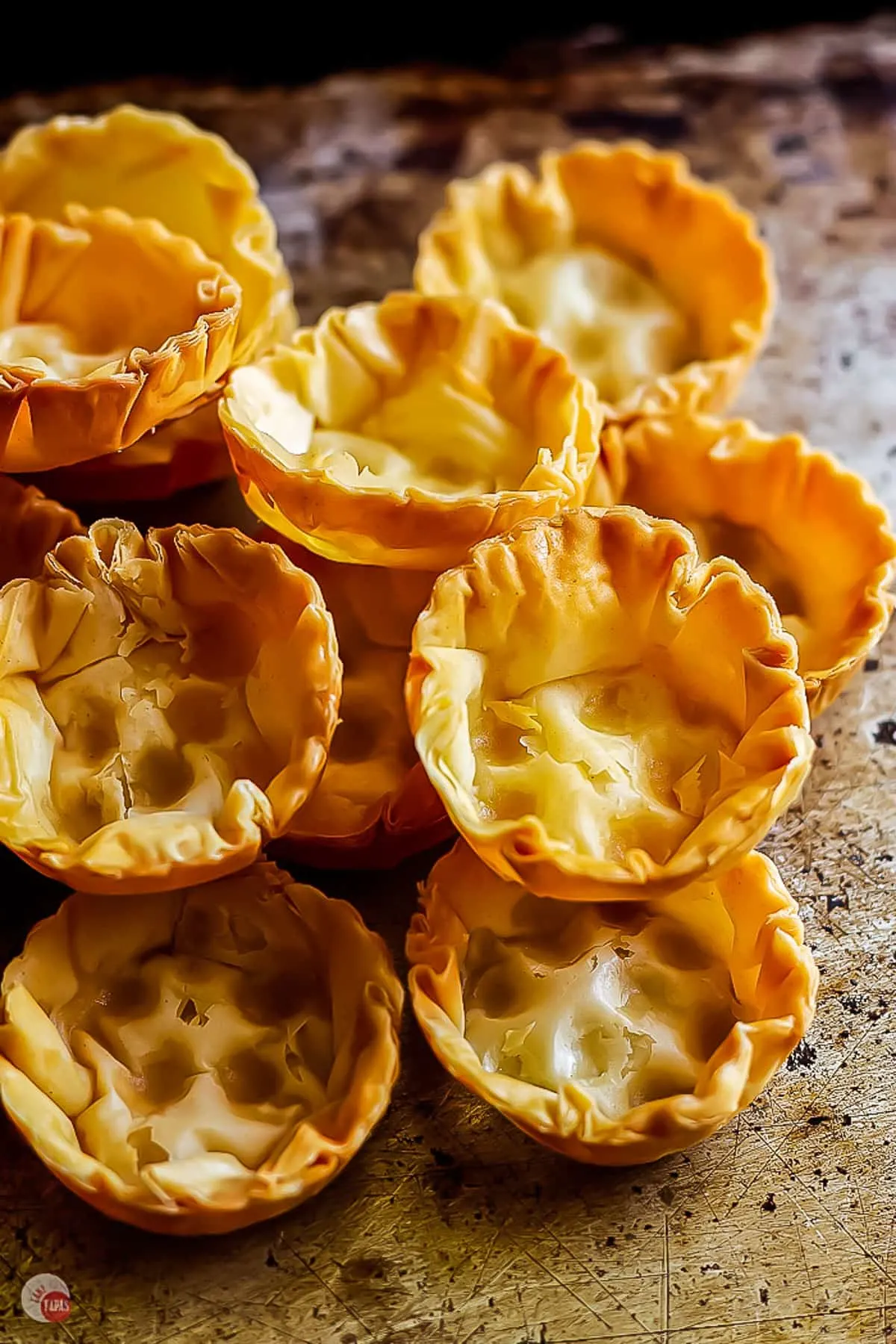 Can I make Phyllo Cups ahead of time?
For convenience, get your phyllo cups baked ahead of time.They will actually stack inside each other pretty conveniently. Which means, it's time to talk about storage.
I recommend storing them in something other than a bag so they don't accidentally get smashed in the freezer while being stored. I prefer these plastic "meal prep" containers because I can safely get over a dozen in it.
Think about the recipes that you might be making and see how many cups they make, then you can portion them according to your needs.
As long as you store in protective containers, and make sure not to shake them up, they will keep intact. So don't confuse a Tupperware full of phyllo cups with a set of cha-chas and you will be fine.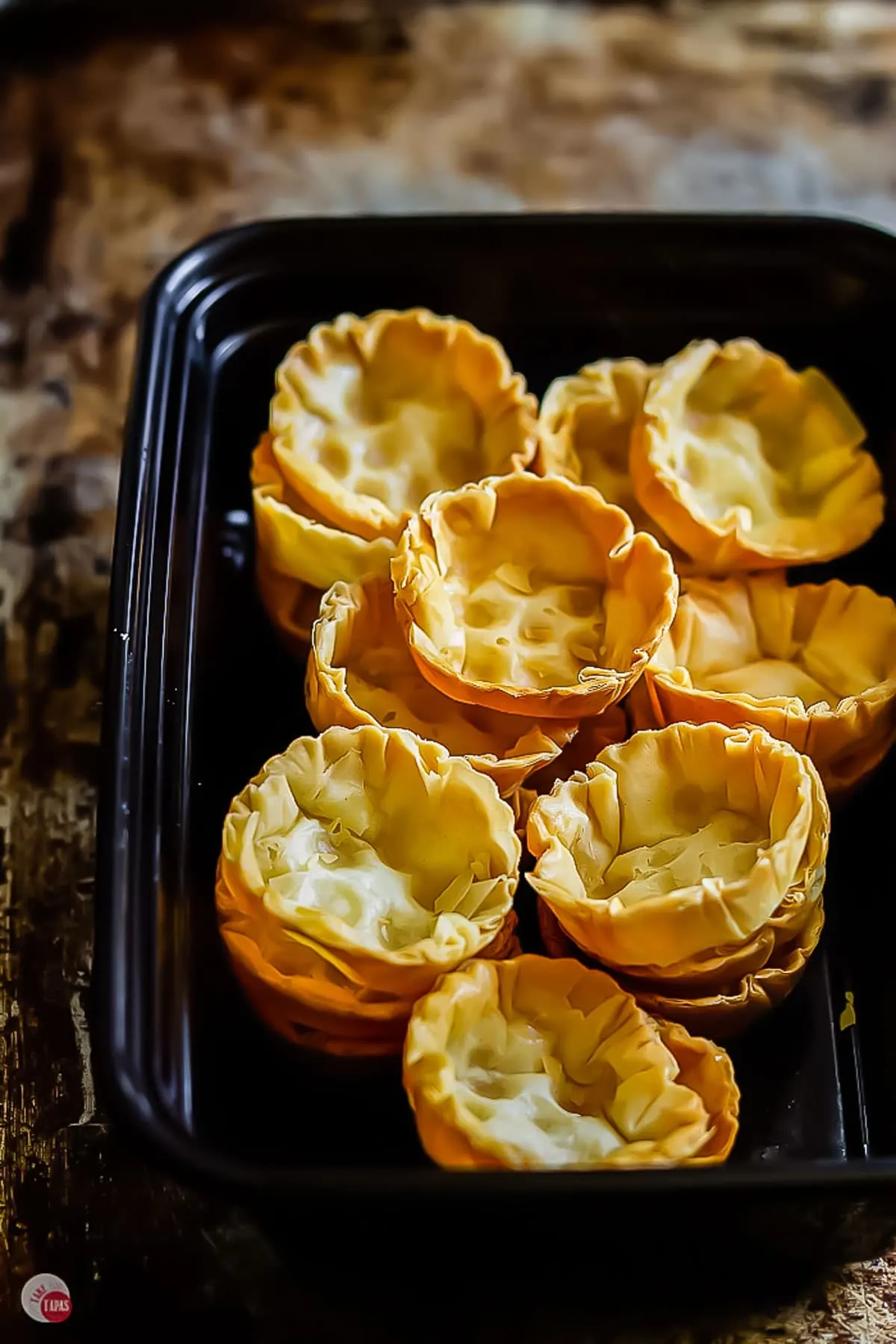 What do you do with phyllo dough scraps?
Don't throw away all those scraps of layered phyllo dough that is left over from the circles, put it to good use!
If you have some empty wells in the muffin pan, or use a totally different muffin pan, add the scraps to it. I cut mine into small pieces but you don't have to.
Bake as you would the pastry shells, and then remove from the oven. You will have a pile of crunchy, buttery, filo flakes that make great toppings that not only taste good but are so pretty.
Try these on top of ice cream, yogurt, pies, frosted cakes, frosted brownies, or even a baked custard. Look how pretty they look!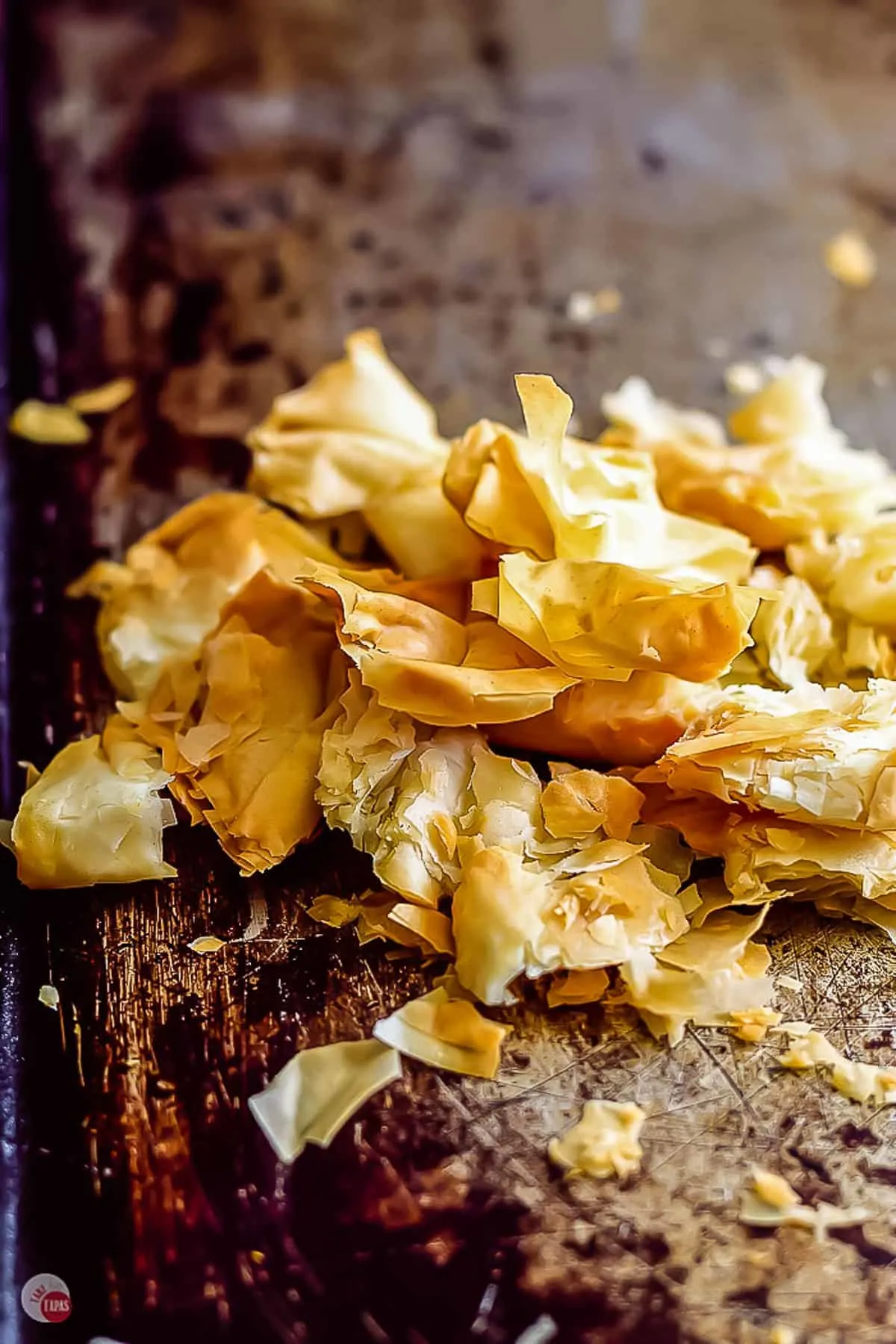 How many phyllo sheets come in a package?
Approximately 40 fillo sheets per 1 pound package, 20 sheets per 8 ounce roll. The sheets are roughly 9″x14″.
Is filo pastry vegan?
As long as you use oil instead of butter you can!
Does it contain wheat?
Yes it does, so it is NOT gluten free!
Can you blink bake it?
Yes you can, which is why these phyllo shells are so awesome!
Can I be reheated?
Yes, just be sure to lower the temperature to 350F and only heat until crisp again.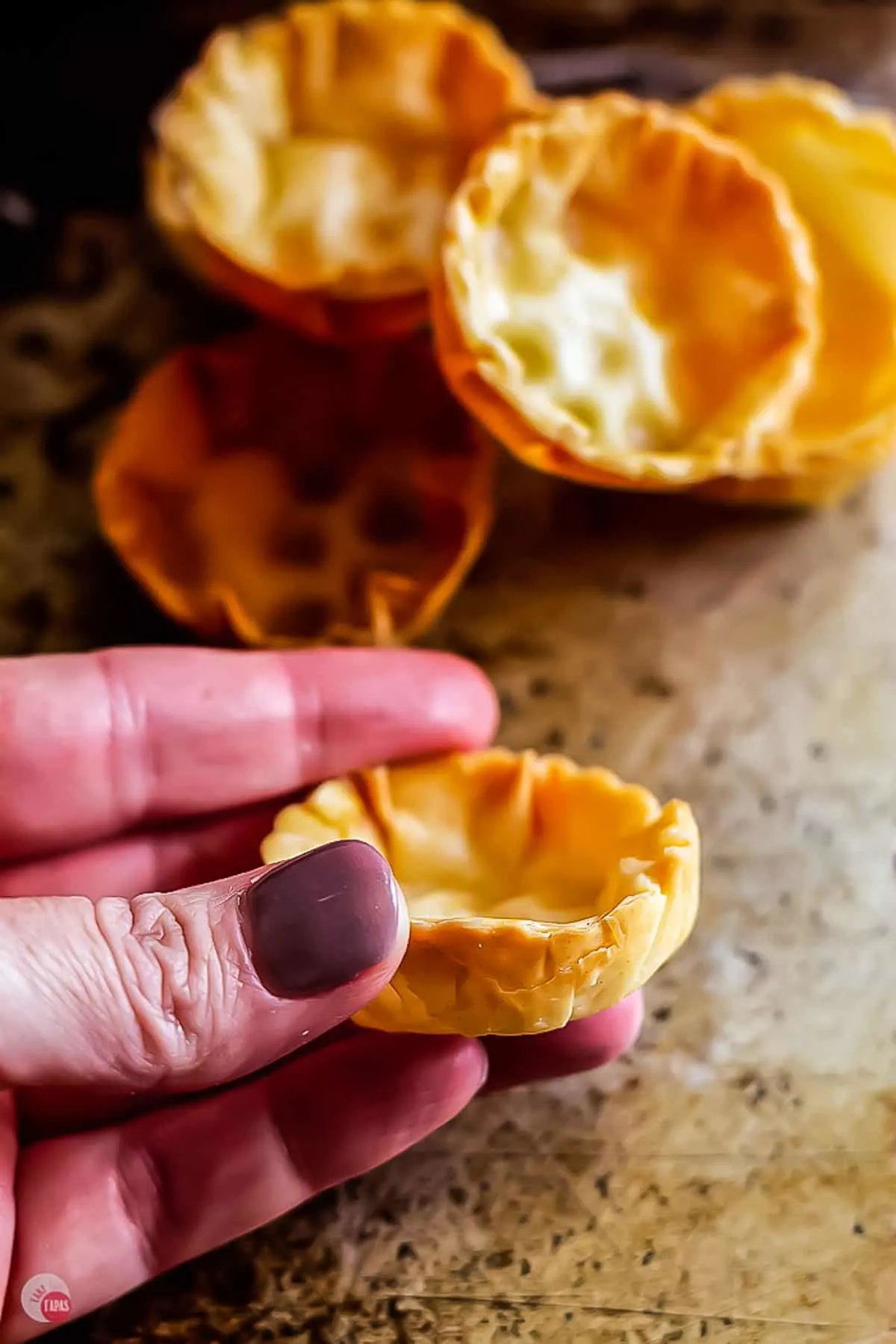 Fillings for Phyllo Cups
Do you want to go sweet or prefer a bit of savory? Whether you aim for the entree, the appetizer, or dessert side of things, the options are unlimited.
Sweet Phyllo Cup Ideas
whipped cream & fresh berries
goat cheese & fig jam
pudding & various toppings
ice cream & caramel sauce
Savory Phyllo Cup Ideas
If you love this recipe as much as I do, please write a five-star review in the comment section below (or on Pinterest with the "tried it" button – you can now add pictures into reviews, too!), and be sure to help me share on facebook!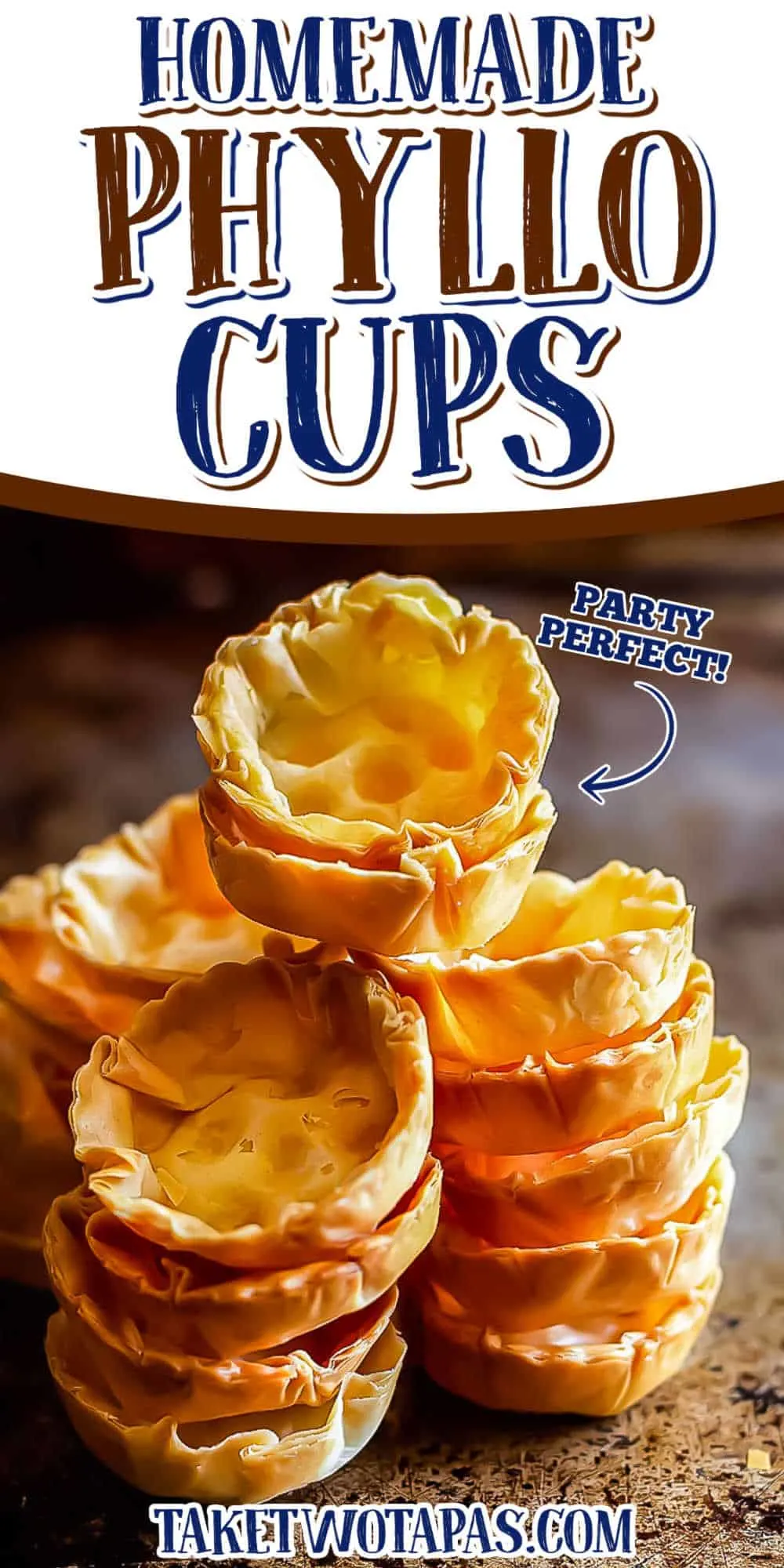 These bite sized appetizers are such a staple at parties because they are the ultimate finger food and are super versatile. They make a great appetizer alongside a Cheese Board, a Relish Tray, or a Vegetable Platter.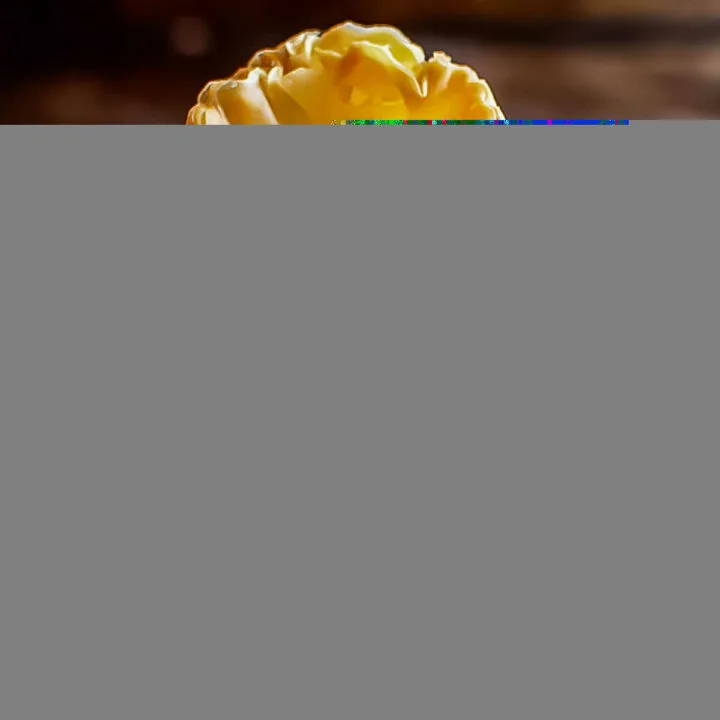 Homemade Phyllo Cups
Additional Time:
5 minutes
Easy to make, these easy phyllo cups can be baked ahead of time, stored in the freezer, and turned into crowd pleasing appetizers or desserts!
Ingredients
1 package Phyllo Sheets
1 cup melted butter
Instructions
Prepare the ingredients
Prepare by thawing phyllo sheets in the refrigerator for at least 2 hours.
Gather your ingredients and tools.
Melt butter.
Remove phyllo sheets from refrigerator, unwrap, and cover with a damp towel to prevent drying out while working.
Assemble the phyllo cups
Place one phyllo sheet on a cutting board or baking pan.
Brush with melted butter.
Cover with another phyllo sheet and brush with melted butter.
Continue until you have 6 layers of phyllo and butter (4 layers if wanting lighter cups).
Cut cups out of layered phyllo sheets in desired shapes.
Press into mini muffin pan.
Bake the phyllo cups
Preheat oven to 400F.
Fill phyllo cups in muffin pan with dried beans or pie weights to keep from puffing up in the middle.
Bake for 6-10 minutes or until lightly golden brown.
When baked to desired doneness, remove from the oven and let cool for a few minutes.
Remove the weights and remove the cups from the pan to a cooling rack to cool completely.
Store the phyllo cups for future parties
Place cups in an airtight container or zip-top bag in portions needed in the future.
Store in the refrigerator for up to one week or the freezer for up to 3 months.
When ready to use, remove from the freeze, let come to room temperature, fill with delicious filling, and serve or bake as you need!
Notes
*If you like this recipe, please leave me a comment and rate it with some stars. Thank you!
Nutrition Information:
Yield:

40
Serving Size:

2 cups
Amount Per Serving:
Calories:

43
Total Fat:

5g
Saturated Fat:

3g
Trans Fat:

0g
Unsaturated Fat:

1g
Cholesterol:

12mg
Sodium:

40mg
Carbohydrates:

0g
Fiber:

0g
Sugar:

0g
Protein:

0g
This nutrition information was generated via a third party, Nutritionix, and can not be held liable for any discrepancies in the information provided.
Prep for your party with these shortcuts:
©TakeTwoTapas.com. Content and photographs are copyright protected. Sharing of this recipe is both encouraged and appreciated. Copying and/or pasting full recipes to any social media is strictly prohibited.