This quick and easy no bake chocolate fudge will be a hit at your next get together. The added coconut and sliced almonds make it taste like an Almond Joy candy bar. Make it stovetop or in the microwave!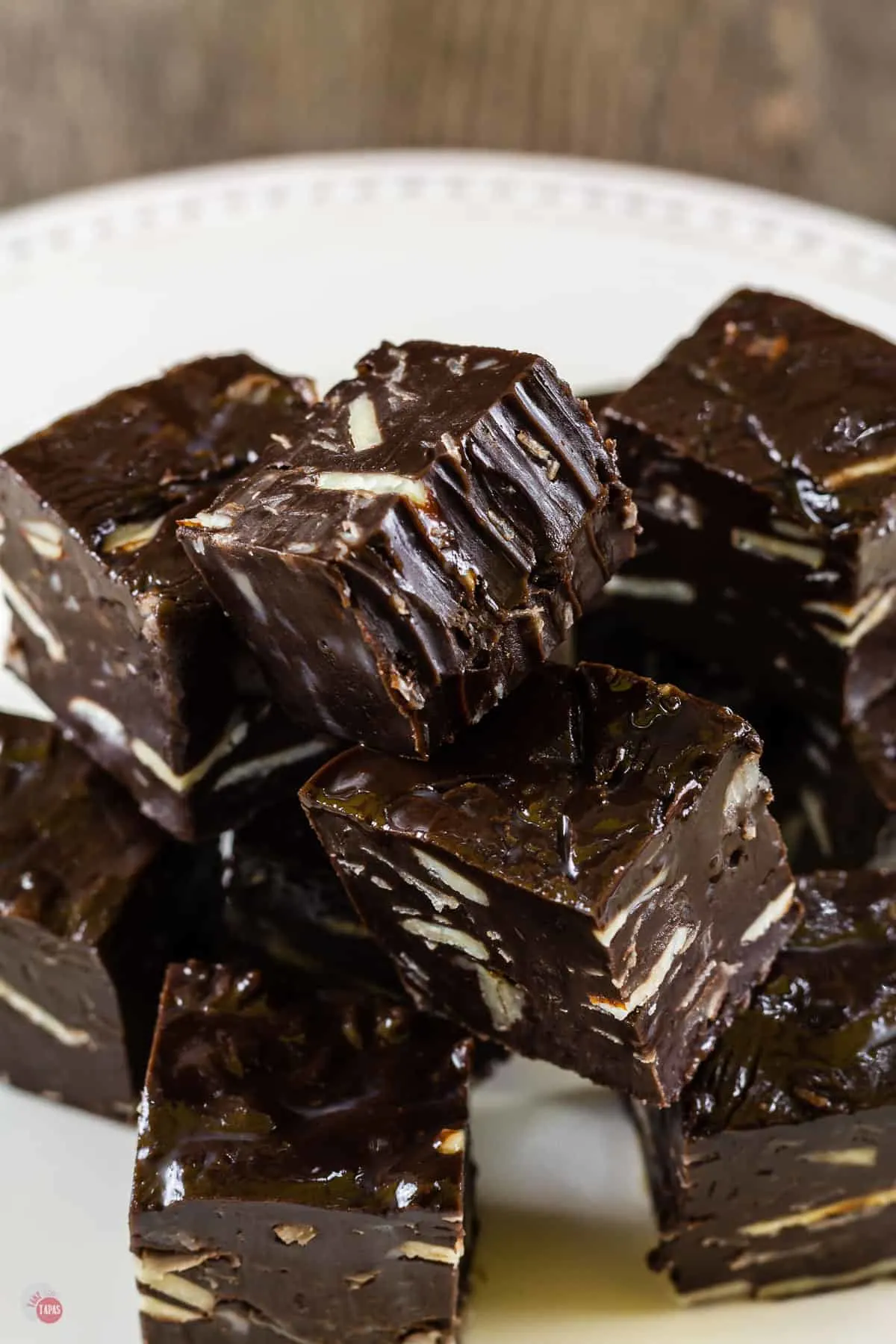 WHAT IS CHOCOLATE FUDGE?
Only the best chocolate candy around! I might be biased because I love chocolate, and candy, well sugar for that matter. But seriously, chocolate fudge is not the same as regular chocolate.
Fudge is confection or candy that is made by cooking sugar, butter, and milk to a temperature of 240F or 116C. This melts all the ingredients and allows the candy to maintain it's shape once cooled while still being soft enough to eat.
Traditional Fudge can be made from scratch, which includes milk, sugar, butter being boiled until the appropriate temperature. But this way can be tricky and messy!
Not reaching the correct temperature can mean the fudge will be too soft. If you get the temperature too high, you will have a hard candy like a lollipop. Not to mention keeping the fats from separating while cooking it and then having it turn out crumbly or grainy!
I know that homemade is best but let's be real here! We can skip all the hard stuff and use some kitchen helpers that will still result in creamy, delicious fudge. Enter sweetened condensed milk, and chocolate chips!
This post may contain affiliate links. As an Amazon Associate, I earn from qualifying purchases. Read my disclosure policy here.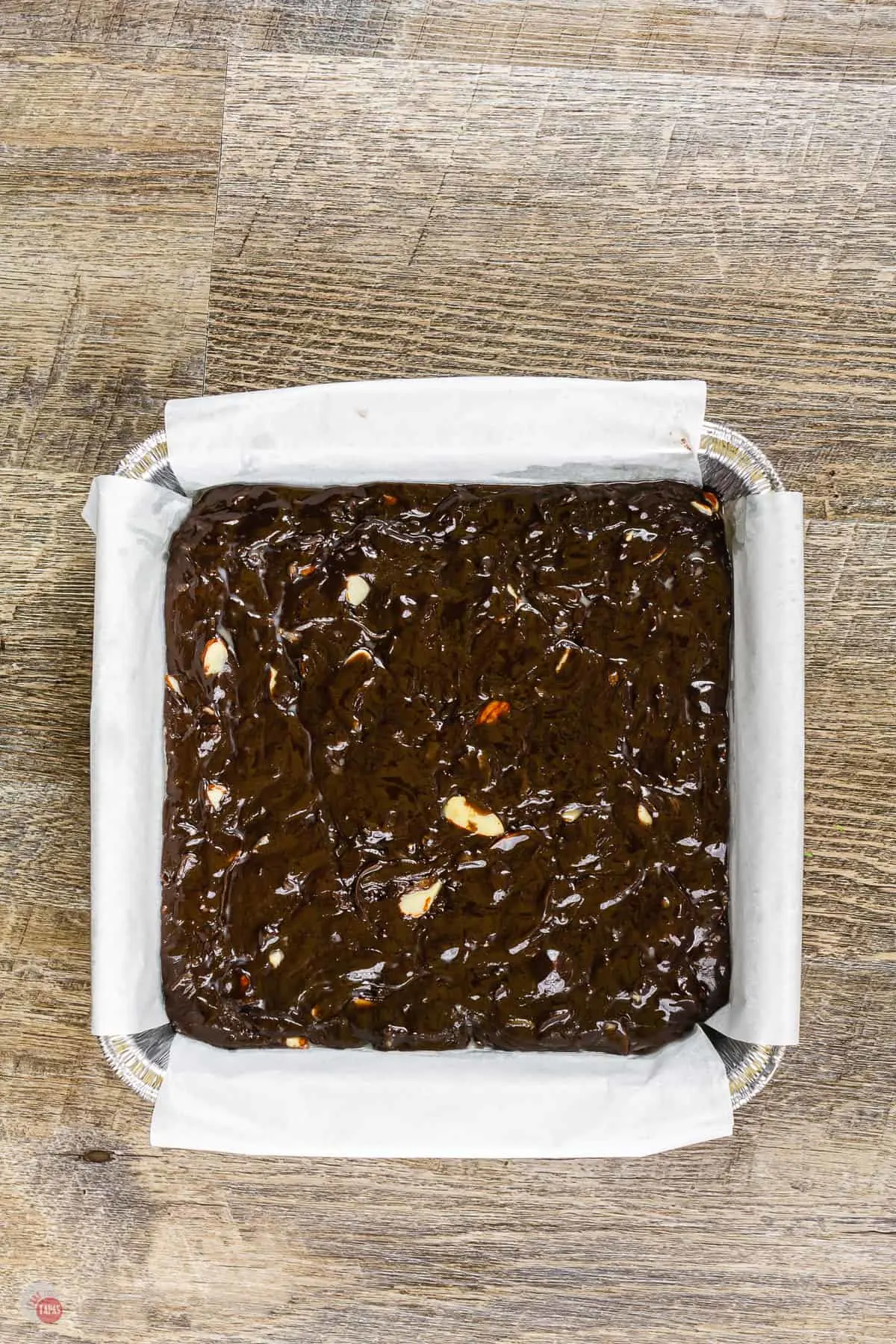 WHY IS FUDGE CALLED FUDGE?
Legend has it that a candy maker was working on a batch of caramel and an accident occurred that allowed the sugar to recrystallize, thus resulting in fudge. Also coining the term "fudged" as a mistake.
I don't care how it happened, I like tasty accidents like this. I make so many mistakes in the kitchen and most of them don't turn out this delicious.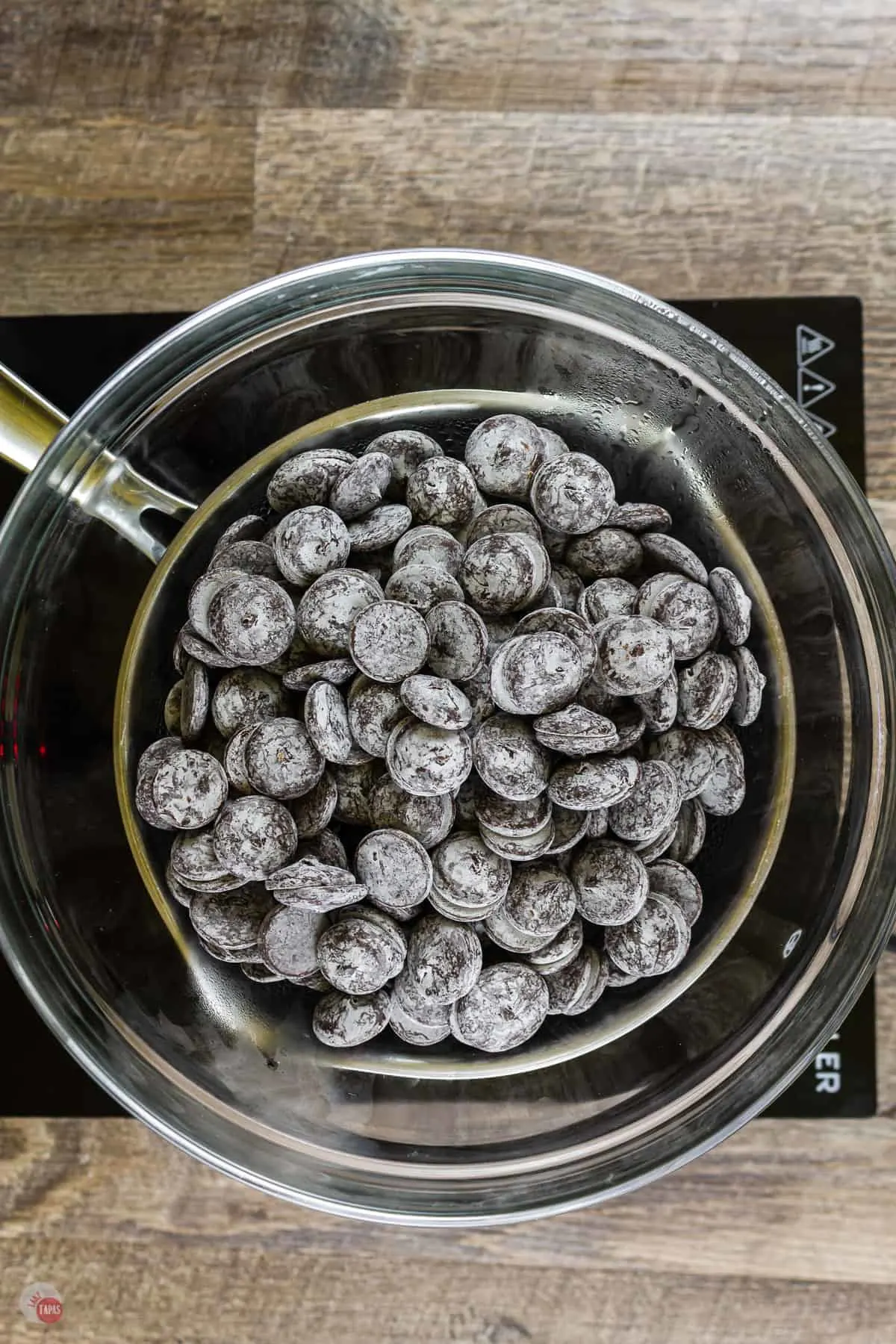 HOW TO MAKE DARK CHOCOLATE FUDGE?
Making fudge is as simple as melting two ingredients together. Melting the dark chocolate and sweetened condensed milk together until smooth and creamy is all it takes. You can do this stove top over low to medium heat.
In a sauce pan, in a double boiler, or even the microwave. Just be sure to only heat at 30 second intervals so you don't burn spots.
Once you have this step completed, you can start adding in extra flavors and textures. I love a delicious Almond Joy bar so I tossed in some sliced almonds and coconut flakes. SO delicious you don't even have to add vanilla extract!
One bite and I knew I would never have to buy another candy bar again!
Once everything is combined, pour it into your 8×8 square pan lined with parchment paper. Cool at room temperature or place in the refrigerator until set.
For the full recipe and detailed instructions, please refer to the recipe card at the bottom of the post.
CHOCOLATE FUDGE WITH SWEETENED CONDENSED MILK
Because making fudge is a science, with all the sugar crystals, fats, and correct temperature, lots of no-fail fudge recipes started to pop up. Easy as adding marshmallow fluff, sweetened condensed milk, or corn syrup.
These fool proof recipes make life easier and save money because you can't screw up the batch and then have to throw away the mistake. Ingredients are expensive and I din't have time to make multiple batches.
No need to ask questions such as: How long do you boil fudge? Why did my fudge not set? Why is my fudge grainy? Why am I even doing this instead of making a pie?
This easy method takes all the guess work out of making traditional cooked fudge. NO messy stove work, no candy thermometer, no boiling sugar to burn you! Who doesn't love easier, faster, and less mess? I know I do!!
For more insider tips & tricks, and a candid behind the scenes look follow me on social media! Check use out on Pinterest, Facebook, Instagram, & Twitter (yes, people still use Twitter, LOL!)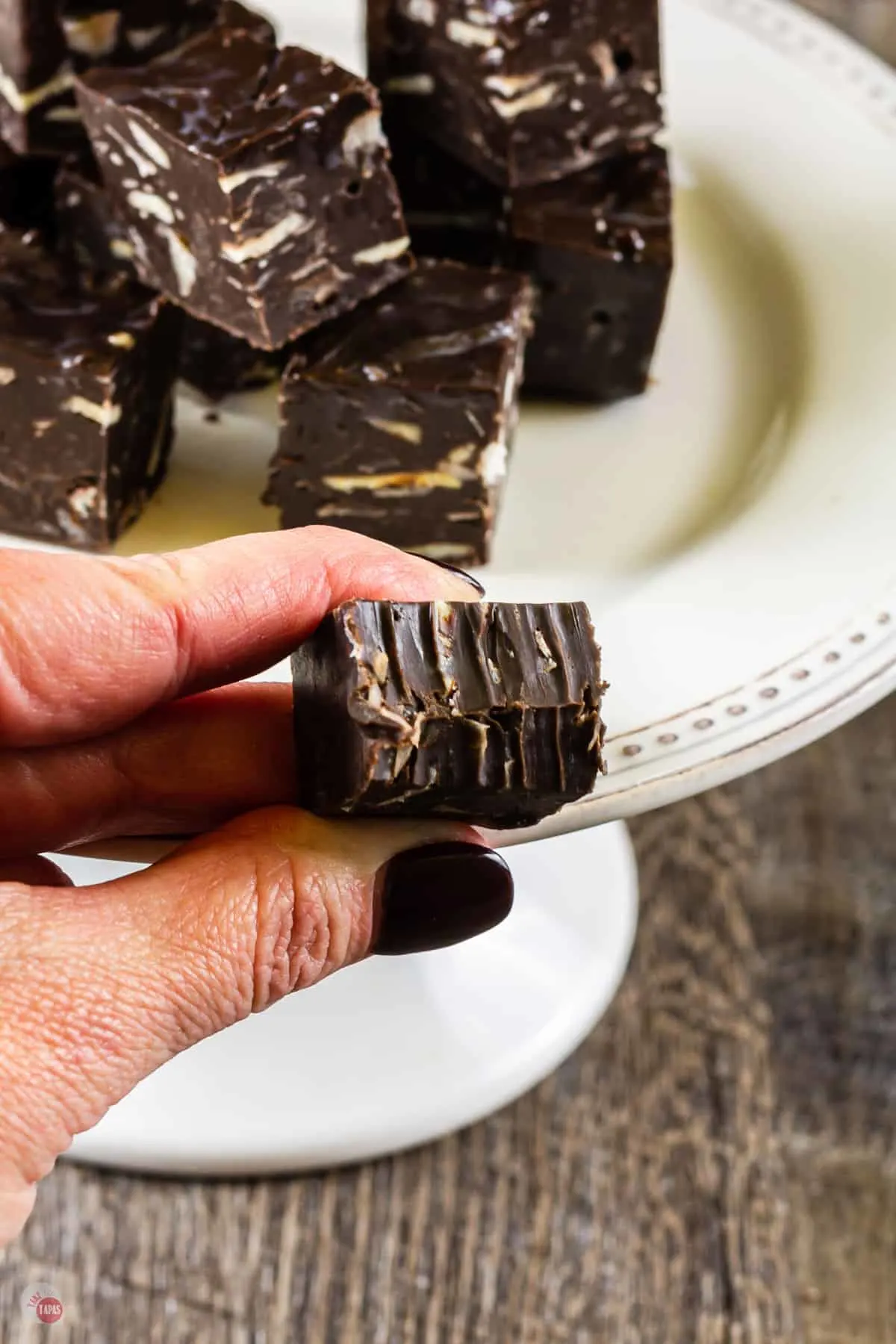 The only question you will be asking is how do I keep from eating all of it at one time?
My advice would be to give the chocolate fudge away or freeze it and just pull out a piece when you need to indulge!
Want to know why I decided to make homemade fudge? It's Freaky Friday!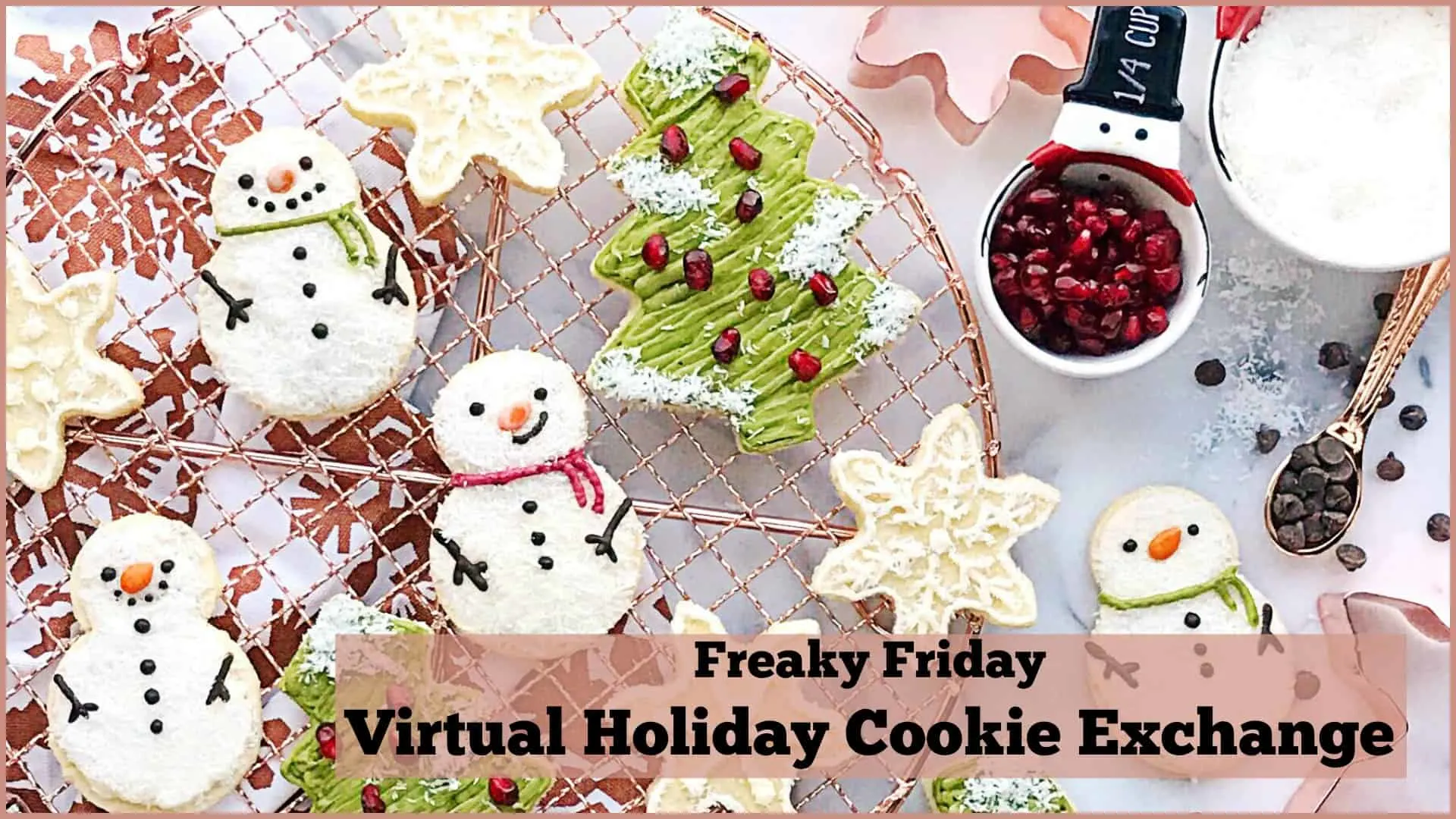 FREAKY FRIDAY
Freaky Friday is a quarterly blog hop where a group of bloggers are randomly assigned another blog, you make one of their recipes (with a twist if you want), and share it with your readers. Some of my past Freaky Friday recipes include this Creamy Corn Dip, these Roasted Chickpeas, and these BLT Bacon Cups.
I love looking at all the other participant's blogs and trying to figure out who got me, what they made, and how they added their own spin on it!
This time it's all about cookies, candy, and sweets which is perfect for all the holiday parties and cookie exchanges that are coming up. Not to mention all the edible gifts to give to co-workers, neighbors, teachers, distant cousins you forgot to send a card to…
This round I got my friend Lisa's Blog, Lisa's Dinnertime Dish. I was so excited! I haven't had her for a while and was looking forward to getting her again.
Last time I got Lisa's blog I recreated her pineapple hummus and that was over two years ago. I am so excited to get to make another one of her recipes. And the fact that it's a virtual cookie exchange means it's time to make one of her tasty sweets!
I've known Lisa for a while now and happy to say that we have become close friends in the last couple of years. Attending conferences and retreats with Lisa is always a treat. Being from Minnesota, she has an amazing accent so I try to get her talking every chance I get!
Not only is Lisa a great friend, but she is an amazing cook too! Check out her blog and see for yourself. Not only does she make quick and tasty meals, Lisa has some delicious addicting treats too! This made it extremely hard for me to choose which one to make.
Some of the delicious goodies that you need to make include her Salted Caramel Brownie Brittle, Peppermint Holiday Bark, Toffee Triangles, and these Muddy Buddy Bars.
While looking at all her recipes, her Easy Chocolate Fudge stood out to me and inspired me to combine it with my addiction to Almond Joy candy bars!
Take a look at all of our 2019 Freaky Friday Holiday Cookie Exchange Recipes: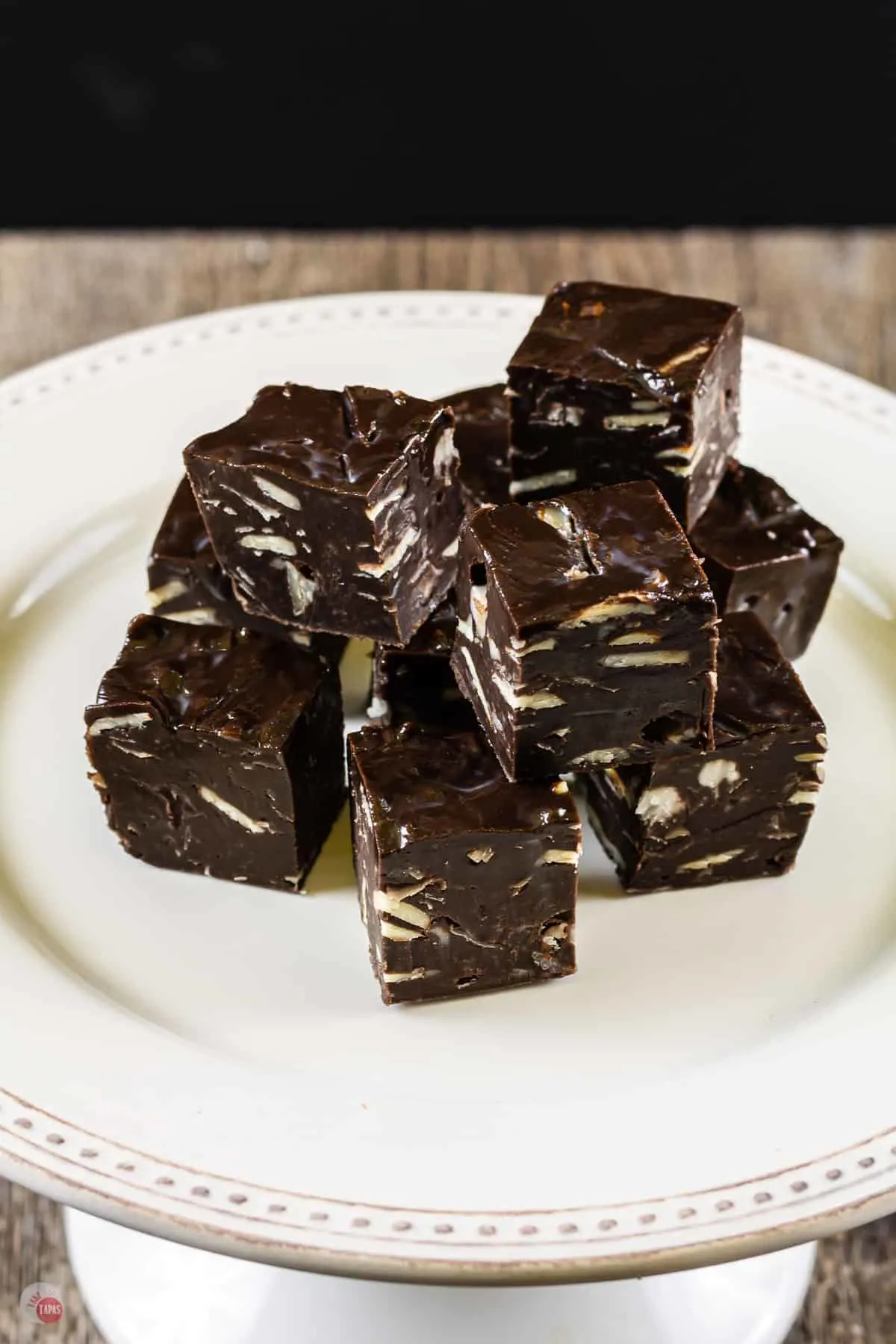 Now that you have your fudge set and ready to serve…
HOW DO YOU CUT FUDGE NEATLY?
Start with a sharp knife that is long enough to cut across the block of fudge. If the fudge is too hard, heat the knife under hot water for a few seconds, just be sure to wipe it clean before cutting.
Be sure to wipe the knife clean between each cut as well.
To make my pieces even, I like to start in the middle, cutting the block in half, and then cutting each of those in half, until I have 64 even pieces. Now that I have all these pieces that I can't eat at once, how do I store fudge?
HOW LONG DOES HOMEMADE FUDGE LAST?
Homemade fudge lasts up to 2 weeks at room temperature if store in an airtight container.
DOES CHOCOLATE FUDGE NEED TO BE REFRIGERATED?
Fudge can stay at room temperature for up to 2 weeks. If you want to keep it longer, you can store it in the fridge for up to 1 month. Really planning ahead and need longer storage?
CAN YOU FREEZE CHOCOLATE FUDGE?
Yes, you can! It's best to freeze the whole block at once. Just be sure to wrap the fudge tightly in plastic wrap, twice, and then store in a plastic freezer bag.
A vacuum sealer works the best. Let the frozen fudge come to room temperature before you attempt to cut it or the fudge will crumble.
DOES FUDGE GO BAD?
If not stored properly, you fudge can dry out which is not good. While not spoiled, the texture will be off putting. If the fudge is kept in too much moisture, it will become slimy or soggy.
If this happens, you should throw your fudge out immediately.
I will say that my fudge has never lasted this long so I never have to worry about it going bad. It goes right into my belly!
IS FUDGE GLUTEN FREE?
As long as you don't add any gluten to the mix, you are good to go. Chocolate and milk are gluten free!
If you love this recipe as much as I do, please write a five-star review in the comment section below (or on Pinterest with the "tried it" button – you can now add pictures into reviews, too!), and be sure to help me share on facebook!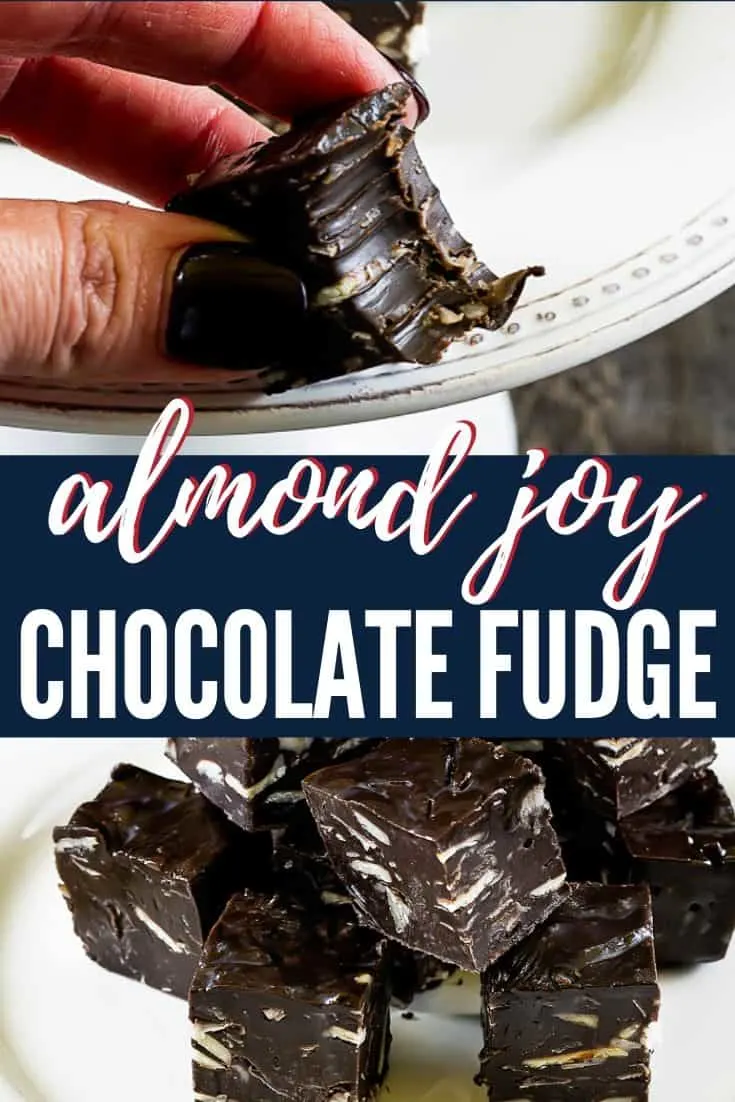 MORE EASY PARTY FOODS
HOW TO MAKE DARK CHOCOLATE FUDGE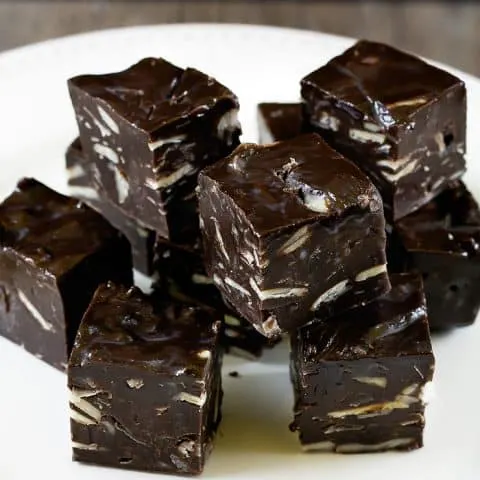 dark chocolate fudge
Total Time:
2 hours
10 minutes
This quick and easy no bake chocolate fudge will be a hit at your next get together. The added coconut and sliced almonds make it taste like an Almond Joy candy bar.
Ingredients
1 can sweetened condensed milk (14 oz)
1/2 cup sliced almonds (toasted)
1 cup sweetened coconut flakes
Instructions
Line a 8x8 baking dish with parchment paper.
Combine chocolate and sweetened condensed milk in a medium sauce pan.
Melt mixture over medium low heat, stirring frequently, until totally smooth.
Stir in almonds and coconut.
Pour into prepared dish and spread into a smooth layer with a spatula.
Refrigerate until set.
Remove from dish and cut into squares.
Notes
*If you like this recipe, please leave me a comment and rate it with some stars. Thank you!
Nutrition Information:
Yield:

64
Serving Size:

1
Amount Per Serving:
Calories:

30
Total Fat:

1g
Saturated Fat:

0g
Trans Fat:

0g
Unsaturated Fat:

1g
Cholesterol:

0mg
Sodium:

31mg
Carbohydrates:

4g
Fiber:

0g
Sugar:

2g
Protein:

1g
This nutrition information was generated via a third party, Nutritionix, and can not be held liable for any discrepancies in the information provided.
TakeTwoTapas.com. Content and photographs are copyright protected. Sharing of this recipe is both encouraged and appreciated. Copying and/or pasting full recipes to any social media is strictly prohibited.